In March, we celebrated our little one's first birthday with an intimate group of family and close friends. The party was held here at our home, and everything from the theme to the menu to the color palette was an absolute dream. It all came together just as I had imagined and though our little guest of honor can't fully appreciate all the little details just yet, it was important to me that she be surrounded by love on her special day. Keep reading for more details on her party!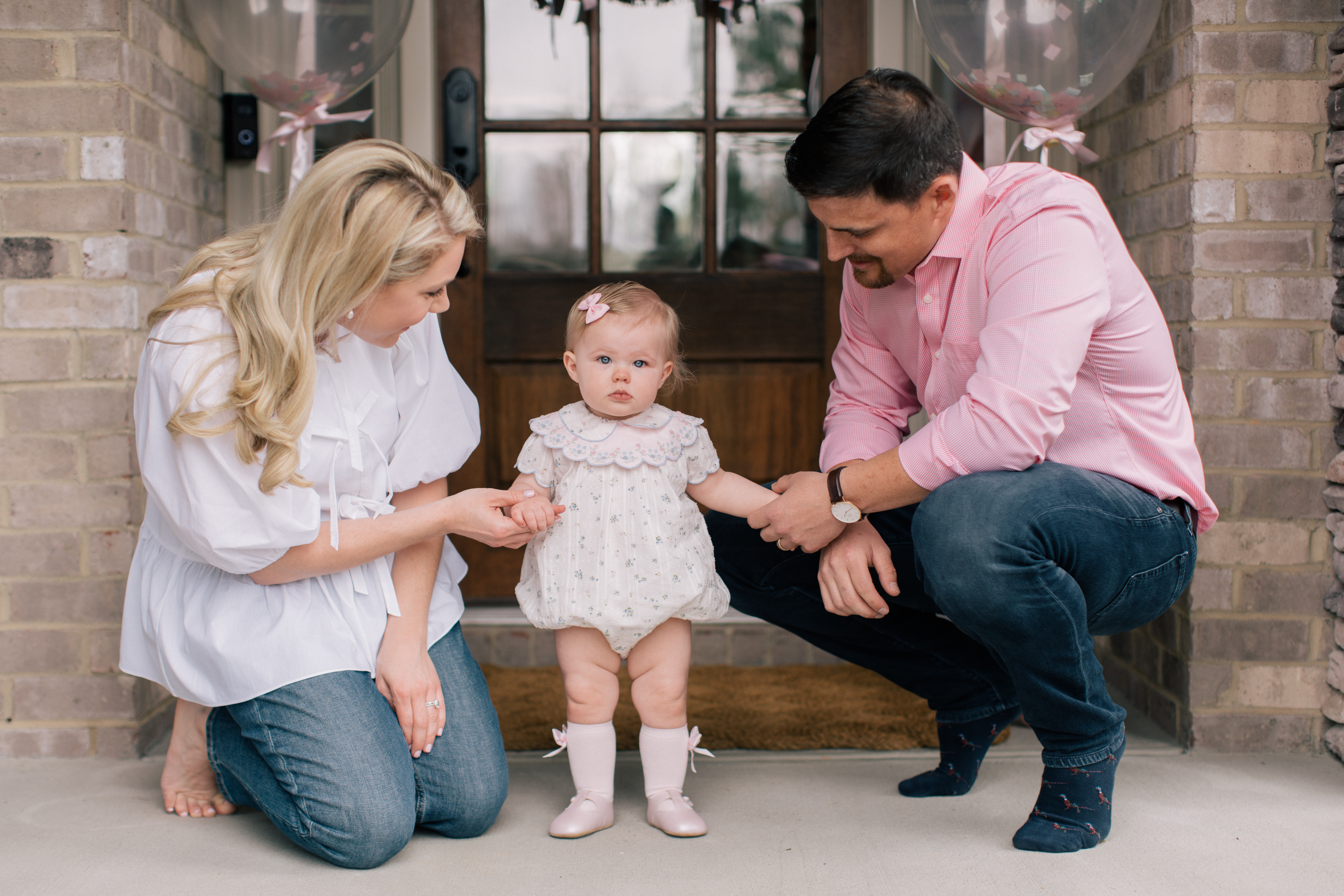 When I first started thinking about what kind of party to host, I knew I wanted something sweet, but not too girly as we have quite a few little friends and cousins who are boys, and want them to be there, and have fun too! Collins' most favorite things are her stuffed bunnies and wooden garden cart, and with her birthday falling just days before the official start of Spring, we felt like it was the perfect match. A bunny-spring-garden-theme checked all the boxes while also being the perfect fit for the sweet and curious girl who is the center of our world.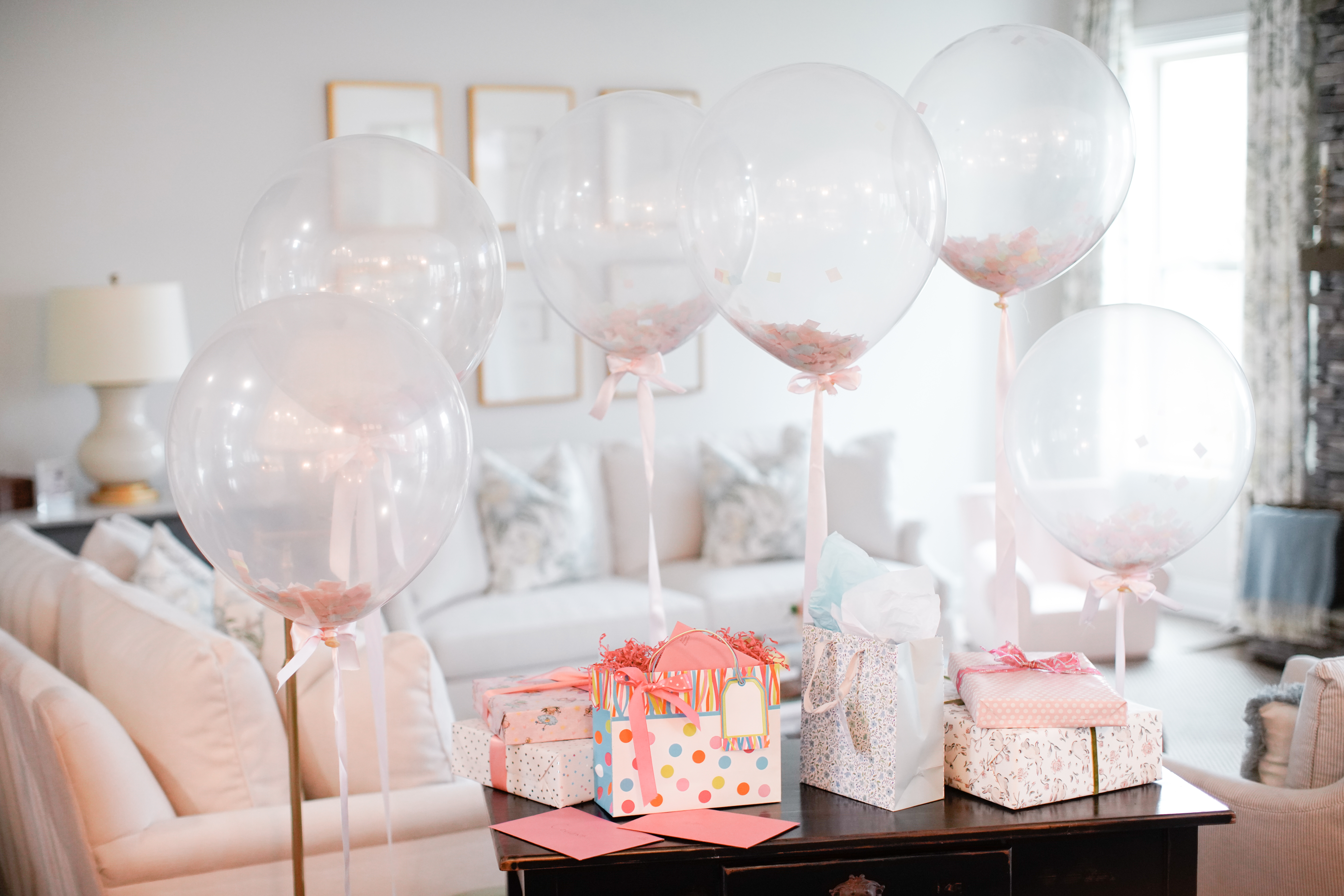 I totally lucked out and found the cutest already made invitations, favor tags and signage by Katie Corely. The suite featured the most beautiful watercolor illustration of a bunny sitting atop a bed of pastel flowers, which ultimately inspired many of the details used throughout her party.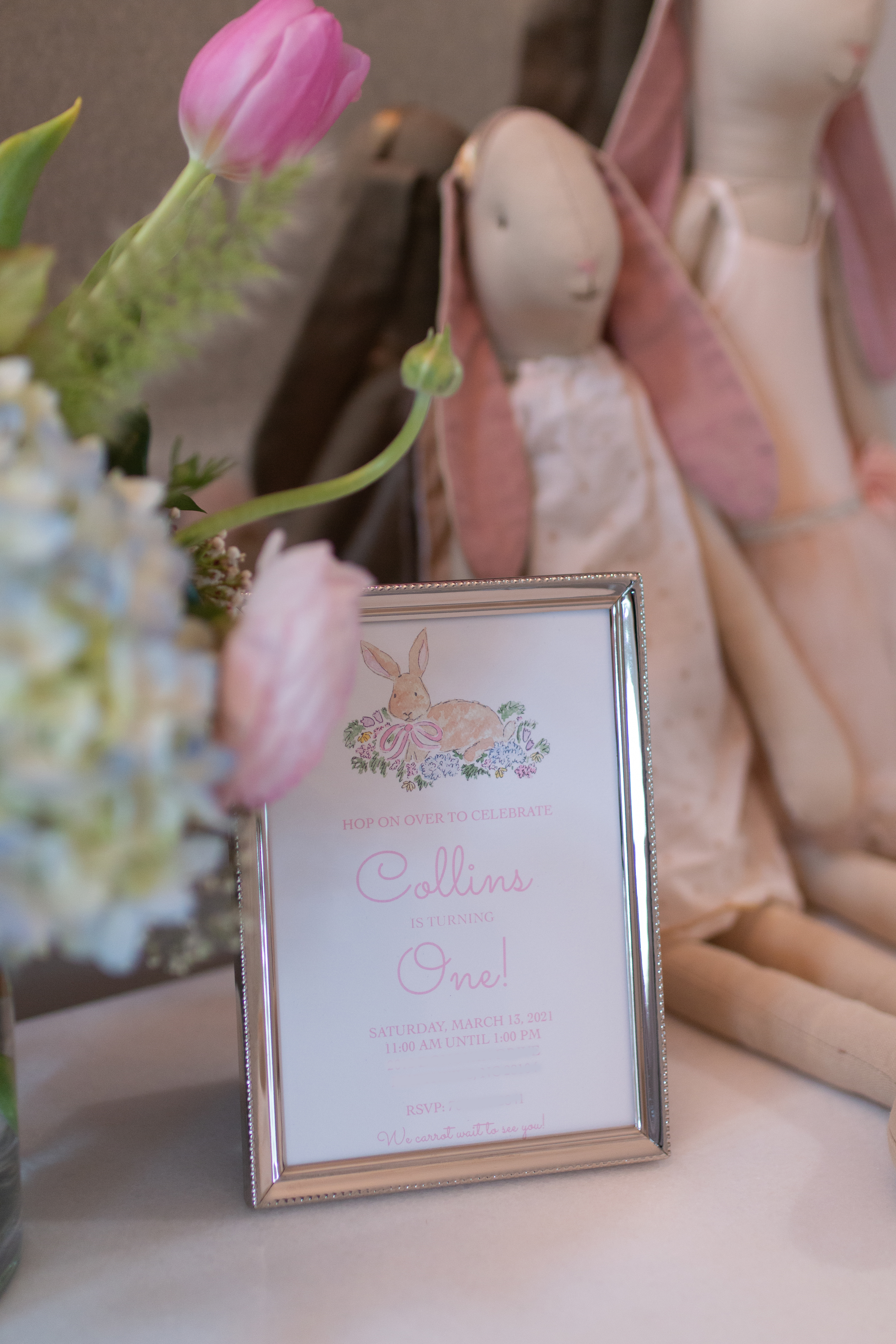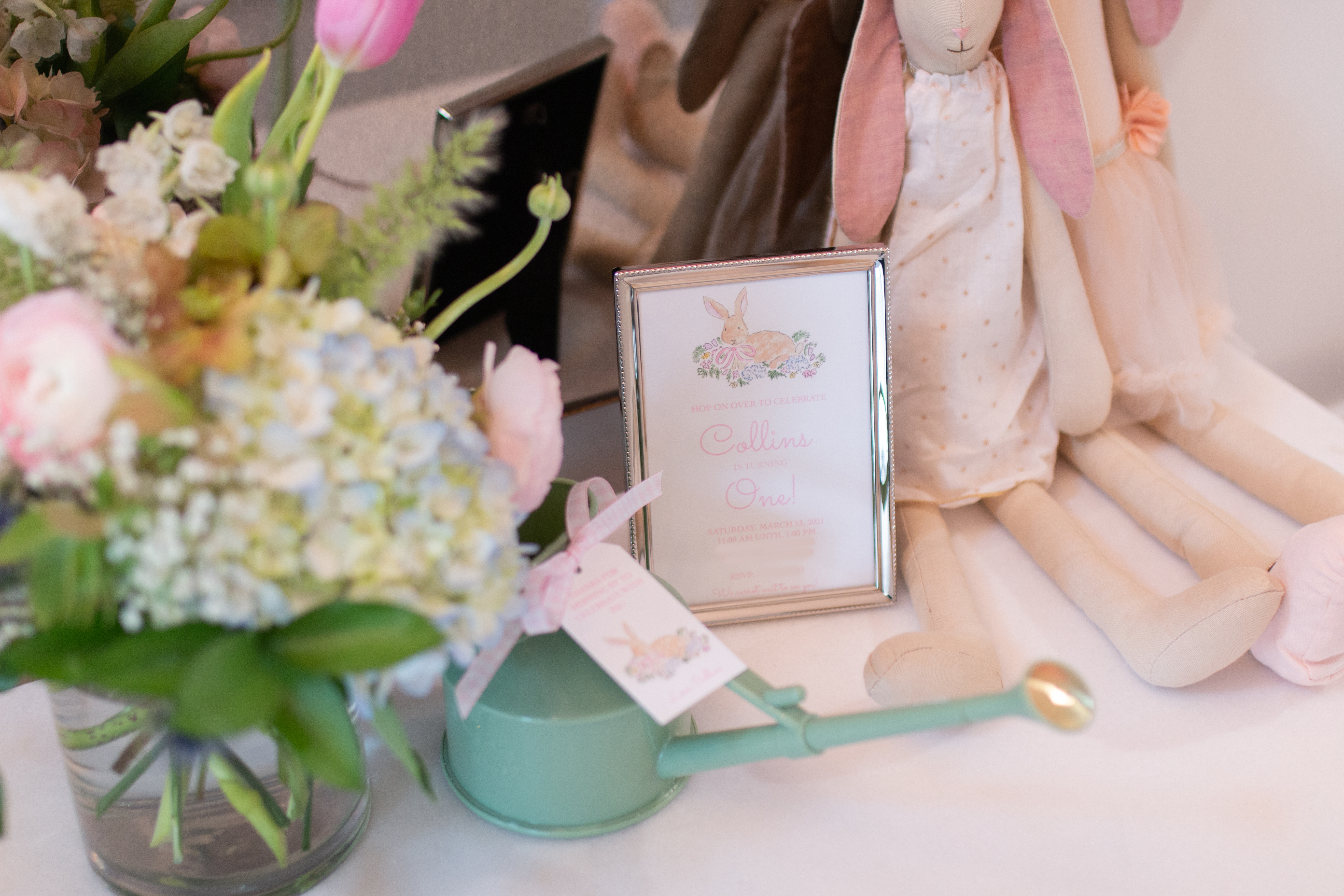 Upon arrival, guests were greeted by a wreath made entirely of baby's breath. I added an initial banner from The Preppie Peonie for a personalized touch!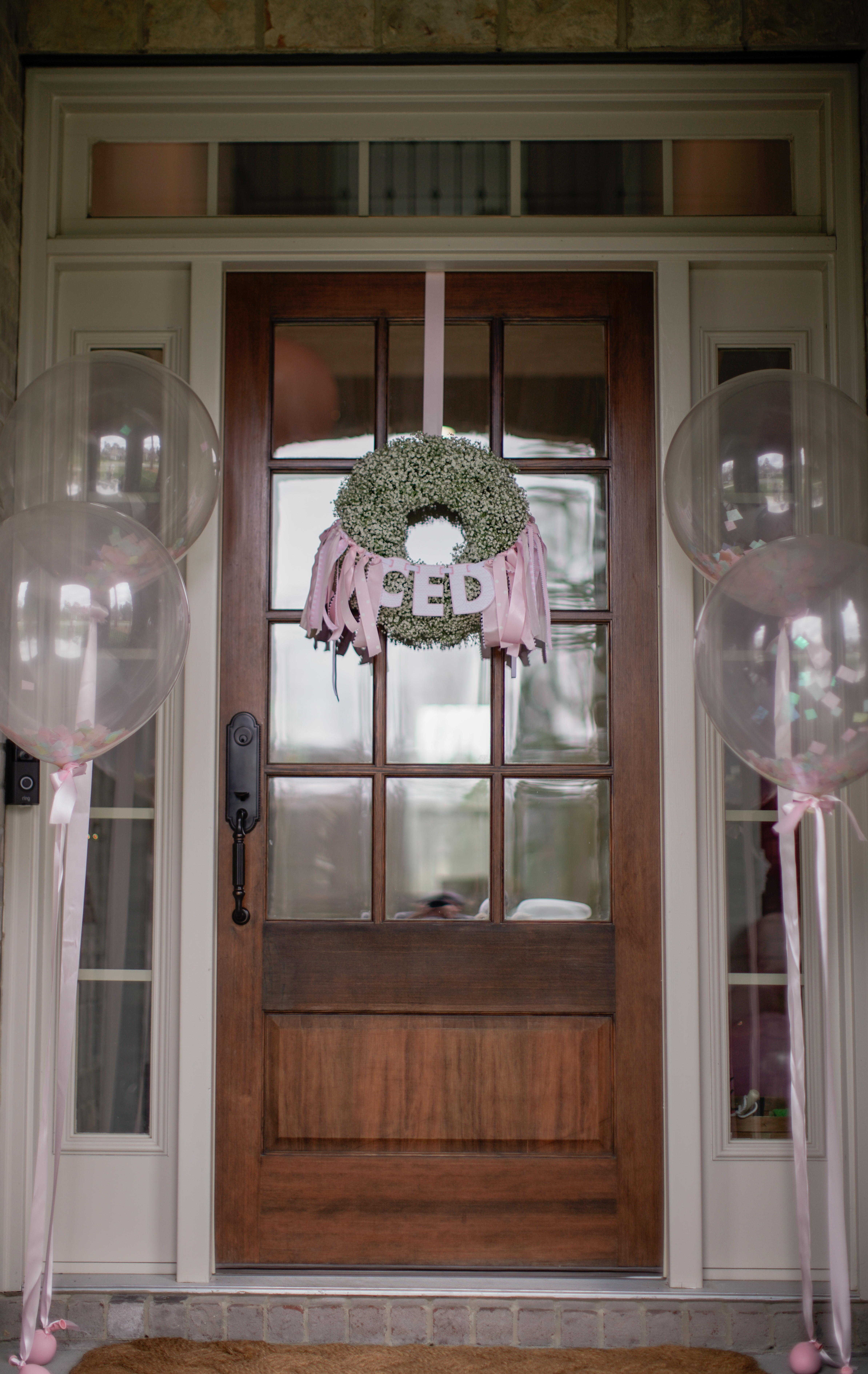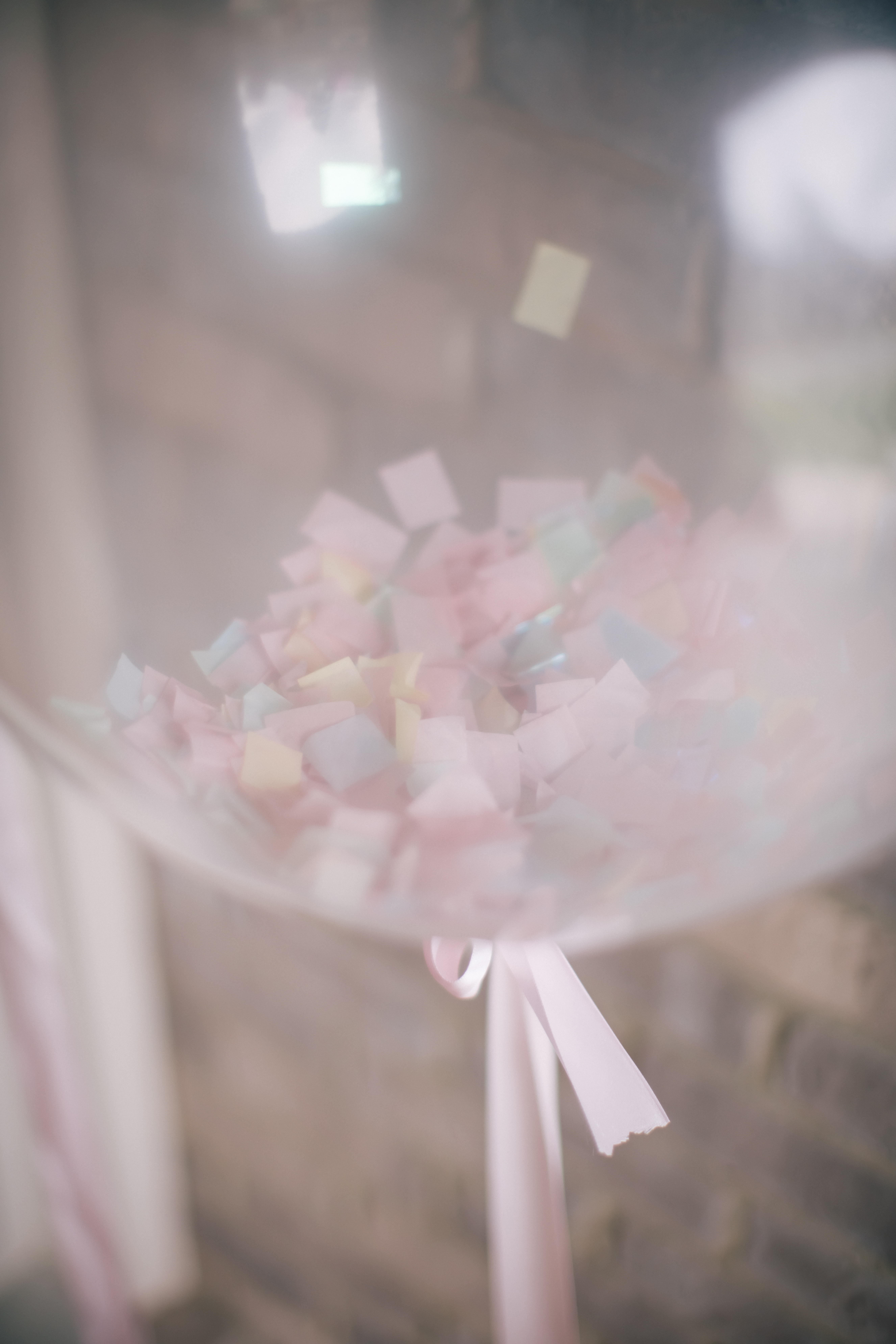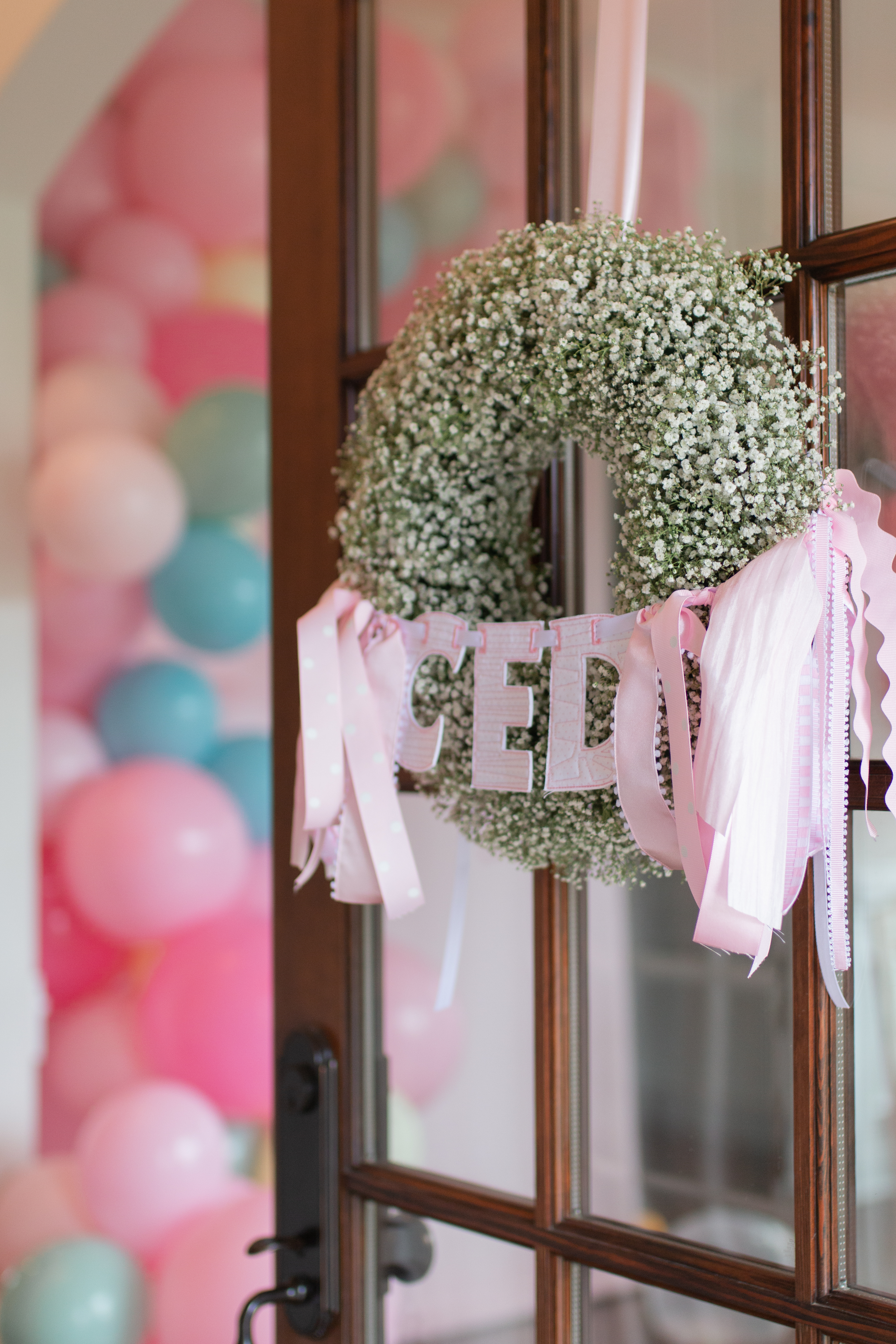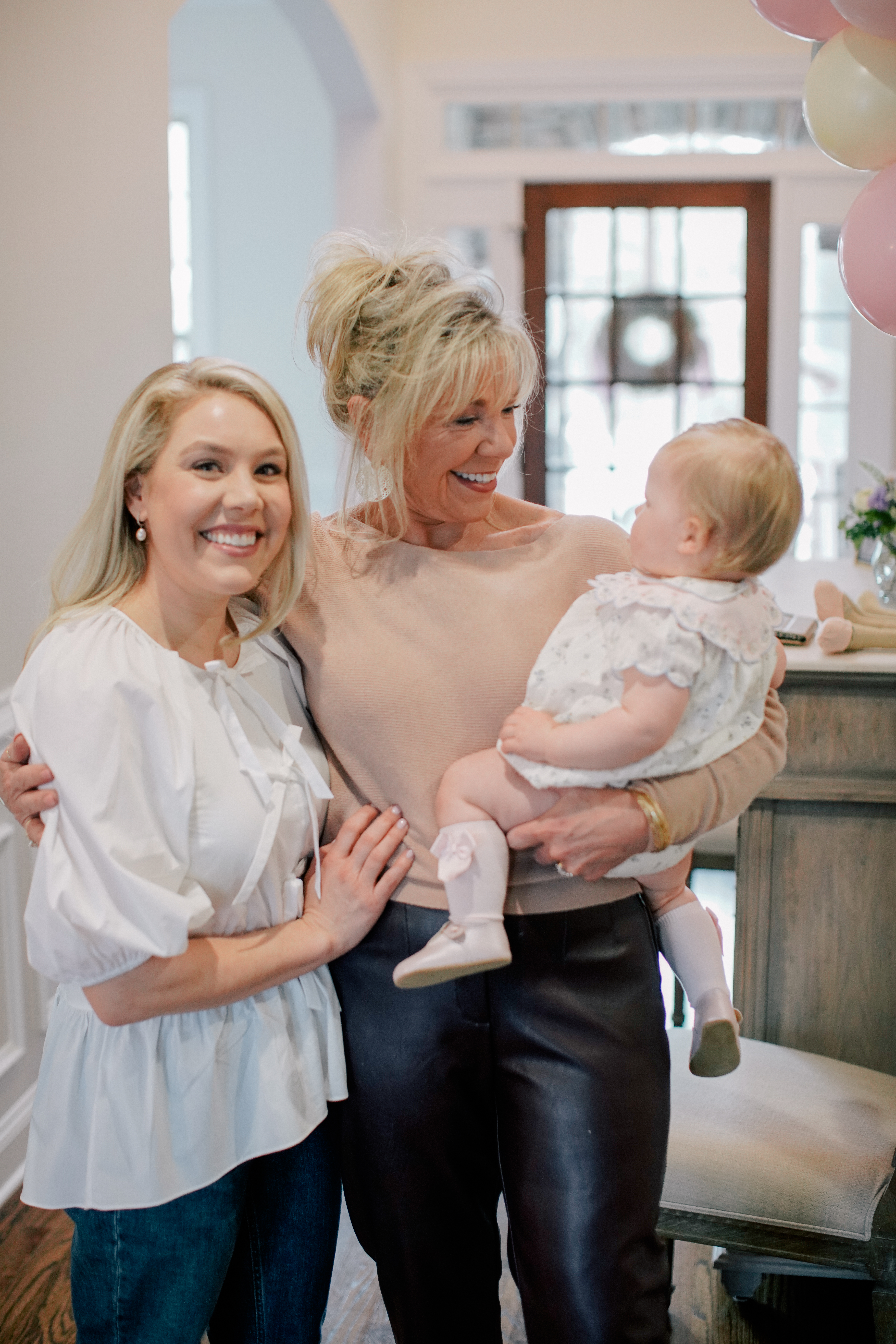 In staying committed to the theme, our menu included an assortment of vegetables, a basket of fruit, and potato salad. Let me just say, the charcuterie board was truly a work of art! No party is complete without one of Allyson's famous charcuterie spreads. Peep the little ceramic bunnies throughout; a sweet reiteration of the theme! Allyson and her husband, Alex, live just a few houses down the street and are incredible cooks. Alex made the oh-so-yummy sliders, and they were delicious!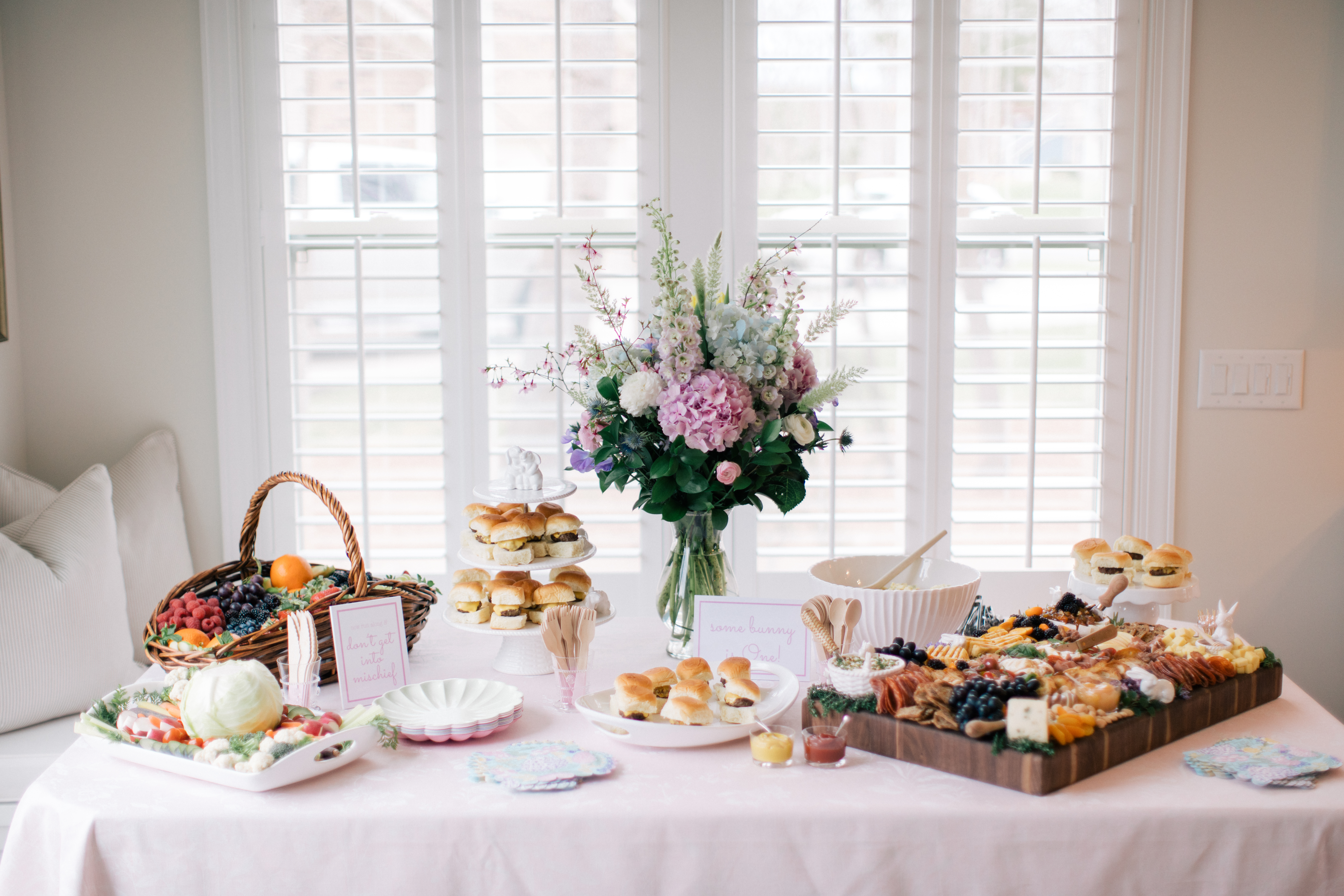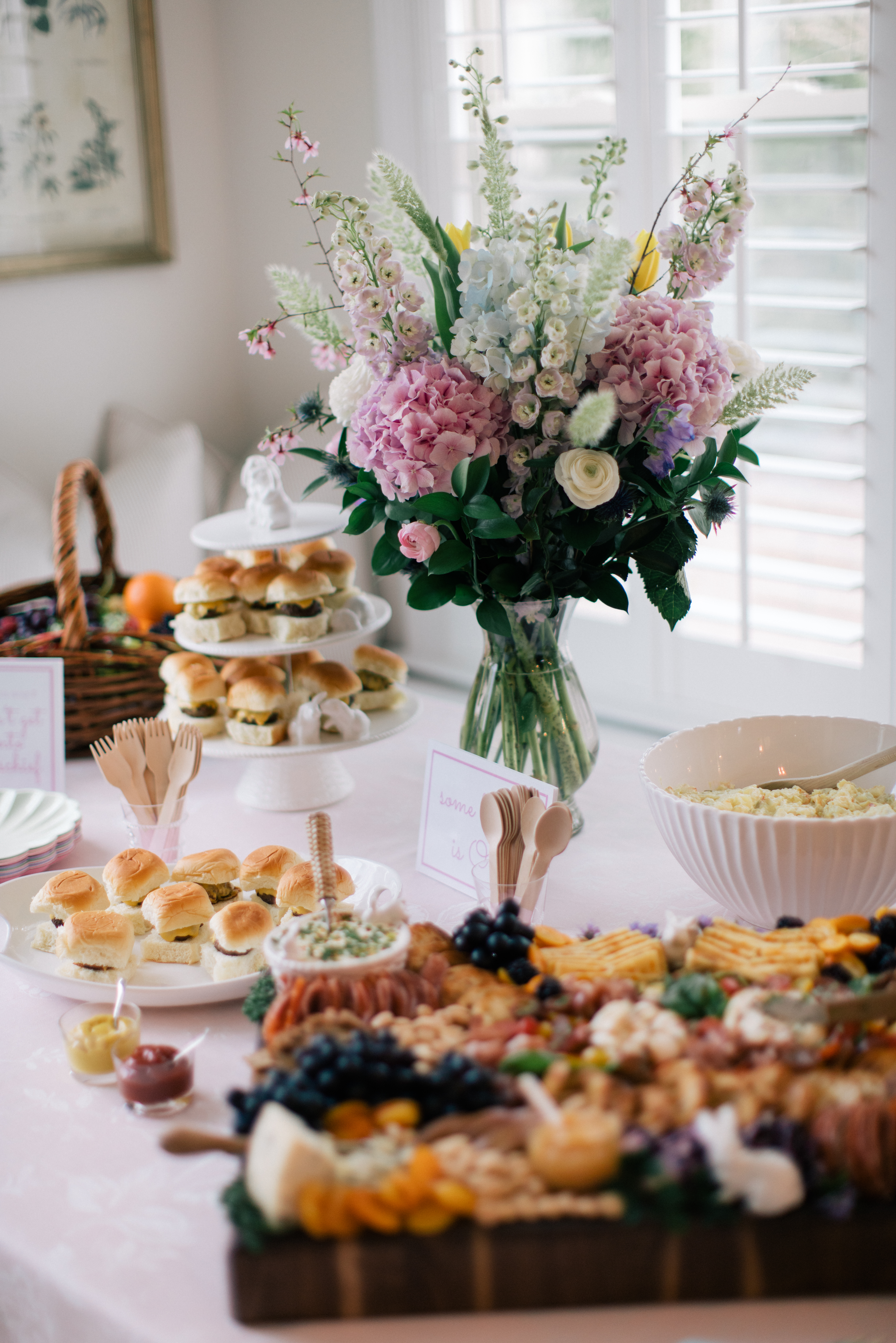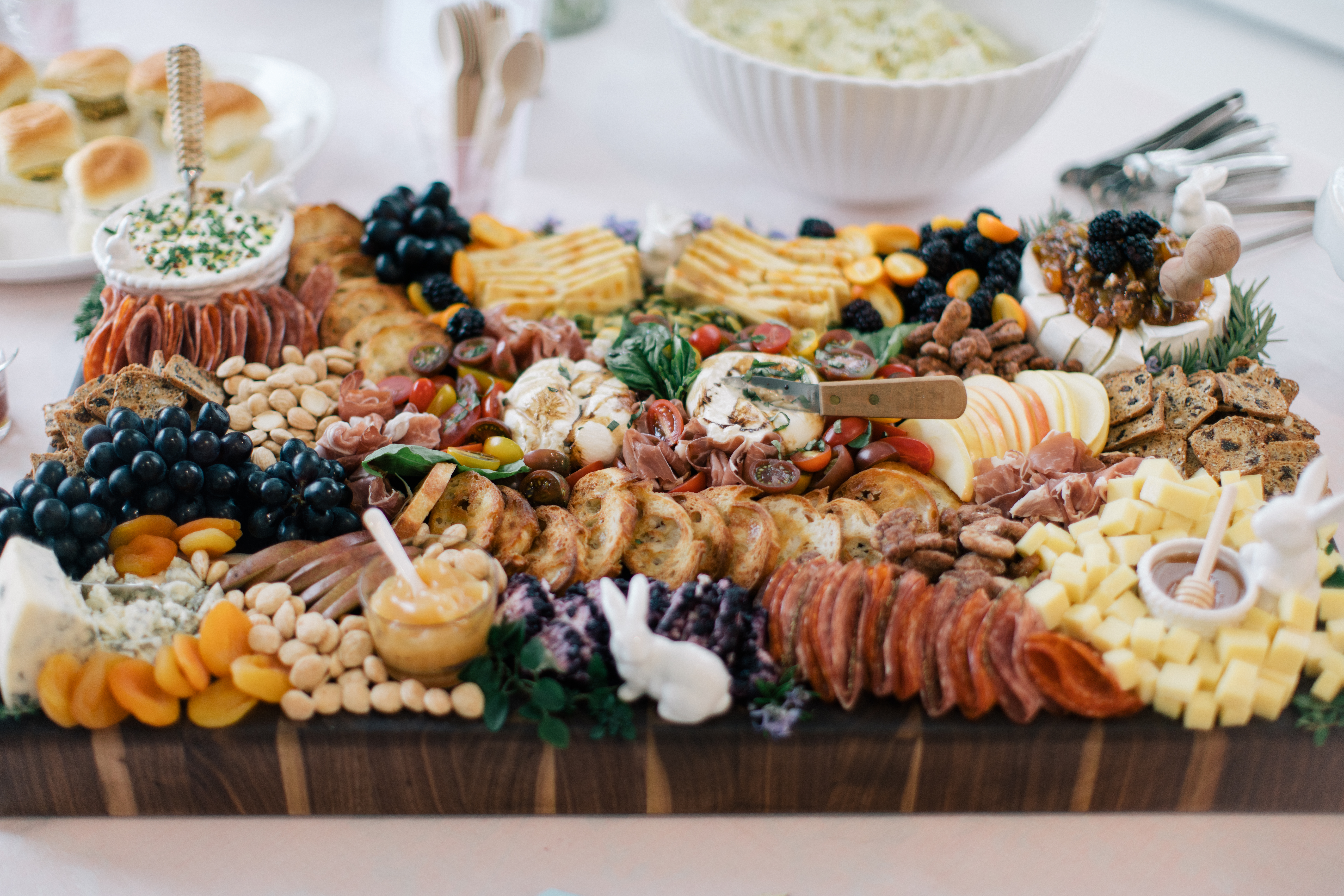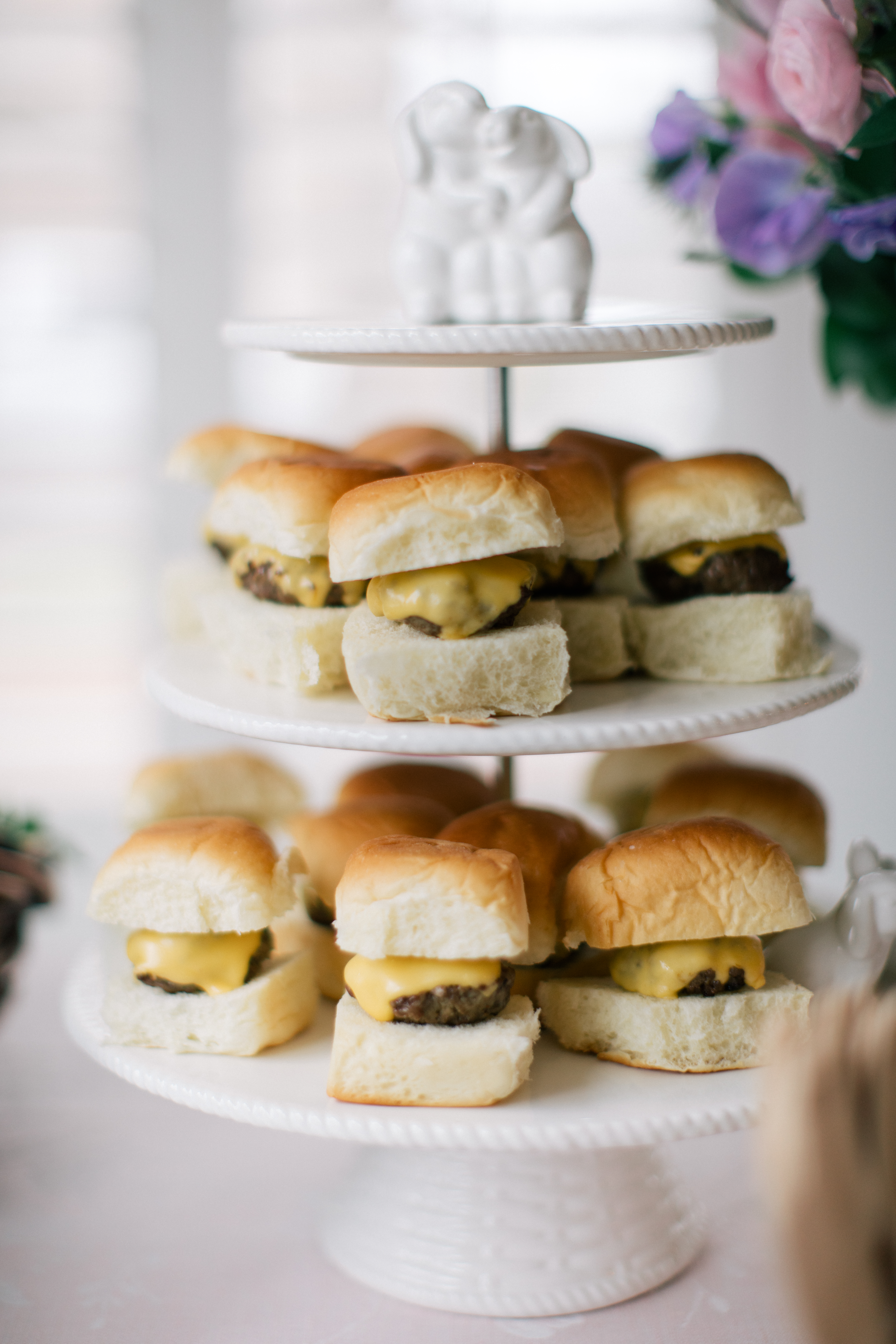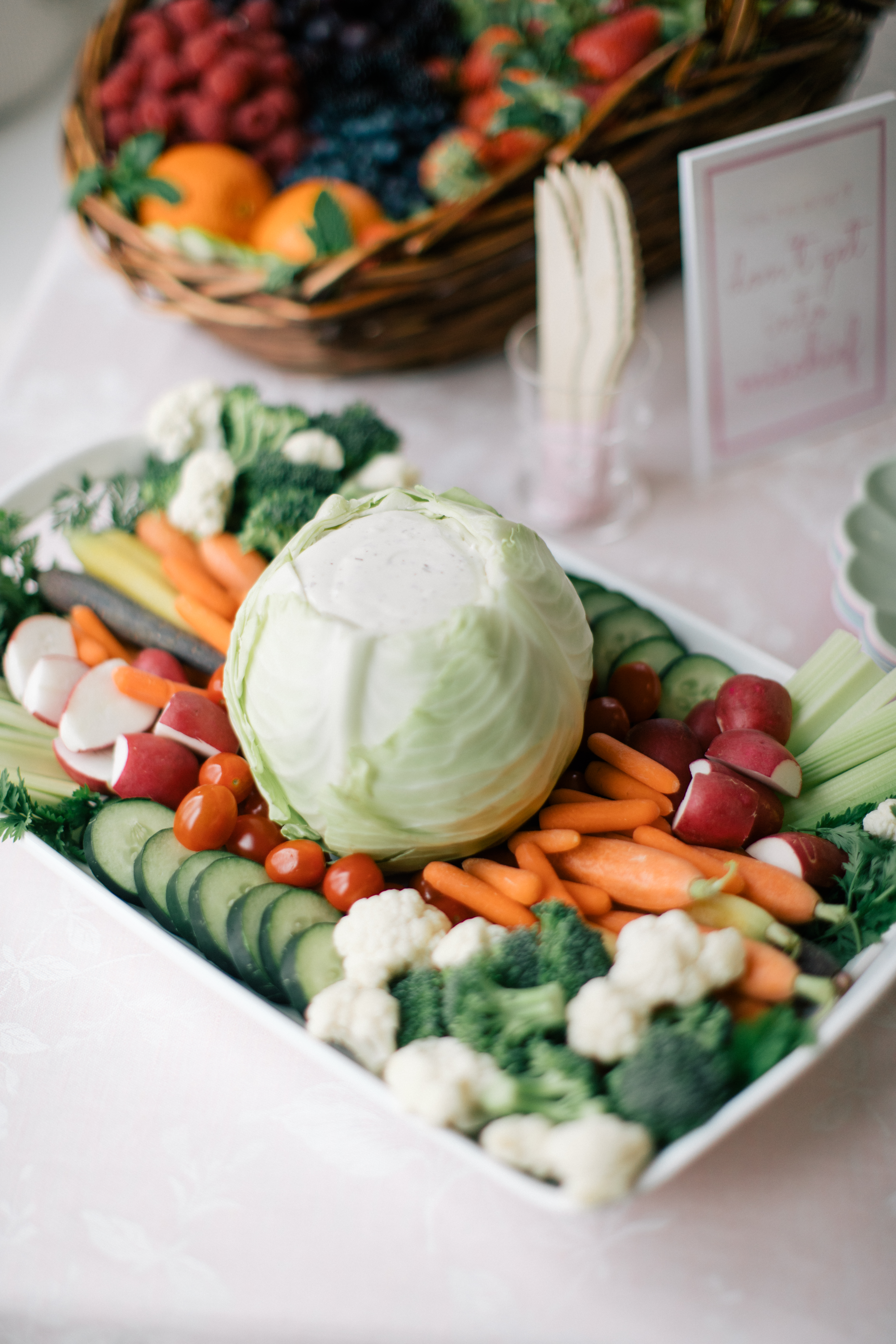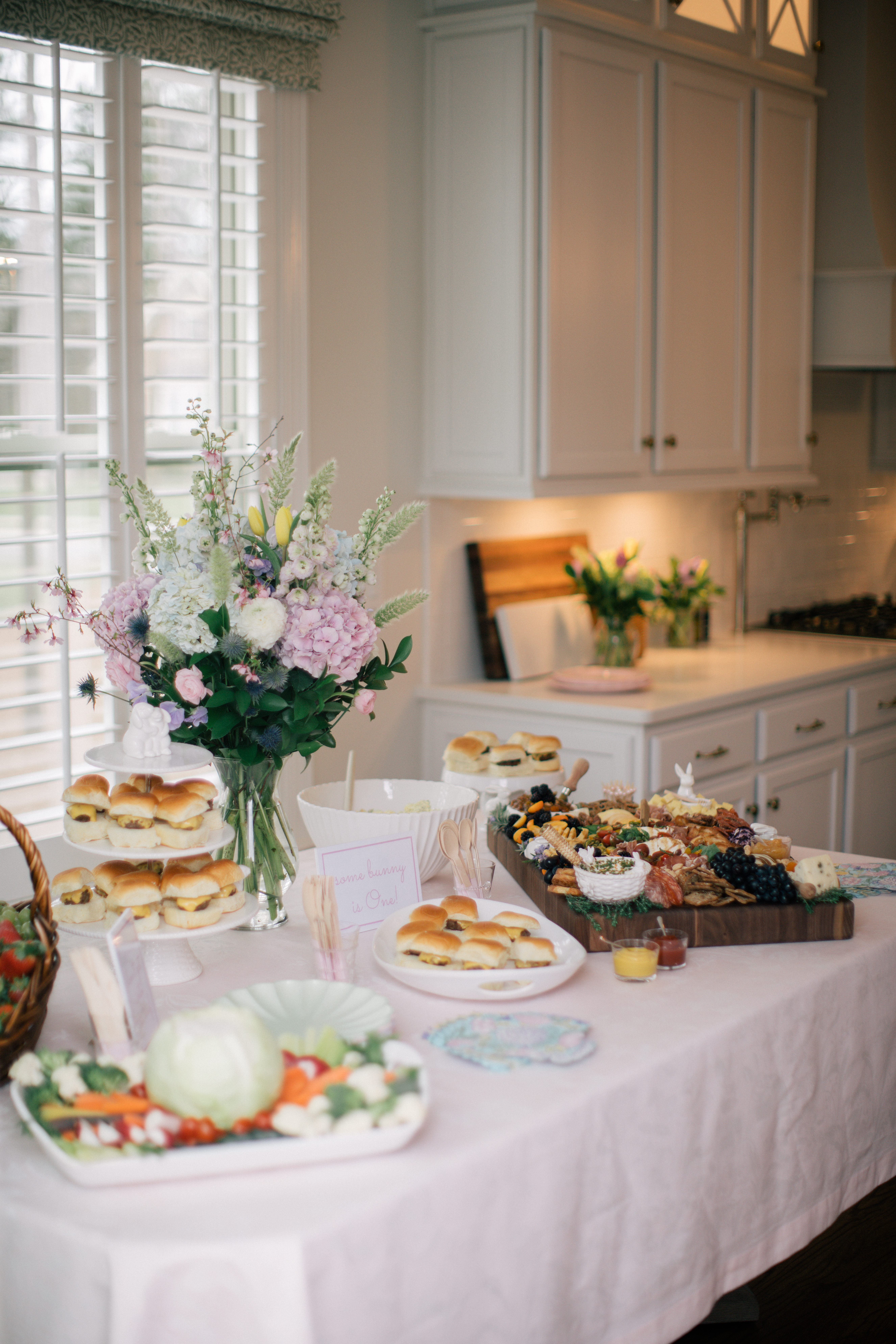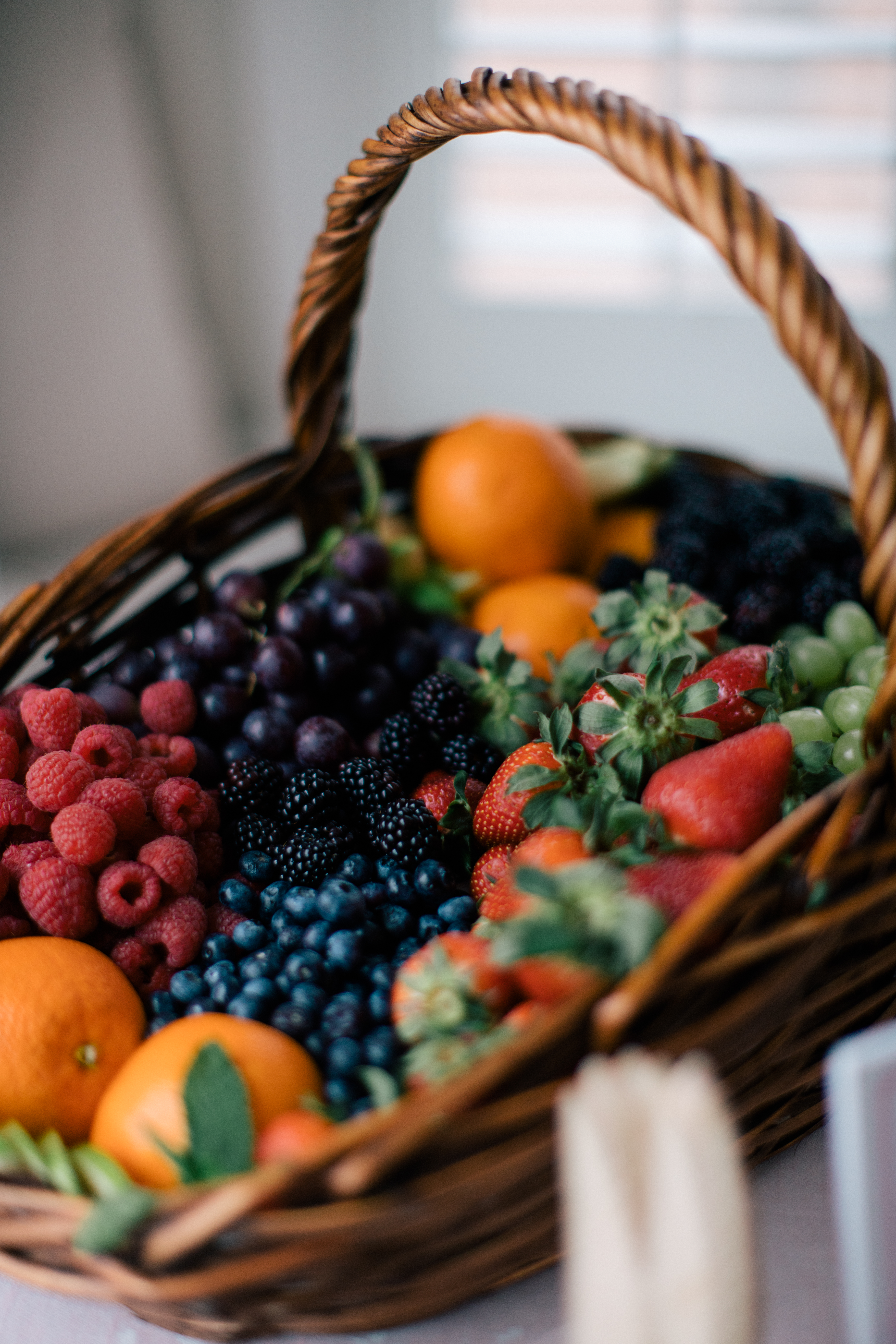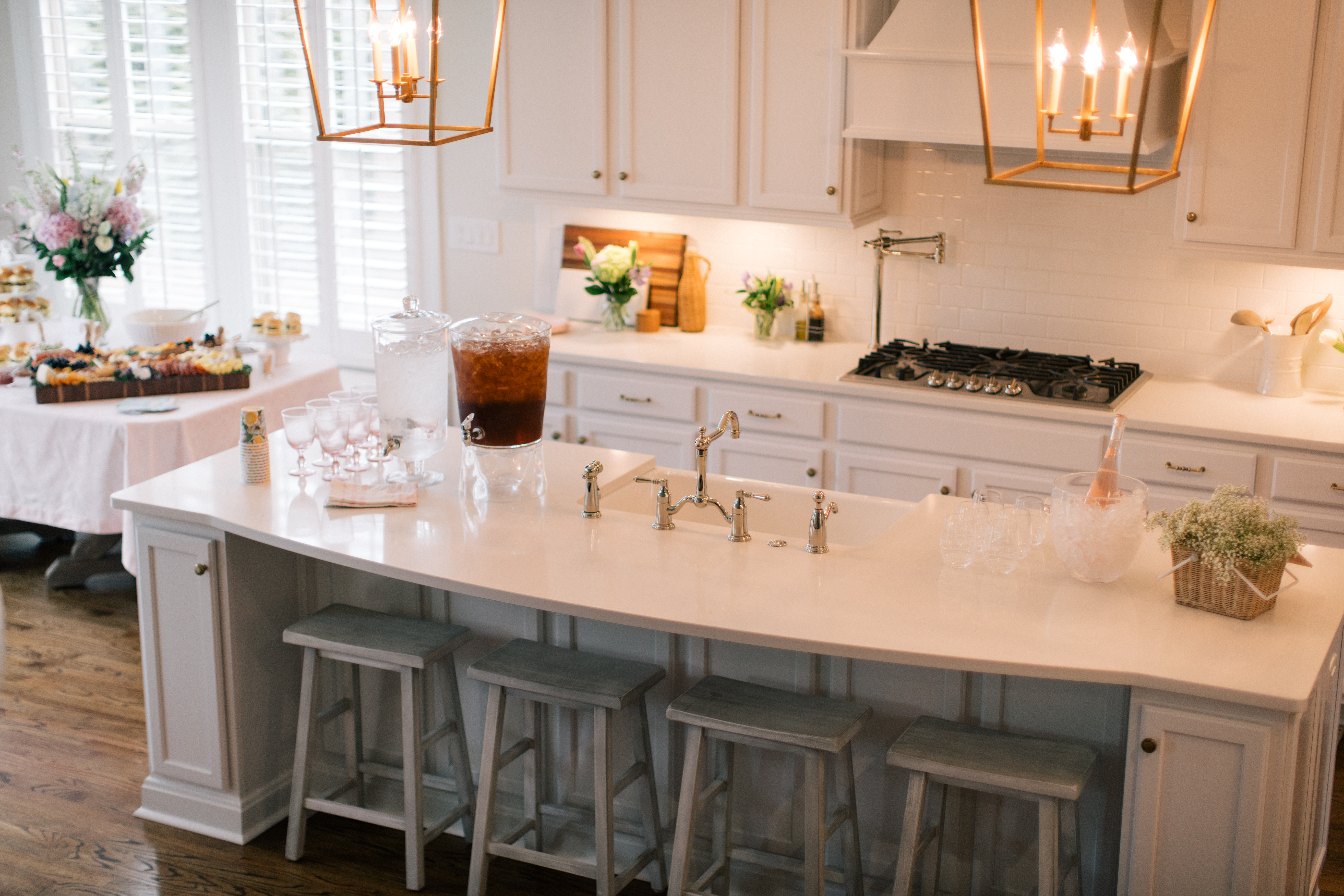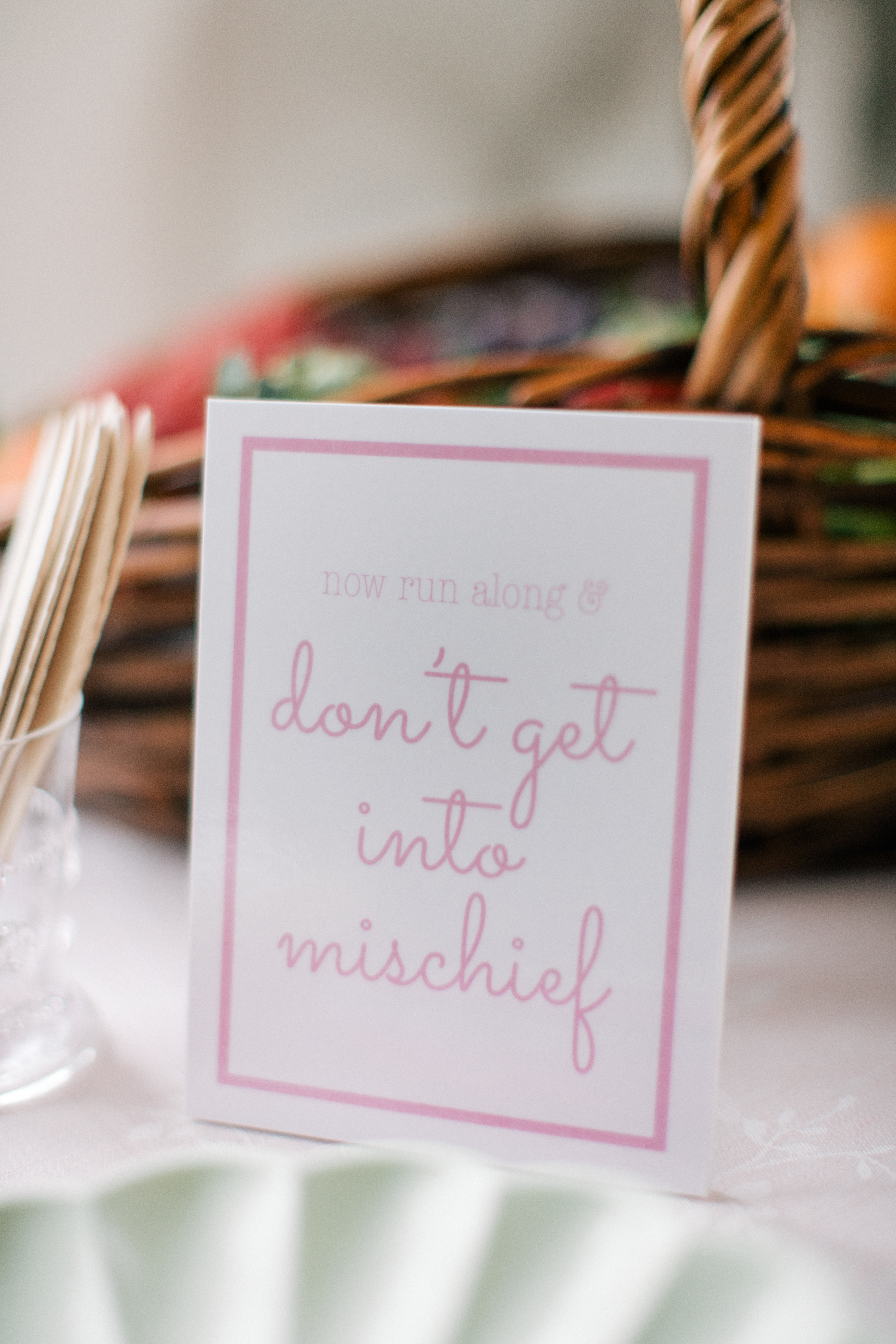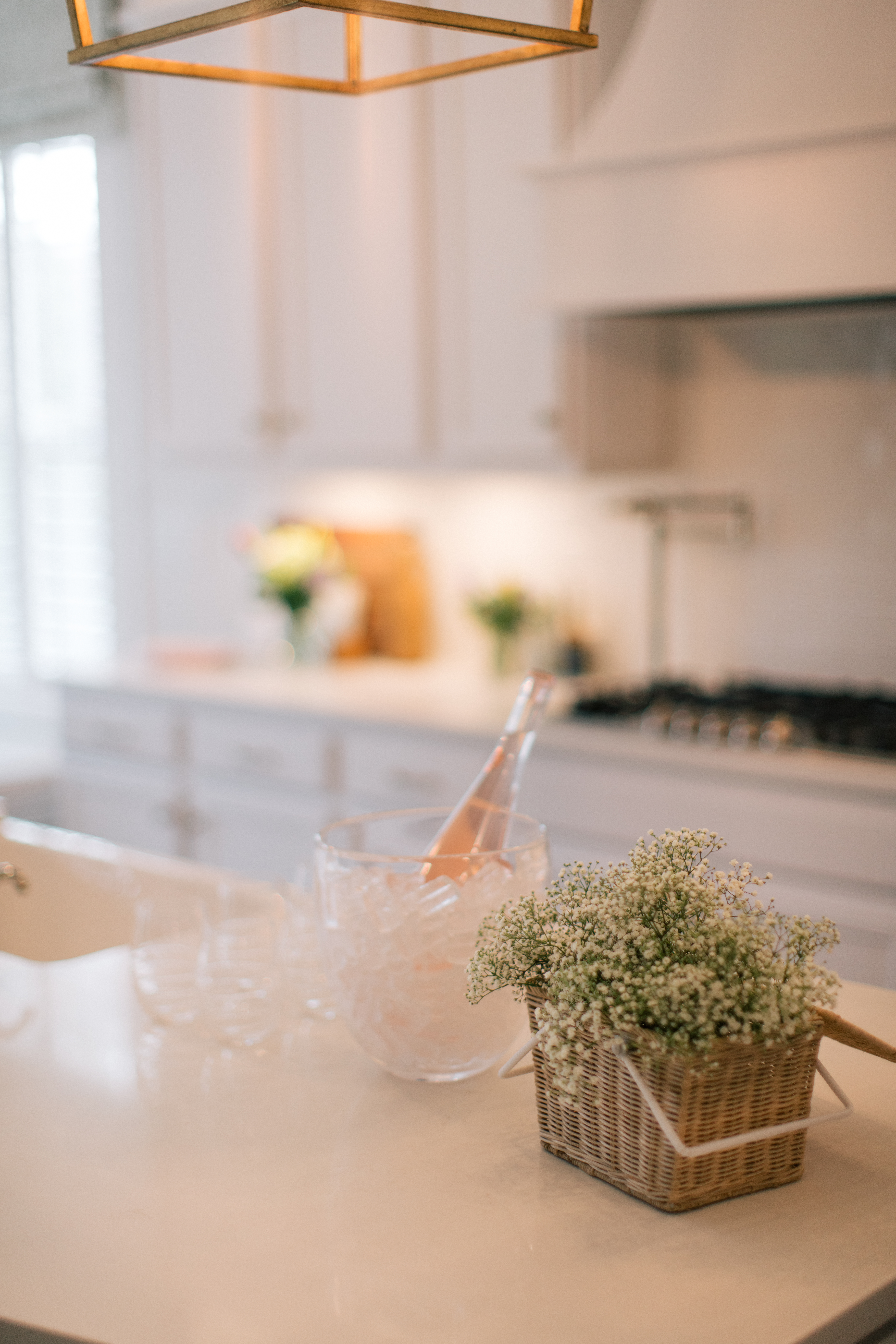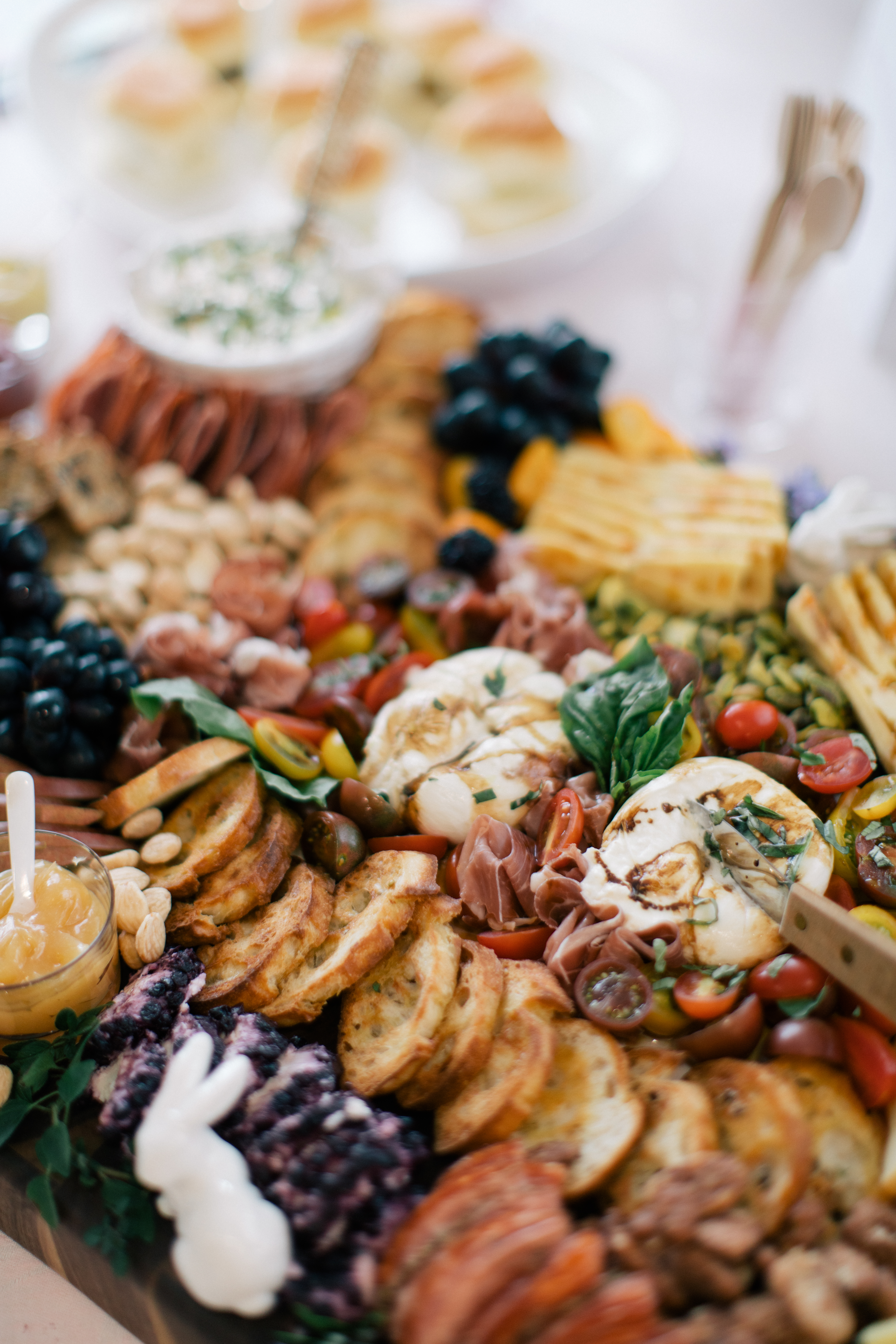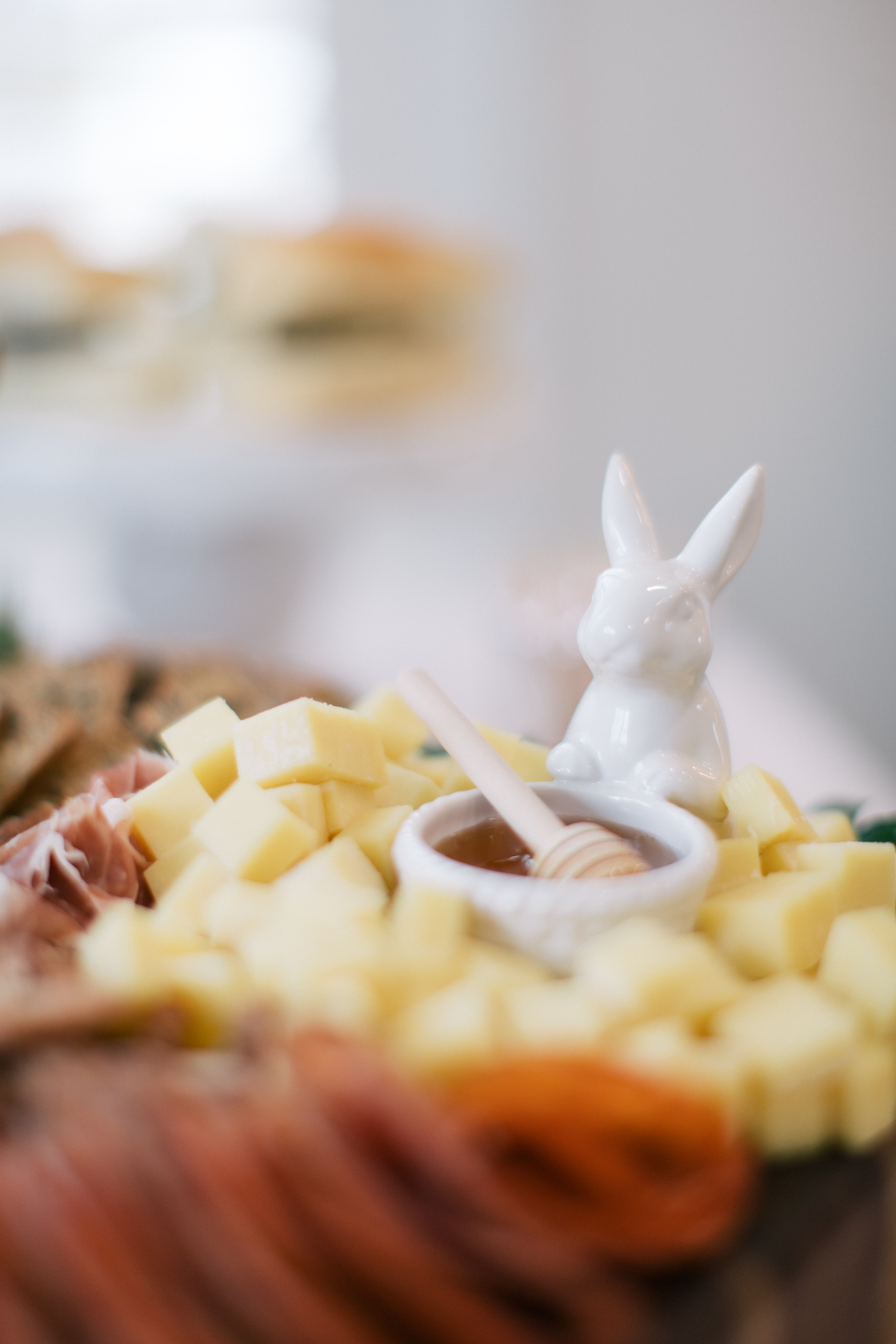 The absolutely gorgeous flowers were done by our incredibly talented neighbor and good friend, Roxanne. I wanted to have plenty of flowers to use as colorful accents in various baskets and vases throughout the setup. Thankfully Roxanne let me accompany her on a trip to Mayesh where she and I carefully selected an assortment of flowers to match those printed on the invitation. The bounty of blooms included blue hydrangeas, lavender delphiniums, white ranunculus, pale pink sweet peas and rabbit's tail grass. I also grabbed some extra bunches of yellow tulips while at the grocery store. My kitchen was a small floral shop and as you can imagine, I was in complete heaven!
To contribute to the "garden" feel, I made a trip to Whole Foods to choose the most beautiful carrots, radishes, and turnips I could find with the stems and leaves still intact. We used these to garnish the vegetable platter! For paper goods, I used a mixture of pieces from Oh Happy Day, Meri Meri and Amazon. The wooden spoons added a natural touch and I painted the stems of them pale pink. The same pink color was used to paint the backdrop that I made using canvas from Hobby Lobby and a wooden frame. For linens, this pink floral jacquard tablecloth from William Sonoma (pictured above in the photo of the buffet) was just what I was looking for and I know I will continue to use it again and again in the future.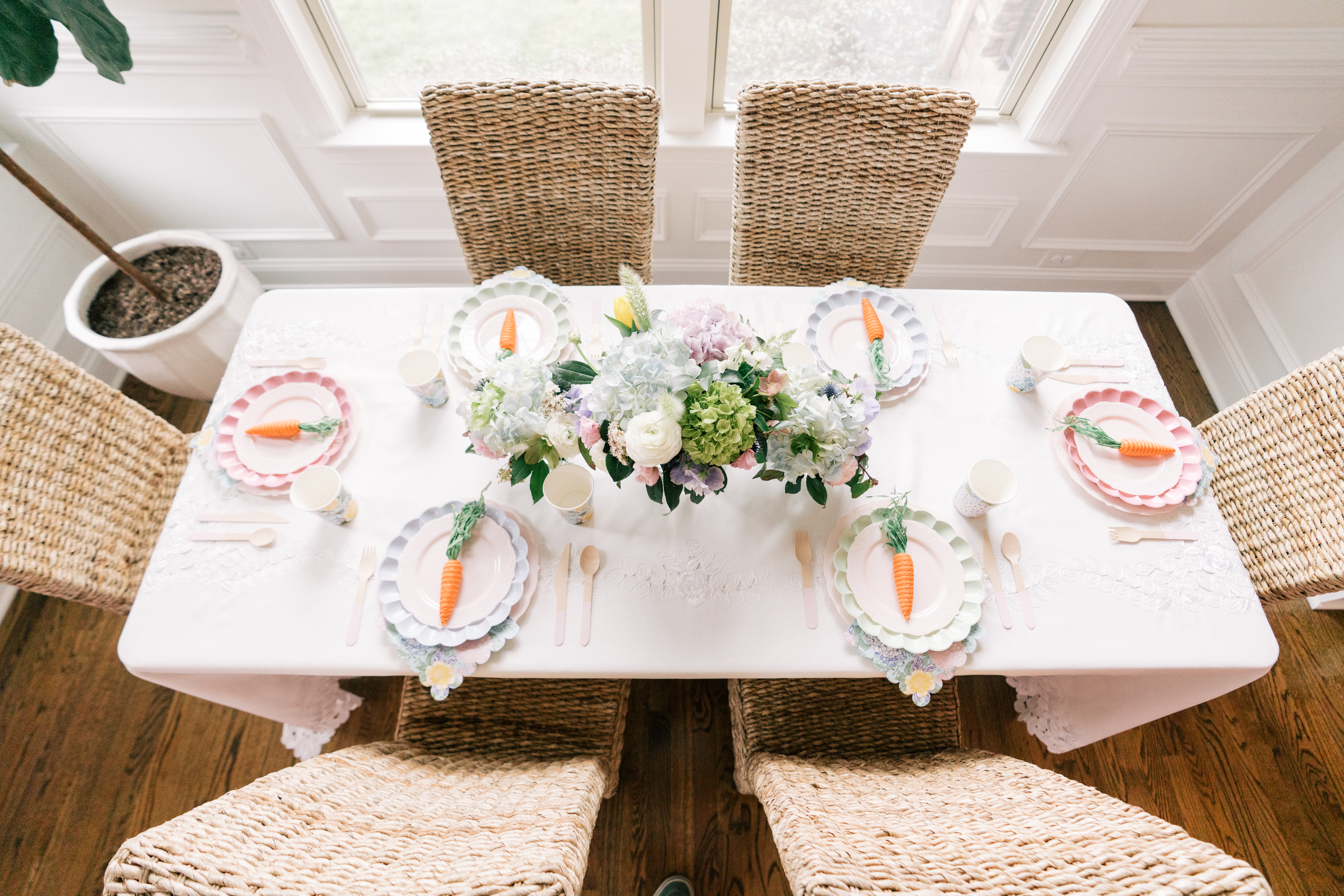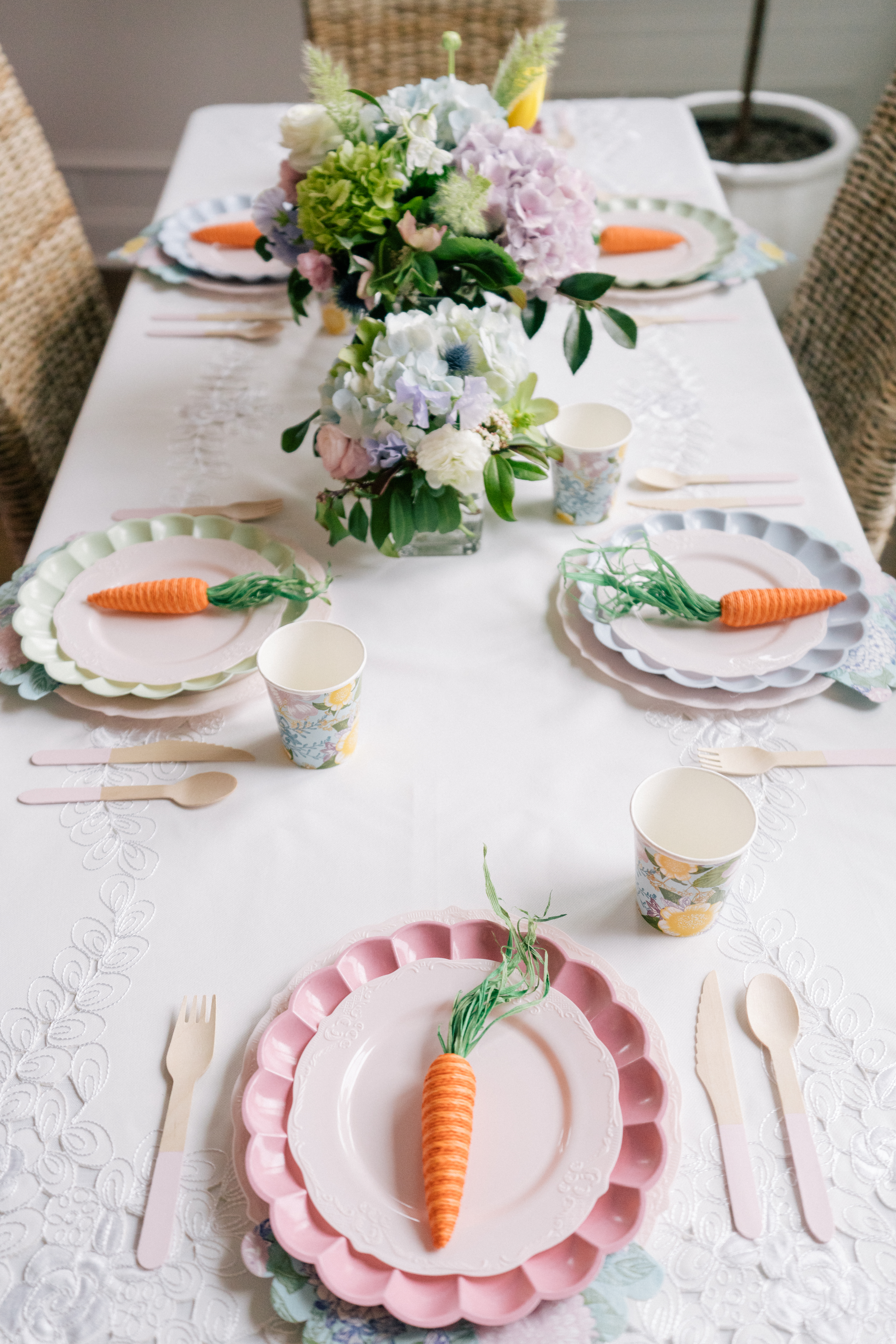 No party is truly complete without a Confetti Castle balloon display. Thanks to Tiffany and her husband, the walls of our home were drenched in beautiful arrangements of pastel balloons.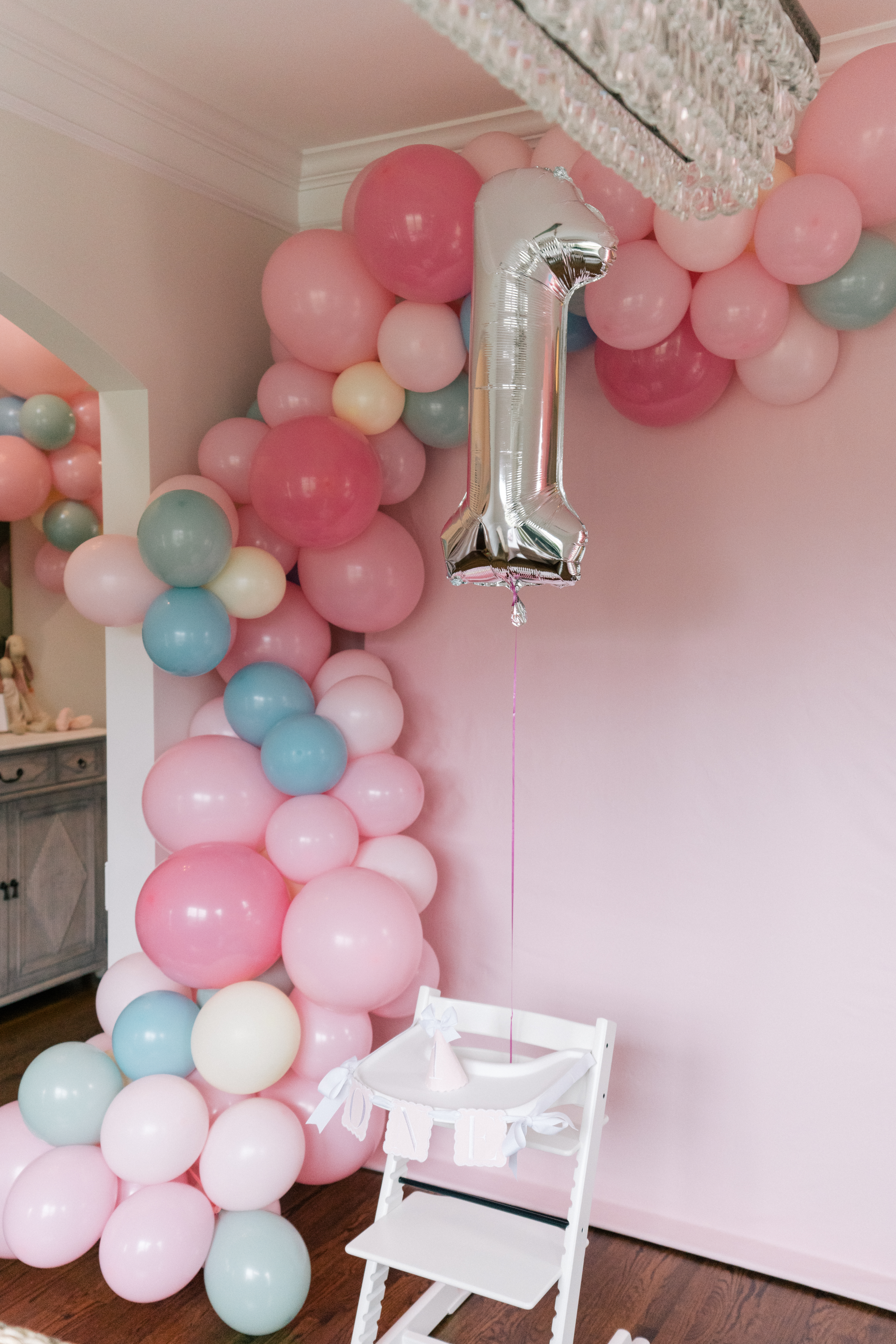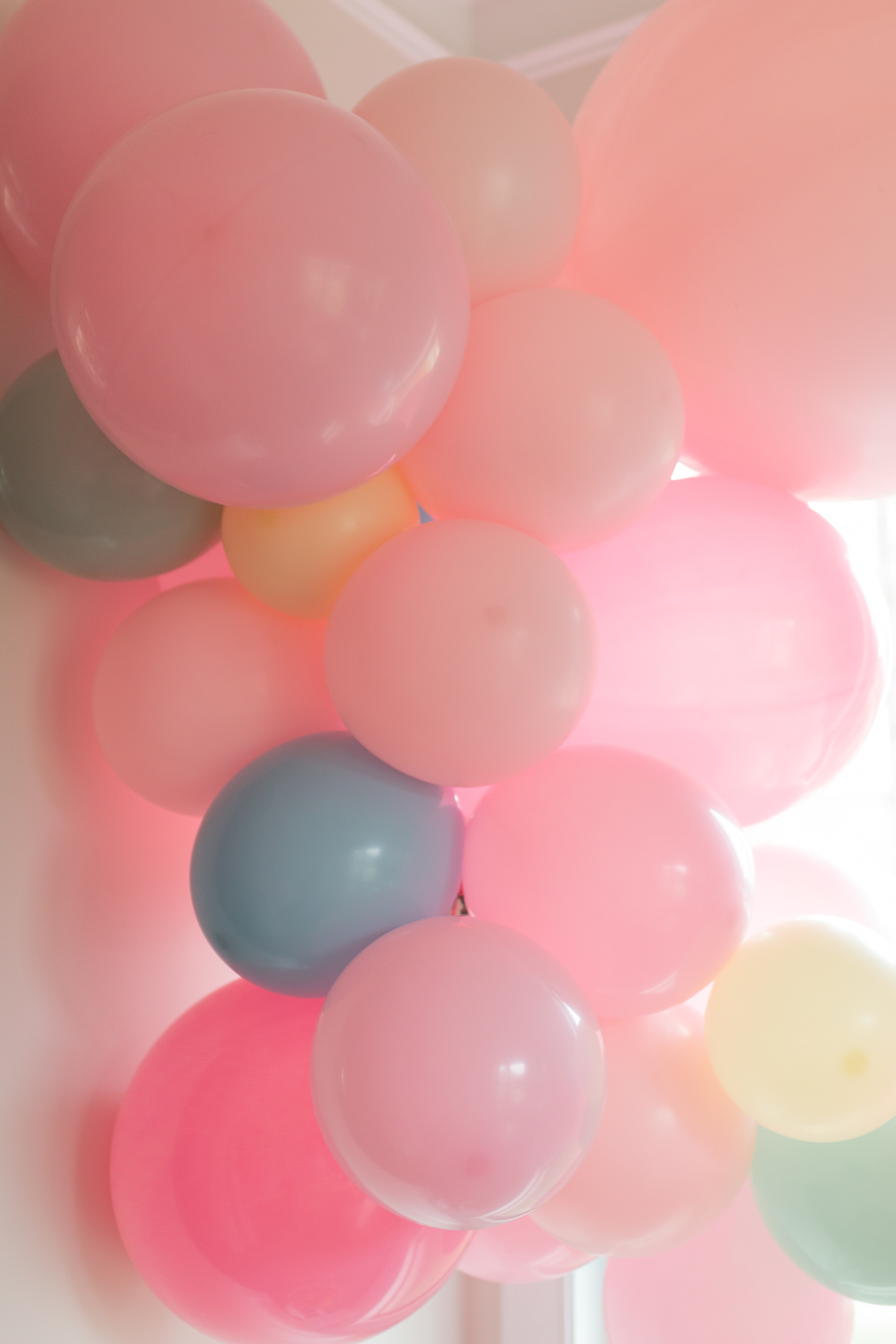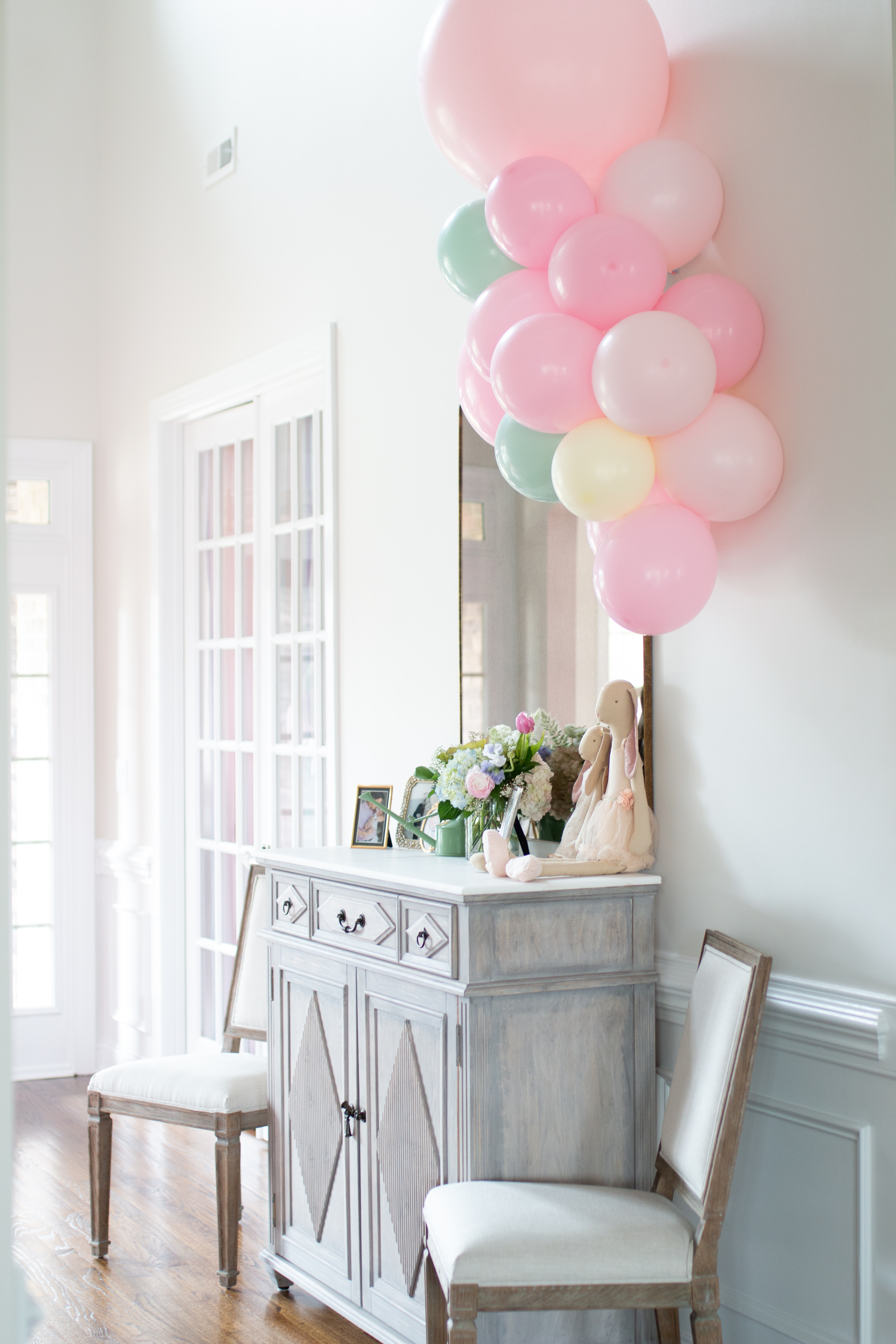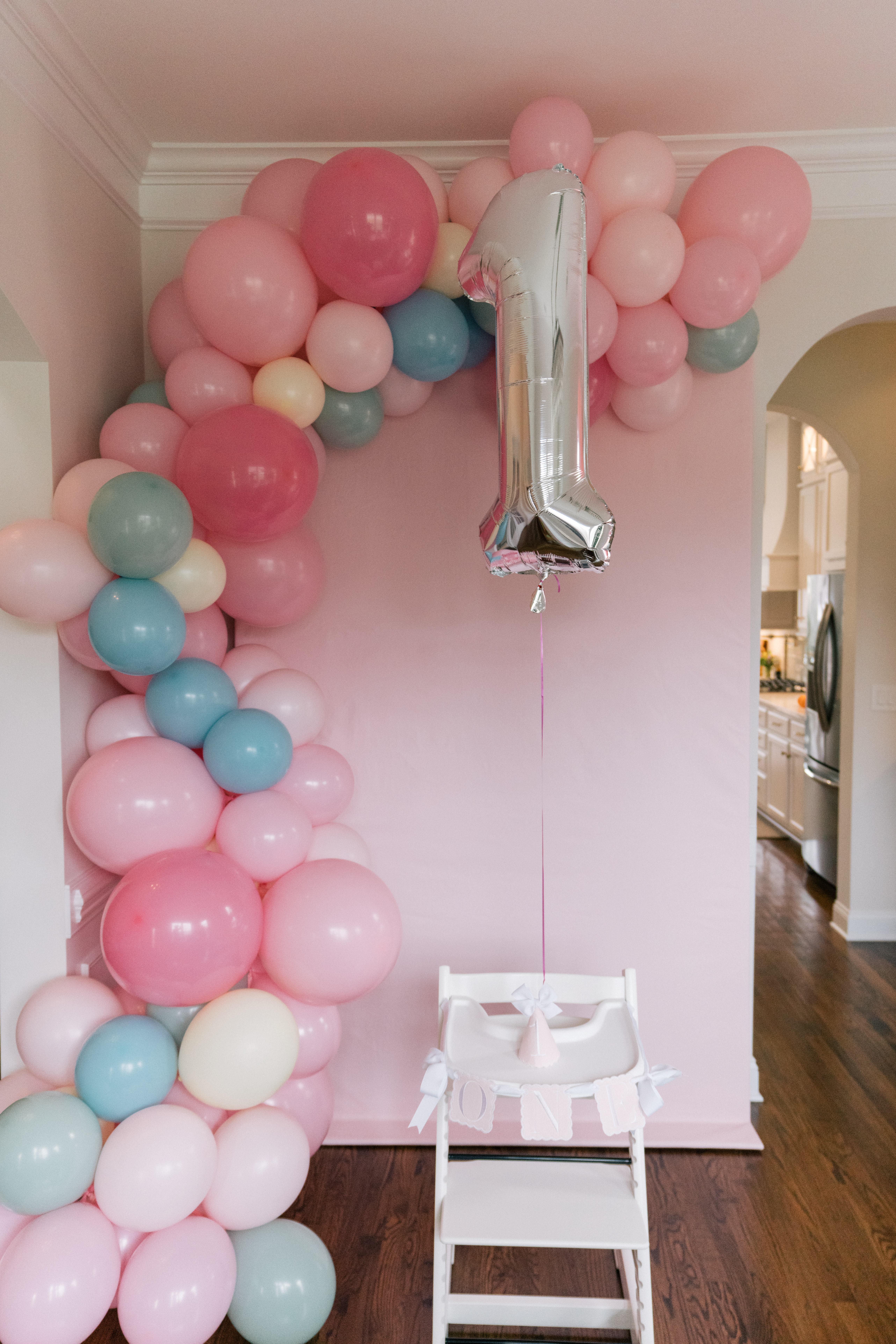 I wrapped Collins highchair with an heirloom birthday banner from Charlotte Thread Co. She wore a matching scalloped party hat topped with the sweetest grosgrain bow!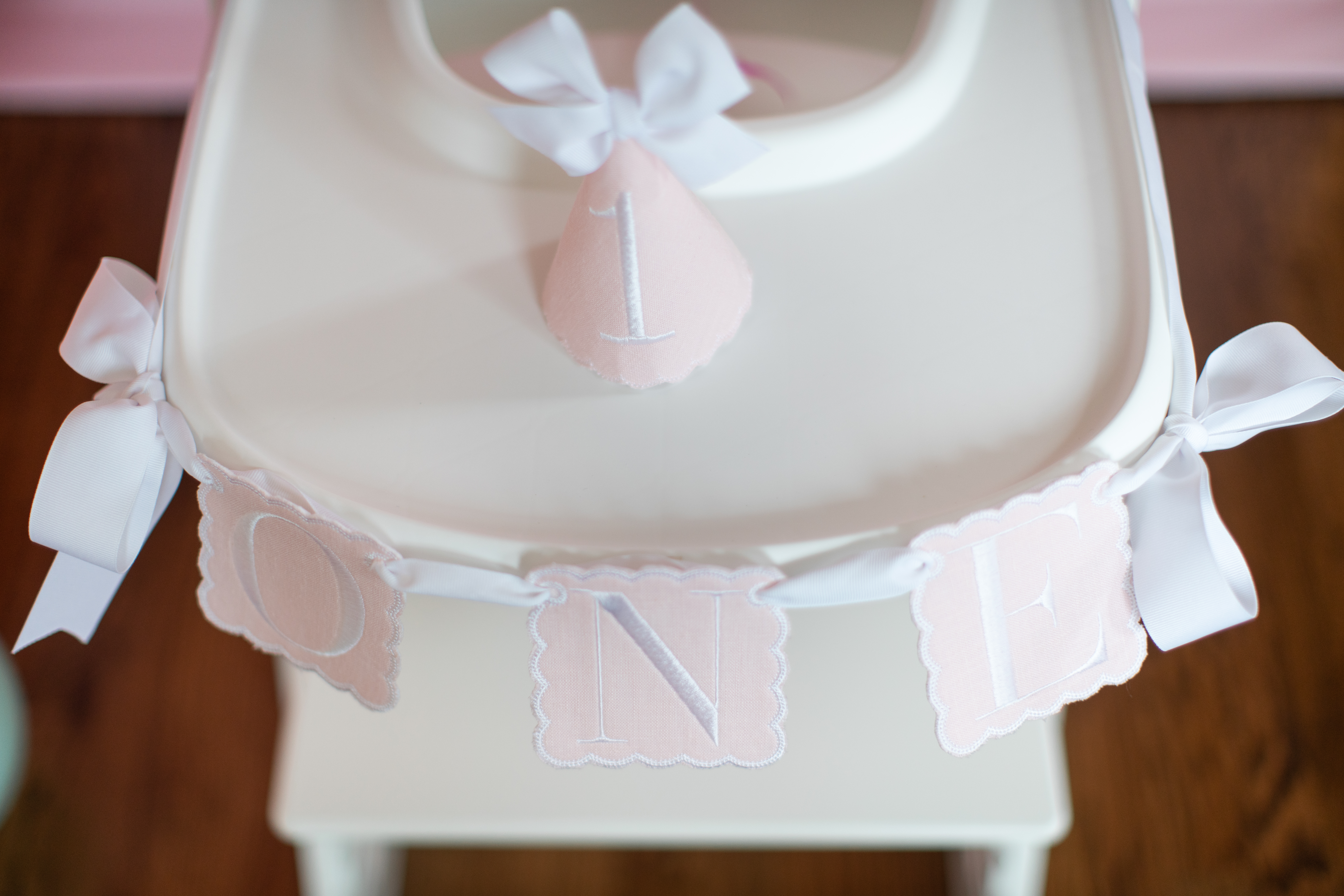 Last but certainly not least, the sweet treats! I had Cookies on the Side bake the most delectable and ladylike cookies. Tracy is incredibly talented and created a cookie to match the bunny illustrated on the invitation! Maite with Sweet Indulgence by Maite made the most unbelievably delicious cake with precious swiss dot details. Both the cake and cookies were almond flavor and so scrumptious! In keeping tradition, we gifted Collins a Gorham silver cake server set, and commissioned Christy to hand calligraphy the most beautiful  "Birthday Knife Poem."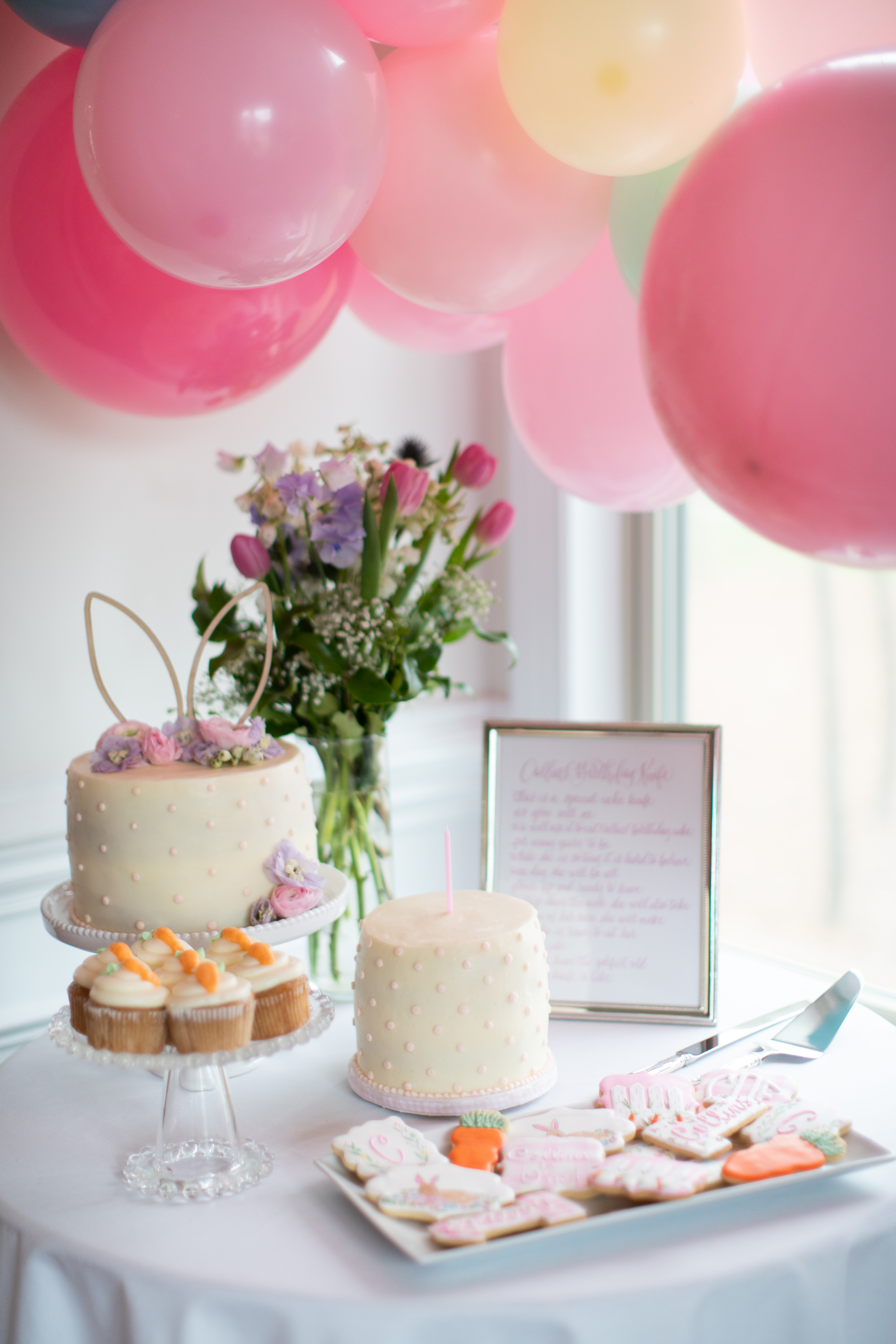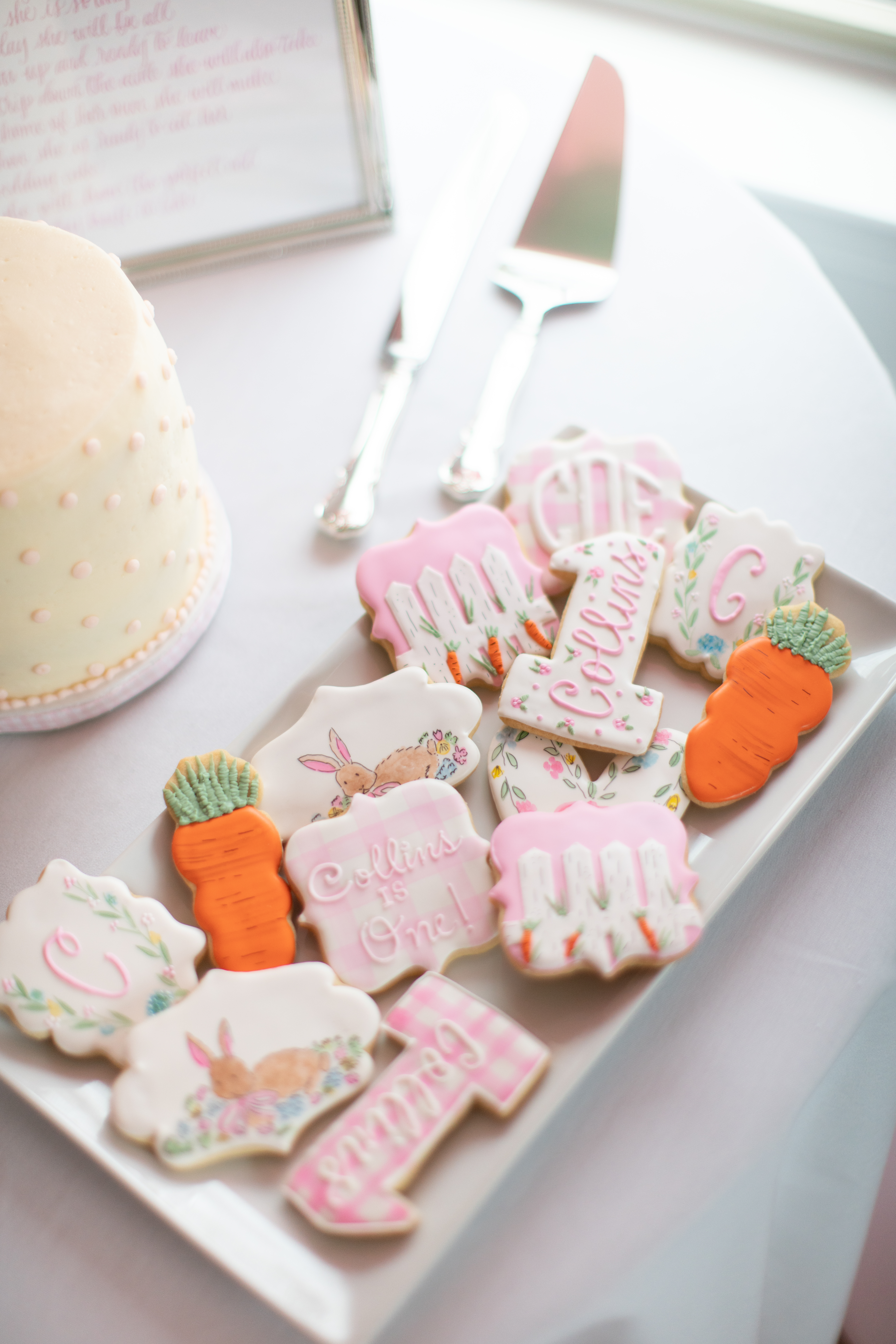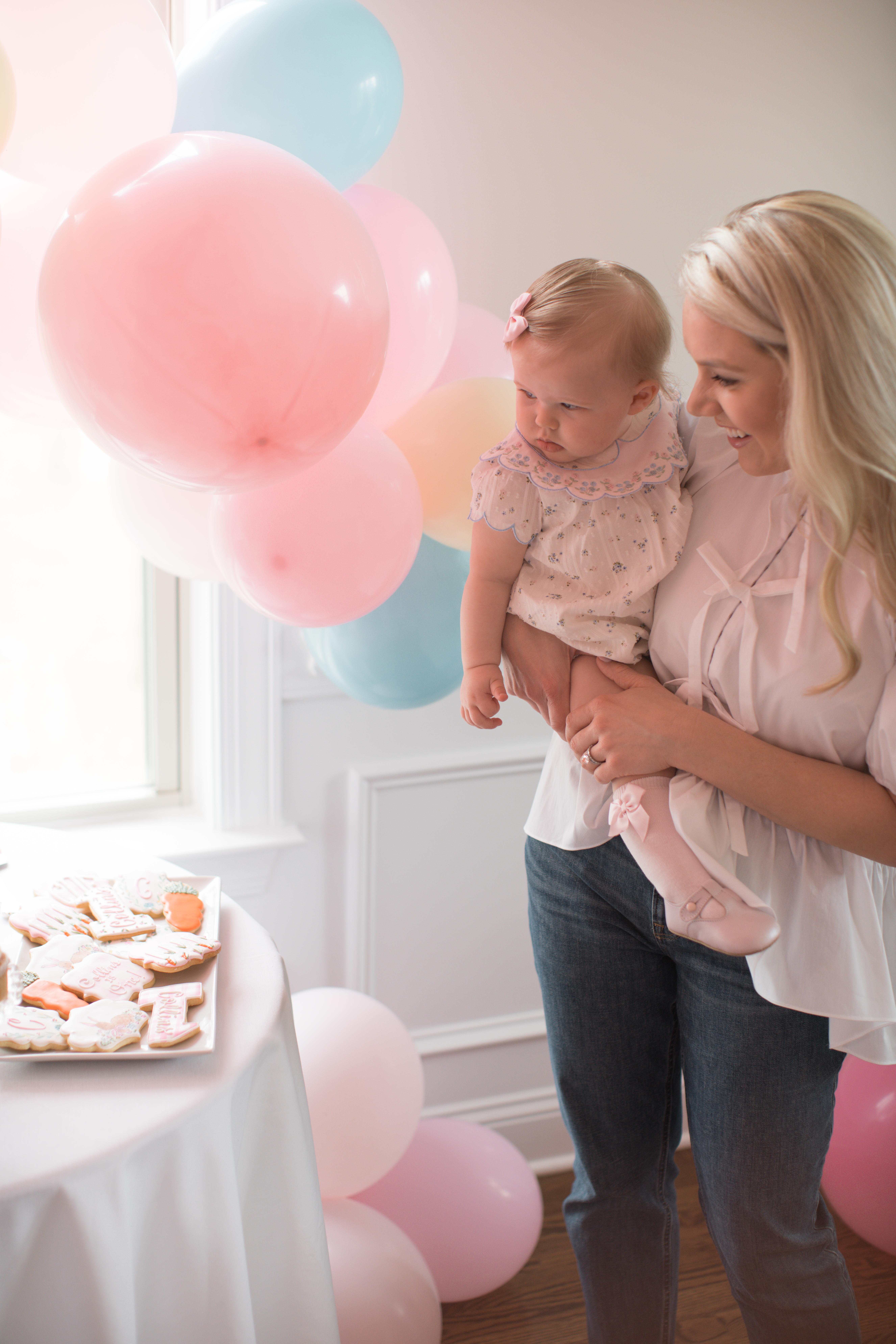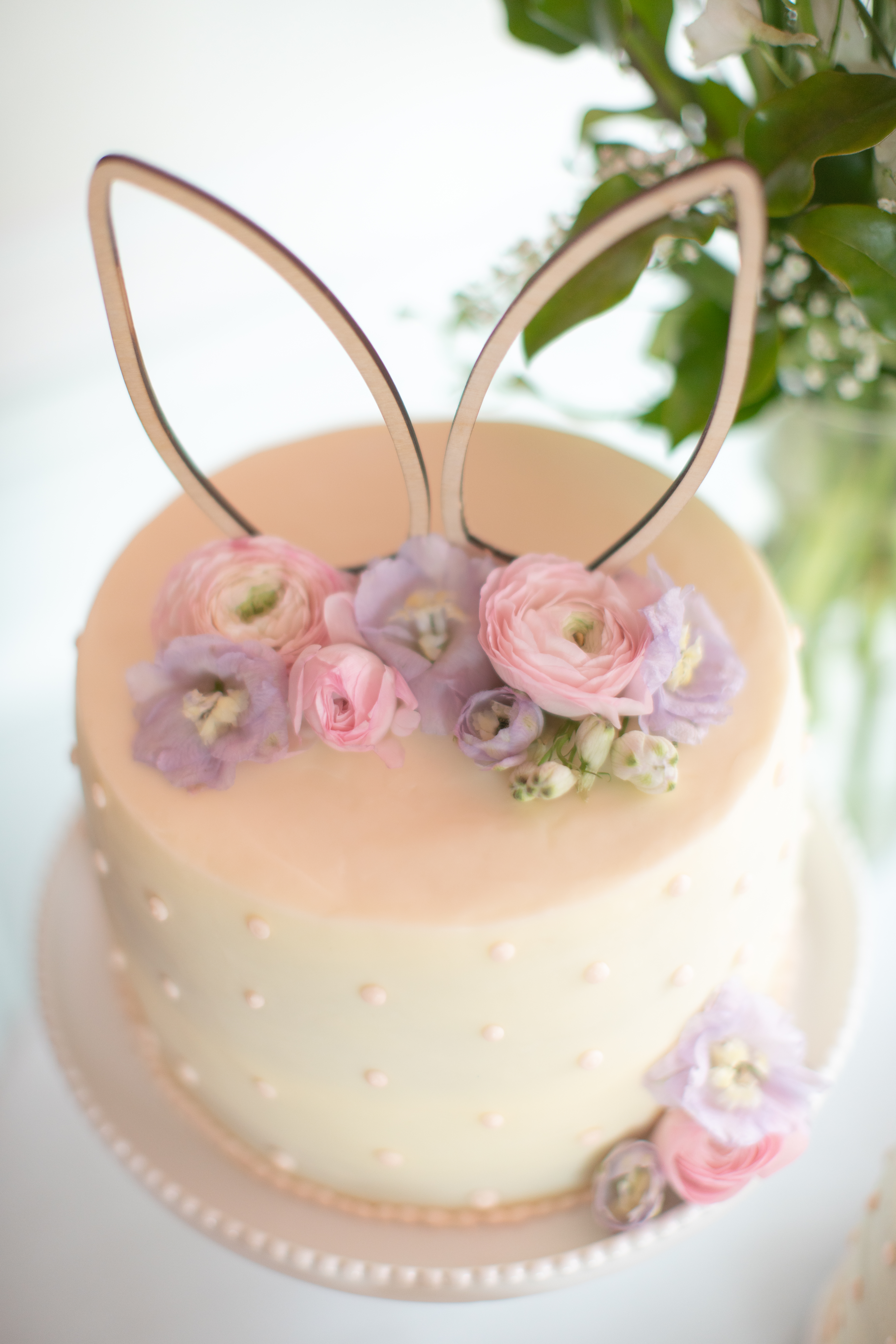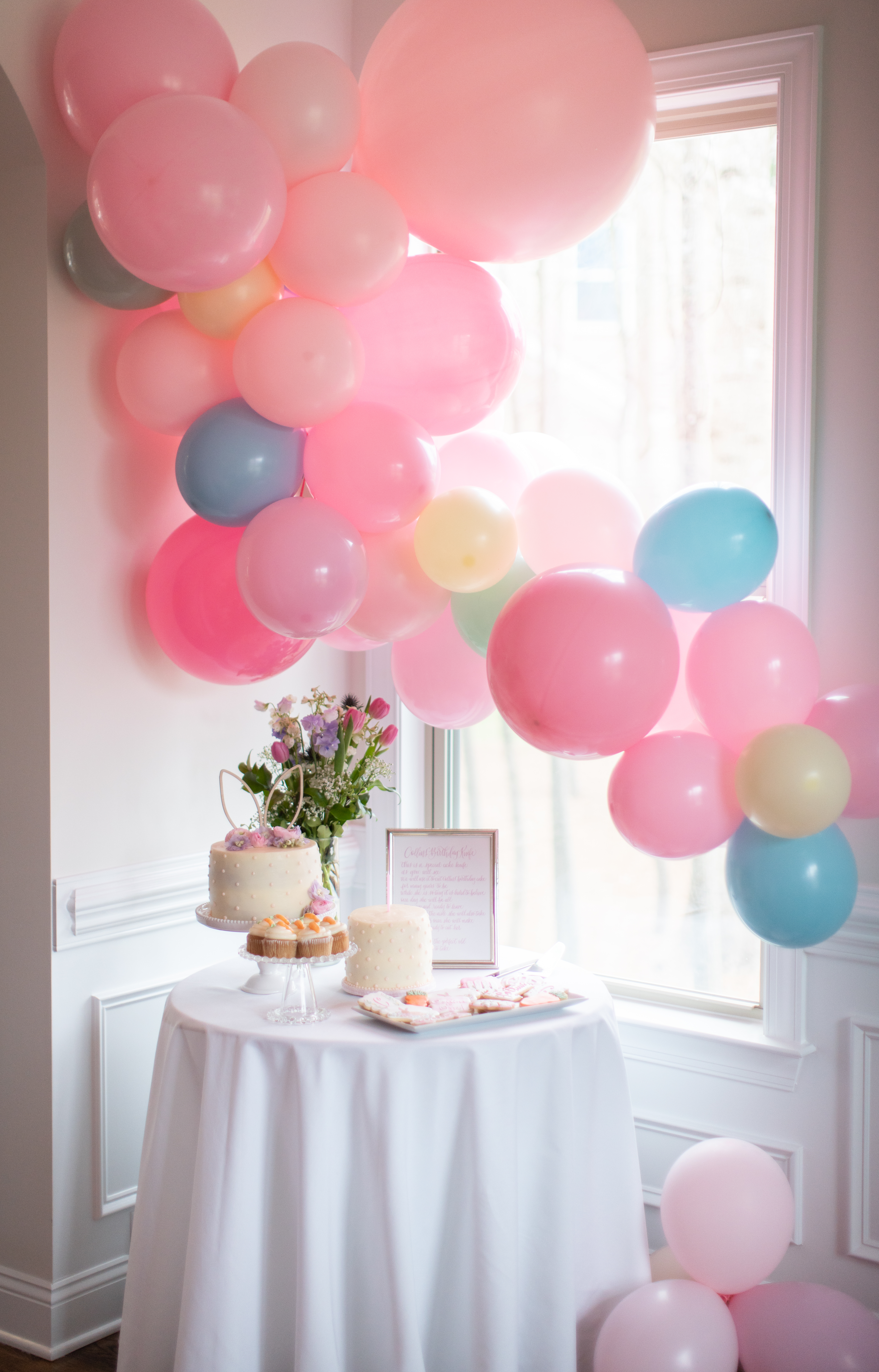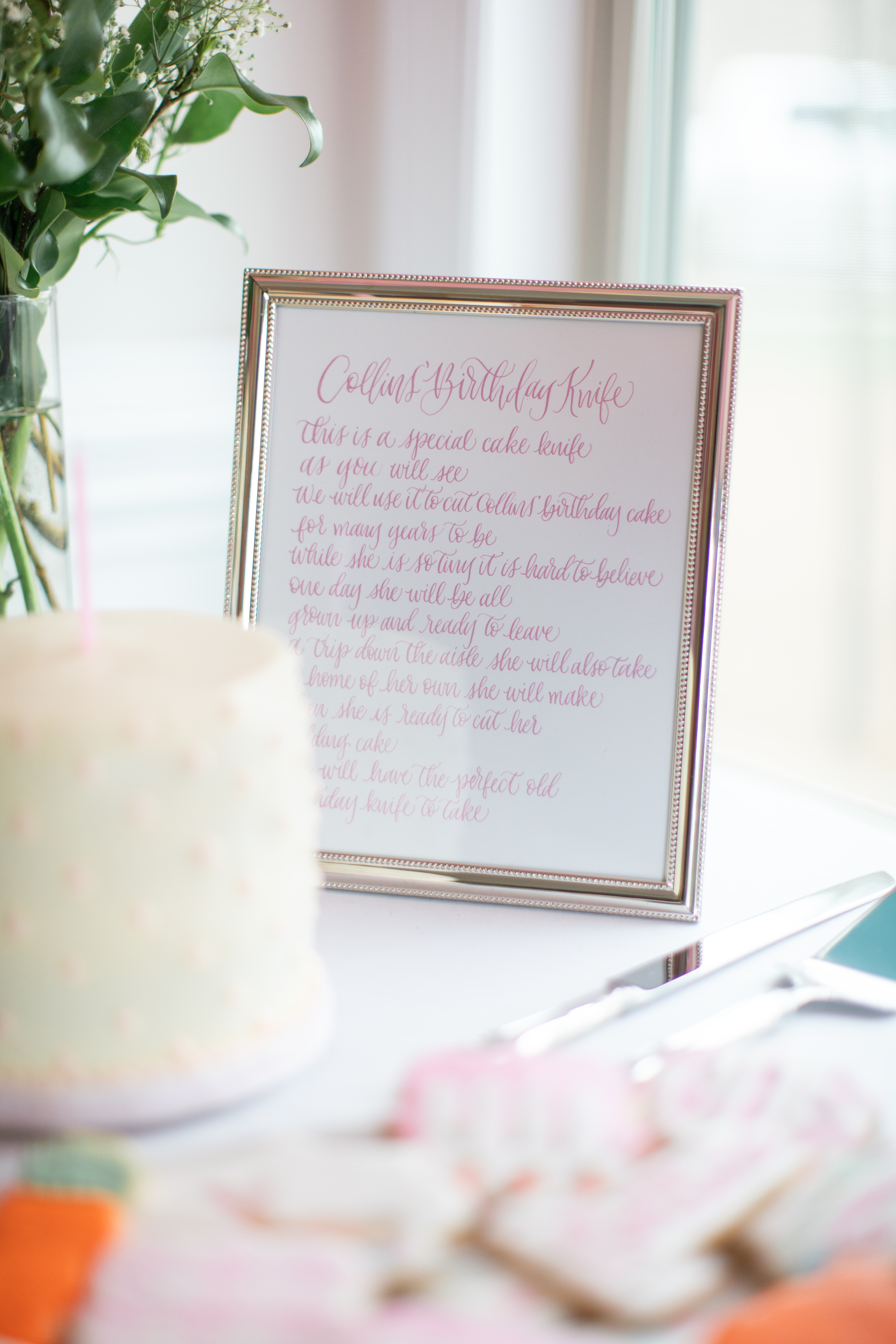 A big thank you to our good friend, Garrett for capturing these moments that I will cherish forever. Having him photograph the party allowed us to simply host and enjoy, and what a gift that was. I didn't touch my phone all morning, and knew he was handling it beautifully.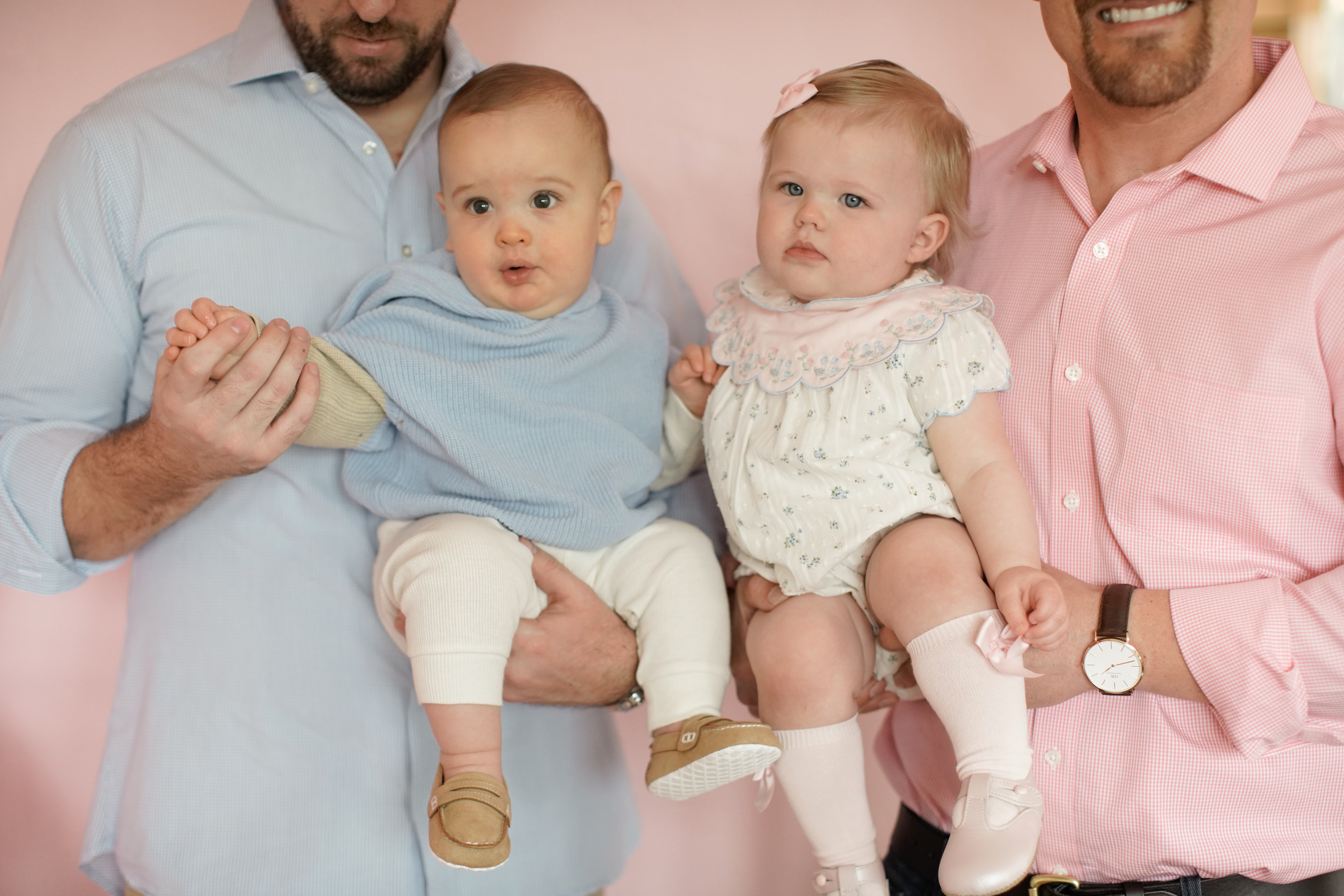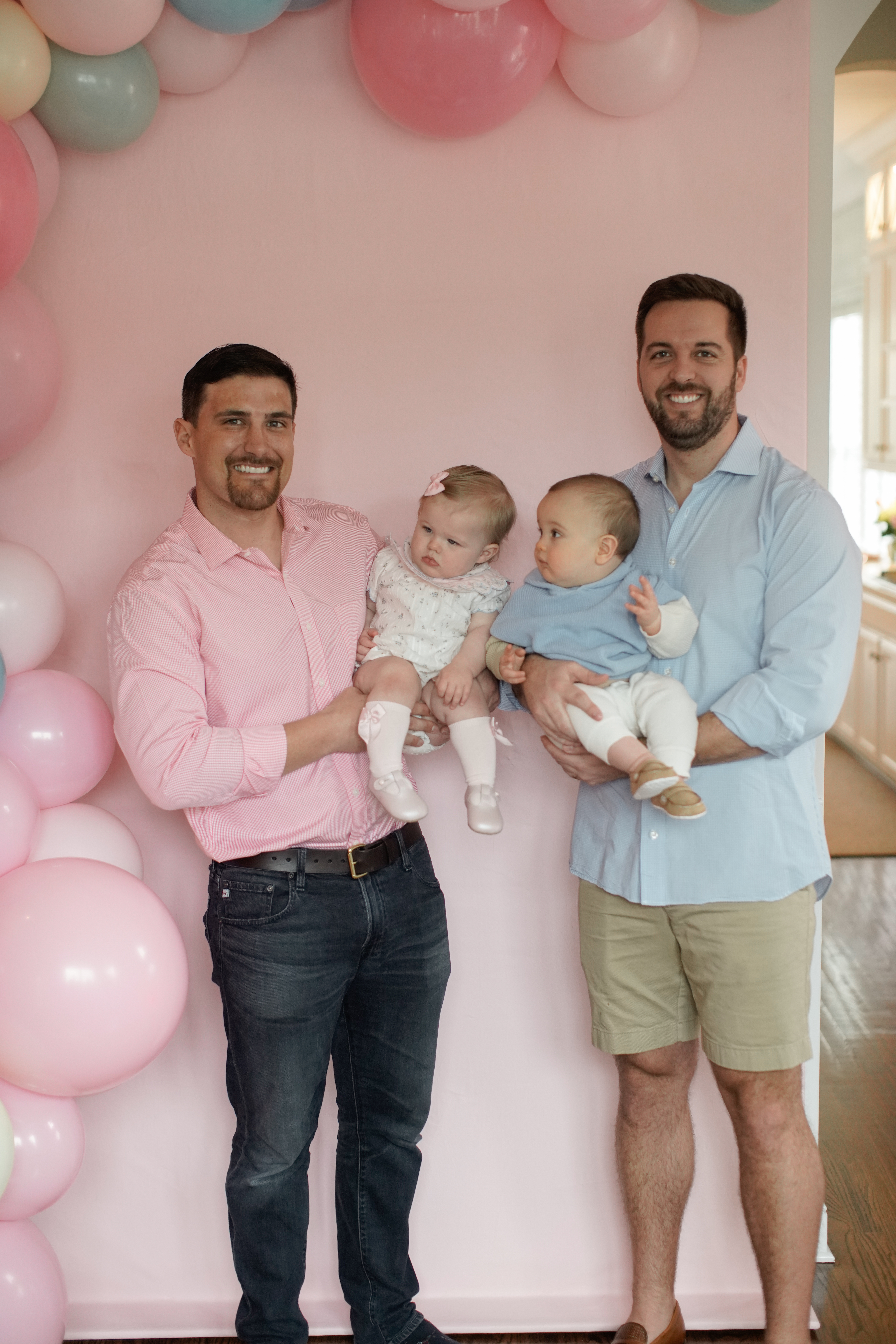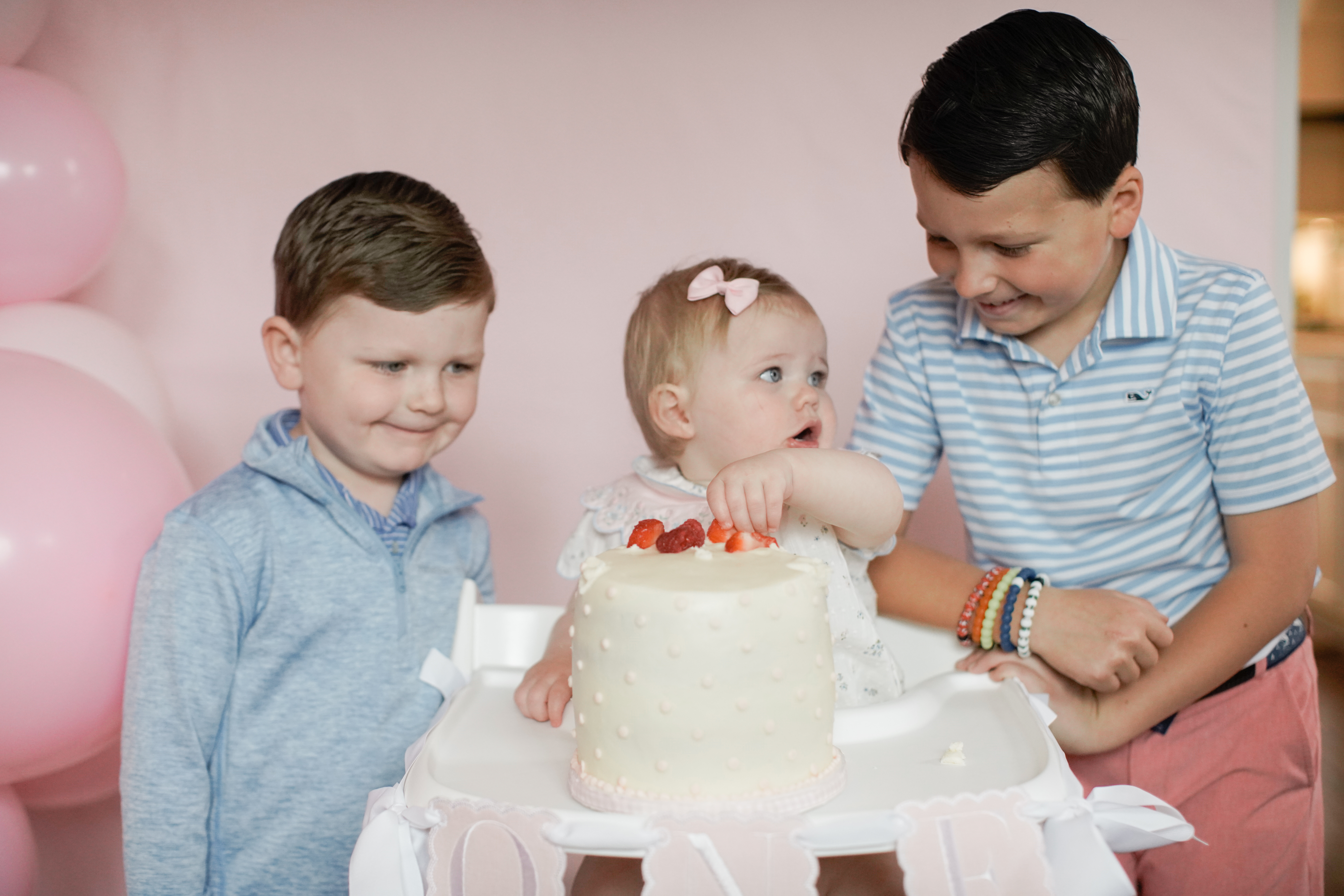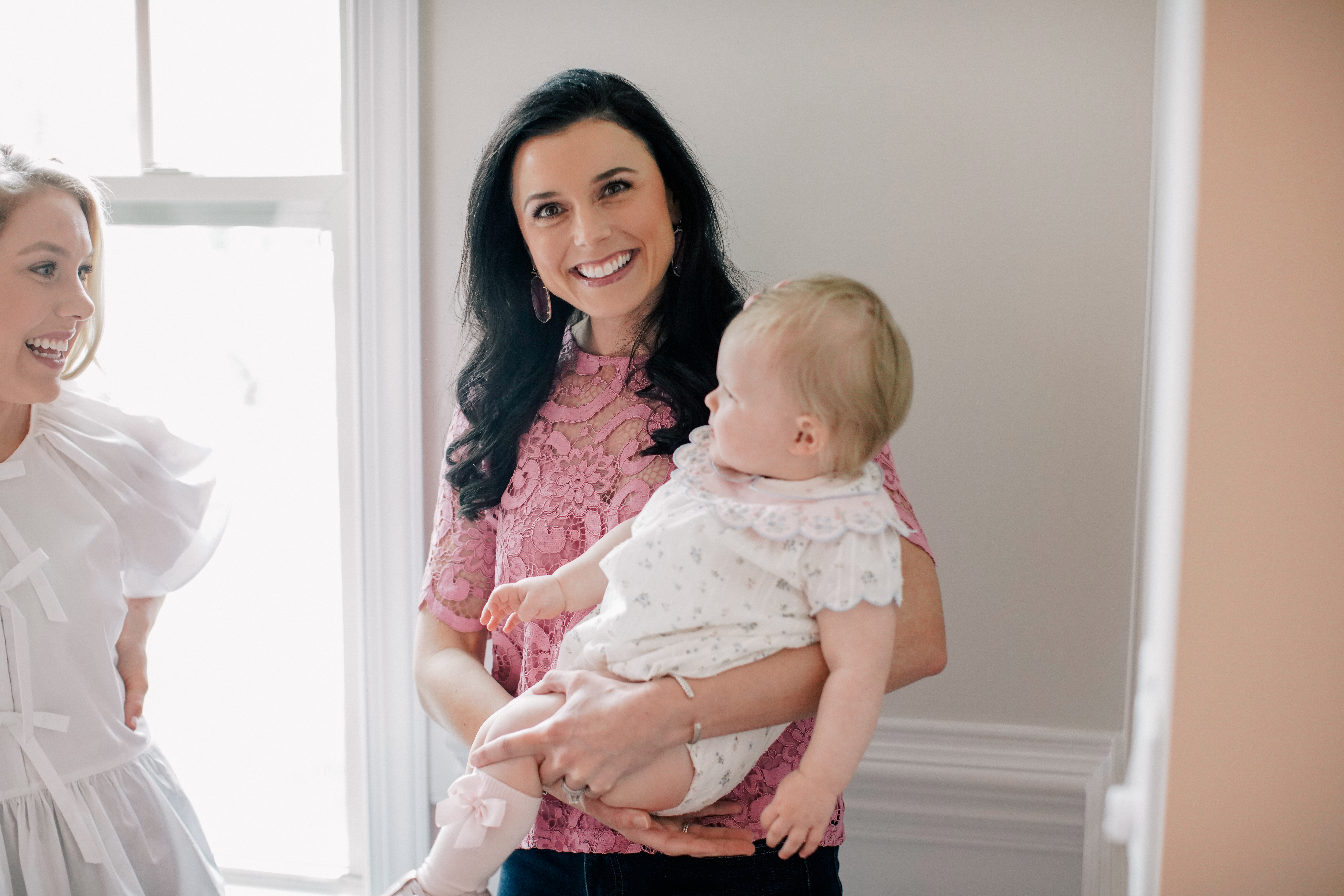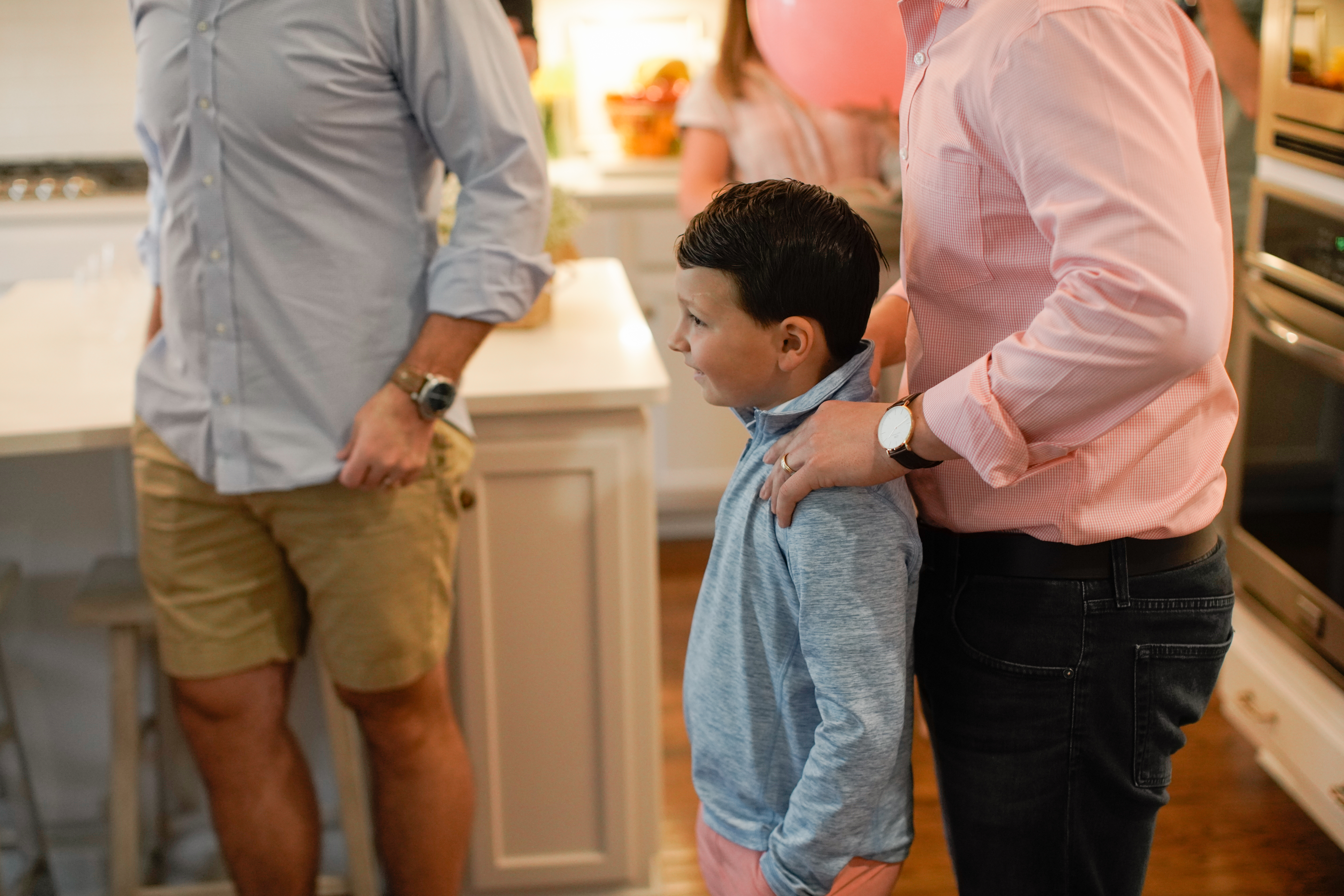 Needless to say, Collins had a bit of a "Happy Birthday" meltdown. All of the noise and attention completely overwhelmed her! She wasn't too sure of her cake at first, but came around once it was topped with strawberries.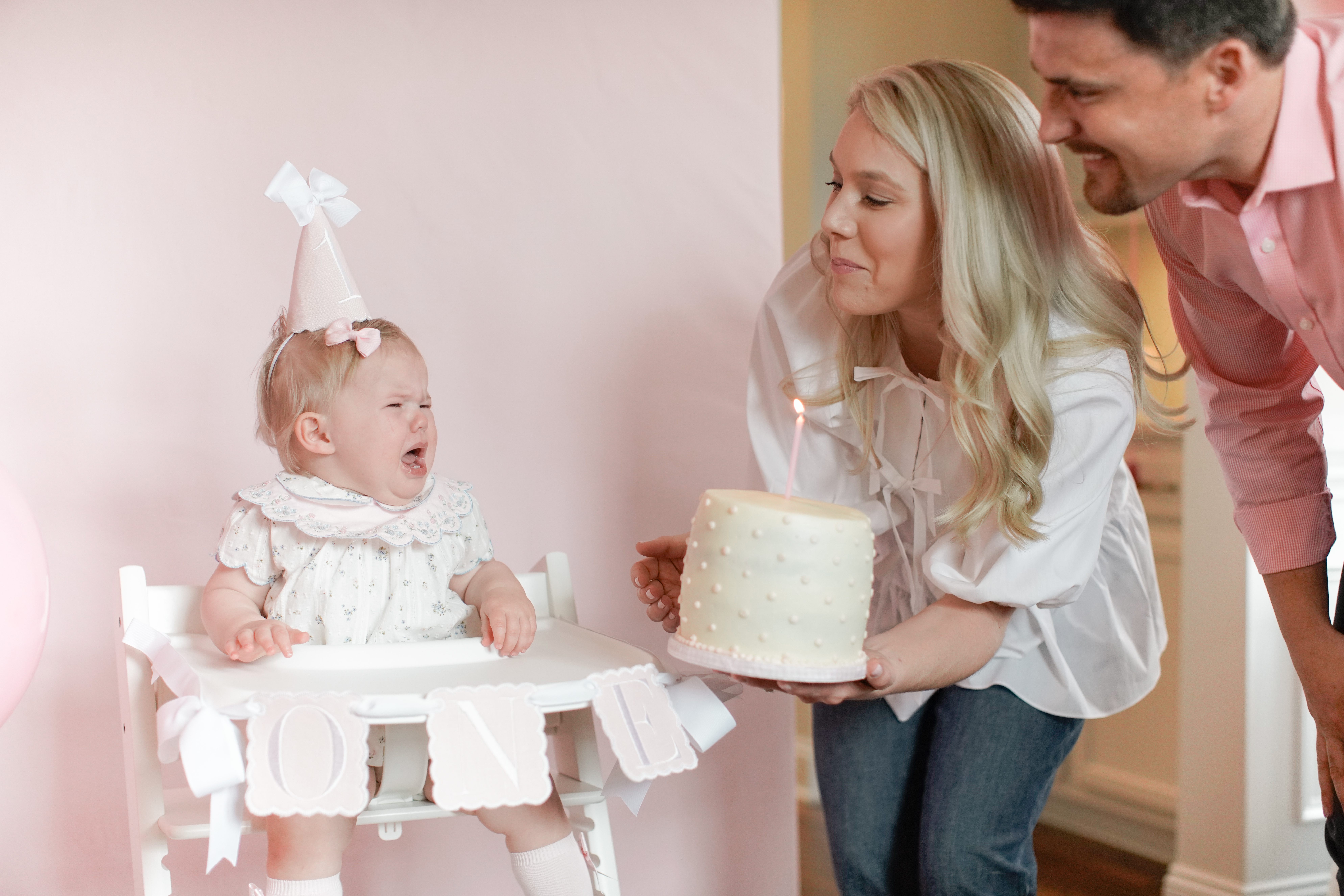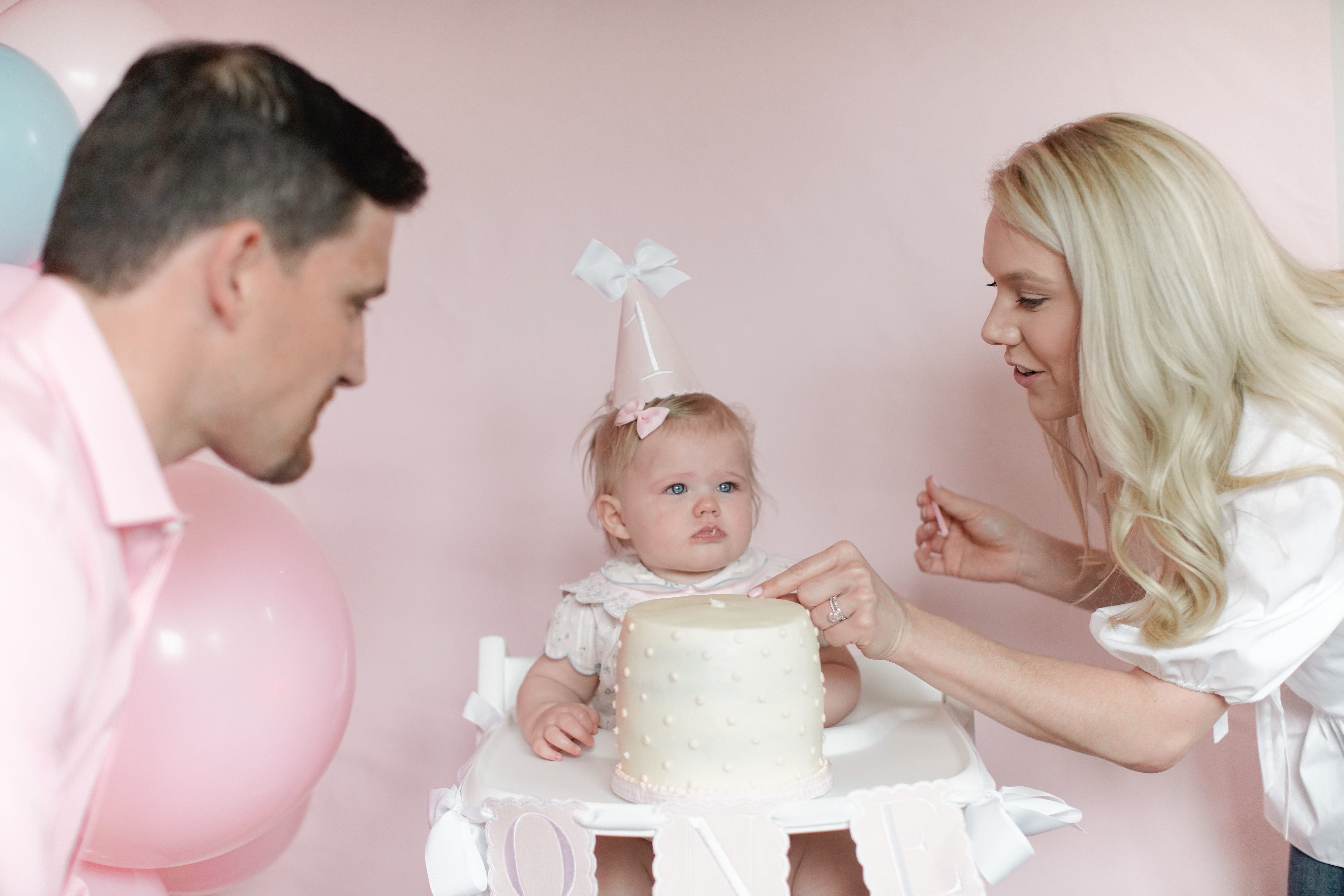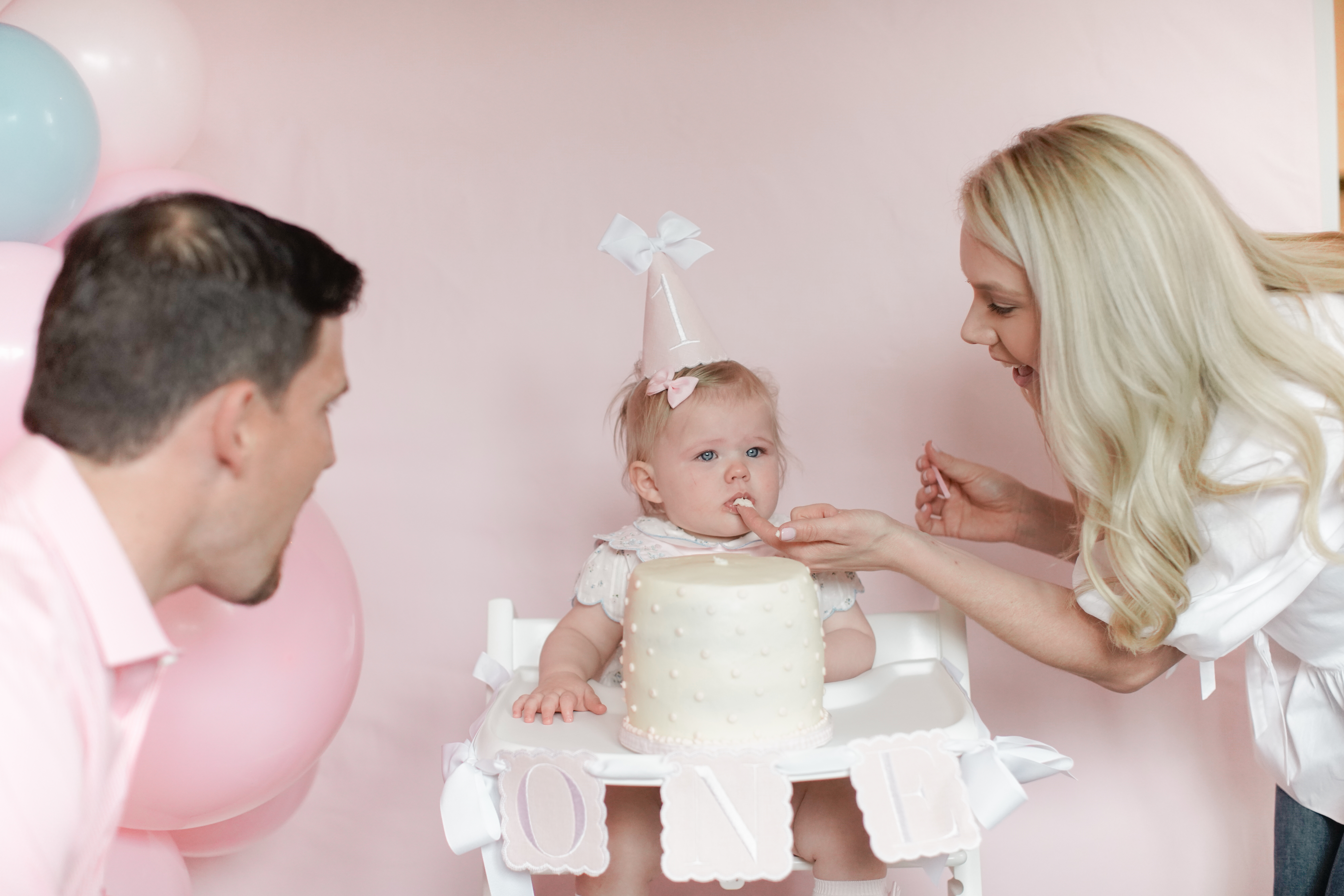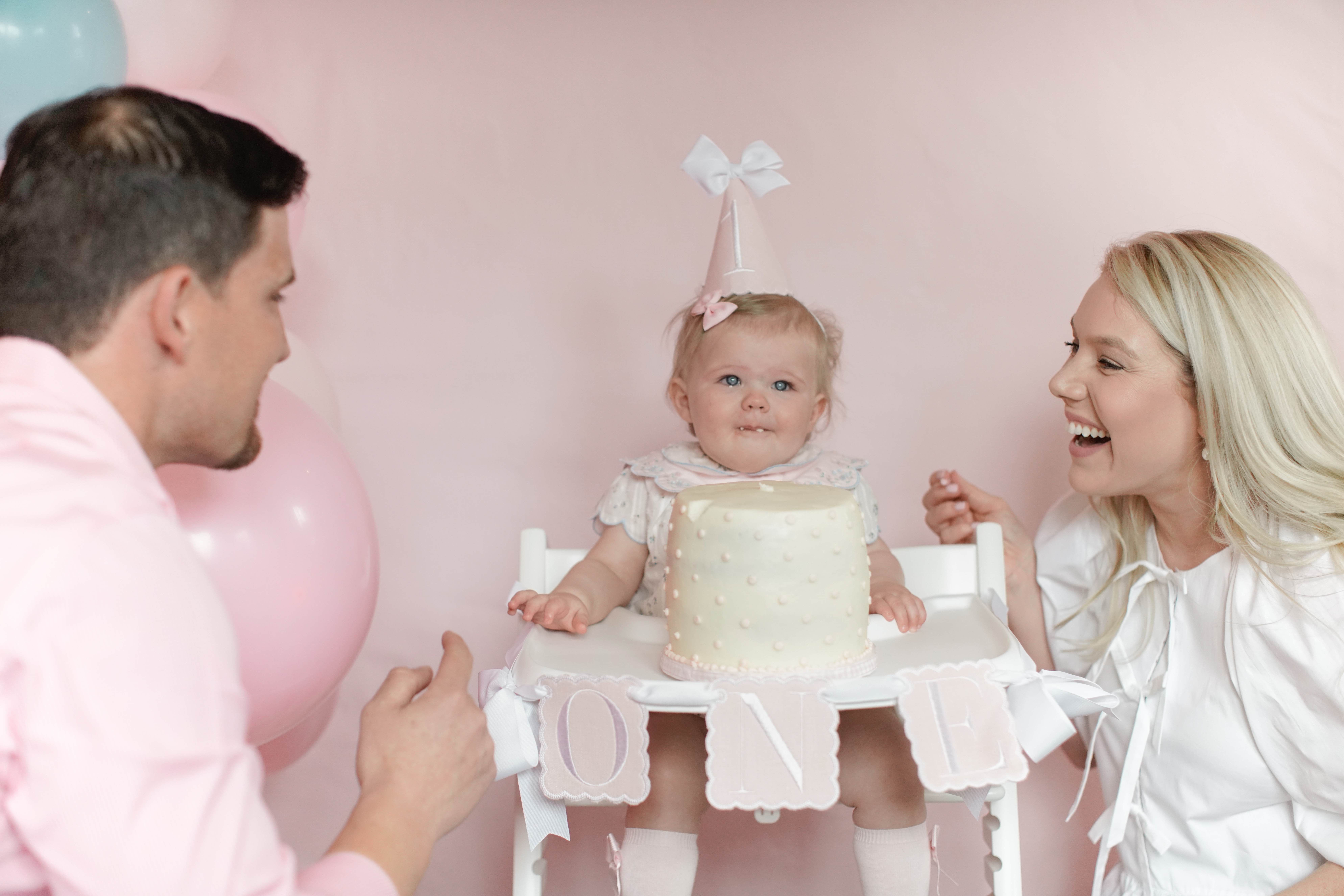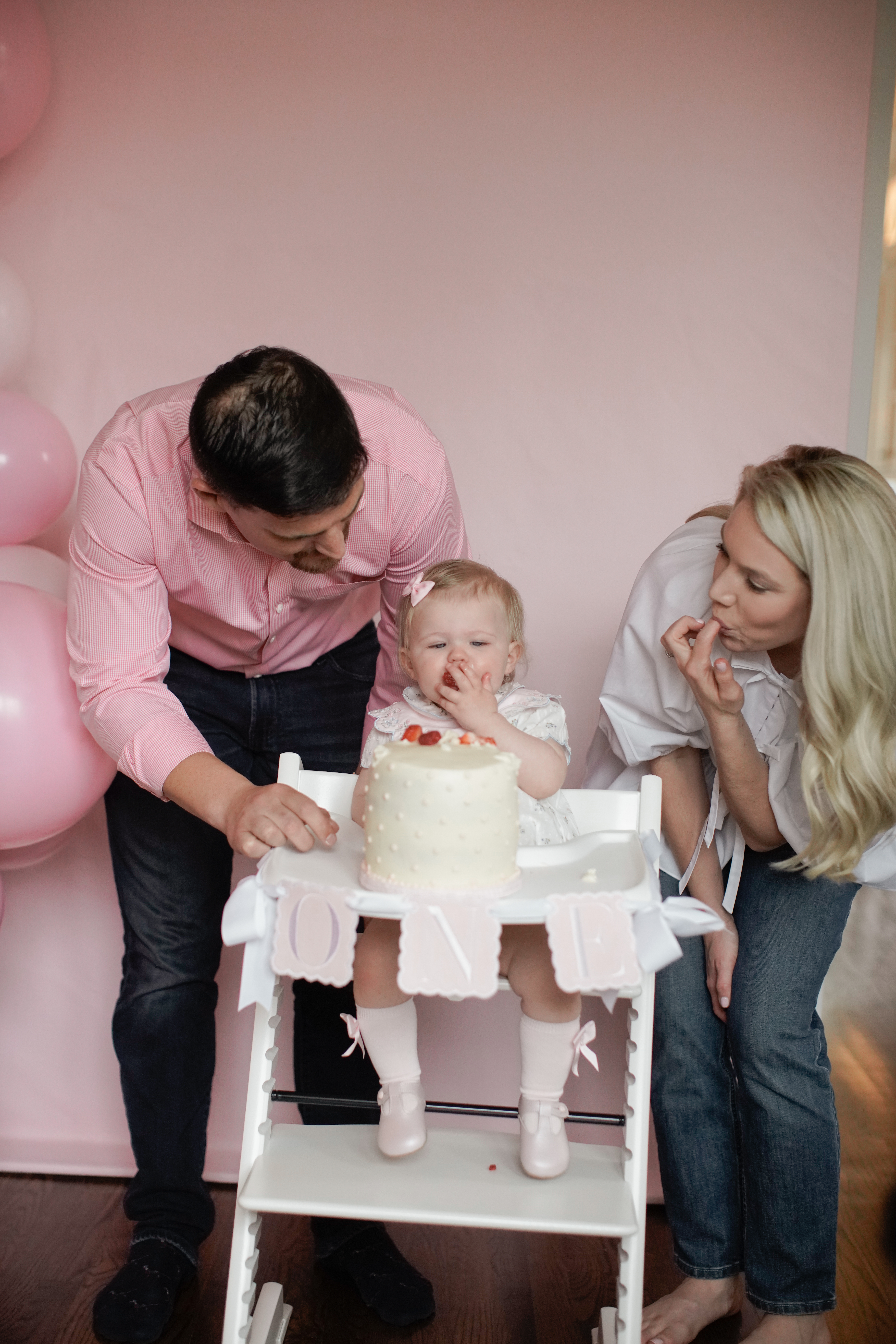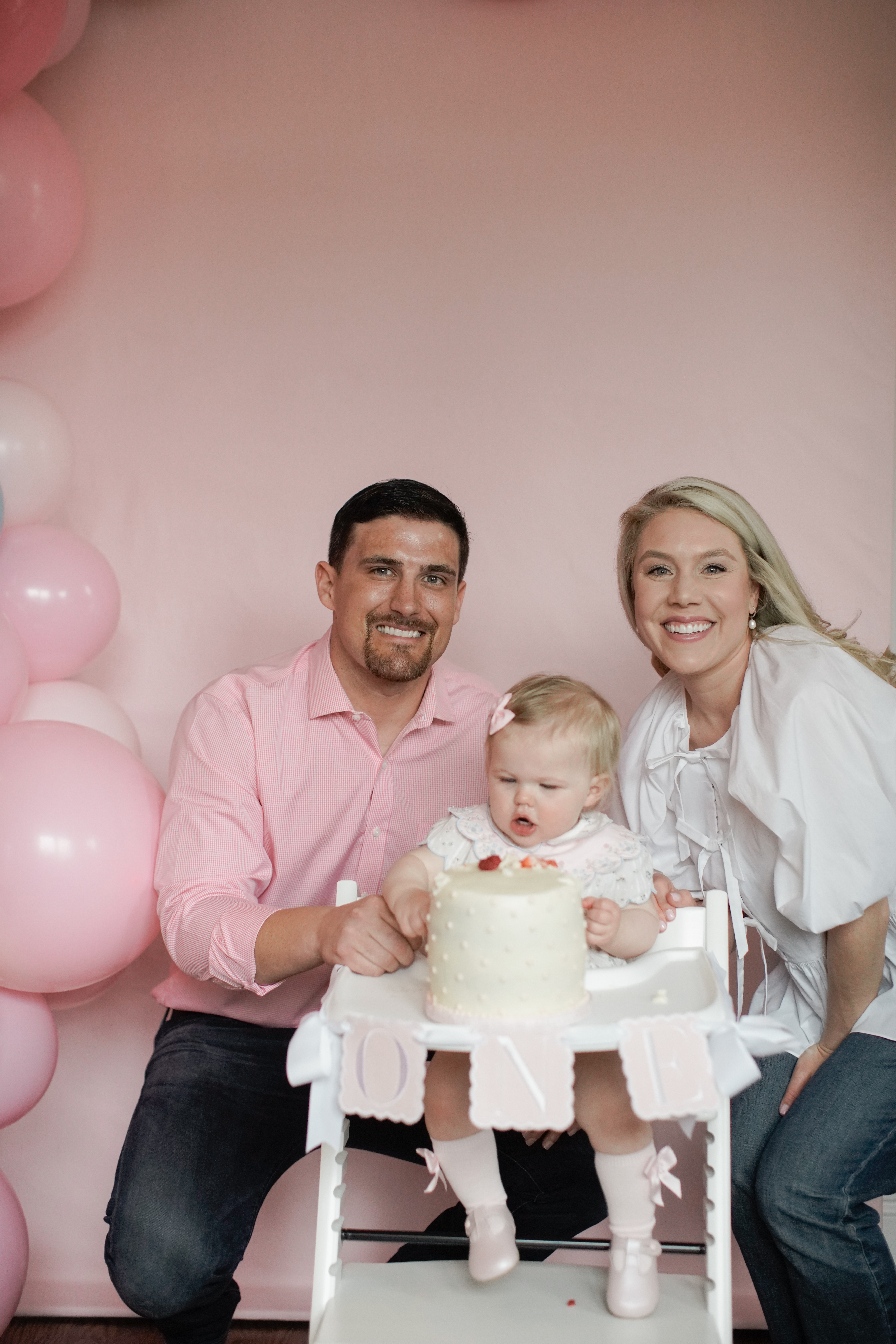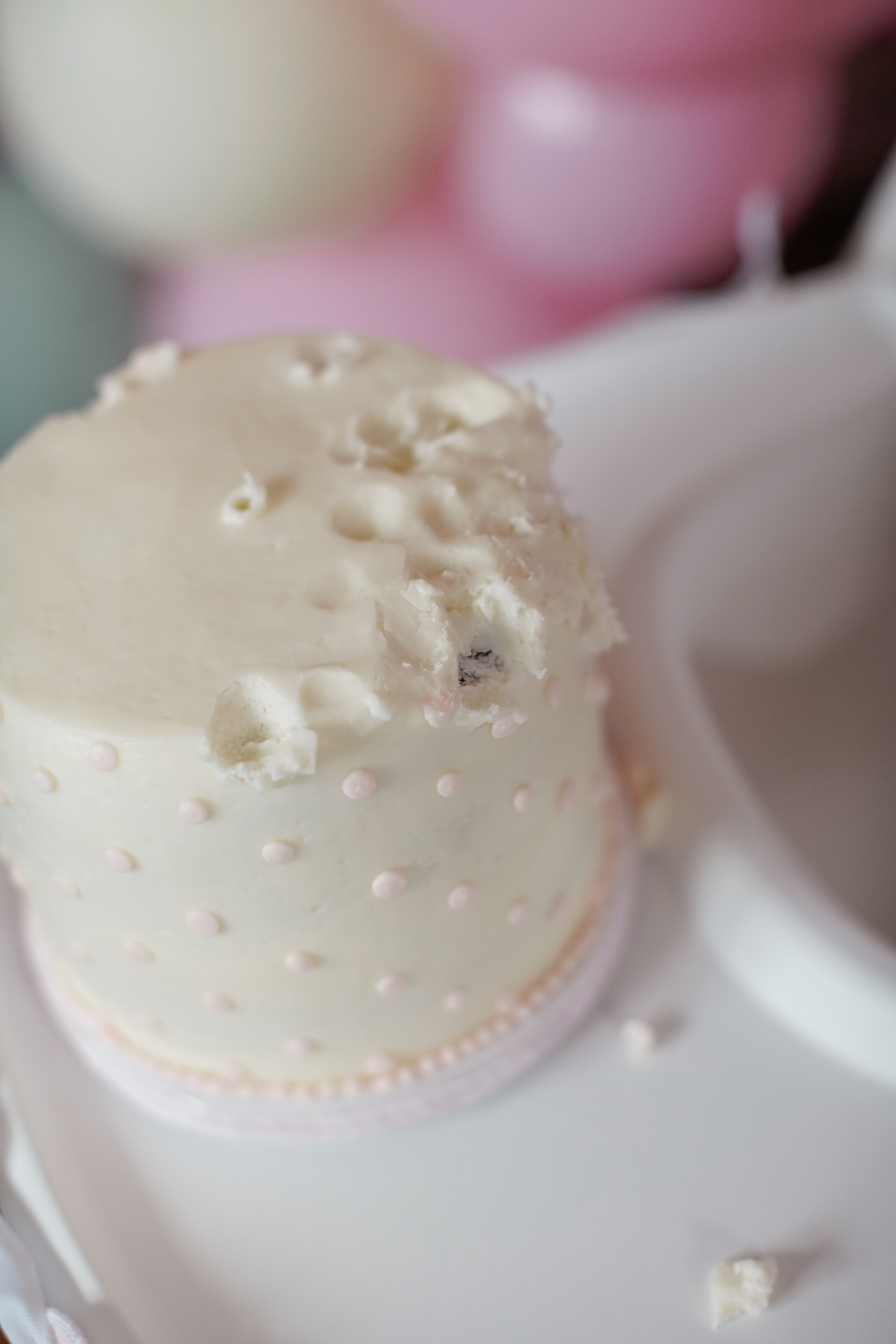 For the party I wore this beautiful white blouse by Cinq a Sept. It is so comfortable and just a gorgeous top all around! To keep things casual, I paired the top with my favorite pair of dark wash denim jeans. Collins wore an adorable romper from Dondolo.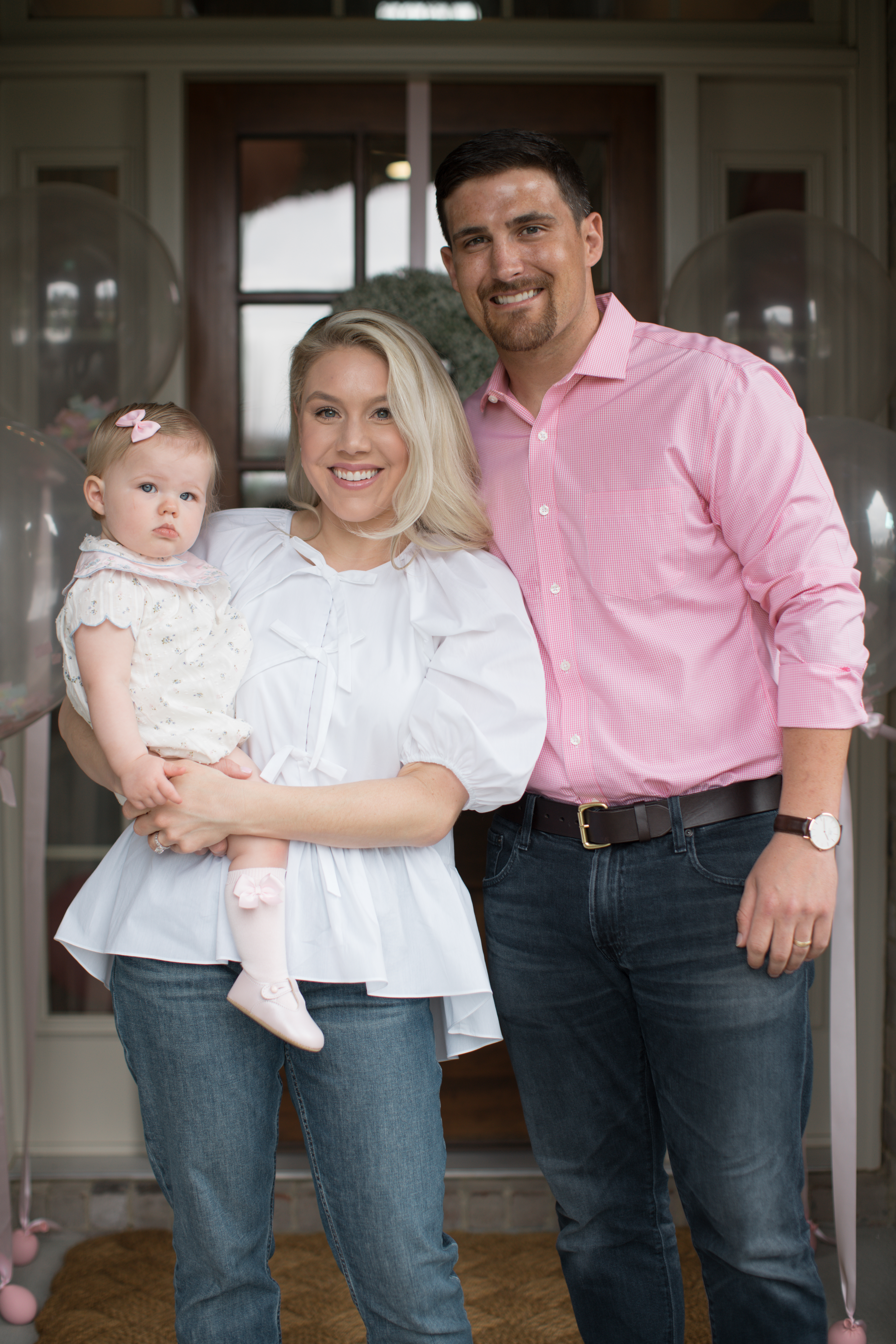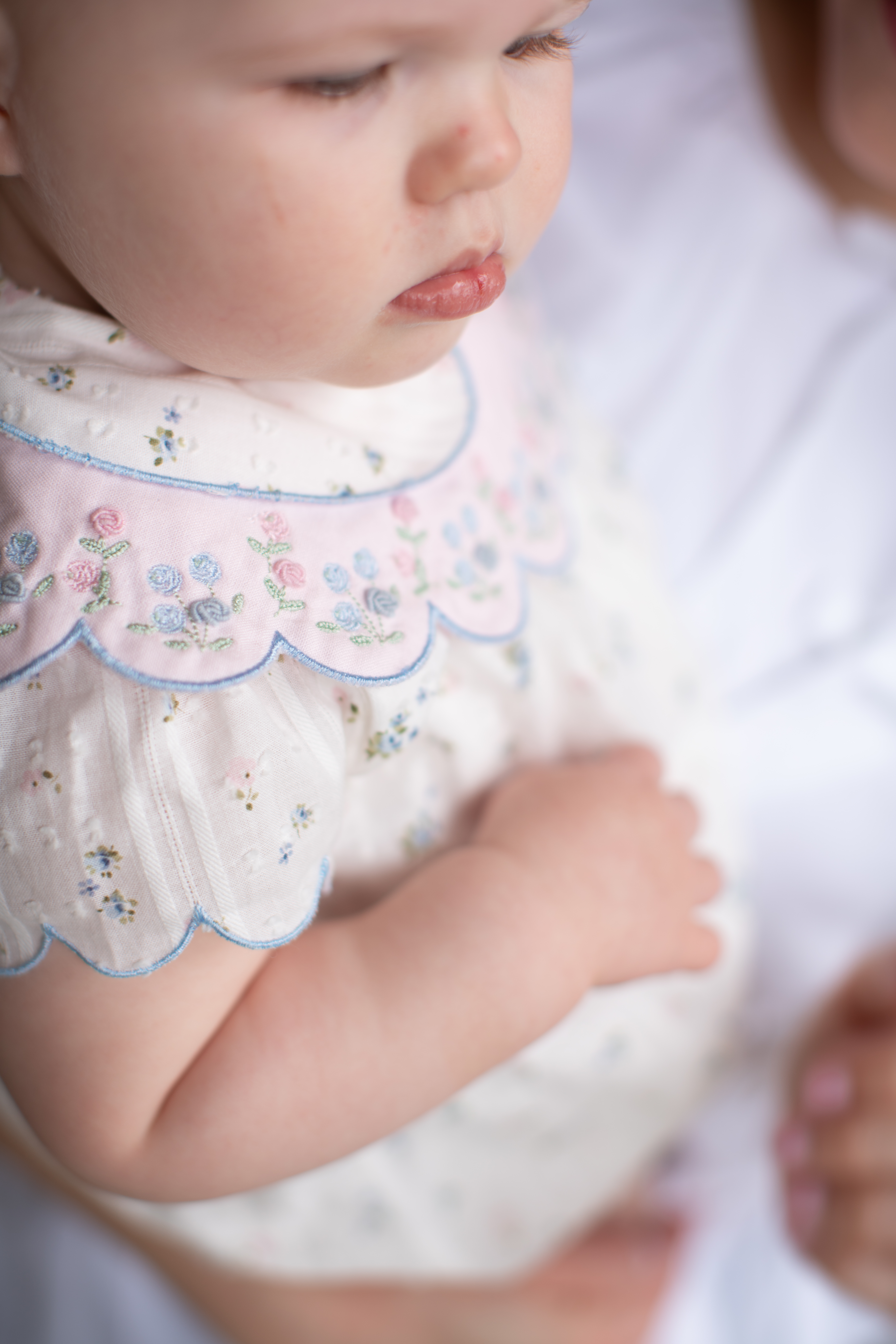 We had several activity stations for the kids: a vegetable garden sensory bin and flower potting station. For the sensory bin, we filled a wooden barrel with black beans and a handful of felt veggies hand made by my Aunt Jane. For the potting station, or Collins' Flower Shoppe, guests potted a spring annual in a terra-cotta pot. To help encourage everyone to keep their flowers alive, we sent guests home with a Haw's watering can. It made for the most adorable party favor!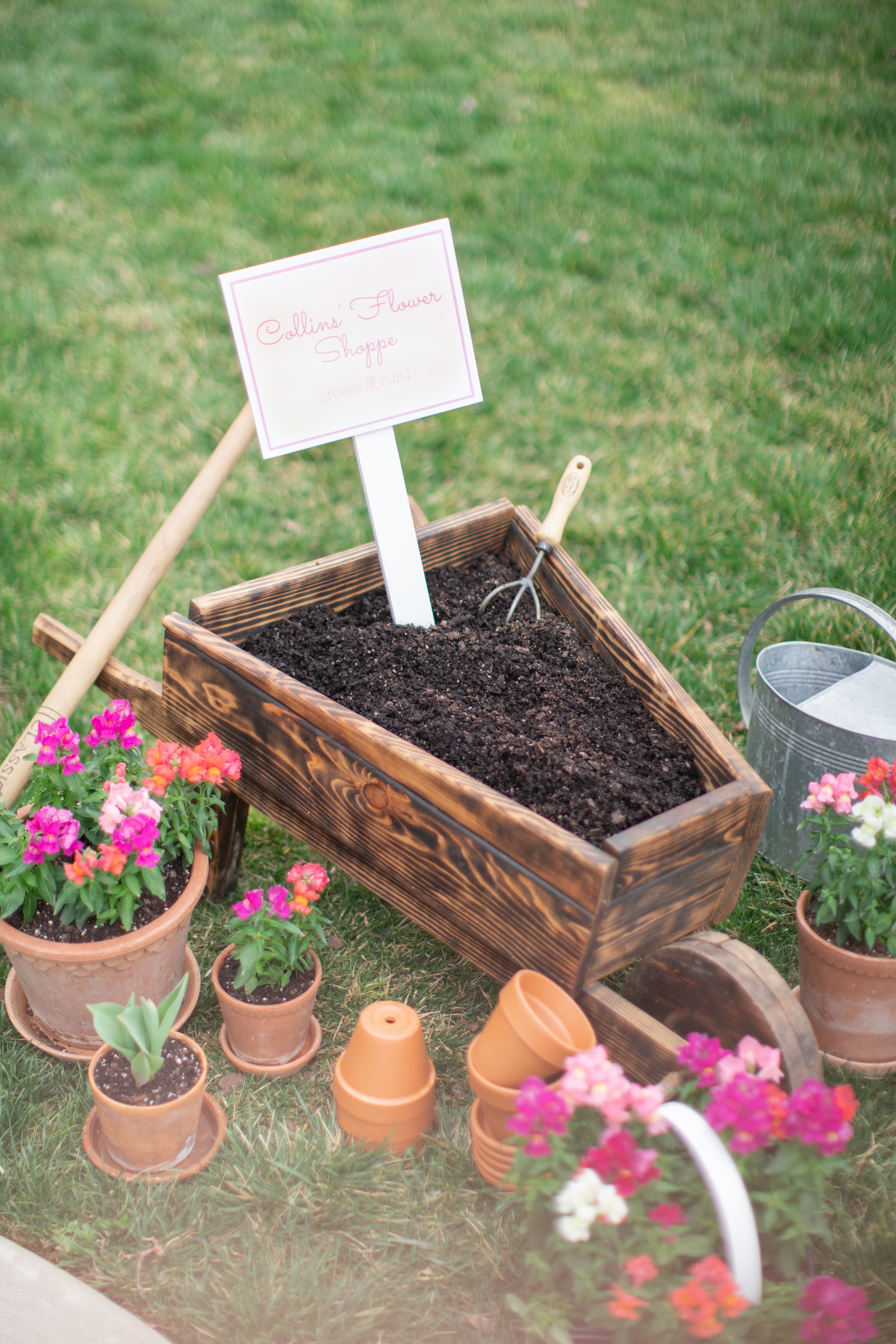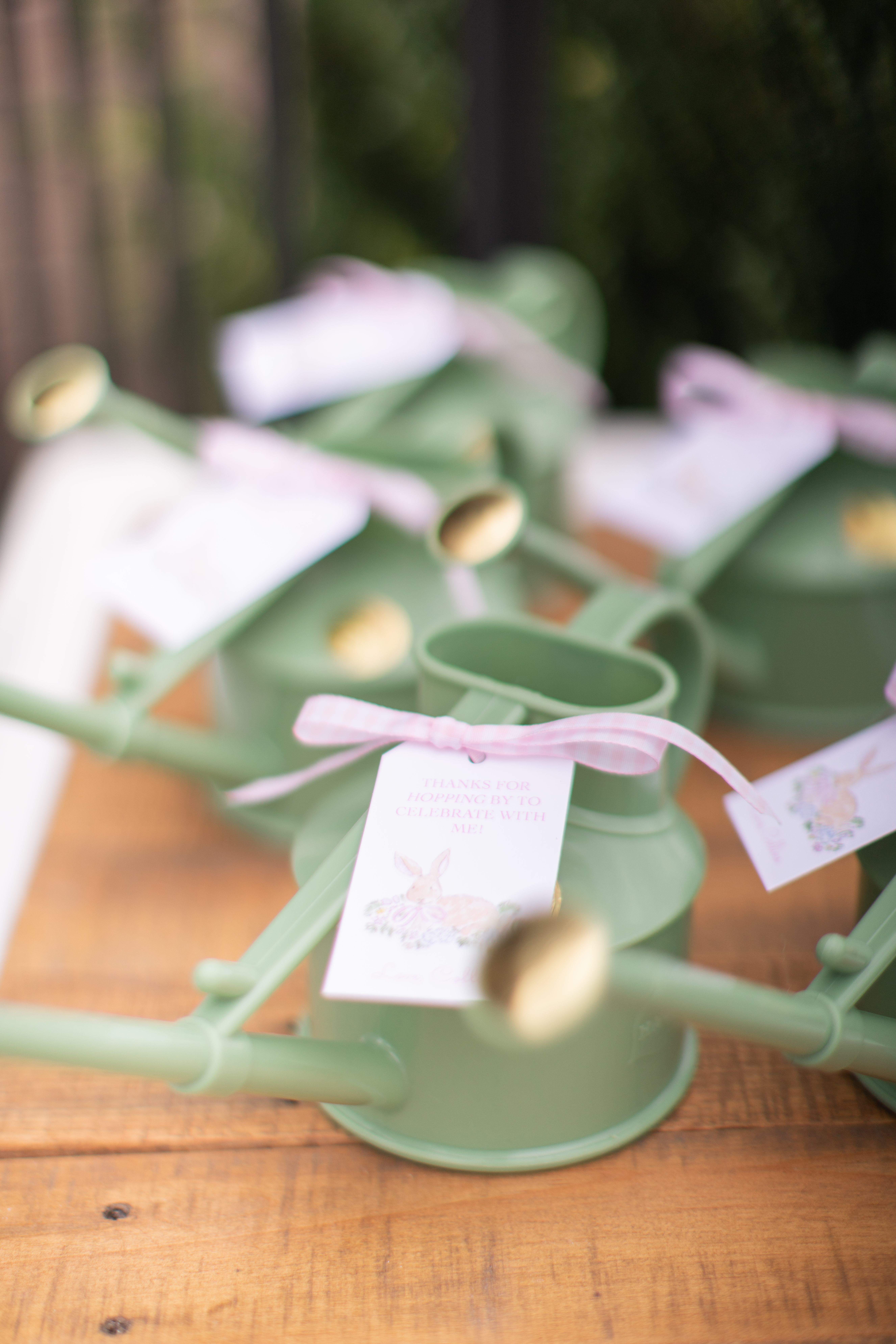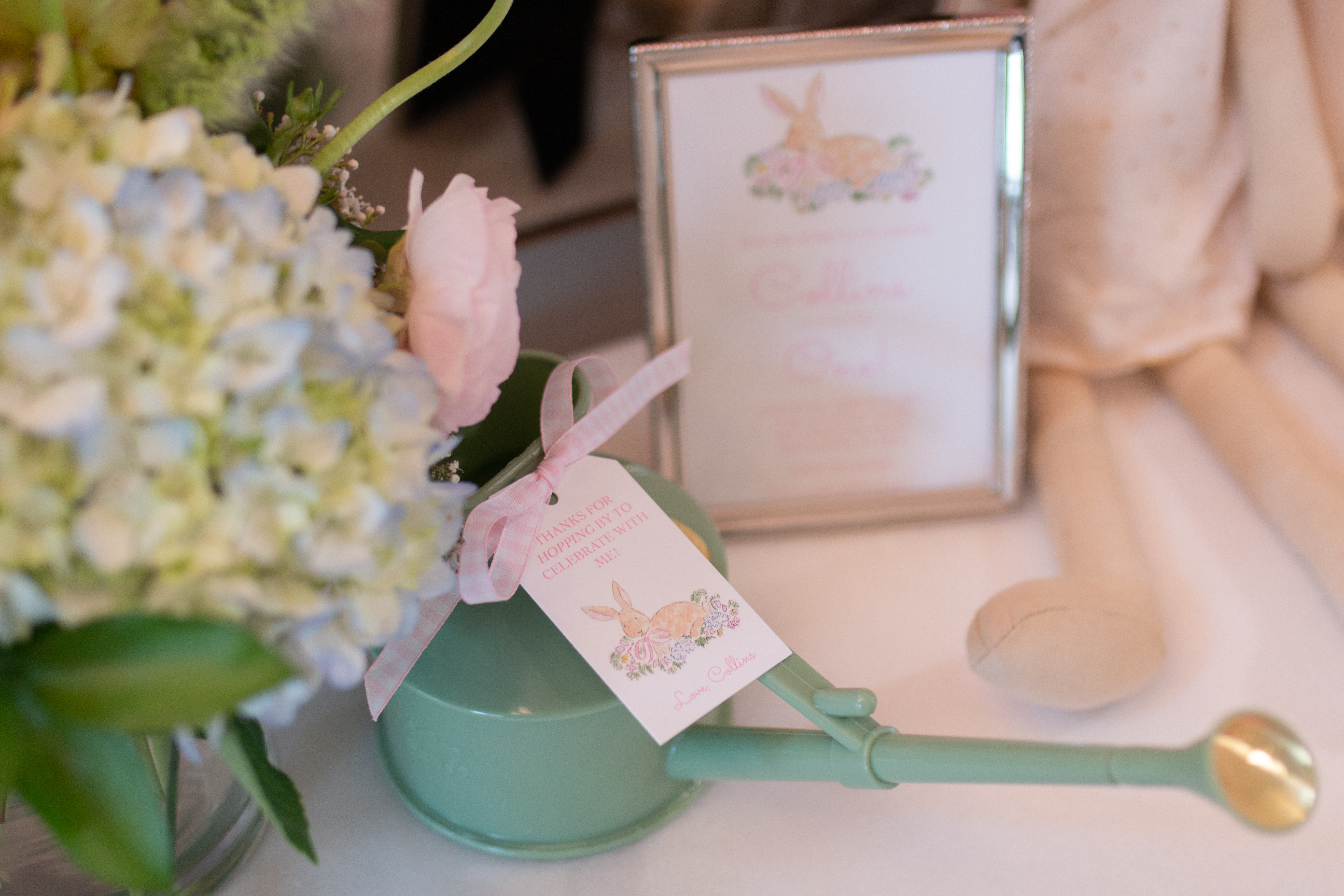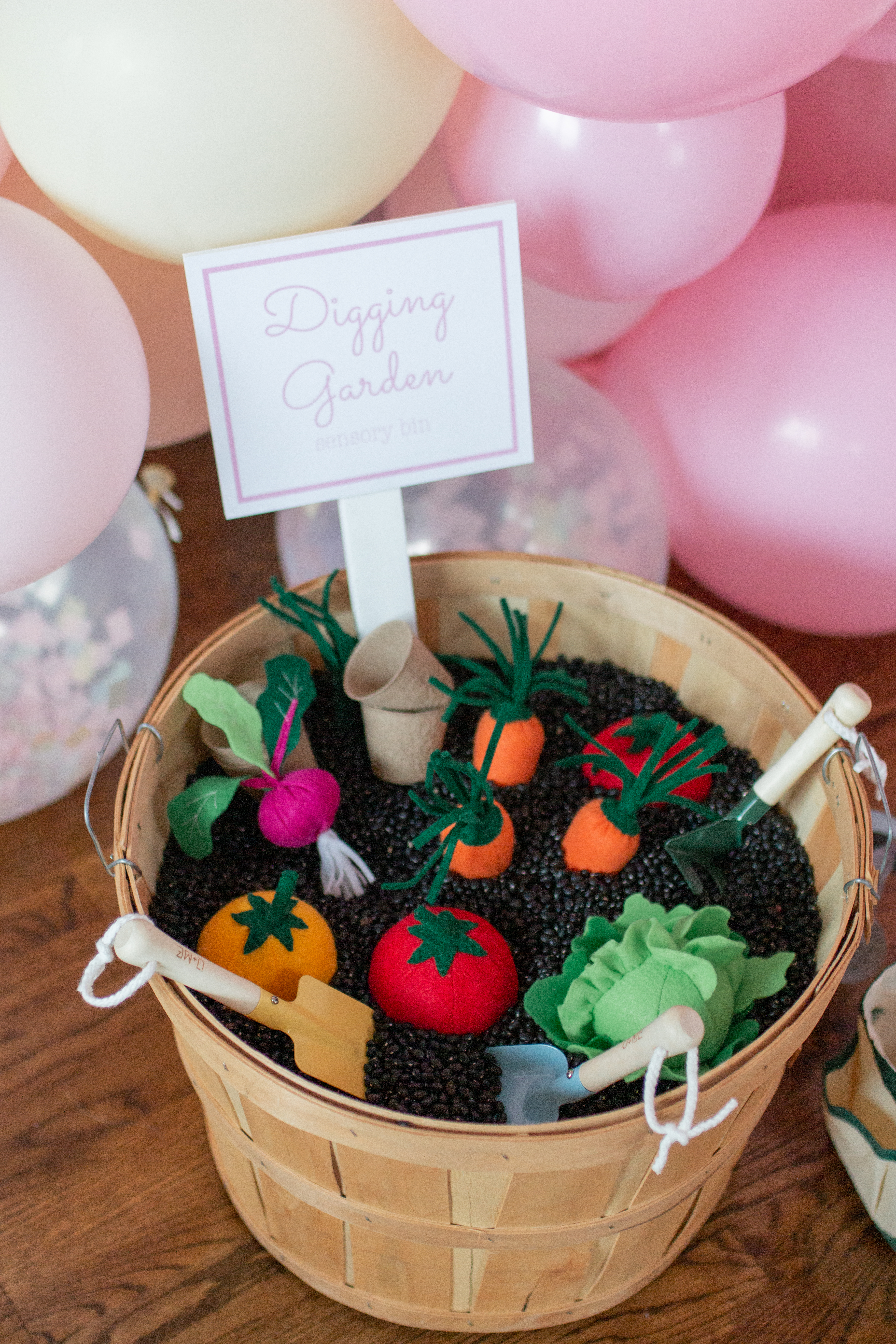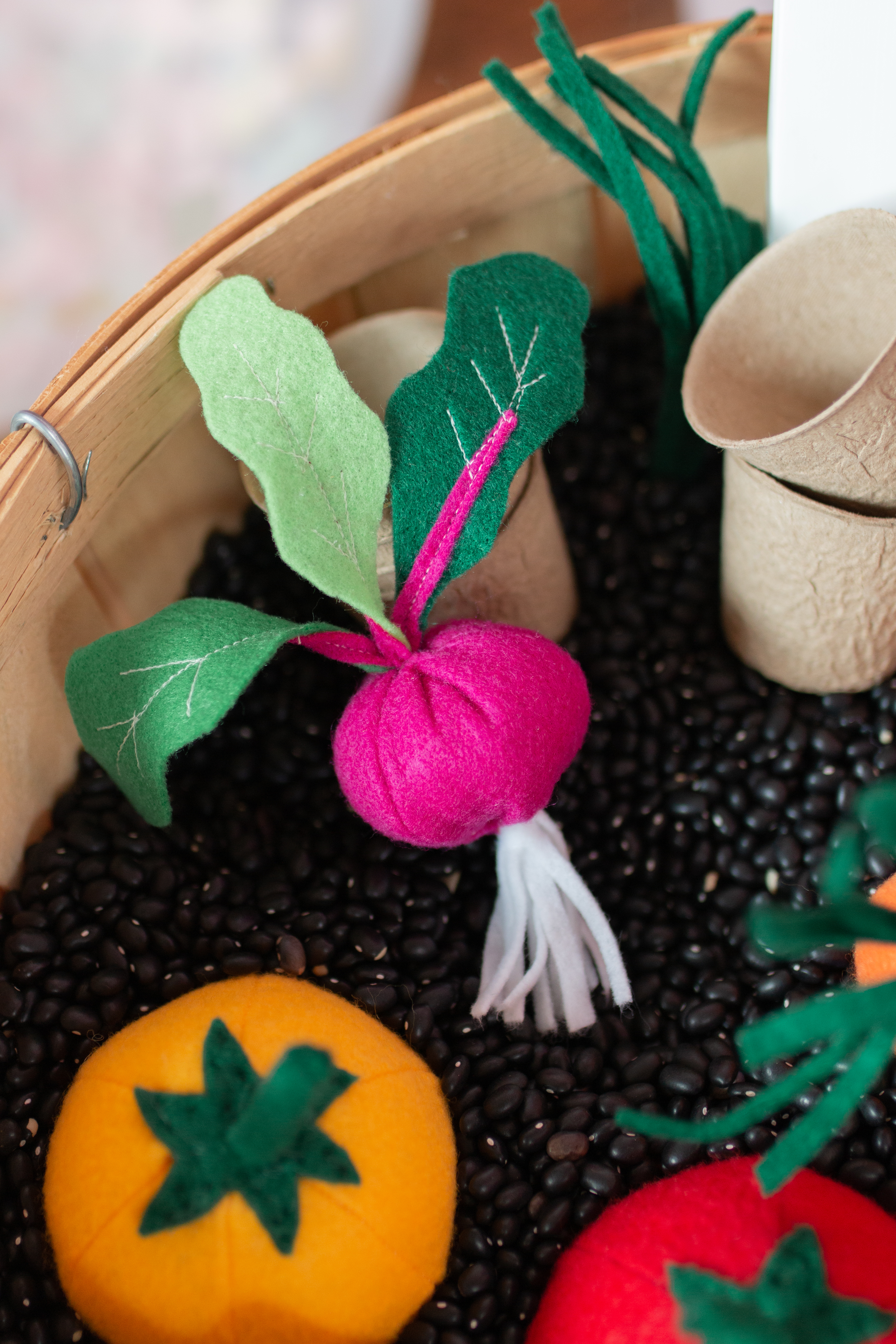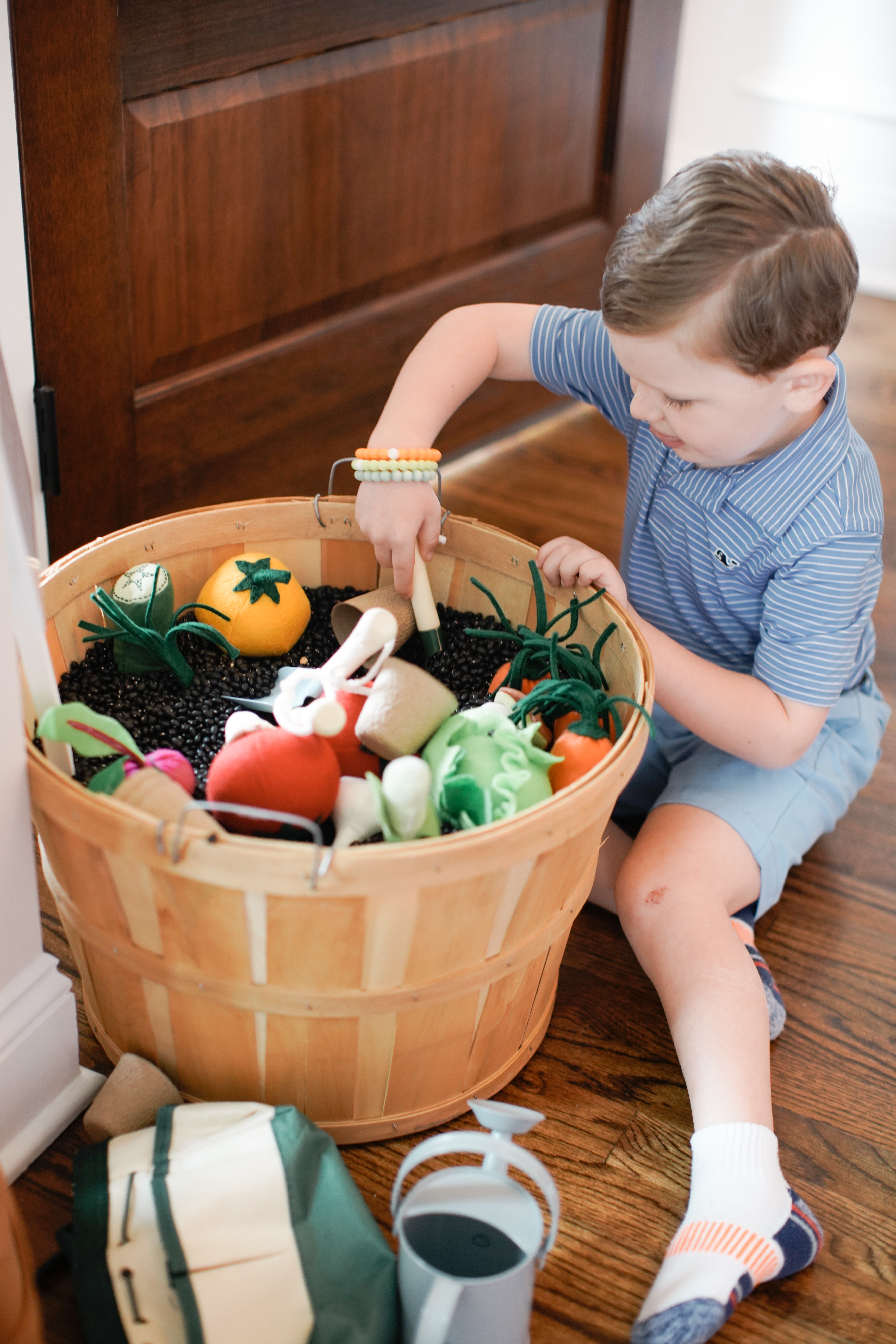 In the days leading up to Collins' birthday I was a bit sad, but by the day her party rolled around I couldn't wait to celebrate her. Our home was filled with so much love from family, friends and a handful of her baby buddies, and while Collins may not ever remember the day, I know I'll never forget it. In general, I take from all of this an immense gratitude to have been able to celebrate with friends and family, to have so many loving people in our lives that want to celebrate our daughter, and to have everyone around us be healthy! Amid all the uncertainty in the world it was lovely to just focus on the wonderful year we've had with Collins and the joyful little girl she is becoming.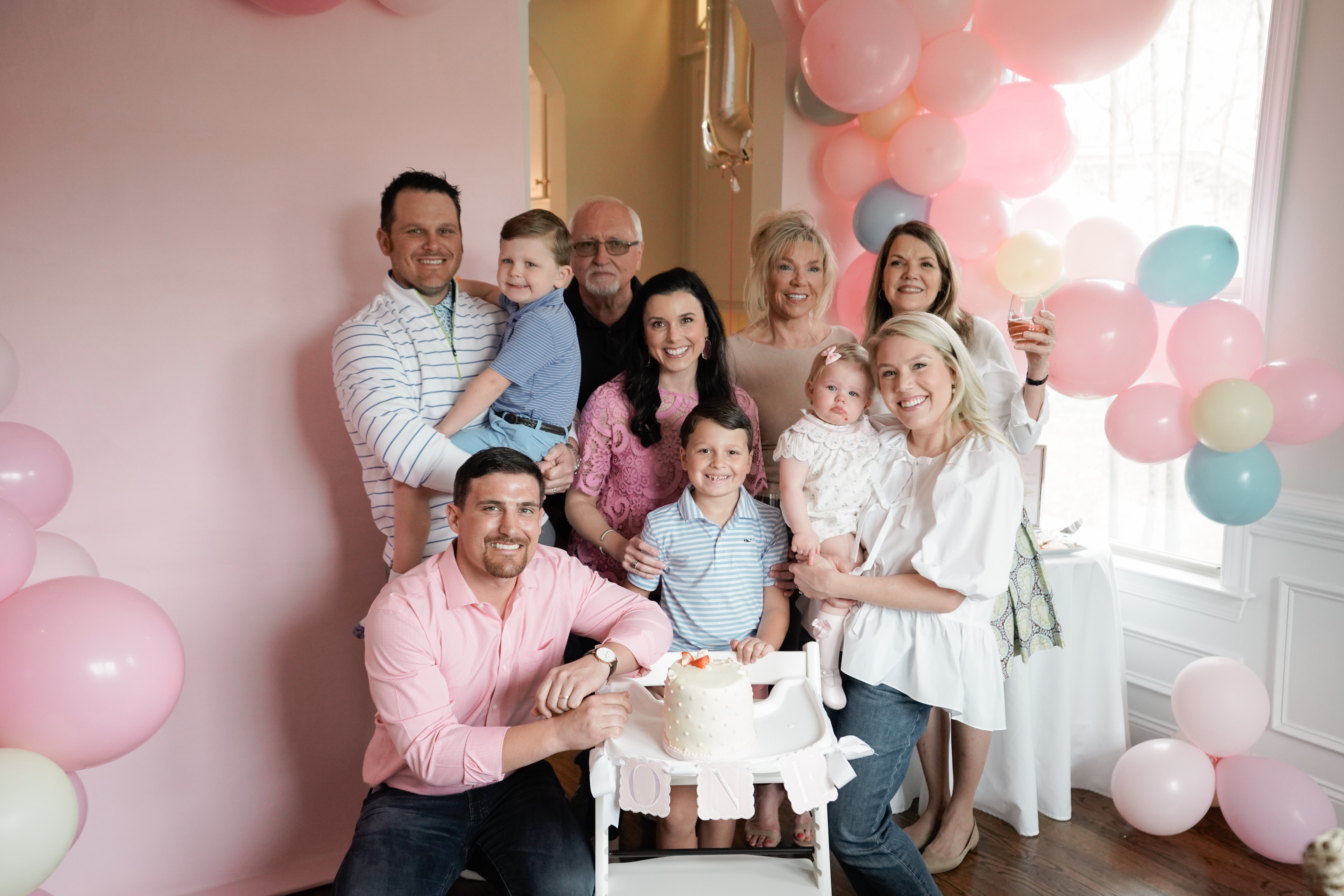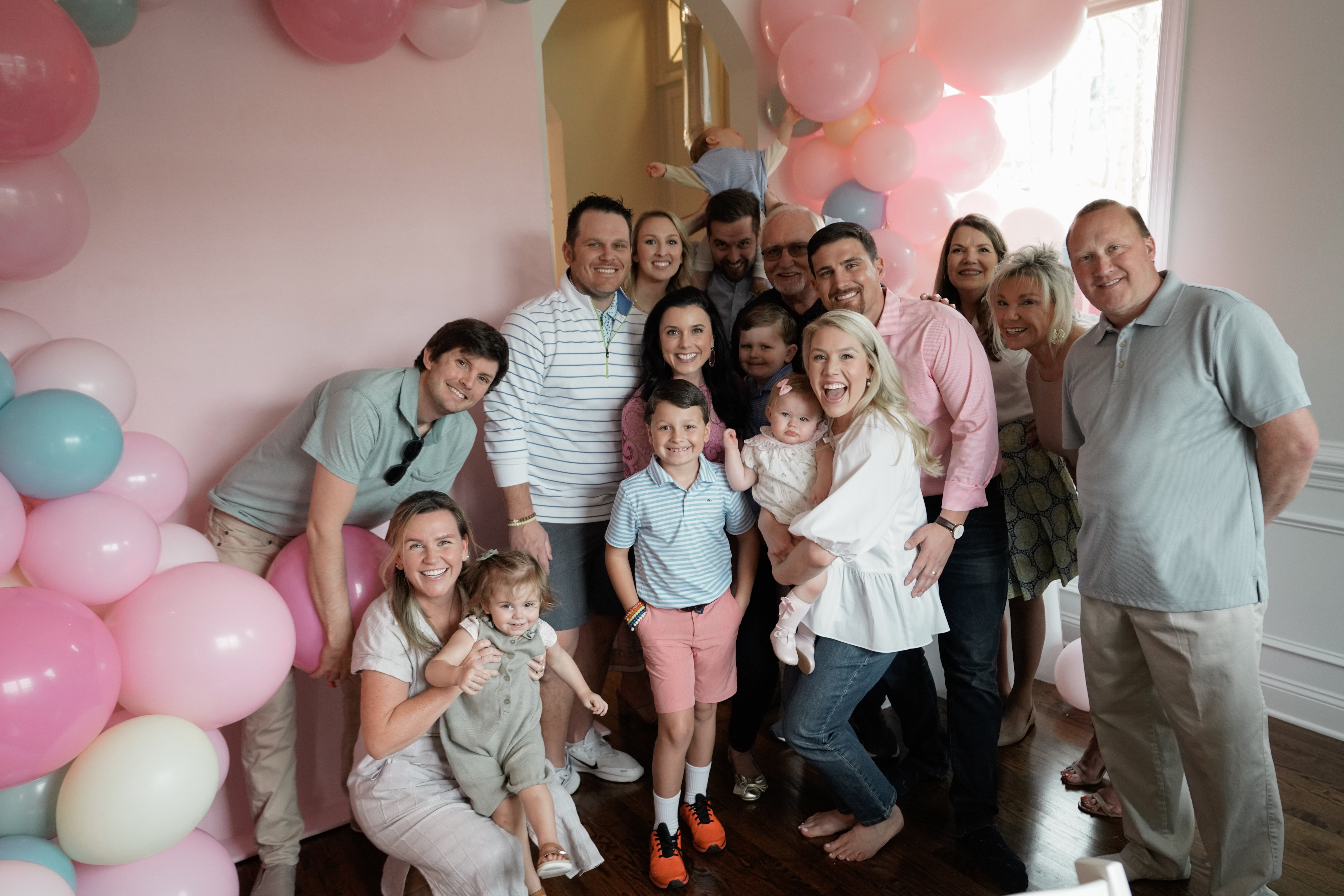 That evening, after everyone had left and the furniture had been put back into place, I sat alone in our dinning room reflecting on the day. There I enjoyed my slice of cake with a glass of champagne to celebrate, because becoming a mom is the single best gift that I will never take for granted! Cheers to year one!