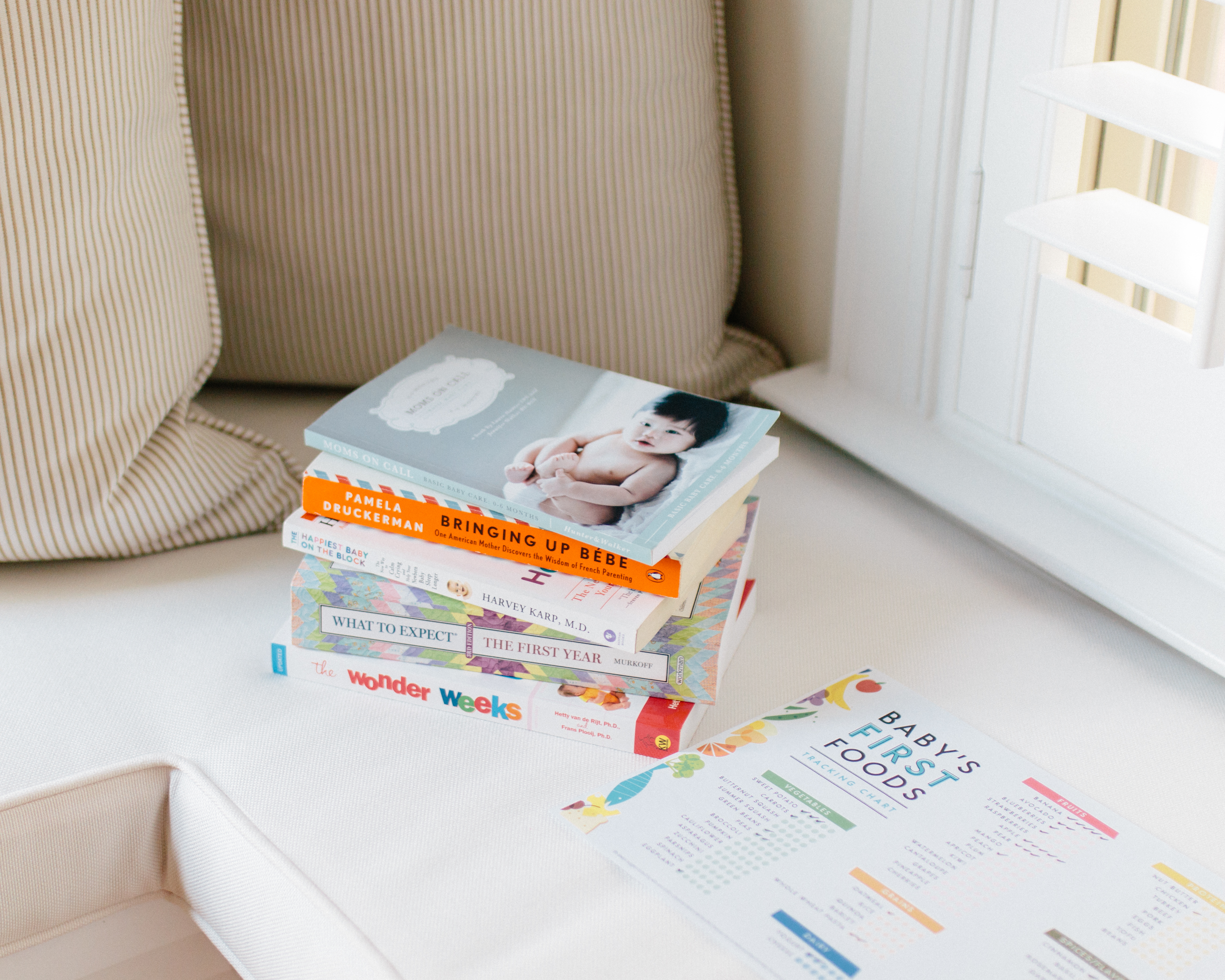 I shared our success with sleep on Instagram a couple of months ago and instantly received an influx of questions about what sleep specific books and online resources we are using. Personally, I've enjoyed soaking up others' wisdom on parenting since this is all relatively new (and occasionally overwhelming) territory for me, and thought it would be fun to compile a list of parenting books and resources we love, closely follow and keep within arms reach. Not just on sleep, but on common topics surrounding parenthood altogether. While these resources fall into categories that I could discuss at length, I felt it was more manageable to create a master list that I will update as Collins continues to grow and develop. At only five months old, potty training, discipline, toddler tantrums, sensory play, sibling rivalry, communication, etc., are all on our horizon. That said, for any seasoned parents reading, I'd love to know any recommendations you have in the comments below! Just please be respectful that we might be looking for different things in our parenthood journeys! I also think it's important that we all be kind to ourselves as every child and family is truly unique.
So without further ado, here's category specific books and resources Justin and I have found to be especially helpful as new parents.

Sleep

Moms on Call by Laura Hunter and Jennifer Walker
Several girlfriends of mine swore by the daily schedules suggested in this book and dozens of you recommended it while I was pregnant (easily the #1 recommended read!). It's a quick read that gives practical tips for bathing, diapering, feeding and sleep! We began exclusively following the sleep schedule outlined in MOC when Collins was five weeks old. Much to our surprise she was sleeping 12-hour stretches by week nine. We live by the Mom's On Call Scheduler App that is designed to work in tandem with the MOC book series. It provides a clear hour-by-hour sleep, feed, play schedule based on your child's age. Justin and I both feel strongly about sleep training. Speaking from experience, it helps structure our days. We recently purchased the Moms On Call – Next Steps Book for 6-15 months and will continue to follow the schedules outlined in the MOC series.   

Taking Cara Babies by Cara Dumaplin
Talking Cara Babies is an online program and series of courses designed to help parents lay a healthy sleep foundation for their babies. The program teaches you how to calm a fussy baby, read a baby's cues, and set days and nights up for success! Cara, the brains behind the entire operation, draws from her experience as a neonatal nurse, mother of four and wife of a pediatrician. Justin and I took her online "newborn class" when I was pregnant with Collins. So much of that course proved to be useful in those early weeks, like how to swaddle for success and Cara's "C.R.I.E.S" method for calming a fussing baby. Not convinced? Then take a peek at her Instagram handle, where Cara first won me over with all her tips and tricks.

Learning & Play

Lovery by Jessica Rolph and Rod Morris
Playtime is an essential part of childhood development. When children, even at a young age play, they are working on their neurological development. That is why Justin and I love Lovery's products! They're so simply designed, yet the concept is genius. I told a friend the other day I was a little jealous for not thinking of it first. We were gifted the Lovely Playmat at our baby shower and shortly after Collins was born we subscribed to the monthly play box. The boxes include age appropriate, Montessori-style toys that stimulate fine motor skills and are fun for baby.
CanDo Kiddo by Rachel Coley
CanDo Kiddo came highly recommended by a girlfriend of mine here in Charlotte. Rachel is a pediatric Occupational Therapist, mommy and child development specialist. Rachel offers resources via email guides, blog posts and ebooks on everything from "Newborn Vision" and "Stress-Free Solids" to "5 Creative Ways to Play with Your Newborn." I first fell in love with Rachel after taking her "10 No-Cry Tummy Time Tips," which made play time at this age fun! Especially because Collins fought tummy time in the beginning! Rachel also has a really informative Instagram, if you're interested.

Feeding

Moms on Call – Baby Food Intro Calendar
Our pediatrician gave us the okay to begin solids as early as four months. We began with purees and gradually increased textures based on the MOC introductory calendar. We were already structuring our days around their Scheduler App, so this just made sense. We introduce a new food every three days and use this Food Tracking Chart to keep track of this.

Fortified Family by Katie Ferraro
I began heavily researching "solids" when Collins was about two months old so that I could make an educated decision on what introductory method would work best for her and our family. While baby-led feeding is not the route we took, this is the resource I used to learn about BLW. Katie's online workshop is a great resource and what we would have followed if chosen to do BLW. She also offers a lot of feeding insight on her Instagram!

The Big Book of Organic Baby Food: Baby Purees, Finger Foods and Toddler Meals for Every Stage by Stephanie Middleberg; MS, RD, CDN
I knew early on that I wanted to make Collins baby food and found this cookbook to be especially helpful. It's chalk full of natural, organic and yummy recipes for infant to toddler and beyond. It's perfect for beginners such as myself and progresses slowly to more advanced foods as you get more comfortable in the kitchen. I also love that it schools you on the benefits of different foods and how they contribute (nutritionally) to baby's development.  About 1/8 of the book is helpful info, such as: how to properly buy organic, buying food in season, how to store and freeze foods, allergies, how to start baby on solids, chocking, etc.
*If you're looking for pre-made purees, I can't recommend these brands enough! Little Spoon, Yumi, and HappyBaby are all made with organic, all-natural ingredients. Each company also offers subscriptions with bundled pricing.
As Collins continues grow and develop I'll update this list of resources that help us navigate the different stages! If you're a seasoned mom, please do share any of your favorite reads, courses and guides in the comments below. I'm always interested in learning more on how to be a better parent.
Best,
Taylor-Rae