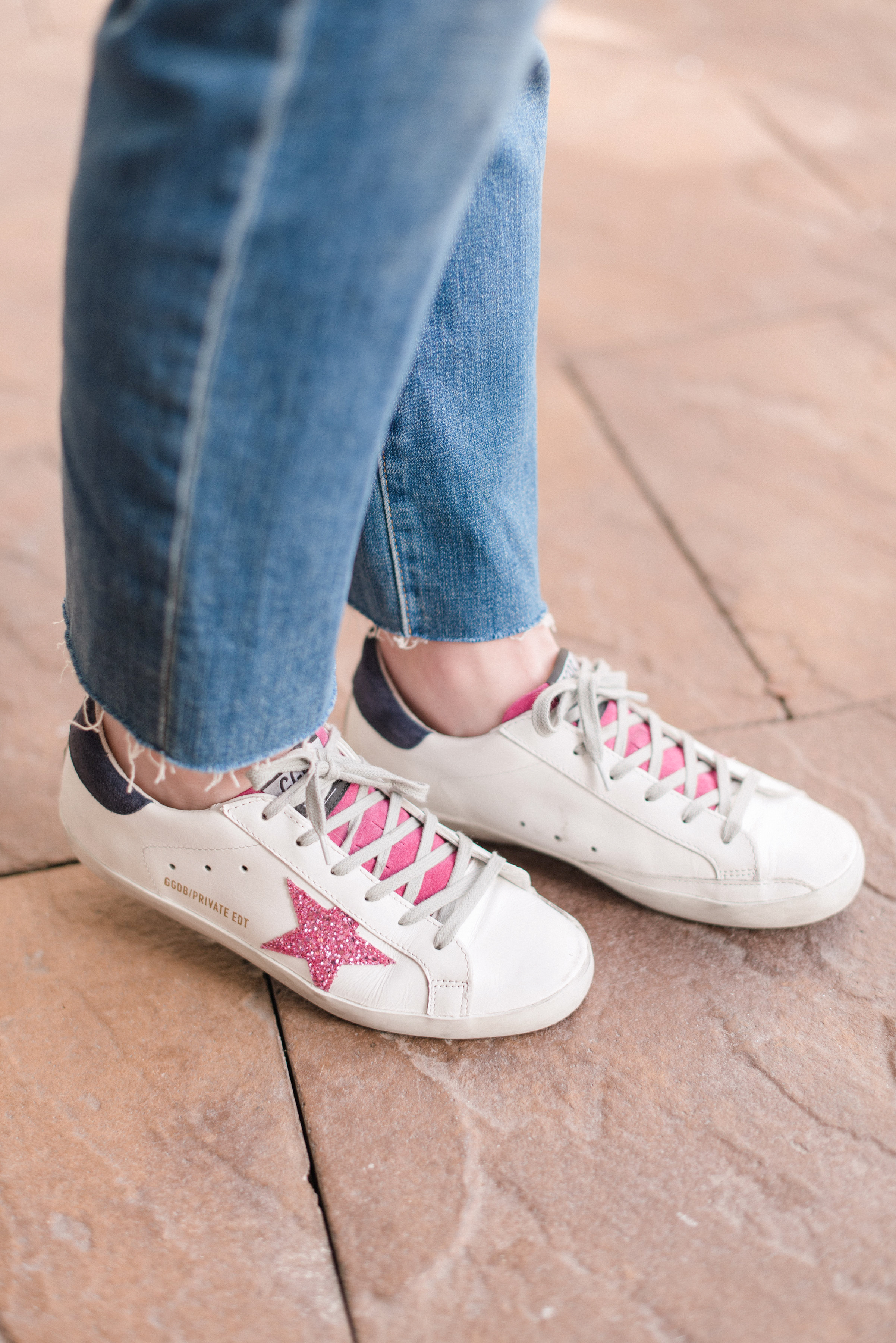 Golden Goose sneakers are all the rage these days, and I totally get it! They are so easy to slide on and go. They have that effortlessly cool factor to them, and will quickly become the most worn item in your closet. Style them with a dress or t-shirt and jeans.
Now, I know they are an investment. After eying and trying-on this coveted shoe for almost 4 years, I finally caved. For me, I am in sneakers or some "flat" majority of the time. So I saw the value in investing in a pair. My mom still thinks I purchased them used, haha. The worn-in look actually sits well with my OCD heart. I found myself stressing less over that initial, yet inevitable scuff. Perhaps their "worn" is why they are such a cult favorite; their authenticity paved their own way.
Golden Goose is an Italian brand, so the sizing is in the Italian standard (ex: 36-40). With European designers, I typically go a half size bigger. For reference, I am a true standard US 8 and 38.5 in most European designers. The Golden Goose Deluxe Brand run in whole sizes, so I wear a size 39 in their shoe. A good rule of thumb is to go with either your standard size or one half size up.
SELECTION
One of the things the brand prides themselves on is being extremely particular about who they let carry their shoes. Their branding must align, and it gives it more of an exclusive feel. They do smaller size runs of each style as well – meaning if you see a style/ shoe you like, scoop it up! They will sell out quickly.
A few of the places that I have found to have GREAT selections of Golden Goose sneakers are:
SSENSE – They have a wide selection and tons of sizes always in stock.
Neiman Marcus – Hands down the best selection of mixed styles – classic with a fun twist.
Net-a-Porter – One of the best selections for animal print.
MyTheresa – A great selection of more muted options. Also one of the few retailers where you can find them on sale!
SALES
The best news yet…. you can find them on sale! There are a few places that frequents putting these beauties up on sale.
SSENSE & FarFetch frequently put Golden Goose on sale. It's easy to set up an alert for those sites, to watch for sales.
Shopbop is known to offer them on sale too. A few friends their Superstars there for a great price.
DUPES
If you aren't ready to commit to a pair… I've rounded up some really awesome dupes! A great way to get the look for less! It's a wonderful way to "try-out" the style.
My taste leans more traditional, go-the-milage when it comes to investment pieces. Golden Goose sneakers being no exception. So when considering which shoes to buy, I knew I wanted a style that was fun but also less distressed. Let's just say I wasn't opposed to a little sparkle or animal print. 🙂
If you have any questions about sizing and fit, please don't hesitate to reach out! I'll keep my eyes peeled for great sale finds and share on Instagram, so make sure you're following me there.
Best, T-R