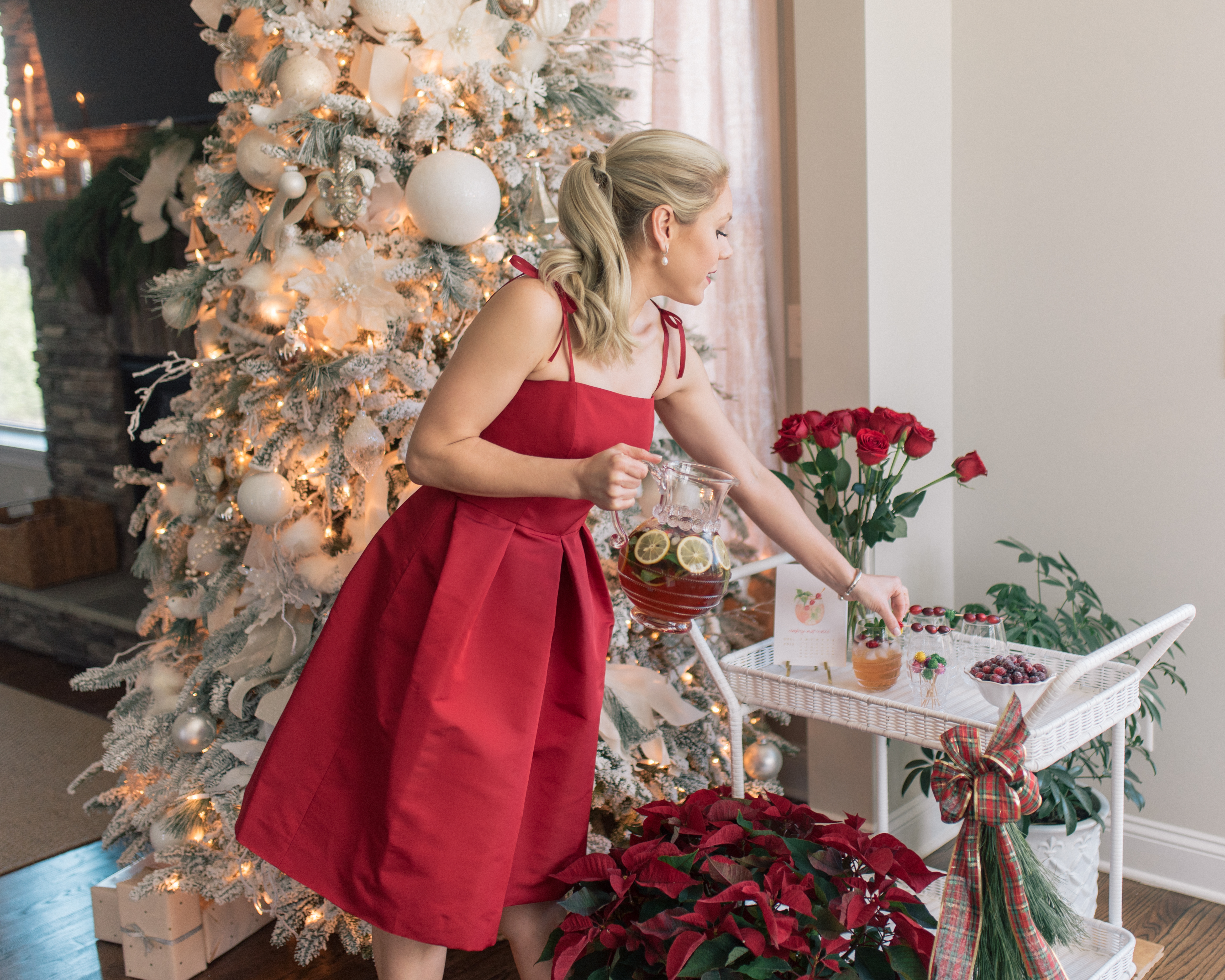 Outfit & Product Details:
Dress: Bespoke Southerly | Shoes: Christian Louboutin | Cocktail Calendar: Simply Jessica Marie | Lips: Charlotte Tilbury | Bar Cart: Joss and Main | Pitcher: Juliska | Glasses: Juliska | Tree Skirt: Crate and Barrel
This year I am feeling especially thankful! Thankful for each one of you who've made the decision to follow Style Souffle as a resource for all things style and home. I am forever grateful for the love and support that this community has shown me thus far. Therefore, I can't think of a better way to kick of December than with a giveaway!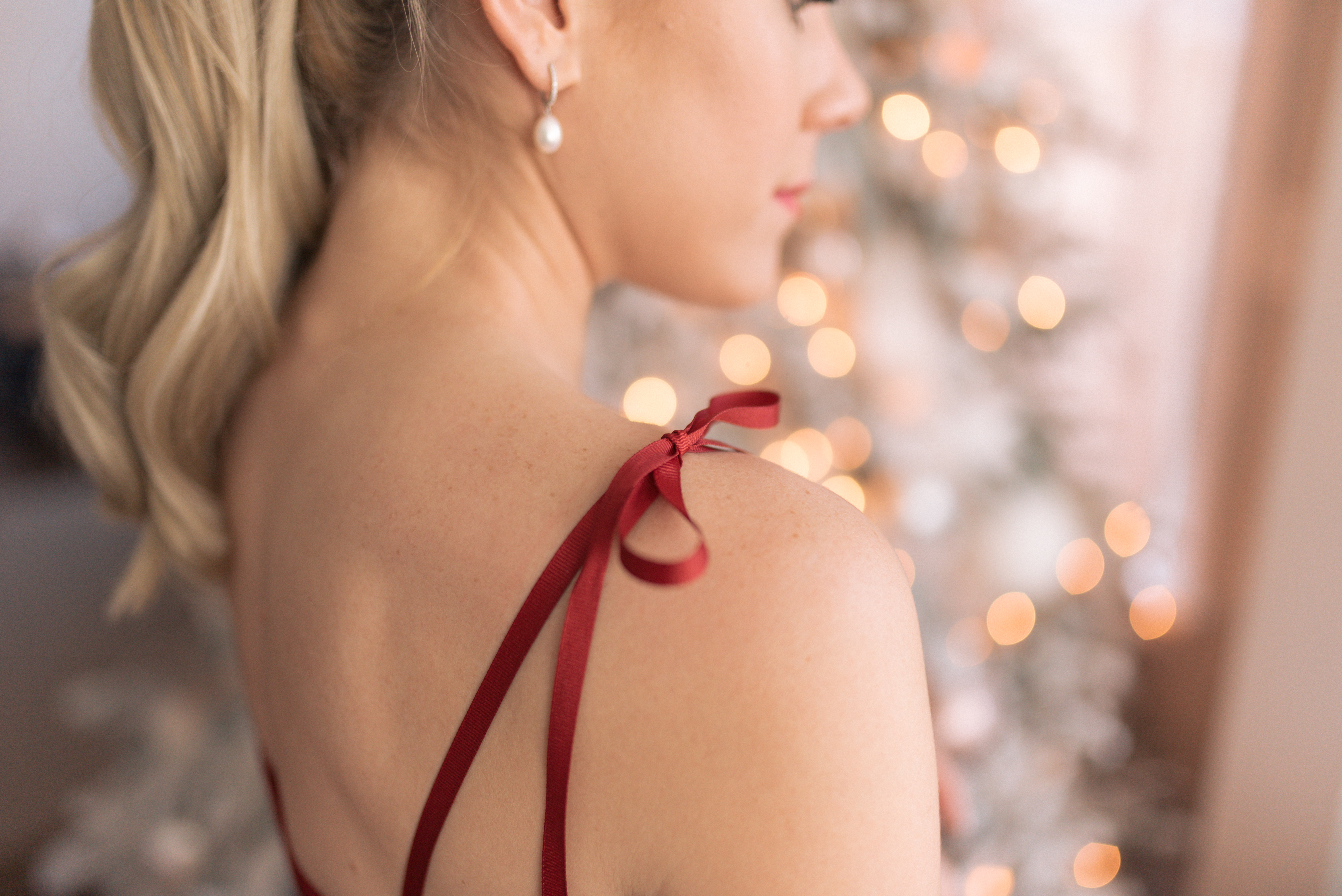 That's right, I've teamed up with my friends at Bespoke Southerly and Simply Jessica Marie to gift one lucky winner pieces from each of their collections. The winner will receive a Bespoke Southerly silk, made to order Lily Dress along with Simply Jessica Marie's 2019 Cocktail Calendar and brass stand. But wait – there's more! The winner will also receive a collection of Charlotte Tilbury products all hand-selected by yours truly!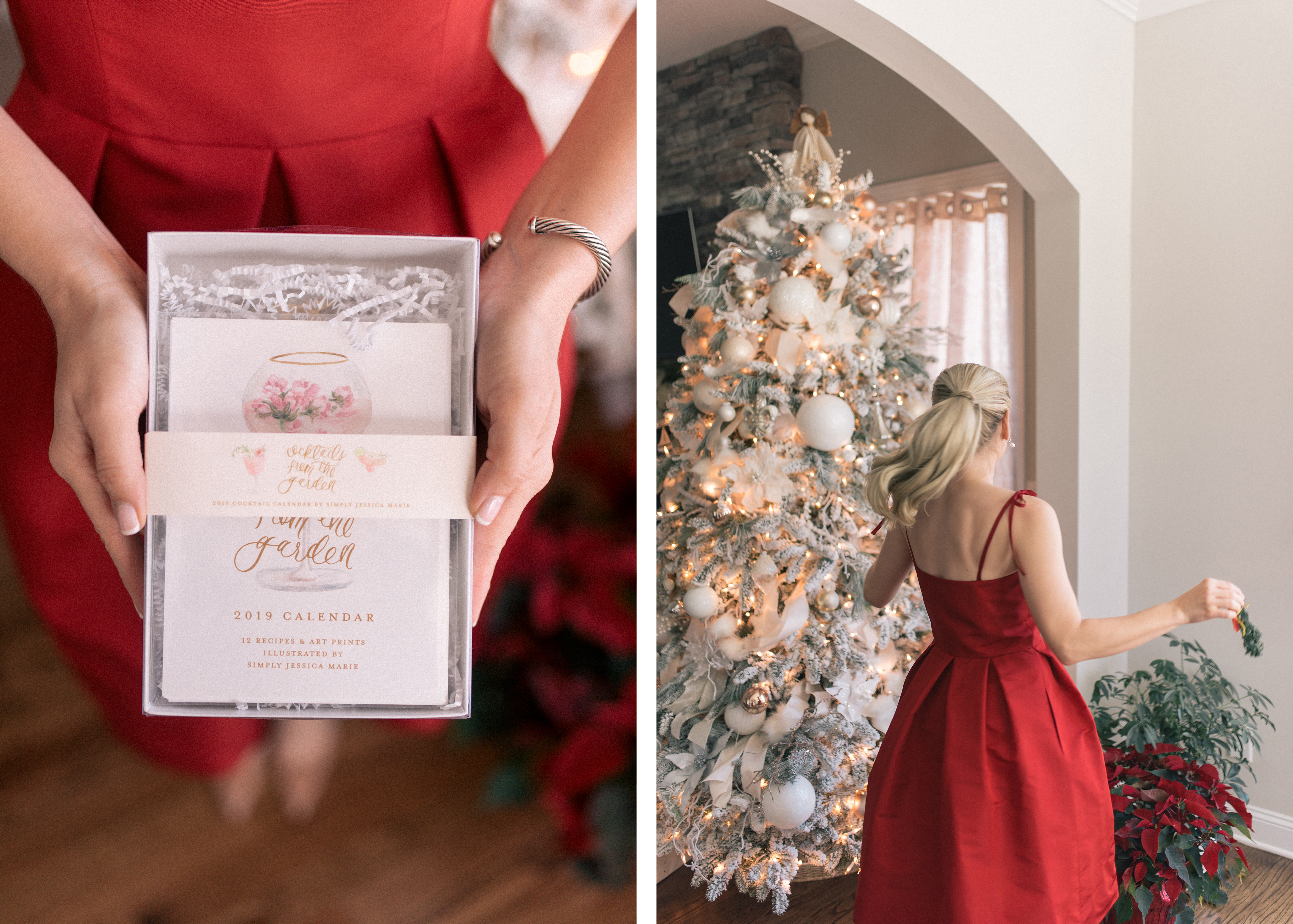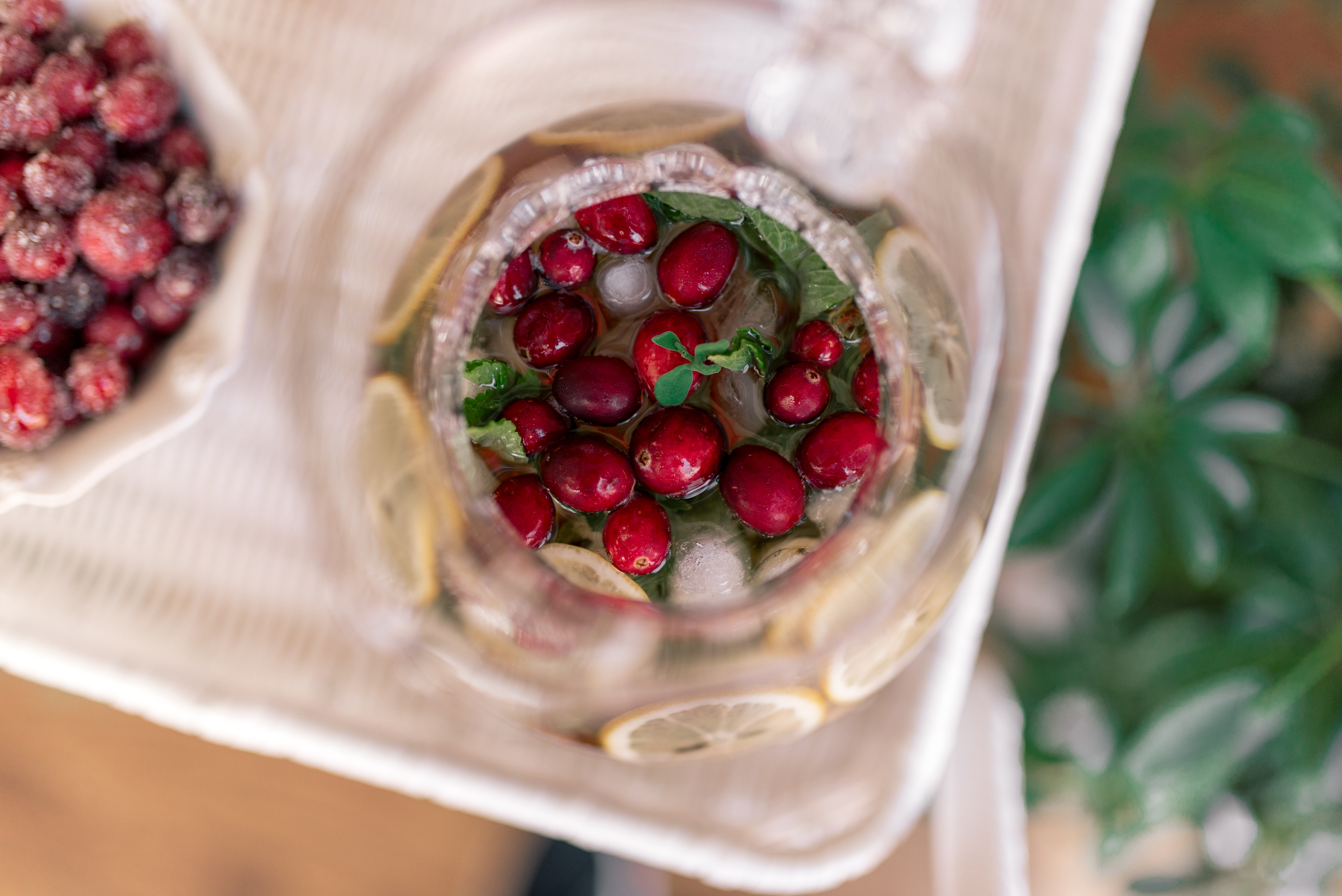 You're probably wondering, "how do I enter?" It's simple! All you have to do is "follow" Style Souffle, Bespoke Southerly and Simply Jessica Marie on Instagram, "like" and "tag" three people within the caption of the photo featuring me wearing the red silk Lily Dress! It really is that simple!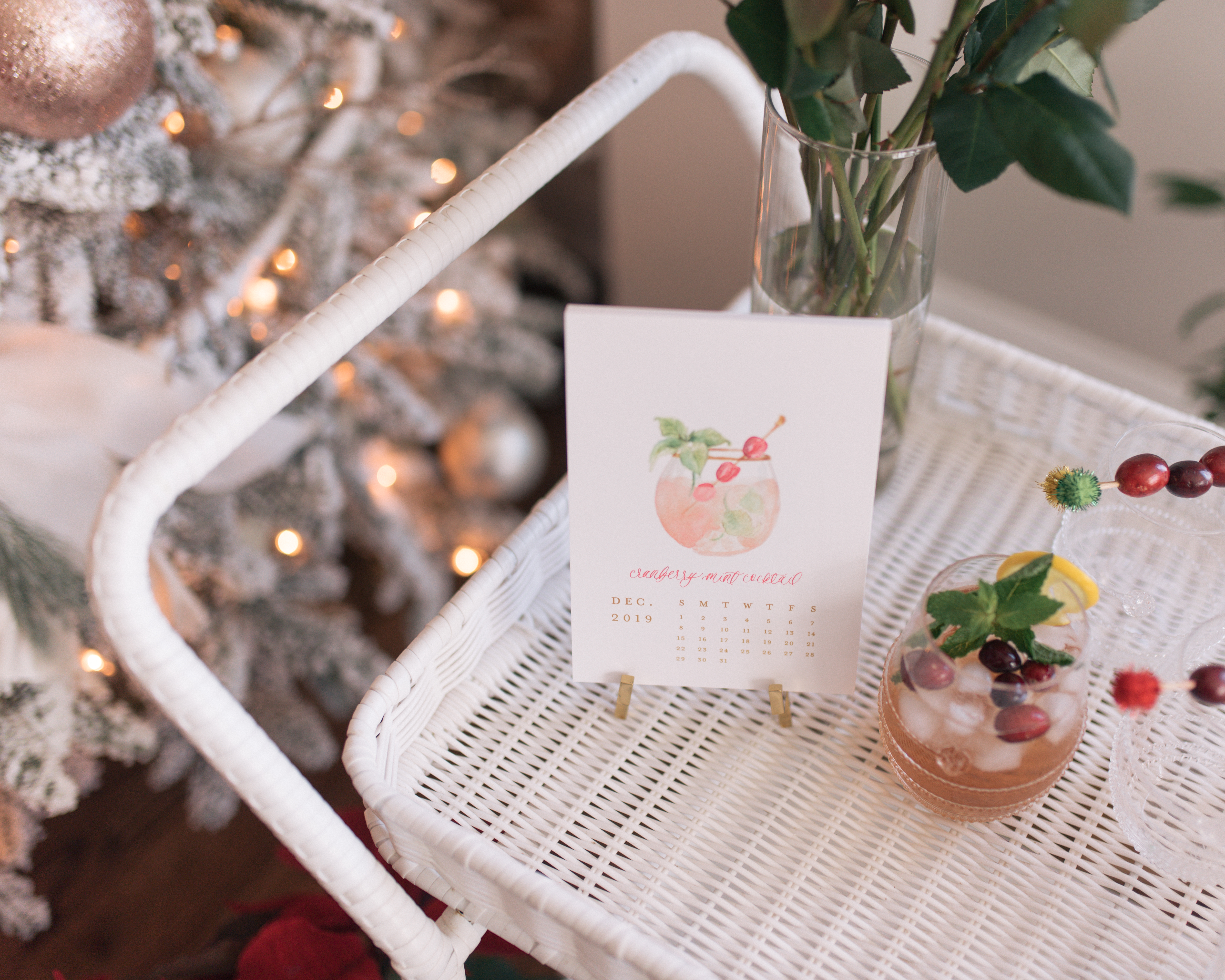 I'm so fortunate to work in an industry full of so many amazingly talented people. Both Sherri (Bespoke Southerly) and Jessica (SJM) have a contagious entrepreneurial spirit that I admire. Below I'm sharing more about how their businesses came to be, and how I fit into the equation.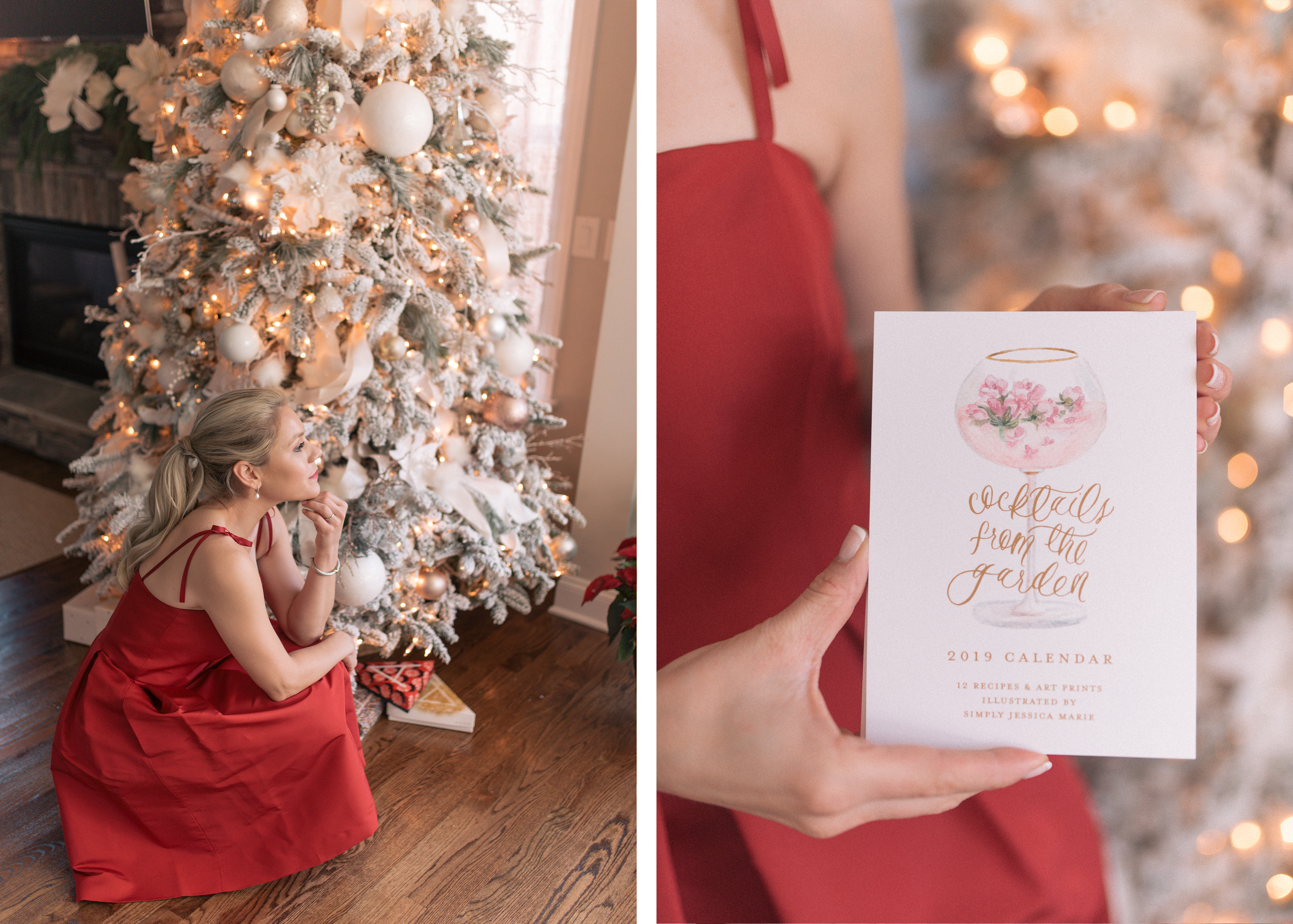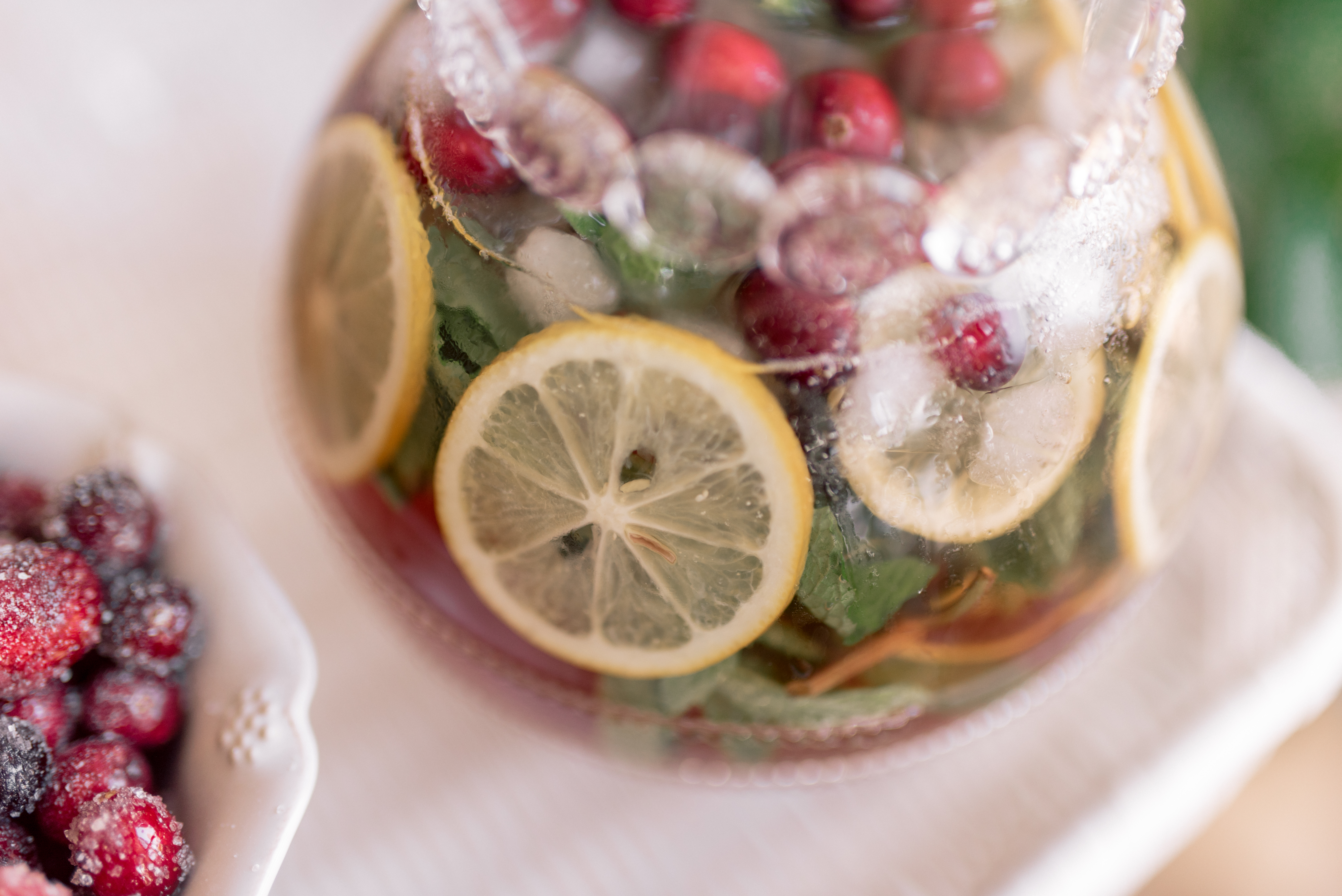 Jessica, who was "Jess" Clinch at the time, and I first met at Elon University where we both attended college. She had a passion for watercolor calligraphy and illustration, and shortly after graduating launched her business Simply Jessica Marie. Over the years I've had the privilege of watching her business grow into a highly sought-after brand! While the very essence of SJM has always been watercolor art, she now offers educational courses, seasonal gifts and has carved a name for herself in the world of paper! Believe it or not, Jessica played a huge part in the launch of Style Souffle back in 2014! When I was serious about launching a digital space, she was the first person I called! Together we built out the first logo, website and branding material for Style Souffle. She's been there from the start, and for that I am grateful!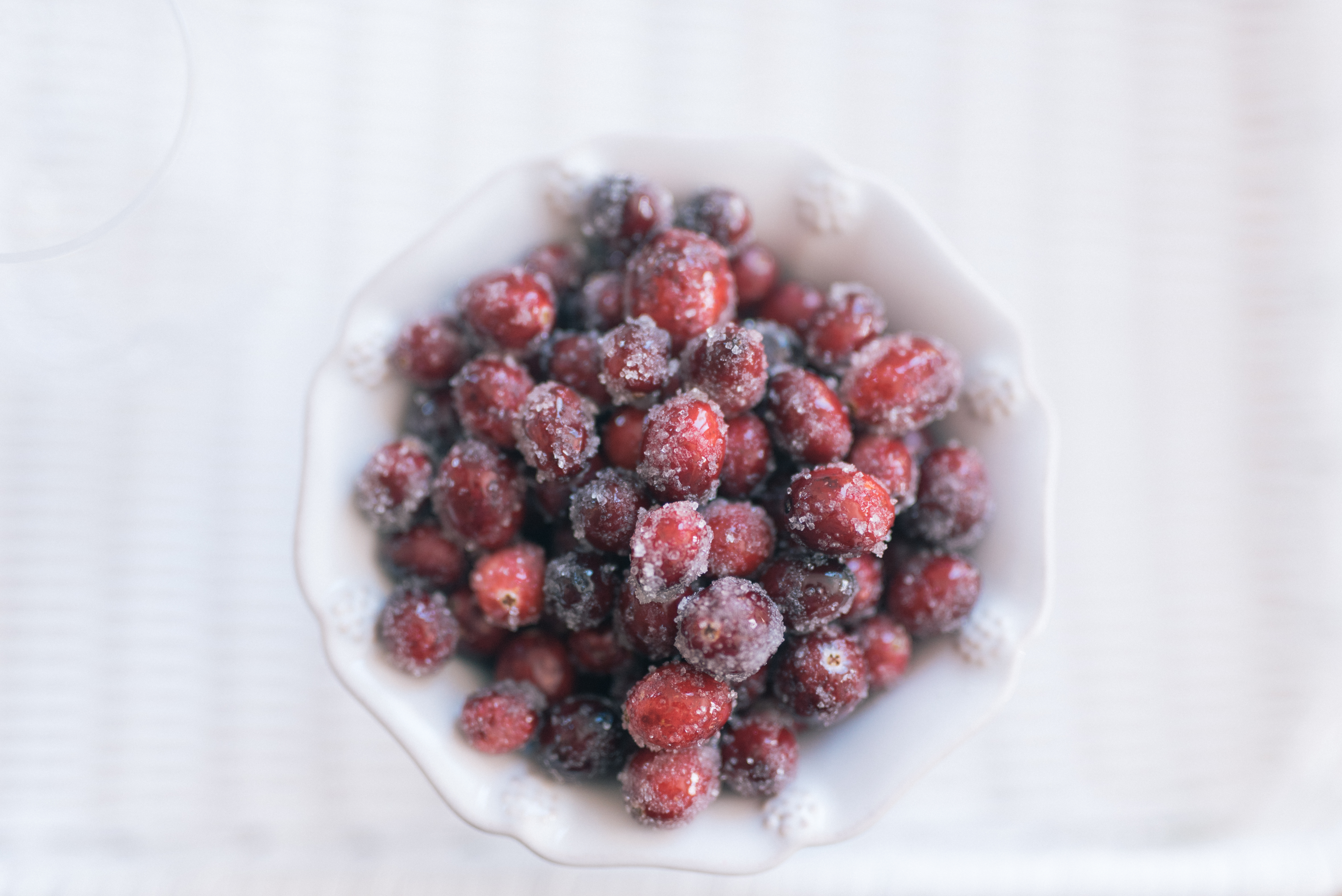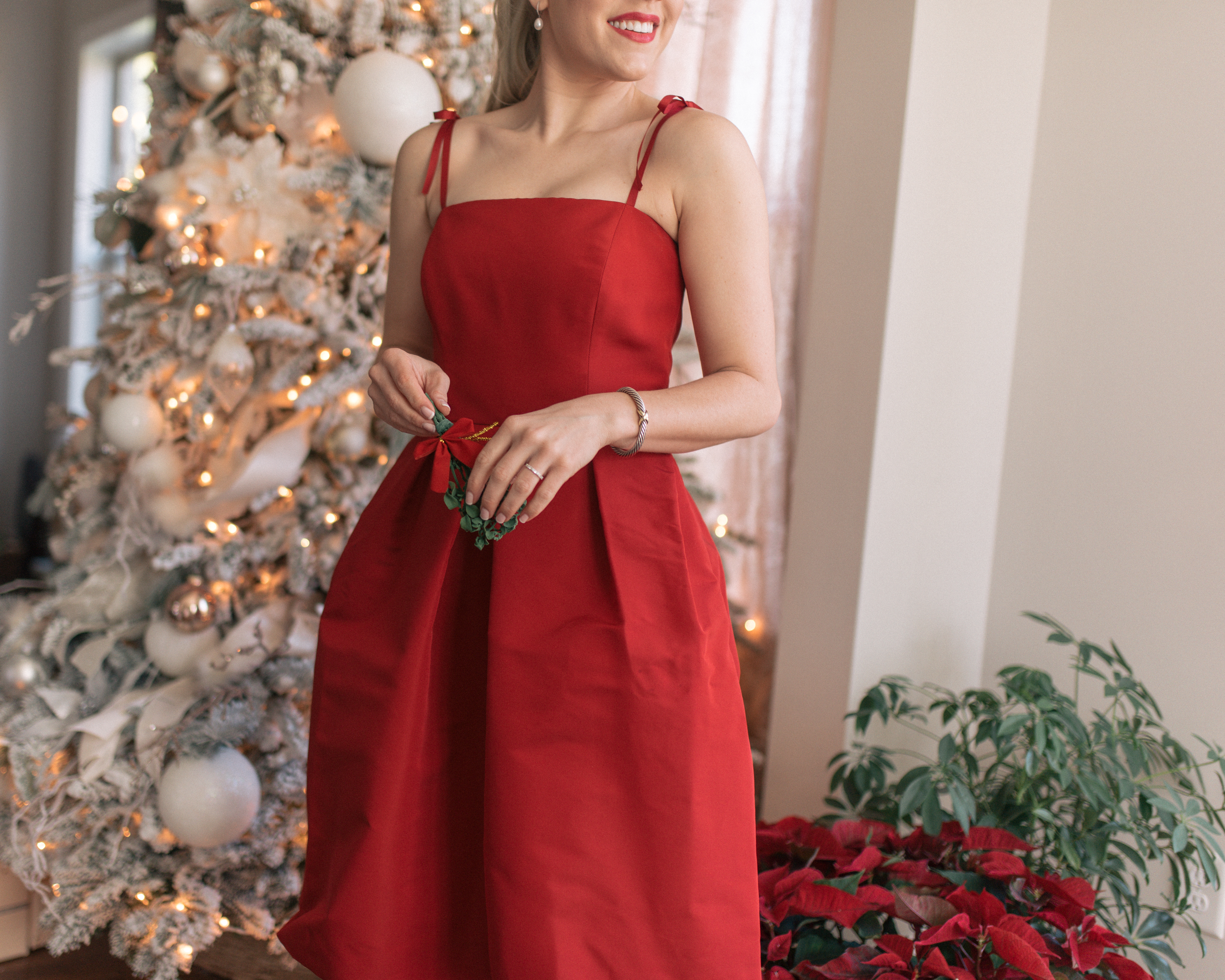 Nearly five-years in, I've worked really hard to build a brand that reflects my – very feminine – personal style. Sheri of Bespoke Southerly took note of that and contacted me back in October with the hope of working together on behalf of her newly launched capsule collection, Bespoke Southerly. A Georgia native, her collection evokes Southern elegance with timeless, classic appeal. Did you know that 'southerly' means, "a wind blowing from the South?".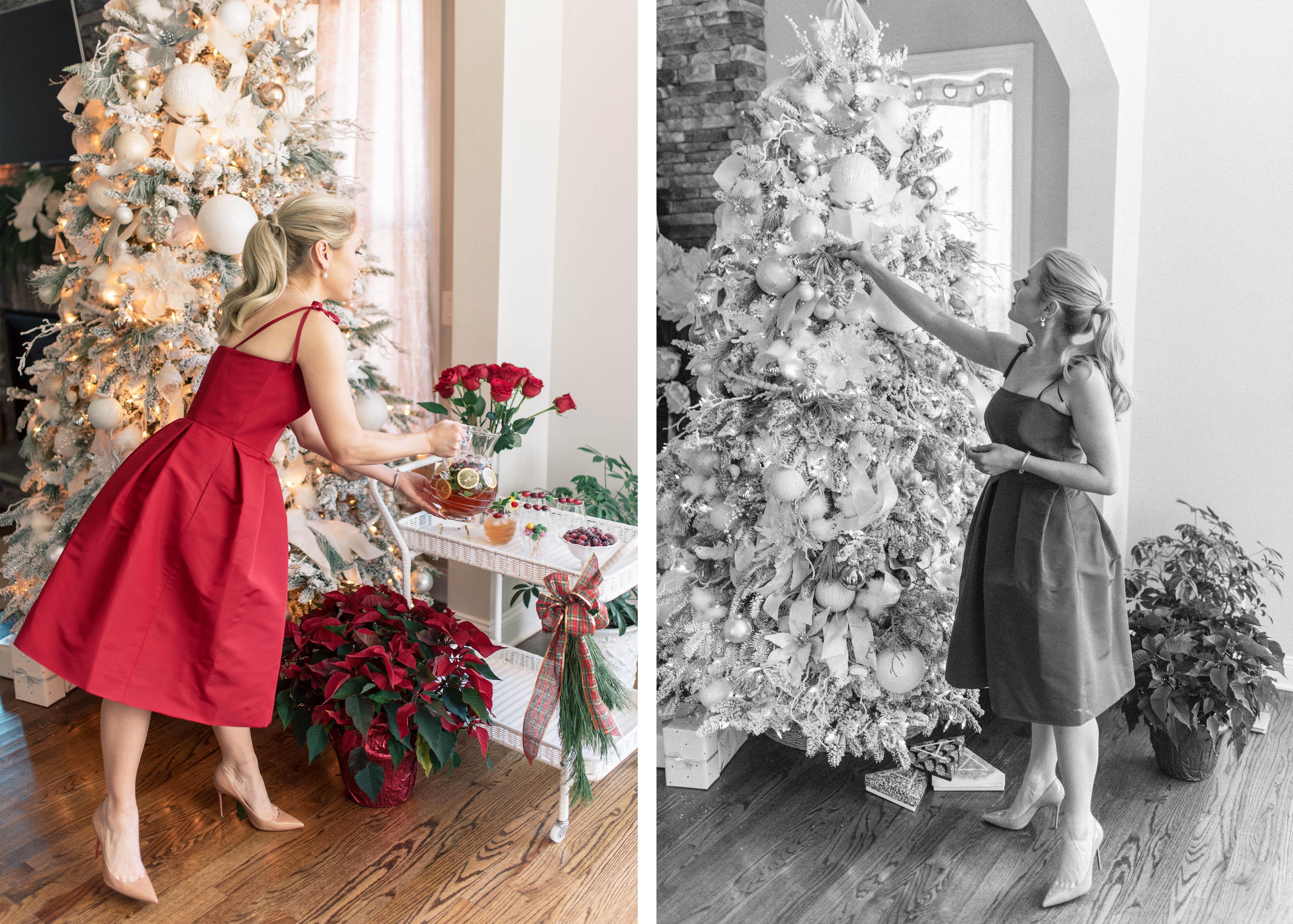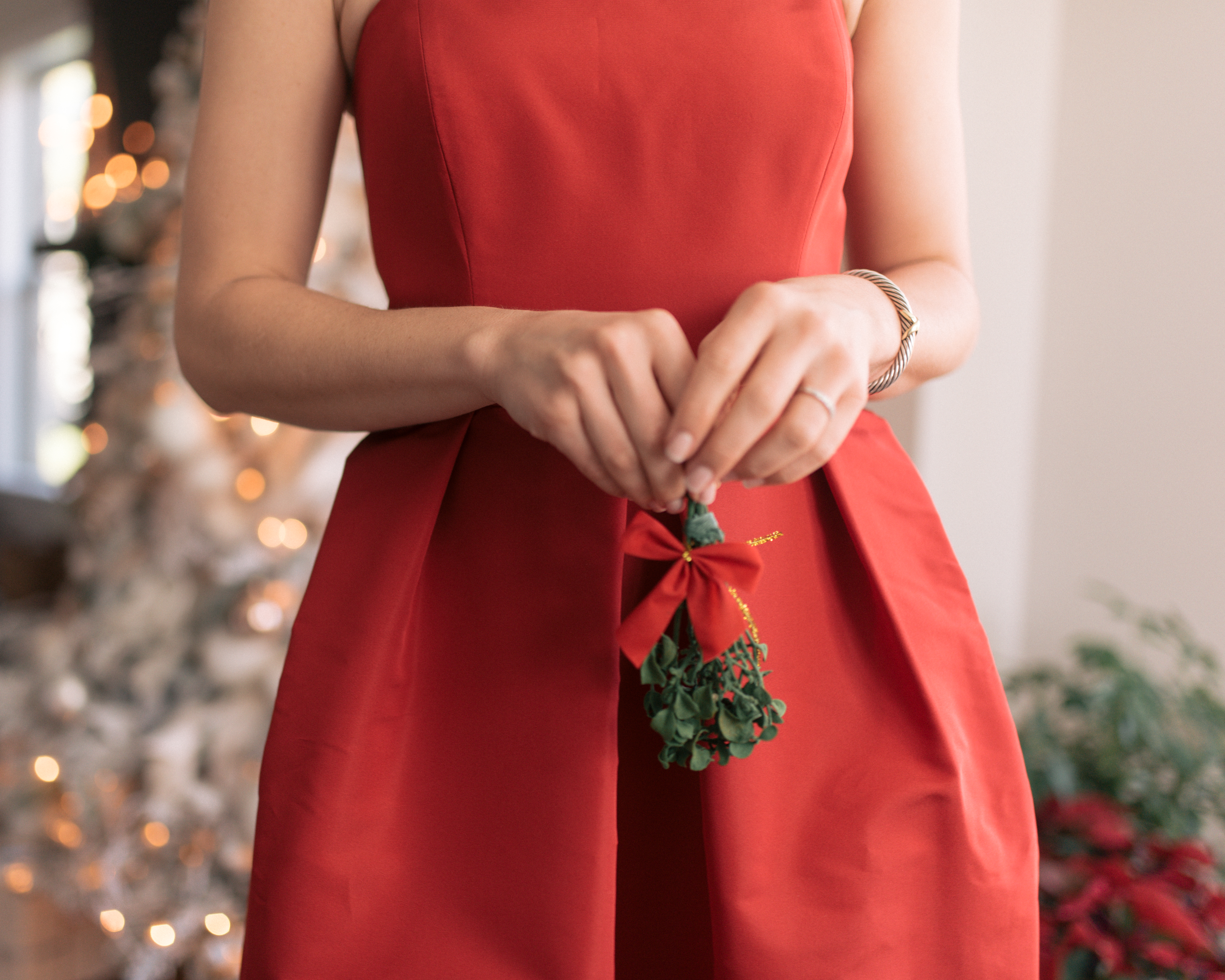 I've had the privilege of getting to know Sheri over the past few months. Her collection was born out of her struggle to find the perfect dress for every event. She realized there was a lack of beautifully-made, quality items created with fine fabrics, like silk. Having spent the early part of her career working in high-fashion and retail marketing, she decided she could draw from her experience's and relationships to fill this niche by designing what was missing in stores. And, because her dresses are made to order they are customizable, which means you can get the color and details you want – even the exact hem length. It's worth noting that her collection shares the same pattern and sample makers of Zac Posen and Marchesa! In today's post I am hearing the Lily Dress in red silk faille, the style being given away! Of course, you will have your choice of color and custom details.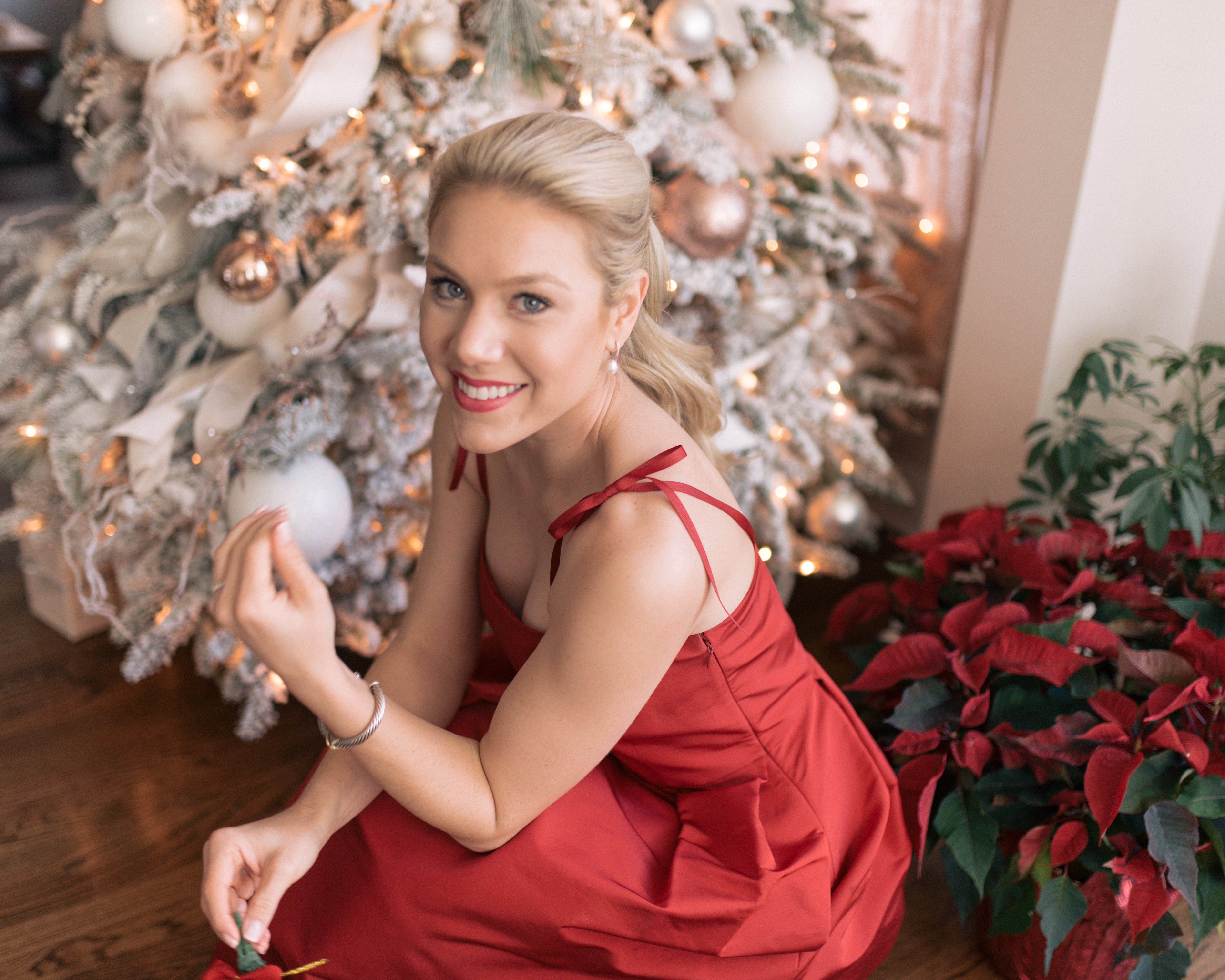 Women like Jessica and Sheri are what fuel my creative fire! They are a true example that dreams do come true, but only if you're willing to put in the hard work, endless hours and push yourself beyond what you think you're capable of.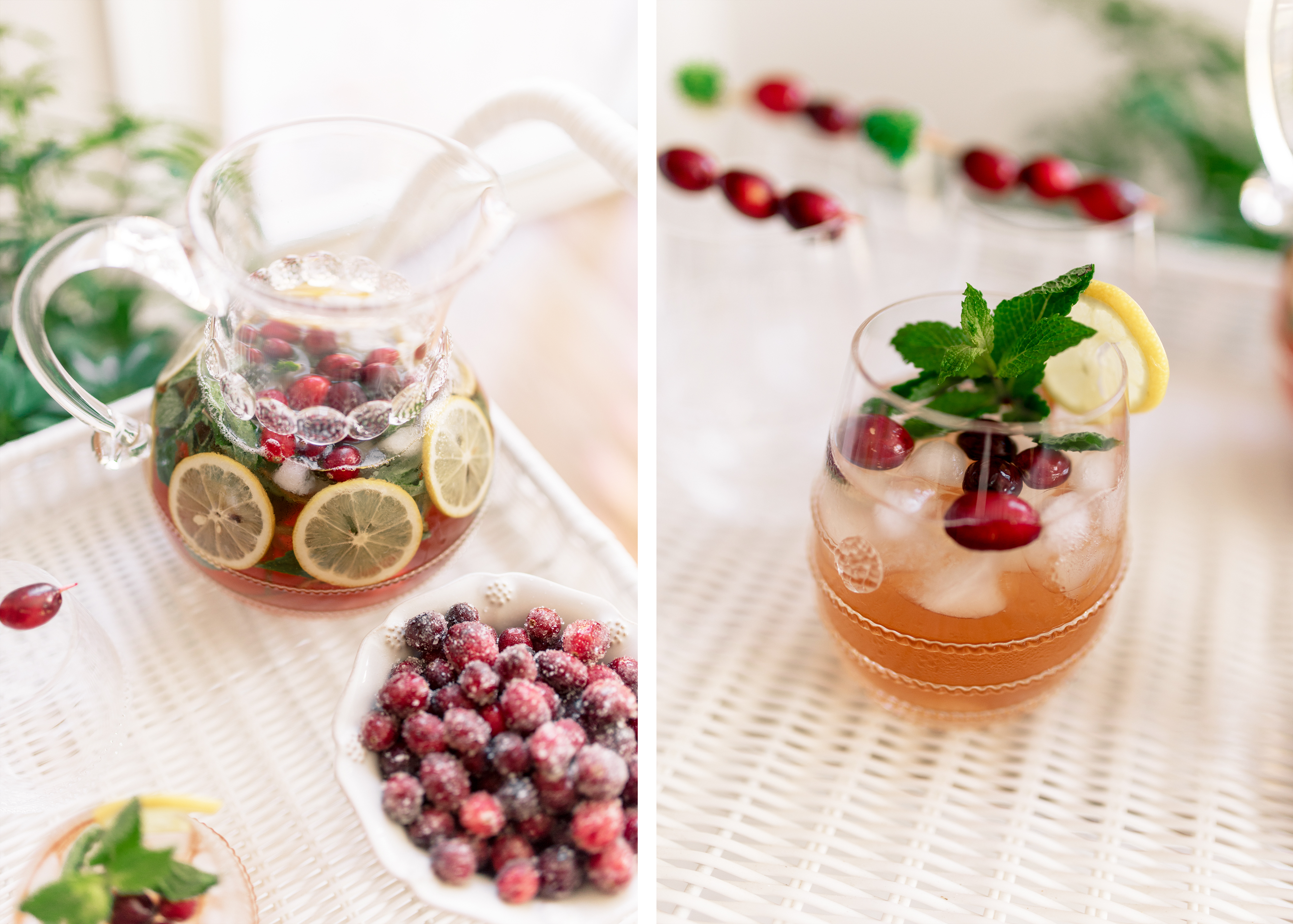 I hope you take the time to enter our giveaway, and I wish you the best of luck!
Happy Holiday,
Style Souffle