By now, I'm sure you've figured out that life is one big balancing act. Things like staying on top of work responsibilities, meal planning, keeping up with friends and family, juggling fitness, faith, finances and maintaining a tidy home arn't easy.
If I'm being brutally honest, over the past few months, my life became an unorganized mess. My closet, work space and drawers became a collection of random items without a home. It stressed me out! As someone who becomes easily angst, I couldn't go into the new year living life this way. You know, those projects where it feels like there is so much to do, that you don't even know where to begin?
If you're nodding your head and wondering weather you'll ever get a break, you're in luck, my friends! I've got a few tips up my sleeve that are going to make your life a whole lot simpler.
Throughout the past week, Justin and I purged our closest and found it incredibly therapeutic. It felt so satisfying to take something messy and make it orderly, that we set down and made the below list of other ways to simplify life in the coming year.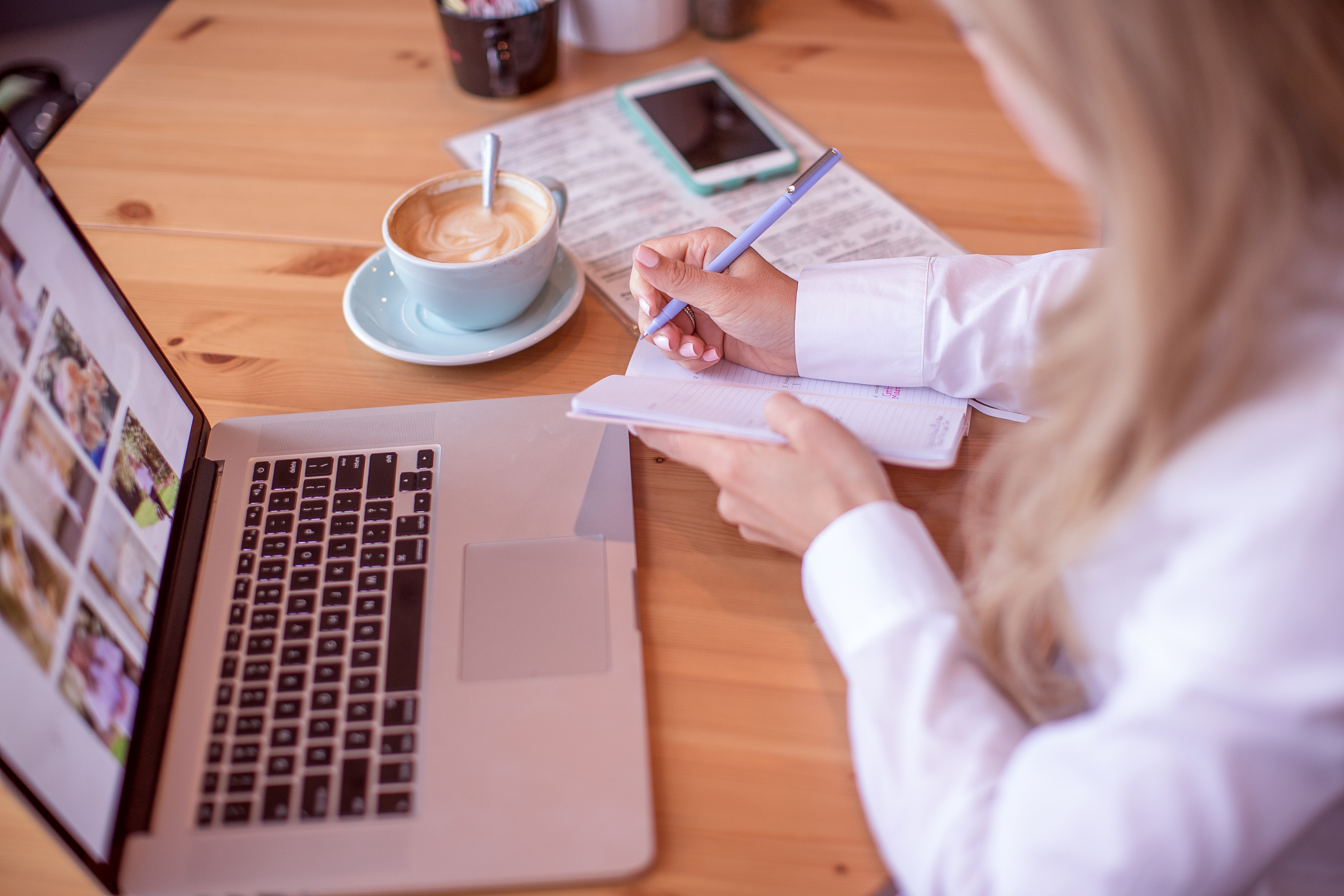 Before we begin, there's something I want to point out. Simple doesn't always mean easy, does it? You can come up with a solution that simplifies a problem, but following through with that solution isn't necessarily going to be easy. It still takes some willpower and a whole lot of effort, even on your most tired days. Luckily, you'll find that the below tips are all attainable and realistic. They don't require a massive amount of effort (you're welcome!) and can be implemented relatively quickly.
So, without further ado, here are 20 ways to help you save time, money, energy and sanity all while you become healthier and more productive! There's no need to wait until the first of the year when you can get a head start now. Let's do this!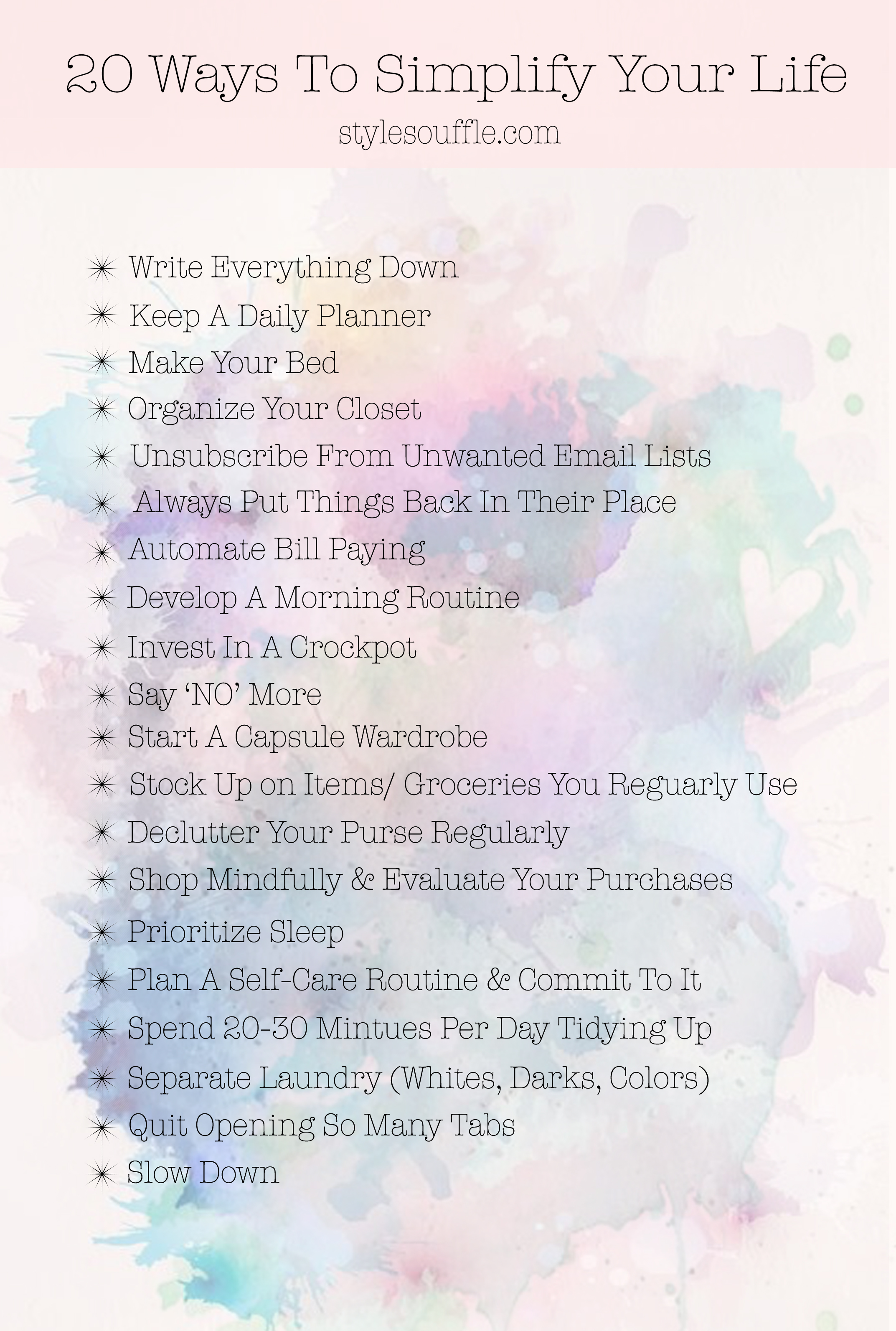 1. Write Everything Down
You're more likely to do something when you write it down.
2. Keep A Daily Planner
Staying on top of a day-to-day planner helps keep my life organized! I'm more punctual, productive and less likely to over commit when my day is written out.
3. Make Your Bed
A quick fluff of the pillows and tug of the sheets takes only seconds, and kickstarts a chain of other good decisions throughout the day. And who doesn't love coming home to a made bed after a long day?
4. Organize Your Closet
Justin and I rarely argue, but lately, if we did it was most always out of frustration over our once cluttered closet and drawers. We were overwhelmed by piles of things we hadn't seen or worn in years. You know the feeling when you have too many clothes and nothing to wear? That was us.
Last weekend we got real honest with ourselves and threw out clothes that were damaged, faded and beyond repair. We donated things we didn't need anymore, and used containers to sort things in our drawers. We were able to free up some previous space and see what our wardrobes truly lacked. It was incredibly therapeutic to let go of unnecessary items, and ultimately the kick-start of this life-simplifying challenge!
5. Unsubscribe From Unwanted Email Lists
You know what takes up unnecessary time? Emails you don't care about. There's nothing more overwhelming than opening an inbox with hundreds of unread emails. Get that nonsense out of your life.
6. Always Put Things Back In Their Place
Taking a few seconds to do this every single day will keep things from pilling up over time. I've found I'm less likely to lose things.
7. Automate Bill Paying
Why stress over paying bills on time if there are systems in place that do it for you?! Save yourself and credit score by setting up auto-payment on monthly bills.
8. Develop A Morning Routine
I consider mornings to be the most important part of the day. They essentially predict how the rest of your day will pan out, which means your morning time is incredibly precious and you need to use it wisely. My ideal morning includes: drink 5 huge gulps of water, work out while visualizing my day, eat a balanced breakfast, and read a morning devotional. And, most importantly, stay off my phone. I plan to elaborate more on this in a future post. Stay tuned.
9. Invest In A Crockpot
Plan ahead, and on busy days let dinner cook itself! Throw all of the ingredients into the pot before heading out the door. Return home to a warm, scrumptious meal that's ready to enjoy!
10. Say 'NO' More
Don't over commit! This isn't always an easy choice, I know! Getting to a place in your life where you know your limits, and you respect them, is something to be admired. Give more of yourself to a few things, than little of yourself to a lot of things! You will be more fulfilled in the end, I promise.
11. Start A Capsule Wardrobe
A simplified wardrobe made up of clothes you absolutely love will save you money and time. This is something I plan to elaborate more on in the coming year.
12. Stock Up On Items/ Groceries You Regularly Use
Keeping the things that I readily use on-hand has made life easier. For example, there's no better feeling than going to the pantry and finding an ingredient or item that I didn't realize I had. Tomato paste, vinegar, sugar, onions, garlic, toothpaste, lemon juice, cleaning pads, needle and thread, bandaids – these are examples of things that were surprisingly on-hand when I needed them. It was like winning the lottery, not that I know what that feels like. I encourage you to make a list of these often forgot about items to have on hand when you need them.
13. Declutter Your Purse Regularly
Keep change in a coin pouch, conceal easily-lost necessities like lipstick, hand sanitizer, bobby pins and hygiene products in a small bag and keep cards in a wallet. Don't waste another minute emptying out your entire bag to find a hair tie! Don't do that to yourself!
14. Shop Mindfully & Evaluate Your Purchases
I've always been a huge believer in having a mixed wardrobe: investing in staple, everyday pieces while scaling back on trendy, hot-this-season items. If you're going to spend money on clothes, I honestly recommend spending it on basics. You'll love them now and in years to come! Here are essential pieces that you'll find in every great wardrobe: long-sleeved tee, short-sleeved tee, white silk blouse, cashmere sweater, black dress, nude pumps, classic blazer, non-distressed denim jeans and a classic pair of neutral flats.
15. Prioritize Sleep
Everything is harder to do when you are tired.
16. Plan A Self-Care Routine & Commit To It
It's so important that you make time to care for yourself. Earlier in the year I wrote a post on ways to love yourself, as it's something I try to do daily.
17. Spend 20-30 Minutes A Day Tidying Up
Every night before I go to bed I fluff the pillows on the sofa, rid the sink of dishes, wipe down the countertops, take out the trash (if needed), fill Tucker's water bowl and put away his toys in their bin. It's part of my nightly routine, and has been for years. I find it very therapeutic, and feel that it sets the tone for the following day.
18. Separate Laundry (Whites, Darks, Colors)
Just another way to simplify your life. It only takes one red sock to leave an entire load of whites looking pretty in pink!
19. Quit Opening So Many Tabs
When I have a lot of tabs open, I feel like I have to click, look and close all of them before I can actually get to work. As someone who becomes easily distracted, this made it impossible to get anything done. I would get lost on some other off-topic task (if you want to call it that) and forget what I was trying to do in the first place. This became a huge time-suck and really impacted my productivity.
My job involves a lot of backlink/ hyperlinked text, and before my decluttering challenge, I would easily have 10 tabs open at all times. For me, this solution was creating a three-tab rule. I literally have a post-it right by my computer that says THREE TABS. These tabs include the backend of my site (where I'm almost always actively working), rewardStyle and the platform I use to create creative content. Did you notice my inbox wasn't one of those open tabs? I'm practicing time batching where I have a dedicated time of the day for emails. I found keeping my inbox in an open tab was too distracting.
20. Slow Down!
You can't rush or stop time. So many of us, myself included, are rushing through life, trying to get a million things done at once while attempting to absorb as much information as we can. Take a few minutes to think about the areas of your life where you've been rushing, and come up with a plan to slow down and be more deliberate with your time.
I think it's so important that we create a healthy work-life-play balance. This is my biggest resolution going in to the new year. The older I get, the more I value my time – giving more of myself to the people and things that matter most and letting go of what is beyond my control. Please let me know if you found this post helpful in any way. I would greatly appreciate it!
Best,
Taylor-Rae