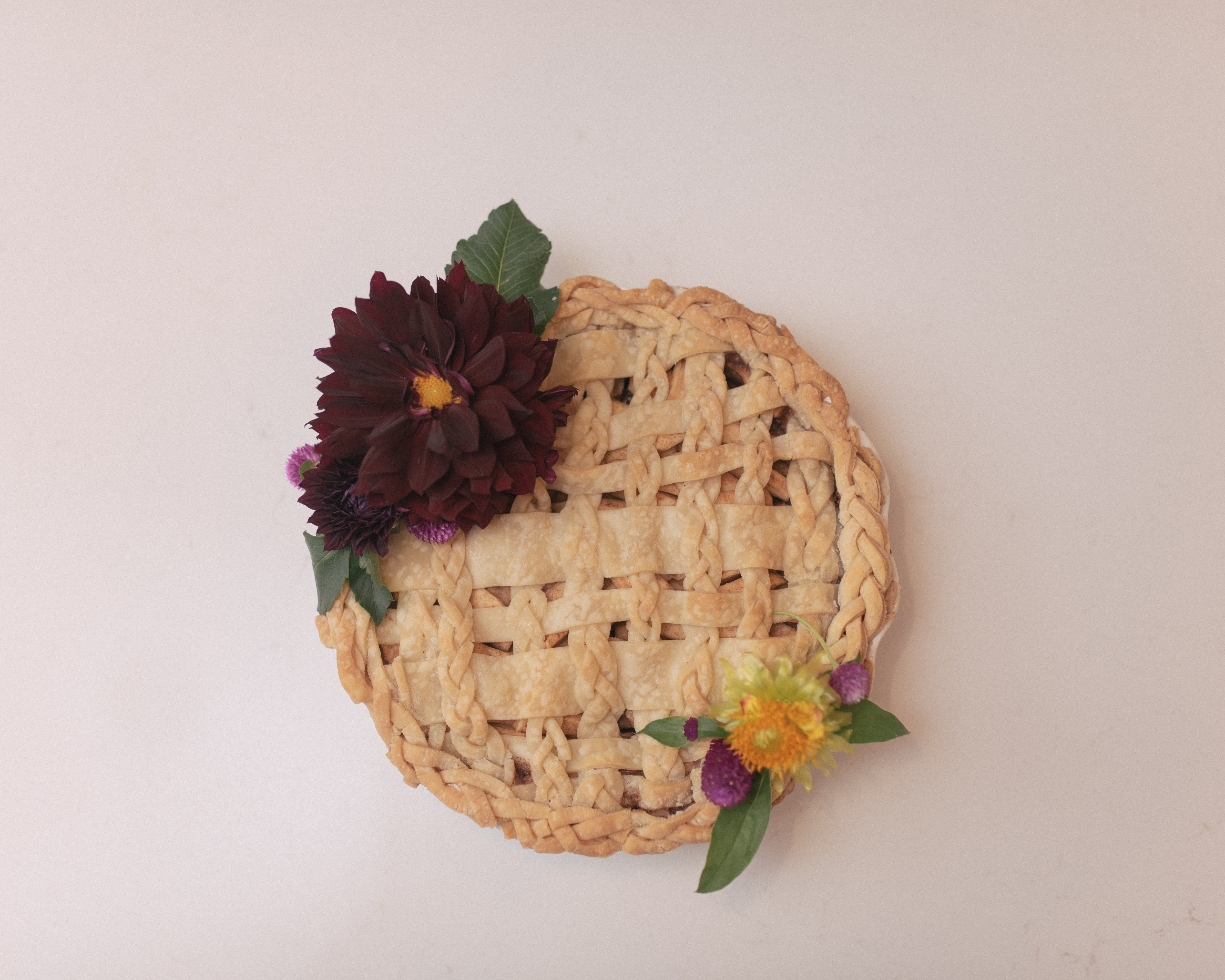 Product Details:
Ted Baker Top | Levi Denim | Crate & Barrel Ruffled Pie Dish | Rolling Pin | Crate & Barrel Mixing Bowls
When you give a gal a baking dish, she'll try to make an apple pie. Yes, you read that right, I made an apple pie and everyone who ate a piece lived to tell about it! We'll write that one down as a success. You see, baking has never been my strong suit. It requires precise measurements (apparently), and I've never been great at following the rules. But, alas, after years of wanting to try my hand at baking a homemade apple pie, I finally did. It was surprising delicious – if I'm allowed to humble brag on myself. I can't take all the credit though, as mom was there to help. To spice it up, we made a homemade cinnamon bun pie crust. I'm sharing both recipes below!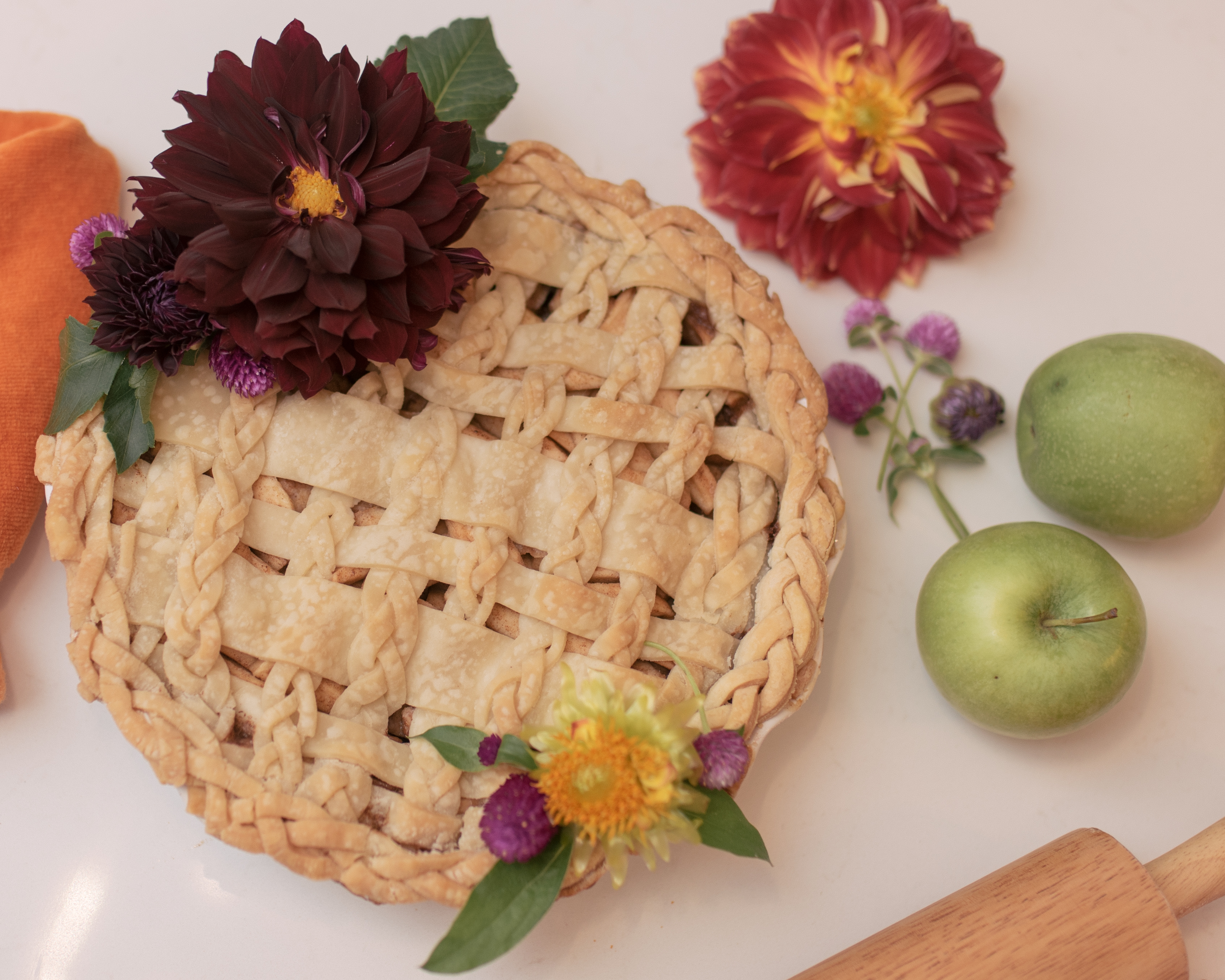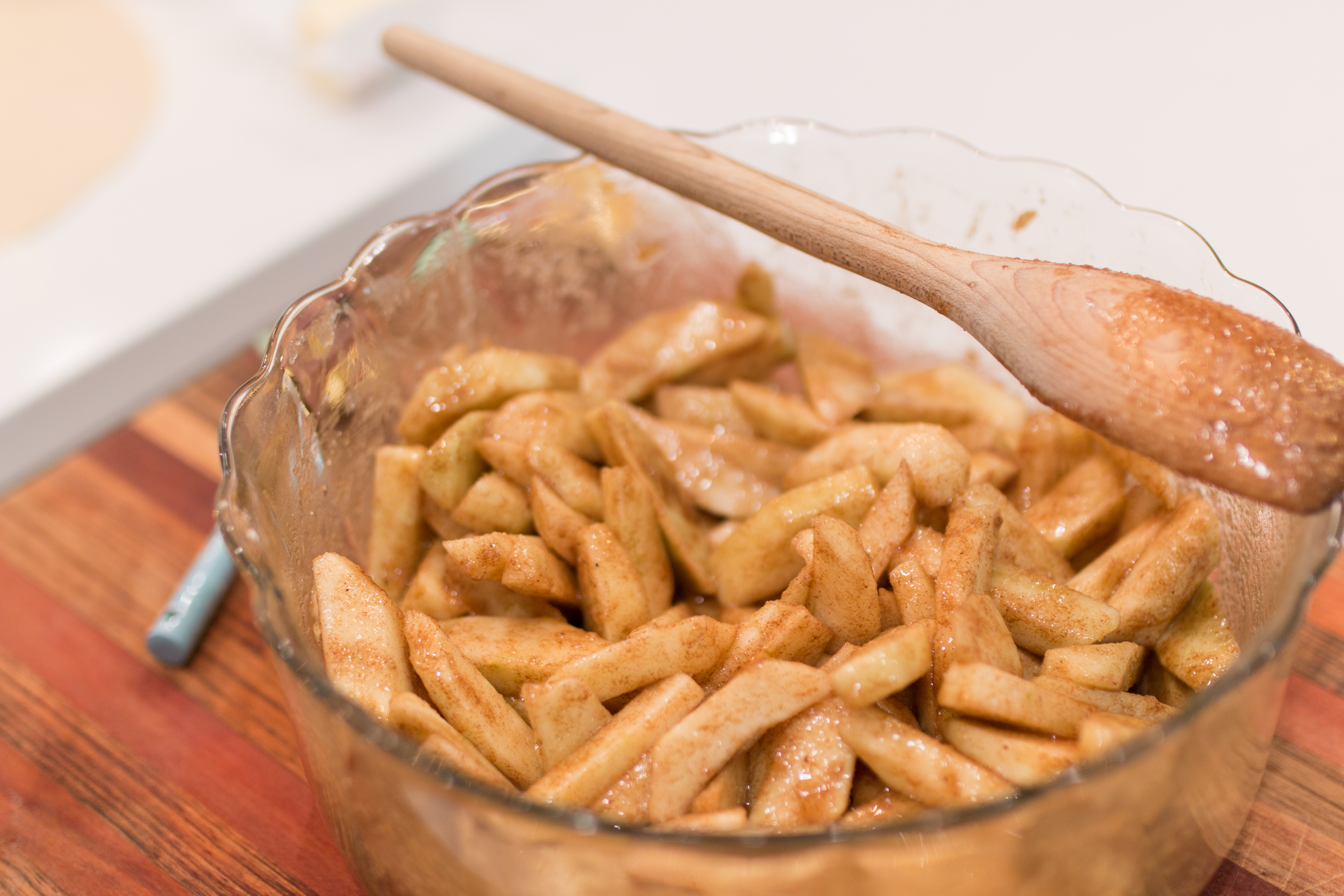 It was hard to not eat all the cinnamon sugar apples. The mix of sweet and sour was something delicious! We had a few apples to spare, so we baked them on a pan in the oven for a few minutes. I highly recommend you do this!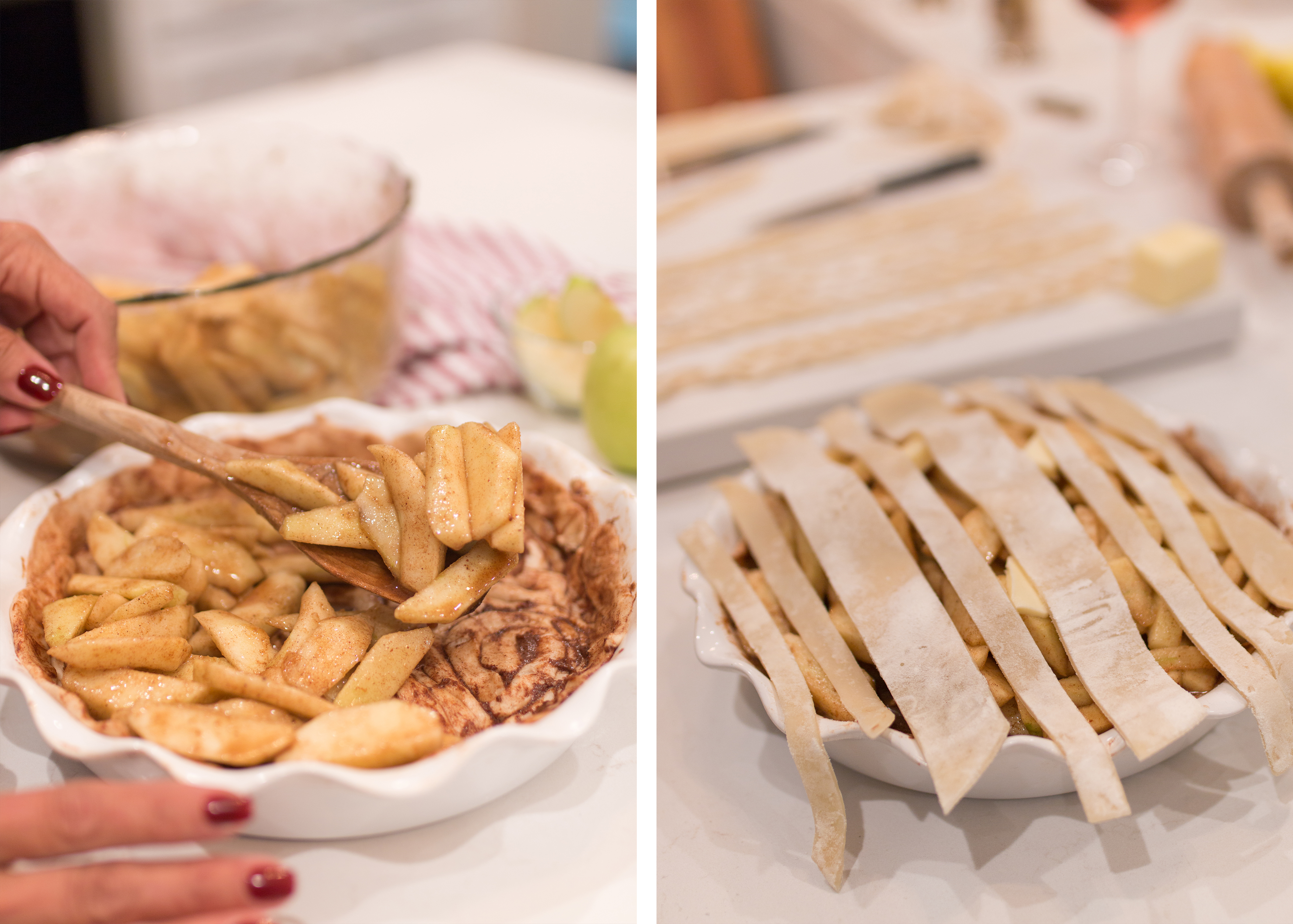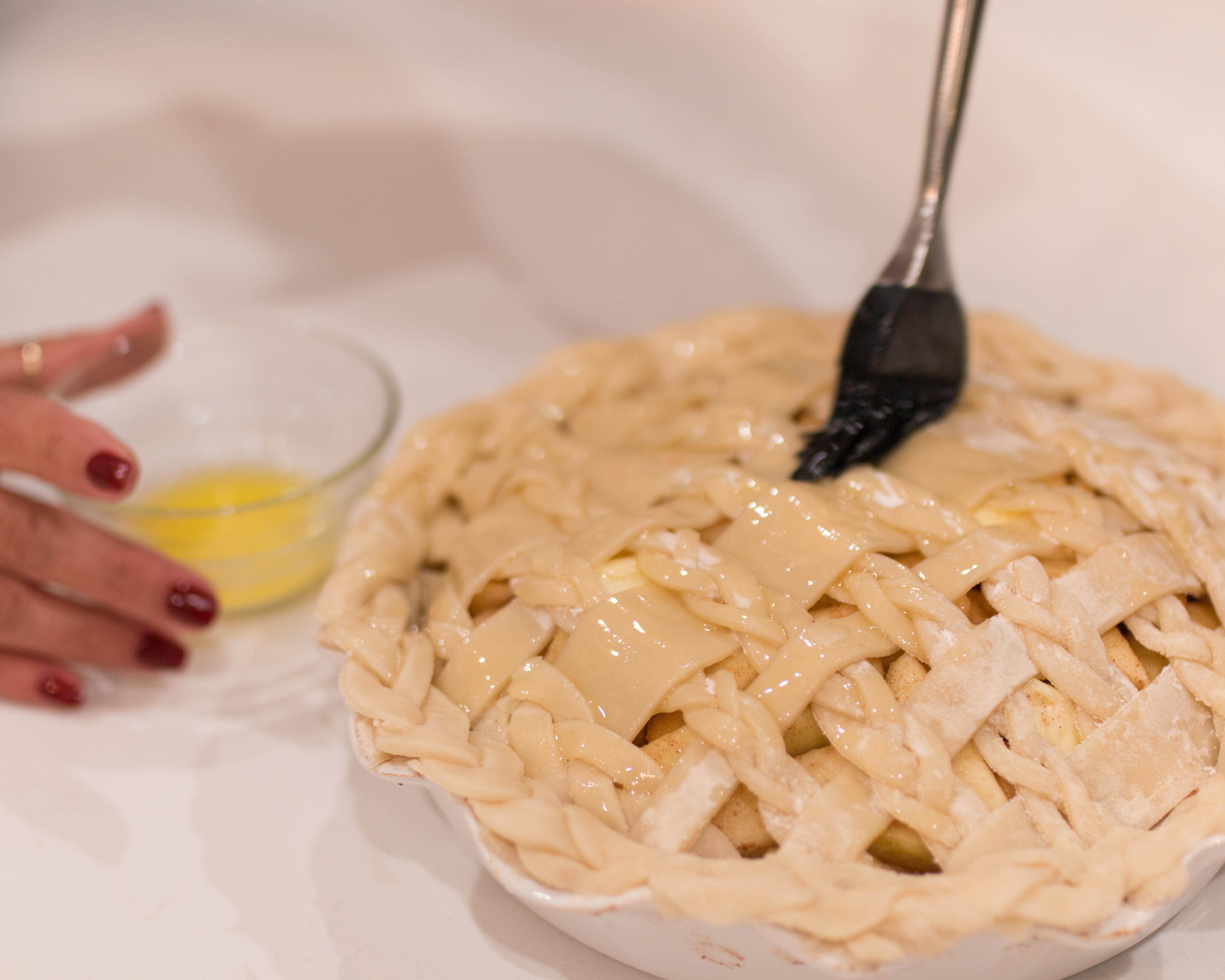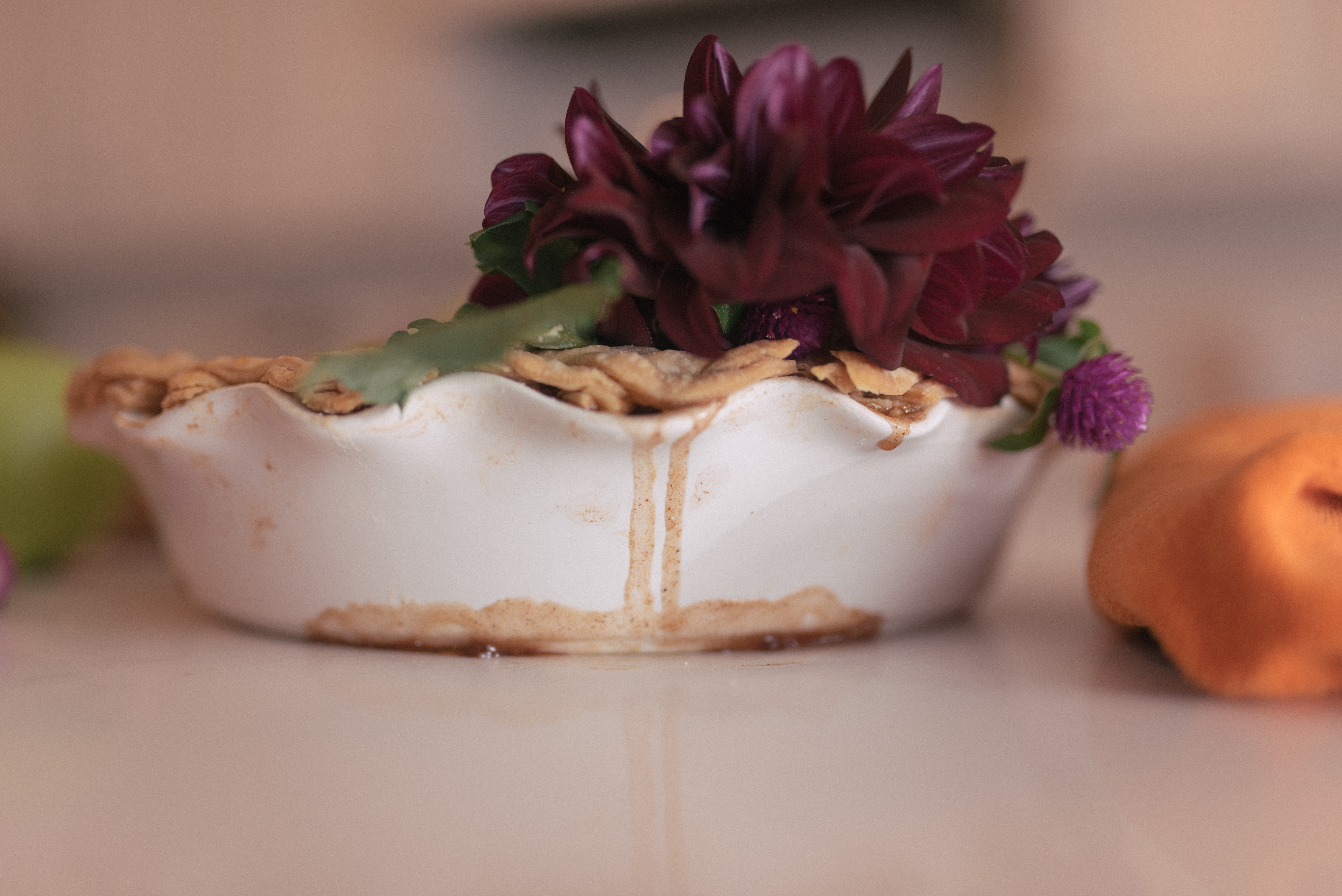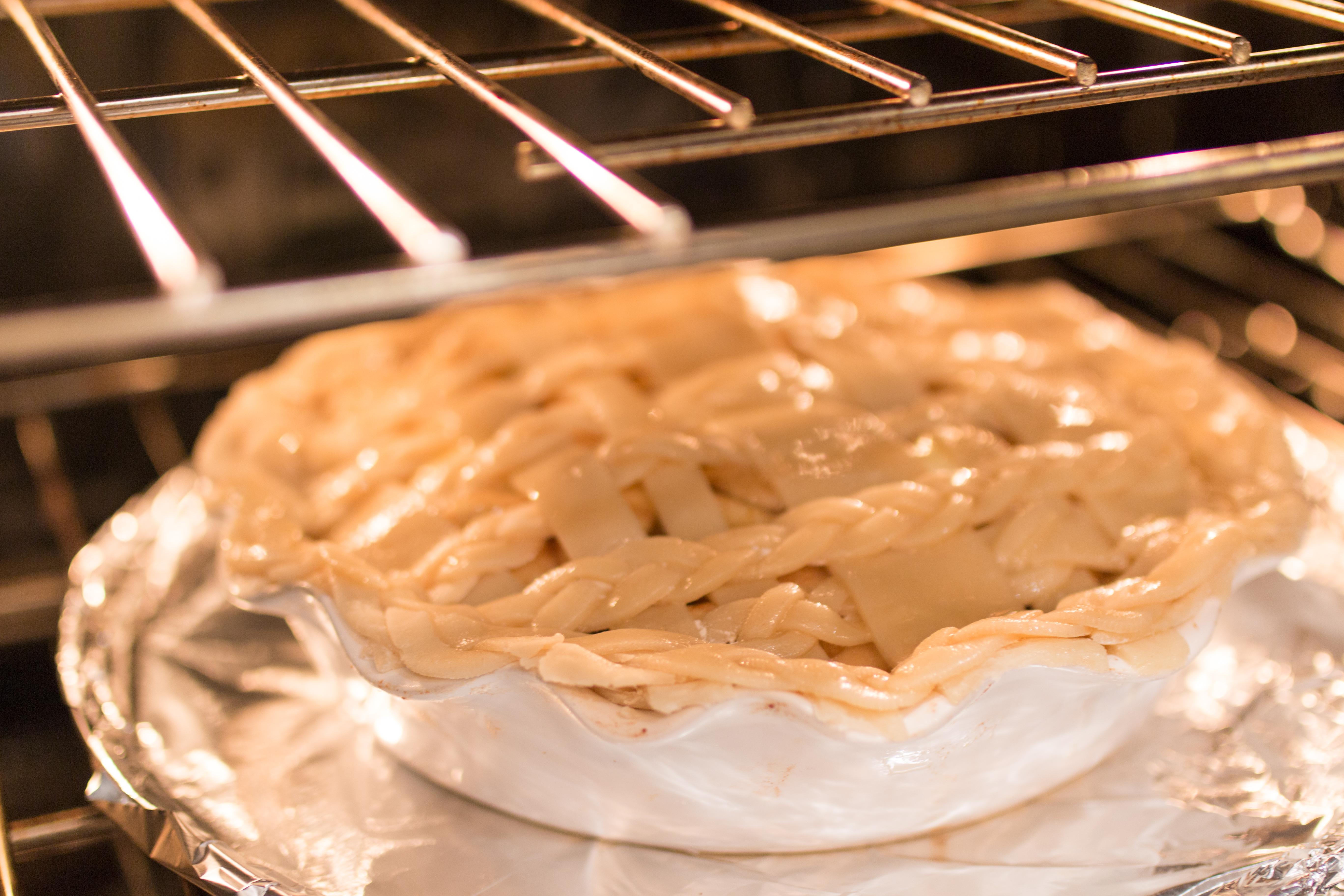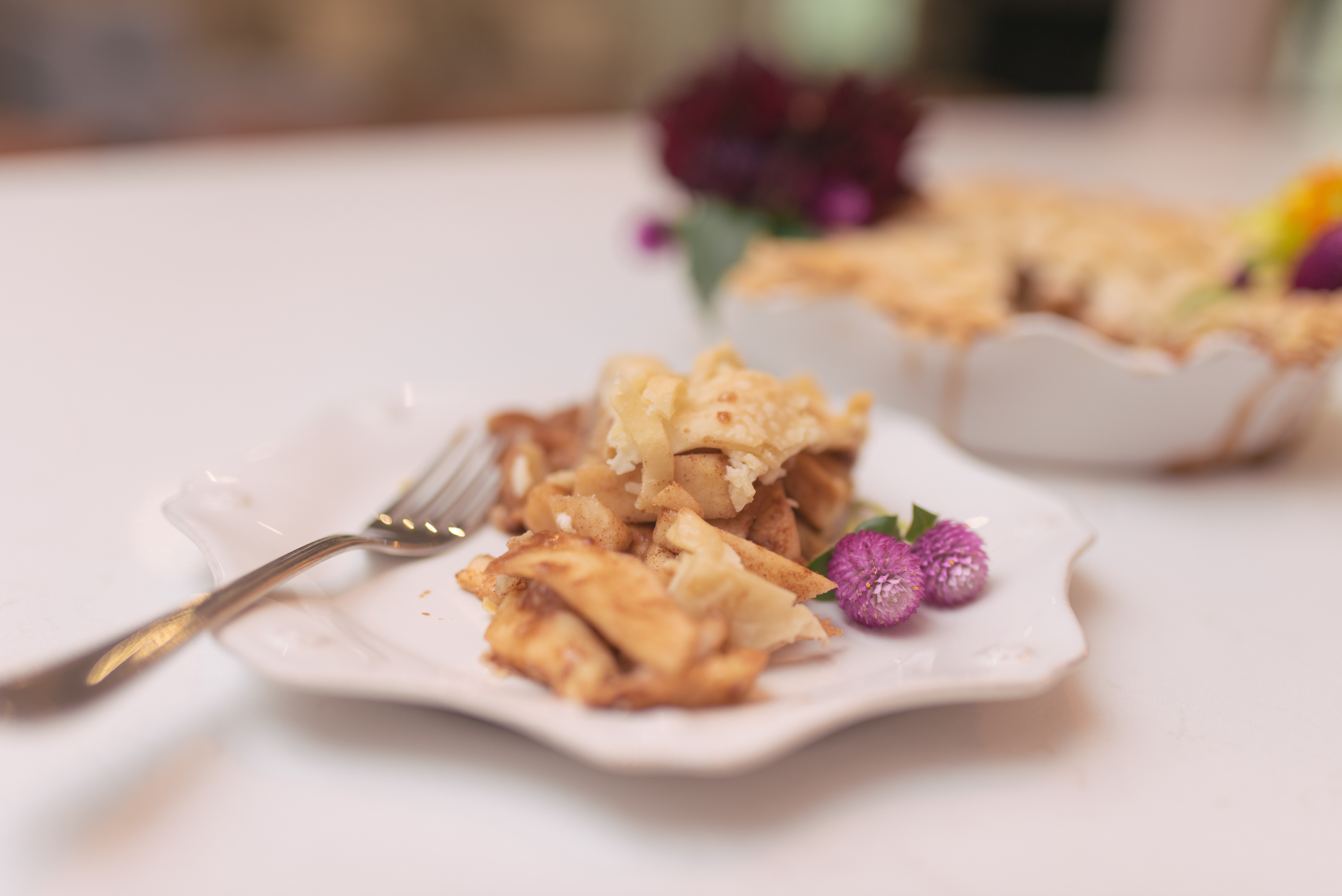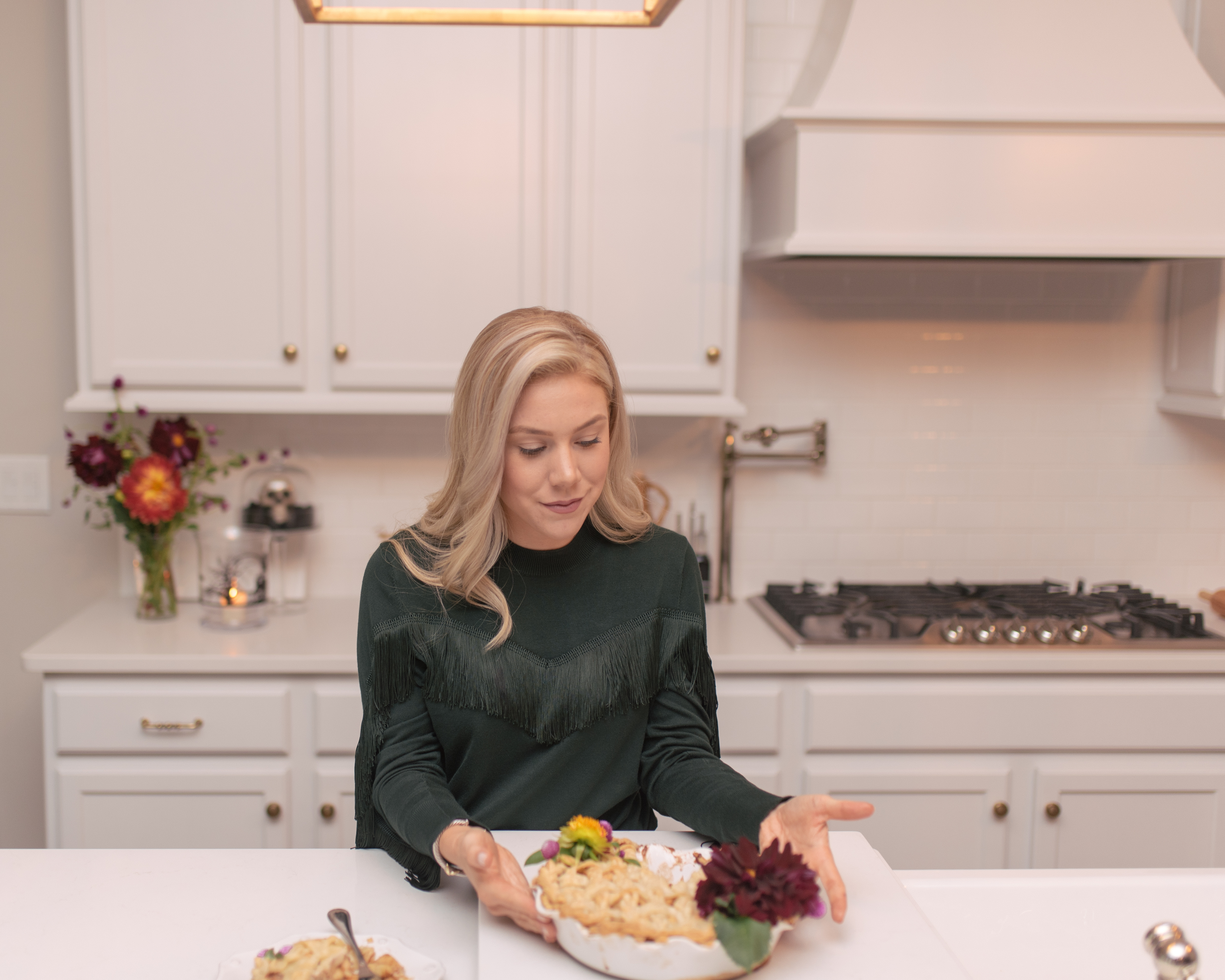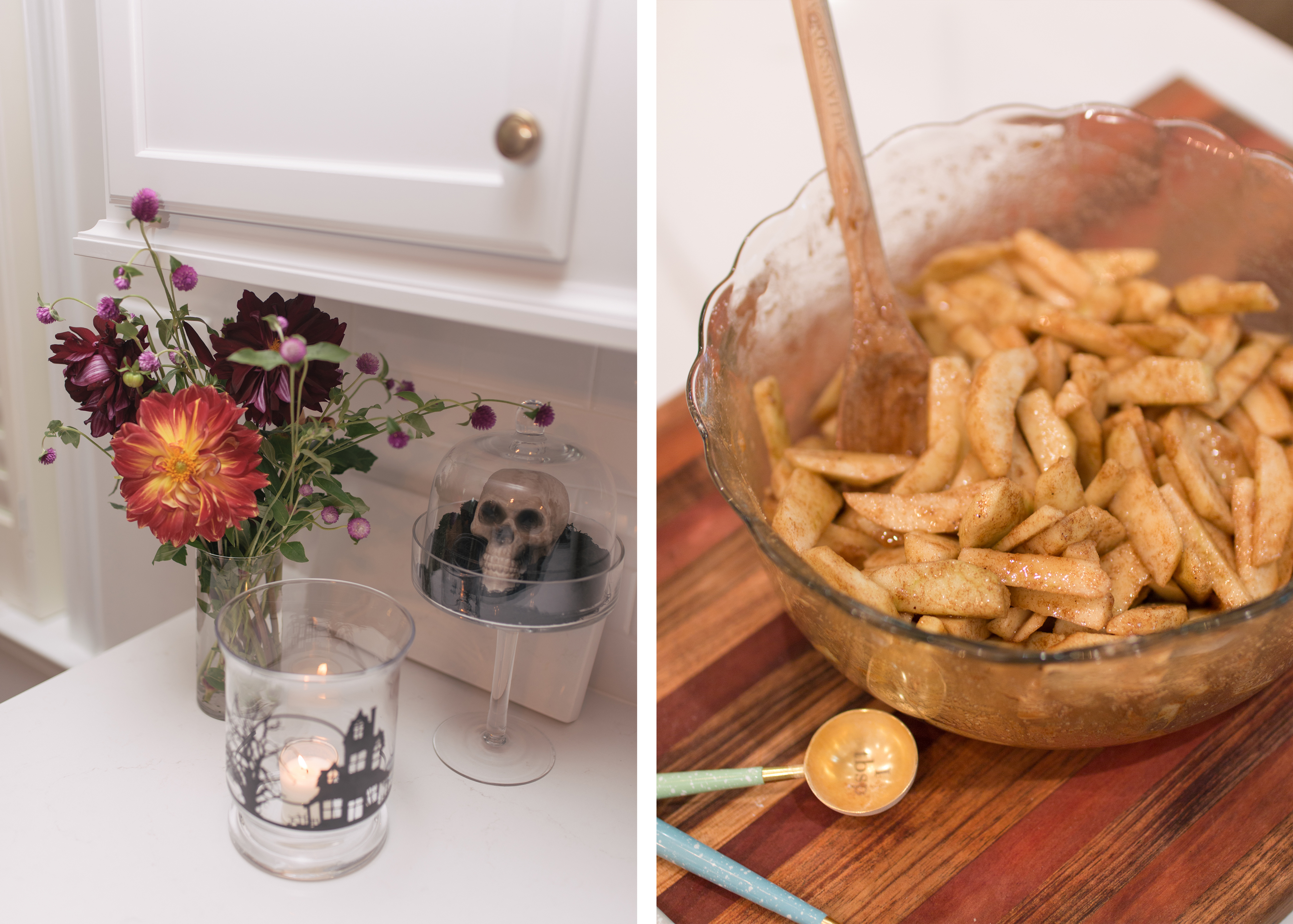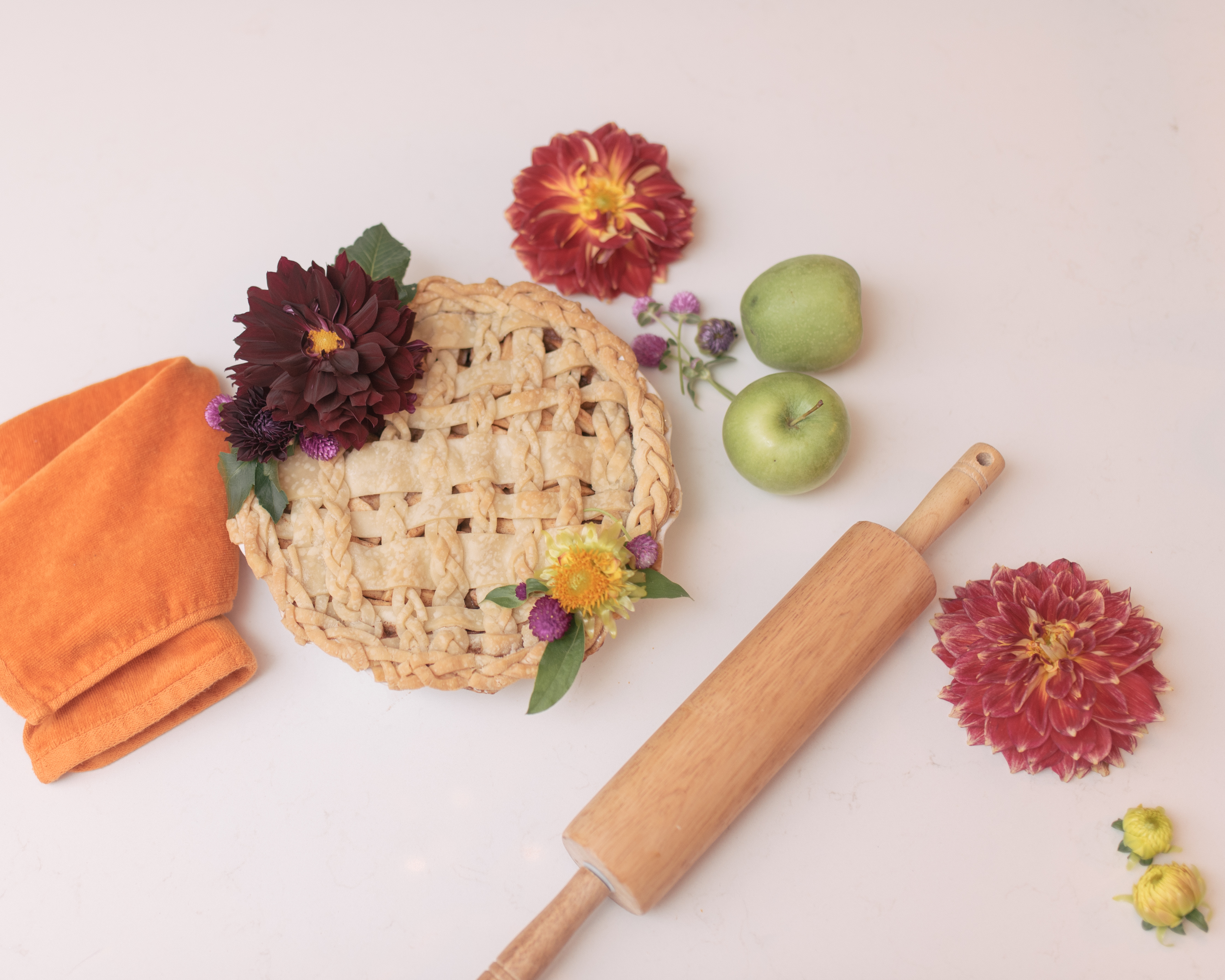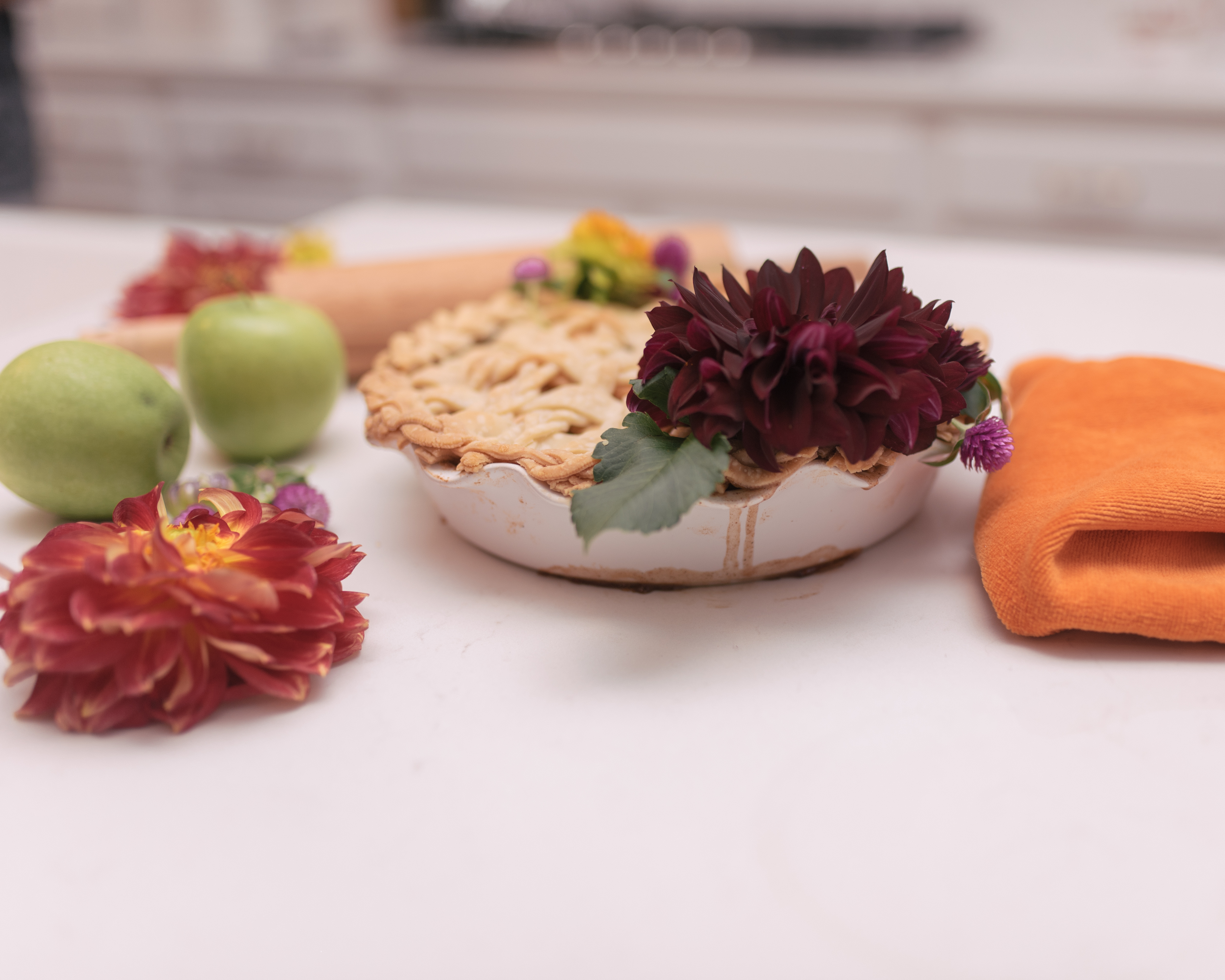 Cinnamon Bun Pie Crust
Preparation time: 2 hours (rough estimate)
Baking time: 1 hour
Total time: 3 hours (roughly)
---

Ingredients

For the Pie Crust: 
1 package pie crust
4 tbsp butter, melted
1/2 cup brown sugar
2 tsp cinnamon
1/2 tsp pure vanilla extract

For the Apple Pie:
1 package pie crust
8 Granny Smith apples, peeled, cored and sliced
1 tbsp fresh lemon juice
1 cup sugar
Pinch of salt
1 heaping tbsp cinnamon
1/2 teaspoon freshly grated nutmeg
1/4 tsp allspice
2 tbsp all-purpose flour
1 tbsp butter, at room temperature

Directions


For the Pie Crust: 
One floured surface, roll out pie crust a few times to even it out to about 1/2 inch thickness.In small bowl, mix butter, sugar, cinnamon and vanilla extract. Spoon the mixture into the center of the crust. Use a spatula to spread it evenly over the entire crust.
Start with the side closest to you, roll the crust into a tight spiral. Cut the finished spiral into 1/2 inch thick pieces.
On floured surface, use a rolling pin to roll each piece into a 1/4 inch thick round.
Place the pieces in a pie plate, overlapping them slightly and pressing to seal. Note: if the pieces aren't sticking together well, use a little water to help "glue" them.
Continue placing rounds of dough in the pie plate until the entire plate is full; trim any excess hanging over the edge. Use the tines of a fork to press indentations all-around the edge.
Chill the crust for at least 2 hours before filling and baking.
For the Apple Pie:
Remove second pie crust dough package from the fridge to soften.
Pre-heat the oven at 350°F or 325°F for convection.
In a large bowl, toss apple slices with lemon juice, sugar, salt, cinnamon, nutmeg, allspice, flour and softened butter.
Stir up the apples and turn them into the pie chilled pie shell. They should fill it with a high mound.
Roll out a piece of dough in the same way as before. You can cut into stripes to make a decorative top, or use rolled dough to cover top and press edged together (use water when doing later step).
Bake in the oven for 1 hour, or until the apple juices are bubbling and the crust is lightly colored and crisp.
xx, Taylor-Rae