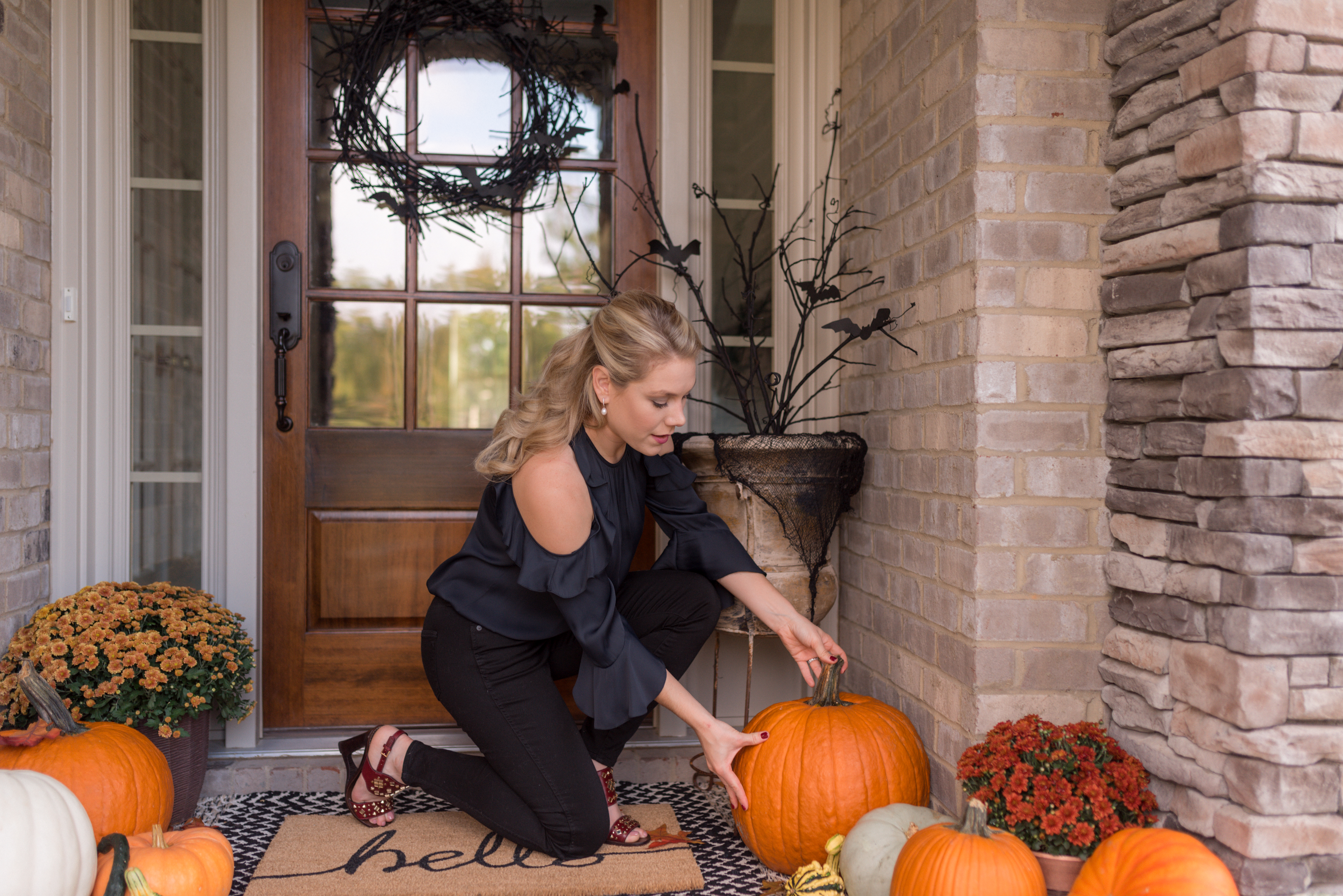 Product Details:
Rug | Mat | Pillows | Basket | Wreath | Mums | Pumpkins | Planter (purchased at Blackhawk Hardware) | Decorative Gauze | Gardening Broom | Pants | Top (similar here, here, here and here) | Sunglasses (less expensive here, $65)
Every year growing up my mom would pull out all the stops when it came to decorating our front porch for the holidays! Come fall, our doorsteps were choke-full of mums and pumpkin varieties with a little nod to Halloween. I'm thrilled to now have my own porch to decorate and hope that today's post sparks some fall porch decorating ideas for you this season.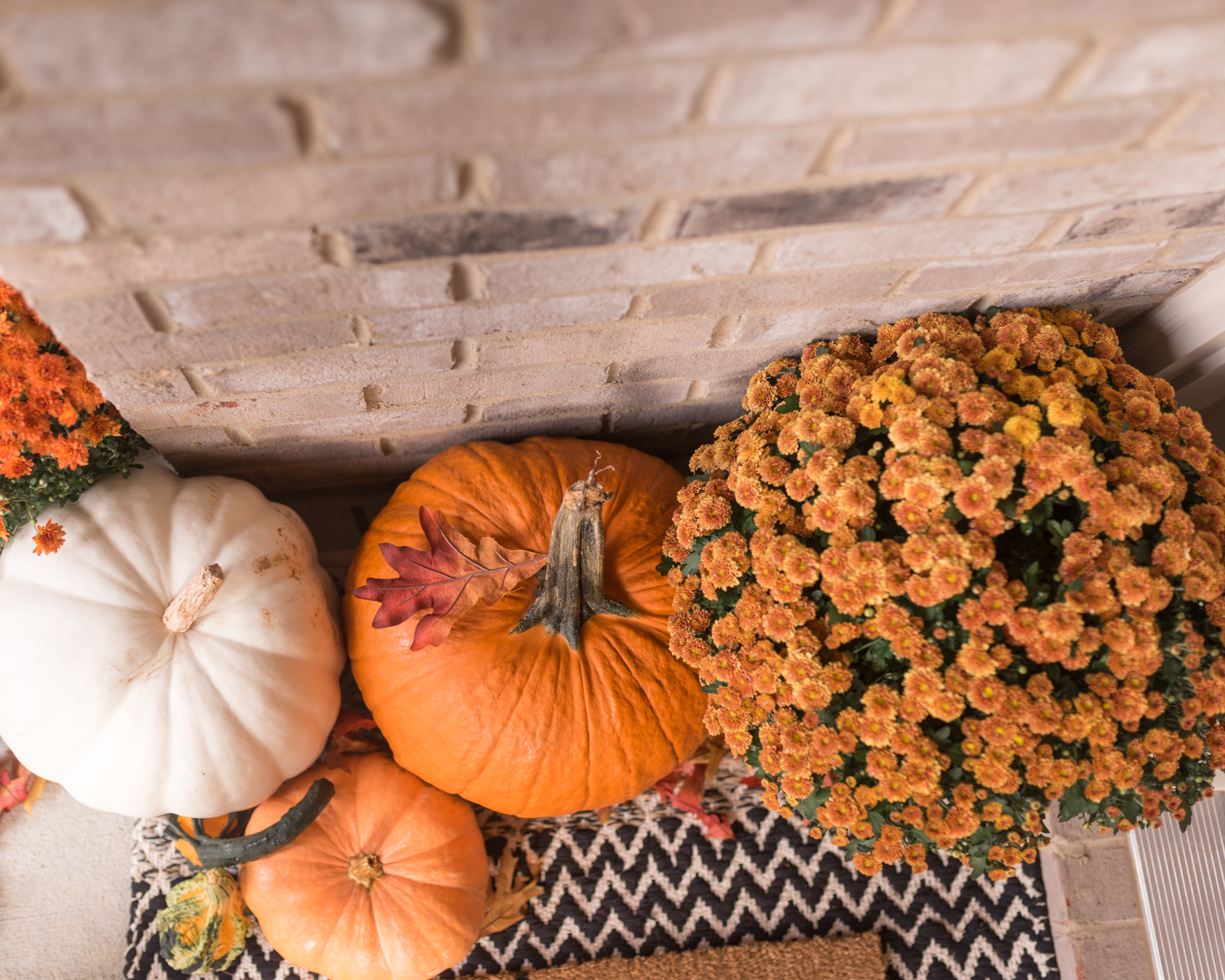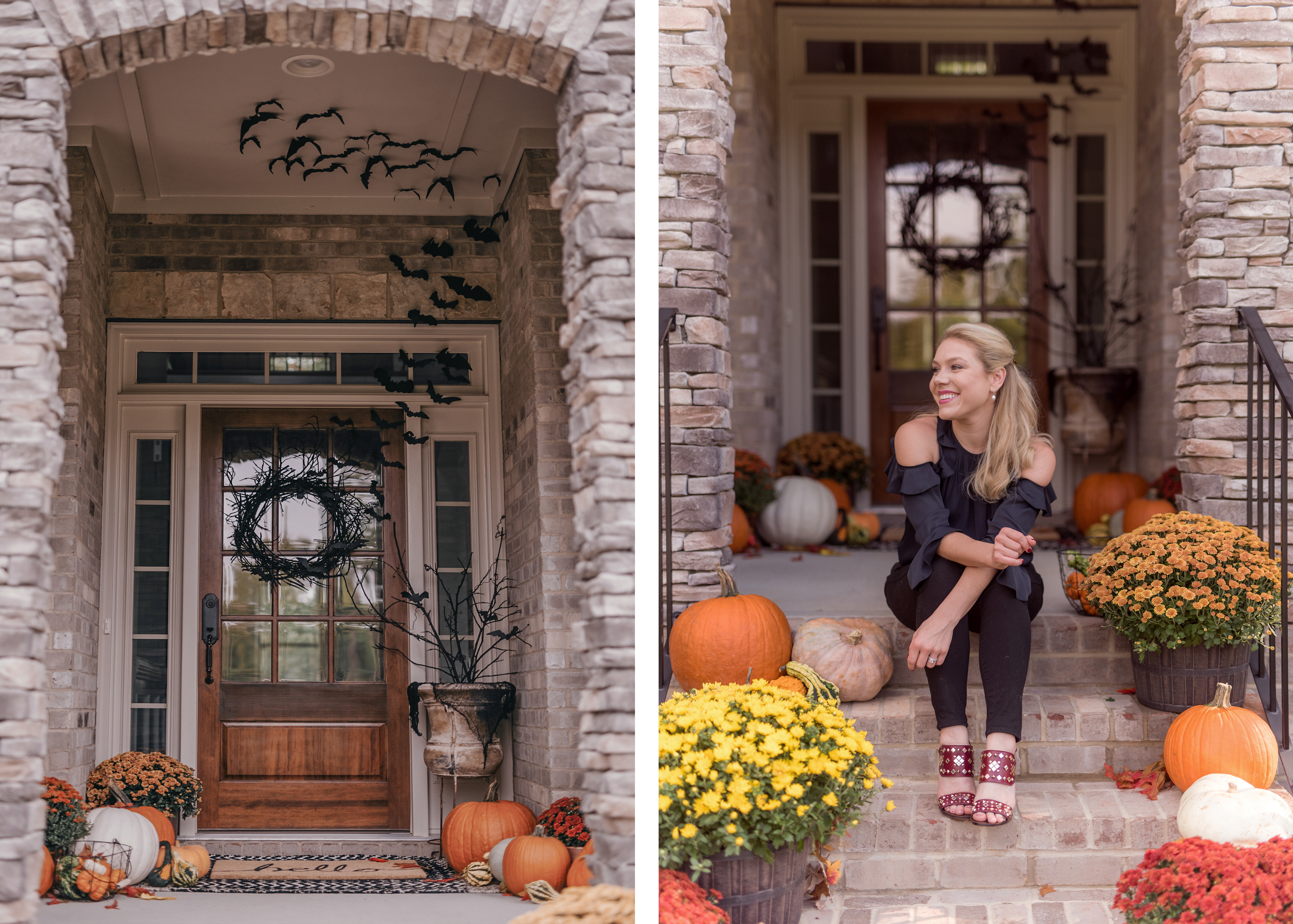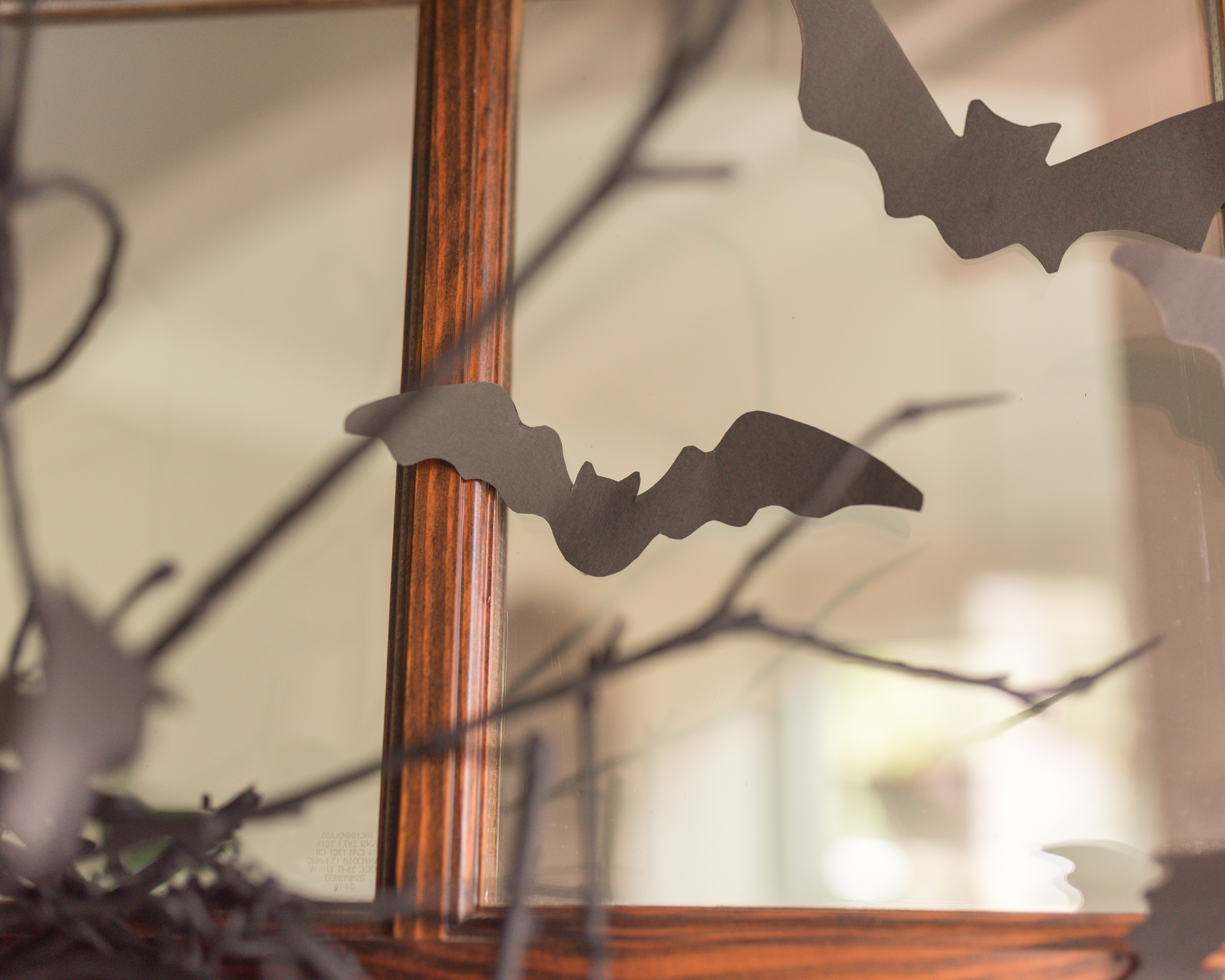 I started by going to Lowe's and picking up mums in color-coordinating colors (I love the deep red, orange and purple hues). My mom actually surprised me with over a dozen of these pumpkins and quirky gourds from Simpson's Produce, a local family owned business with several locations here in Charlotte. She helped me put the whole thing together in the end. ?I stacked pumpkins and clustered mums of varying heights to create dimension.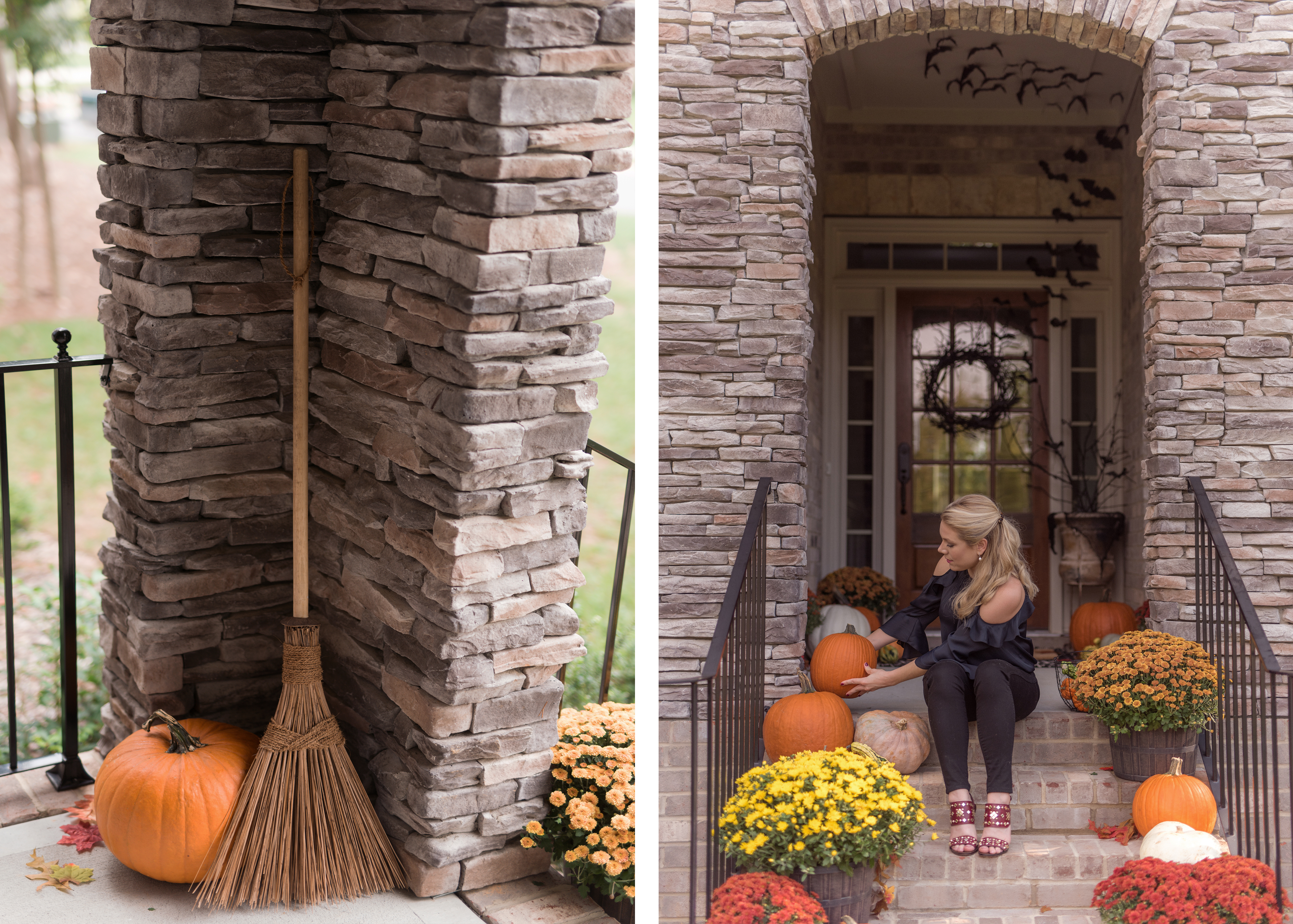 How cute is the basket of pumpkins and gourds? It adds a fun touch. We actually use the above gardening broom to sweep our porch. I had used it that morning and unintentionally leaned it there against the stone. It was too perfect to move, so I left it.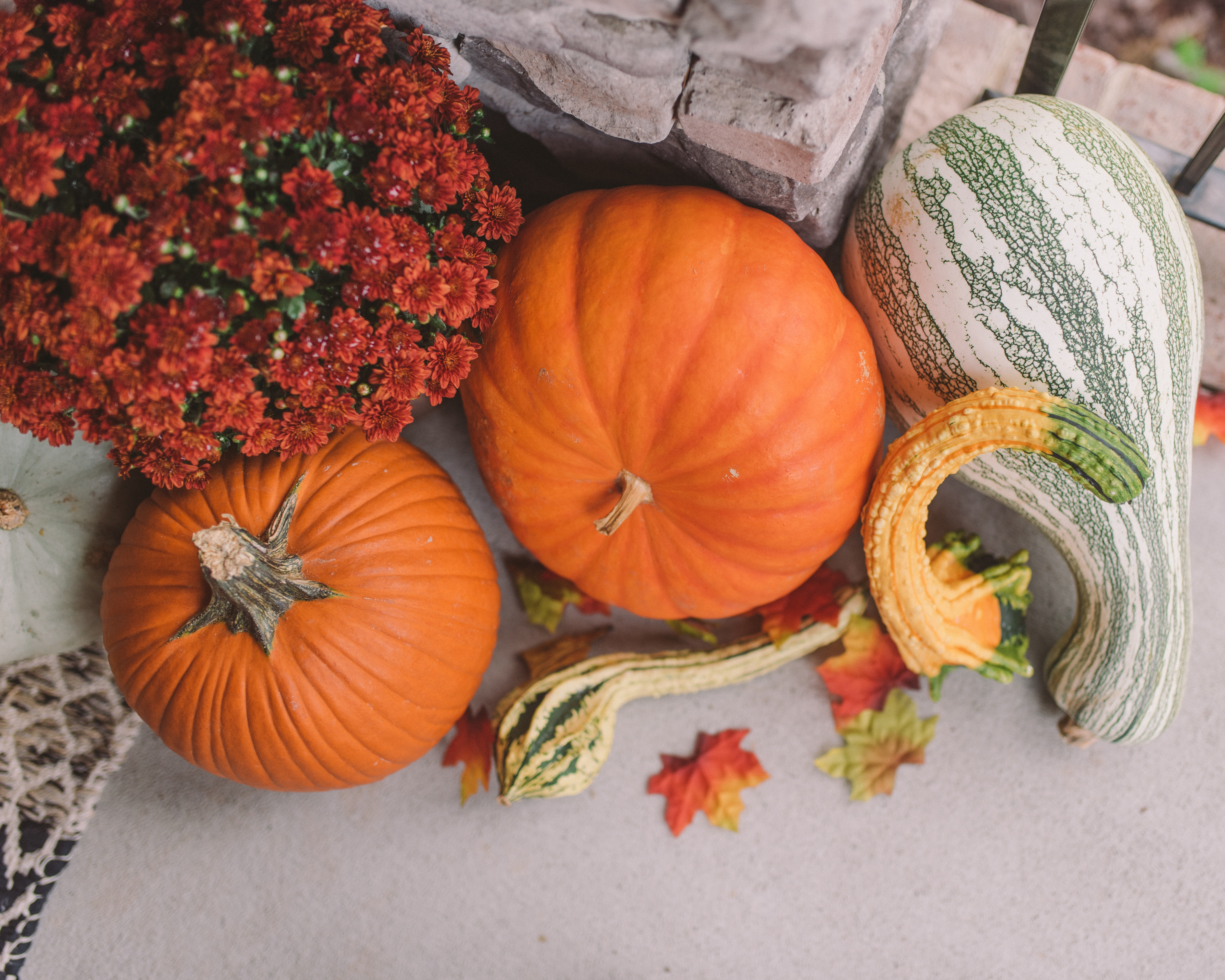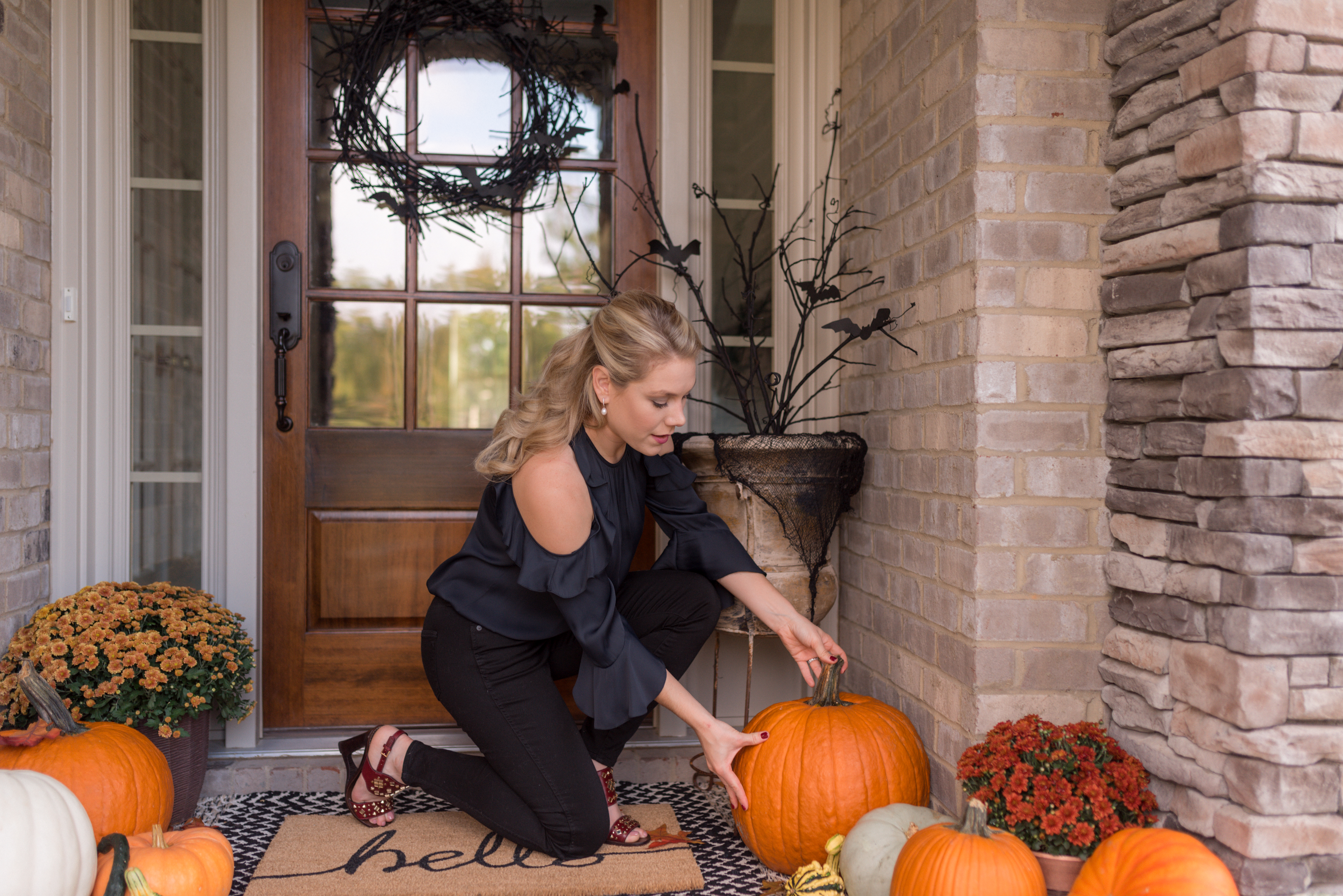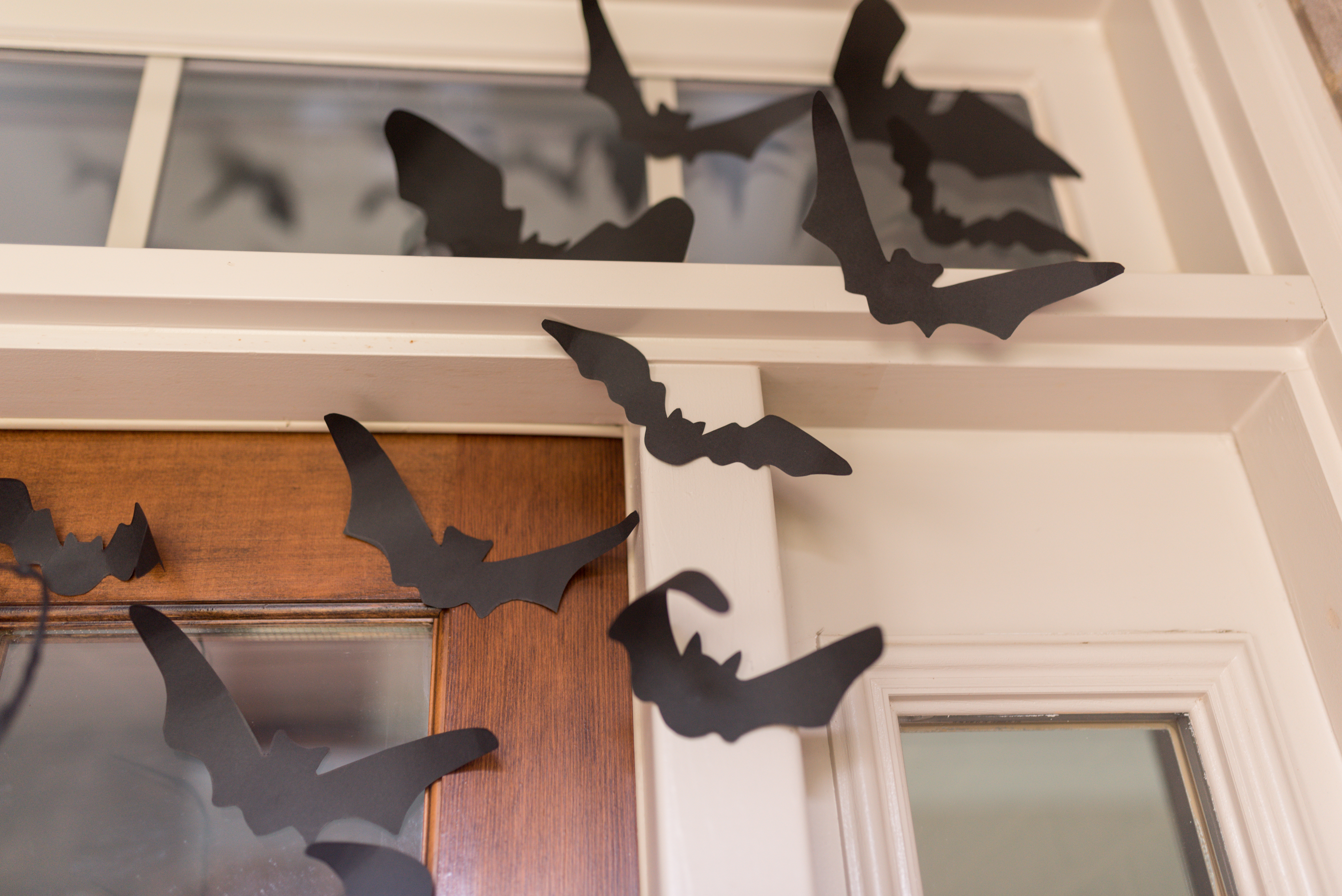 I layered an indoor/ outdoor rug and cute 'hello' doormat from Hobby Lobby. And finally, I added a touch a halloween to an otherwise very fall setting.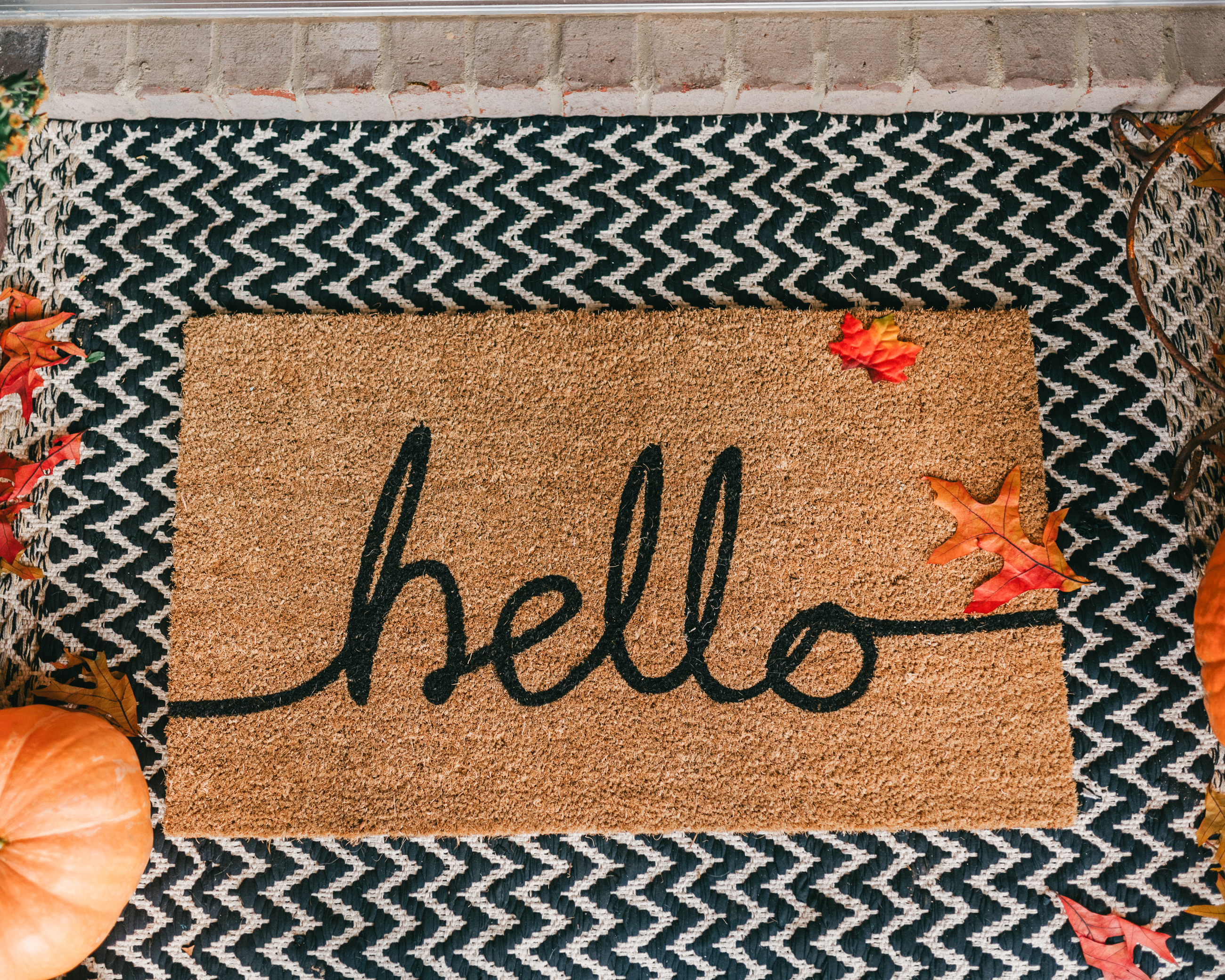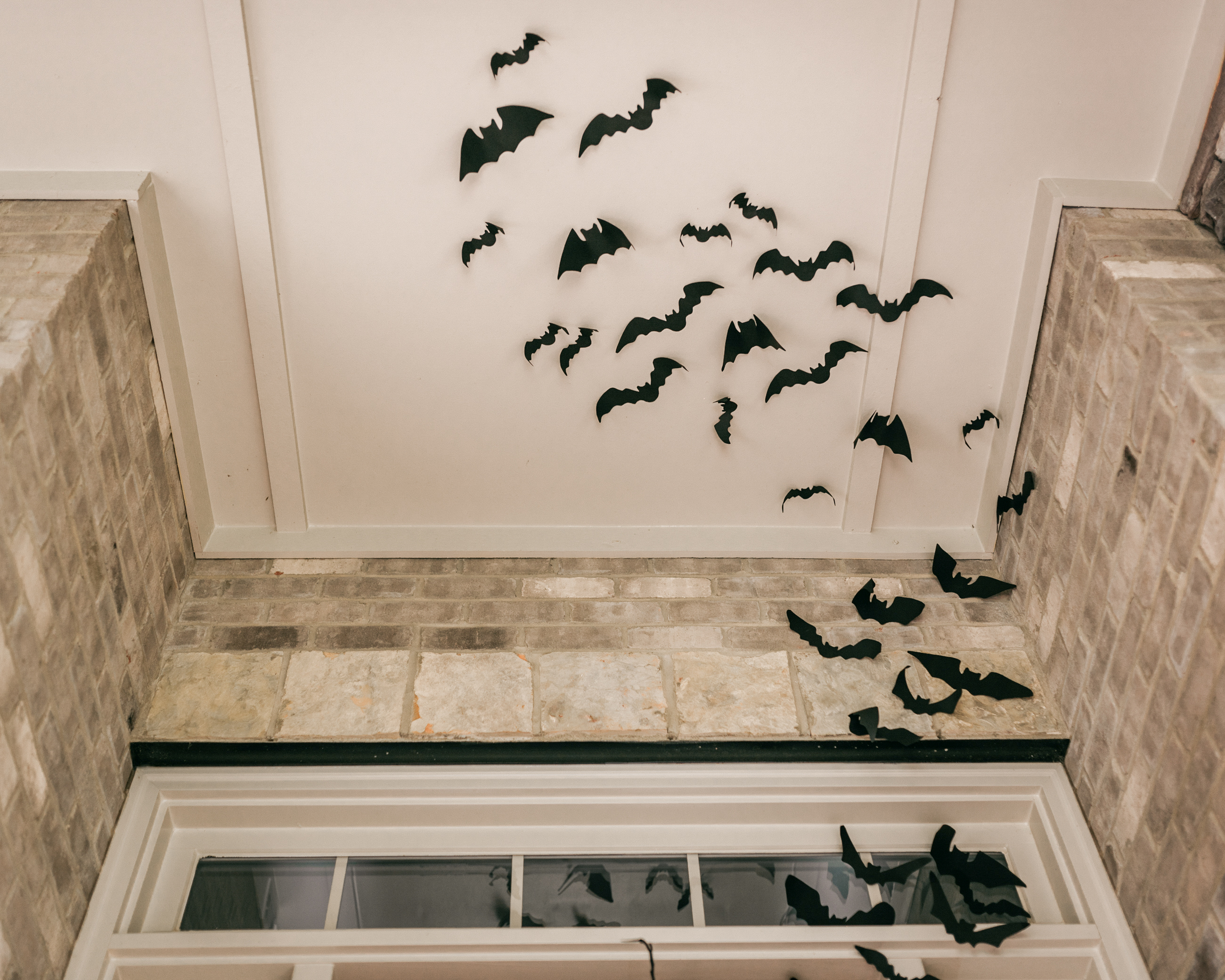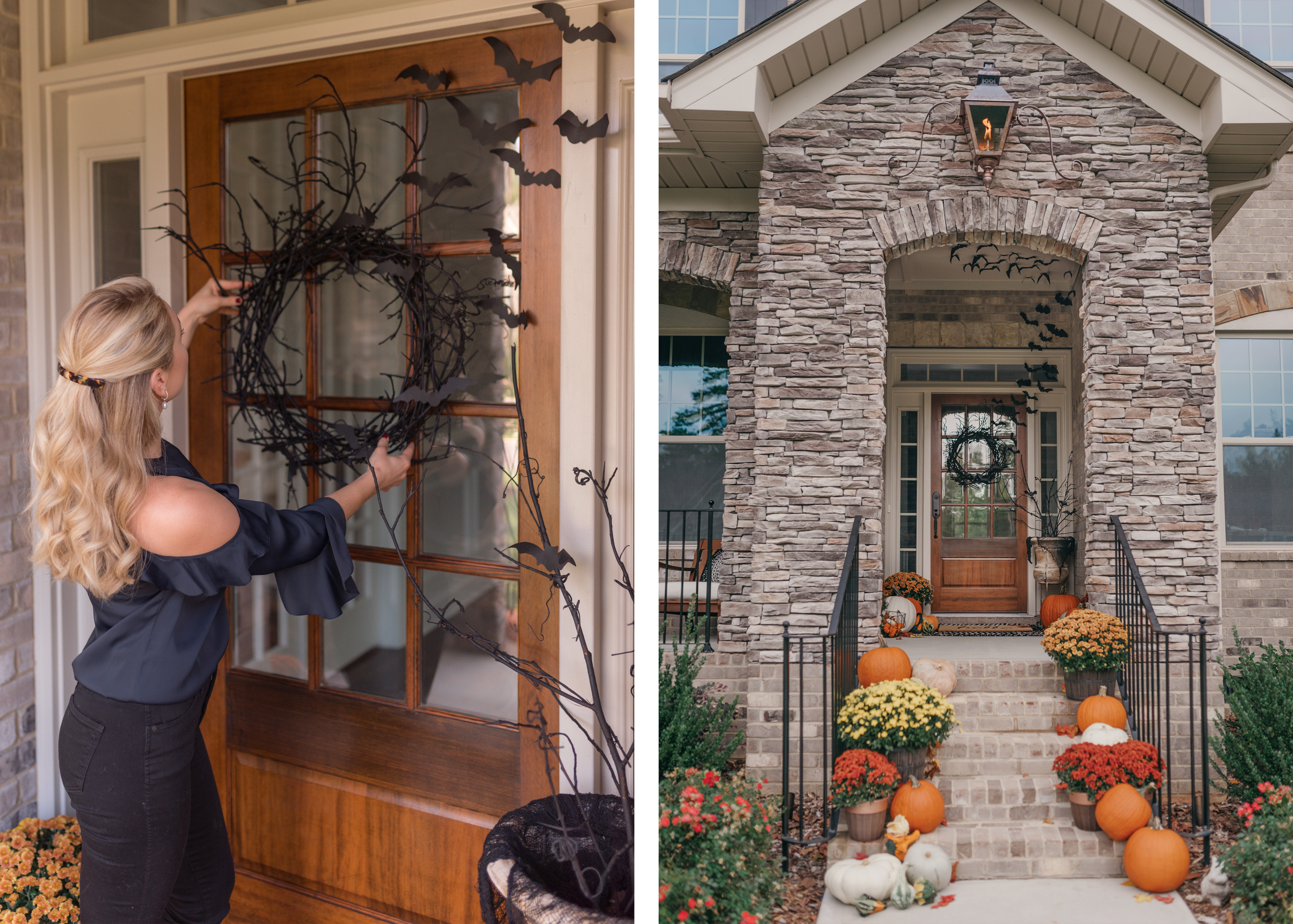 The wreath I made from scratch using sticks from the wooded areas around our home. I shared a step-by-step guide earlier in the week. You can read that post, here. My mom had bats hanging from her porch a few years back, so I borrowed (lol) the idea and included them in a unique way.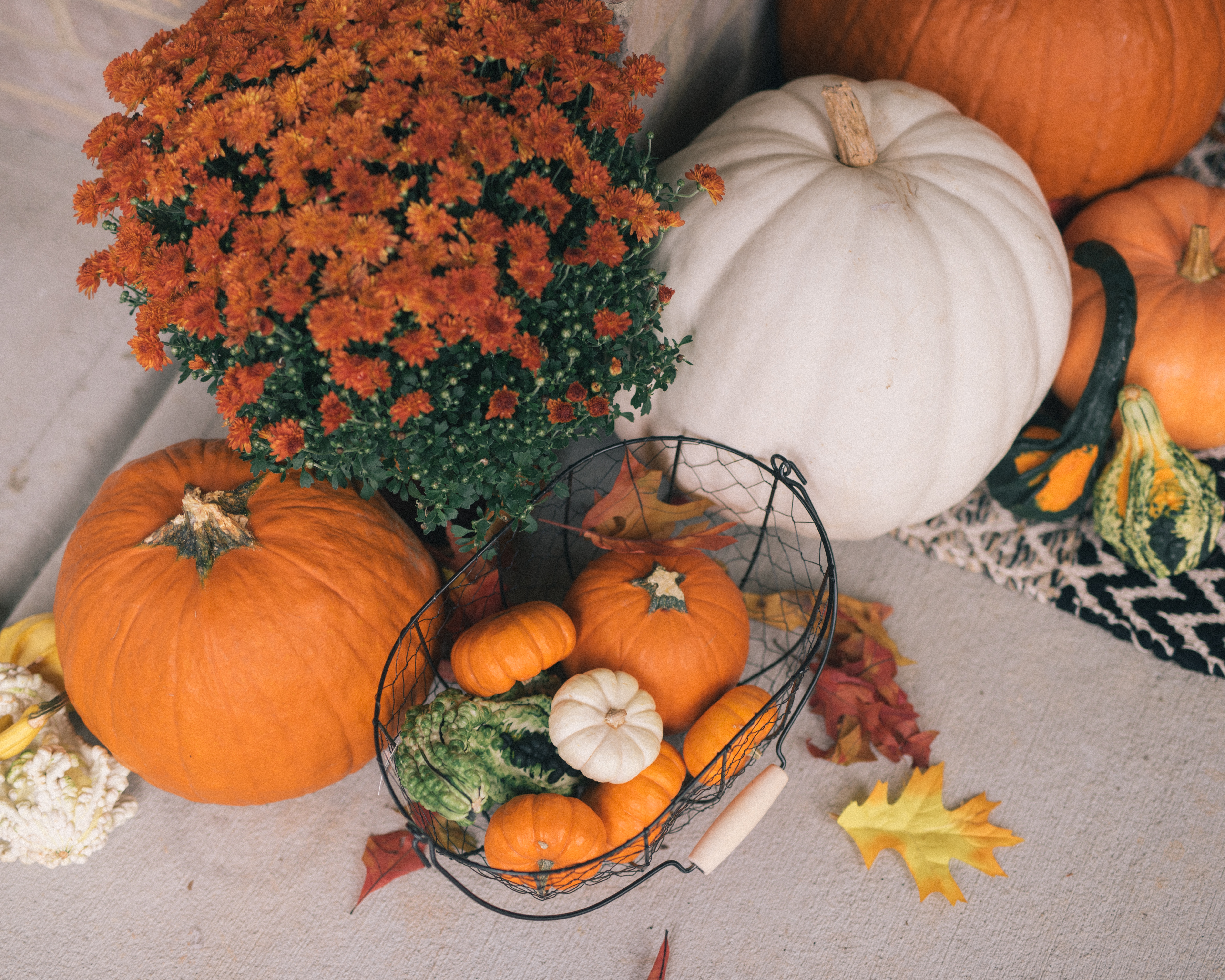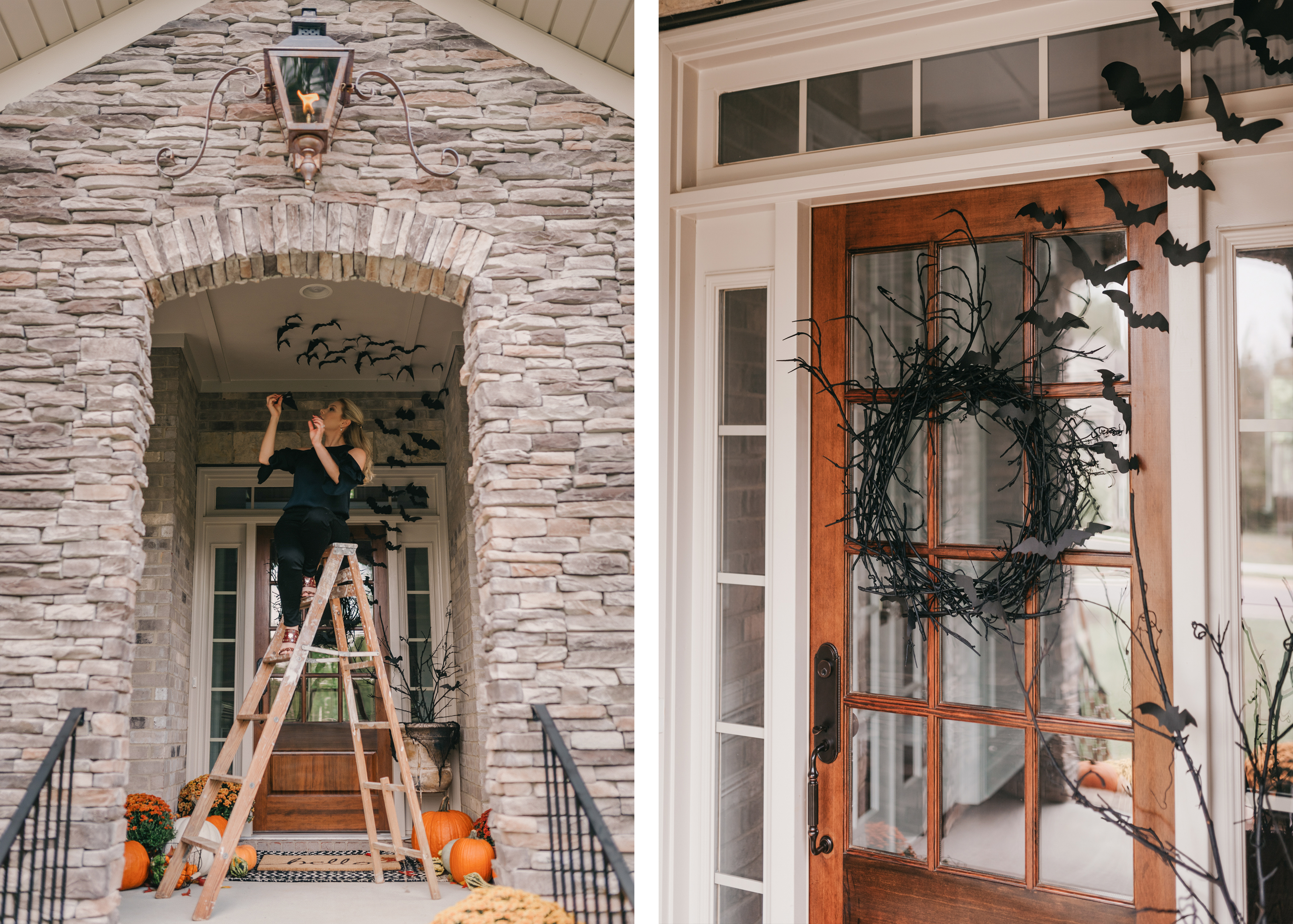 The bats were really simple to make. I traced a template sourced from Pinterest onto black Cardstock I purchased from Amazon. I used mounting putty, also known as museum putty, to adhere the bats to the stone, ceiling and brick. I used a hot glue gun to adhere the bats to the glass part of our front door. The hot glue drys clear and looks tasteful from inside our home.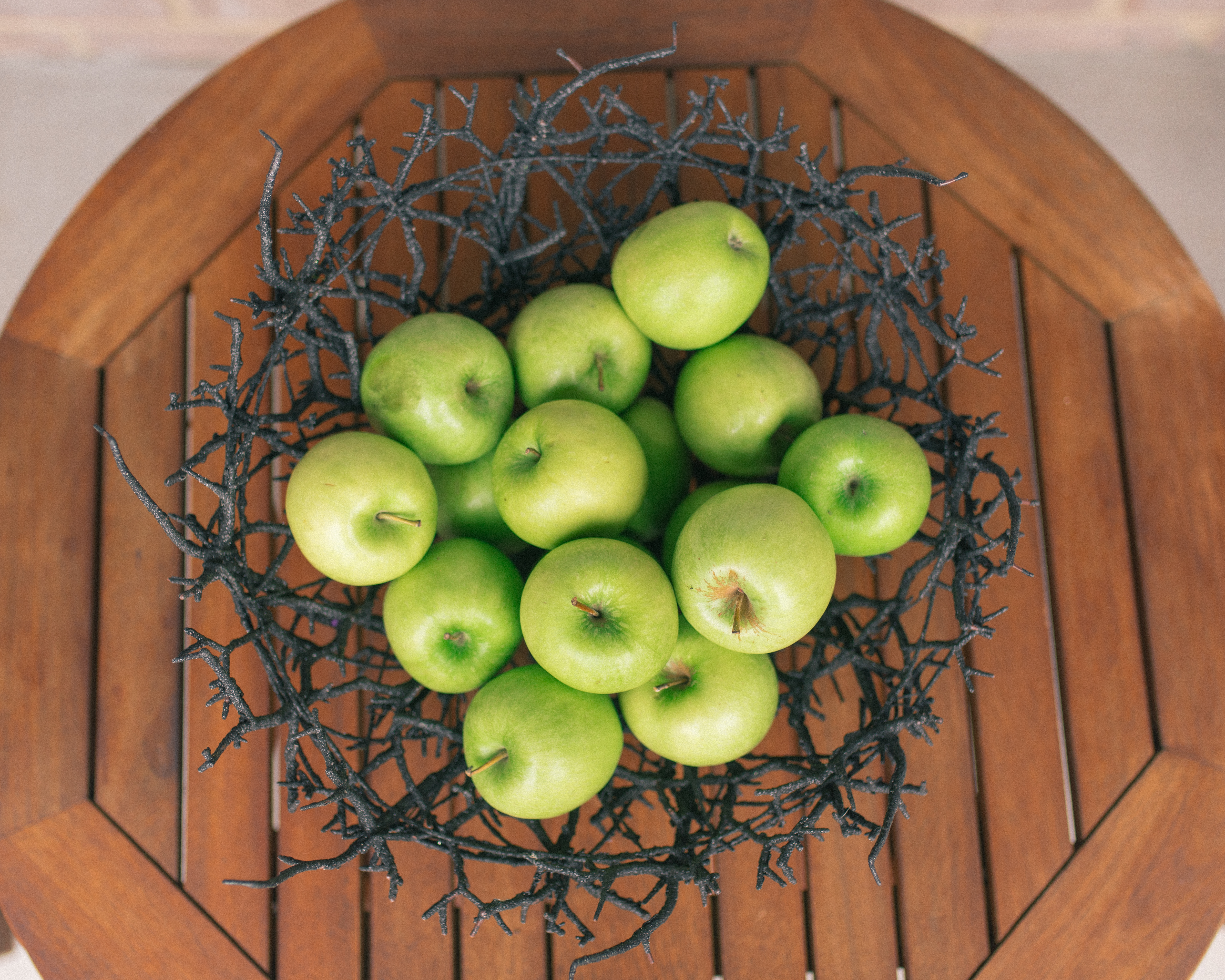 This year I decided to use traditional fall colors to decorate our porch. It's the perfect space to experiment with color, especially since I typically go with more muted seasonal decor throughout our house (white, eucalyptus, plaid, etc). I love the contrast against the white-wash brick and stone!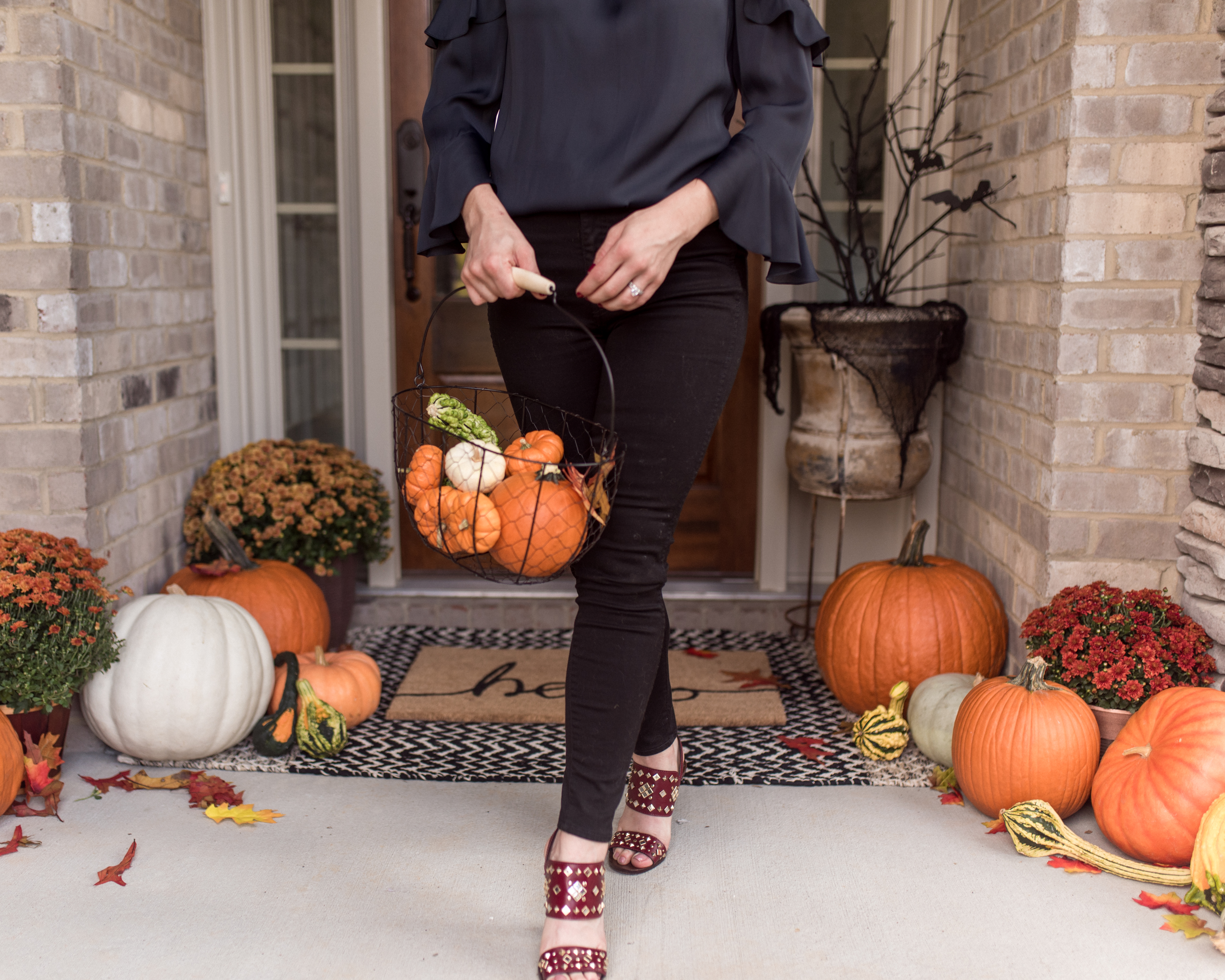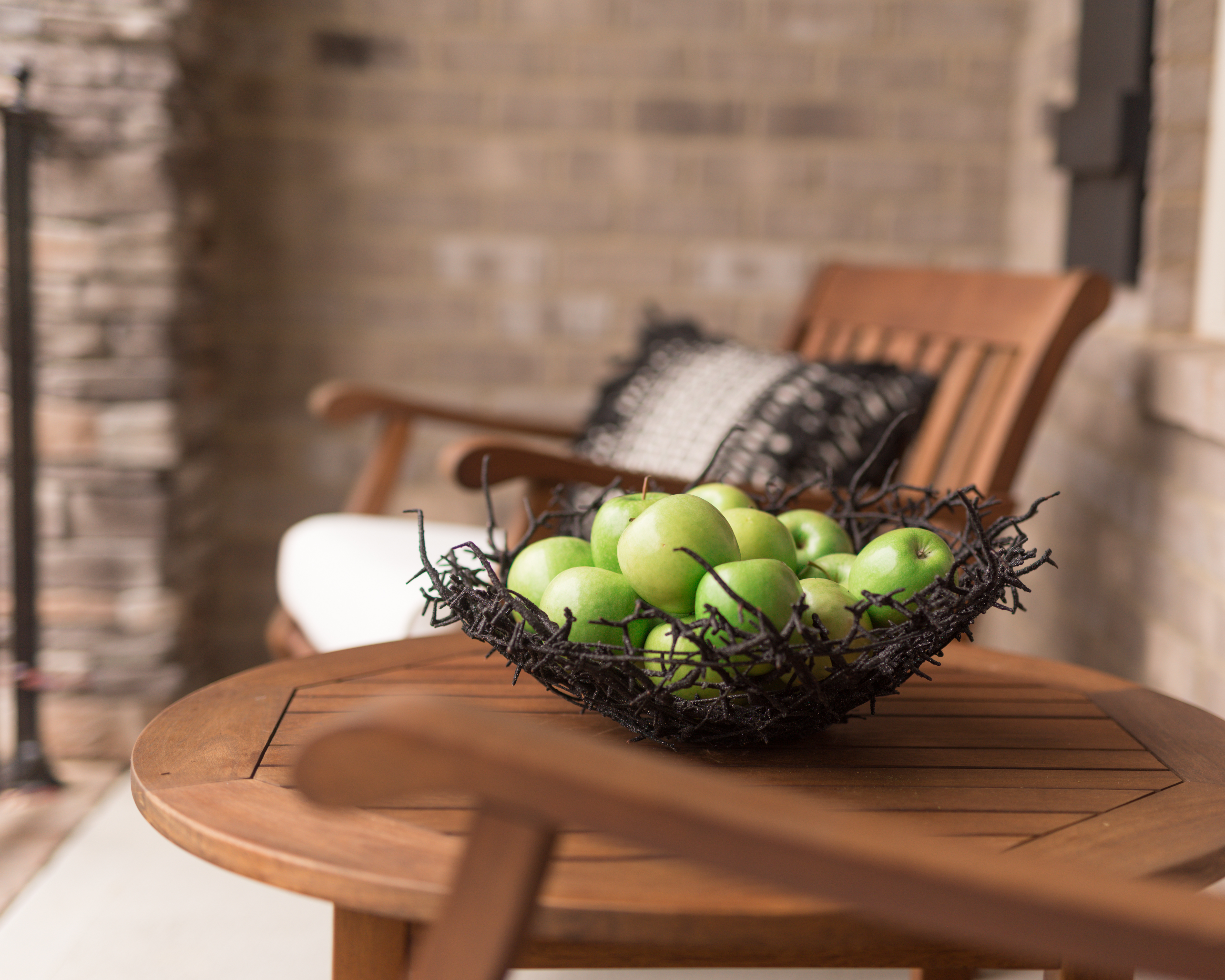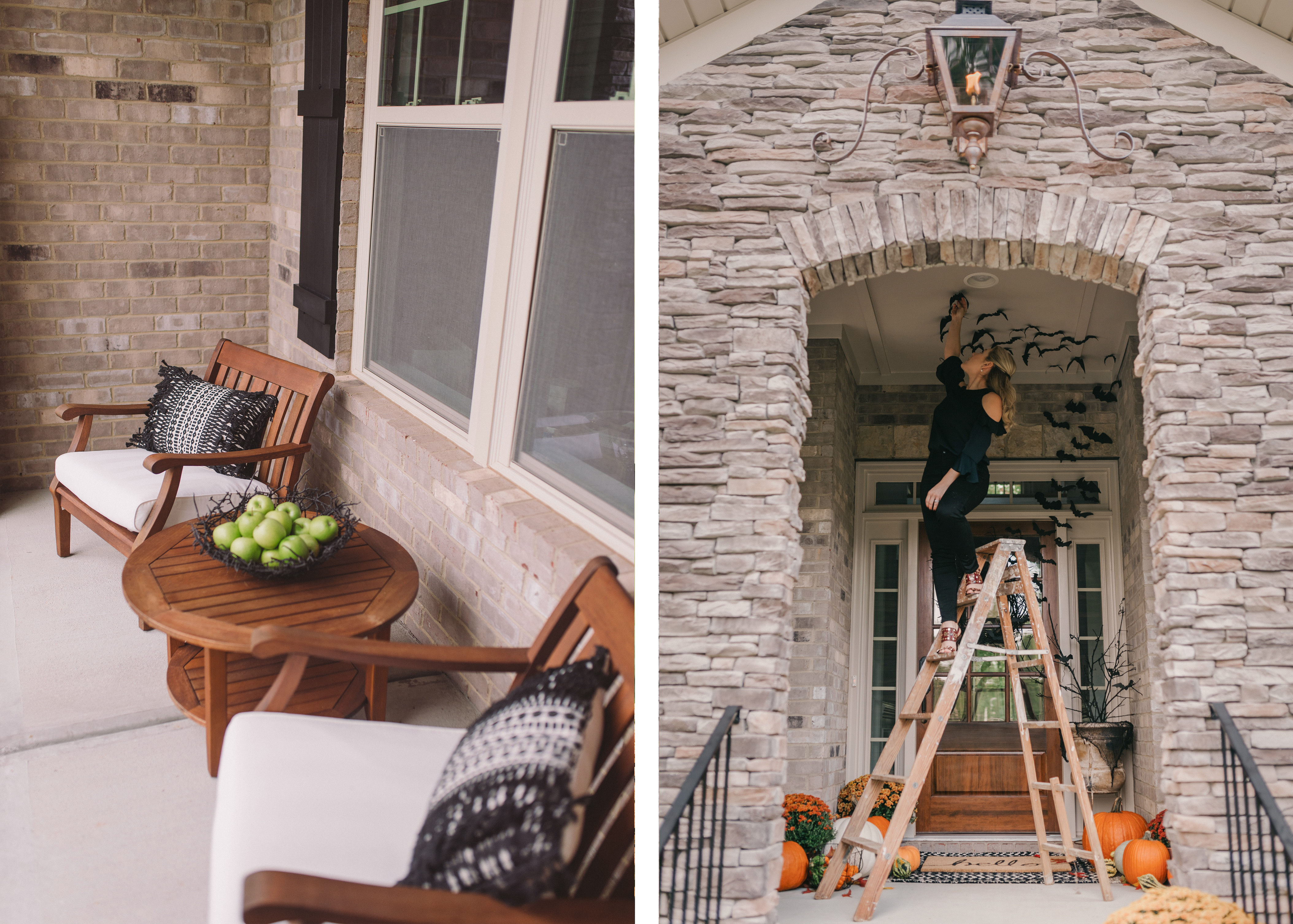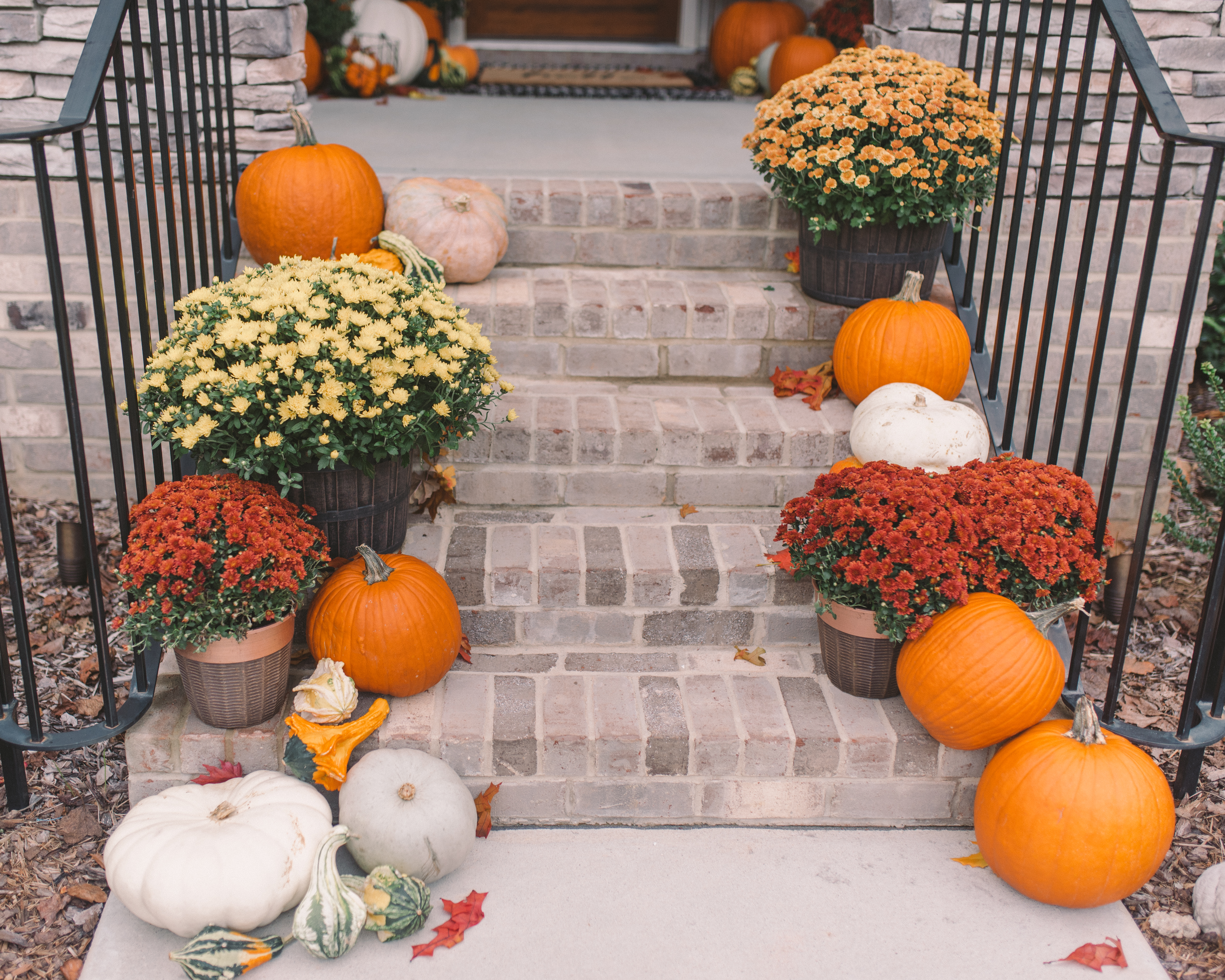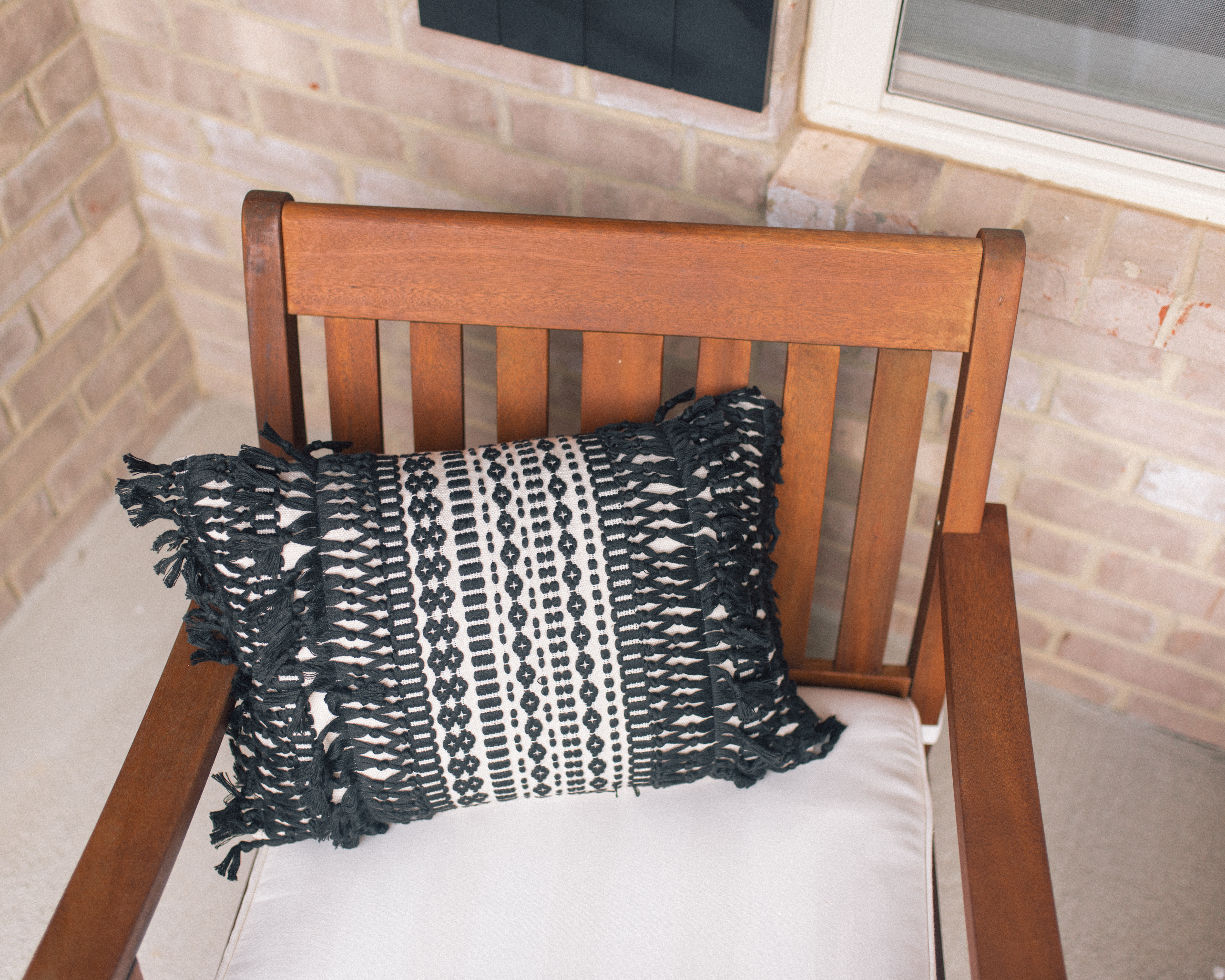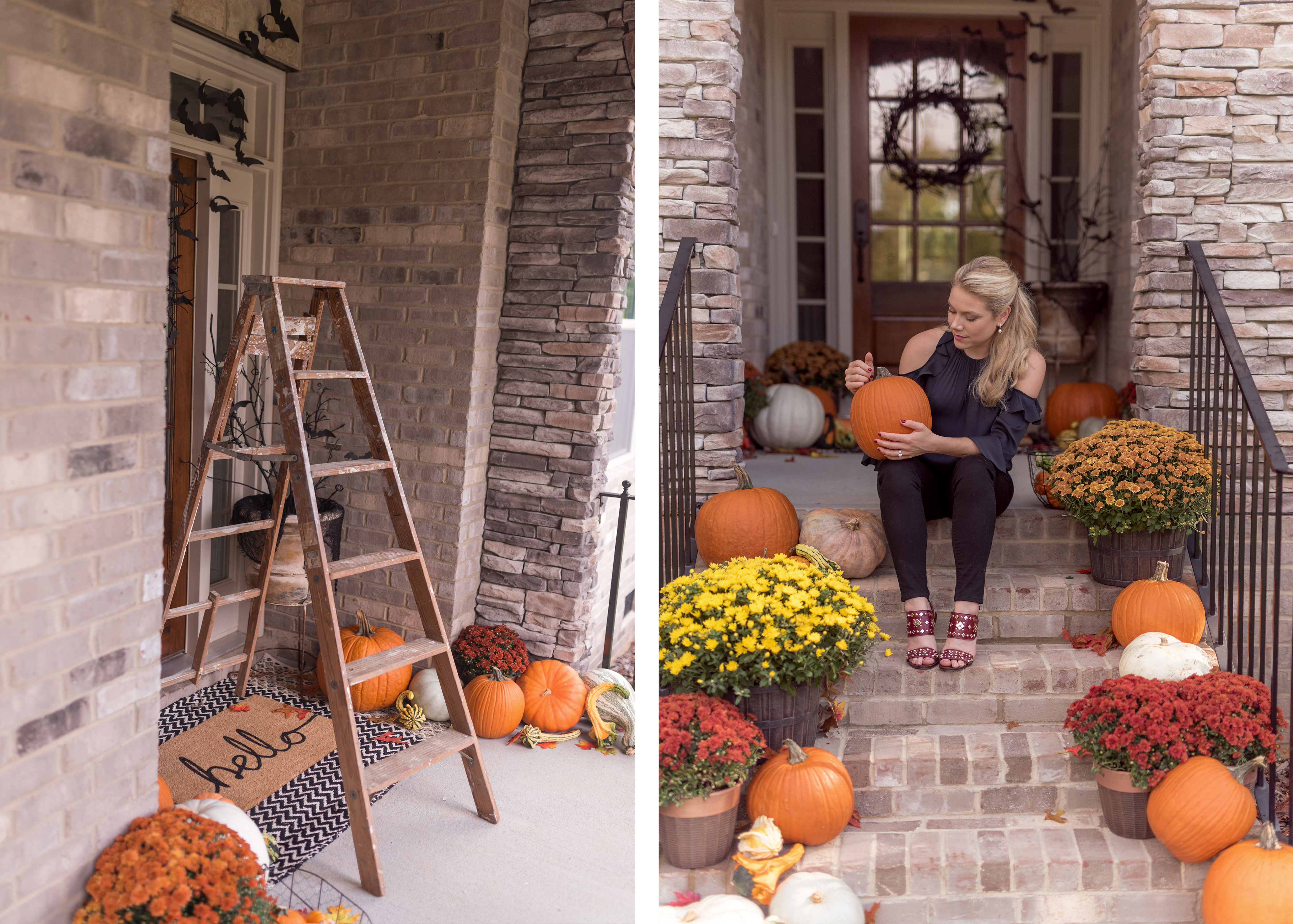 This wooden ladder is our neighbors. They are near impossible to find these days. I thought it was the perfect touch for the shoot and thankful they let me borrow it!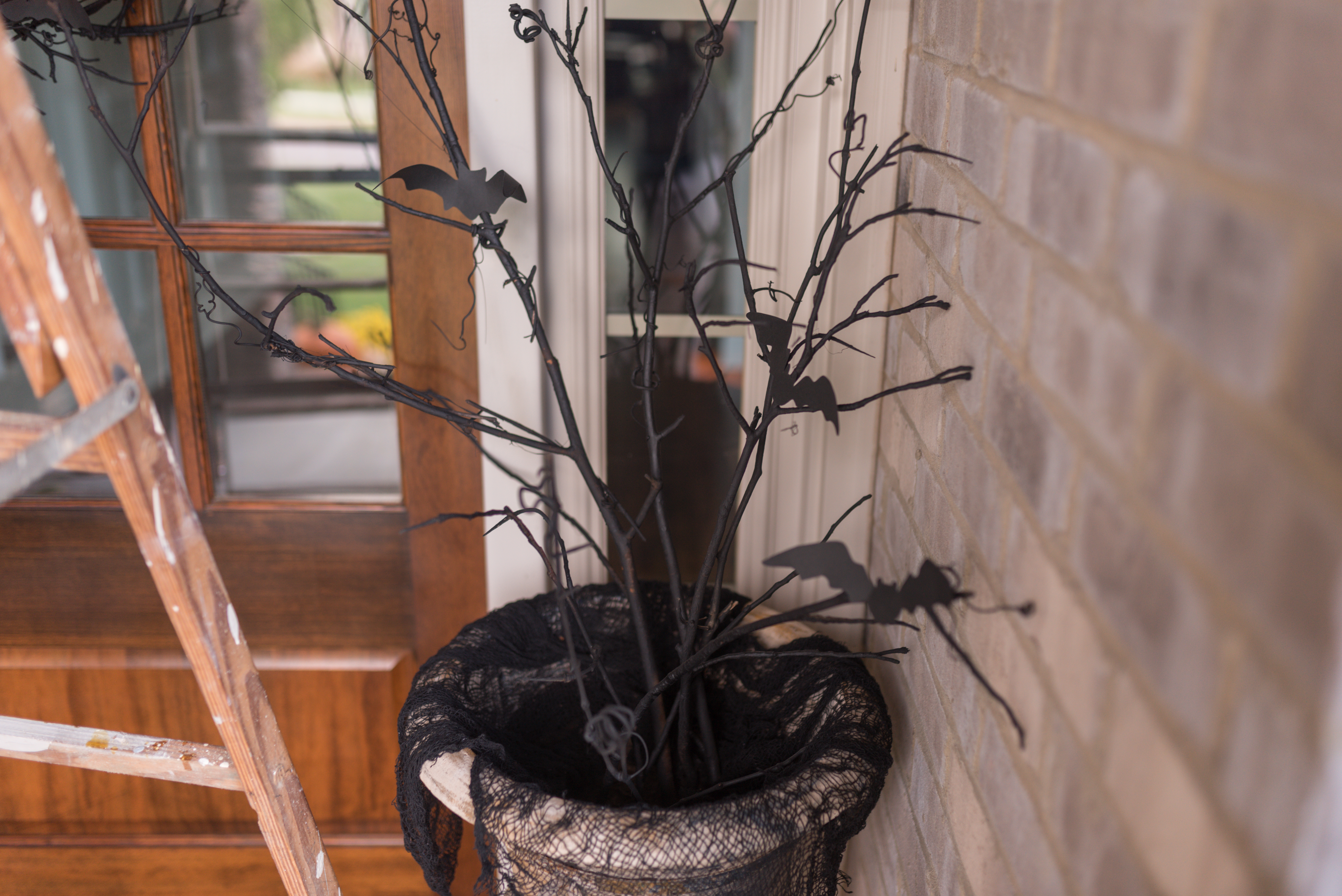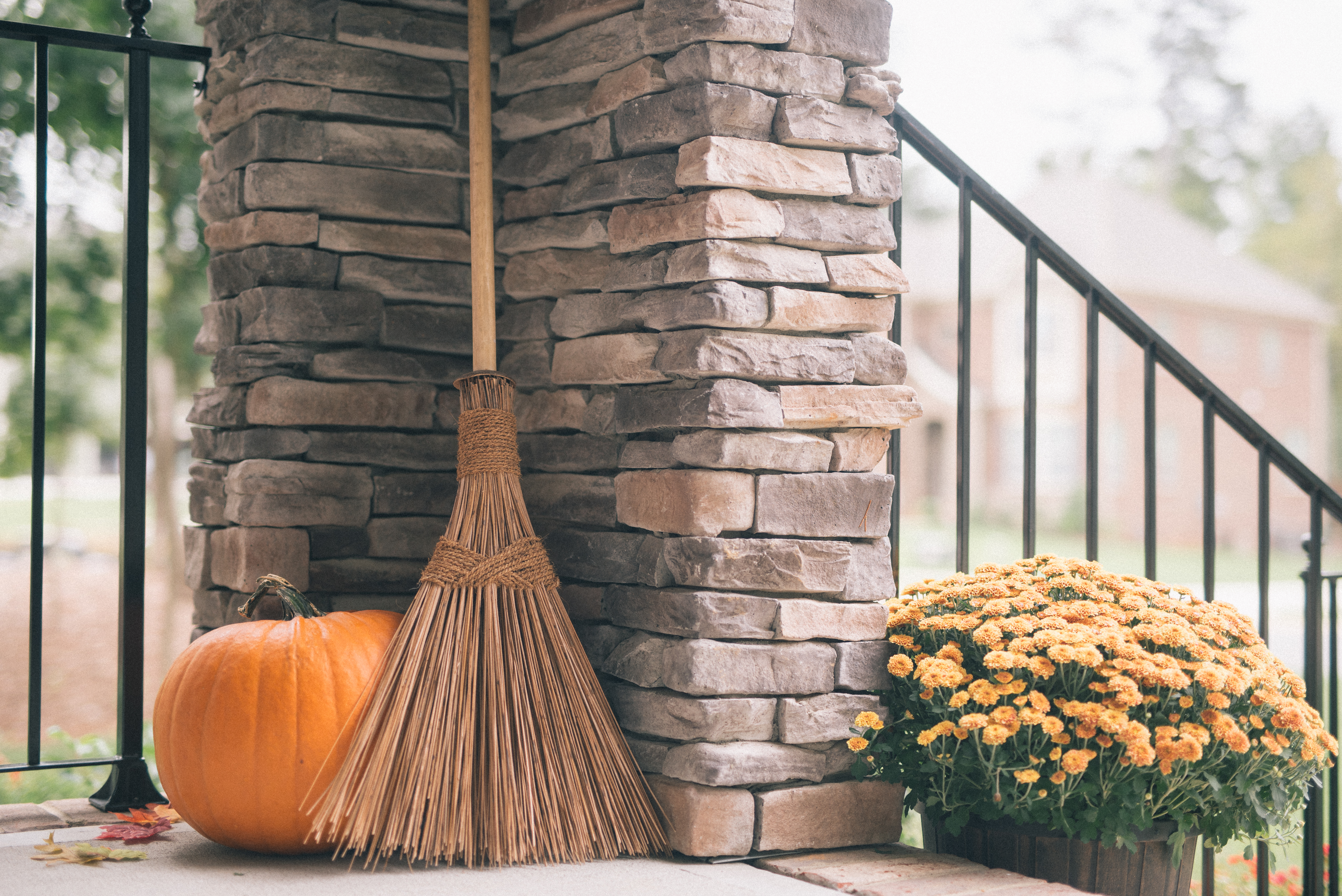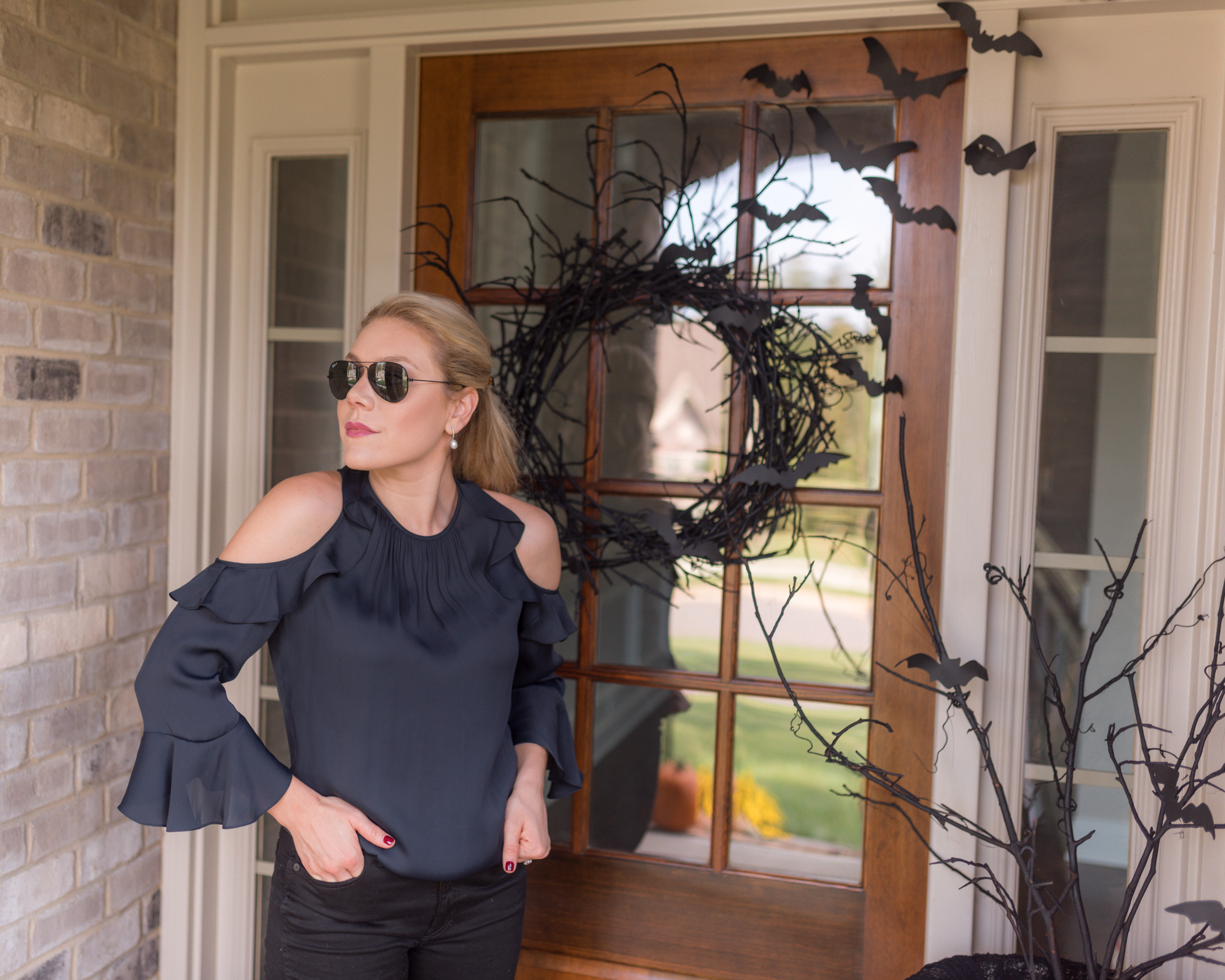 Every time I pull in the driveway and get a glimpse of our front porch, it makes me so happy! The front porch is the first impression guests get, so I wanted to make it as inviting as possible this season! When it comes to finding inspiration I always take to Pinterest – make sure you're following my 'fall' page! Also, did you catch my detailed guide to fall festivals across the Carolina's. Attending an outdoor festival is on my 'Fall Bucket List' this season!
xx, Taylor-Rae
Click Image for Product Details