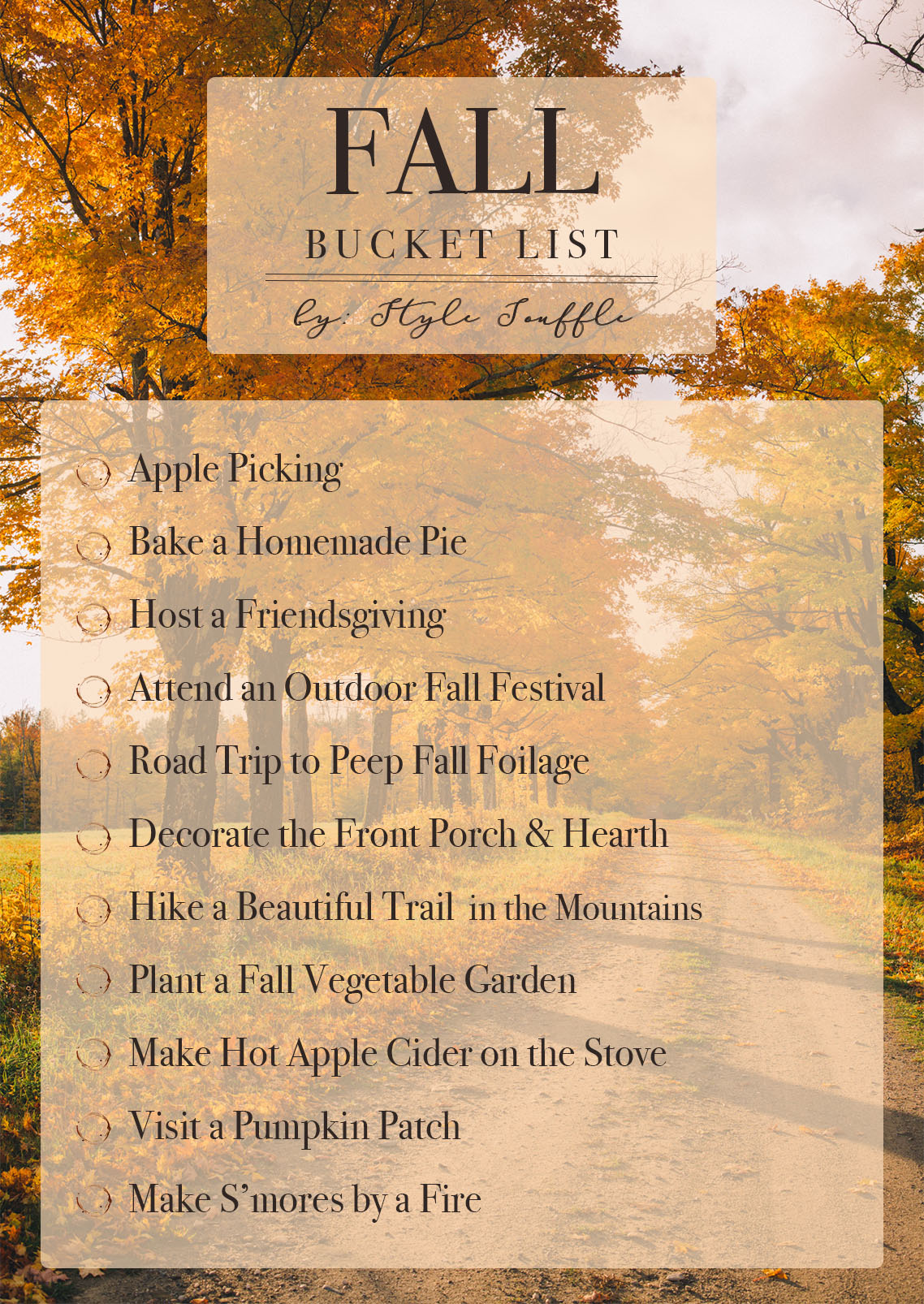 Tomorrow is officially the first day of fall! As sad as I am to say goodbye to the long, sweet days of summer, the feels of fall have me eagerly waiting for this day for a while. I love fall for all the obvious reasons, to the point of being really basic. There is something oddly intimate about the season that always encourages me to slow down and reflect. For the first time, I'm sharing my fall bucket list and hope that it inspires you to make the most of this season.
One of my favorite things about growing-up and living in North Carolina is getting to experience the realness of the seasons! Fall in particular always makes me feel nostalgic. It reminds me of how much I loved this time of year when I was younger, too. The visits to apple orchards. The maples and oaks ablaze with color. Mountain road trips to peep the autumnal leaves. A warm drink on a crisp, foggy morning. The smell of hot soup wafting through the house, or fragrant hot cider sitting on the stove. Now older, I look forward to re-living those same experiences only now with my husband.
I'm more likely to do something when I write it down, so I made a check list of all the things I hope to do this season! Earlier in the year I planted my first vegetable garden. I loved cooking with home grown veggies and want to try my hand at growing fall crops! I imagine fall is a more tolerable season – plants need less water, don't scorch in the heat, etc. I'd love to know if you have any experience with this! I've also grown to love cooking and want to bake a homemade apple pie and brew warm cider on the stove! There are a few recipes on Pinterest that I want to try! This year, Justin and I would love to host our first 'Friendsgiving' at our new house. I shared a thanksgiving tablescape last year that I would love to re-create this season.
I'm currently putting together a list of fun fall festivals here in the Carolina's. Let me know if there are any you recommend, like the Carolina Balloon Fest, Renaissance Festival or the Great Elizabeth Pumpkin Wall. I'll add your suggestions to my list and share them all next week! 🙂 In case you missed yesterday's blog post, I shared 'What I'm Buying for Fall 2018' and hope you take a peek!
Have a wonderful weekend, and Happy (early) Fall!
xx, Taylor-Rae