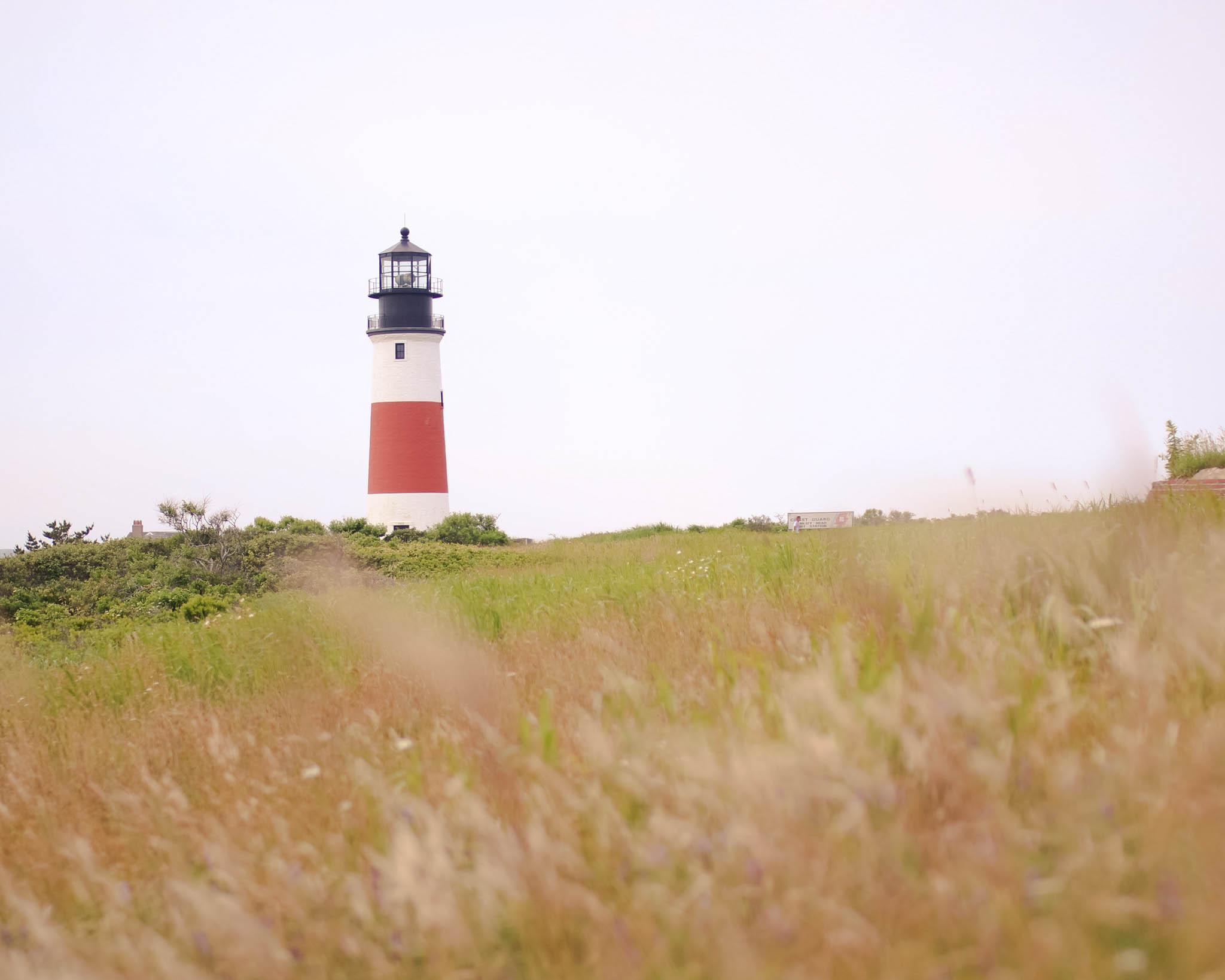 Last month, Justin and I traveled to Nantucket for very the first time. This charming New England island has been a summer destination we have long dreamt of visiting, so with a break in our schedules we seized the opportunity to go! Whether it was exploring the islands rich history or dinning at the most talked about restaurants around town, we made sure to soak in every minute in this very special place. On Main Street, farmers sold produce off the backs of trucks. Climbing roses bloomed by the thousands up cottage walls in Siasconset and dozens of sailboats littered the Nantucket Sound off the northern shore. The bottom line: Nantucket was above and beyond any expectation! Below I'm sharing a guide to the island along with details of our trip!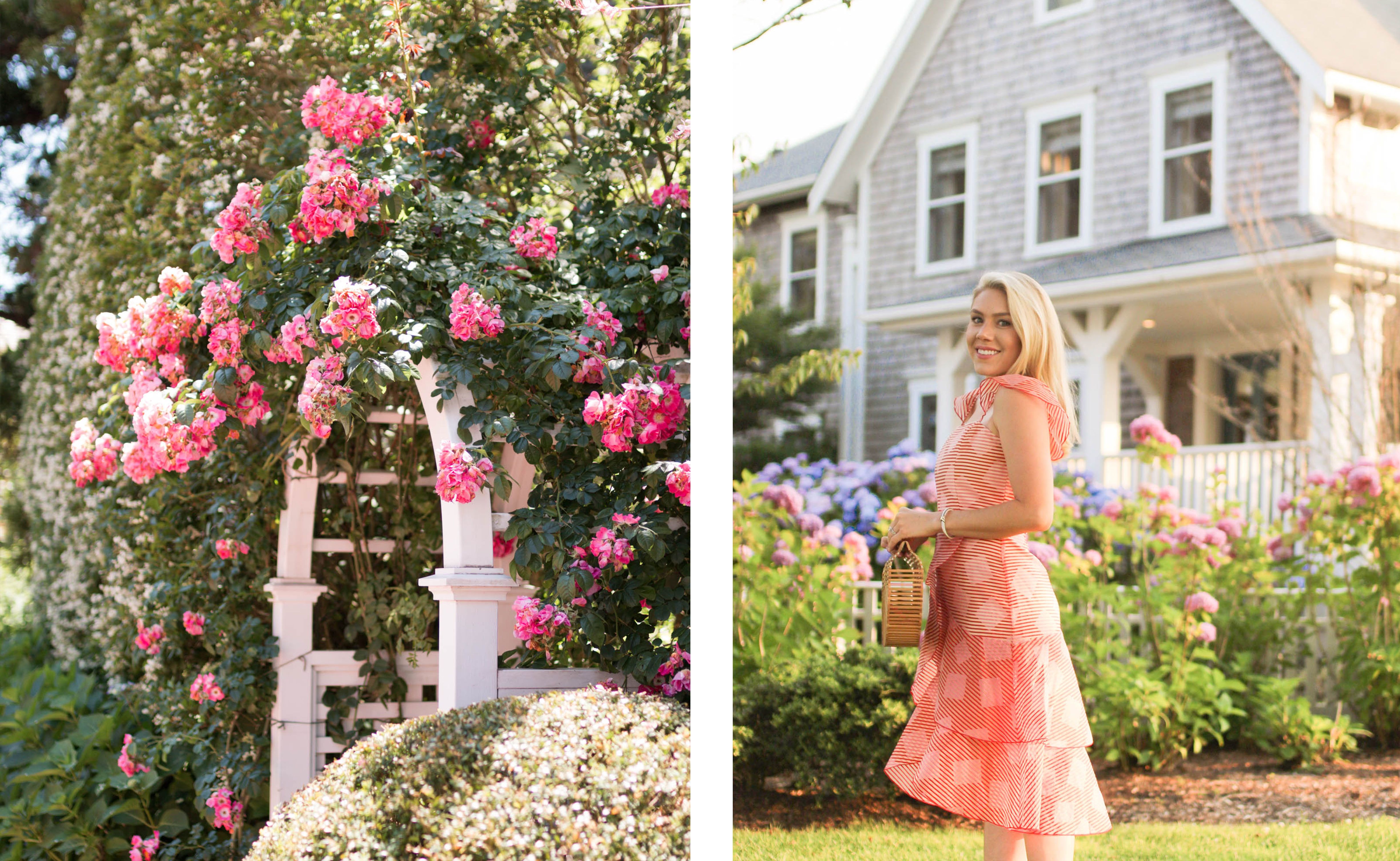 We scheduled our trip for the second week of July in an attempt to avoid holiday crowds, but also experience the bounty of blooms while at there peek. We flew in early Tuesday morning and caught a connecting flight in Washington, D.C., one of three major airports that offer direct flights to the island. Prior to our trip we were well-informed that traveling to Nantucket can be rather difficult due to missed connections, delayed flights and the unpredictable fog that the "Grey Lady" is infamously known for. Luckily we didn't encounter any issues, and had an entire afternoon to settled-in, unpack and explore.
(Travel Tip: There are only two ways to access the island: by plane or by ferry. Direct flights are available from Boston, New York, and Washington, D.C. Ferry options are available from Hyannis on Hy-Line or Steamship Authority for those who wish to bring a vehicle. The ferry times and rates vary, so I would recommend you carefully research each option.)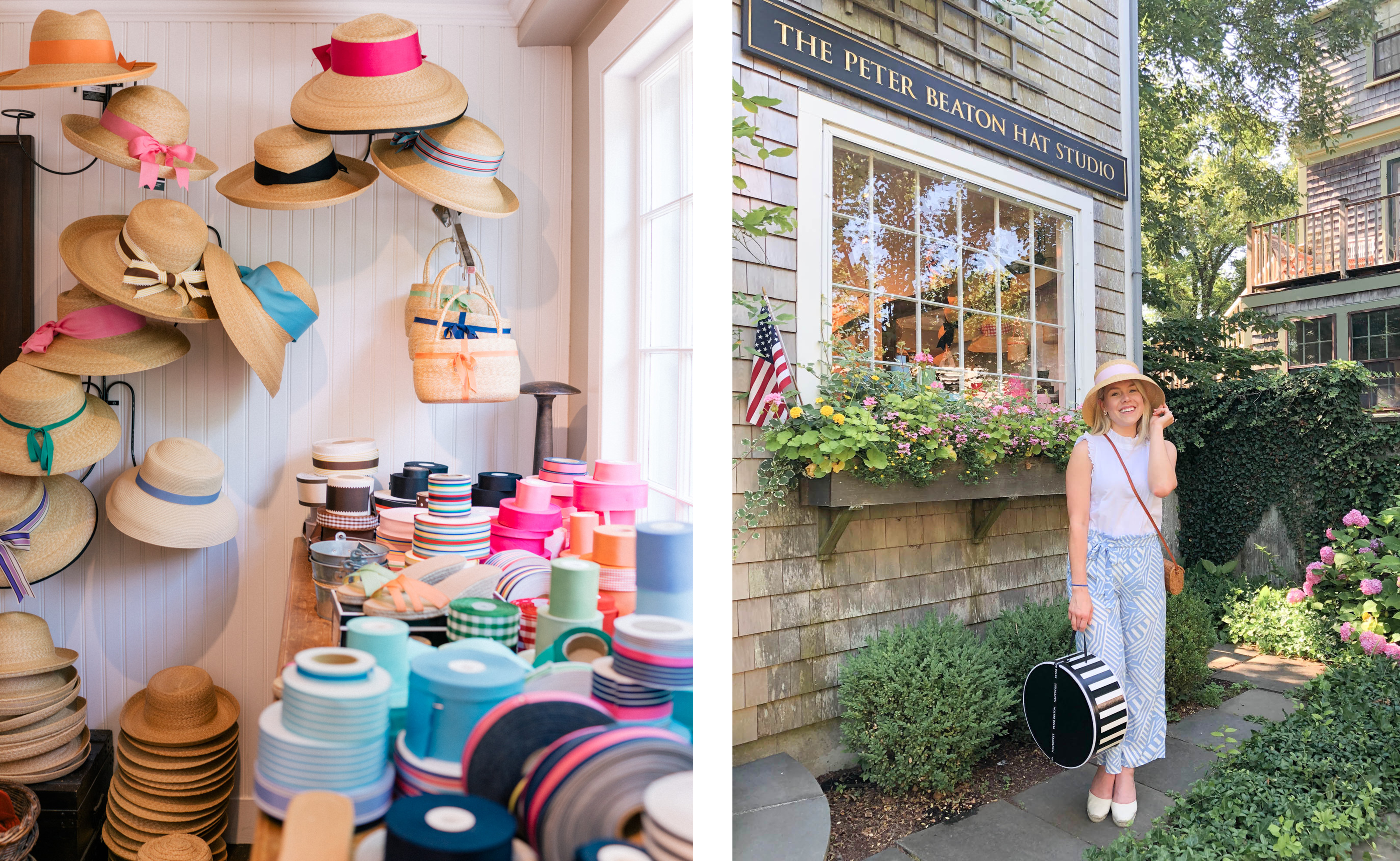 Upon arriving, we made our way to The Wauwinet, a Relais & Châteaux boutique inn tucked along the quiet, northeastern shores of the island. We quickly unpacked and ventured into town to check out a handful of shops that came highly recommended by friends who often visit the island. Among our favorite, must-visit shops include:
Peter Beaton Hat Studio – If you love hats as much as I do and are willing to splurge on this one of a kind accessory, pick out your hat, have it cinched or stretched, customize it with a wide assortment of grosgrain ribbons, and carry it out in one of their instantly recognizable black and white striped hat boxes. This was such a neat experience, and my 'Wauwinet Hat' is something I will use and cherish for years to come. This tiny studio is attached to the owner's home in town located on 16 1/2 Federal Street.

28 Centre Pointe– I've the biggest girl crush on Nicola Bathie. In my mind we're best friends. Her home, her wardrobe and her insanely beautiful earring collection are all things to be admired. From following Nicola on Instagram, I learned of 28 Centre Pointe, a boutique that carries select styles of her handmade pieces. This gave me all the more reason to check out this darling boutique. There you will find gorgeous furnishings, decorative items and hostess gifts by Oomph and Amanda Lindroth (another favorite of mine).

Janice Aldridge Antiques– We stumbled upon Janice's antique shop by complete accident and were so grateful we did! She had the most beautiful collection of furniture, pottery, artwork and china. Janice was one of few collectors we have found who shares our taste in antiques. If you visit the island please pay Janice a visit and tell her we say hi!

Lion's Paw– A beautiful home furnishings store located on Main Street. They offer beautiful artwork, home furnishings and hostess gifts. We found a gorgeous mosaic mirror that sold before we made it back the following day. They had a great selection of vintage rattan pieces too.

CJ LAING– I first visited CJ Laing in Palm Beach last June. Stop by and shop their collection of resort ready clothes and accessories. Think Banjanan, Rhode Resort, MDS Stripes and Sachin & Babi.

The Skinny Dip– Located on Old South Warf, this is where you can find the famous Ellsworth & Ivey knitted Nantucket sweater and ACK baseball hat. This shop featured a mix of high-end, emerging brands with a nod to New England culture.
We spent the rest of the afternoon familiarizing ourselves with the downtown scene. Tired from traveling we forewent our dinner reservations and instead went back to The Wauwinet to enjoy charcuterie and port provided complimentary for guests every evening; one of the many luxuries this property had to offer. On Nantucket, the rooms are small however, what they lack in size they make up for in coziness and charm. When we made our reservation, our inn was offering a "summer special" for select rooms. So I booked us for a room with a sweeping view of the Nantucket Bay. The courtyard off of our patio was home to dozens of bunnies – a bonus amenity not mentioned on their site. ? Located 10 miles from the hustle and bustle of downtown, we found The Wauwinet to be the perfect place to relax and unwind after each day of exploring. If you wish to stay closer to downtown I recommend you consider the following: Greydon House, The Cottages at the Nantucket Boat Basin and 21 Board.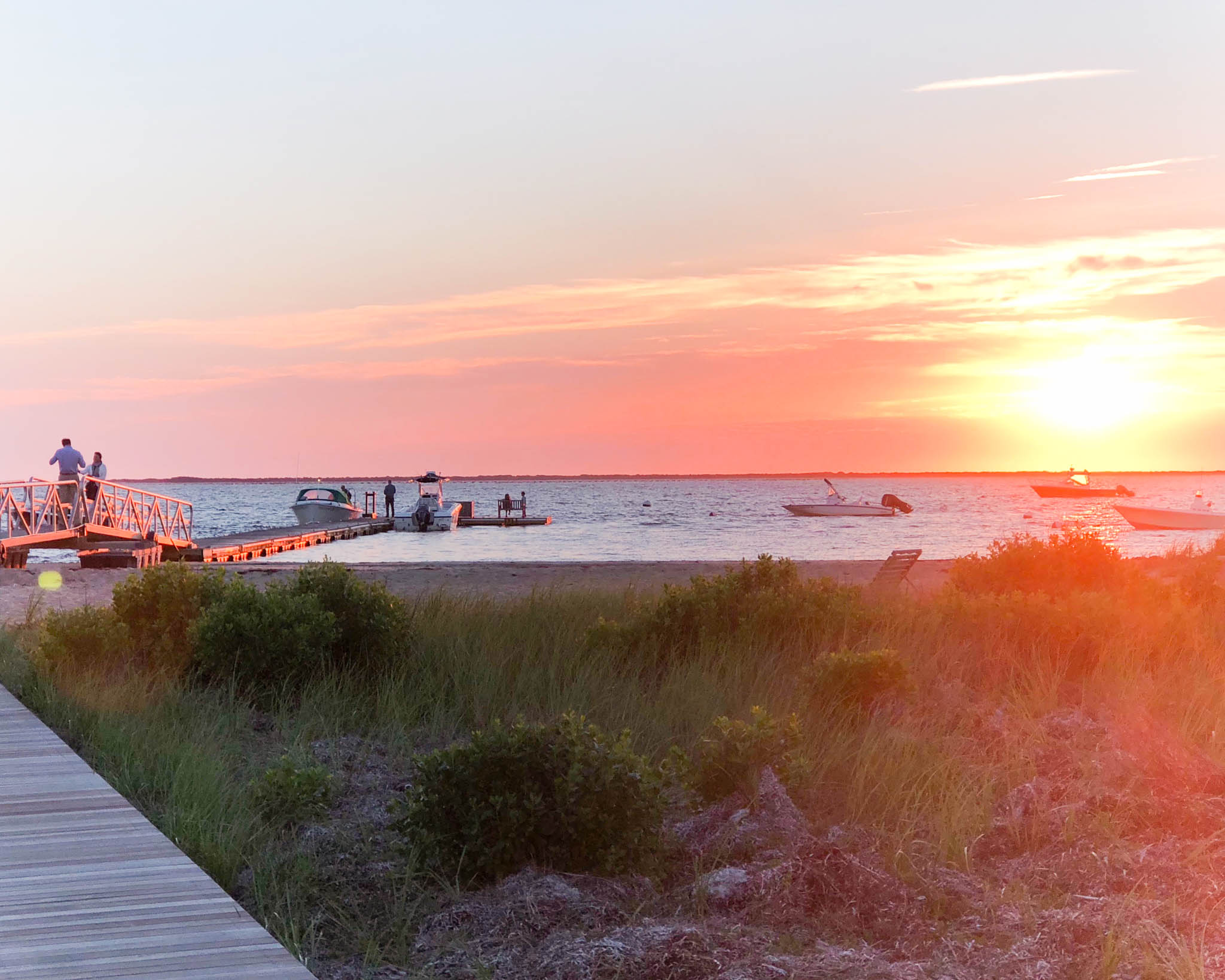 Despite it's relatively small size (less than 15 miles long), there are so many pockets on Nantucket to explore. Officially it's all one town, but in reality there are several distinct "neighborhoods" that offer their own experiences. We spent our second day exploring the Siasconset area. Like Wauwinet, it too is located on the northeastern end of the island. We took the bike trail (roughly five miles from our inn) to Sankaty Head Lighthouse and then through town to the 'Sconset Bluff Walk. The "Bluff Walk" as it's often called, is an unadvertised public walking path that takes you from the village of Siasconset through the back yards of some of the island's most exquisite shingle-style homes. This narrow path is only accessible by foot, and according to the sweet local who joined us on our walk, was left over from days of looking for whale spouts from shore. To get to the start of the walk, turn right after 21 Front Street. The path you want is the less obvious one to the left, through the hedges and along the lip of land. You'll know it when you see it.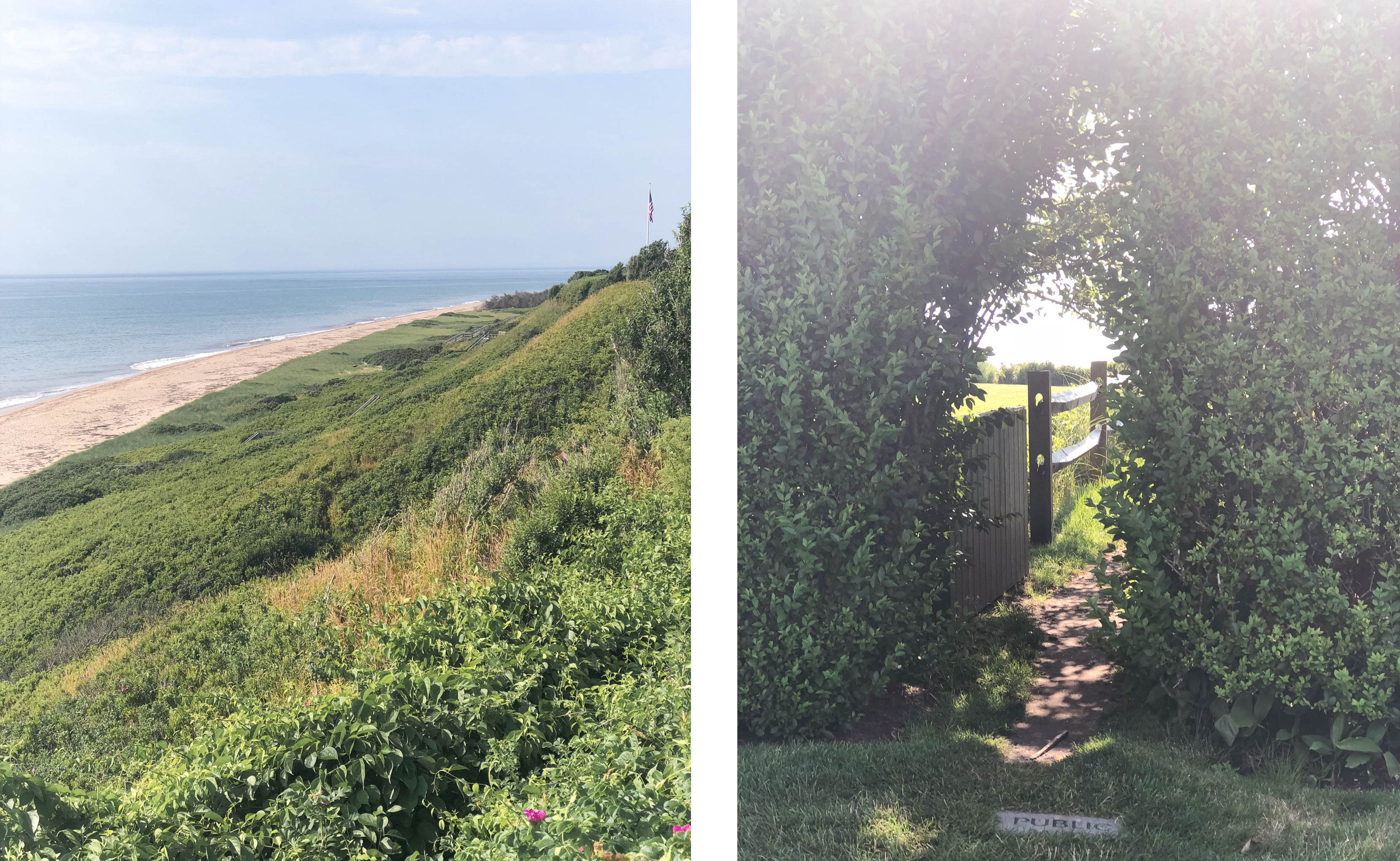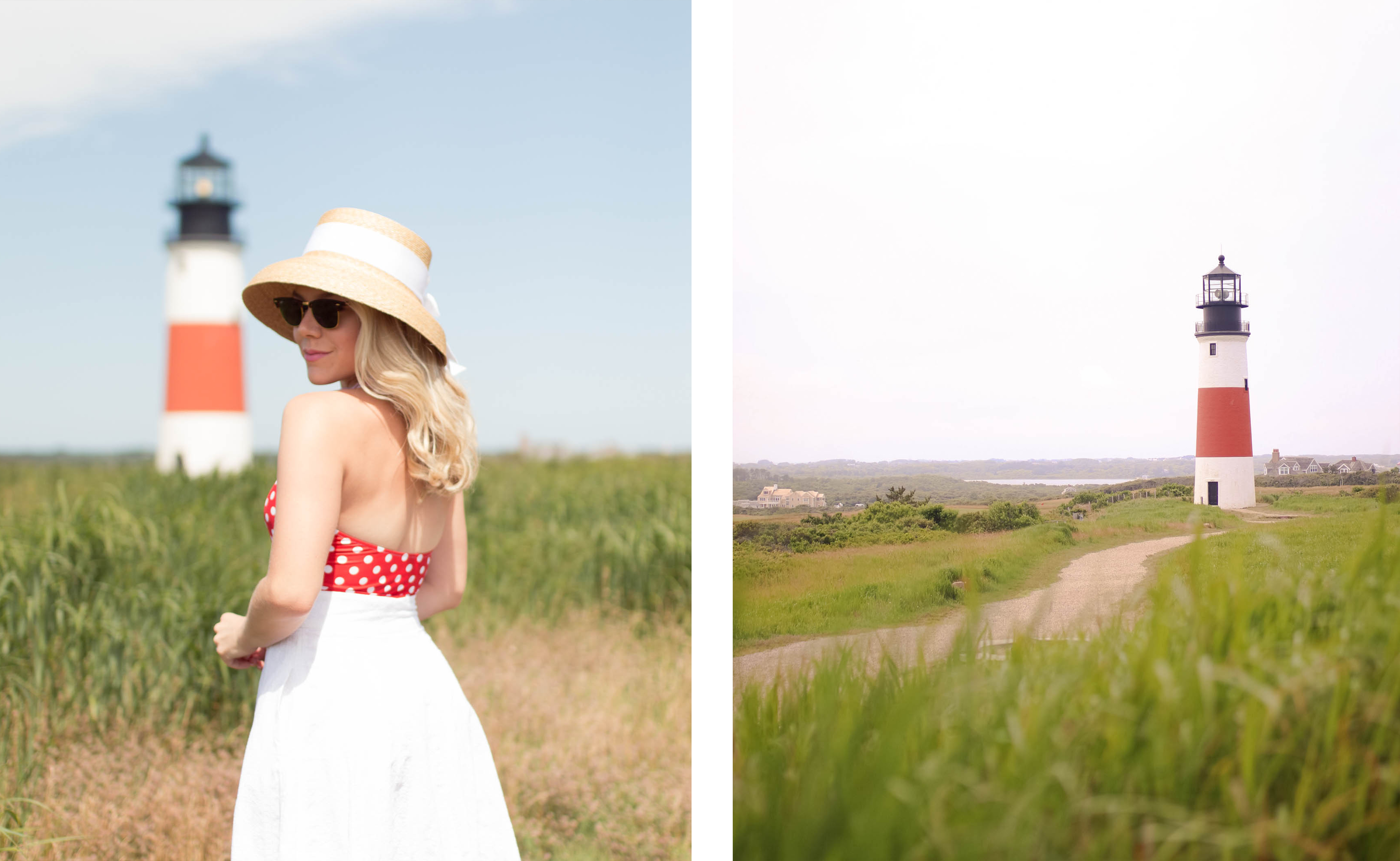 We spent a great deal of time in 'Sconset. I'll never forget the morning we stumbled upon a yard sale in a small courtyard just outside a locals cottage. We left with a porcelain blue and white creamer and a 1950's edition of "The Wise Garden Encyclopedia," all for $3. These little treasures will always take me back to that place in time!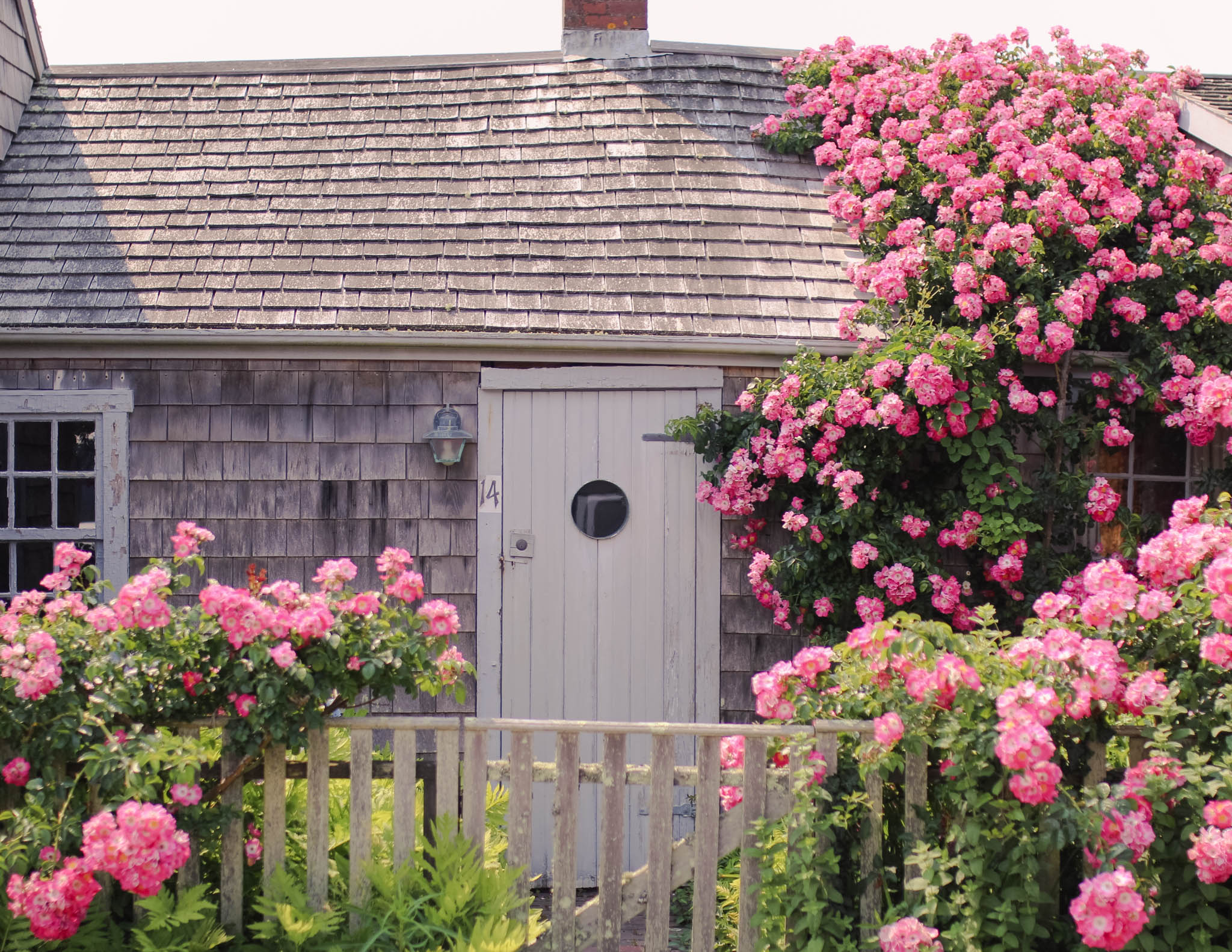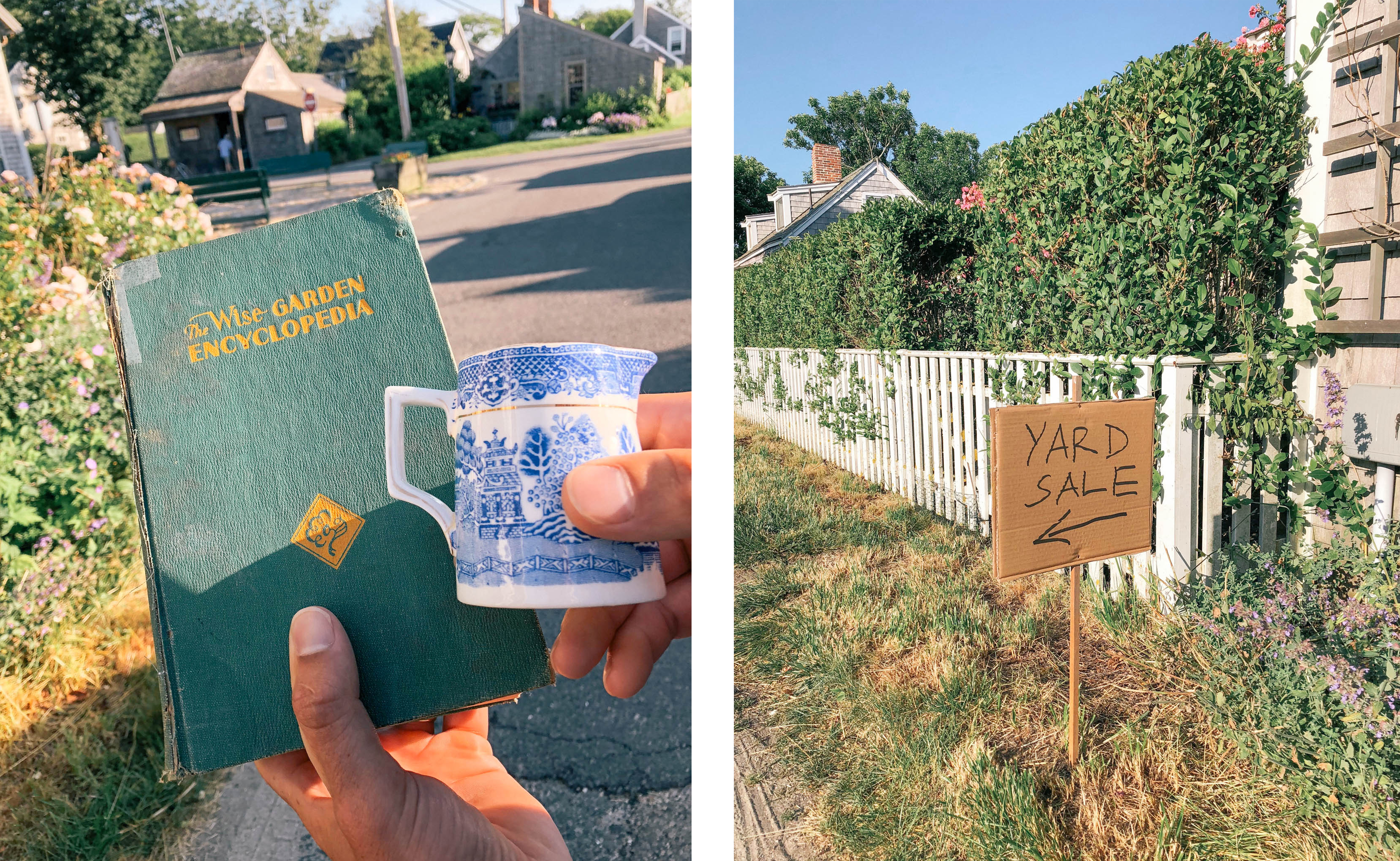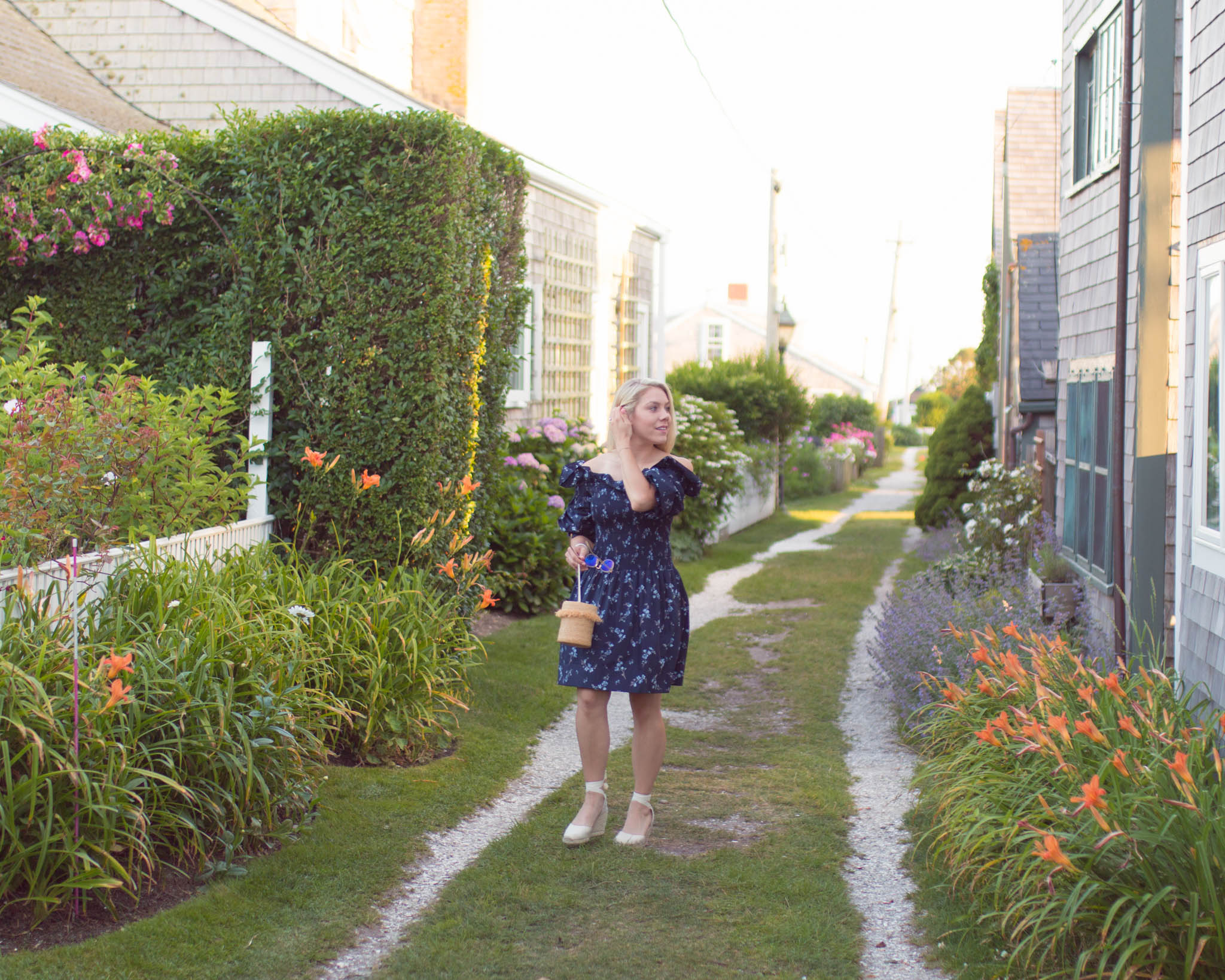 Though we spent most our time 'Sconset, we made an effort to visit each neighborhood at least once during our six day trip. When looking for lodging, consider it's location on the island and do a little research on that particular neighborhood to make sure it aligns with the type of experience you envision. We are certainly no experts, but below are our general thoughts for each area.
Siasconset – The rose-covered cottages and sea of hydrangeas lining white picket fences are just a few of the things that make this neighborhood so special. In 'Sconset make sure to visit Sankaty Head Lighthouse, take the 'Sconset Bluff Walk for an evening stroll, enjoy a romantic dinner at The Chanticleer (arguably the best meal we've ever had), enjoy lunch at The Summer House's Beachside Bistro, and pop into 'Sconset Market to pick-up one of their famous blueberry muffins.

Madaket – Across the island from 'Sconset is the much more laid back neighborhood, Madaket. Unlike the rest of the island it was very rustic and remote. Make it a beach day in Madaket and stop by Millie's for casual Baja fare like fish taco's and lobster quesadillas (Millie's also has a food truck parked at Cisco Brewers). The sunset was killer!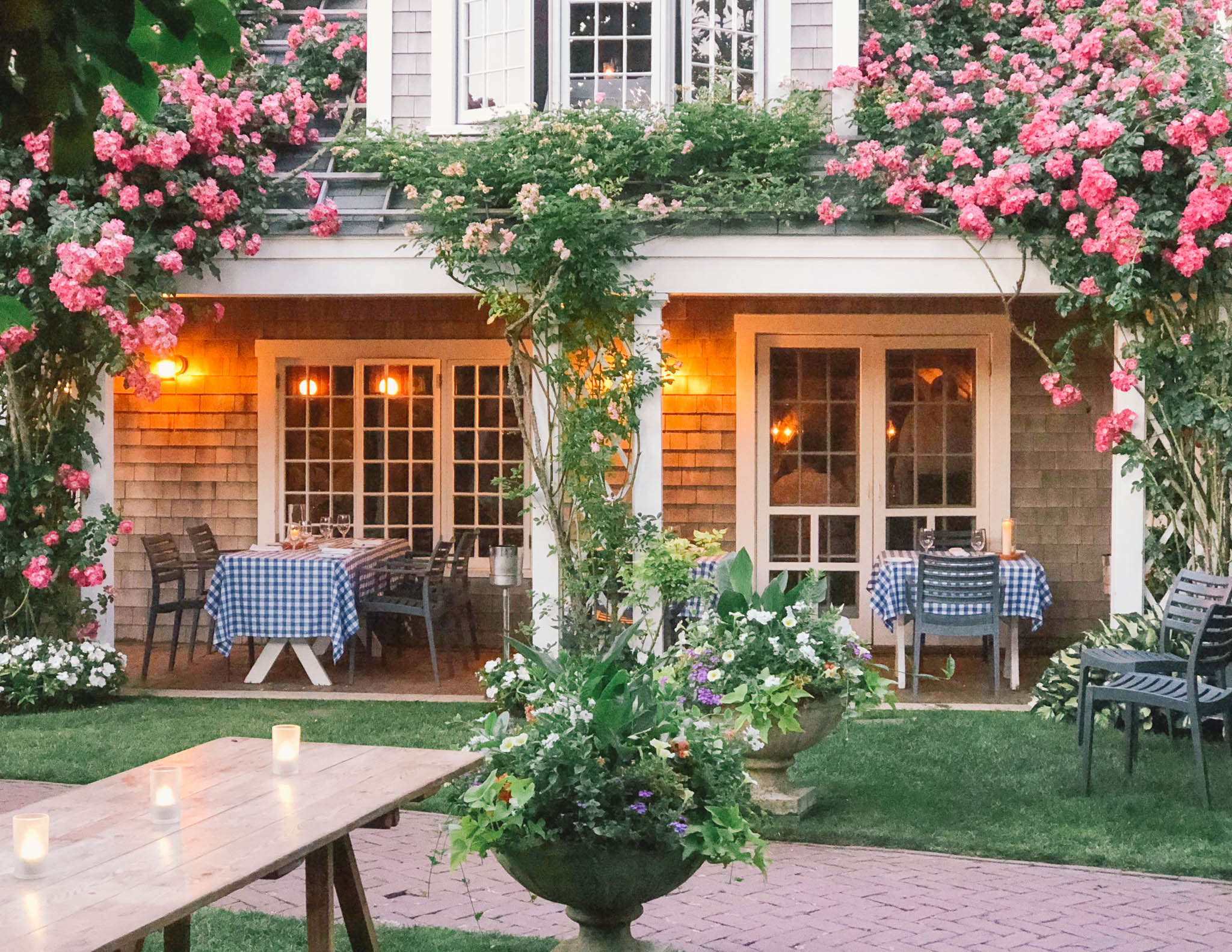 Another highlight of our trip was our afternoon sail on The Endeavor. We sipped rosé while sailing the sound with Captain Jim. The last time we chartered a sailboat was on our Honeymoon in Antigua, so we were excited to experience Nantucket from the water. We were spoiled with ideal weather throughout our entire trip: clear, sunny skies. Surprisingly though, it was much cooler when out on the water. Maybe 10-15 degrees, if we had to guess.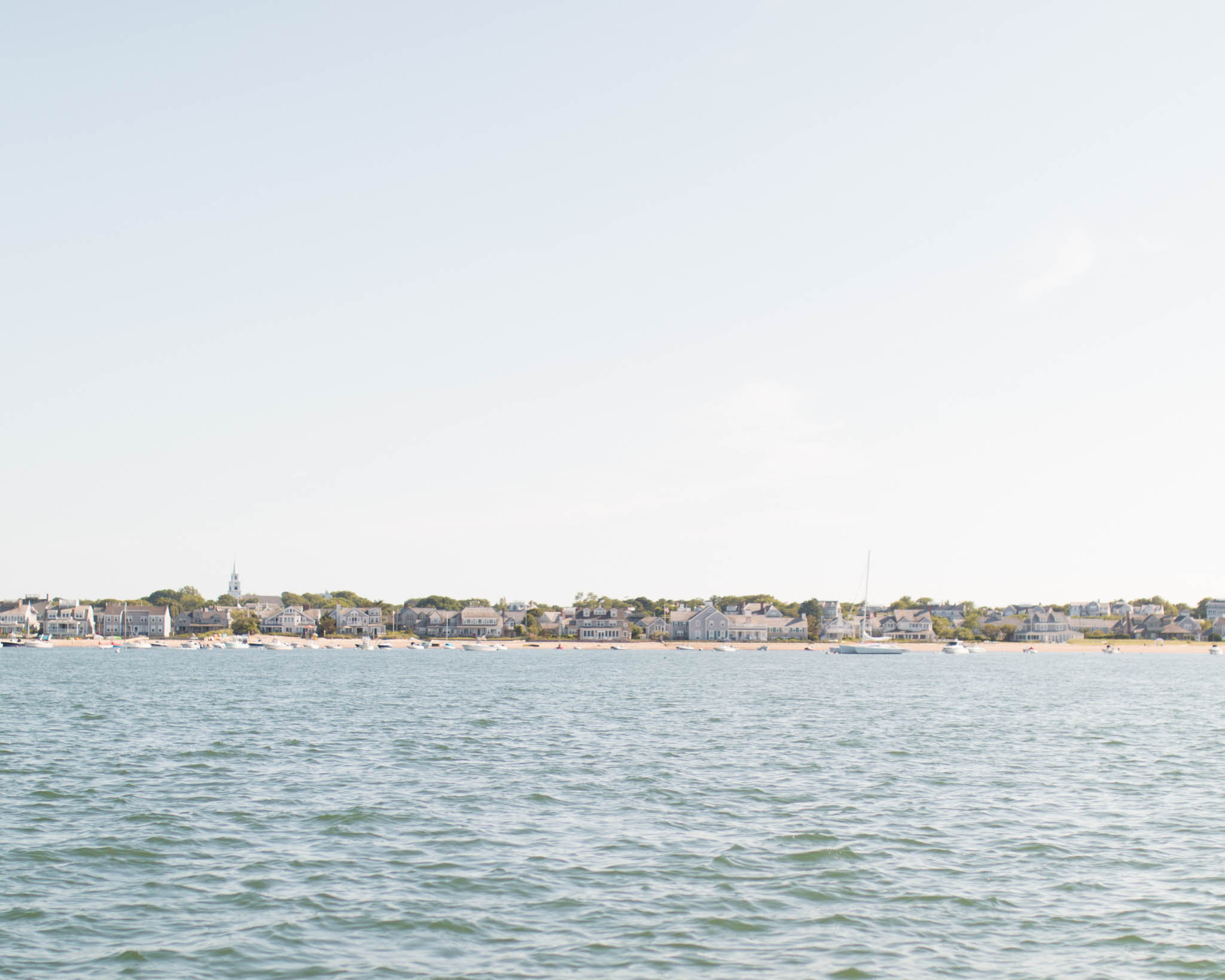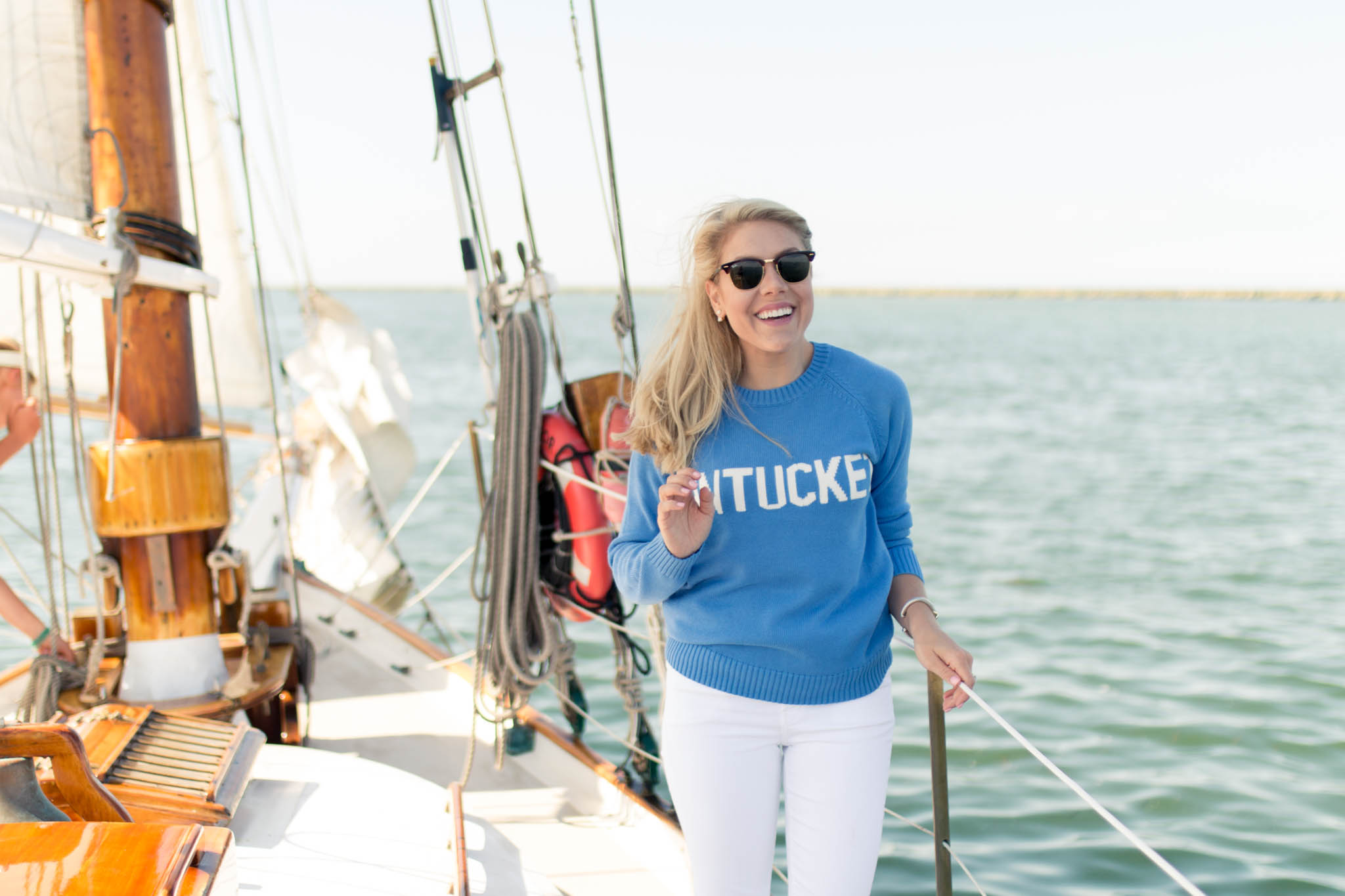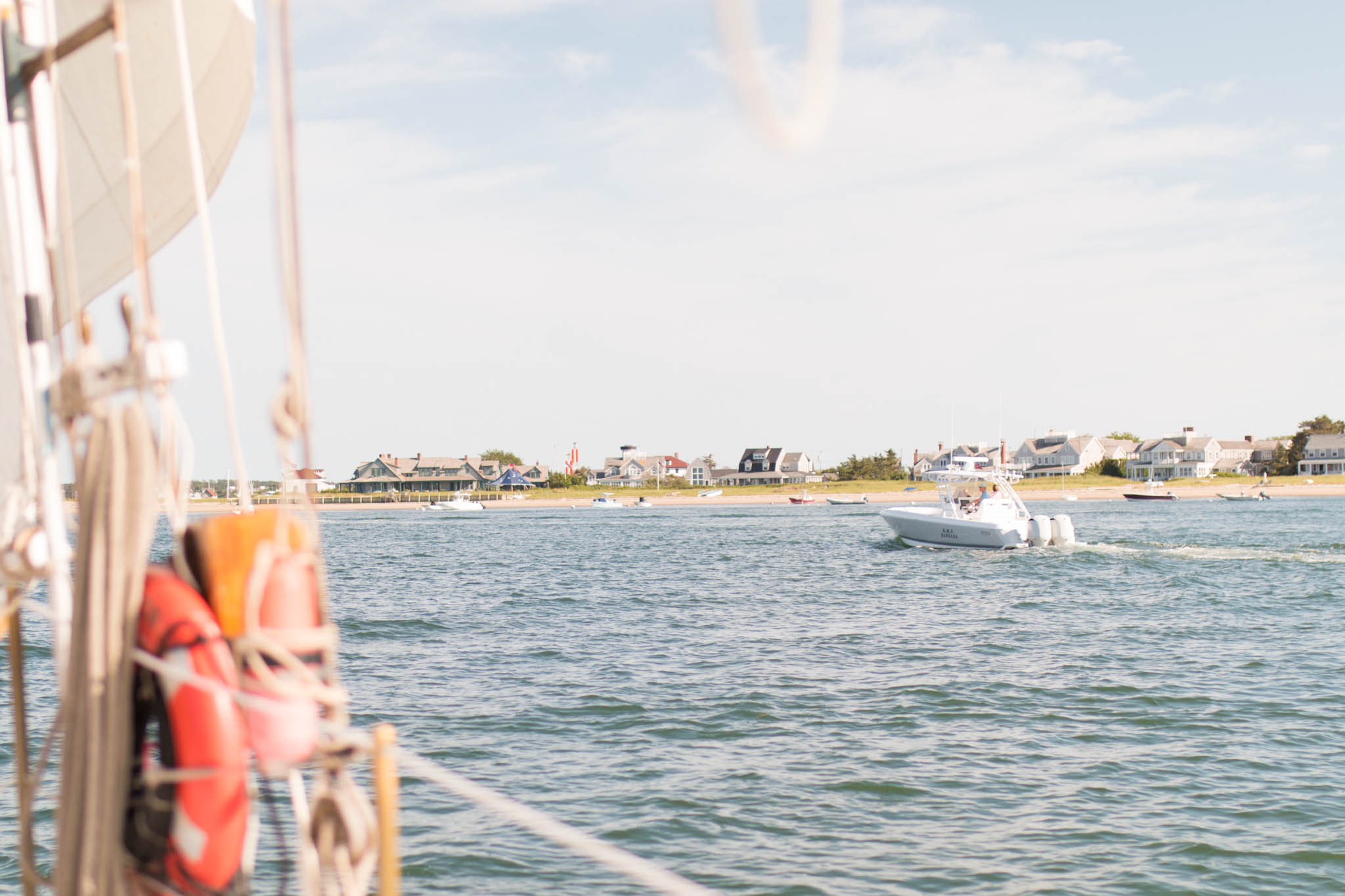 Coming off the sailboat, Justin and I saw a sign that said "Raven's Night Walk". It wasn't the gimmicky advertising you see along the streets of Charleston or Savannah, so we walked over to see what it was all about. This highly underrated, night time history walk left the hairs on the back our neck standing. Raven was a very intelligent women who knew a lot about the islands rich history. That was such a fun experience, and looking back we're so bummed we didn't get a photo with Raven. Though a touristy thing to do, this nearly unadvertised, word-of-mouth experience was nothing of the sort. We highly recommend it if you love history as much as we do!
By the fifth day of our trip we were in need of a little vitamin C. After getting a late start to our day, we made it out to one of two privates beaches at our inn. The waters were much more calm compared to that of Madaket. There were so many wonderful beaches and locals seemed to love them all for different reasons however, our favorite ones included: Jetties, Madaket, Surfside and Tom Nevers. Sadly we never made it out to Great Point beach and lighthouse. Next time!
(Tip: To access Great Point, you must rent a Jeep with an oversand vehicle permit. The access point it at the entrance of The Wauwinet. Stop there to let the air out of the tires (you'll see the signs), and make the nearly two-hour drive out to Great Point. Also worth knowing is that beaches facing the Atlantic Ocean had larger waves and stronger currents compared to the beaches facing North.)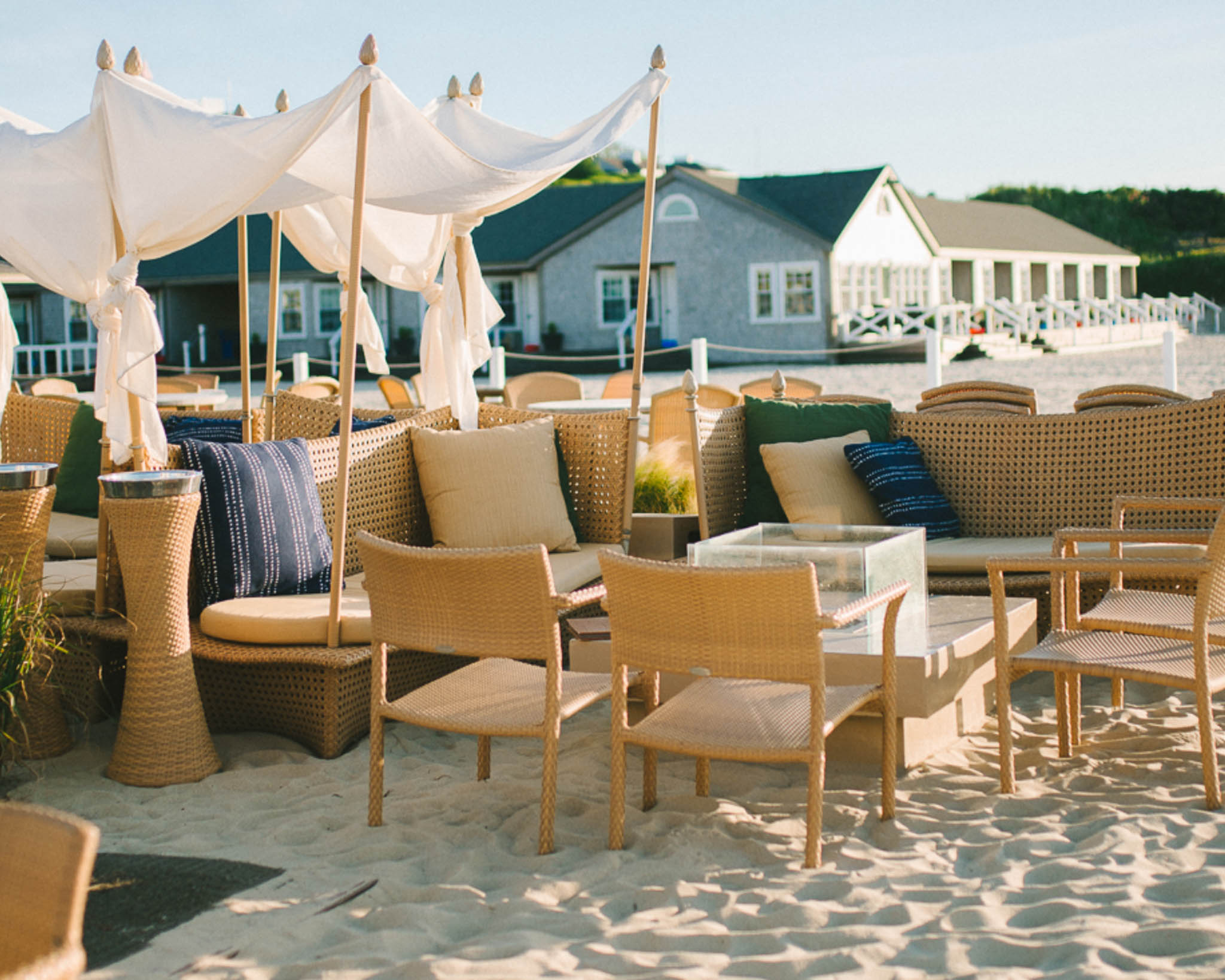 Our last night on the island we had dinner at Galley Beach. The atmosphere was alive and the cocktails yummy. Although we had made reservations in advance, which is highly recommended for inside dinning, we snagged a vacant firepit on the sand out back. We had a front row seat of the sunset over the ocean. There was nothing quite like cuddling up by a fire on the beach in middle of summer.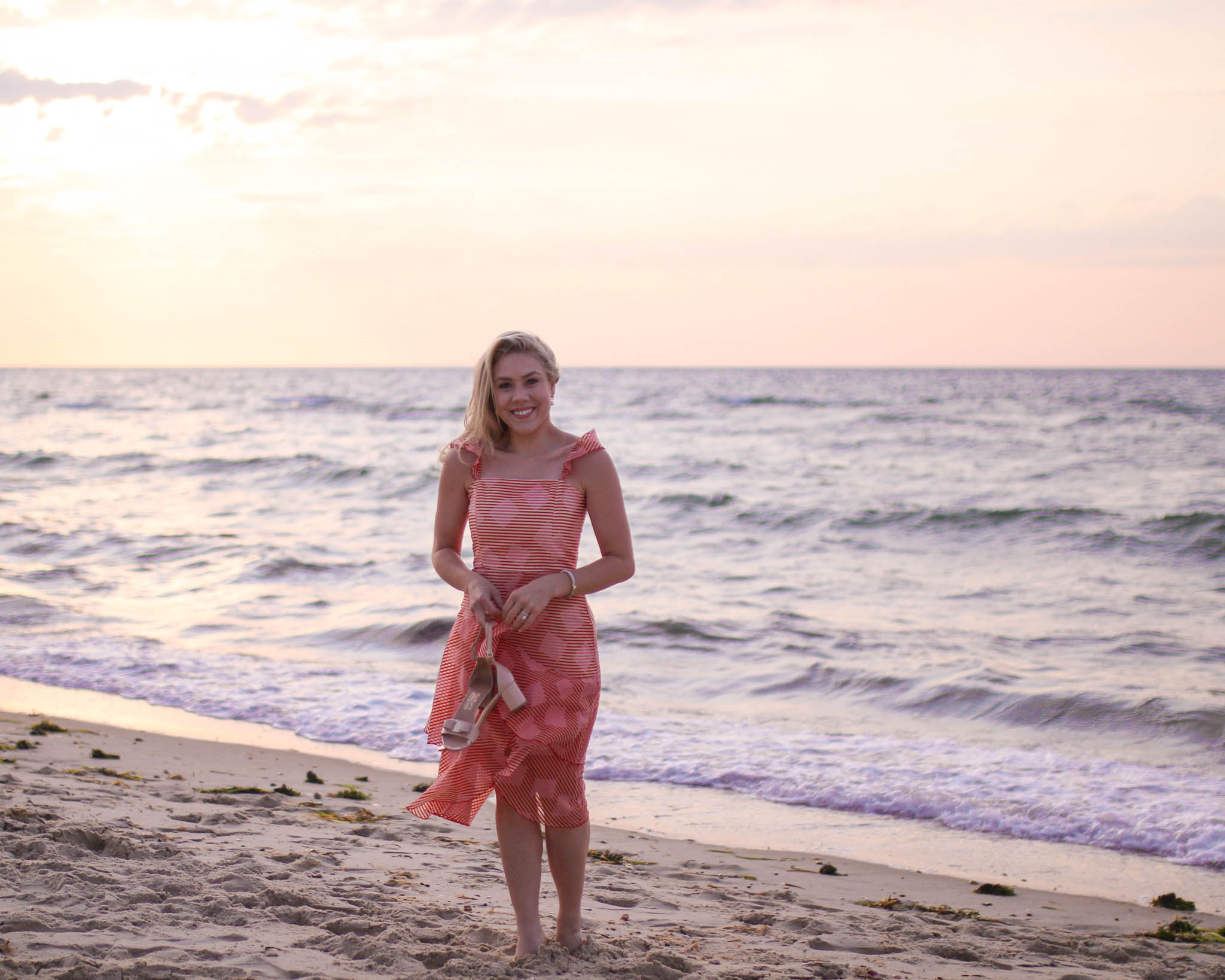 Other than a few afternoon thunderstorms, we experienced the most beautiful weather during our trip. The days were warm, sunny and 75, and the evenings crisp and cool. It was a welcomed break from the Southern heat and humidity. The weather was a bit unpredictable, but we came prepared. When packing I recommend you bring a sweater, raincoat and comfortable shoes – the streets in town are made of cobblestone. Bring a dress or two for dinner in the evening and of course a swimsuit and cute coverup.
On our last morning, we were on the beach by 5:00am to watch the sun rise. It was certainly well worth the early wake-up call! The rest of that morning was spent packing our suitcases and prepping for our trip back home. With nearly a full day to spare, and no real plans, we enjoyed roaming around, popping into shops here and there. I had wanted to get a sweatshirt, so we ventured over to Annie & The Tee's. On our way to the airport, we stopped for a late breakfast at Lemon Press before saying goodbye to the island. It was definitely a memorable first time and one that had us really excited to come back and see more. Justin has pipe dreams of one day owning a rose-covered cottage in the heart of 'Sconset… check back in 30 years to see what comes of that.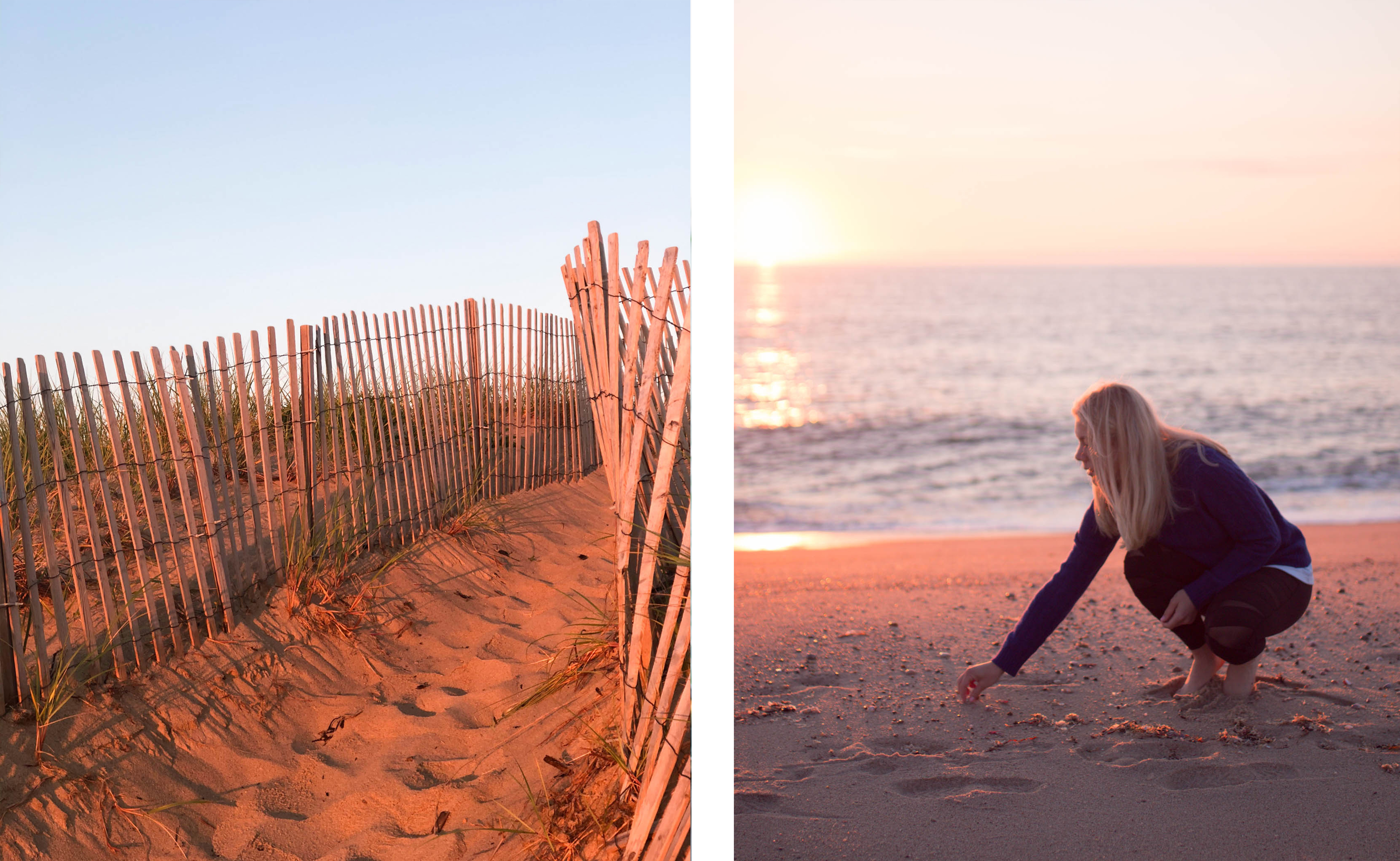 I hope you all enjoyed my Nantucket Travel Guide. So my question is, for all of you who have been to and spent time on Nantucket, what did we miss? And what would you suggest for us to do on our next trip back? We'd love to know! Also, please share any other recommendations you have on restaurants, hotels, shops and activities.
xx – Taylor-Rae