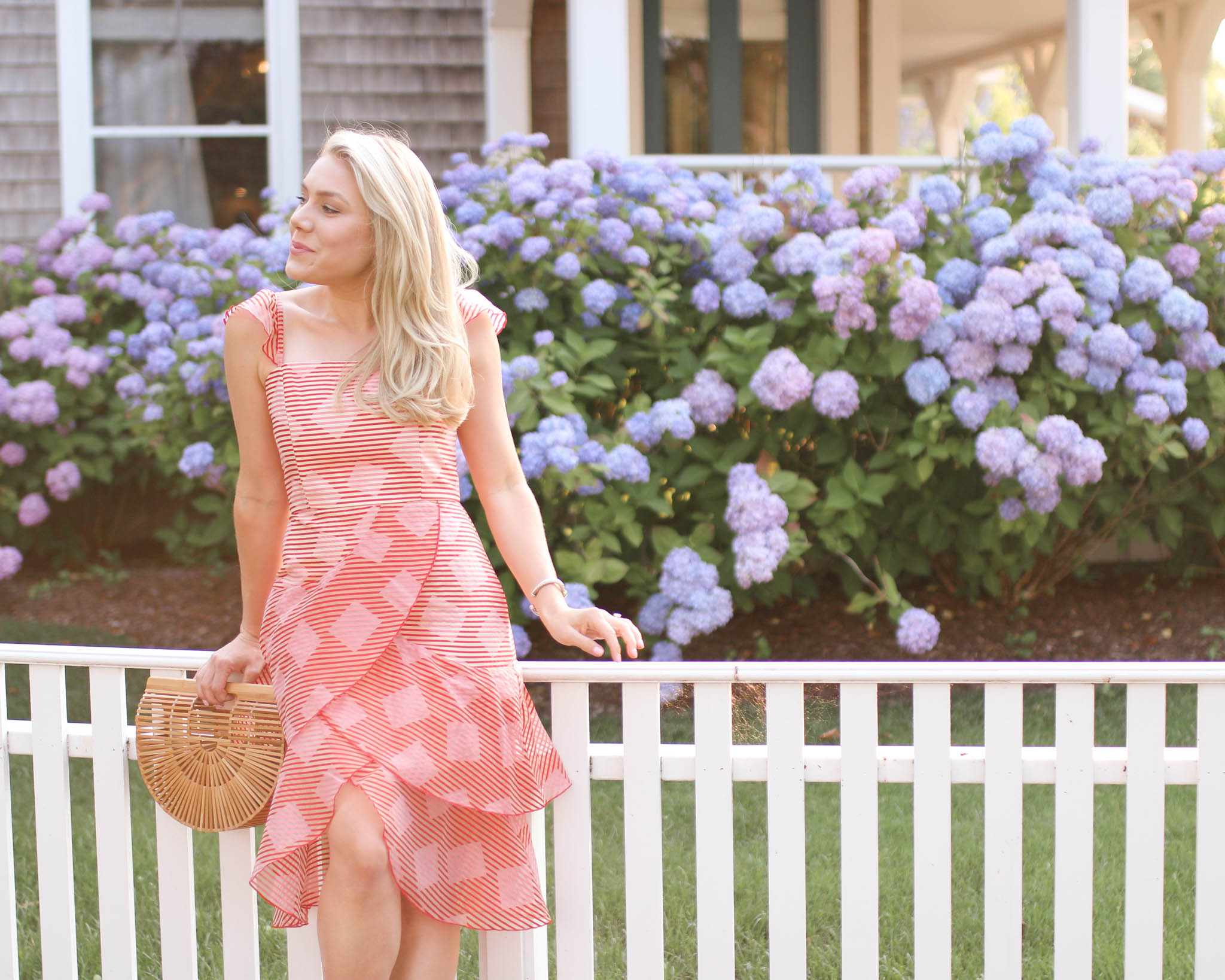 Outfit Details:
Alice + Olivia Dress | Cult Gaia Bag | Ferragamo Sandals | David Yurman Bracelet | Diamonds Direct Earrings (worn at our weddings, similar here and here)
Ah, Nantucket! Oh, how I miss this special place! Located 30 miles off the coast of Cape Cod, Nantucket is 14-miles of picturesque beaches, rose-covered cottages and historical charm. Last week I shared a recap of our trip to the New England island. Today, I'm sharing the dress I wore to dinner at Galley Beach along with recommendations on what to pack for a trip to Nantucket.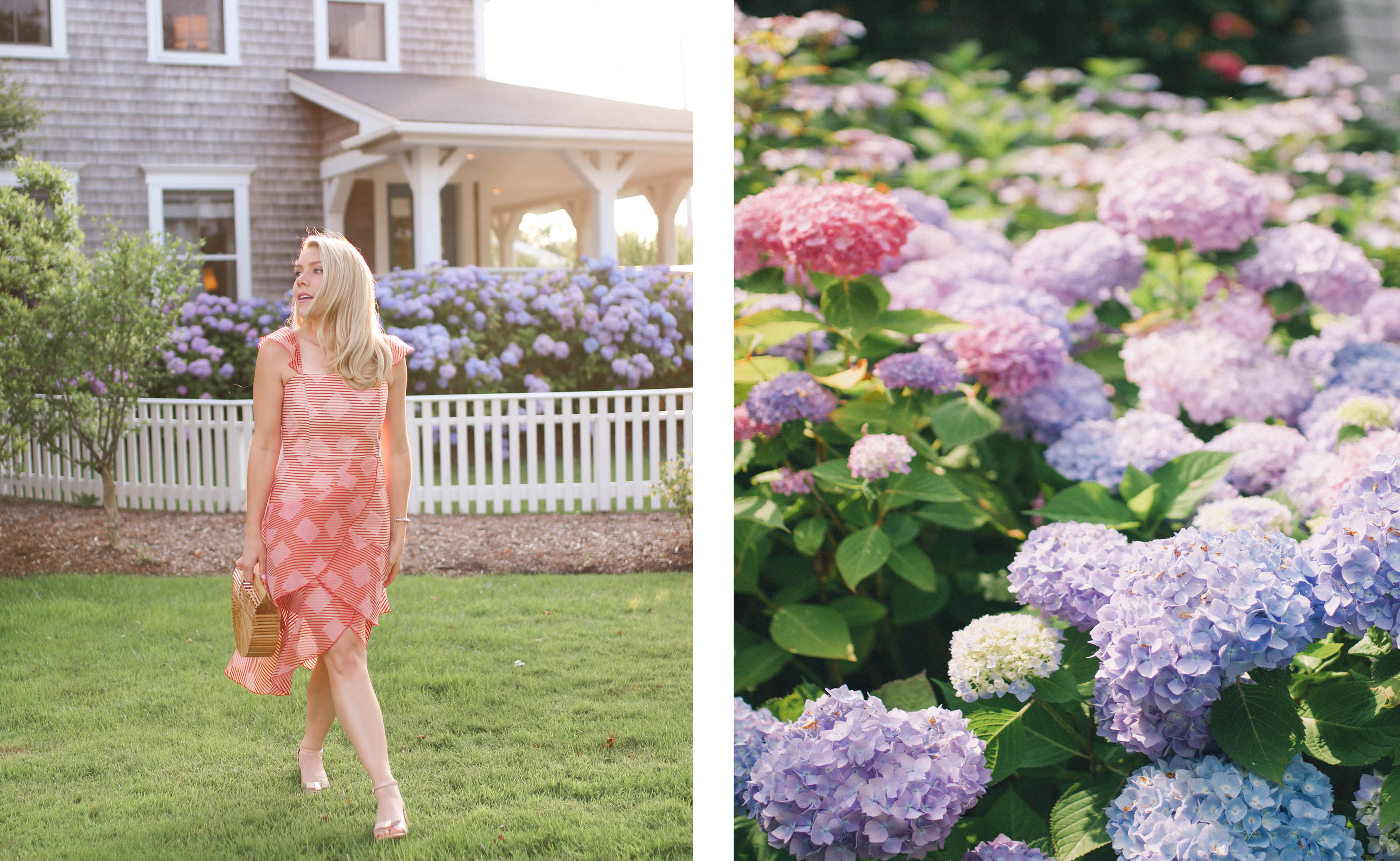 There's a big dining scene in town. Knowing this, I brought along a few dresses to wear to dinner each evening, including this one from Alice + Olivia. For the longest time, Alice + Olivia by Stacey Bennett has been one of my all time favorite brands. Season after season the line produces fashion forward, easy-to-wear pieces that are full of personality. I first saw this fluttery dress online at Nordstrom around the start of the season, and tried it on twice in-store before making the purchase. Though a bit of a splurge, I knew it would be a dress that I would wear often.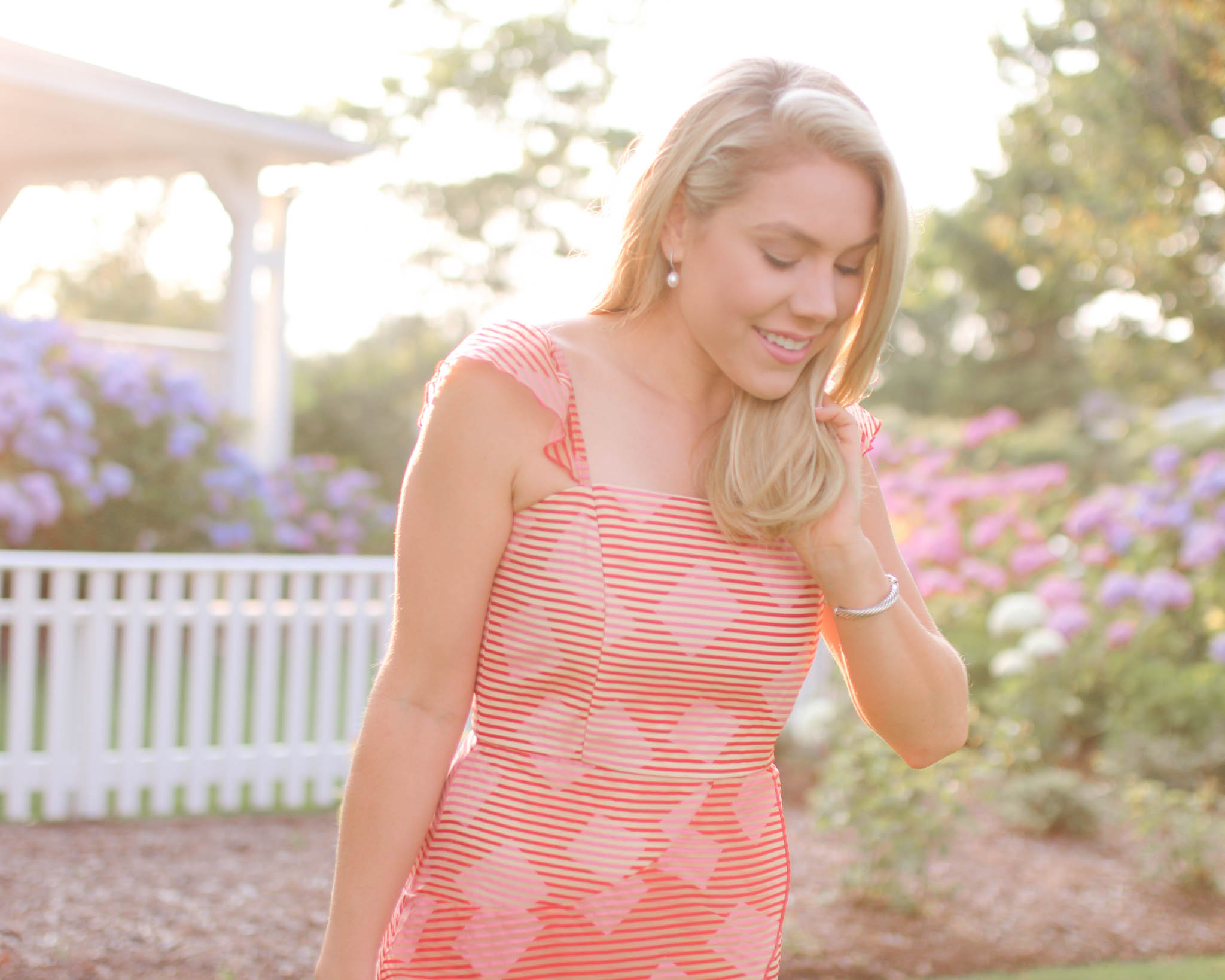 The streets in downtown Nantucket are made almost entirely of cobblestone. Flats and sandals are the key to not injuring yourself. In the evenings I wore my favorite nude sandals that I purchased for half-price at a boutique in Highlands, North Carolina last fall. I also brought along a pair of Castanar wedges. And, as always, I opted to wear a classic pair of pearls throughout our entire trip. I've linked several handmade pearl earrings here, here and here (all from Etsy and super affordable).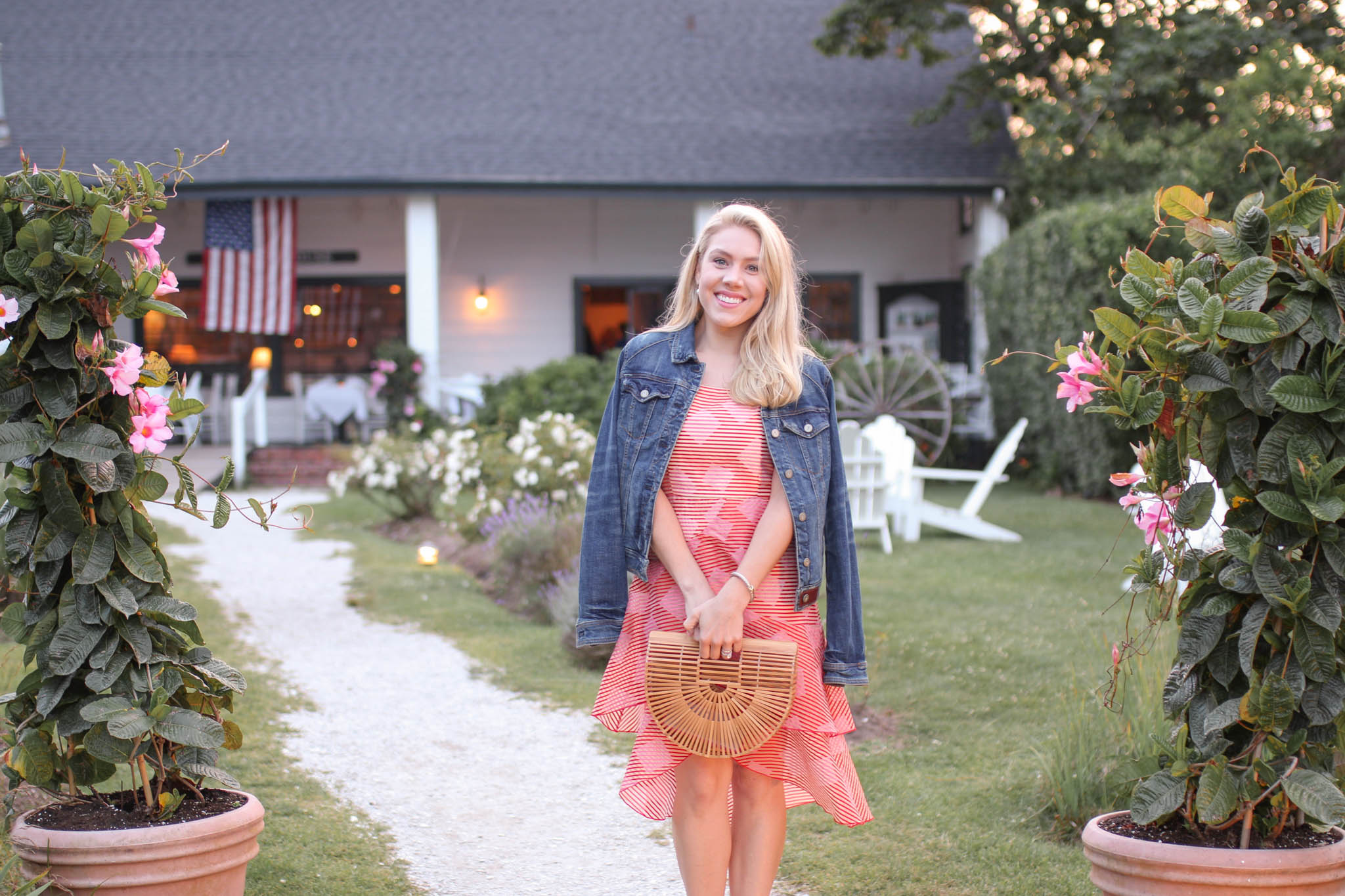 Nantucket's become an increasingly popular summer destination mainly because of its pleasantly mild weather. During our early-July trip, there was an ever blowing sea breeze and the temperatures were more than ideal! Even on the hottest day, I found myself reaching for my sweater or jacket come night. The weather was also quite unpredictable. On several occasions the sun would disappear behind the clouds that would come out of seemingly nowhere. Luckily, we came prepared (sweater and raincoat).
The island's also pretty casual. Other than a dress or two for dinner, I'd stick to the basics: sweaters, striped shirts, white denim, a straw clutch or basket bag, wedge sandals, flats, athletic clothes, swimsuits, raincoat and cover-ups.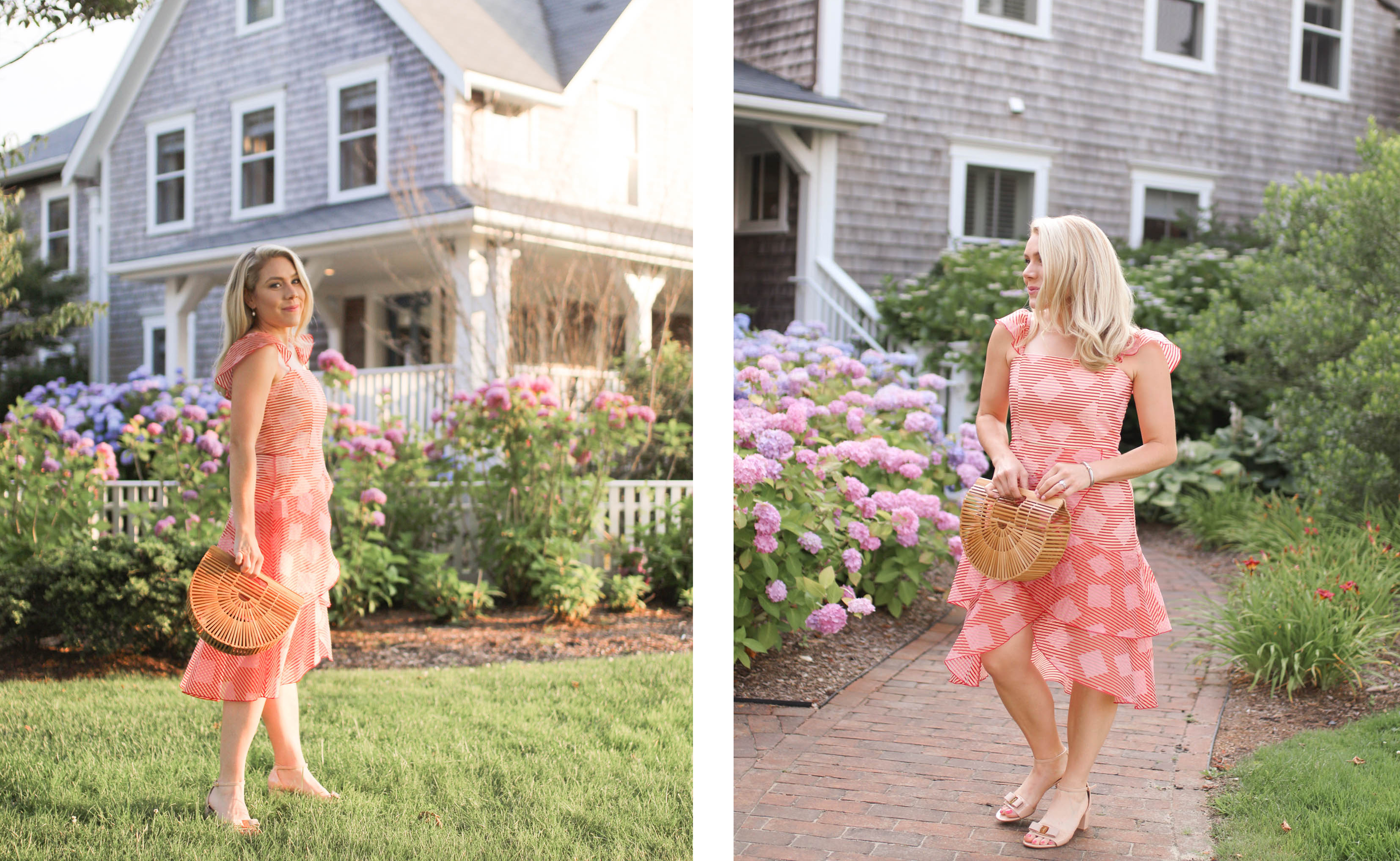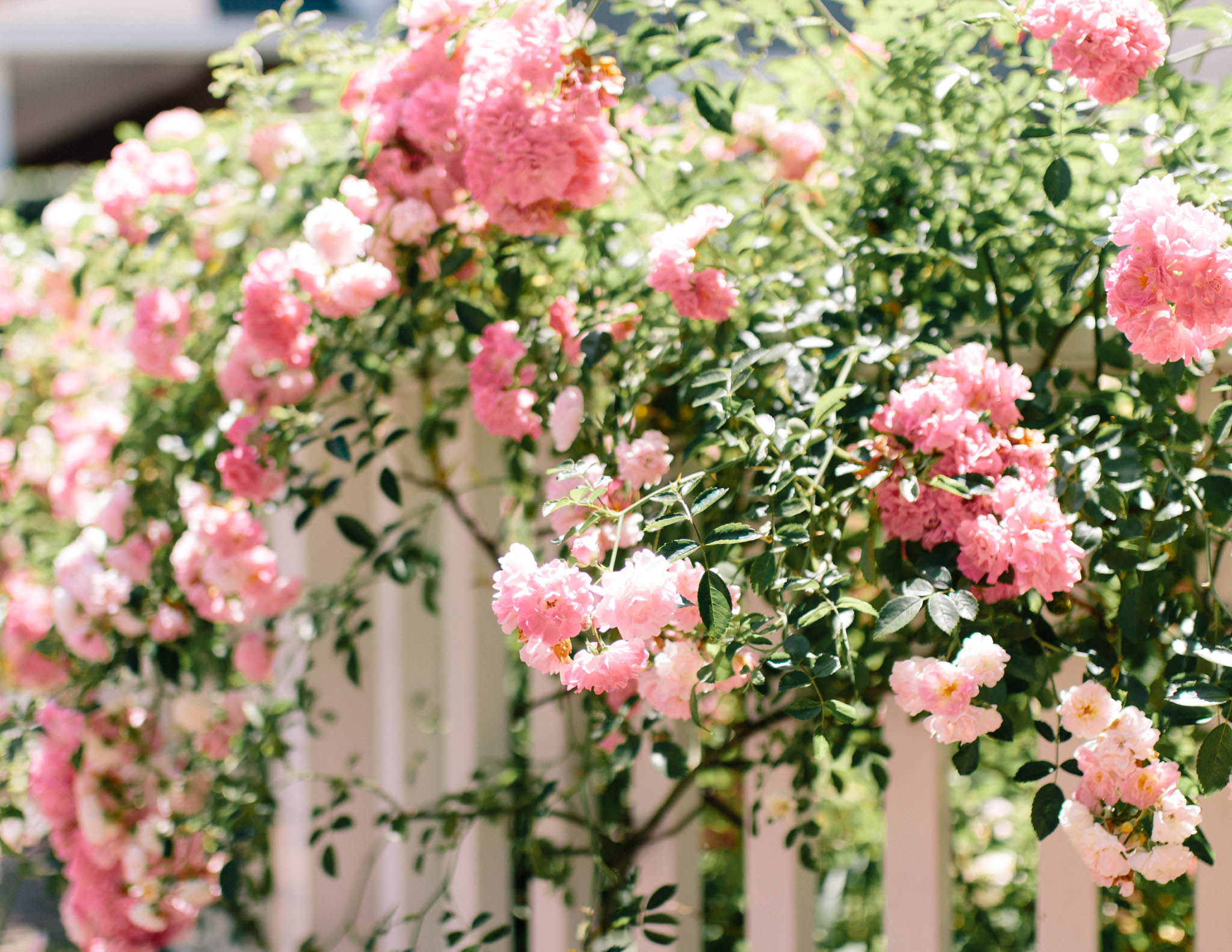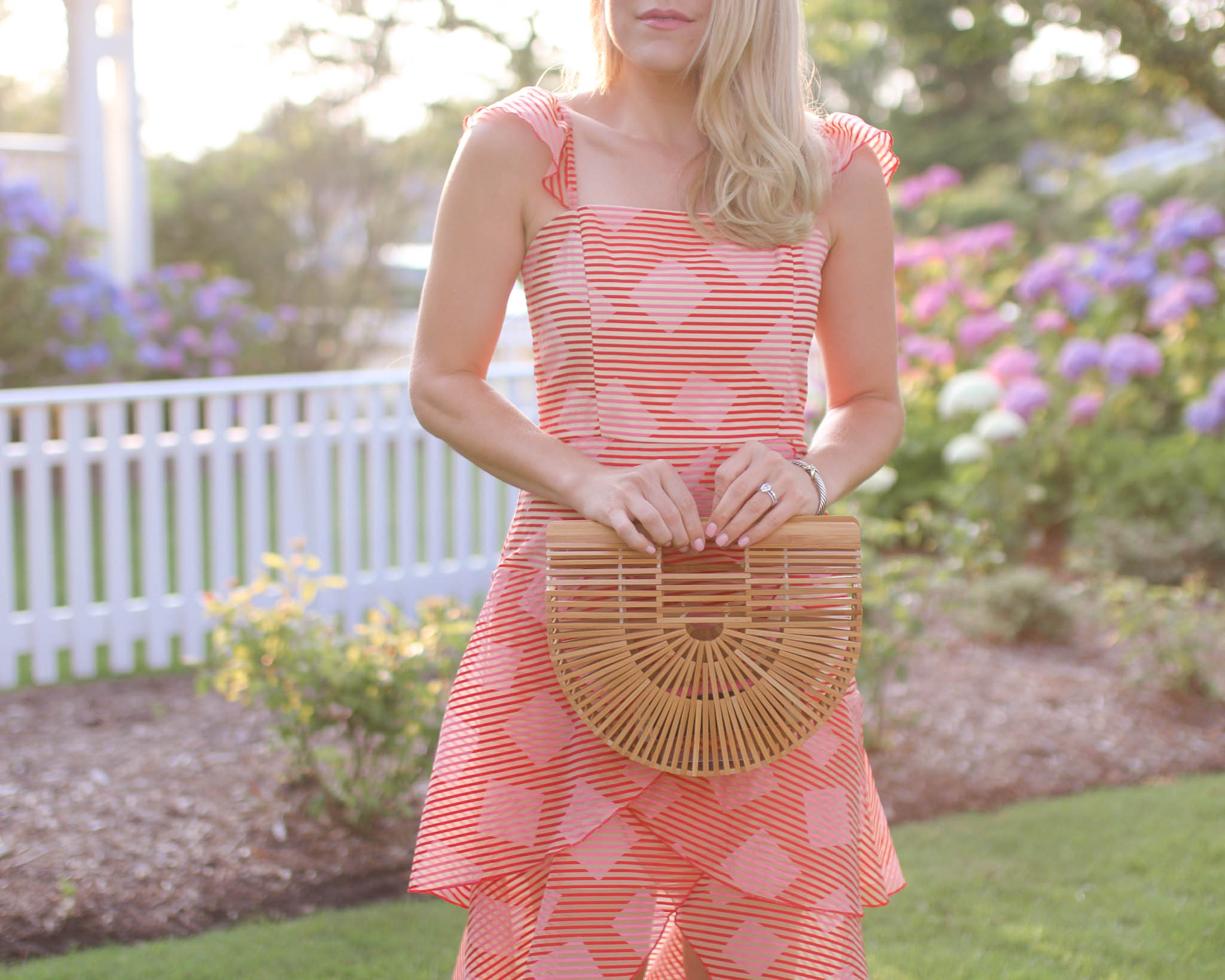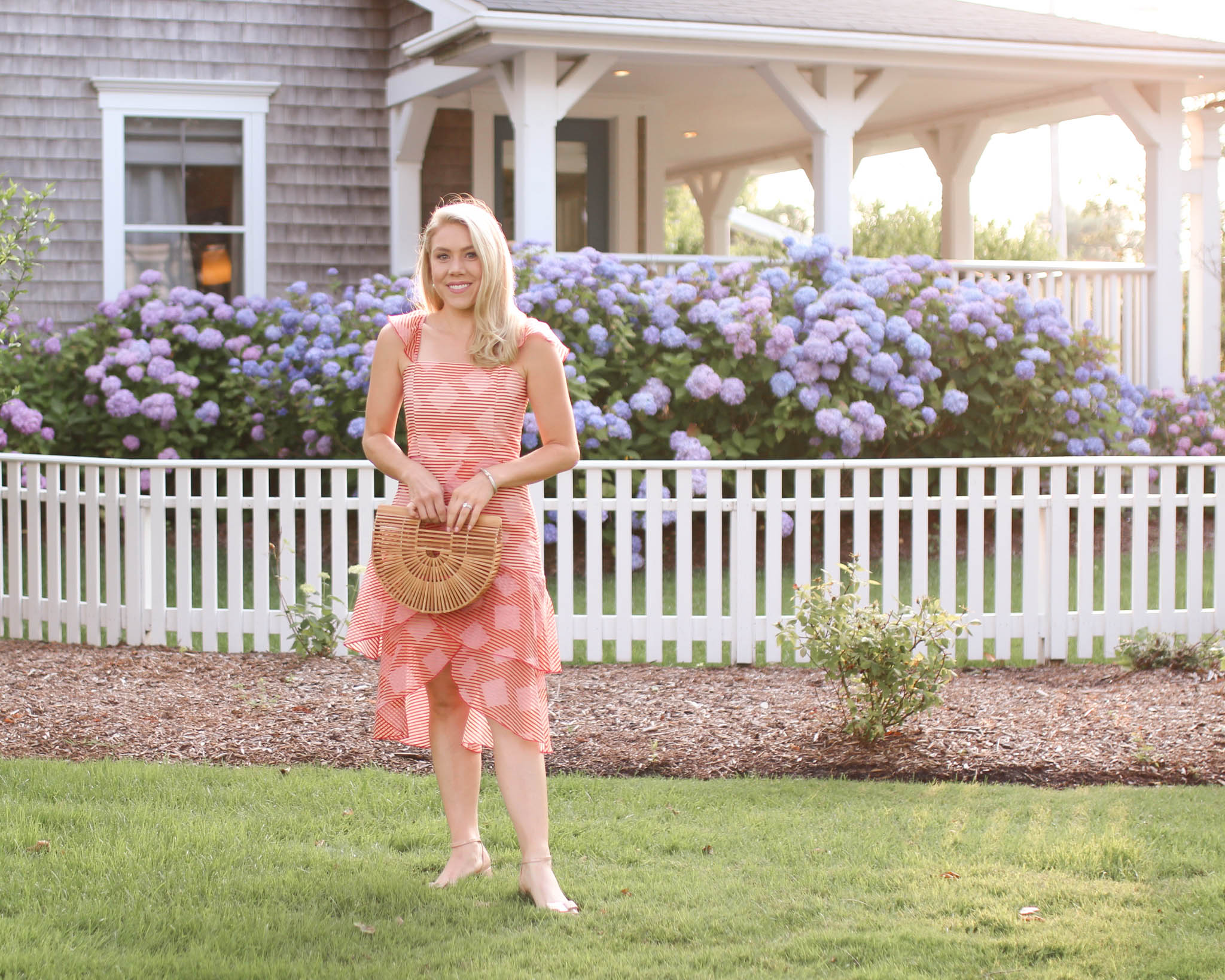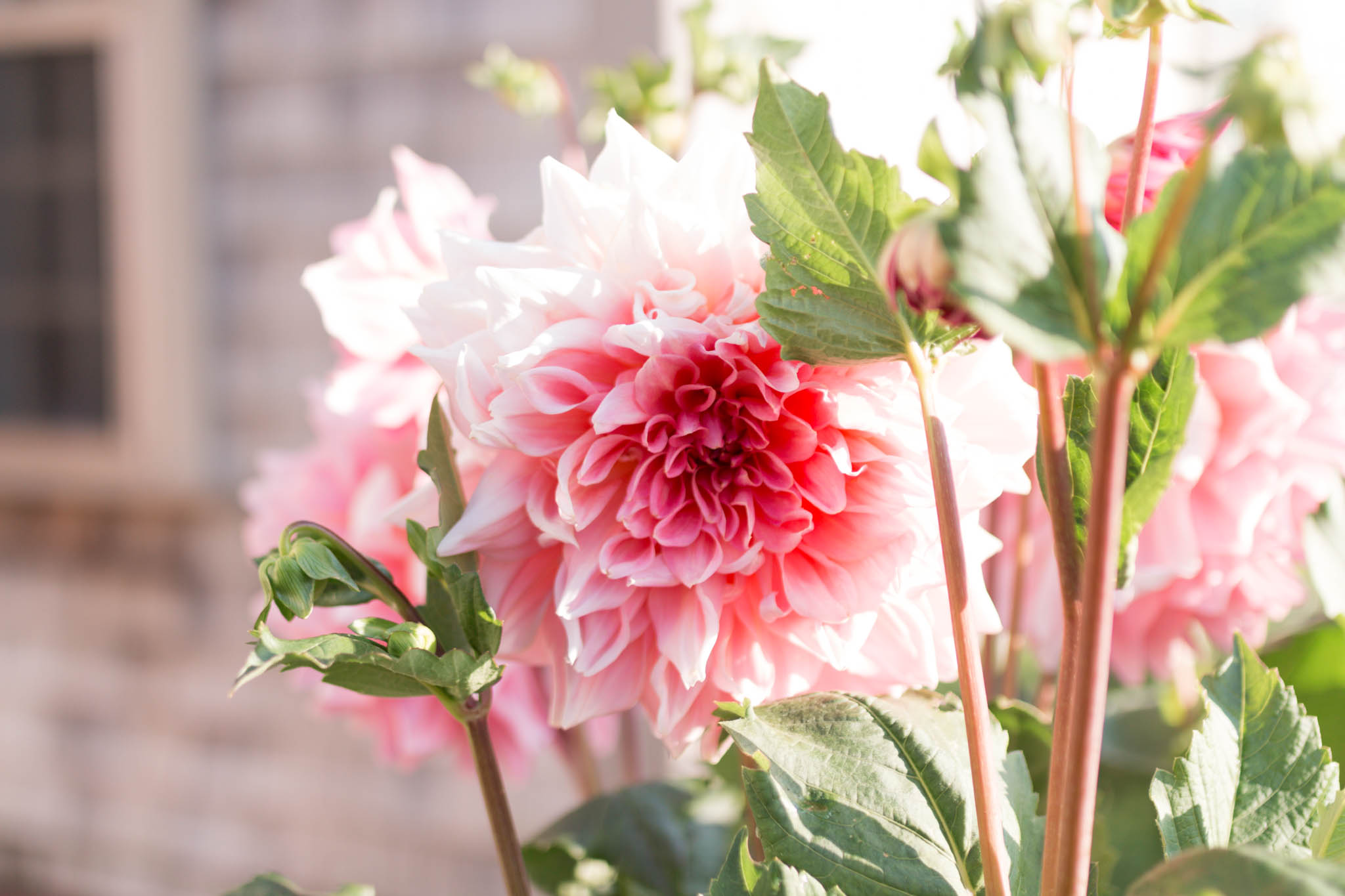 Make sure to check out my Nantucket review, especially if you have plans of visiting for the first time! I hope this post gave you an idea of the island's climate and what to pack so that you are most prepared. Keep in mind, these tips are specific to summer months, though I can't imagine fall would differ with the exception of a few more layers. They say September is a really great time to visit too. If you have any questions about what to pack, or even specific details about the island, please reach out – I'm happy to help in any way I can!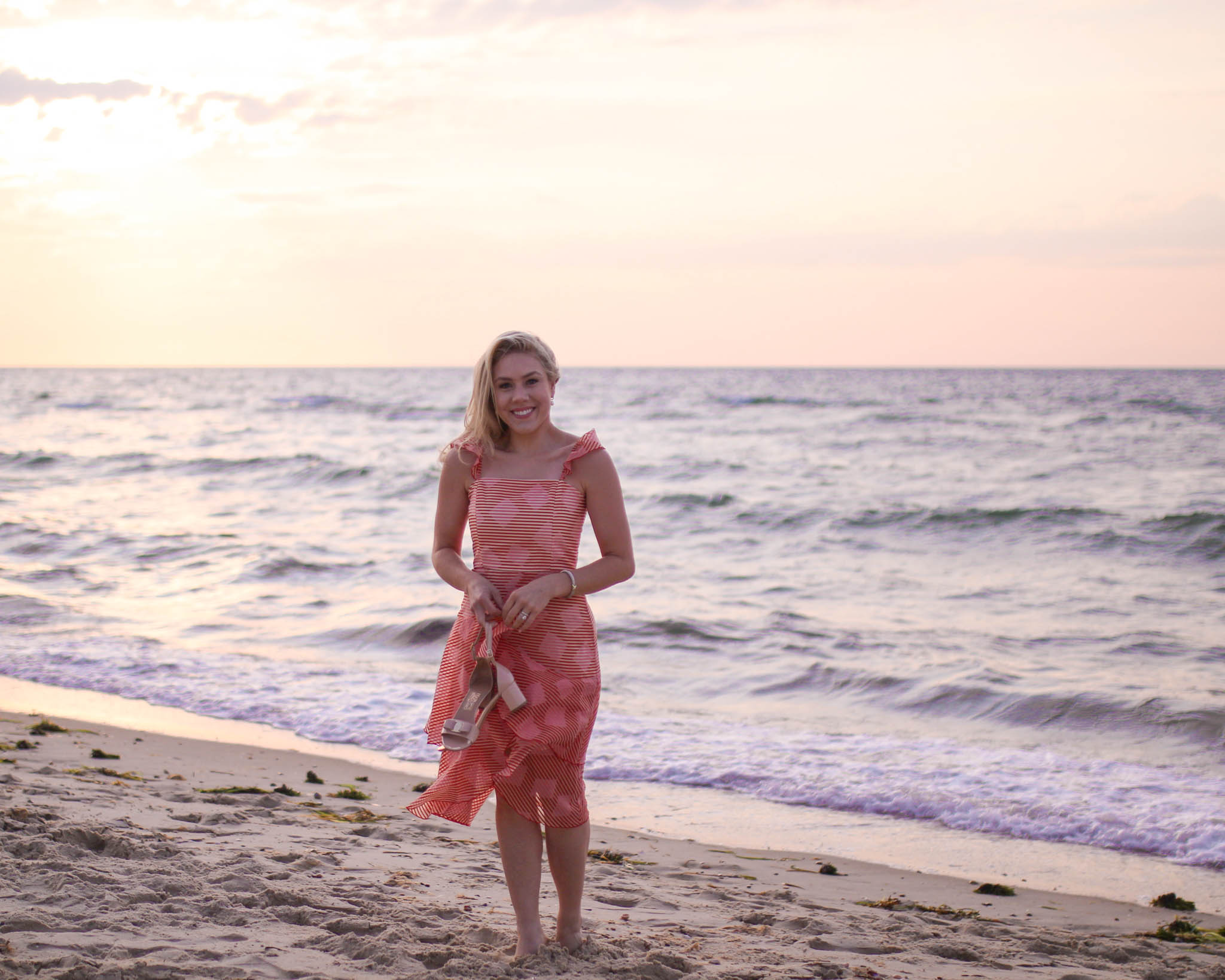 Have a wonderful week! Check back later in the week for a fun home-related post that's specific to new and/or first-time homeowners.
xx, Taylor-Rae