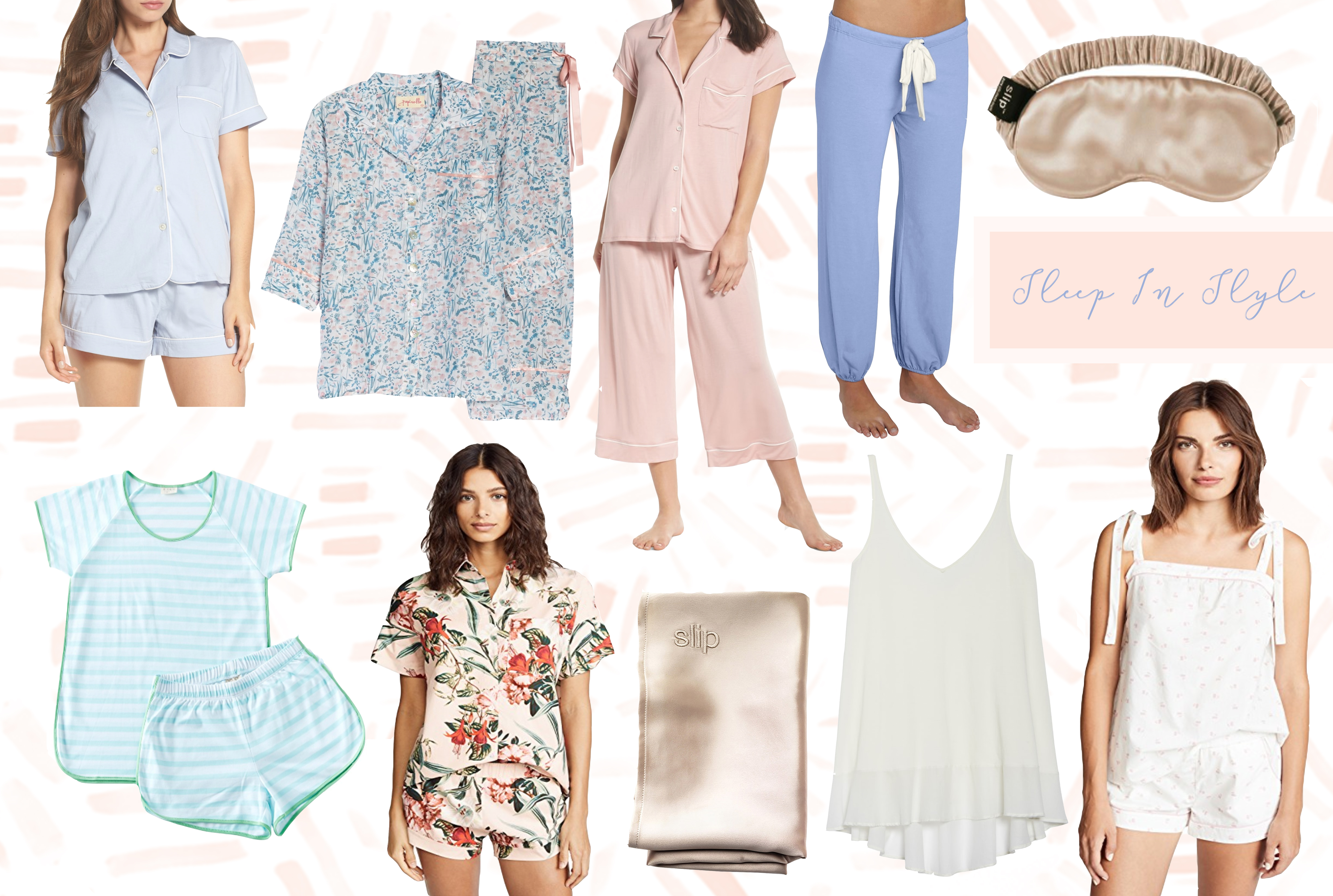 Left to Right
One | Two | Three | Four | Five | Six | Seven | Eight | Nine | Ten 
Justin always jokes that the minute we get home, I'm in my pajama's in the blink of an eye. I can't help it, I love to get comfy at the end of a long day and there are few things comfier than pajamas. Cute, über soft pajama sets are kind of my thing – they make so happy!
Now, I'll be the first to admit, until recently my nighttime selection mostly consisted of old college t-shirts and comfy shorts. I usually just threw on whatever I could find that was relatively clean to wear to bed. But then we moved in to our new house and something about having a beautiful new bathroom, bed and bedding urged me to step up my sleepwear game. I first purchased this striped set by Lake (the softest things you'll ever wear) to see what all the fuss was about. It took one nights sleep for me to realize I had been doing it all wrong! Some of my favorites pajama sets include Lake short sets, anything and everything by Eberjay, cotton and jersey sets by J.Crew, and most anything from Anthropologie.
Below are my top recommendations for comfy-cute pajama sets and lounge pieces that have seriously changed my life, helped me get a good nights rest and become my latest guilty pleasure, if you want to call it that.
Short Sets:
Short sets with button-front tops are my absolute favorite! I can't stop buying them! Not only will they keep you cool at night, they're totally functional for those super lazy days when you find yourself still in your pj's are the dinner table.

Pants Sets:
We're the people who sleep better when it's cold. Even in the dead of winter, our thermostat is set on 68 (I know, we're crazy). Pant sets are great for cold, winter nights. If you're like me and tend to get hot at night, opt for breathable cotton or jersey pajamas over silk, polyester or flannel materials. Also, if available, opt for tops with crop or sleeveless options.

Nightgowns:
There's something so effortless and sexy about a sleep shirt. They're great for traveling too considering they take up virtually no space in your suitcase. I'm more of a shorts girl myself, but I recently purchased this cotton nightgown (incredibly soft and breathable) that I've kept in rotation.

Joggers:
You can never go wrong with a pair of soft leggings or joggers. They pair well with a plain white tank and are perfect for early nights in, curled up on the couch. I tend to like them fitted, but not restricting, and usually prefer pants with a cinched or fitted hem (keeps them from creeping up).

Robes:
I wear them while getting ready in an effort to guard my clothes from getting covered in makeup and hair products. Though I own several, I find myself constantly reaching for my satin, light weight robes. If you love snuggly options, you can't beat the comfort of the Barefoot Dreams brand.

Accessories:
Justin and I both sleep on the Slipsilk Pure Silk Pillowcase. Being a hot-natured sleeper (to be so cold during the day), I was a bit skeptical of the silk material at first however, I've been pleasantly surprised! I can totally vouch for this anti-aging, anti-face crease, anti-bed head pillowcase case so much that I purchased the Slipsilk Pure Silk Sleep Mask weeks later. I find the slight pressure of the sleep mask to be soothing. The silk is non-absorbing further allowing product to absorb in to the skin. An added bonus, pop it into the fridge for a few minutes before bedtime! You can thank you me later. 🙂 We also recently purchased a DOHM sound machine after so many of you had recommended it. We love ours and have trouble sleeping in total silence now. When traveling we will listen to the "Nightstorms" playlist on Spotify or the Relax Melodies App. With the App, you can pick and choose the combination of sounds you like. We typically like a mixture of white noise, ocean and slow waves.

Sleepwear Tip:
Once you've added some new pj's to your sleep repertoire, don't forget to check the care instructions (off topic, but same with activewear and intimates). I stopped drying my pajamas in an effort to keep them in peak condition after recently loosing my favorite (and somewhat pricey) pair. Learn from my mistakes, ladies.
Let me know your favorite style of sleepwear? I've developed quite a love for rotating my pajamas and scooping up new ones for the changing season.
Also, if you're not already, make sure to follow me on Instagram.
xx, Taylor-Rae