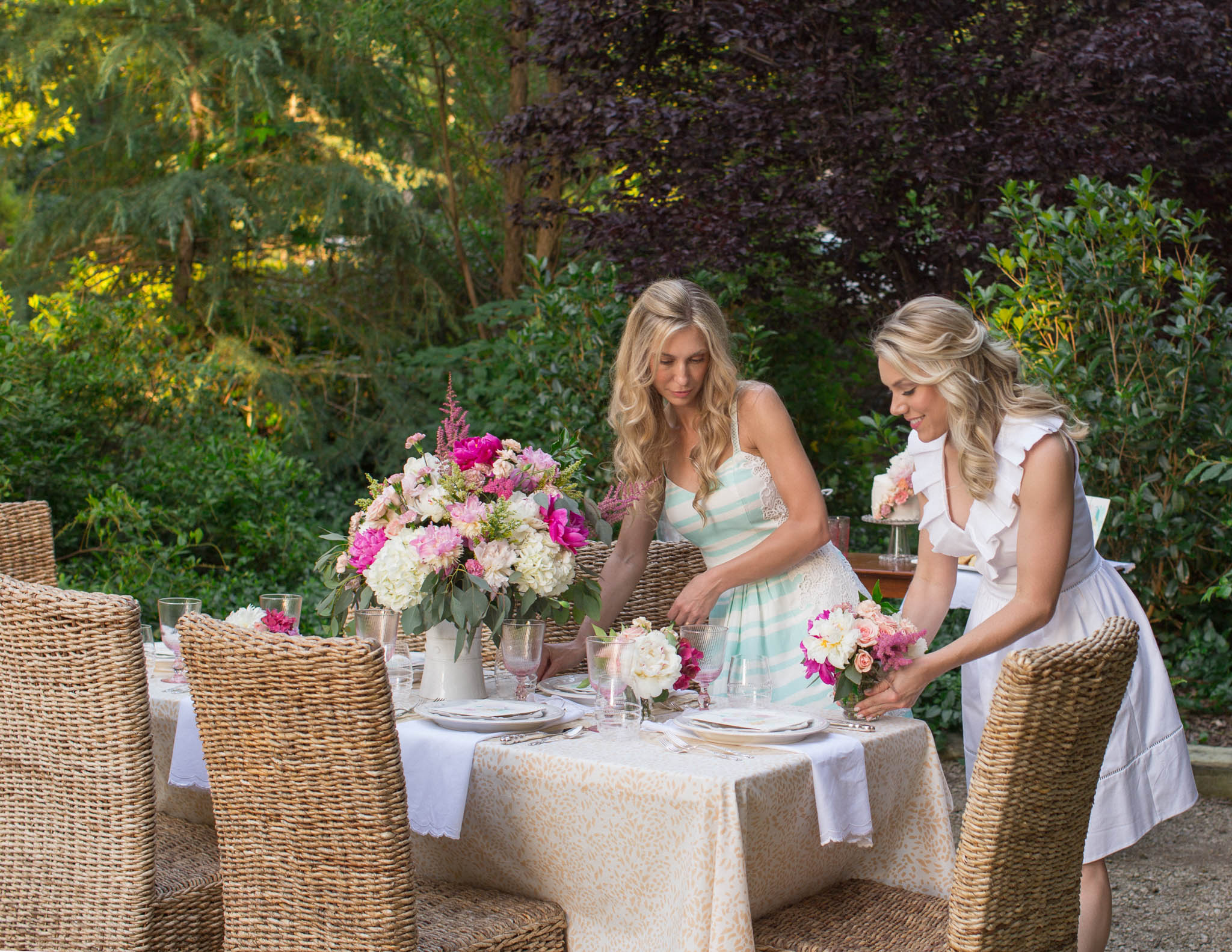 Tablescape Details:
 Mia Malcolm Studio Art | India Amory Tablecloth | Juliska Placemats | Juliska Dinner Plates | Julsika Scallop Plates | Juliska Goblets | Juliska Glasses
My mom, whom all my life has been a consummate entertainer with a love for antiques and traditional dishes, would always plan the most lavish of seasonal brunches, her favorite being outdoor celebrations. She loves the art of piecing together a beautifully themed table for guests to gather around, and maybe it's inherent, but the art of entertaining has long been a passion of mine too.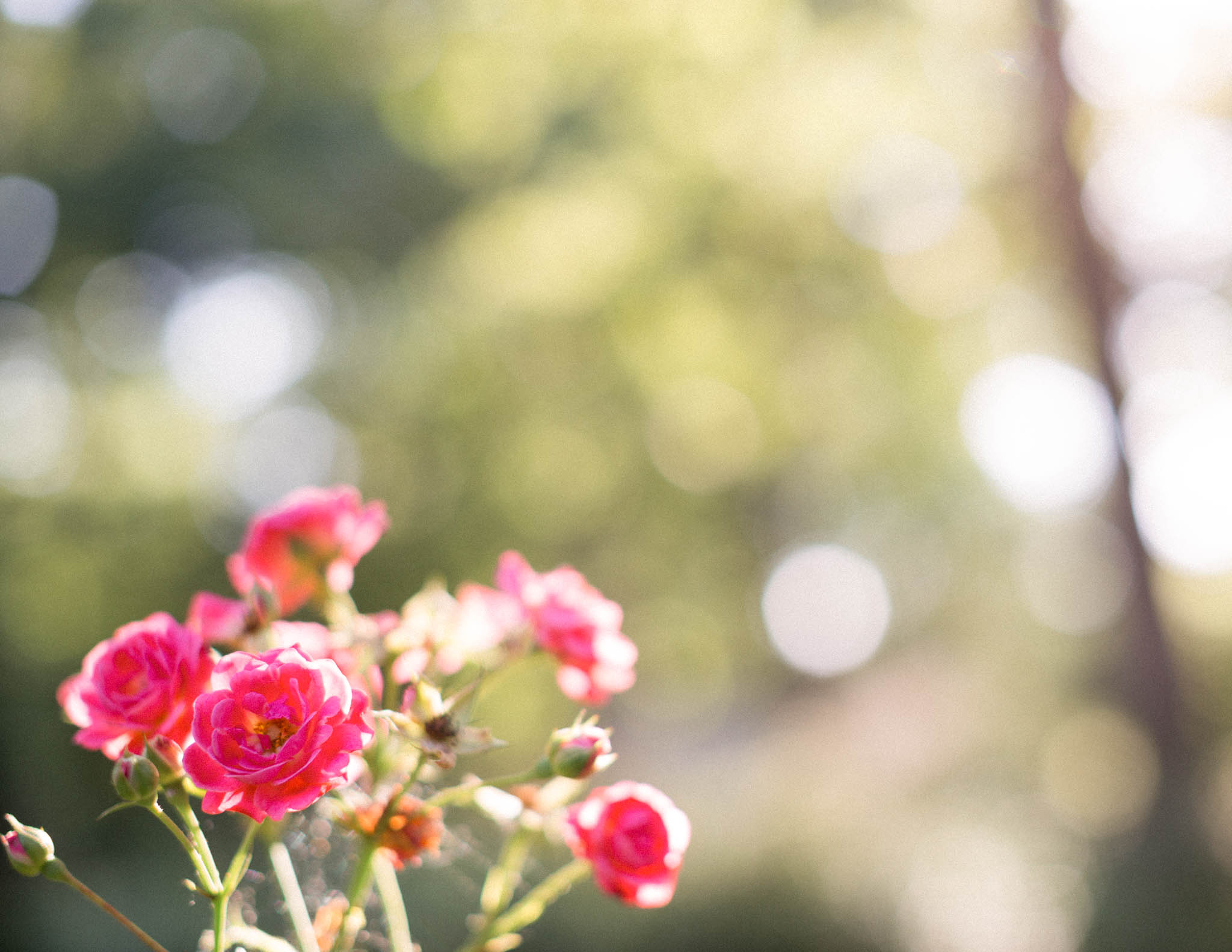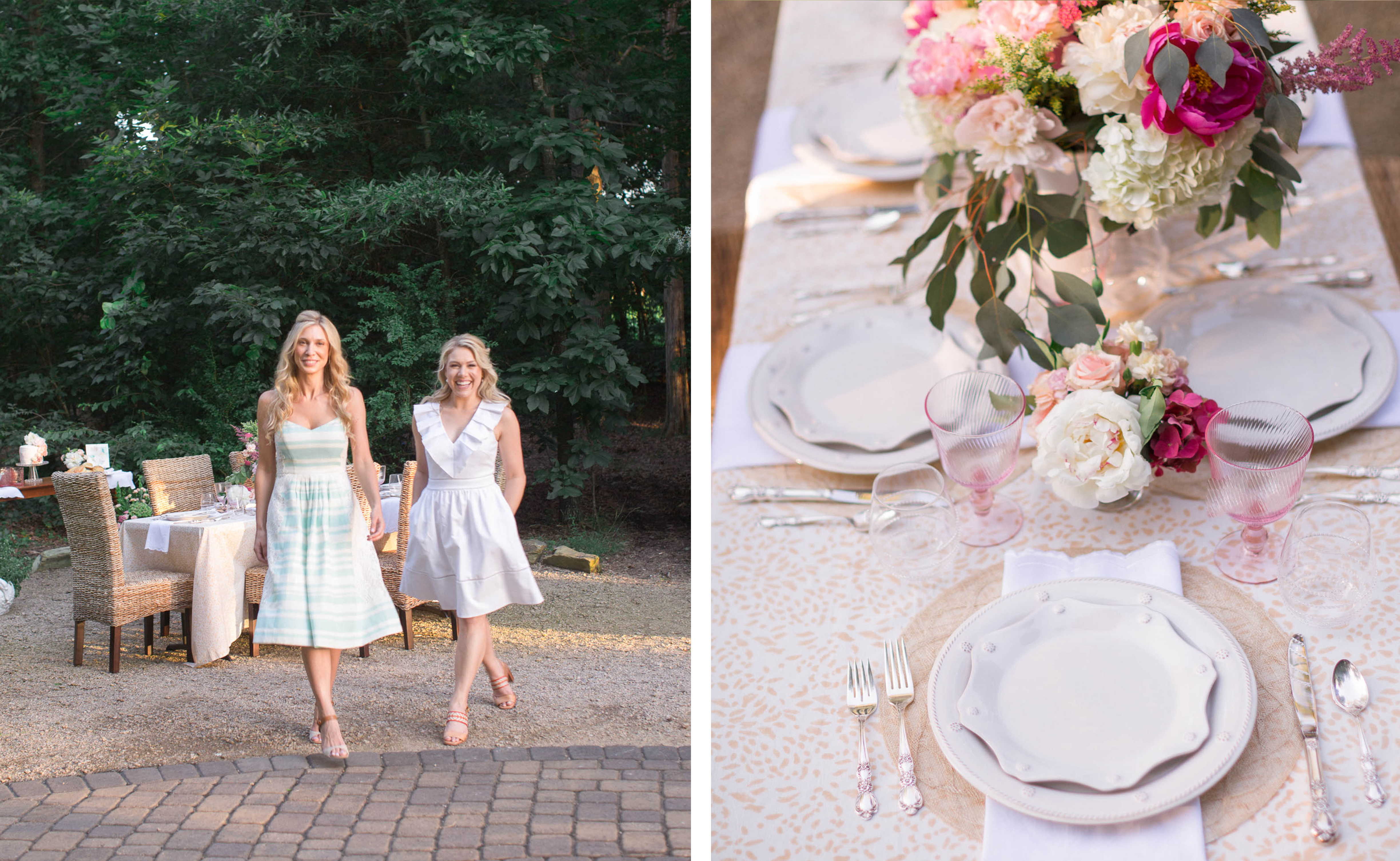 I've a slight addiction to hunting down anything artisanal on our getaways and local outings, and was perusing an interior design boutique here in Charlotte when I came to learn of Juliska, a collection of mouth-blown Bohemian glassware and luxury tableware. Justin and I had recently moved into our first home and were in search of new everyday dinnerware that was functional, yet also beautifully made. The Berry & Thread's simple "Whitewash" color and design immediately captured our attention and has since evolved into quite a growing collection. The simple pattern enables me to layer the table depending on the occasion, rather it be a casual dinner for two or dare I say, an outdoor fete?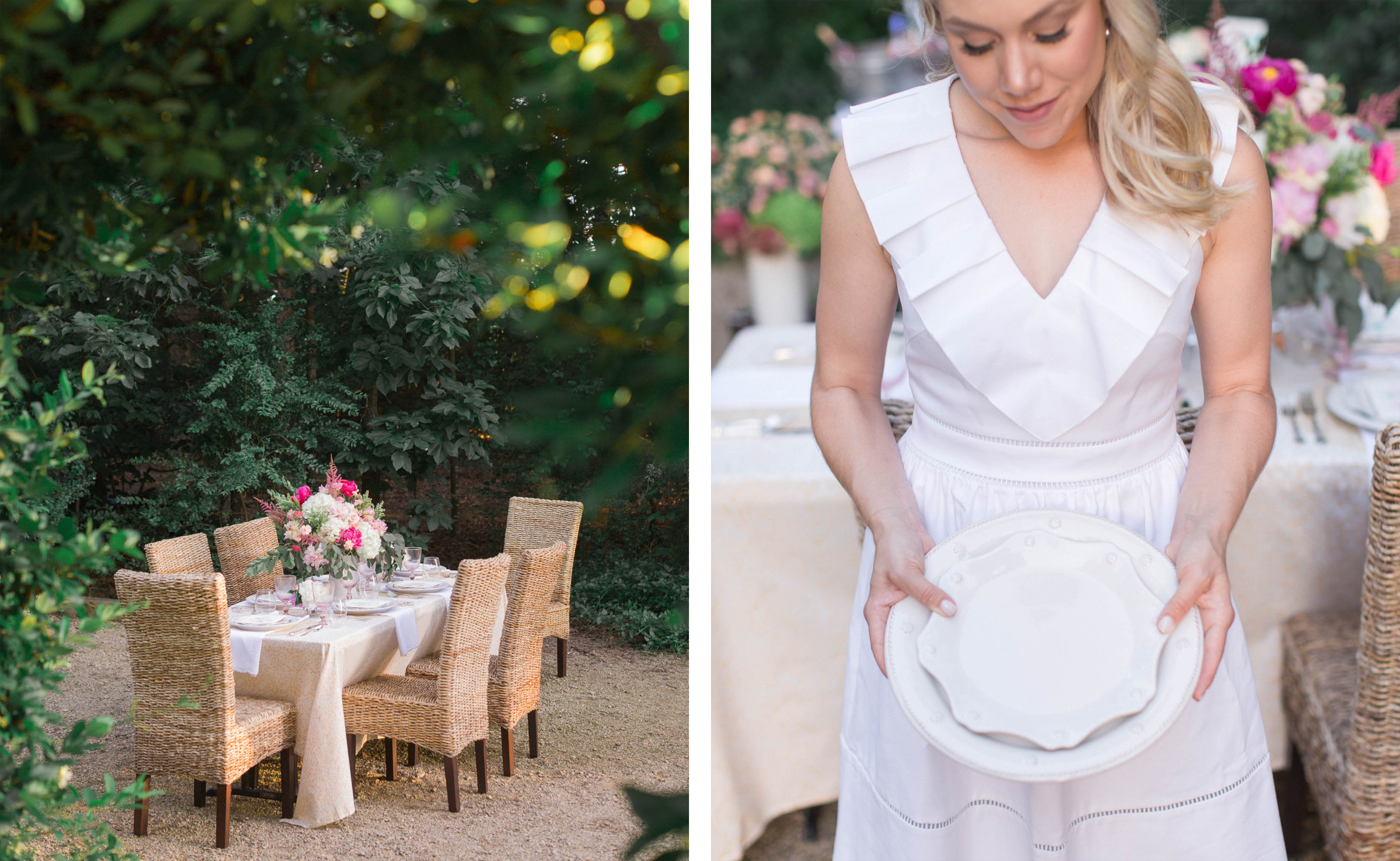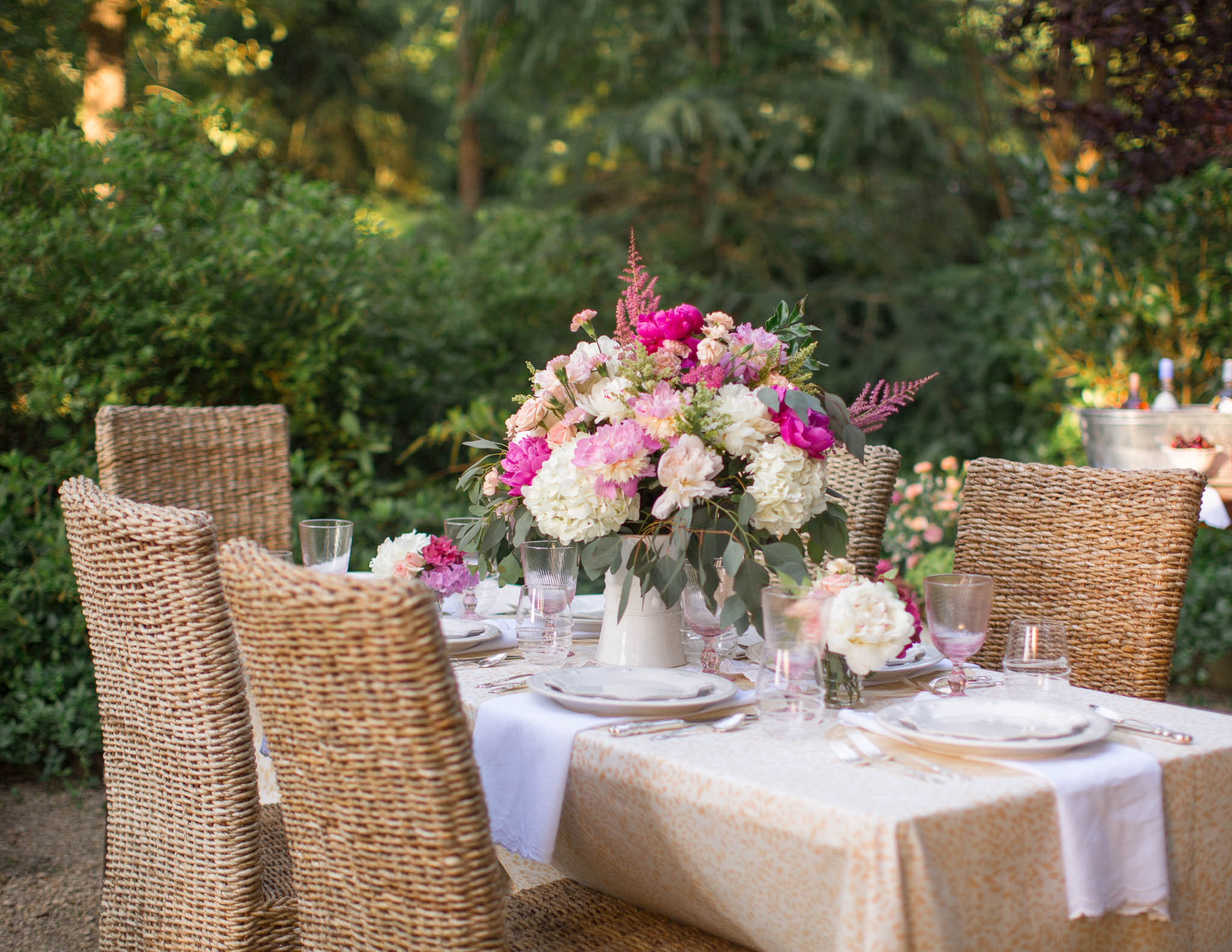 When Juliska contacted me with the interest of working together to create a delicious summer inspired tablescape, I nearly leap my seat! Literally! To work with brands whom I genuinely love and adore is the most special and rewarding part of what I do. This called for an intimate outdoor celebration and I had just the idea in mind: an outdoor table set among the lush gardens at Morning Glory Farm.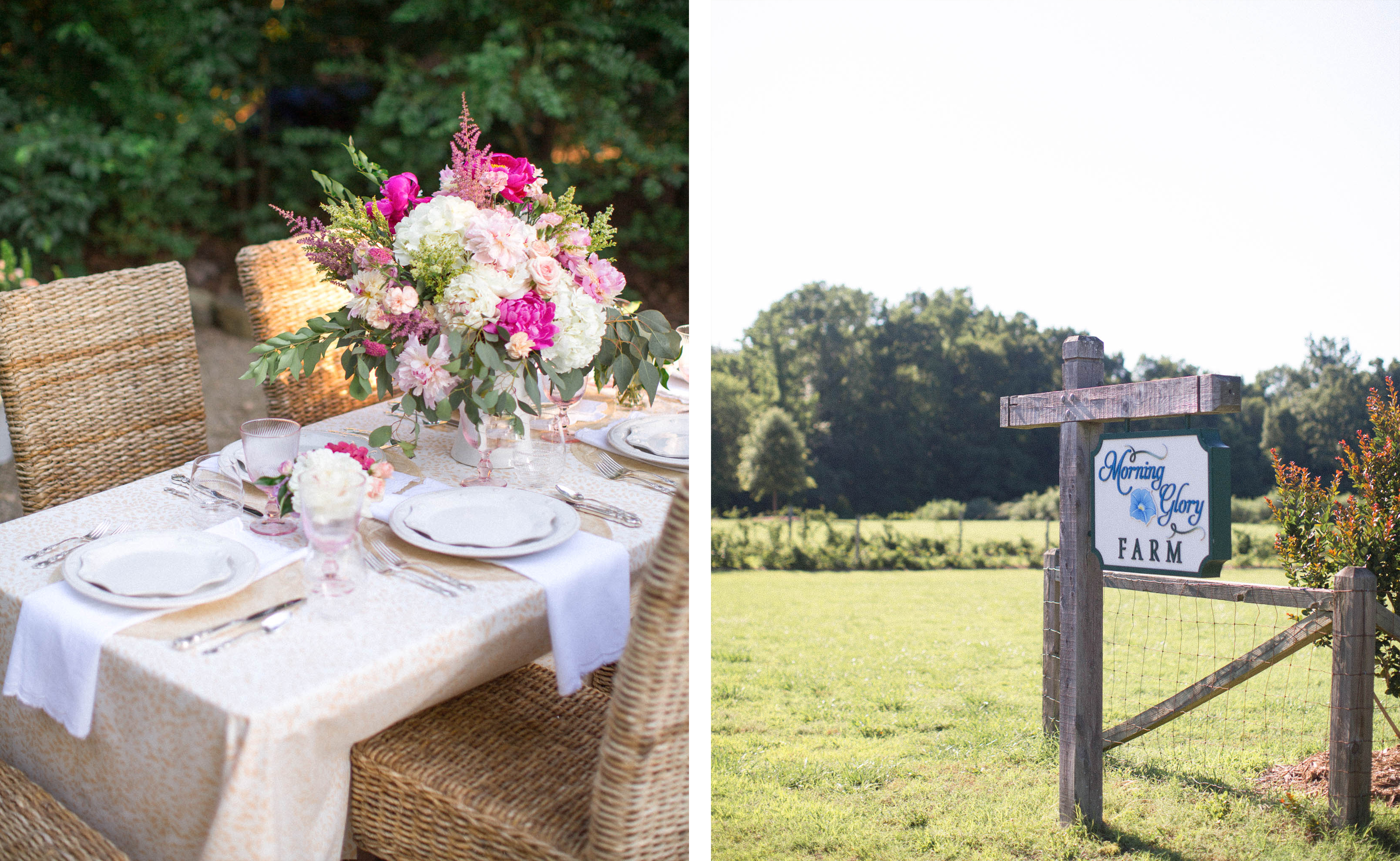 Most everything used to create this table is widely available and very easy to replicate at home. Below are my simple steps on dressing up a summer table to remember. 
Tablecloth. This table spread started with this gorgeous India Amory tablecloth. I have long admired Julia Amory's one-of-a-kind, handmade collection and felt the cream spot pattern in particular would add a pretty, but subtle layer to the tables design. The warm hues also compliment our Julsika whitewash plates so beautifully.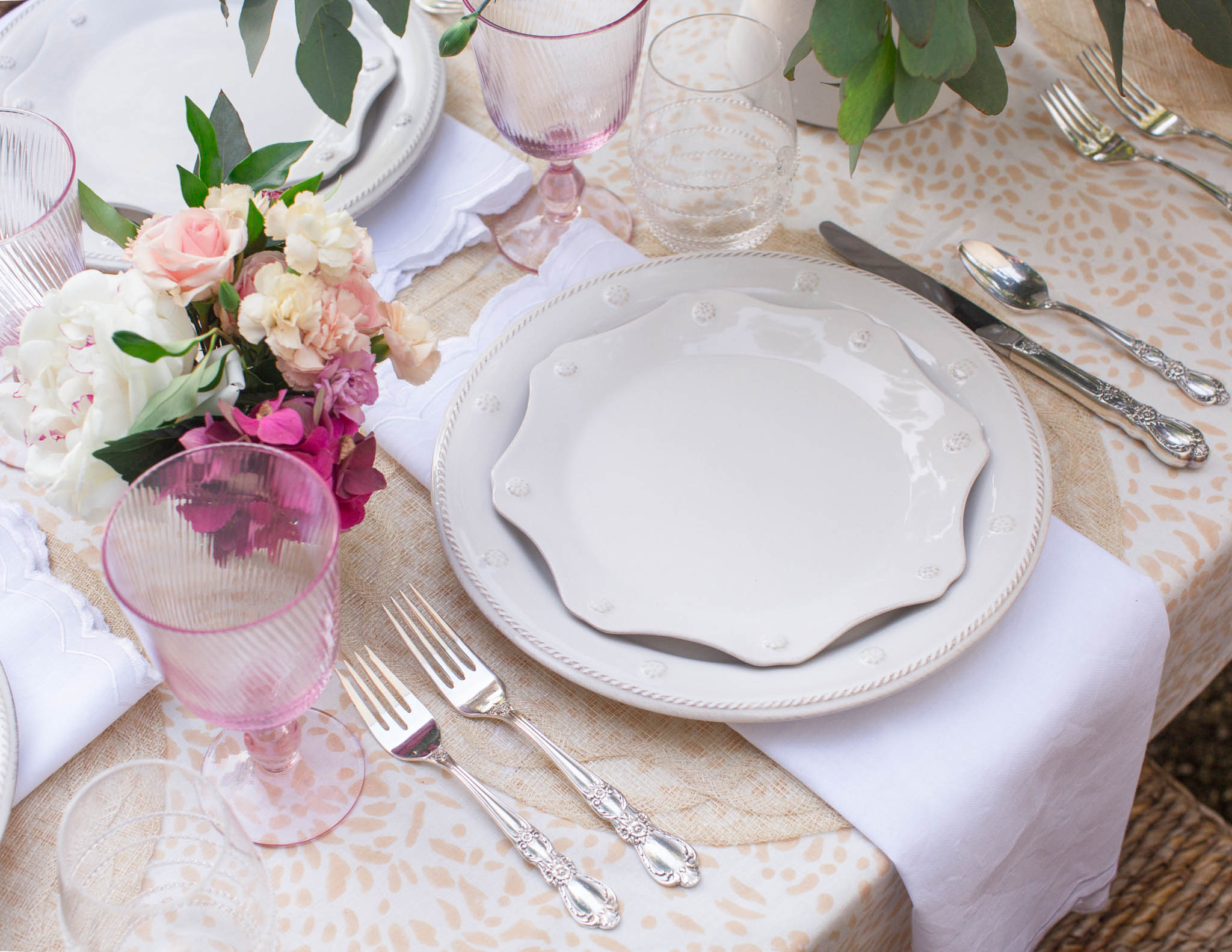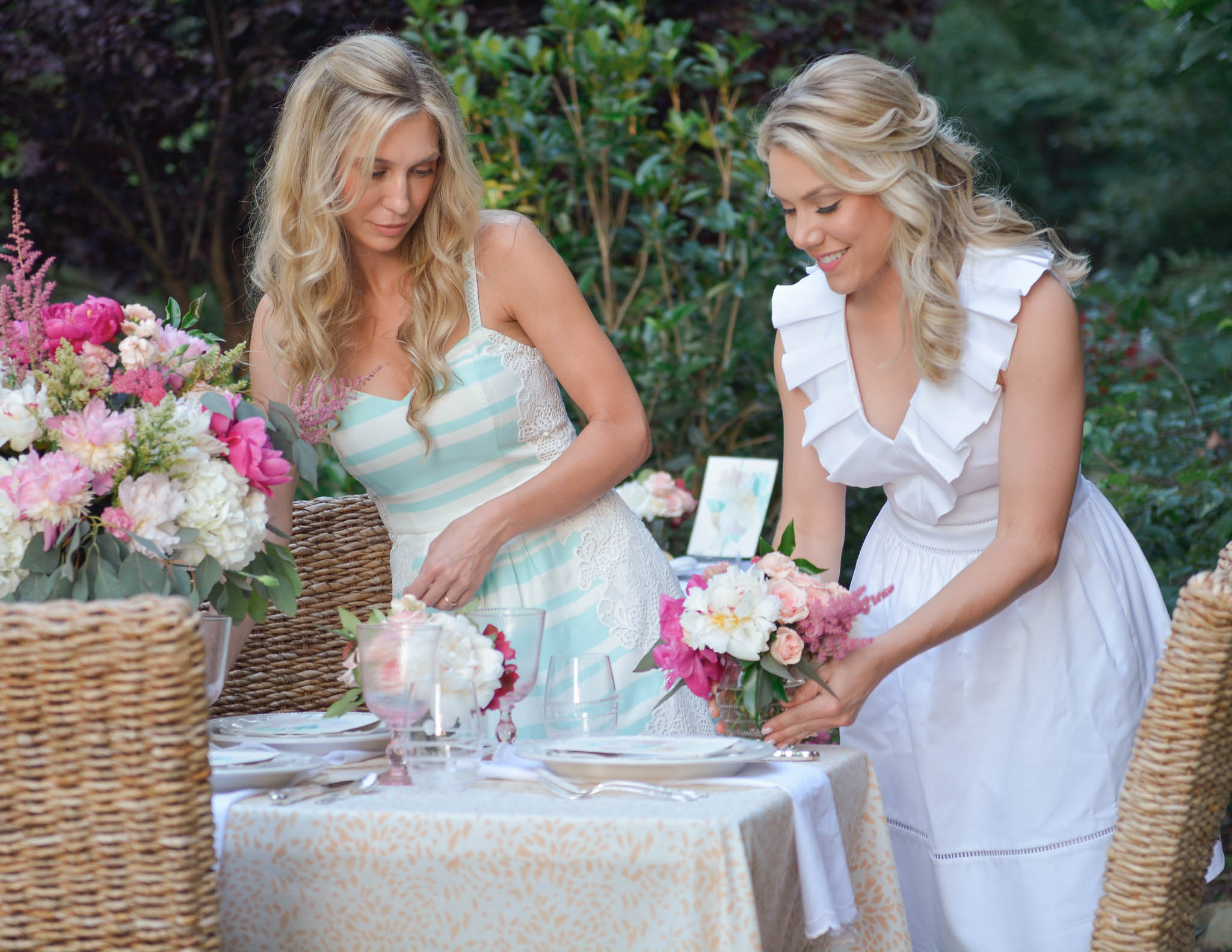 Flowers. Almost immediately I envisioned threads of caramel, blush and peachy tones to help create a warm and inviting atmosphere. Peonies are a crowd-pleaser and very much a staple of summer; they're full, feather-like petals add such a sophisticated touch that I knew would make an impressionable accent! All of the flowers used were sourced from Trader Joe's. I purchased them several days prior and cut the stems at an angle before placing them in the fridge to keep them fresh. When making the arrangements, a few flowers were gathered from the garden out back. Oh, and, our Julsika utensil crock made the perfect vase for the centerpiece! 🙂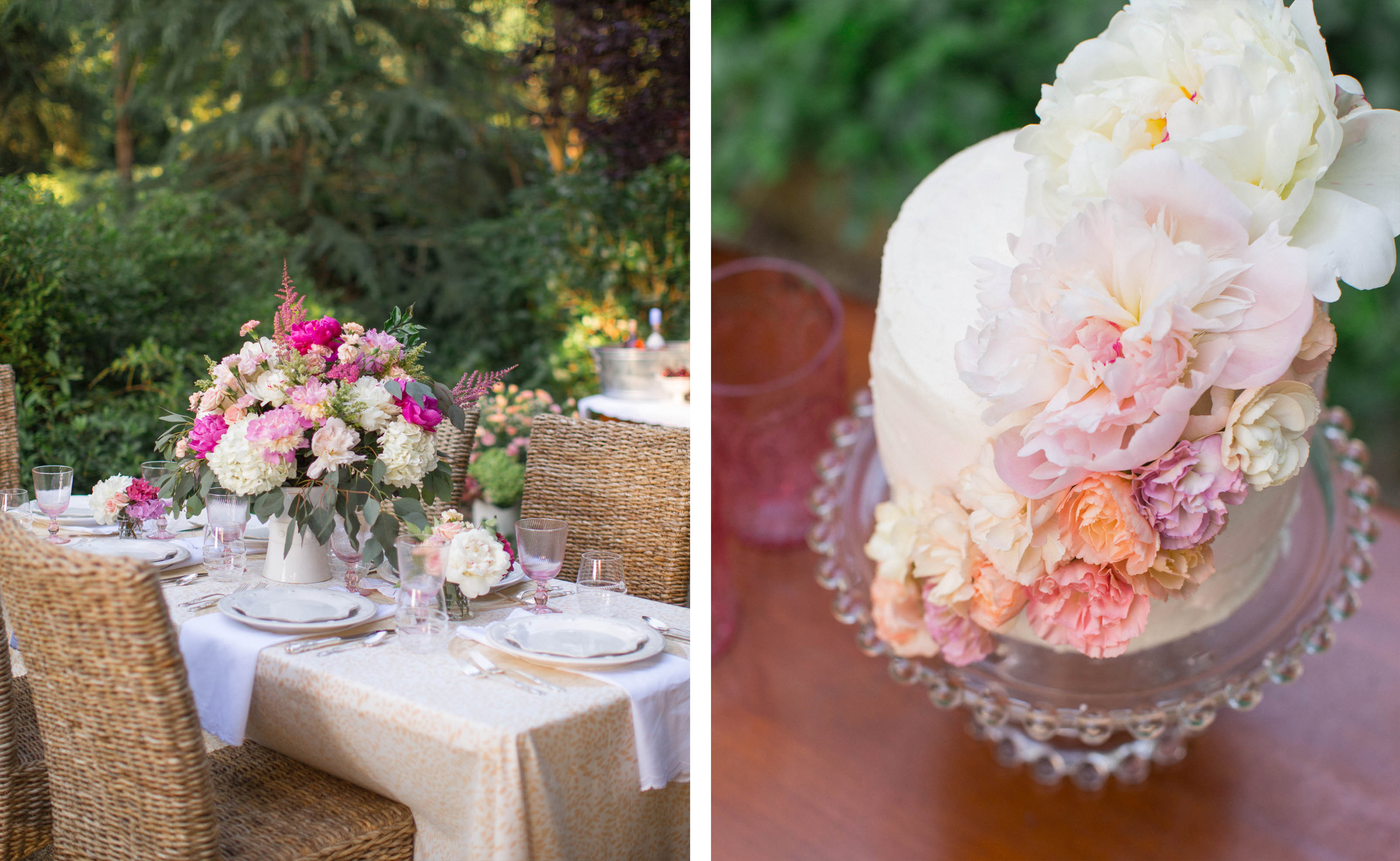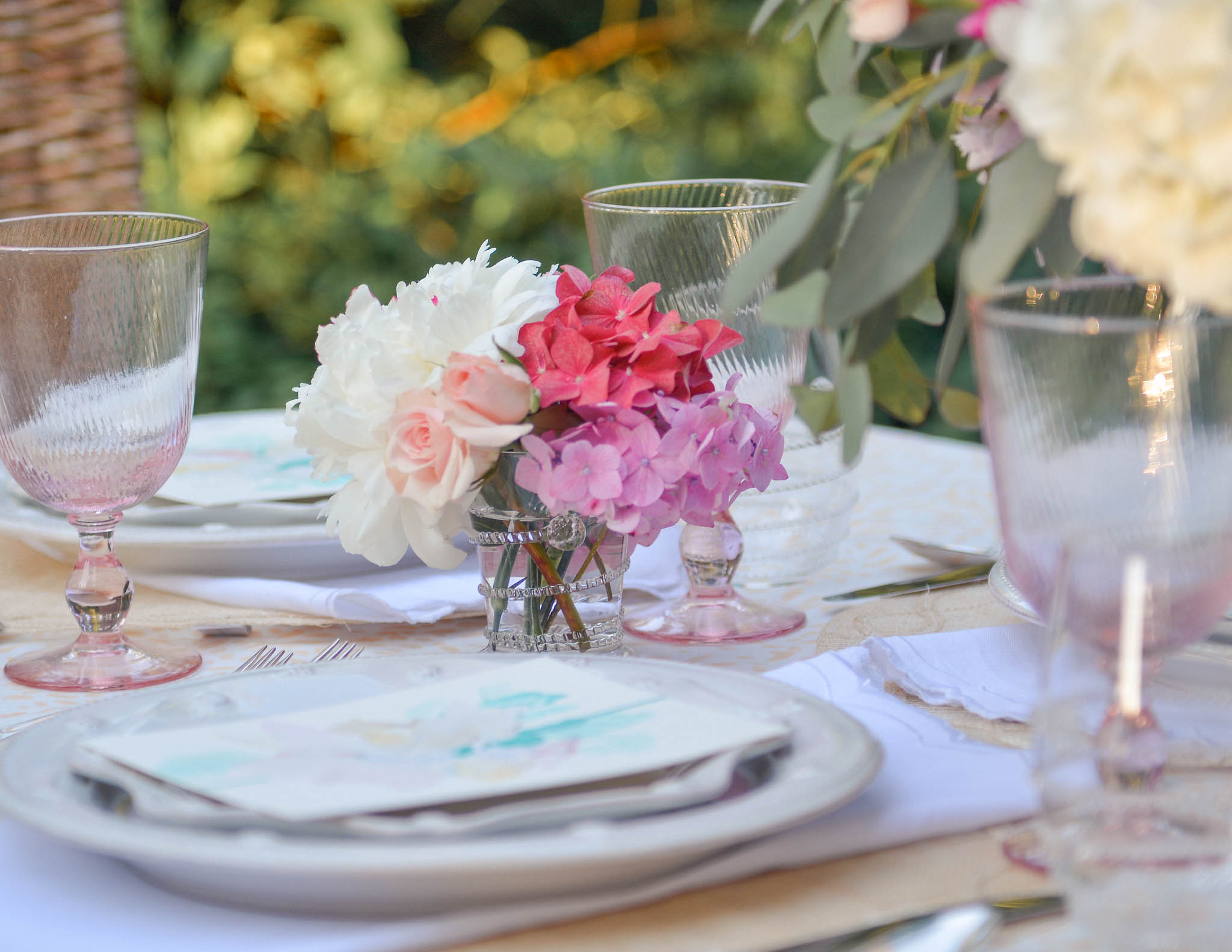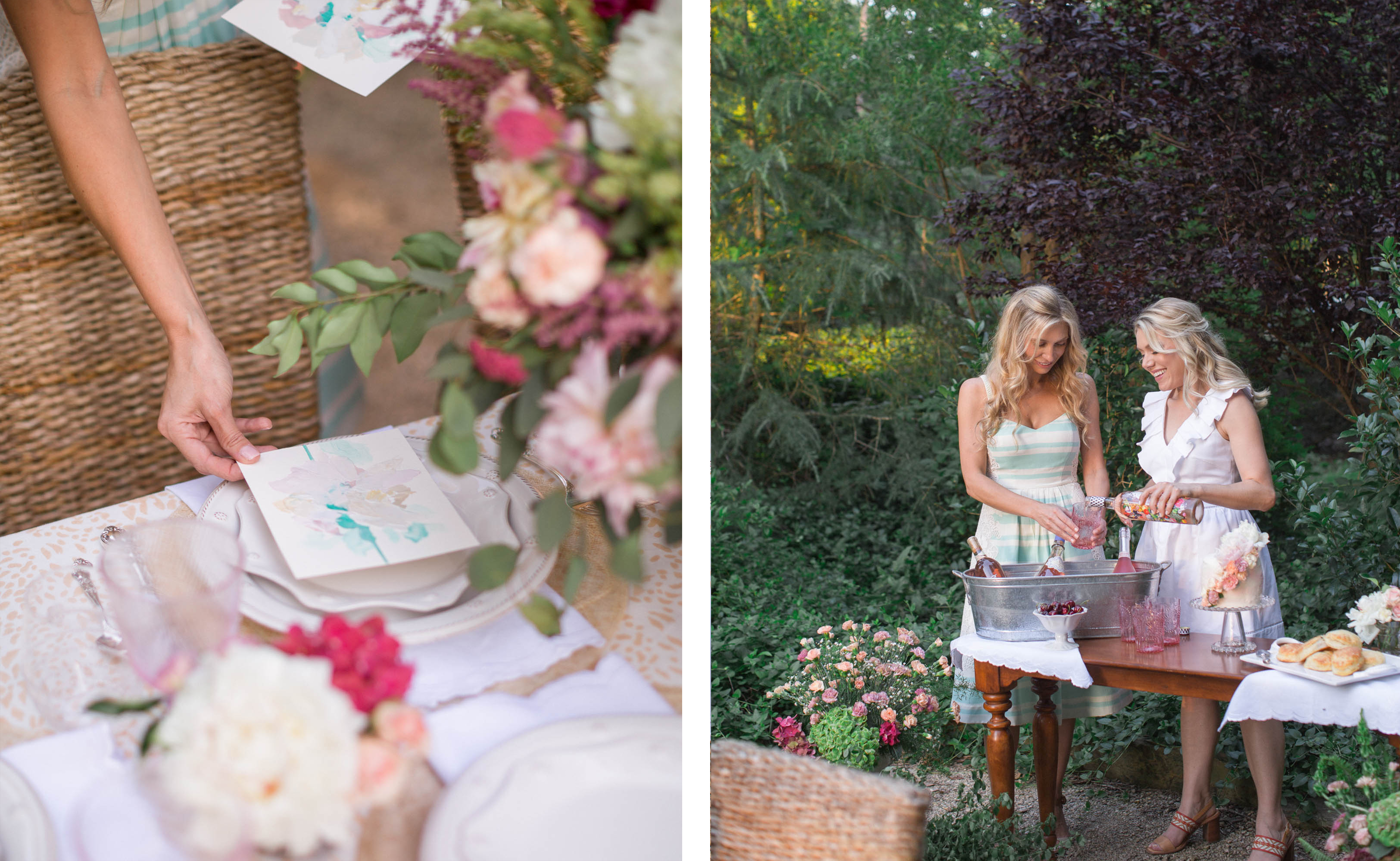 Pretty Plates & Accessories. I love the feminine, ruffled Juliska plates and the scalloped edge on these heirloom Juliska napkins. Both keep the palate neutral enough to celebrate the bounty of summer flowers but are still decisively feminine. The Berry & Thread 'Whitewash' plates are timeless and classic. They could dress up any table no matter the season or occasion. I don't have many table setting "rules" (because I would probably break them!) but I do prefer there be two glasses: one for water and one for another celebratory drink – wine, berry cordial, or a fresh juice with a splash of fizzy water. I typically keep the napkin to the left of the plate, but to make the most of our space I opted to place it under the plate and, call me old-fashioned, but I love a good placemat. Juliska's garden placemat (inspired by the Tuileries of Paris) complimented the outdoor setting well.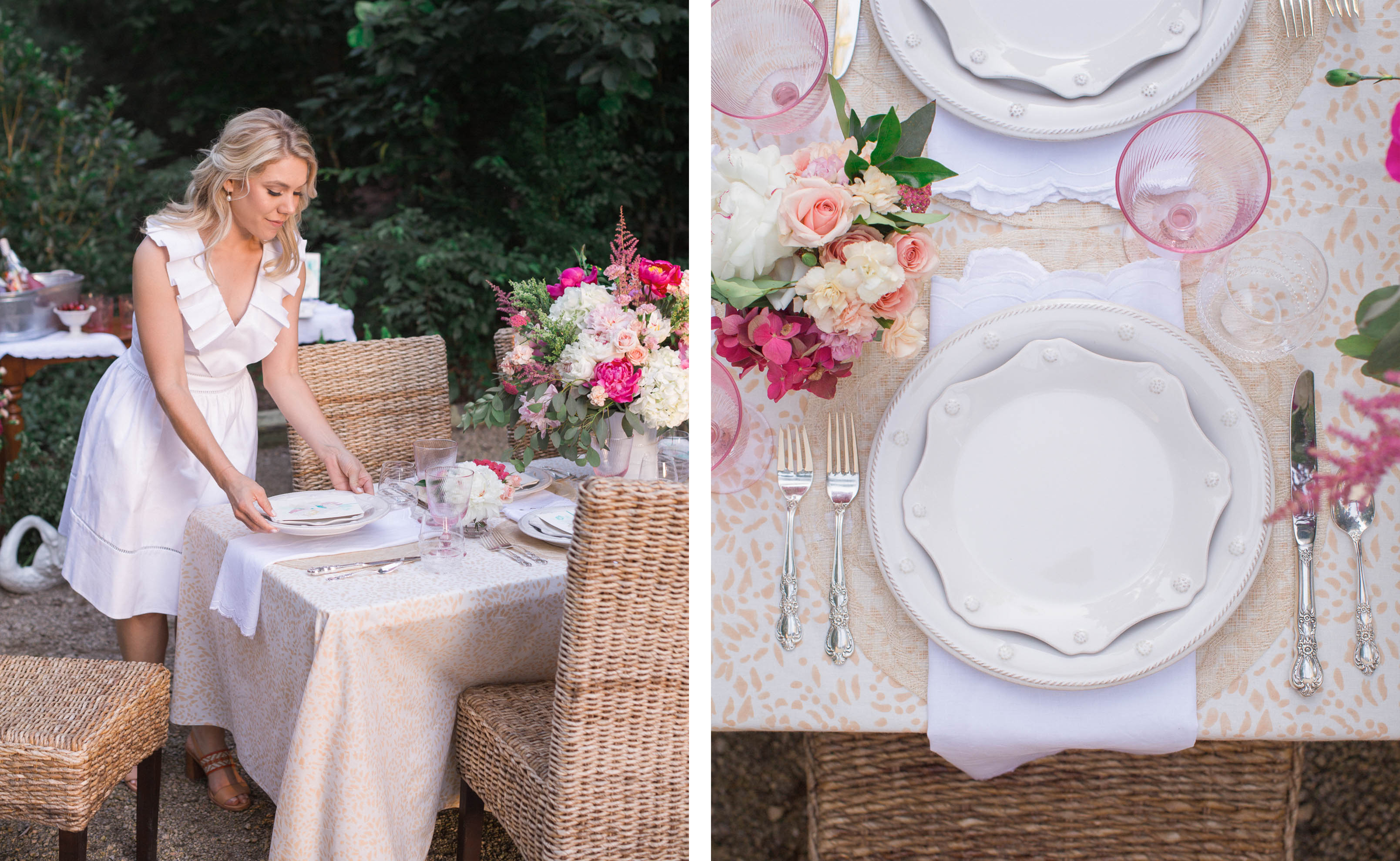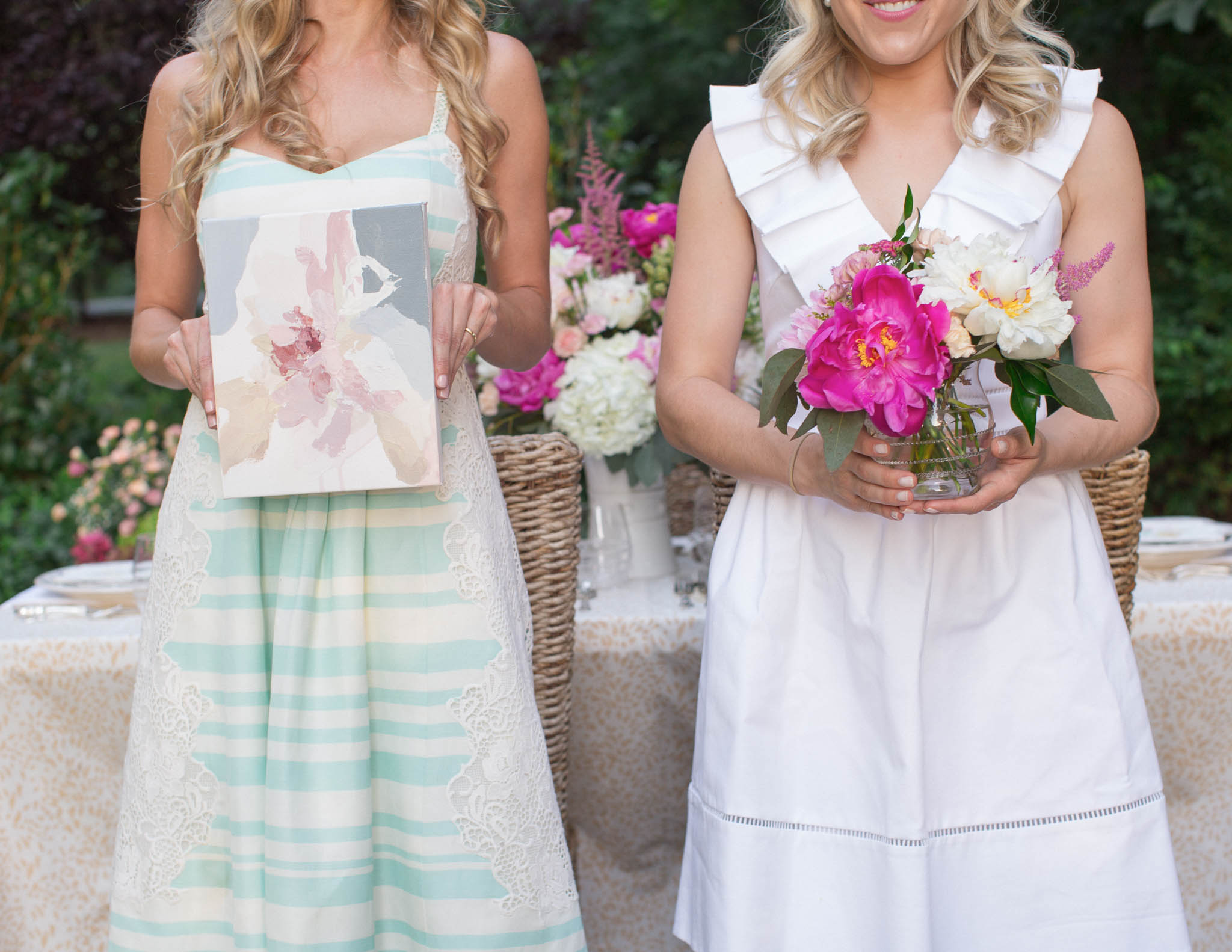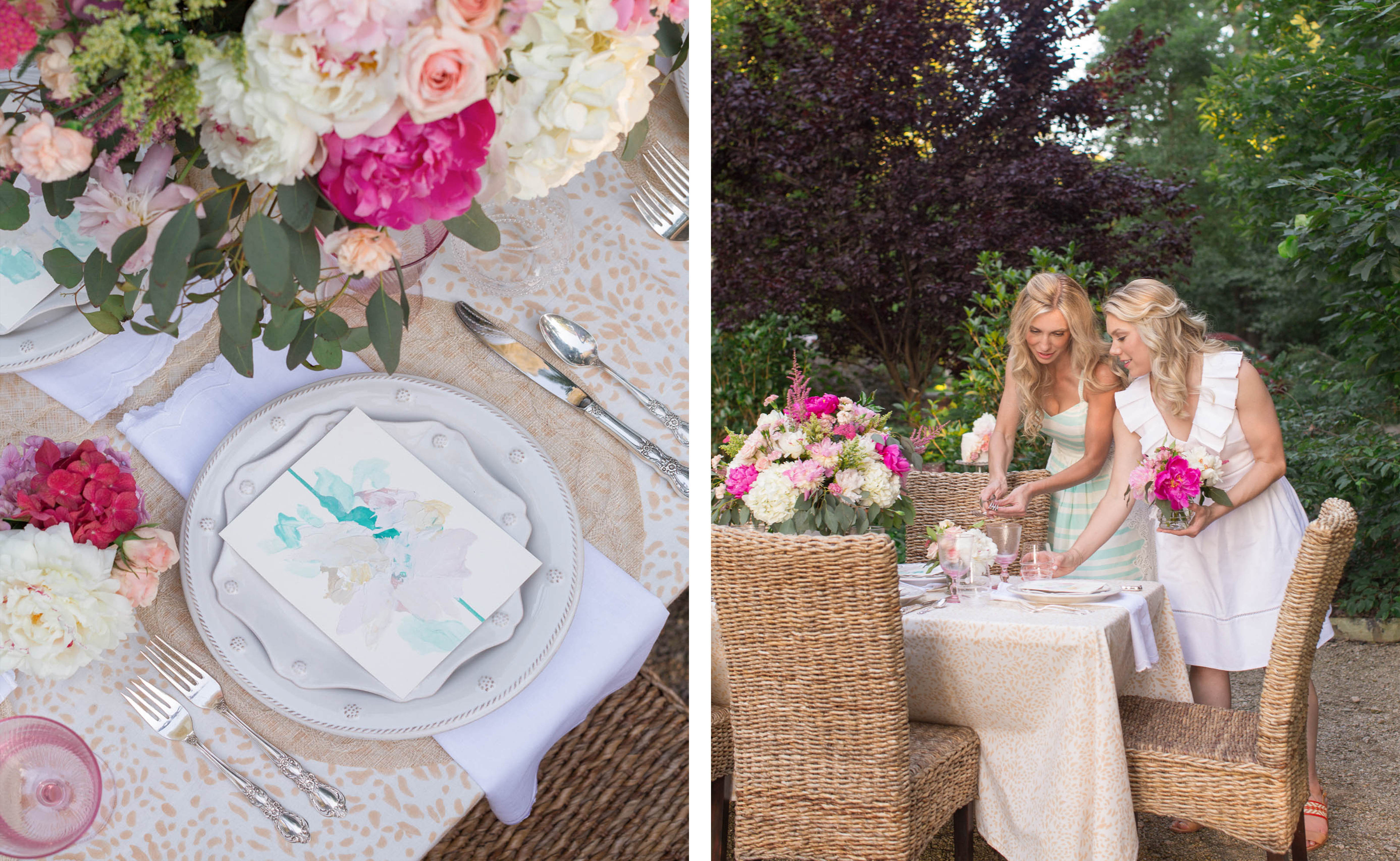 Gratitude. Surcee's are a real things here in the South, we thank our loved ones in celebration of a new season. A top each Juliska artisan plate I commissioned Marissa of Mia Malcolm Studio to create one of a kind pieces on water color paper for our guests to take home. Marissa, or "M", crushes french marble into her paint, creating scrumptious layers we all couldn't get enough of.  Each guest went home with a tiny piece of France, and I do love that!  Marissa and I were introduced by a mutual friend earlier in the year and immediately connected in such a special way. Kind, sincere and driven, she has an entrepreneurial spirit that I really admire! We are working on several large products together that I am itching to share. You'll love her too, I just know it!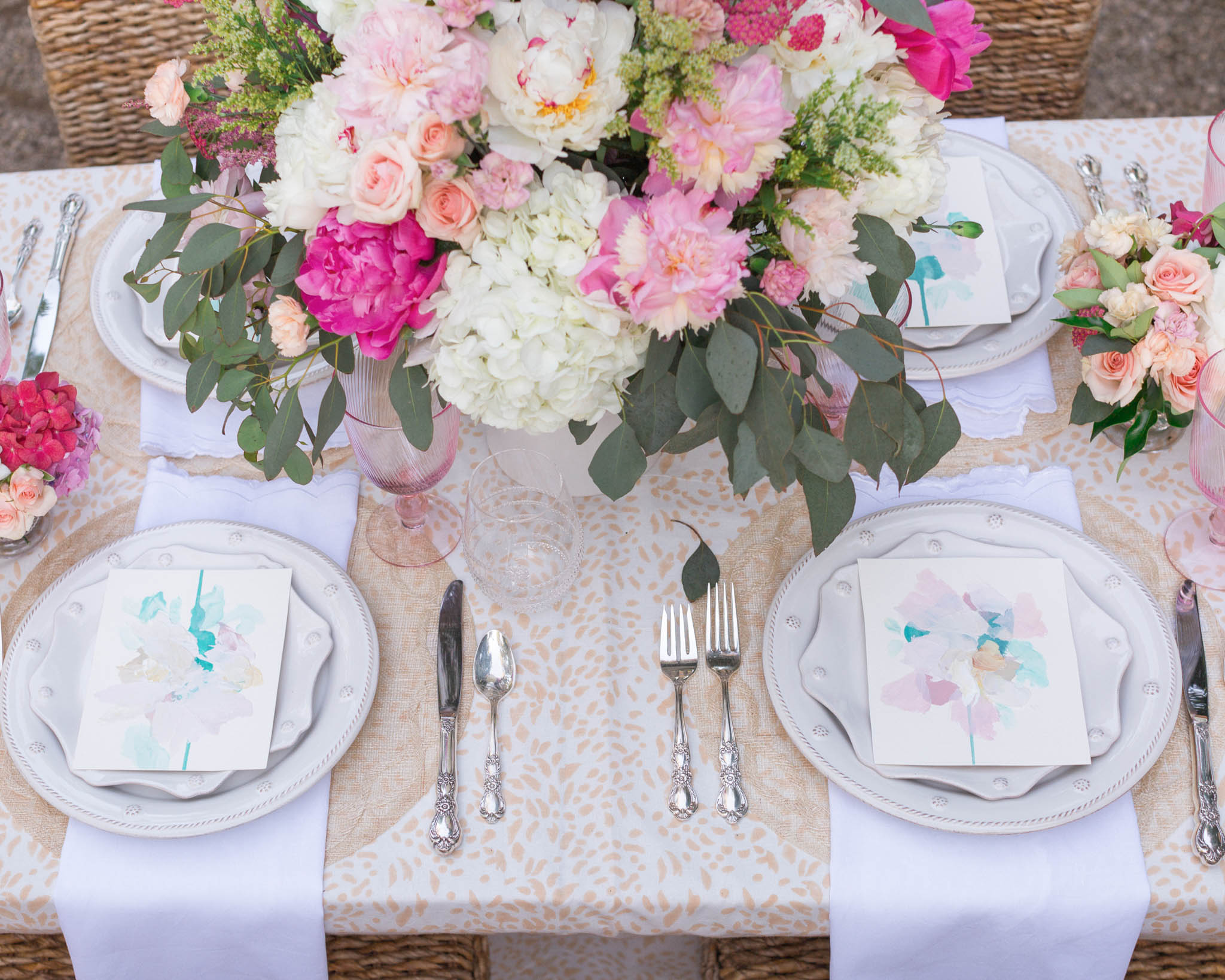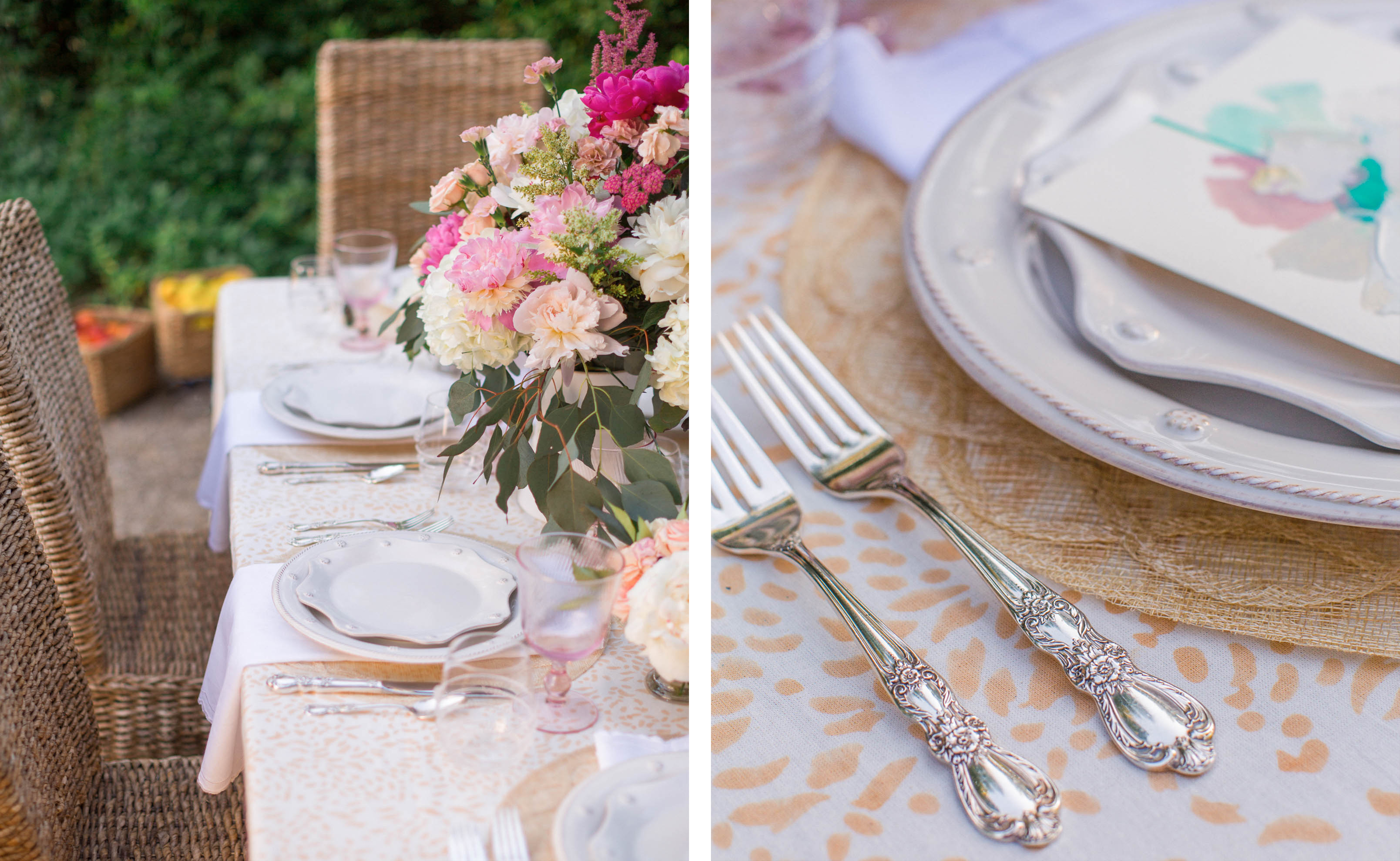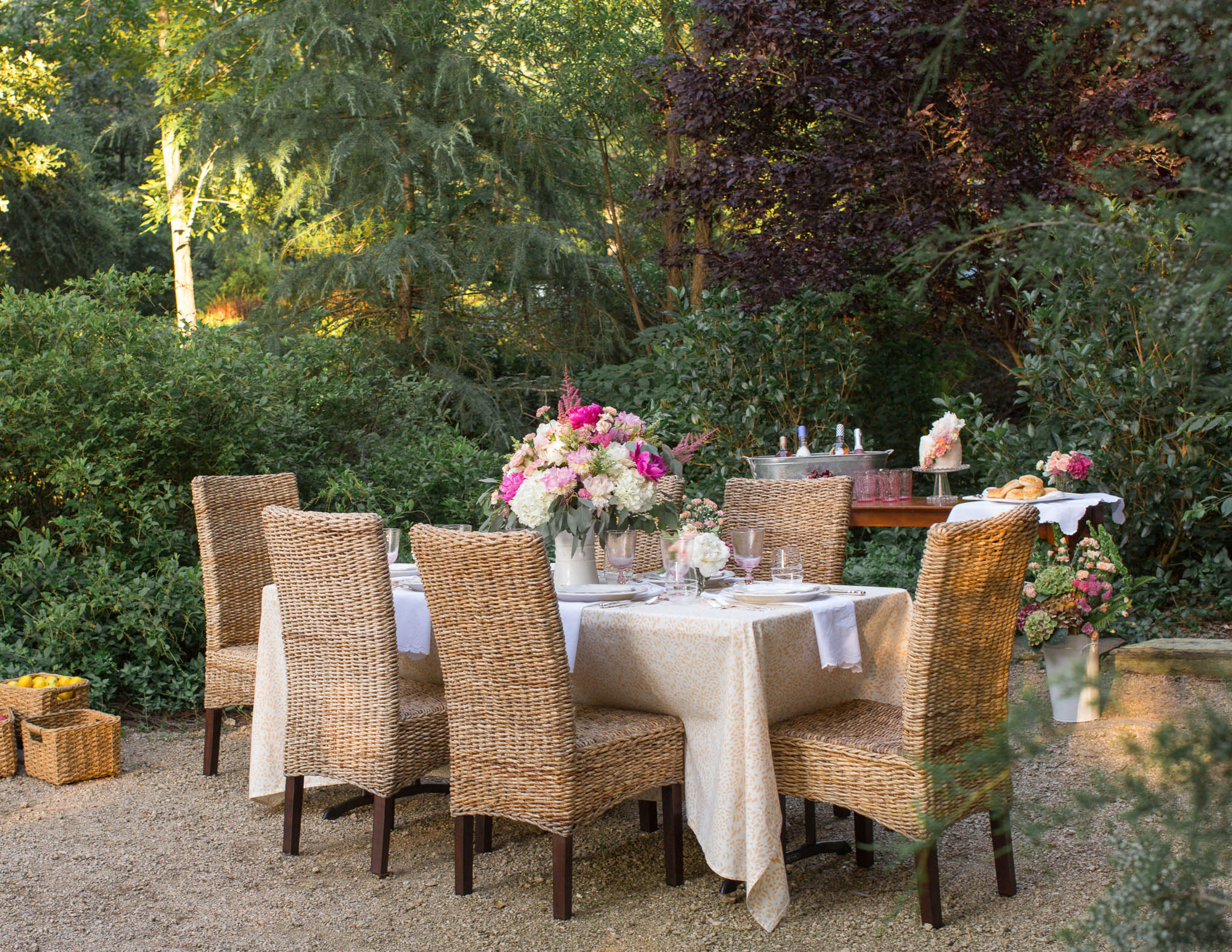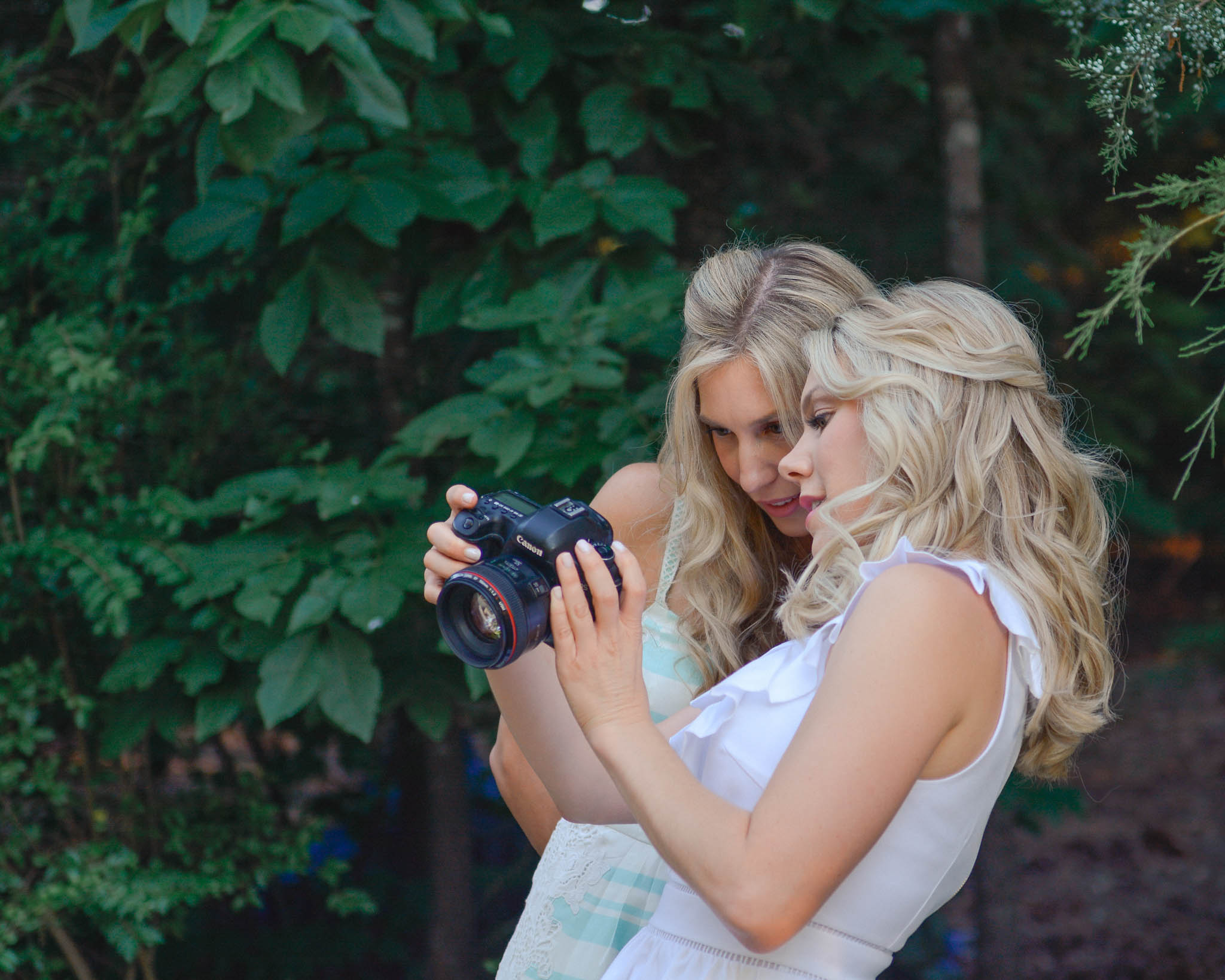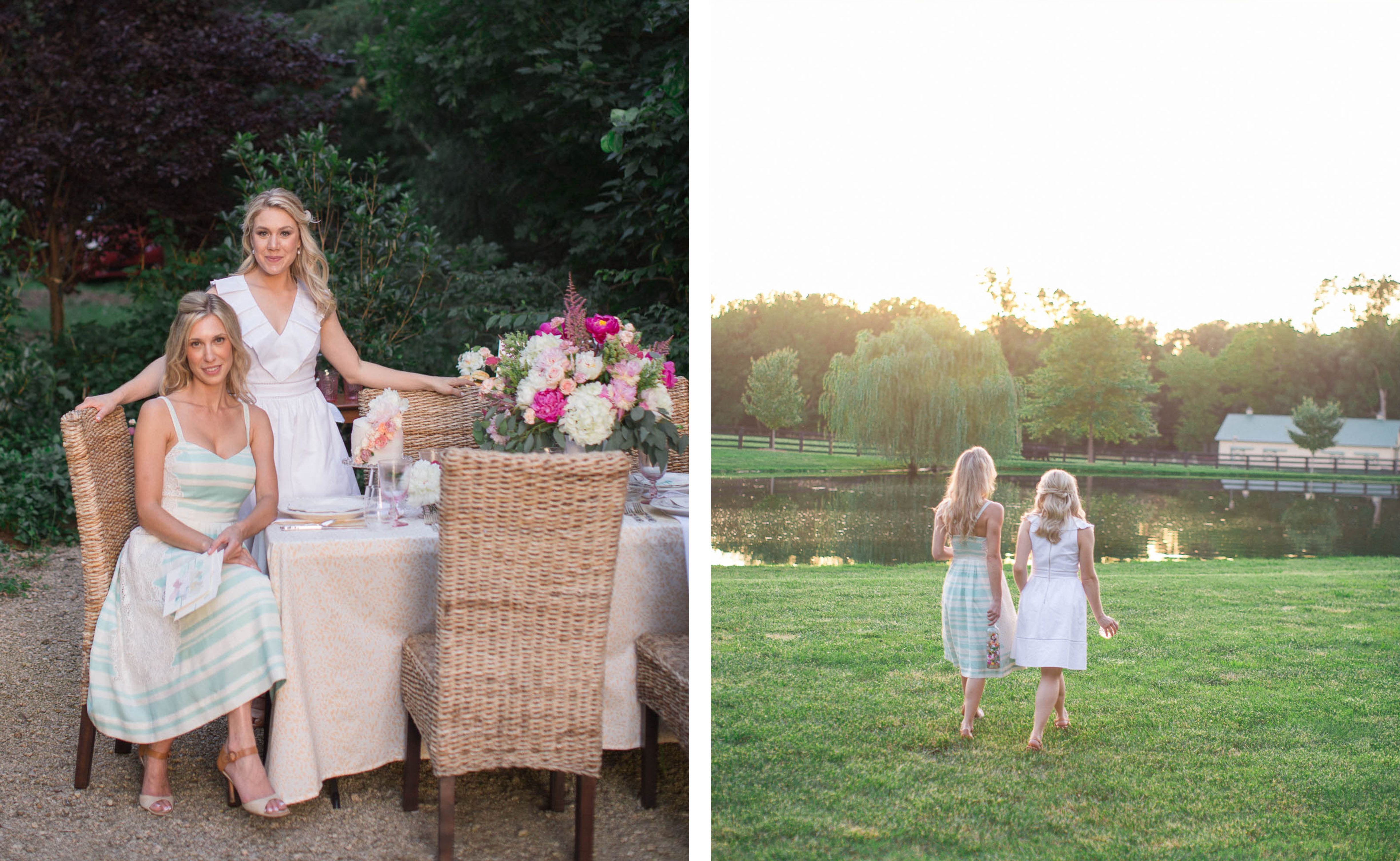 When it comes to creating a balanced tablescape, I first consider details of the occasion — time of day, formal or informal, holiday or simple gathering, and set the table so that it is most inviting. I have learned that people sense immediately when you have set the table with care and they feel honored and welcomed by your thoughtfulness. Above all, have fun setting your own table and don't be afraid to let your creativity get the best of you! My hope is that you to take time to celebrate even life's smallest moments with those you love most! Set down, sip champagne and laugh over delicious food, good conversation and a beautiful table. No occasion? Simply create one! 😉 
Sincerely,
Taylor-Rae Drake
I can't thank Juliska enough for this opportunity! I never imagined when we began our Berry & Thread collection last fall that we would collaborate together on what is now my favorite post to date! Also, thank you to India Amory for trusting me with your beautiful table linen and Morning Glory Farm for allowing us to use your space without hesitation! To Roxanne, I will never forget how you selflessly gave up your Sunday (and Monday) to help me prepare the floral arrangements and, my favorite, the cake! Lindsey Thorne, you've made me feel beautiful for all the special occasions in my life, this being no exception! Last, but certainly not least, Marissa – I adore you! You've become one of my greatest friends and I am so thankful for the crossing of our paths!  
Outfit Details
Taylor-Rae – Kate Spade New York Dress, Frye Sandals (old, similar here)
Marissa – Anthropologie Dress, J.Crew Wedges