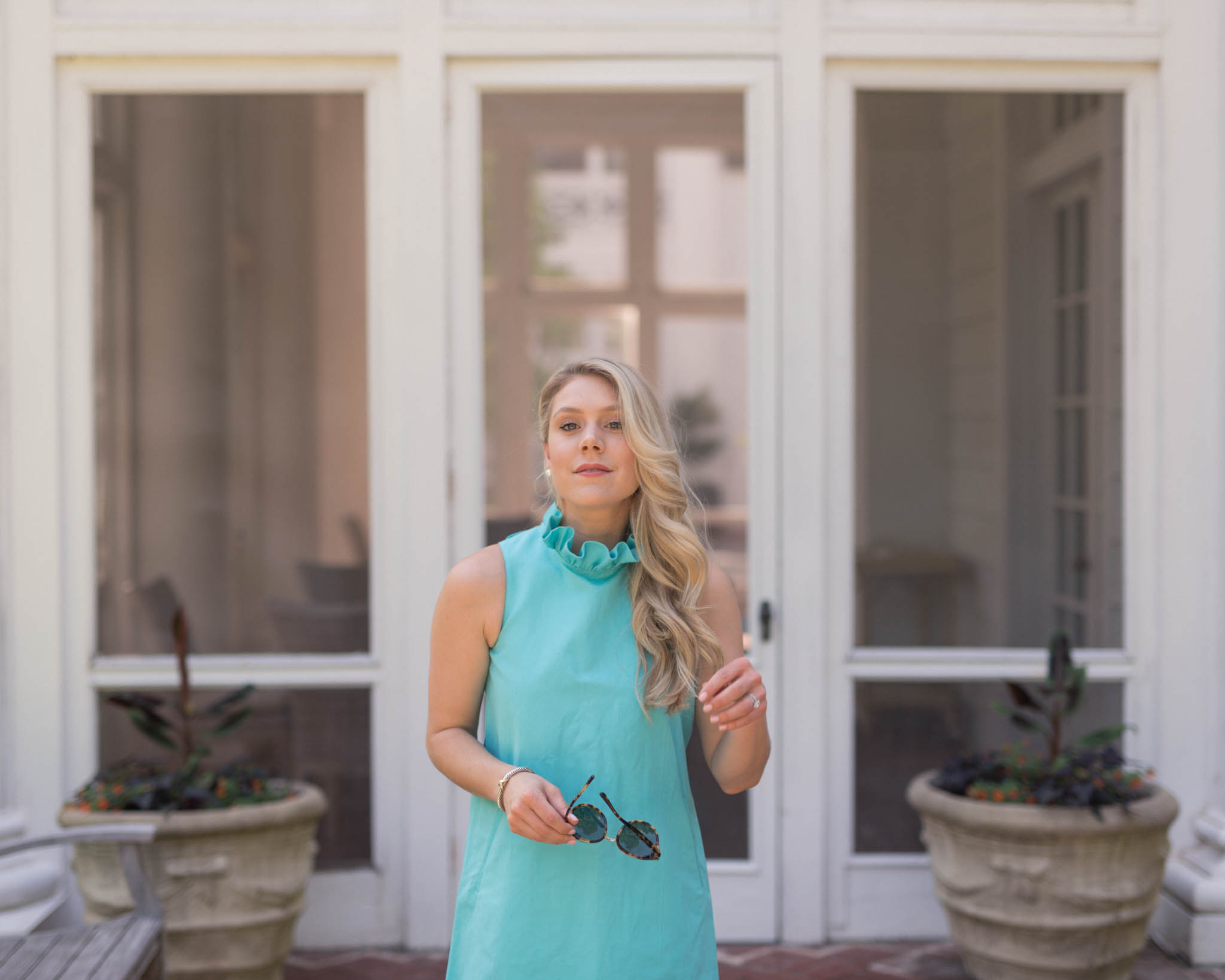 Outfit Details:
DRESS | SHOES | SUNGLASSES (old, linked similar pair) | LIPS
In unrelated news, who is excited about Europe's royal union this weekend? Maybe it's my fascination with the effervescent late Princess Diana or that the Prince will wed the Californian breath-of-fresh-air, Meghan Markle, but I'll admit I'm a bit excited and plan to have it playing in the background. Like Diana, Meghan has a way of combining glamour with a common touch, which I find very refreshing. Do you have anything planned in leu of the wedding weekend?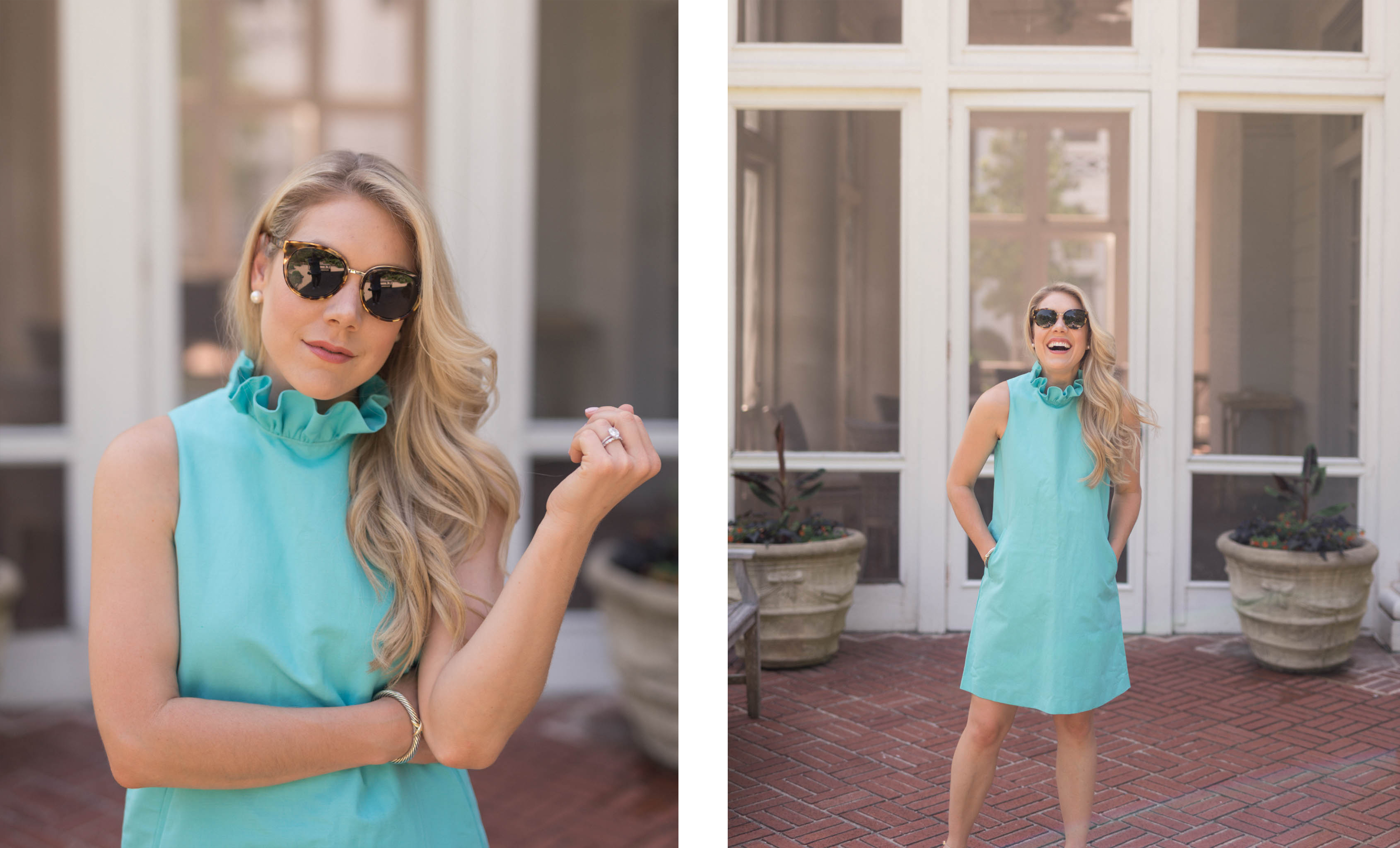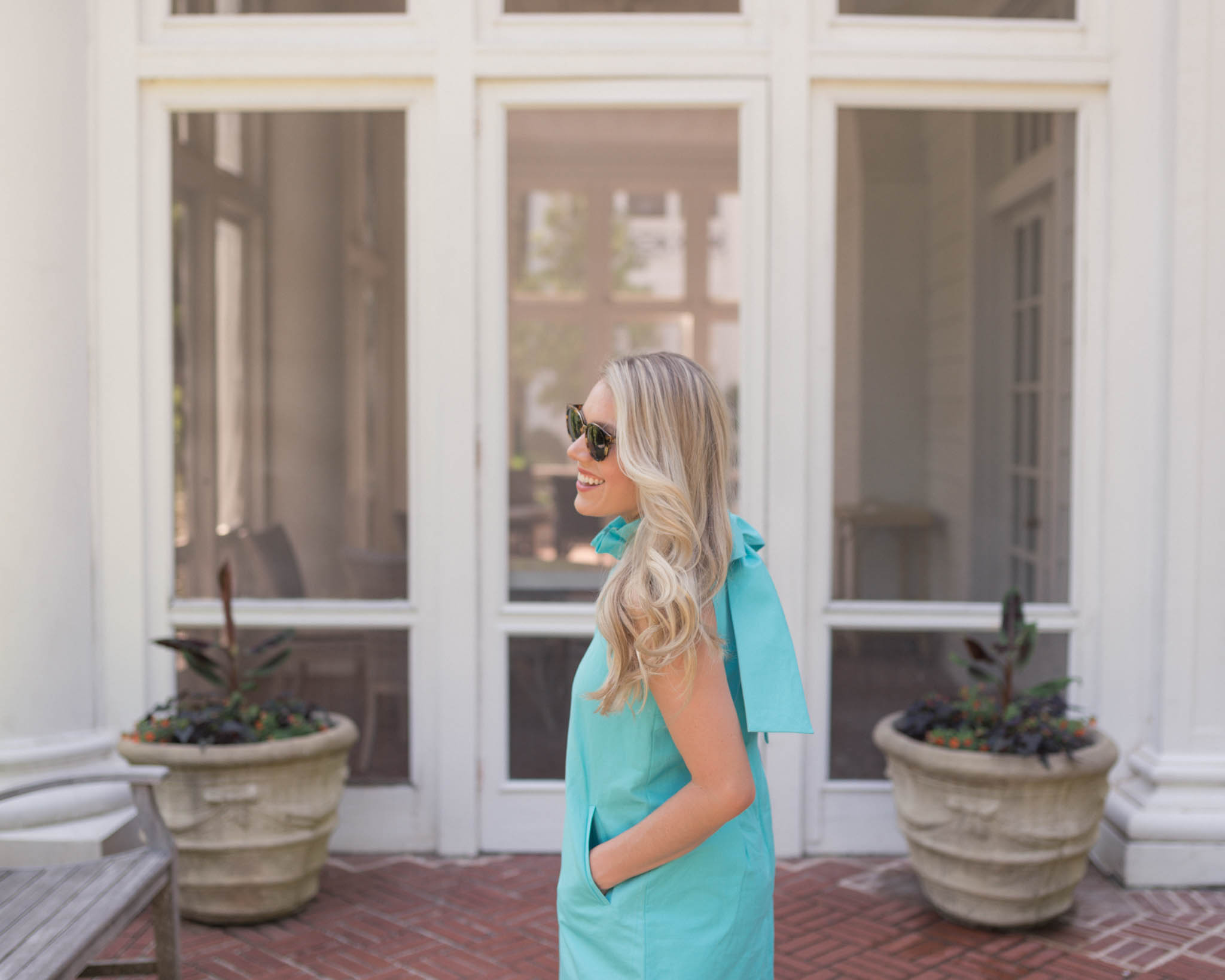 I've always had a penchant for the gracefulness of classic, tailored fashion. The relaxed, achievable kind of classic that's comfortable, yet polished. And it's an added bonus when the garment has a bow! The darling dress worn in today's post is from Tyler Boe, a women's boutique who consistently offers a variety of well-made, wardrobe staples. Clean lines, colors and prints, they offer pieces that can be worn often and styled a variety of ways.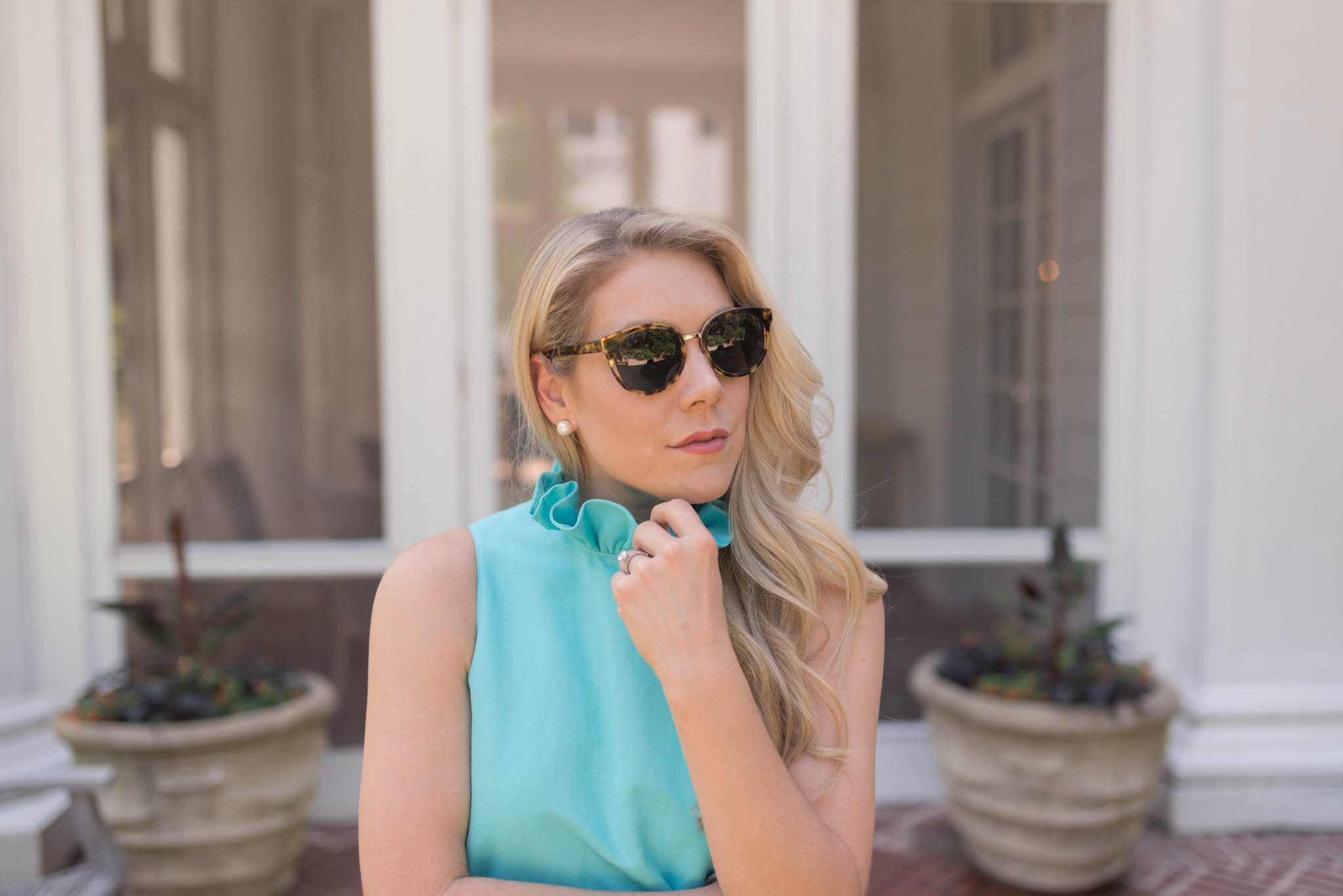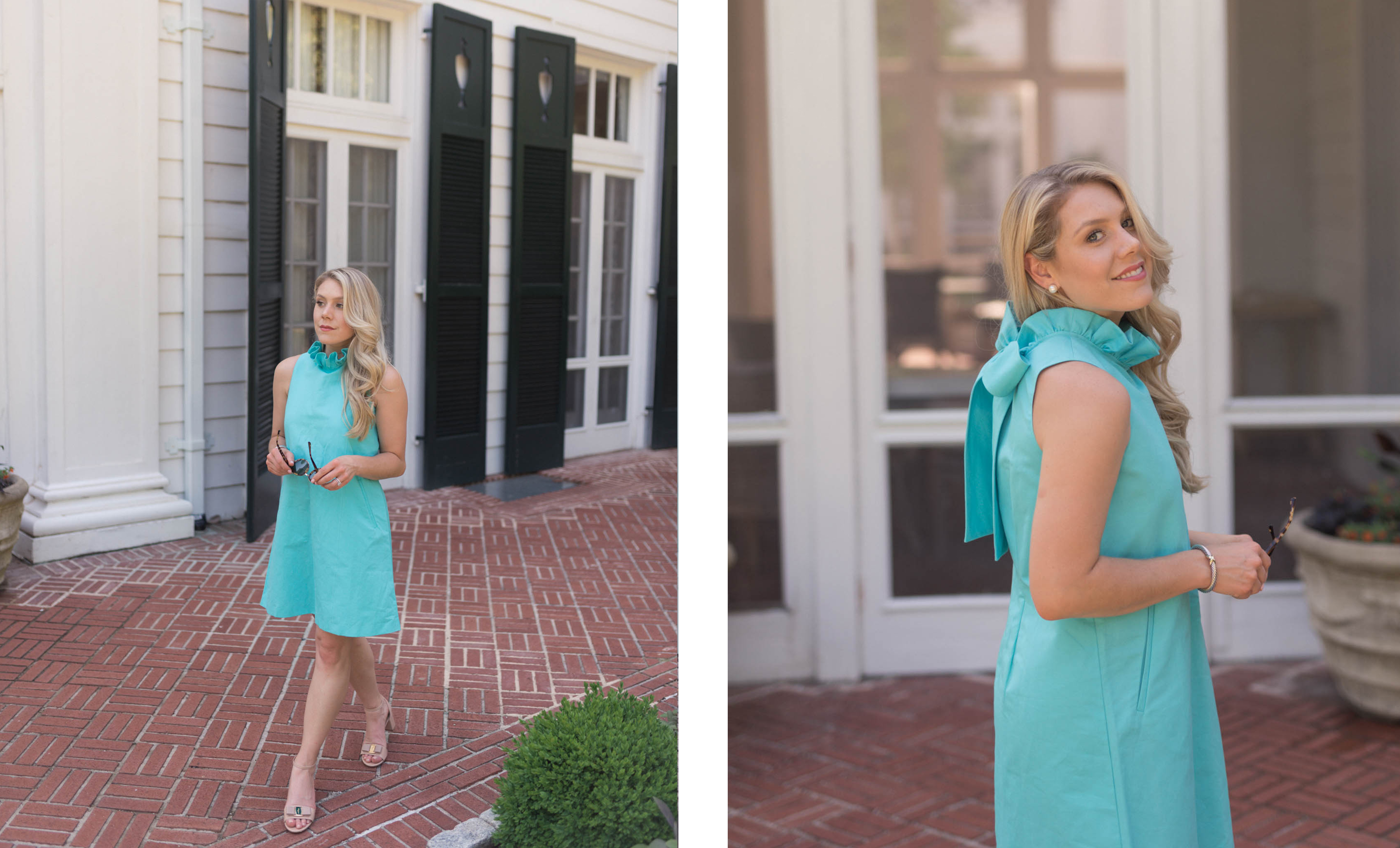 Sadly, this dress is no longer available online, but contact one of the stores for availability information (Newport, RI (401)-851-7907 or Annapolis, MD (410)-990-0010). Often times they will stock items in-store.  Luckily, they have a top (Claudette Linen Cotton Ruffle) with the same ruffled neckline and bow details as this dress! The rather large bow is such an unexpected surprise! I wore this dress to dinner earlier in the week with my hair pinned up in a tousled bun and had so many people stop me to ask for details on my dress. That's always the best compliment! 🙂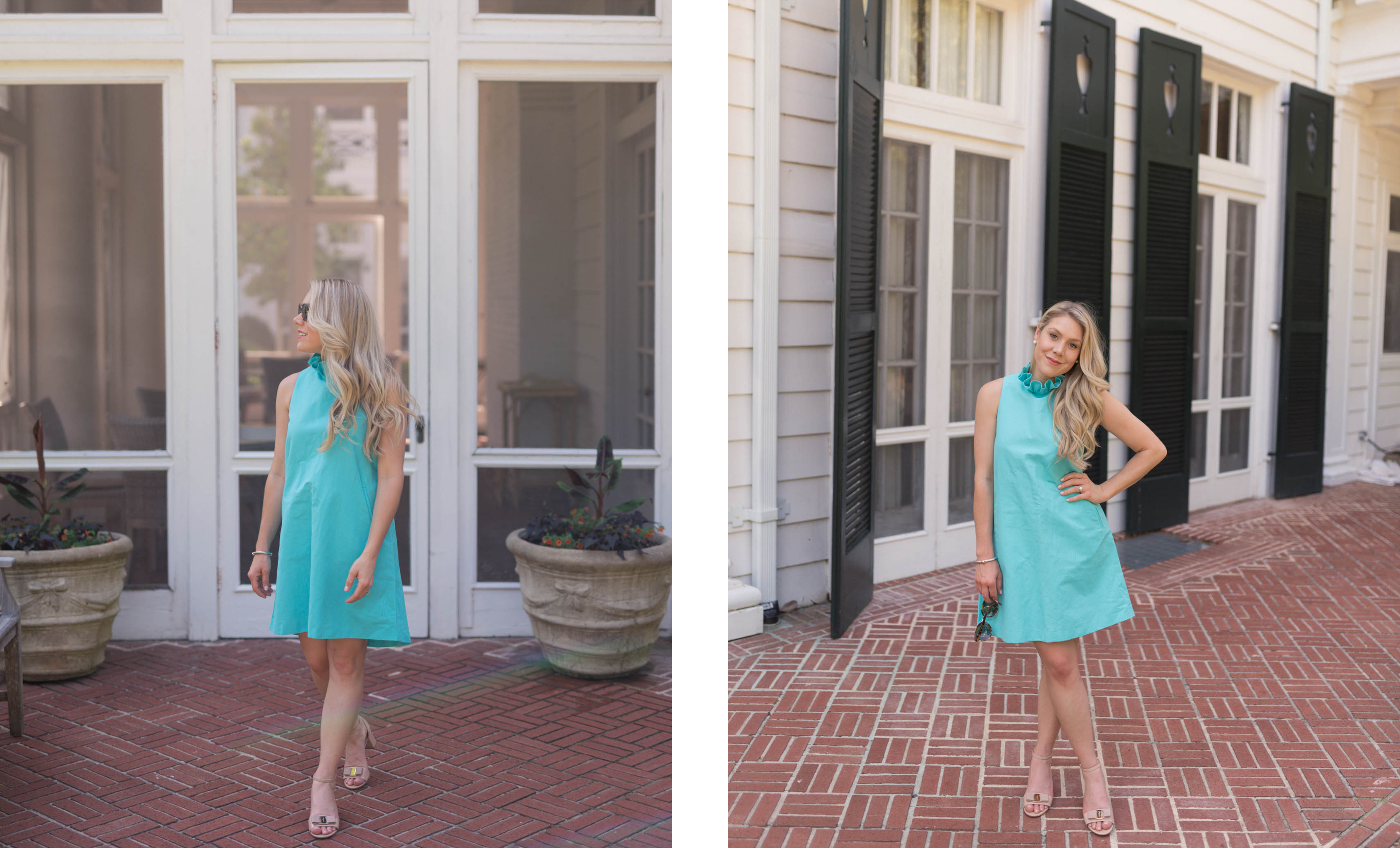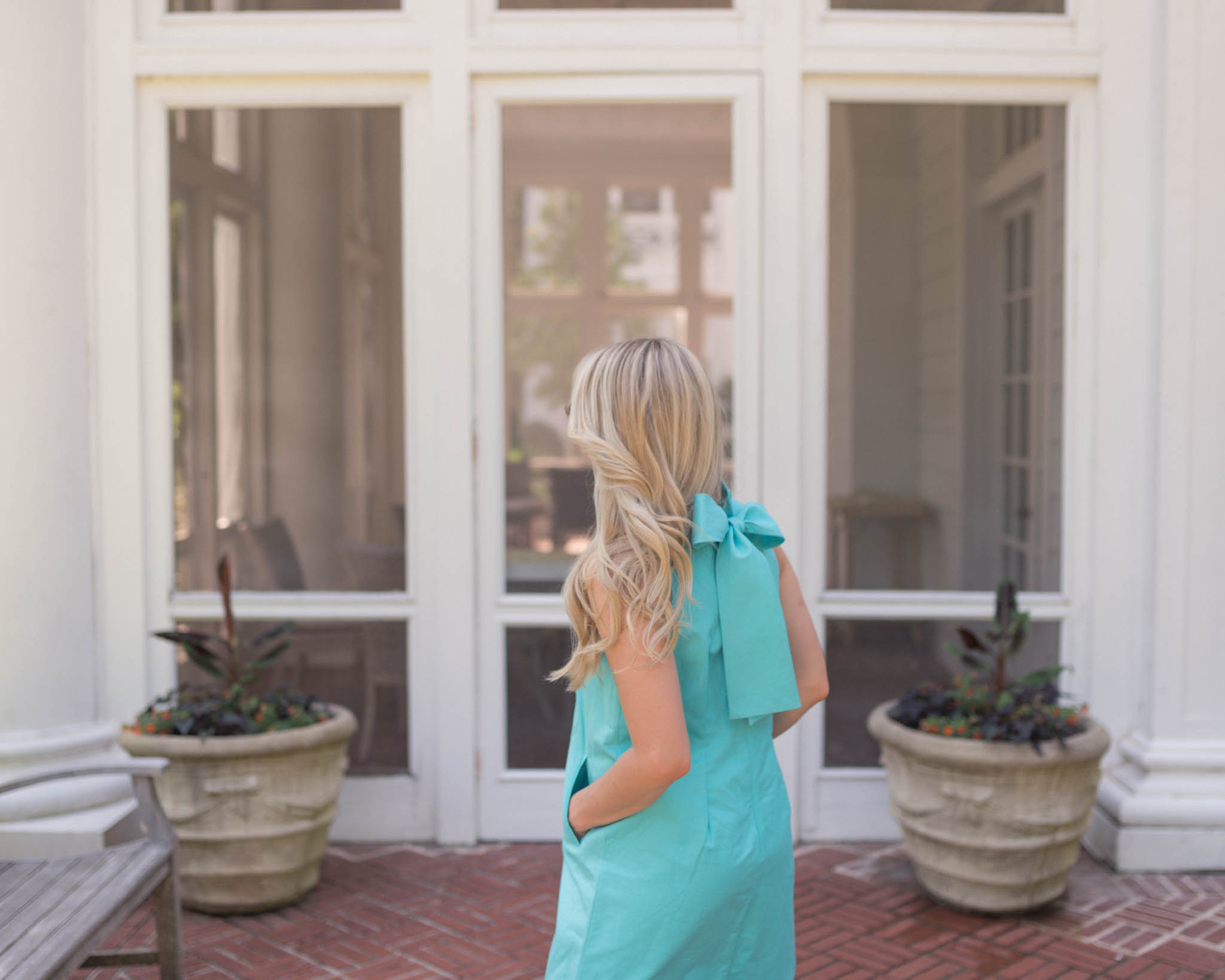 Some of you may remember my mention of Tyler Boe back in the Fall (here and here). Though I am partial to dressing for warmer months, they have such a great selection of pieces no matter the season! If you are looking for something to wear to a Spring/ Summer luncheon or shower, I recommend you consider the Izzy Beach Tunic, the Linen Bella or the Claire Dress. As for tops, I'm *obsessed* with so many of their tops, consider the Carrie Eyelet (an off-the-shoulder beauty), Piper Ruffle and the Chelsey Dot top (perfect for the 4th of July).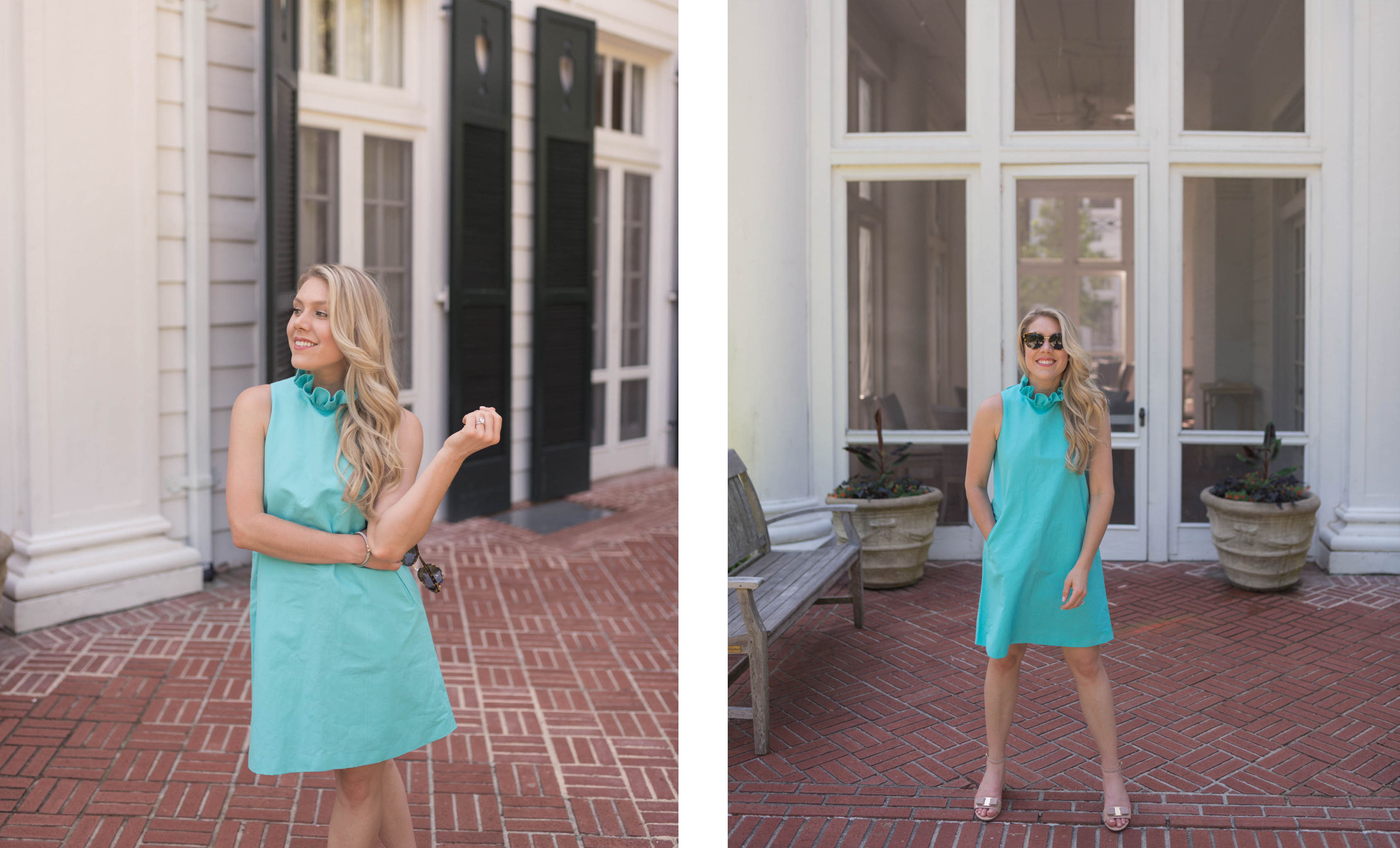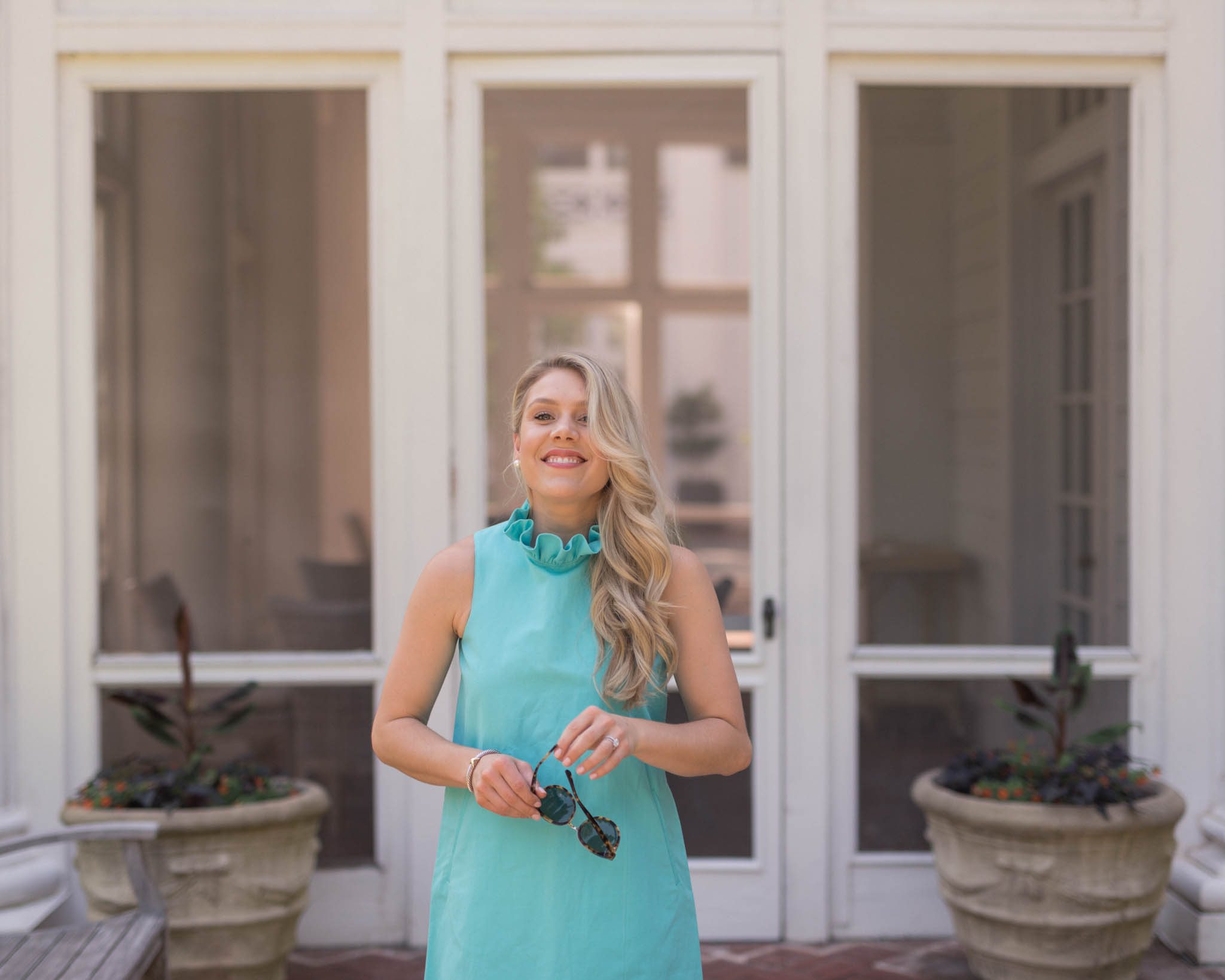 To accessorize this look, I went with simple nude patent ankle straps, pearls and a pair of tortoise sunglasses. Funny story, I stumbled upon these nude pumps at a boutique in Highlands, North Carolina last Fall. They were marked down 60% and in my size. I'm such a sucker for nude pumps and had been eyeing this exact style for a months, so you can imagine how excited I was to find them on sale… and I *never* find things on sale! Yes, they are a bit of a splurge, but they'll go the milage and arn't just another boring nude shoe thanks to the signature Ferragamo bow and patent material.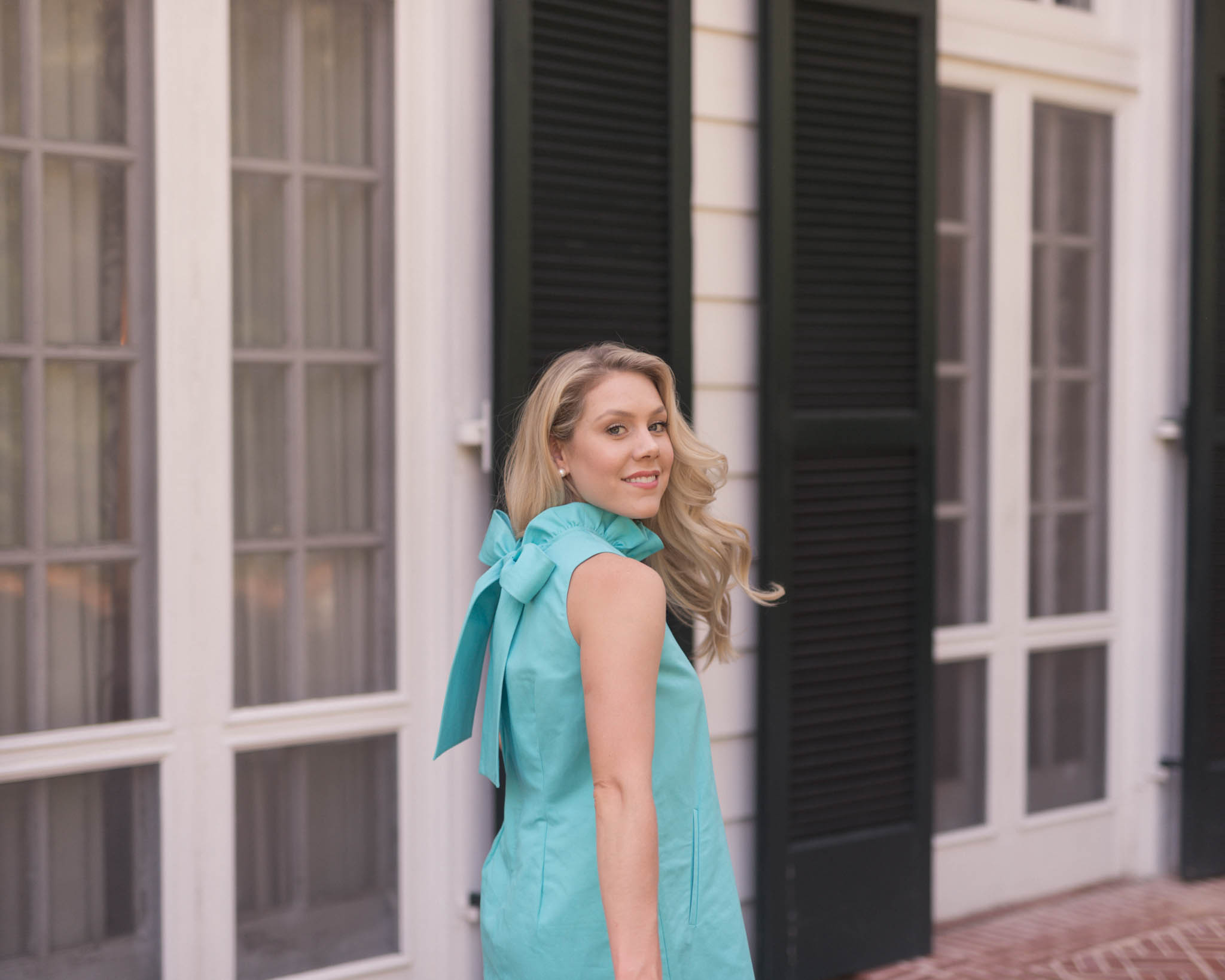 I hope everyone has a wonderful weekend! I'd love to hear any weekend plans you have in the comments below. 🙂  Like me, are you planning to tune into the royal celebration? As I was typing this post, my husband called to tell me Pike (our favorite nursery in Charlotte) is having a Customer Appreciation sale this weekend, so I am sure we will pay them a visit, or two! Have a wonderful and safe weekend, friends!
xx -Taylor-Rae