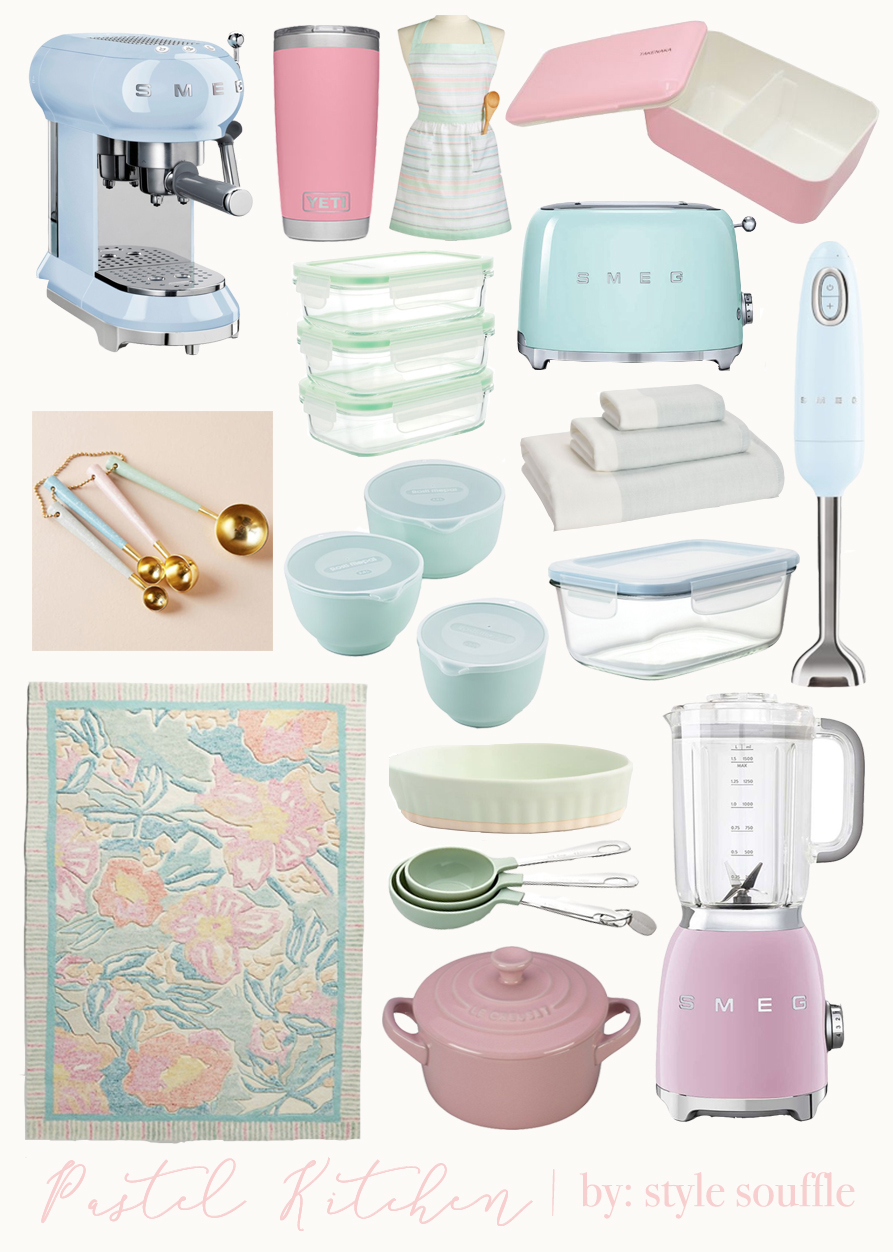 Left to Right
Expresso Machine | Yeti | Apron | Bento Box | Glass Containers (Mint) | Toaster | Multi-color Measuring Spoons | Green Mixing Bowls | Glass Container (Blue) | Towels | Hand Mixer | Rug | Pie Dish | Measuring Spoons | Dutch Oven | Blender 

You may be thinking I've lost my mind with today's random topic, and maybe I am a little crazy… over these retro kitchen vibes! It could be that Spring is only 45 days away or that Justin and I are several weeks out from renovating our kitchen, but regardless, all of the above pastel items are just too good to not share. Below I'm dishing out why…
Several weeks ago I shared in a lengthy post (here) that Justin and I were doing an elimination diet for health reasons on my end. Knowing that the diet would require a great deal of meal prepping, I purchased these glass containers (here and here) from Target and have been more than satisfied with them! The soft pastel color is really pretty and the tight seal does a wonderful job keeping food fresh! In my opinion, glass is easier to clean and the more sanitary option compared to plastic, which is why I prefer storing our food in these containers.
How I just discovered SMEG appliances beats me! Over the weekend, Justin and I used some of the many gift cards we've accumulated throughout the years to purchase a coffee maker, some additional knives, and a SMEG handheld mixer in pastel blue!  It has come in handy for making sauces and dips. It's also great for mixing in coconut milk with coffee to feel as though I am drinking a latte. Eliminating dairy from my diet has been tough, mainly because I like a little coffee with my creamer. 🙂
Over the past 25 days, Justin and I have ate almost exclusively at home! I've been mincing, dicing and cutting food by hand and would love to have a food processor/ blender. It would make preparing dinner a much faster and cleaner process for sure! I'm afraid I don't know much about the different products out there, so any recommendations you have would be greatly appreciated!  I'm vaguely familiar with the Vitamix blender, and of course I love the SMEG because it's available in the color pink. For those of you who cook regularly and own a food processor or blender (are they not the same thing?), do you find yourselves using it routinely?
For Christmas I received a Yeti tumbler (use it daily) and a set of pastel measuring spoons from Anthropologie (both featured in the above collage). I use the measuring spoons so often that I've nearly memorized which color is which measurement. *Insert hand over eye emoji*
Again, today's post may seem a bit random, but I had a lot of fun putting it together. Especially after realizing my kitchen was slowly turning into a sea of pastel hues (okay, that may be an exaggeration). If you have any suggestions on kitchen tools and appliances that you love and use often, please share them in the comments below or in the comments on my latest Instagram post, here. Cookbooks, cutting boards, coffee makers, mixers, pots, pans – you name it – I'd love to hear them!
Also, I want to take this time to thank everyone who participated in my poll on Instagram regarding the different countertop colors! In addition to votes, I was surprised to receive around 20 direct messages, a few text messages (love you mom) and a handful emails – your feedback and advice was *greatly* appreciated and helpful! Next week I will share which color we chose and why!    
xx, Taylor-Rae
– CLICK IMAGE FOR DETAILS –