After Christmas, I'm over winter. Truth be told I could skip over sweater weather altogether for flowy dresses, fun sandals and warm weekends spent putzing around our garden. Speaking of garden, yesterday morning Floret Flowers full line of seeds and dahlias went on sale. I had anticipated this launch for months and sat anxiously by my computer, coffee in hand, ready to purchase my top picks the minute they went on sale. It can be a bit of a race for time as popular seed packs sell out fast; within minutes. In lieu of yesterday's launch, I wanted to share a handful of my favorite garden products so that you too can be prepared when spring rolls (spring rolls, haha) around. Eventually I would love to open a flower market and card shop here in Charlotte, and have tossed around the idea of seasonal pop-up shops to test the water. For now, gardening is something I thoroughly enjoy and find relaxing, and love sharing from time-to-time on Style Souffle.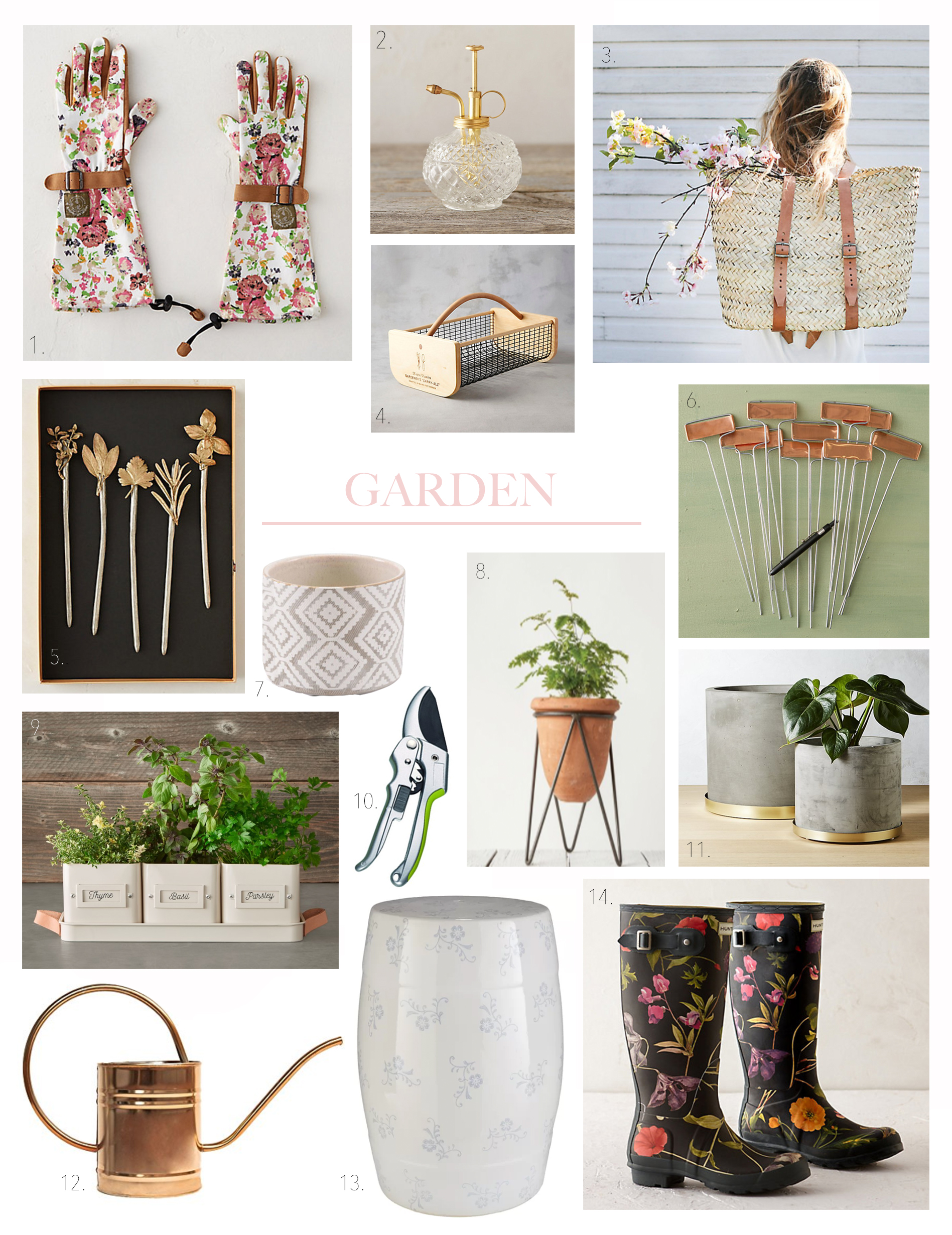 ONE – Extended cuff is great for pruning roses & comes in a beautiful floral design.
TWO – Elegant solution for indoor gardening. Great tips for indoor plants, here.
THREE – Spacious & perfect for farmers market runs.
FOUR – Garden carry-all (hand crafted) that is perfect for collecting flowers, fruits and vegetables.
FIVE – Unique herb markers that are cast in pewter from natural plant cuttings (safe).
SIX – Durable, reusable plant markers. Comes with a grease pencil for easy labeling.
SEVEN – Just a really adorable planter!
EIGHT – Terracotta planter stand. Great for adding dimension to your porch + patio.
NINE – Herb pot tray. The perfect size for a kitchen windowsill.
TEN – In the pocket of every gardener is a great pair of sheers! Amazon has the best prices too.
ELEVEN – In love with this cement pot form CB2. It's available in varying sizes.
TWELVE – Durable, copper watering can. I love it's unique shape.
THIRTEEN – This garden stool (!!!) So simple, so darling.
FOURTEEN – Other than great gloves, quality boots are a must for me. Easy to clean & keeps your feet dry.
– CLICK IMAGE FOR DETAILS –

Among my professional goals as we head into the New Year, is to expand Style Souffle into more of a lifestyle brand; sharing more of the people and things that truly matter most. 2018 will be chalked full of garden tips, healthy living, home projects and unscripted, behind the scenes moments, as I take a deeper dive into my life and the glue that holds it all together. I started Style Souffle as a creative outlet and way to connect with like minded people, and in being a better steward of this space moving forward, that will remain my motivation: deliver weekly content on routine (relatively) topics that altogether creates an inspiring escape that you love to visit often and share your thoughts and ideas.
I've never been big on setting resolutions, or if do, I've never been comfortable sharing them (fear of failure I guess?), but there are a lot of things I want to accomplish in this new year, and on Friday, I am sharing some personal and professional goals along with books/ small accomplishments I'm using in order to fulfill them.
As always, thank you for reading today's post! I look forward to a wonderful New Year with each and every one of you!
x, Taylor-Rae