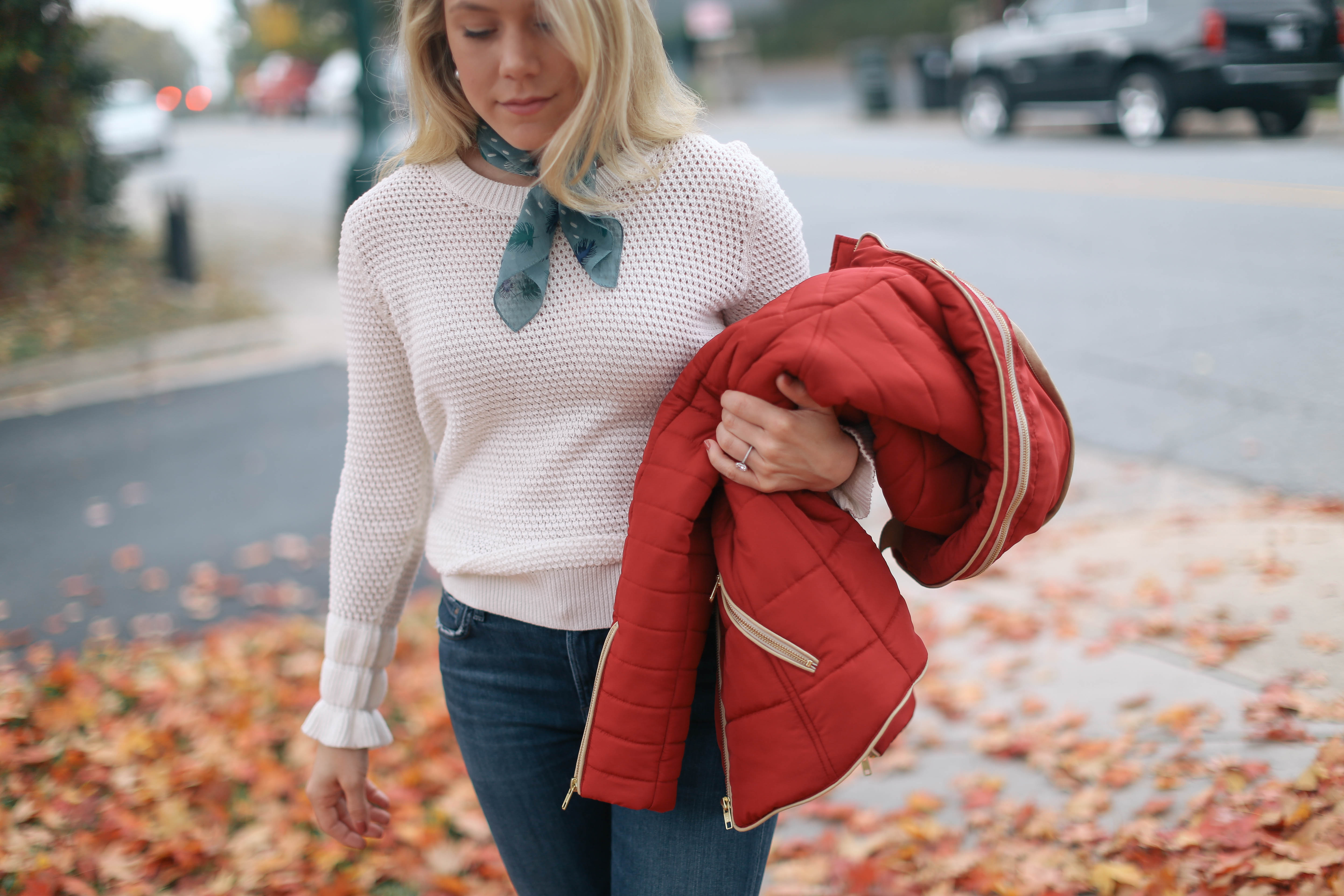 Outfit Details
Sweater | Jacket | Jeans | Loafers | Bandana | Earrings
Last weekend we were blessed with beautiful weather, and took advantage by planting pansies, enjoying lunch on the patio and bagging the last bit of fallen leaves around our house. It was warm enough to wash my car too! We spent Sunday at my in-laws where we enjoyed an early Thanksgiving feast. This year everyone in our immediate family will be travel over the holiday so Justin and I made the last minute decision to drive to Asheville and visit The Biltmore. Seeing the house decorated for Christmas always puts me in the holiday spirit!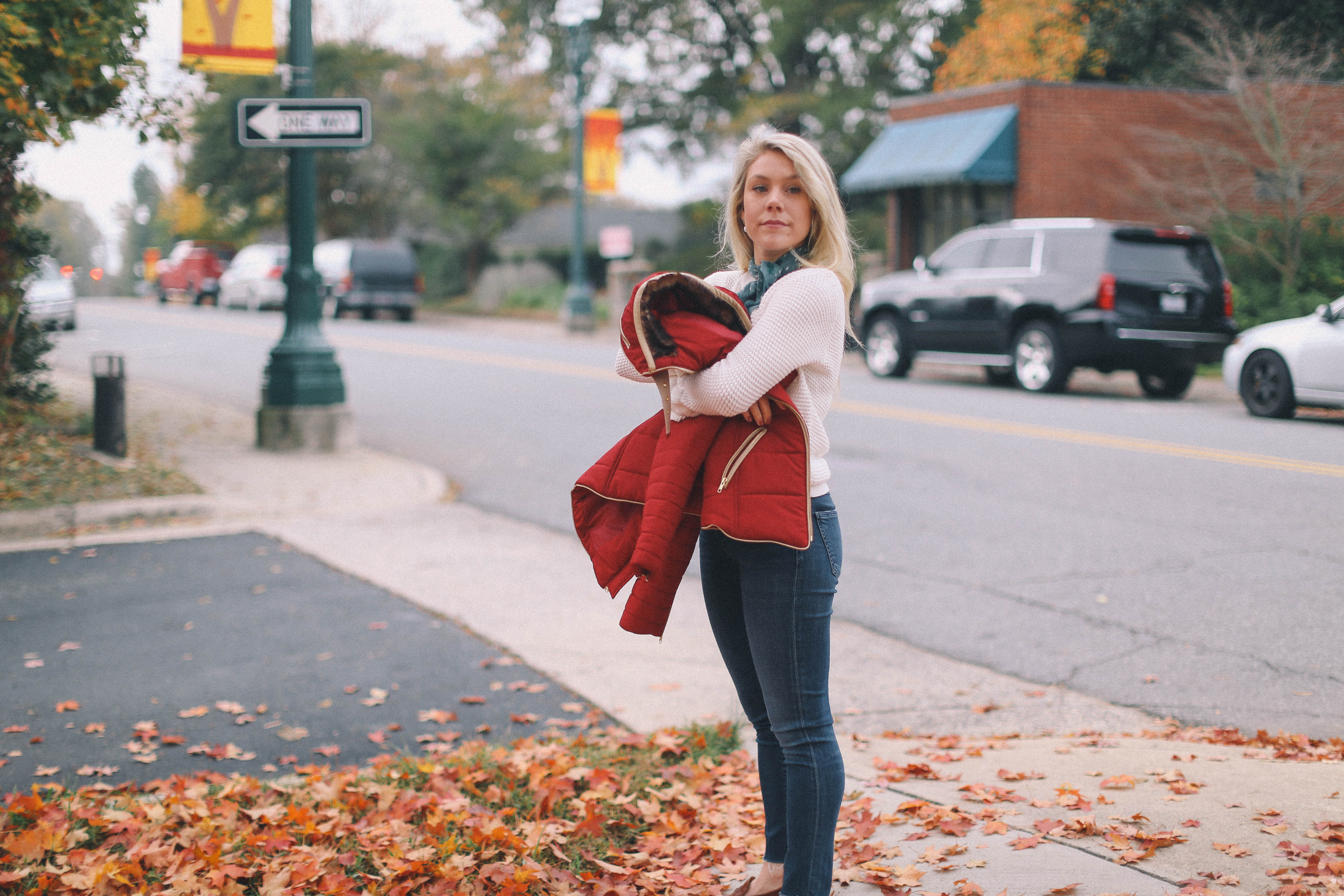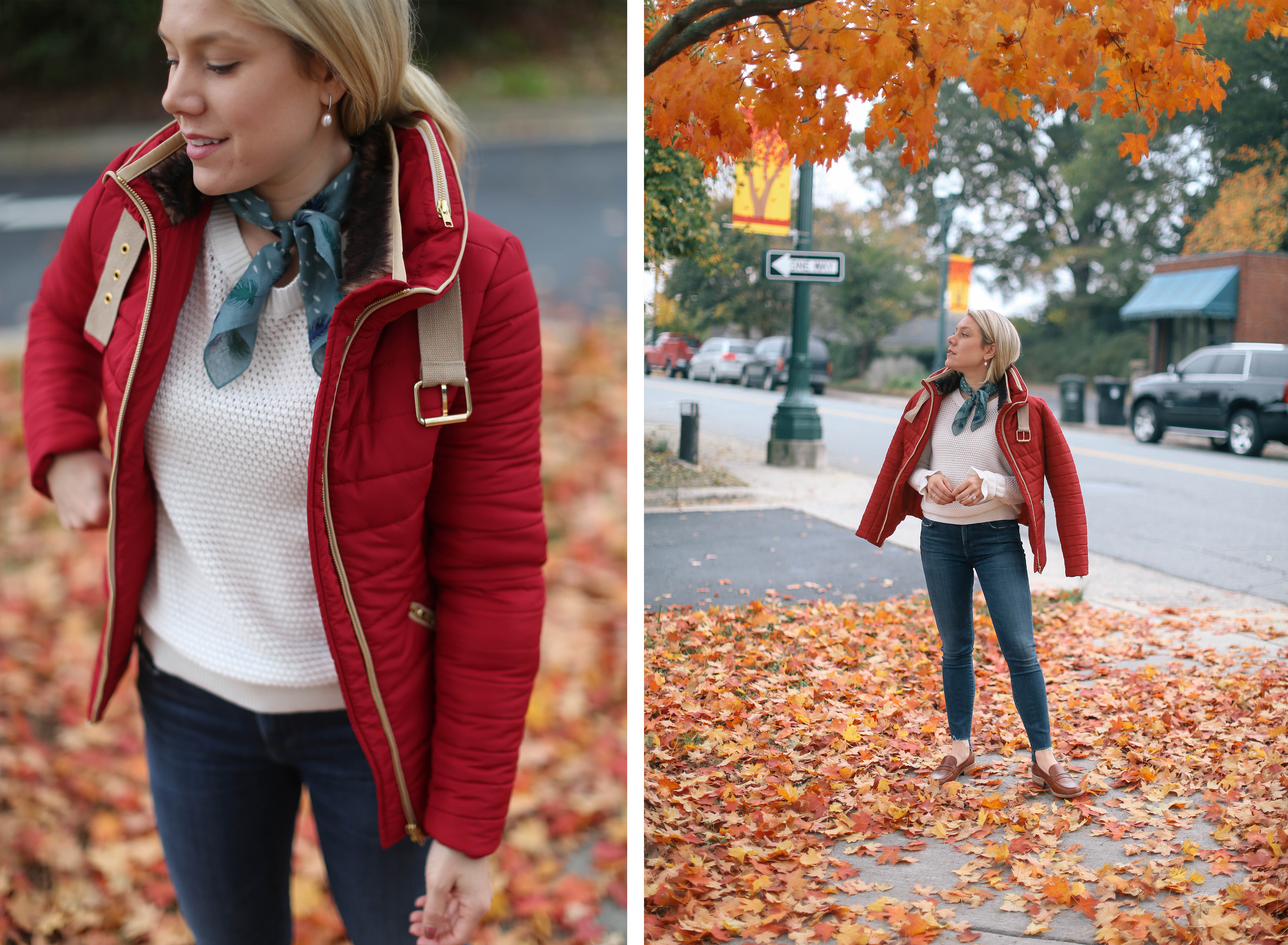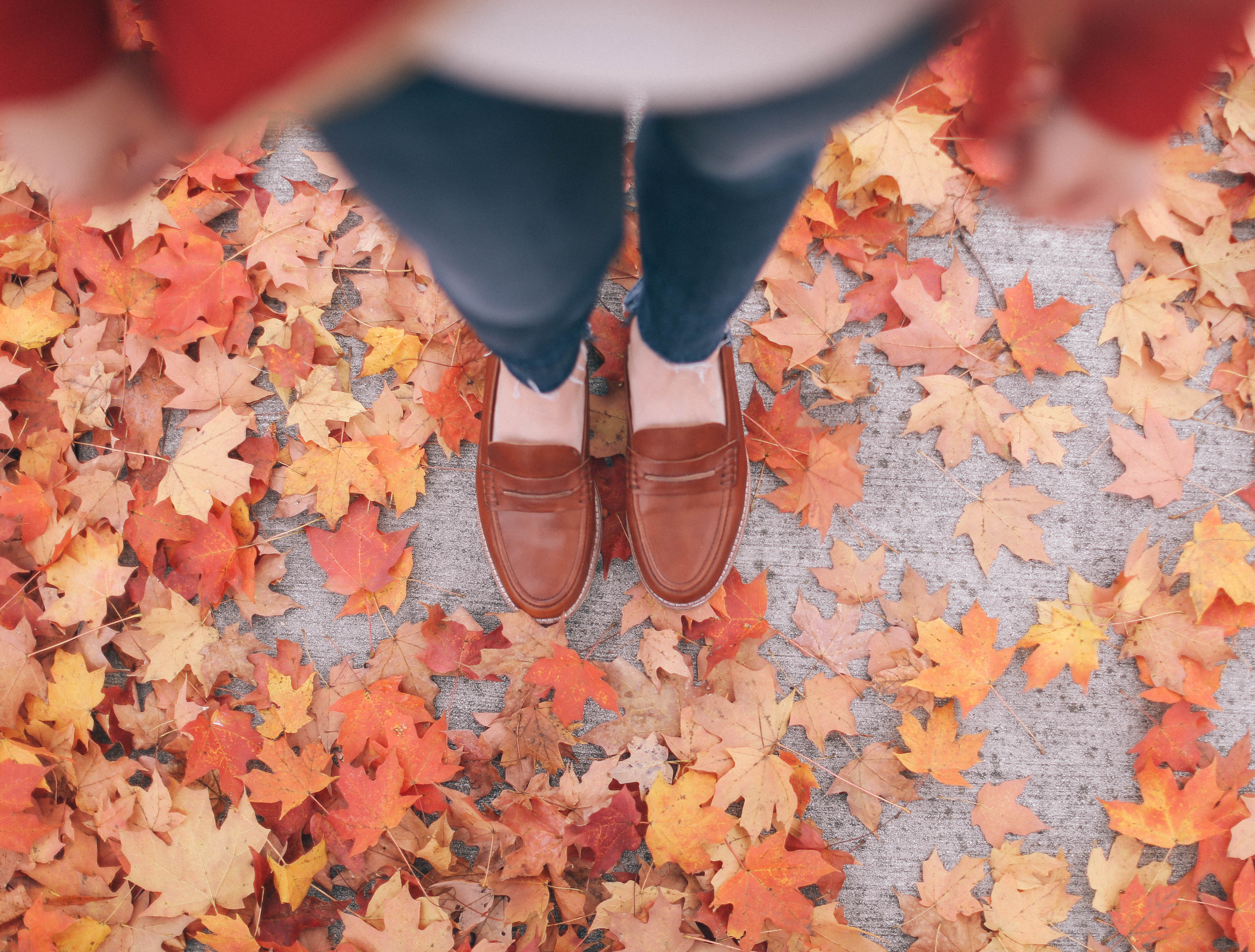 For transitional weather, I'm all about comfy knits that can be dressed up with ankle pants or down with a pair of cut-off denim. This knit sweater is from a favorite retailer of mine, Tyler Boe Clothing. For those of you unfamiliar with Tyler Boe, it's a refreshingly chic collection of classic and tailored pieces for those with traditional taste. The ruffle details is what I love most about the top worn in today's post.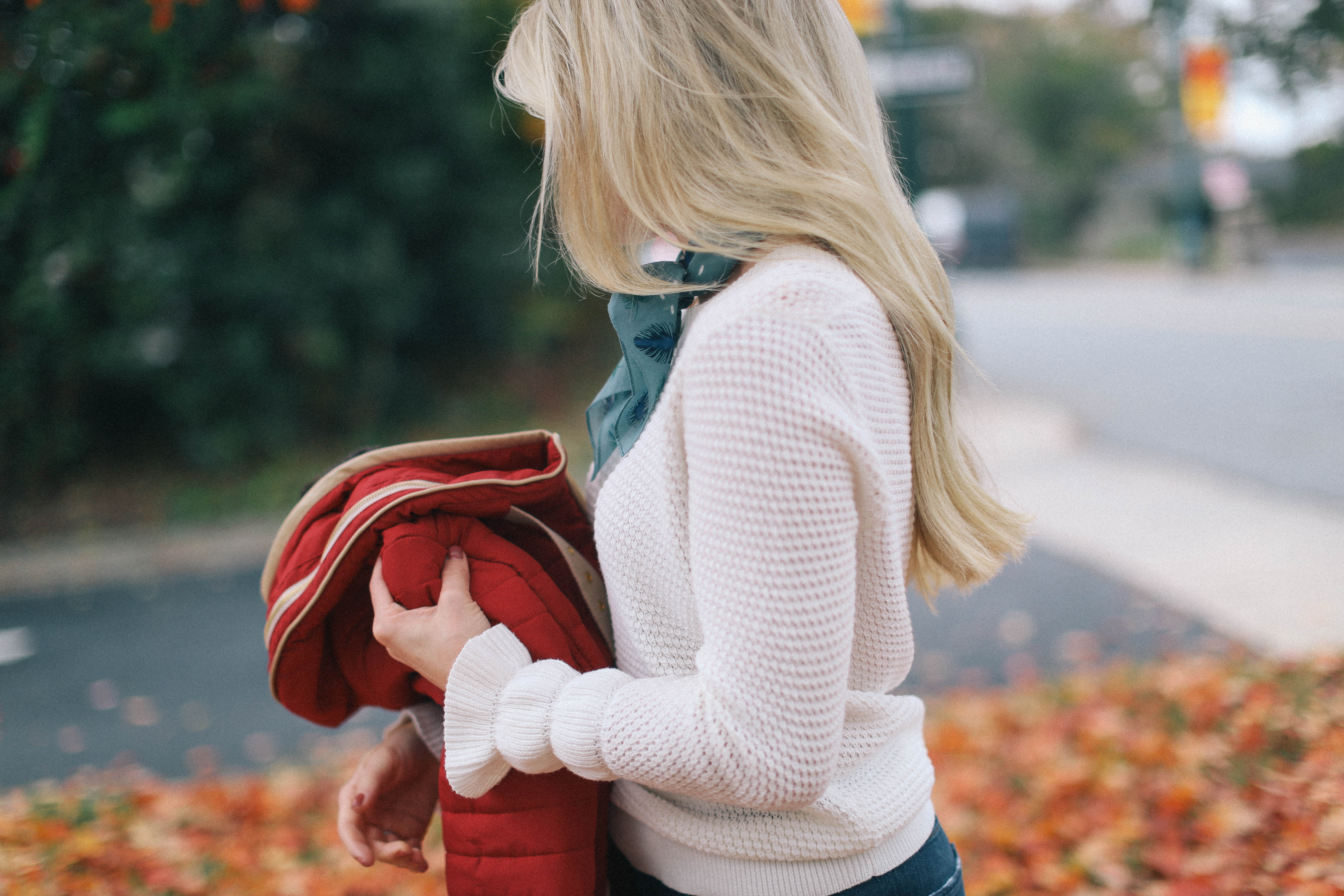 They also offer an amazing selection of outwear pieces, like this red down jacket. Isn't it adorable? I love the thick hardware and buckle around the neck. The fur lining the collar is also in a beautiful brown that really pops against the red.
I paired this outfit with my favorite bandana from Madewell and go-to skinnies. If you previewed the link for my jeans already than you likely noticed they lacked the high-low hem. 🙂 It's a TR original design, haha! They were always an awkward length for me, so one afternoon I took a pair of scissors and remedied the problem! Viola!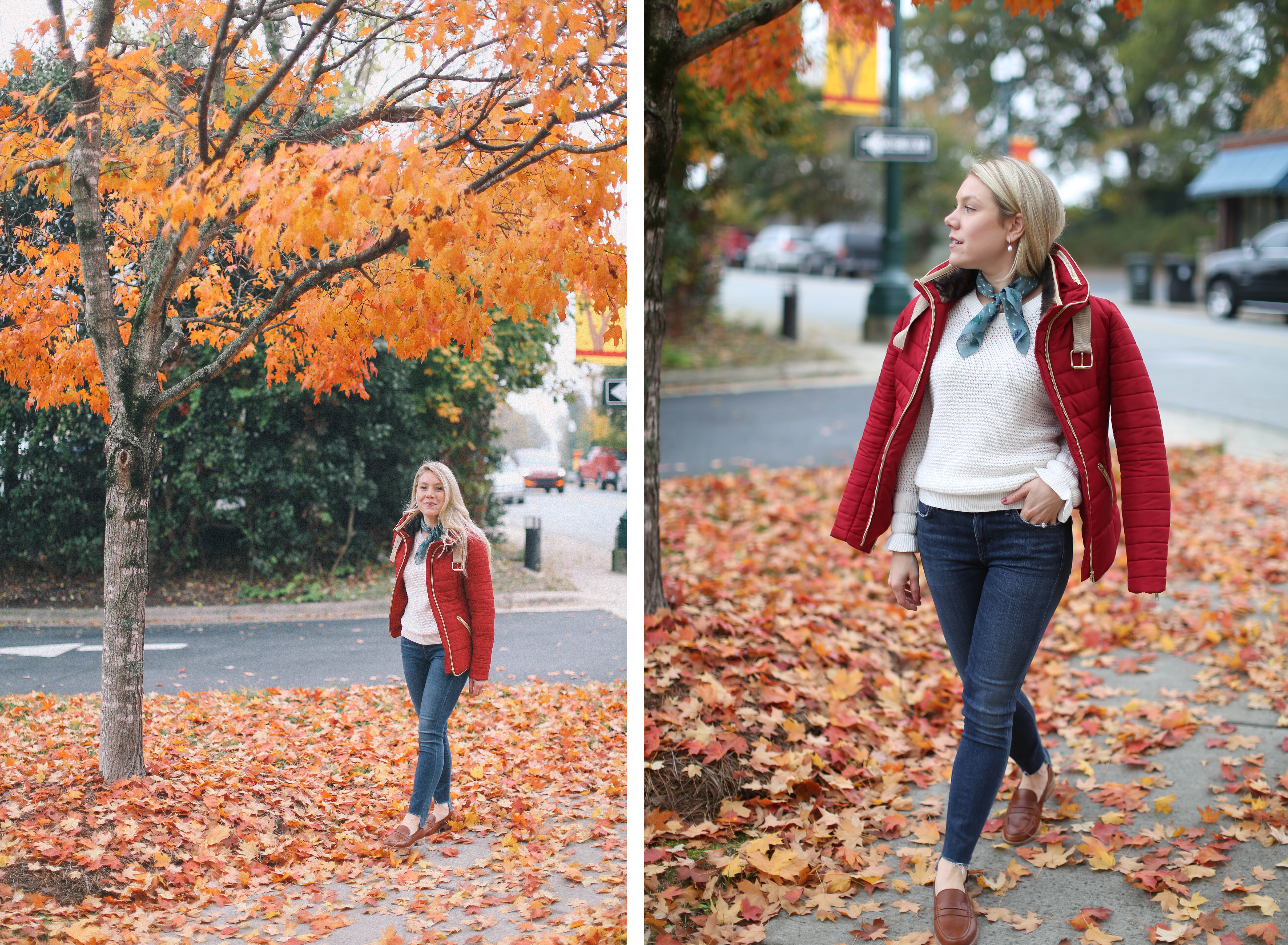 Take the time to read my first gift guide of the season if you haven't already. I've linked that post here (click the word here if viewing on your phone) for you to view! I'll be sharing more throughout the coming two weeks as well as updating everyone on the different sales taking place. Is it just me or are sales getting earlier and earlier each year? Not that we should complain, of course!
Tomorrow I'm sharing a round-up of the best pre-Black Friday sales and all the Black Friday codes you could possibly need. I'll add more throughout the day and into Friday as discount codes are released, so keep checking back for updates. I rarely participate in the Black Friday madness (Cyber Monday is more my thing), but having a new home to fill has me feeling inspired to tackle the crowds this year! In preparation for Cyber Monday, I've already added my top ticket items to my cart including a bed frame, console for our entryway, a dinning room table and several light fixtures for our kitchen and lofted spaces.
Have a wonderful Thanksgiving holiday and safe travels everyone!
Click images for details: