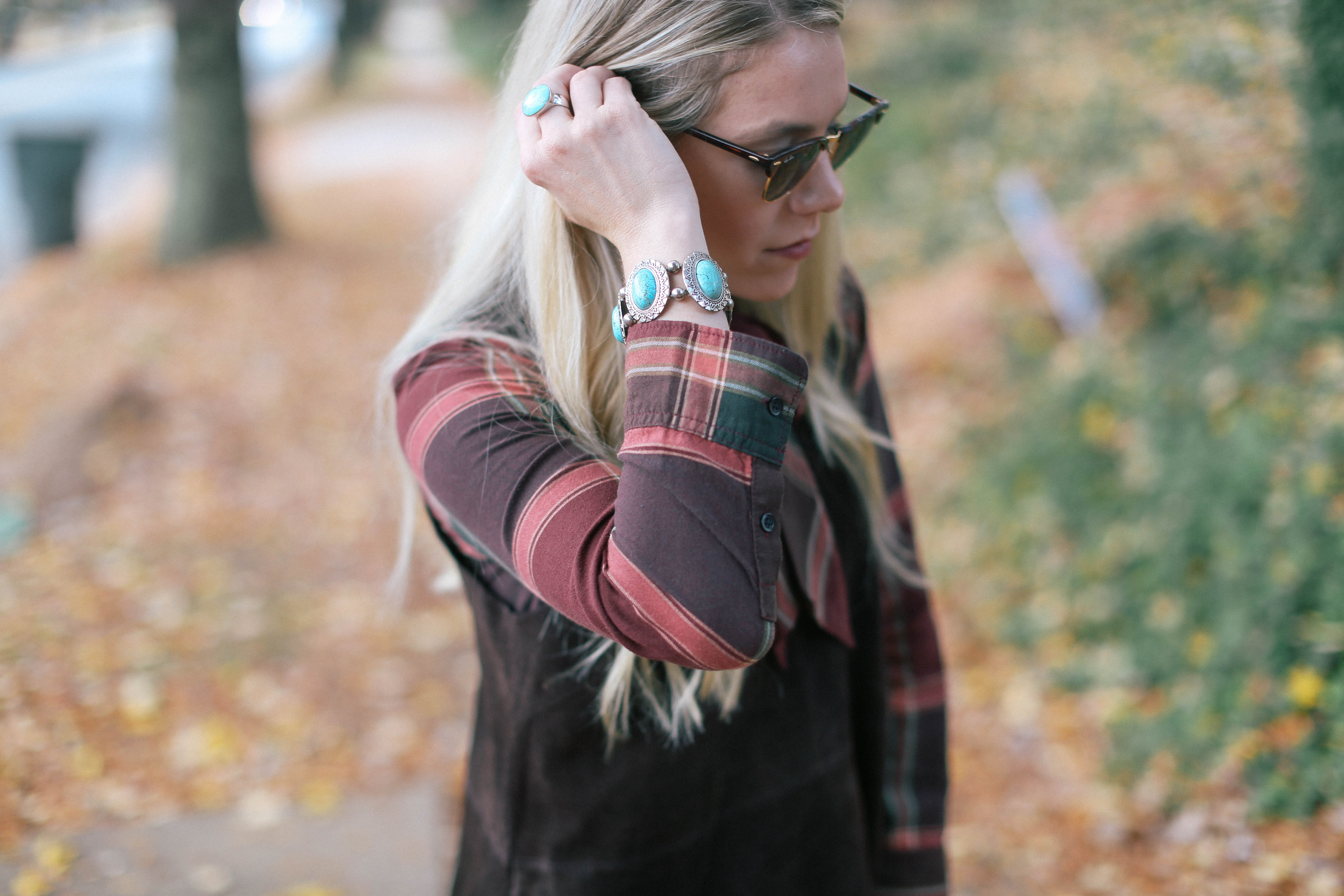 Dress | Top | Sunglasses | Heels | Lips
I love playing with textures when the weather cools – I've been looking for pieces in different fall materials that will also look cute paired with tights! While browsing Free People, I came across this chocolate suede dress. There aren't too many genuine suede pieces at this price point, and the quality is *really* nice for the price. The suede is thick and sturdy, and the hardware has a good weight to it. Fit-wise, I found it's high-hemline (for size reference, I am 5'4") to be quite flattering and elongating despite its loose, A-line cut. It also has deep pockets, which is always an added bonus for any dress.
A week or so prior to receiving the suede dress, I purchased this plaid tie-neck blouse from Madewell after falling in love with the unique pairing of the oversized bow and masculine, wool plaid. In fact, my mom was the one who suggested pairing the dress with a print as opposed to a solid color top; either a fall floral or plaid. Ah ha! The Madewell top! The browns were a perfect match and the plunging v-neckline was great for the bow.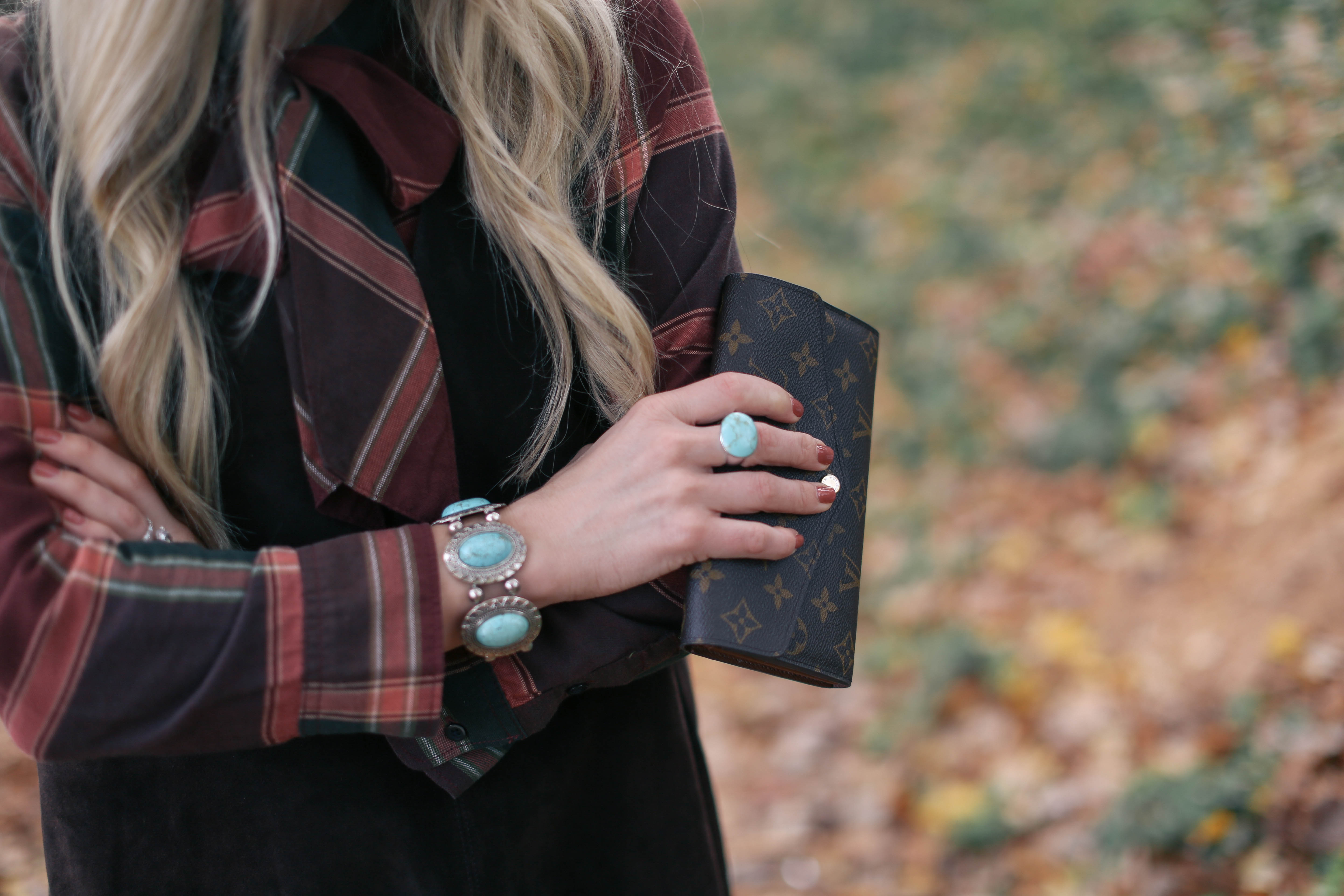 The dress is available in seven different colors; I'm regretting not getting it in navy or forest green. Here in North Carolina, the weather's been a bit unpredictable. One day it's hot and humid, and the next cold and dewey. While I styled this dress with my all time *favorite* nude pump (I've gone through two pair over the years), it would be adorable with a pair of sheer brown tights, booties and a turtleneck or with a crisp white blouse, camel coat and leopard pumps. How beautiful are these booties from Anthropologie? It's likely they'll end up on my wish list this holiday season!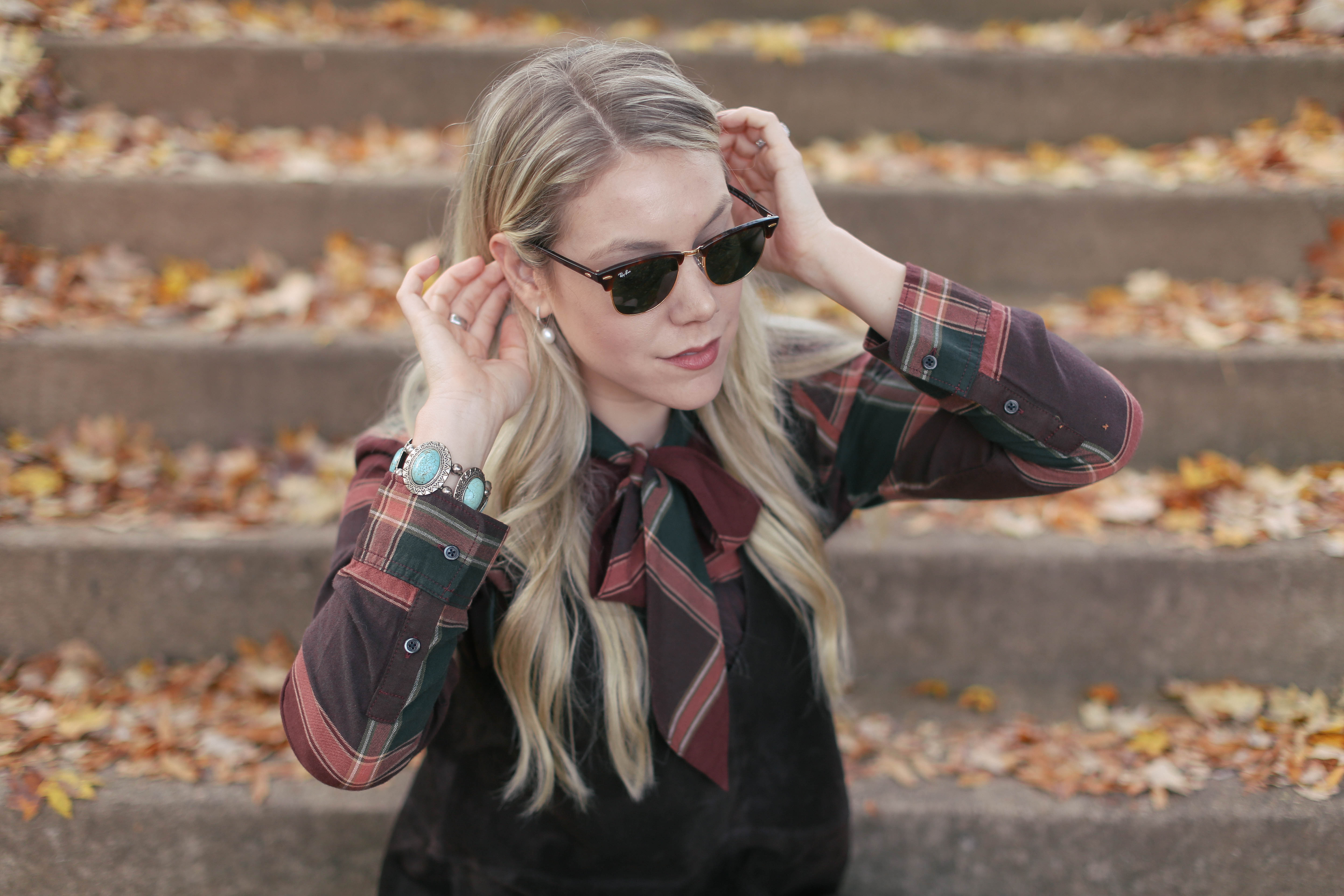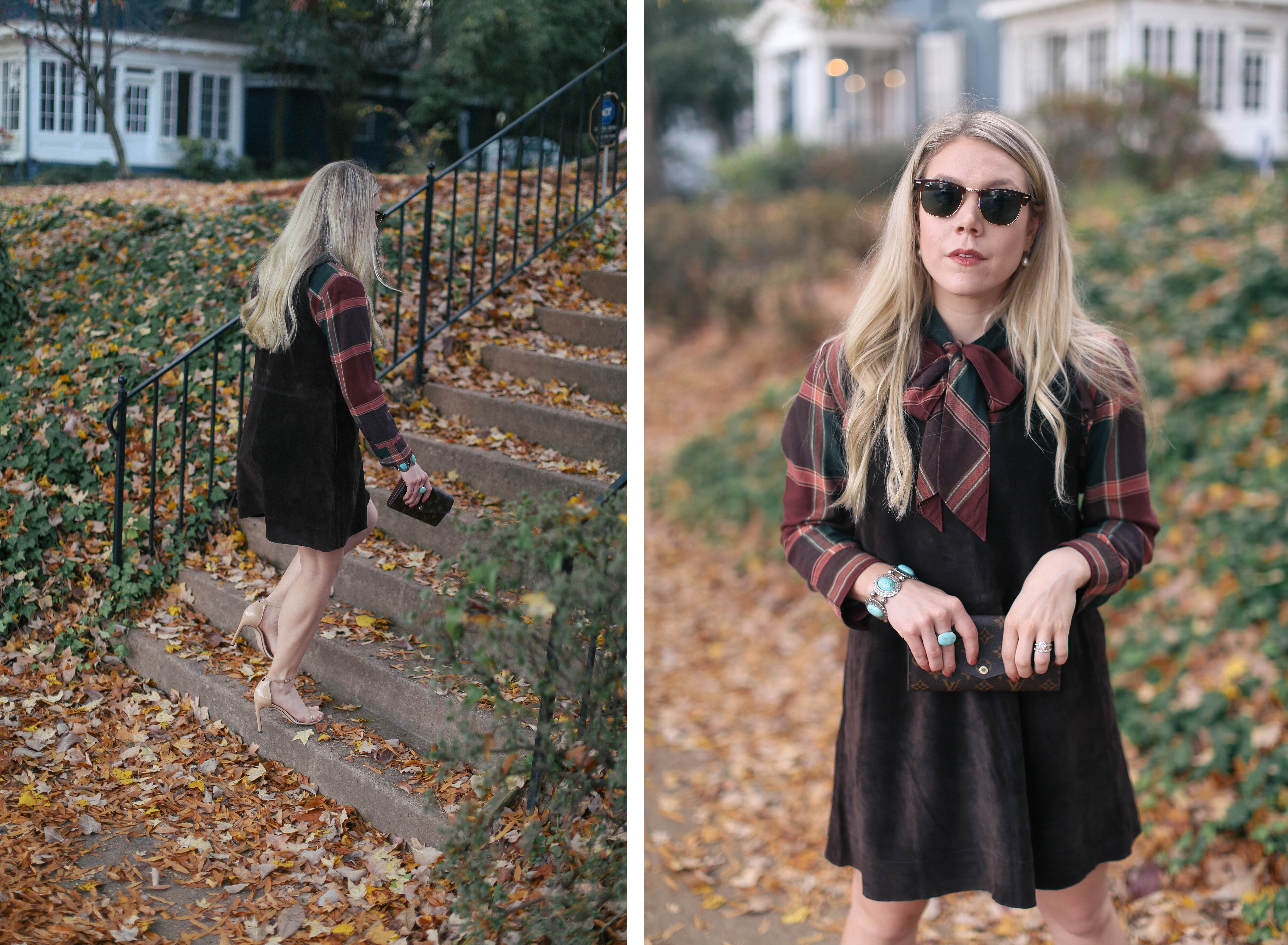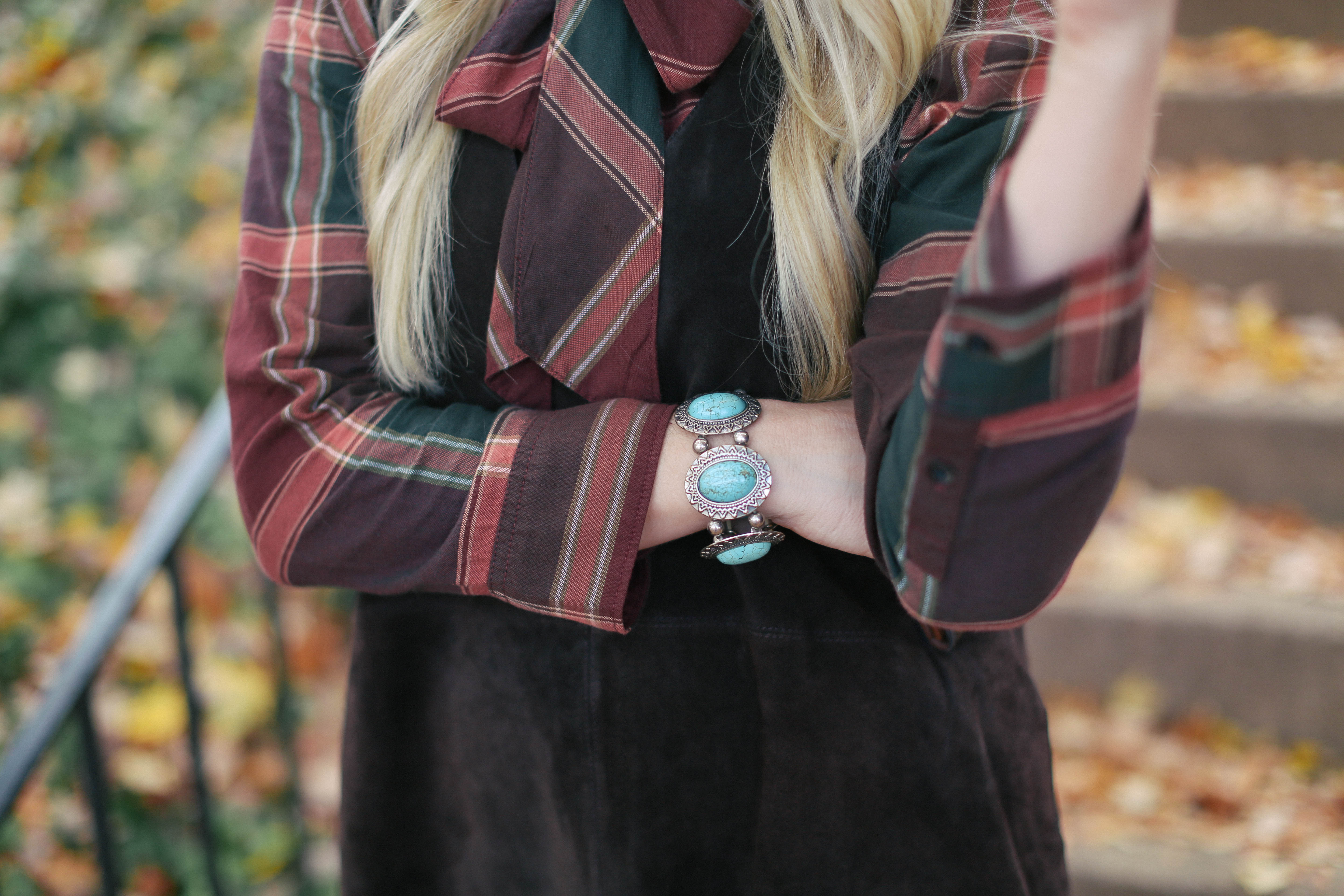 Next week kicks off with my first gift guide of the season! Last week I ran a poll on Instagram (thanks to those who participated) asking everyone how they wish to view holiday content: collages with brief product descriptions or categorized sections under the shop tab of my site. Collages won by a handful of votes however, I think I've found a way to combine the both!
I hope everyone is having a wonderful weekend! We're spending ours relaxing and piddling around in our yard.
Best,
Taylor-Rae
Click image for outfit details: