With Thanksgiving this week, and Christmas on the horizon, we have a lot to be thinking about! That said, I've put a great deal of time and effort into creating this years 'Holiday Gift Guides' for Style Souffle so that you can focus less on shopping and more on the people and things that matter most! Each of the items are things that I have heavily researched, are considering purchasing or that my husband, papa and father-in-law personally own and love!
Without further ado, let's kick off the season of giving with my first guide of the series: Holiday Gift Guide – HIM. It's complete with a selection of well-rounded items for every guy on your list this season! Please take the time to read each (brief) product description below, as I tried to give a helpful explanation about my reasoning behind each item!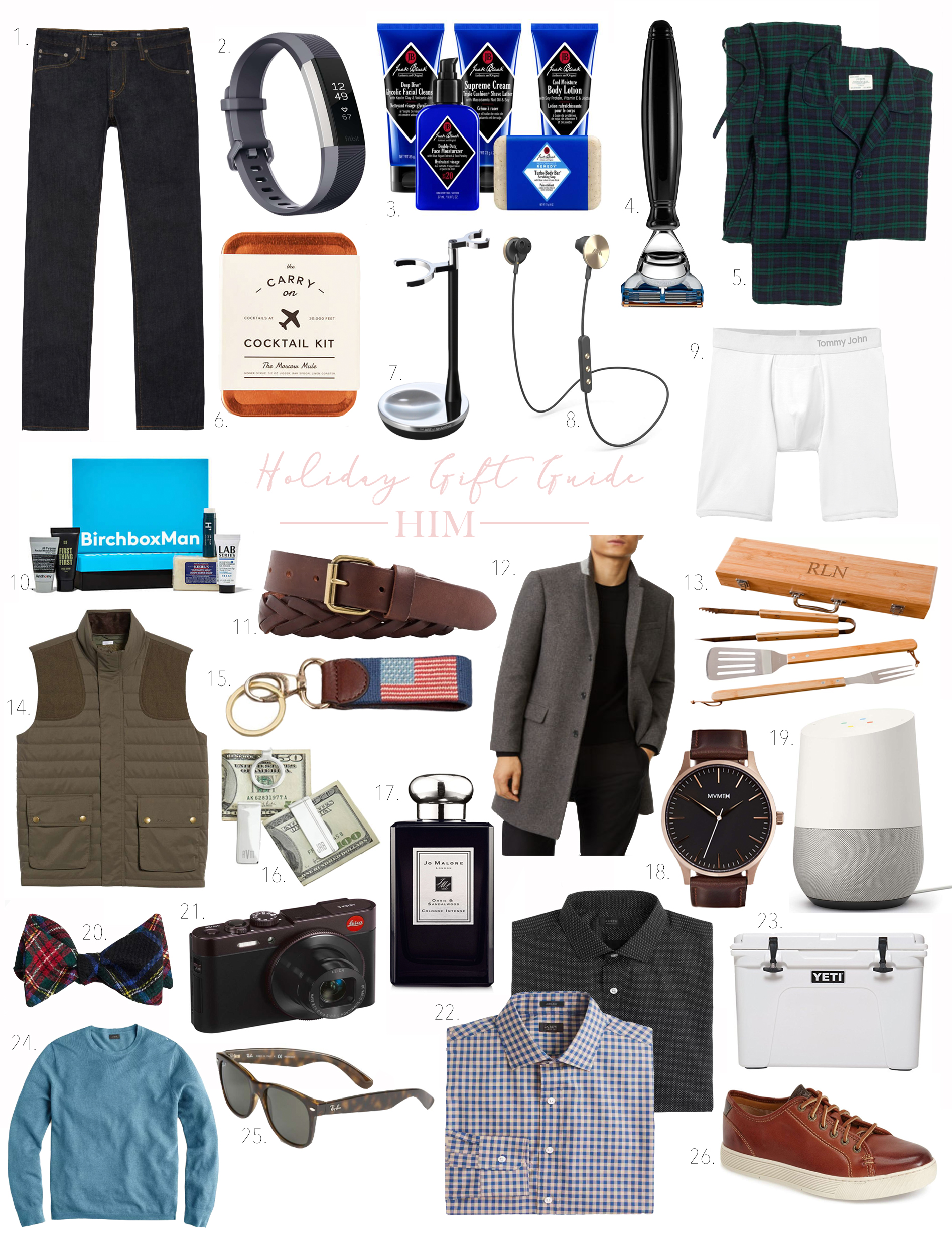 1 | 2 | 3 | 4 | 5 | 6 | 7 | 8 | 9 | 10 | 11 | 12 | 13 | 14 | 15 | 16 | 17 | 18 | 19 | 20 | 21 | 22 | 23 | 24 | 25 | 26
AG 'Graduate' are my husbands favorite jeans! He has a muscular build and the tapered pant leg is flattering and comfortable. They pair really well with boots, loafers and sneakers.
fitbit is the best alternative for those who want to monitor their health without all of the features of a Garmin or AppleWatch. My husband owns this Garmin (he received it as a gift last Christmas) and can't leave the house without it!
Jack Black is all-around a great skincare line for men. My husband and father-in-law have used it for years!
Art of Shaving products and accessories make great gifts. My husband uses their Sandalwood products and loves the fragrance (I do too, ha). The company partnered with Gillette on all their razors, so swapping the blade is easy and blades can be purchased at any drug store.
Flannel pajama sets are universal gifts that are great to have in cooler months. Both my husband and I own this set from J.Crew – they always have the best selection.
The Carry on Cocktail Kit make perfect stocking stuffers.
Art of Shaving razor & brush stand is a unique gift idea for men who don't already own one. Art of Shaving makes some of the best!
i.am+ wireless buttons are easily the best quality wireless headphones on the market. My husband is an avid runner and has found they maintain a strong bluetooth connection and quickly link to devices. He tried Beats by Dra wireless earphones and returned them twice before discovering these.
Tommy John trunks are the only thing my husband will wear! Literally! He's worn them for two years now and found them to be well-made, lightweight, breathable and great with slacks.
Birch Box monthly subscriptions is the gift that keeps on giving! Justin received a six month subscription last Christmas and looked forward to recieving the package each month! So much that I may gift him a subscription this year! He loved trying new products and discovering new brands.
Braided belts are both classy and hip, and something the men in my family need to replace year after year. I love this black/ brown reversible one as well.
Twill coats are fashion forward gifts! Club Monaco always has the best selection. The one pictured above is currently 30% off!
Personalized grill utensil set is perfect for fathers and father-in-laws!
Barbour vests are quality gifts and are designed to stand the test of time! Justin owns this exact style (worn in this post) and wears it as often as he can!
Stitched American flag keychain is the perfect stocking stuffer item.
Personalized money clips are handy to have! And, adding a monogram or initial to anything makes it more special, in my opinion!
Jo Malone cologne's are beautiful fragrances and is the ultimate indulgence if you're gifting cologne. The Orris & Sandalwood debuted two years ago around the Holiday season, and is my favorite cologne within their collection.
MVMTM watch is black, deep brown and rose gold and will GO WITH EVERYTHING! Mixing black and shades of brown can be tricky, but is done well in this design!
Google home voice is all the rage at the moment and its smart technology is backing up the hype!
Tartan bow tie, because real men wear bow ties! After all, 'tis the season for plaid!
Leica C digital camera! It's hard to believe the price of this camera given that Leica is the leading manufacturer in cameras! This would be a more special gift given it's higher price point, but if you're in the market for a camera – this is the one to consider!
Dress shirts are a great go-to gift!
Yeti cooler would be perfect for the dads with littles! Take them on vacation, sporting events or birthday parties… my sister and brother-in-law have two young sons (ages 1 and 5) and love it!
Sweaters are the most universal and yet loved gifts that are perfect for every guy on your list this season! How beautiful is this blue?
Sunglasses, especially Wayfarers, are a forever classic. Go with tortoise.
Leather sneakers – both dressy and casual! I want a pair for myself, actually!
Another great option, not pictured in the collage above, is Patagonia outerwear. My husband owns this fleece vest and has worn it so much in past two years, he could use a replacement!
Click images below for details: