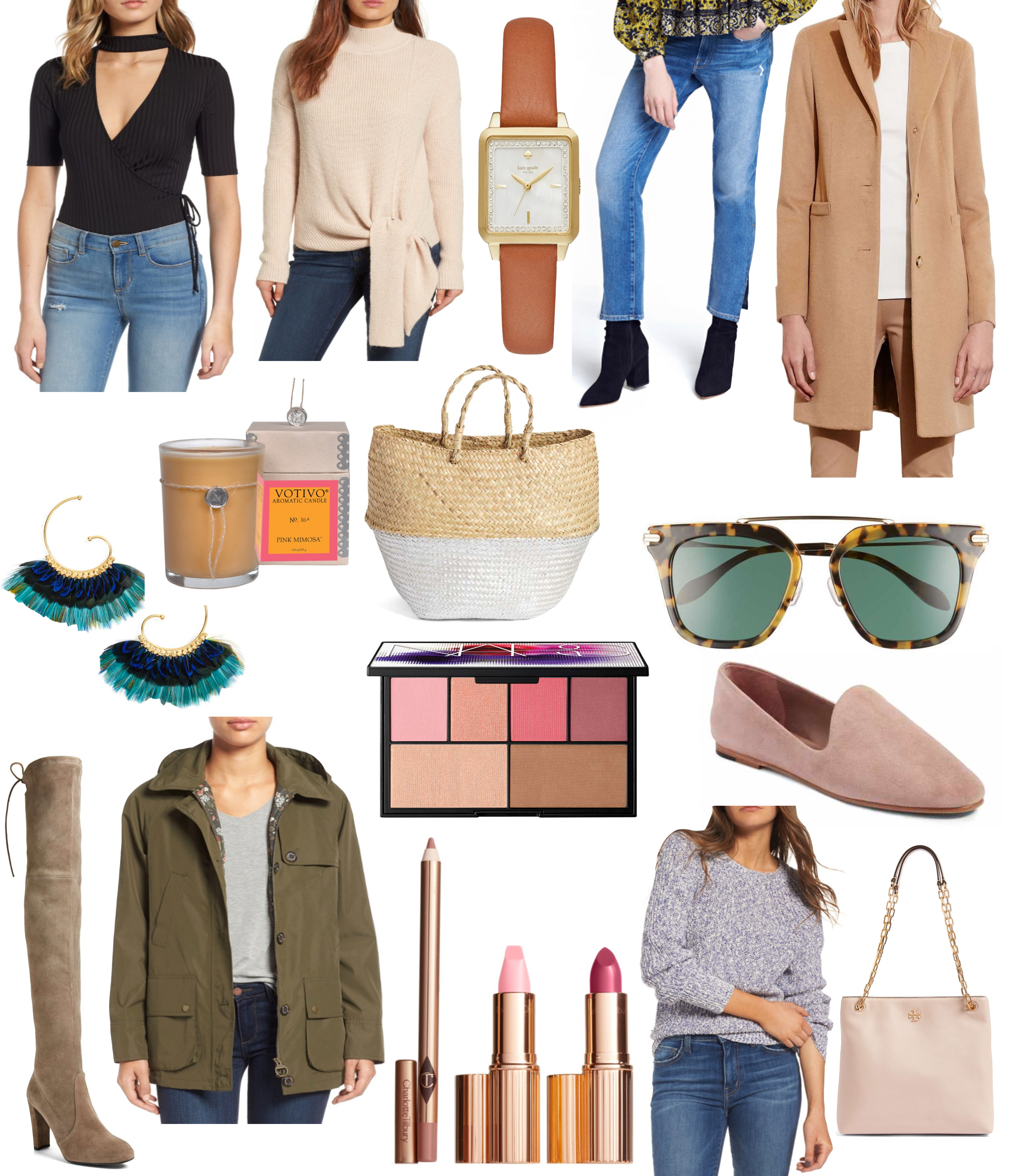 Basket | Earrings | Blue Sweater | Choker Bodysuit | Tory Burch Bag | Barbour (Hunter) Coat | OTK Boot | Camel Coat | Pink Loafers | Lipstick Set | Front Tie Sweater |Denim 
I know, I know… another bloggers take on the Nordstrom Anniversary Sale!  For those who closely follow a lot of bloggers, I get it, all this talk about the #NSALE can be annoying. Many say it's the "best sale of the year", and while that may be a bit of a stretch (and genius marketing strategy), there are certainly a handful of beautiful things and amazing deals to be had.
Each year Nordstrom grants "cardholders" early access to shop the sale. In the past, customers had the option of using their Nordstrom debit card, which linked to your personal checking account and was a flexible option for customers who may not want another credit card. Well, Nordstrom has since done away with that option encouraging customers who wish to shop the sale early to apply for their credit card. I personally do not own one, as I was taught very early on that retail credit cards are a bad idea (probably because I can't be trusted), and I also don't feel 100% comfortable encouraging you get one however, the early access sale will go on until 7/20, and then everything will be open to the public (non-cardholders).
DO NOT WORRY if you're not a cardholder, there will be plenty of merchandise to shop through the next three weeks, as items are consistently being re-stocked! Take this time to really think about what you need and what pieces will really go the milage.
I've had my eye on a few pieces from this years sale, and since the sale goes live to the public this Friday I wanted to included a list of my top picks! This years selection of outerwear, active wear and lounge wear are among my favorite in comparison to years past. There are a handful of returning favorites, like the NARS cheek palette. I purchased this last year and use it every single day. Can you believe it has lasted that long? I also always use the #NSALE as an opportunity to stock up on NEULash – such a great deal! I'm hoping it's still available when the sale goes public.
Below I have categorized my top picks. Simply click on the image and it will take you directly to Nordstrom where you can view the item!
ACTIVE WEAR

BEAUTY

OUTERWEAR

DENIM

TOPS

SHOES & ACCESSORIES

WHAT I PURCHASED
Being mindful of the fact that we have a lot of important purchases to make for our new home, I walked away from this years #NSALE with items that I had either heavily considered or felt I would eventually make throughout the upcoming season. For only $65, this blue Free People sweater (also pictured below) is a steal. Some of my favorite sweaters have come from their store. They're soft, warm and incredibly well made. It also comes in a beautiful brown.   

Several years ago my mom purchased me a cape-style camel coat that I practically live in during colder months, so when I saw that Ralph Lauren camel coat had a reefer style camel coat as part of sale I immediately put in on my 'Wish List'. I've closely watched it over the past week and was thrilled when they re-stocked my size. The neutral color is so versatile and can be styled a variety of ways. 

Over the years I've heard incredible things about Charlotte Tilbury products, especially the 'Pillow Talk' lip liner. It has been years since I wore lipliner and I've had my eye on this shade for some time. Olivai Culpo swears by it (my all time muse)!  A neutral lip liner is a natural way to achieve fuller, wider lips – give it a go! 

This may be a bit aggressive of me, but the #NSALE is a perfect opportunity to stock up on Christmas gifts. The NARS palate, neuLASH du0 pack and Jo Malone fragrance are all things I plan to give as gifts this year. These are all REALLLLY great buys that are specific to the Nordstrom Anniversary Sale, so this year I made sure to purchase these items. You can never go wrong with anything beauty related. Everyone loves to look and feel their best!


I also had to purchase a pair of denim. Dressed up or down, denim is practically my go-to during colder months. I had been eyeing these, but unfortunately they were sold out at the time I submitted my order – I'm hoping they restock my size. So I purchased these instead!