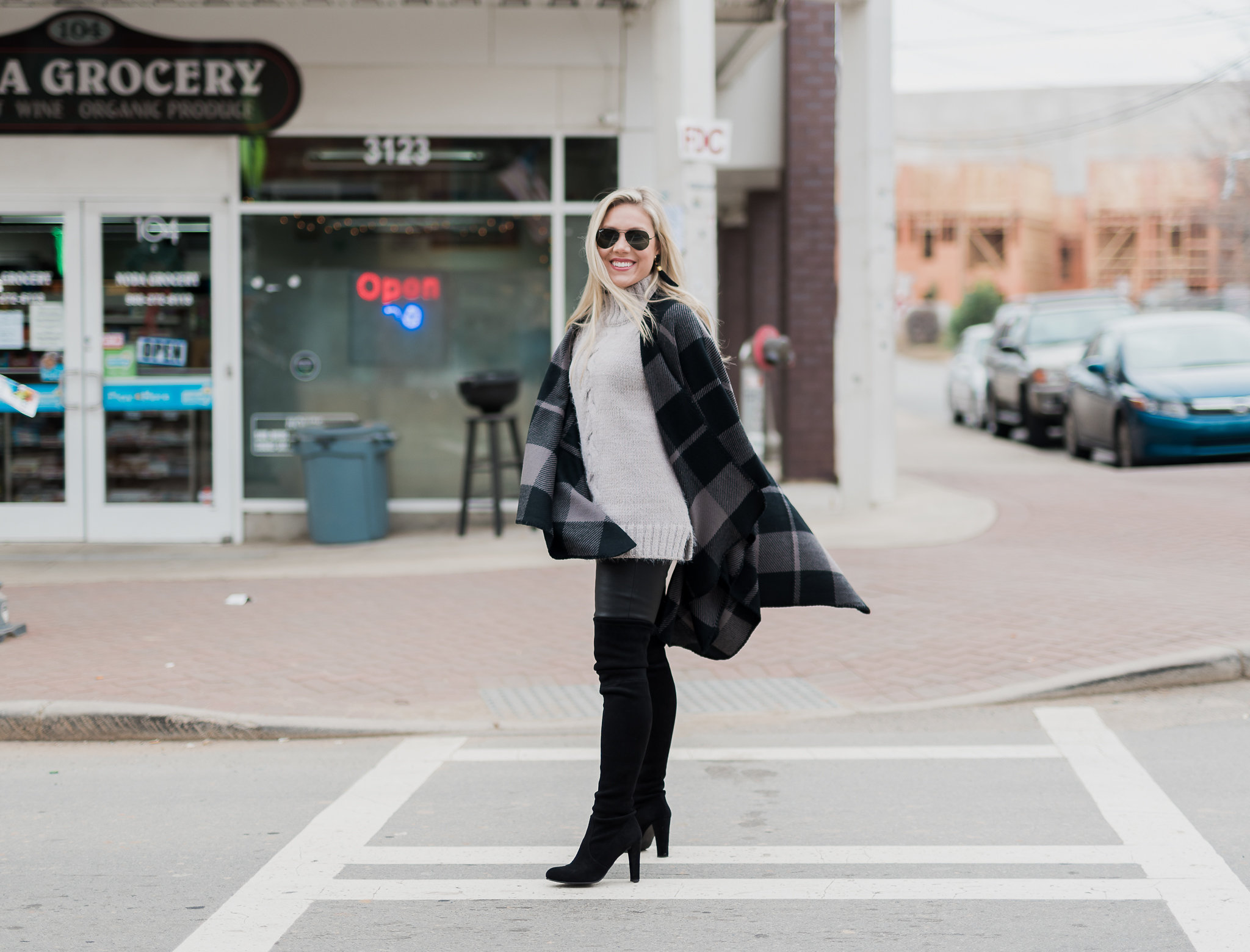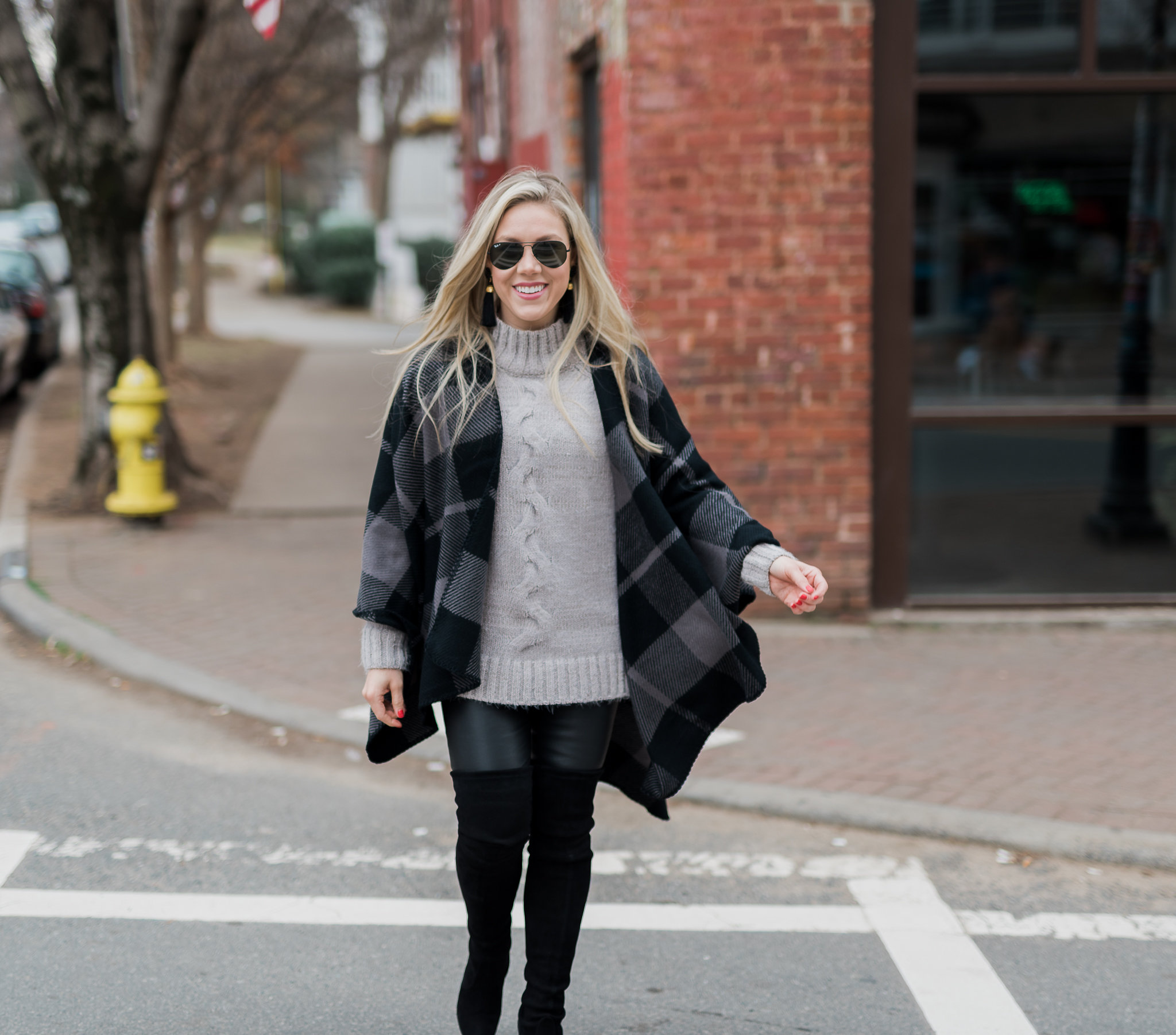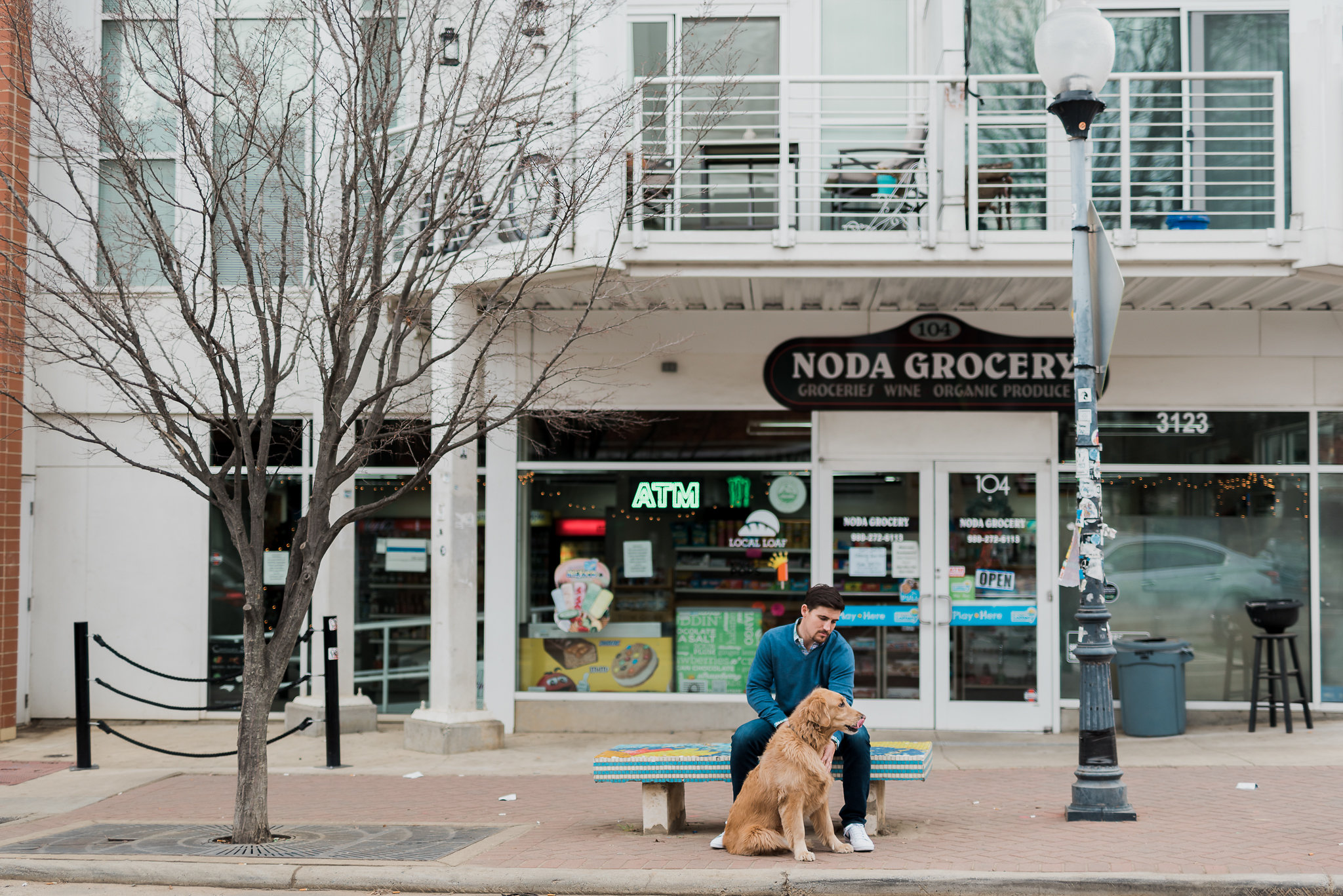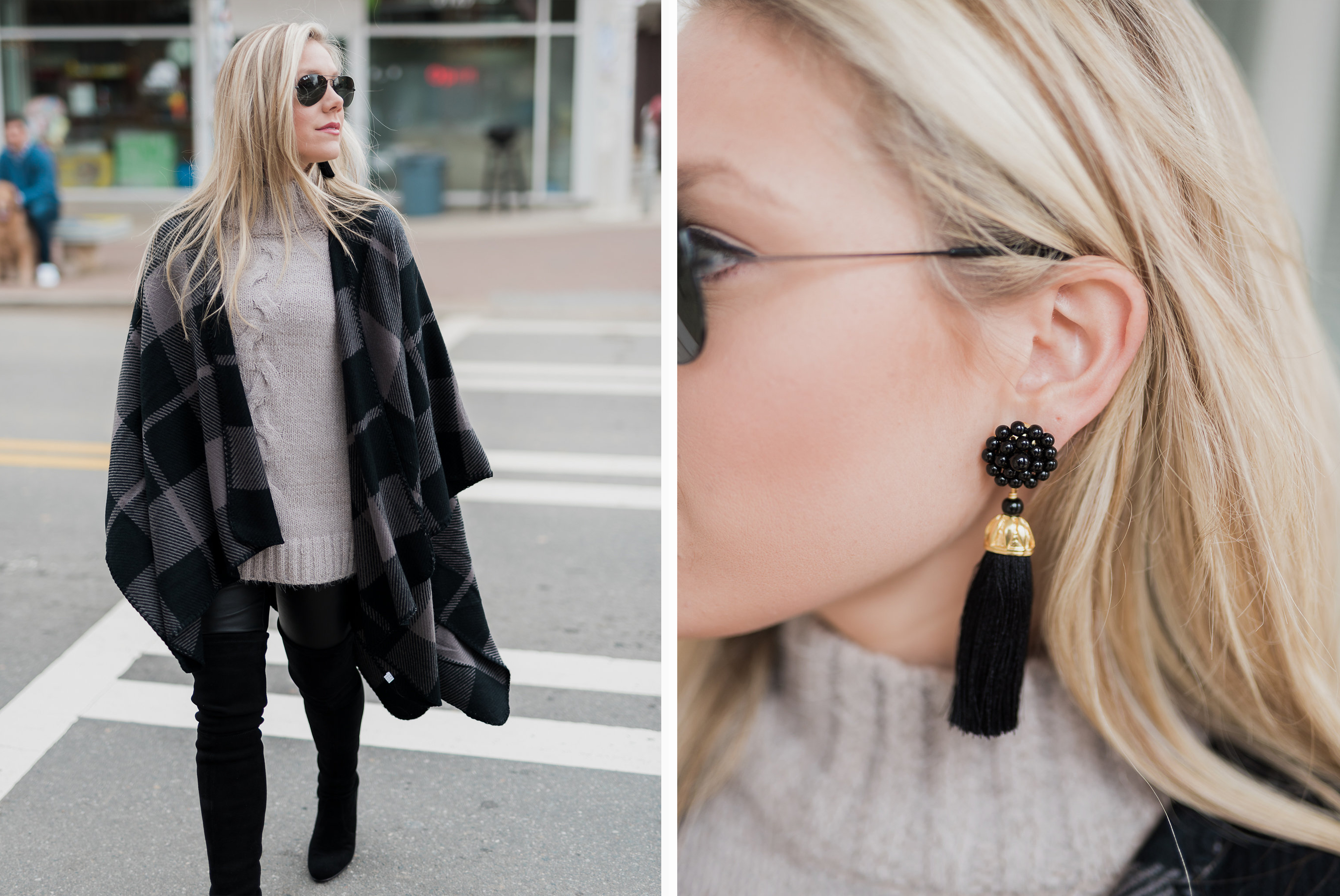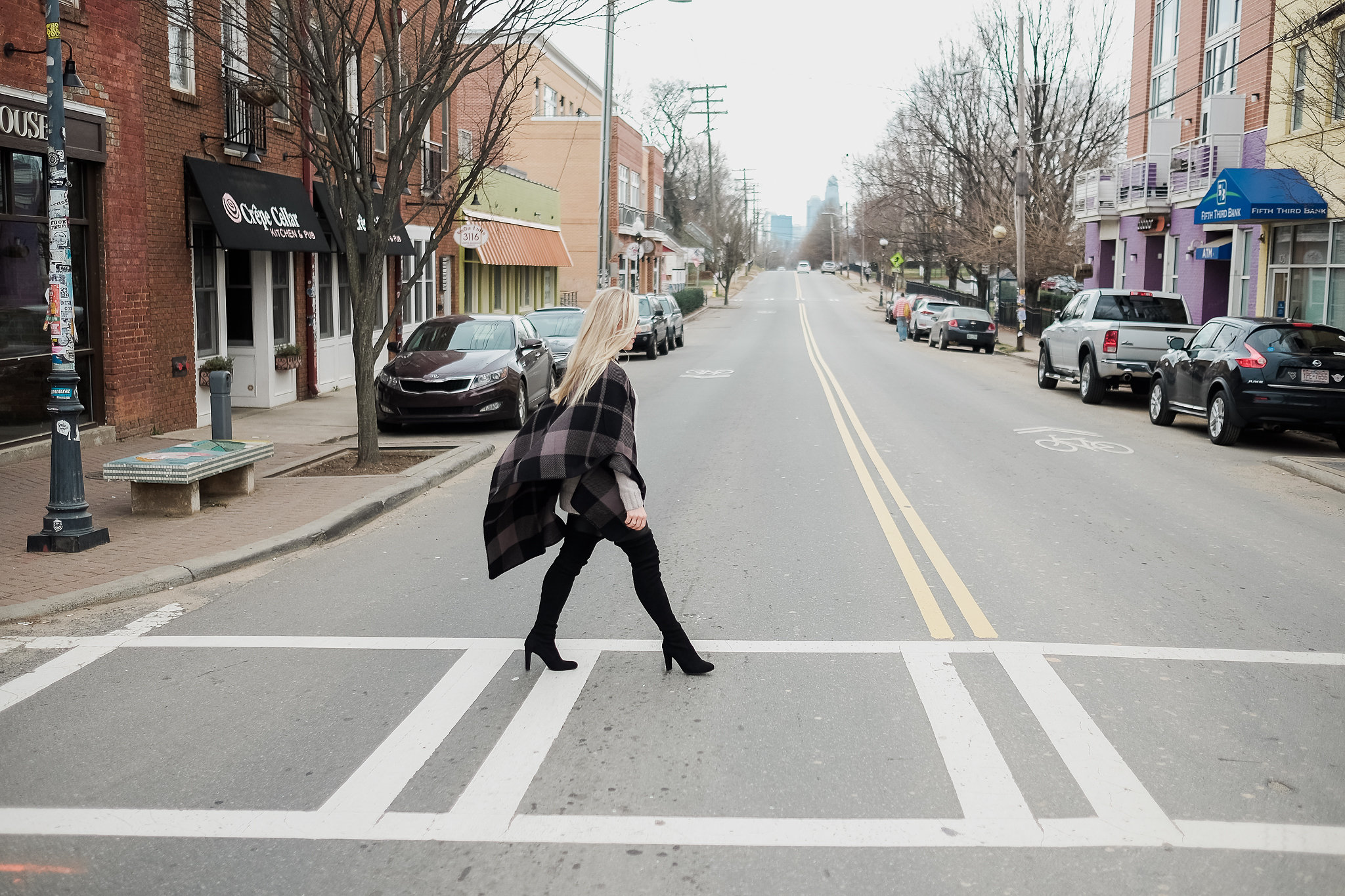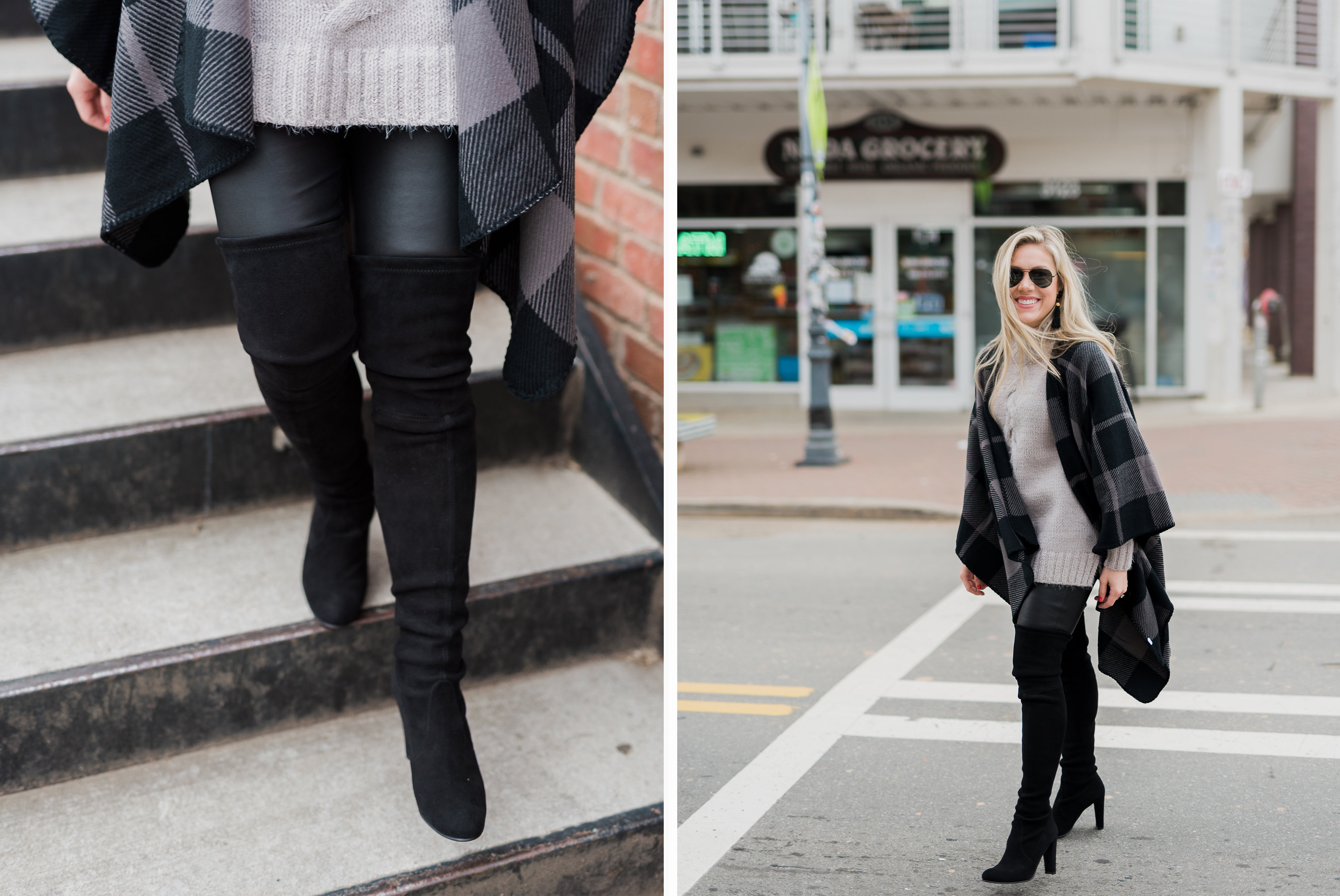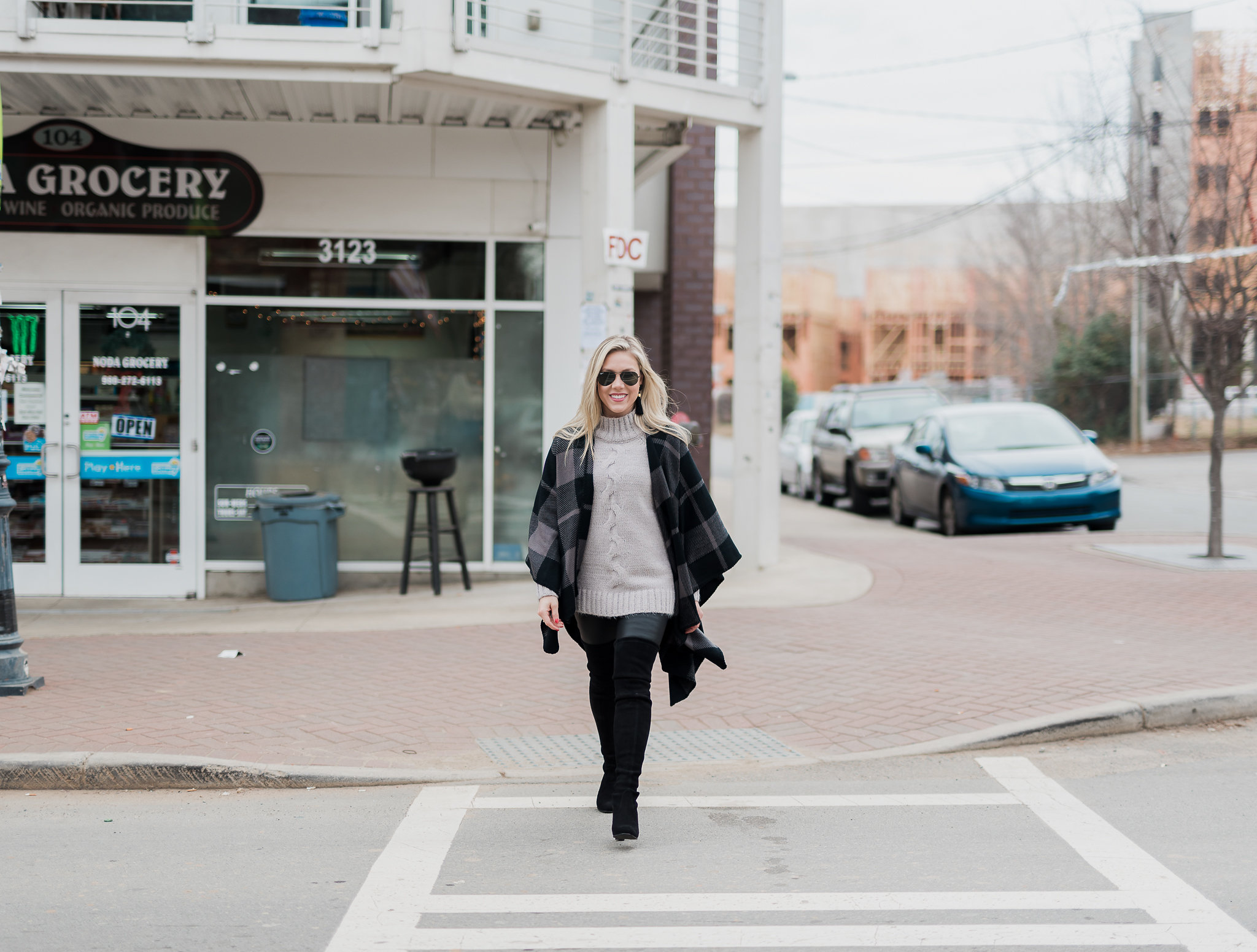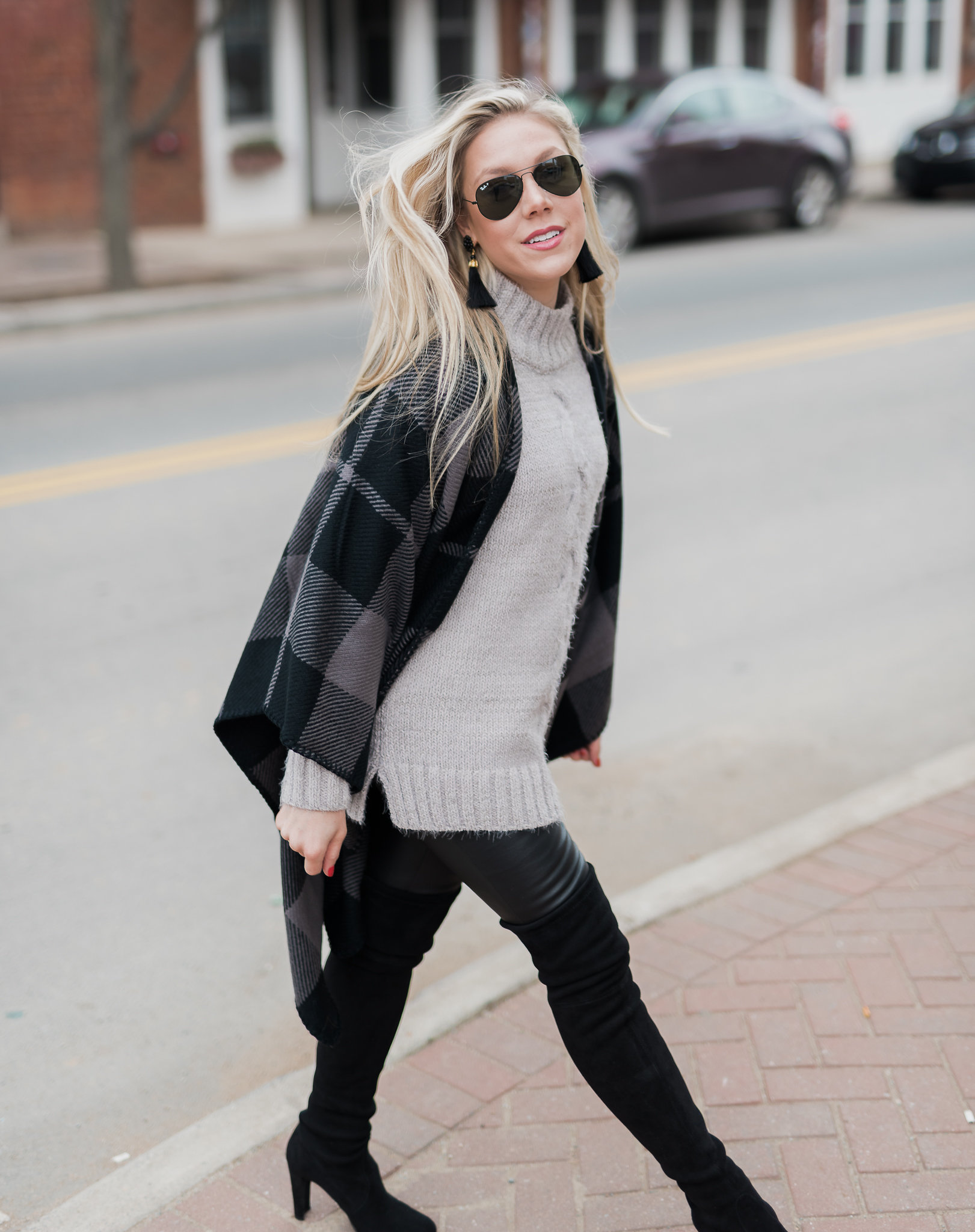 Outfit details:
Pants: Helmut Lang | Sweater: LuLu's | Cape: Swirling Honey Boutique | Boots: Stuart Weitzman | Sunnies: Ray Ban | Earrings: Lisi Lerch
Hi darlings! It would seem as though 2017 is off to a wild, and very busy start! My schedule over the past several weeks has been jam packed, as my husband and I have been working on what is perhaps our most exciting project yet. In fear of speaking too soon, I've decided to wait and share details when things are a bit more concrete. It's something I've dreamed about for years, and appreciate your patience as we work through the details.
As for this outfit, it is comprised of some of my favorite and most coveted pieces in my Winter collection.
In seasons past, I found myself searching endlessly for an affordable and flattering over-the-knee boot, yet the challenge I faced was finding a pair that didn't wear me!  Knowing they were out of my budget, I made the mistake of trying on Stuart Weitzman's 'Highland' boot – of course, they were comfortable, well-fitted and exactly what I had been looking for.  It only took me two years, and a handful of "hopeful" alternative purchases, before pulling the trigger on the 'Highland' boot that I wanted so badly. In fact, I wear them so often that I now wish I had purchased their sister pair, the 50-50. I've linked a few strong contenders below that have received incredible reviews.
Another splurge this season are the pair of Helmut Lang leather pants featured in today's post!  Genuine leather pants had topped my wish-list for years, however retailers local to Charlotte offered very limited options, if any, so purchasing a pair would require ordering them online. I knew very little about leather, as well as the sizing for the various brands that offered styles I liked, so I turned to blogger, Christain Blair of Christian Blair Style for advice. I learned of her blog through a Nordstrom associate who had recently relocated to the area from Texas, where she worked alongside Christian. Knowing Christian had experience with designers such as Helmut Lang, I called her one evening in desperation (this industry is so bizarre, as I felt I was talking to an old friend). She was spot on and helped me find the perfect pair of pants, saving me from wrapping a great deal of money into online purchases in search for the perfect pair!
The pants featured in today's post run true-to-size, and are made to look like pants, button like pants, have seems in the place of pant pockets, but wear and fit like leggings. A TOTAL WIN! My one tip of advice when purchasing genuine leather pants is to opt for pocketless options. Leather is a very thick material, making it perfect for Winter, so pockets can widen a look and add bulge in unwanted areas. Also, I advise you wait and purchase them when on sale. For example, these Helmut Lang pants retail for $995 (I know… I'm crazy), but I purchased during the time of ShopBop's famous sale for a much reduced price of, $450!
Hopefully today's post inspired your save and splurge and on timeless classics while also offering helpful advice for when making similar purchases!
Have a wonderful weekend, and stay tuned for more on what my husband and I have up our sleeves!
xx,
Taylor-Rae
Pants: Helmut Lang | Sweater: LuLu's | Cape: Swirling Honey Boutique | Boots: Stuart Weitzman | Sunnies: Ray Ban | Earrings: Lisi Lerch