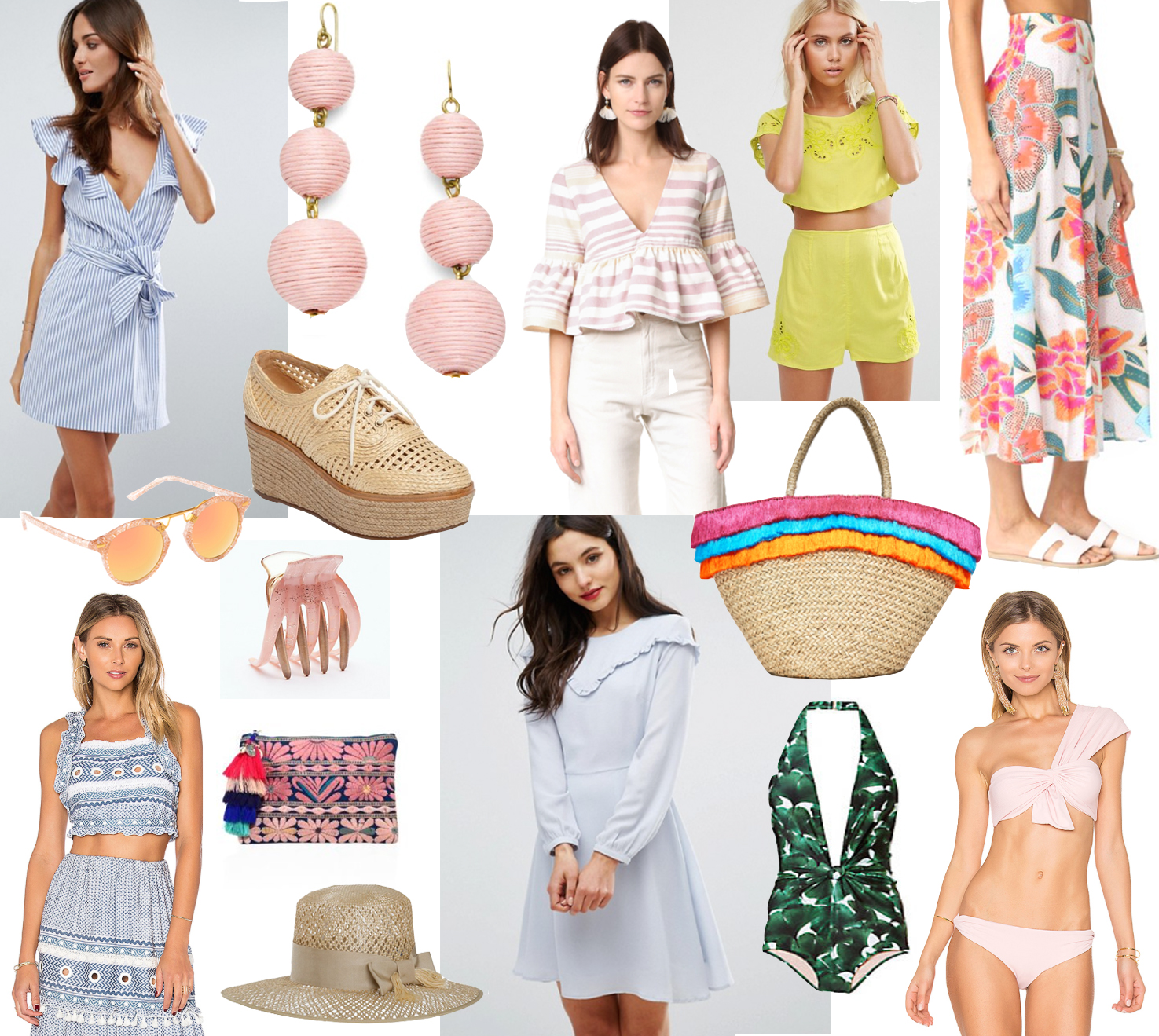 Left to Right:
Ruffle Dress | Pink Earrings | Pink Strip Crop | Neon Co-Ord Set | Floral Culottes | Sunnies | Espadrille Sneakers | Fringe Tote | Hair Clamp | Crop Set | Embroidered Clutch | Hat | Sweetheart Dress | Halter One Piece | Marysia Swimsuit 
With 2017 just days away, I've taken time to reflect on this past year while setting personal and professional goals for what I hope is the best one yet! Year 2016 was full of change, adjustments and a lot of self-discovery. My hope is for 2017 to be full of growth and adventure: Deeper relationships, prosperity, more spontaneity.
When thinking of a few goals, my husband and I agreed that 2017 should be a year full of travel and adventure.  We wish to seek beautiful, foreign places and emerge ourselves in unfamiliar cultures while embracing any change that, that may bring – in our hearts and minds.
All that said, we have already booked a tropical getaway and I'm dying over all the emerging warm-weather pieces available right now! This is one of the best selections I have seen in years. In fear of them being sold out, I had to purchase the blue ruffle dress and neon co-ord set both from ASOS for less than $40 each!
xx,
Taylor-Rae
Click image below for details:
Ruffle Dress | Pink Earrings | Pink Strip Crop | Neon Co-Ord Set | Floral Culottes | Sunnies | Espadrille Sneakers | Fringe Tote | Hair Clamp | Crop Set | Embroidered Clutch | Hat | Sweetheart Dress | Halter One Piece | Marysia Swimsuit