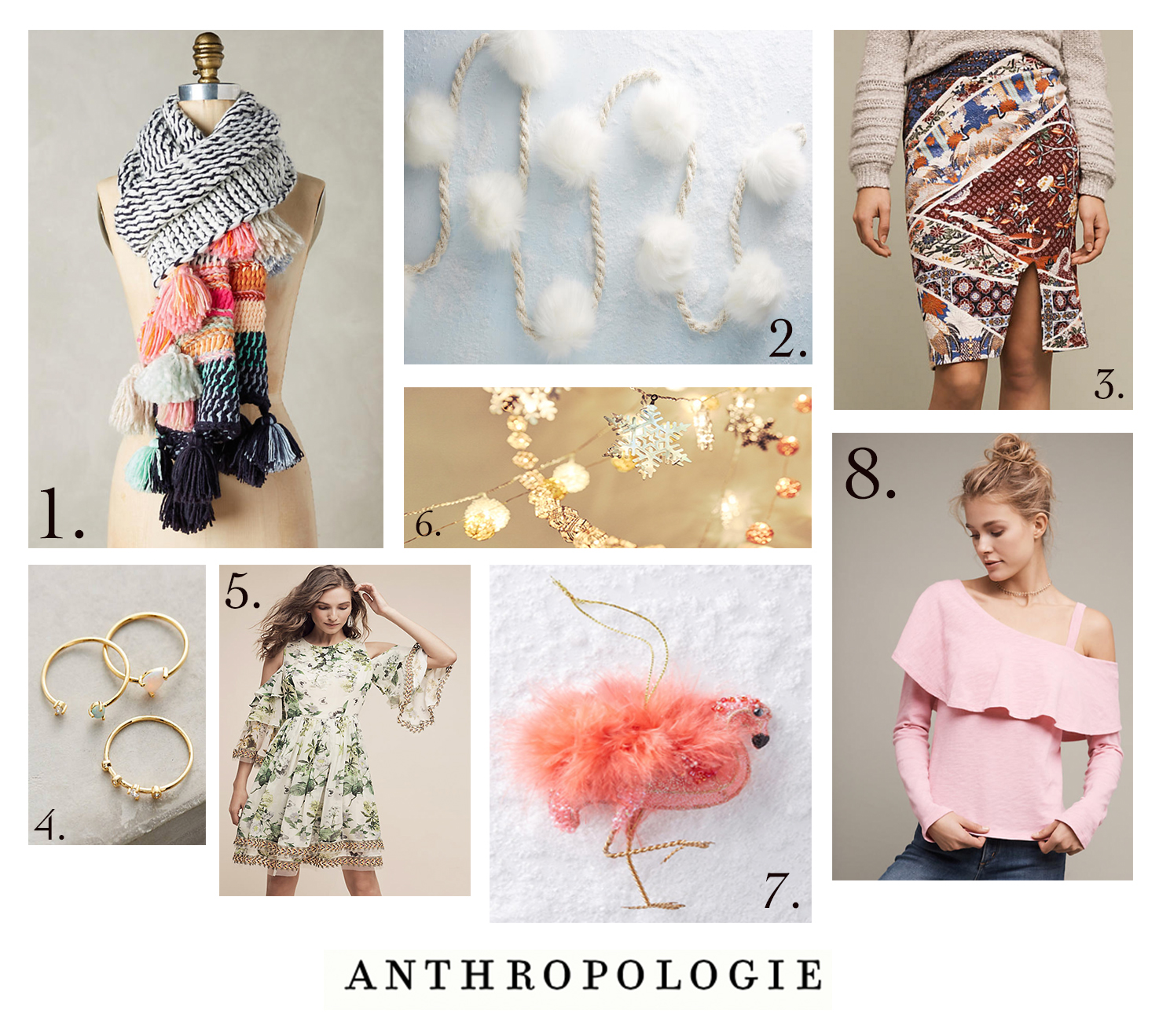 one | two | three | four | five | six | seven | eight 

My style is variable for the most part, as it should be. As a self-proclaimed girly-girl, some of my favorite designers include Self-Portrait, Alice + Olivia and Rebecca Taylor, however there is no denying my heart also aches for all things Anthropologie. Simply walking into their store is like experiencing another state of consciousness. I've never been the type to own a Peruvian-style poncho, and yet, last week I spot one artfully displayed on a mannequin, and suddenly imagined myself swaddled in it while frolicking with alpacas on a hazy hilltop. I laugh as I type that, because if Narnia were really a thing, it would most definitely be Anthropologie. I'm always taken back by the impeccable amount of detail that goes into creating a retail space that feels like you're walking into a hug from your kindergarten art teacher!  Admit it, you too laughed, as it couldn't be further form the truth.  I could spend hours perusing their girly kitchen gear, ruffled aprons and whimsical doorknobs, and that was exactly what I was doing when I stumbled upon these Pilcro denim pants (here).
Pilcro is an Anthropolgie-exclusive collection of high quality denim that gives their designer counterparts are run for their money!  If you've never tried on a pair, or experienced the comfort of their denim, I highly recommend you run to your nearest Anthropologie and try on a pair, or two! In addition to being extremely comfortable, they're known for being flattering on any and every body type.
While maybe you don't see me wearing denim all the time on Style Soufflé, it just so happens that Pilcro denim are almost always my go-to, off duty look. And more often than not, it's my work-wear too. Especially the Pilcro Mid-Rise Ankle Jean, here.  I mean, is there anything easier than throwing on a pair of your favorite jeans and a t-shirt? They're easy and comfortable with a slight node to casual elegance.  The problem most women have is finding the perfect pair.
I am teaming up with Anthropologie Raleigh and Shelby Vanhoy of Pretty in the Pines to give away the gift of Anthropologie this Holiday season. Both Shelby and I have shared our love for Anthro and Pilcro denim many times before, and wanted our readers, the heart and soul of our blogs, to have the opportunity to shop one of our favorite retailers as a token of our appreciaition!
To enter, simply head over to my Instagram account (@stylesouffle), and follow ALL guided rules of entry explained within the caption for the photo featuring this Anthro look. We will be choosing the winner exactly one week from today, which we will be announced in the comment section on this post, as well as, my Instagram handle, so make sure you are following myself and Shelby!
Also, don't forget to check out our earlier giveways – remember, you have one week from the date the giveaway goes live to enter! I've linked each day below.
Day One | Day Two | Day Three | Day Four | Day Five | Day Six
xx,
Taylor-Rae