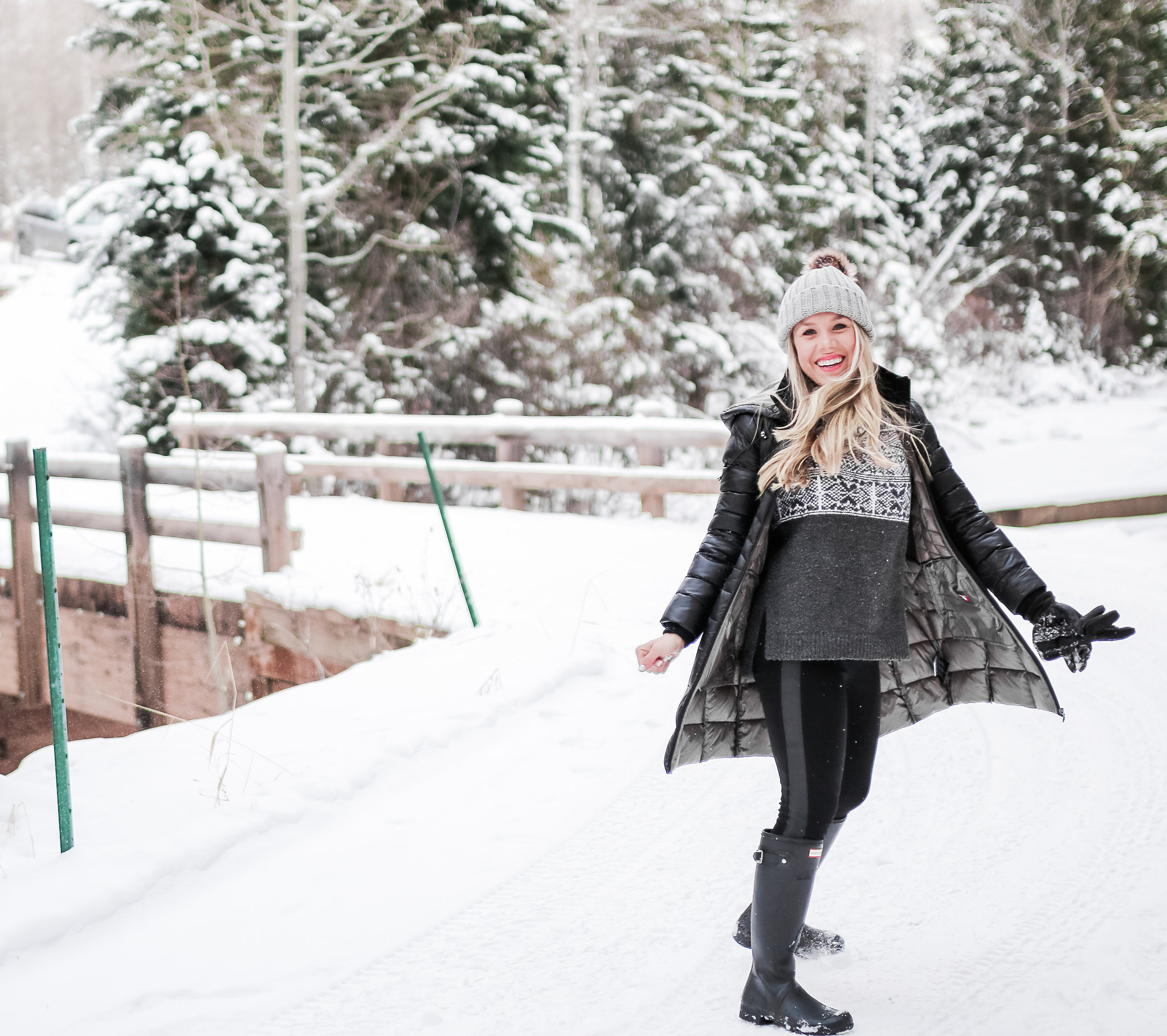 I'm so excited to finally start sharing details of our recent travels to Colorado. We've received a handful of messages from readers, family and friends asking how we enjoyed our trip, and I felt Style Souffle would be the best place to journal our experience in great detail by taking an in-depth dive into where we stayed, dined, and played!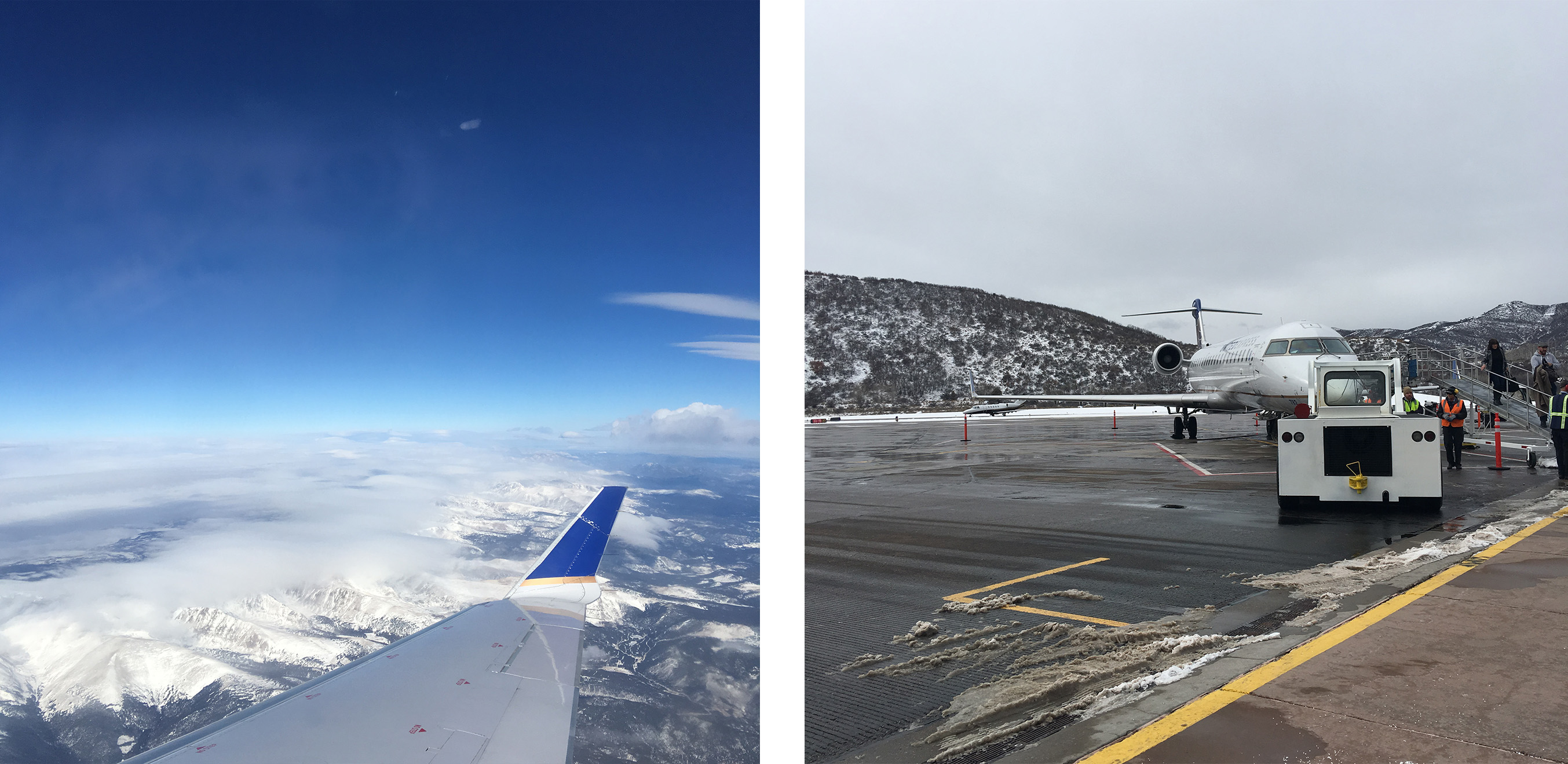 This was certainly one of the most beautiful places my husband and I have visited as a couple, and considering how much we love an outdoorsy adventure, it's hard to believe this was our first time traveling to the Centennial State. This trip started out as an idea to travel somewhere "snowy" over the Holidays. When we began considering the idea in greater detail, we both agreed the destination should be one that was fun, relaxing and also a bit untraditional. While we'd like to think of ourselves as avid travelers, neither of us have spent much time exploring the Western side of our nation, making Colorado almost a clear choice for our "winter getaway". Come to think of it, I don't remember us even considering any place other than Colorado.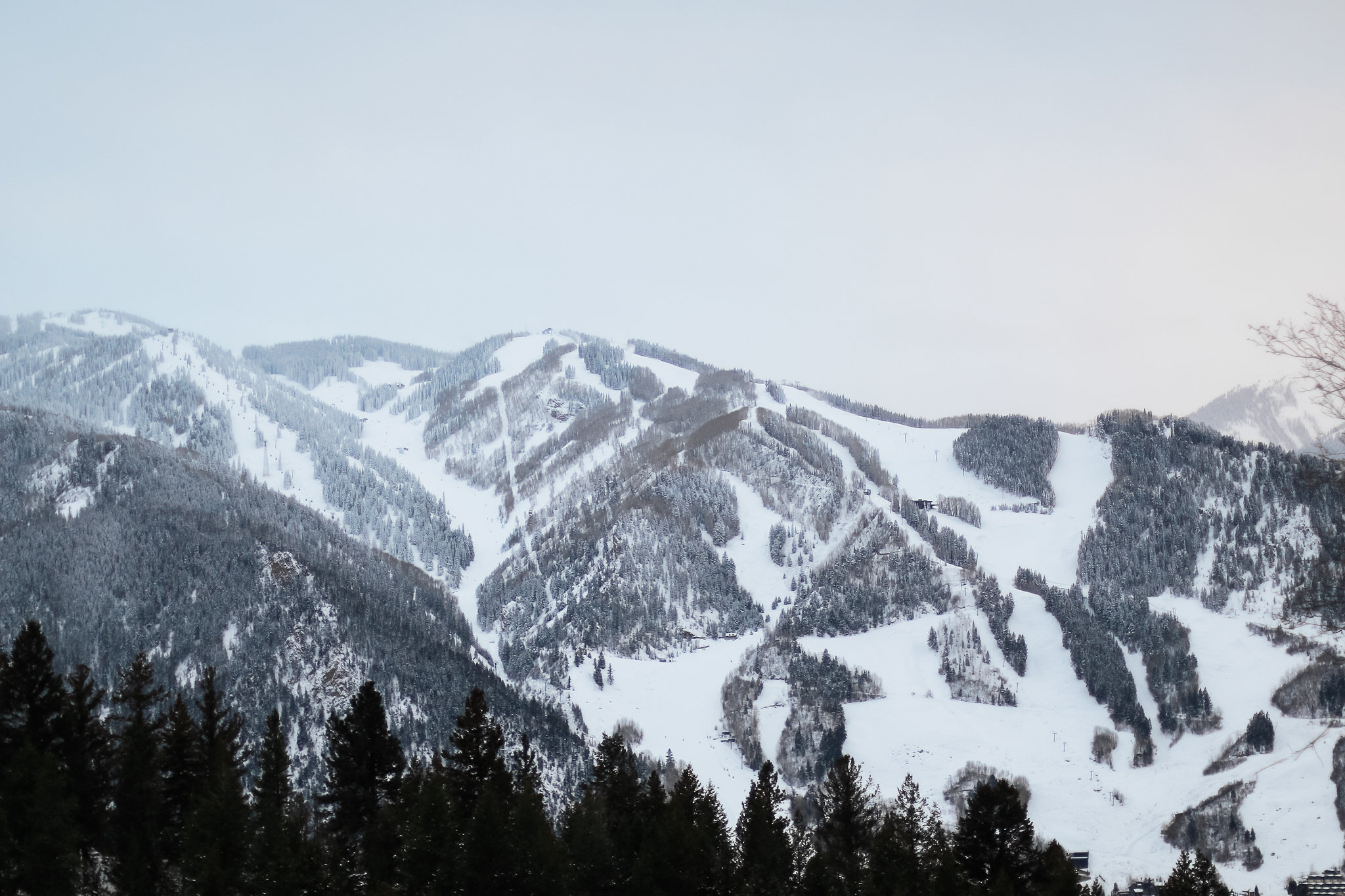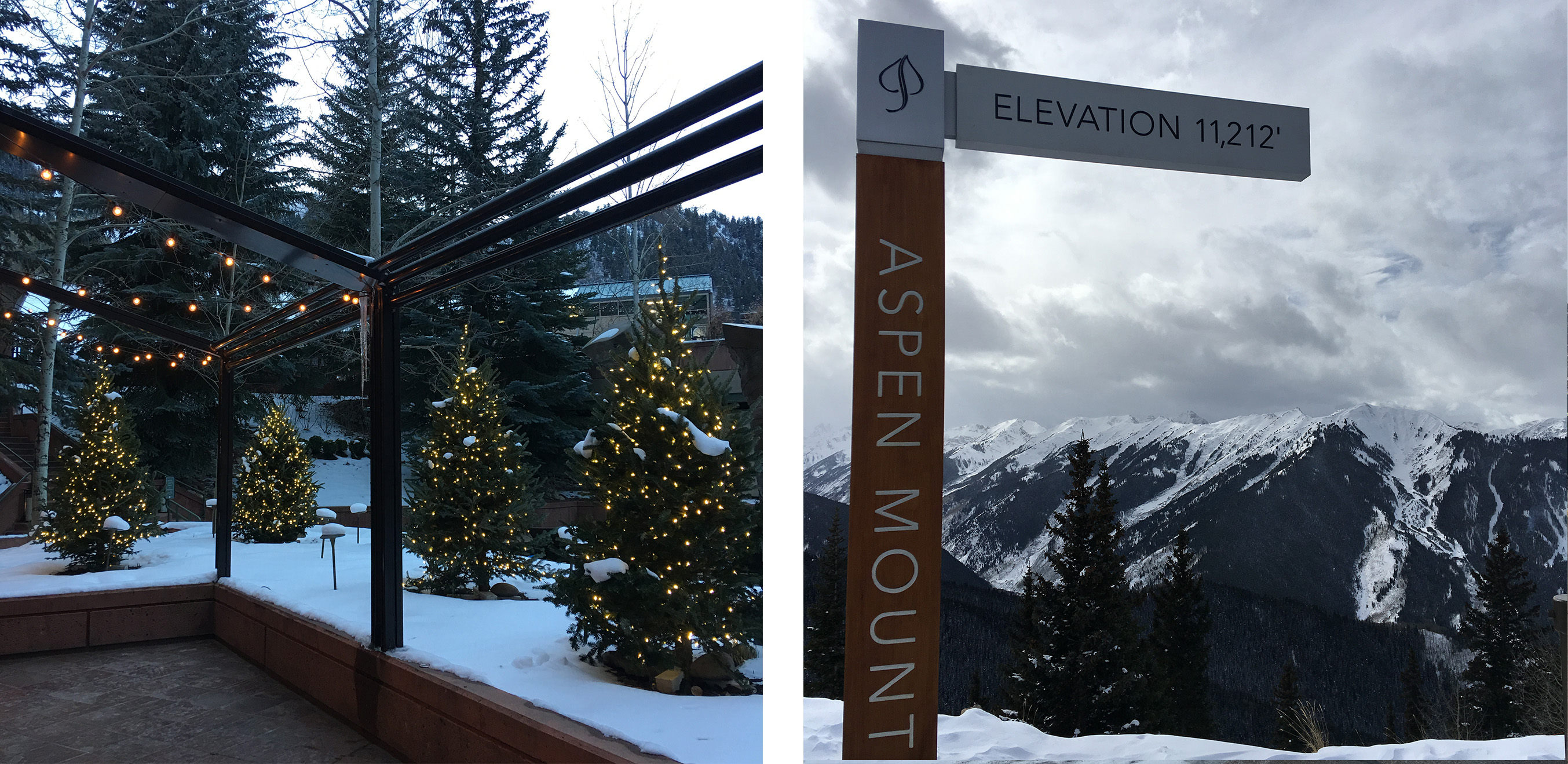 Like our honeymoon in Antigua, we divided our time in Colorado amongst several different resorts located throughout the state. For that reason, I've decided to share our entire trip in a segment of three separate posts'. Each place was vastly different from the other, thus offering it's own unique experience.
The first leg of our journey throughout Colorado began in Aspen. Upon arrival, Justin and I collected our things, hopped in our rental car, and set out for The Residence at Little Nell, a quaint little property located in the heart of Aspen. Prior to our trip, Justin and I spoke with family and friends who frequent Aspen, and felt it was best to plan our trip for early December in an attempt to beat the seasonal rush. Ultimately, we had a more local and private experience because of this decision. And, to our surprise, there was a TON of snow!  We felt a bit spoiled to be honest.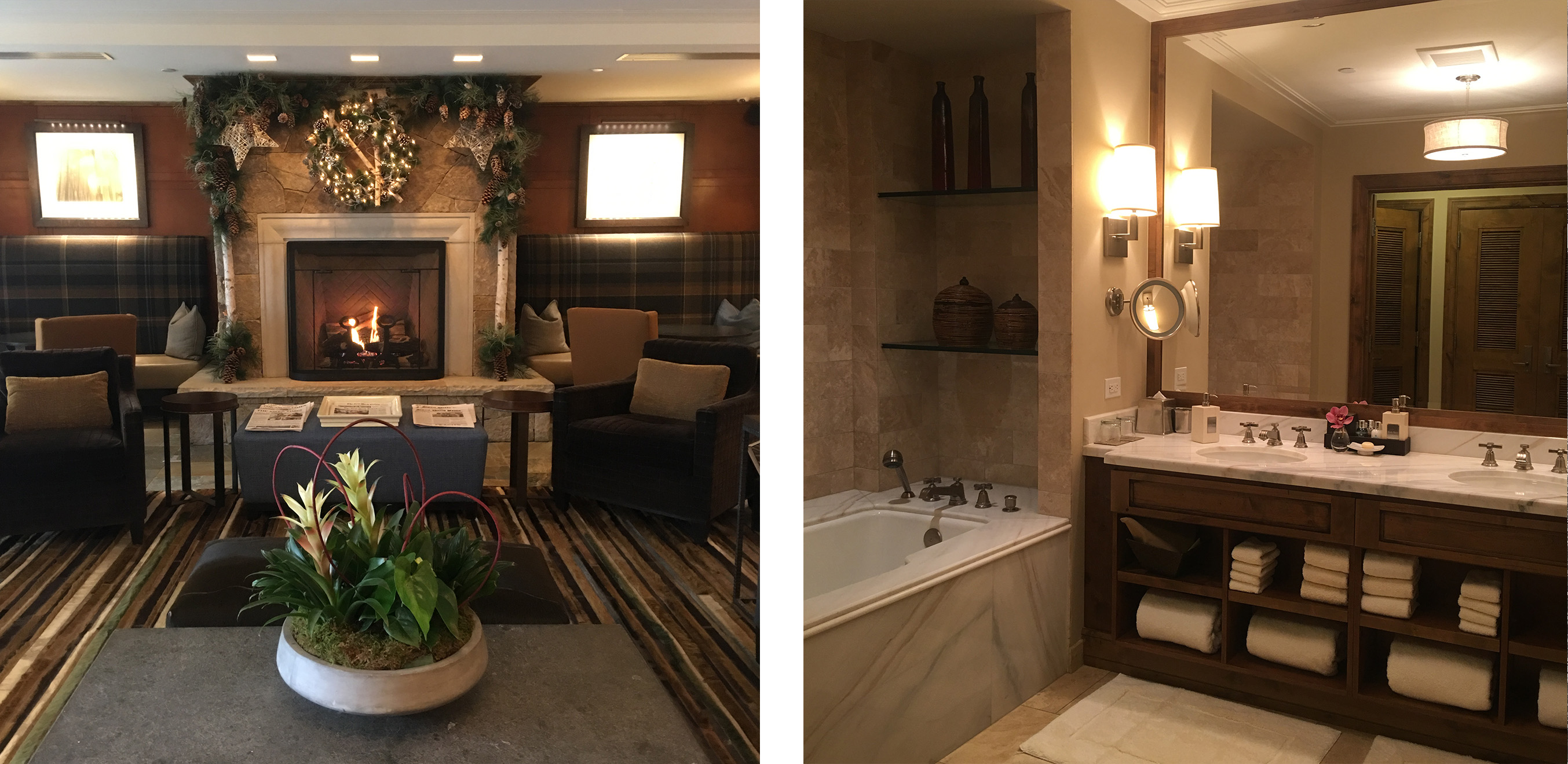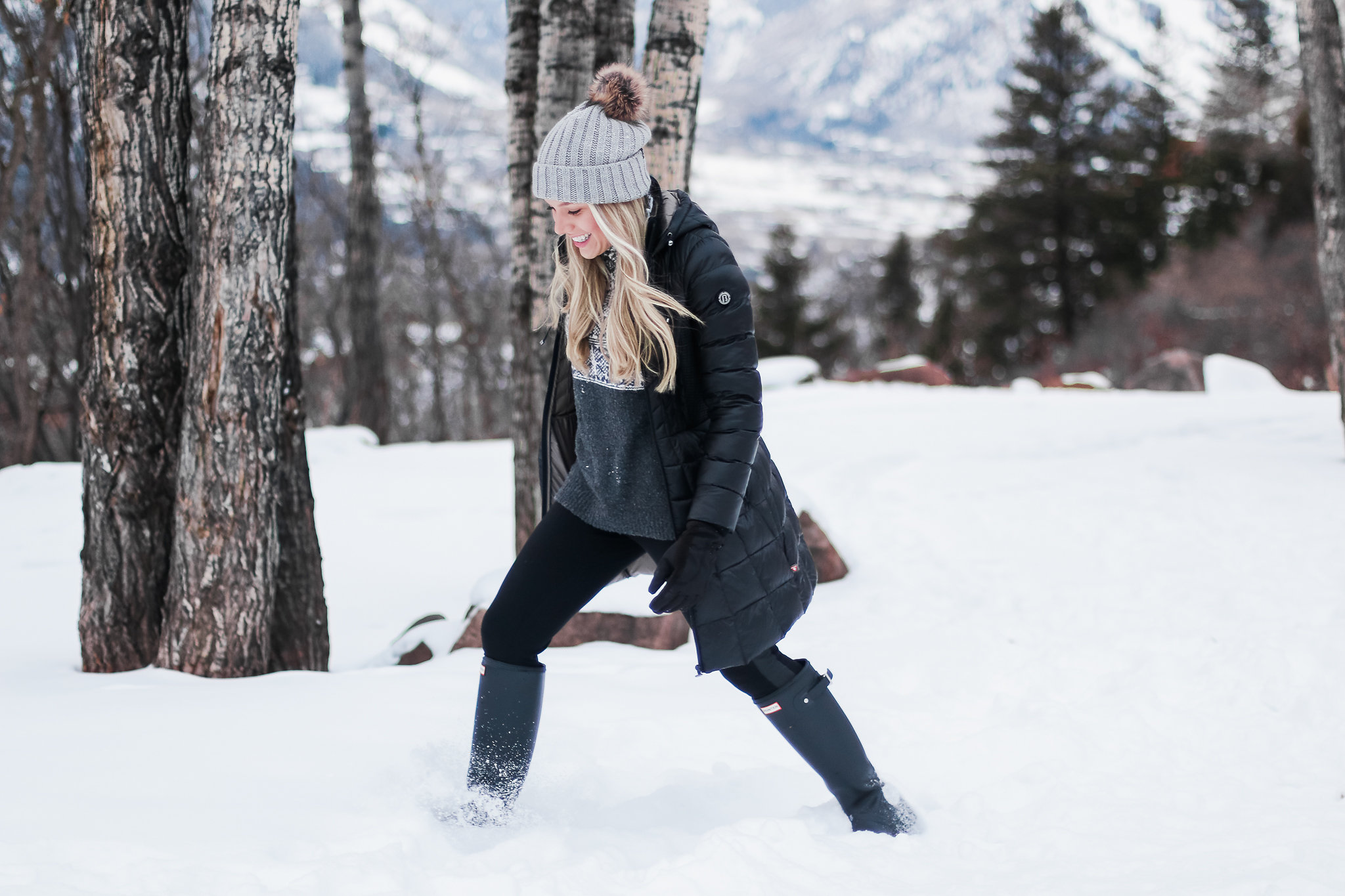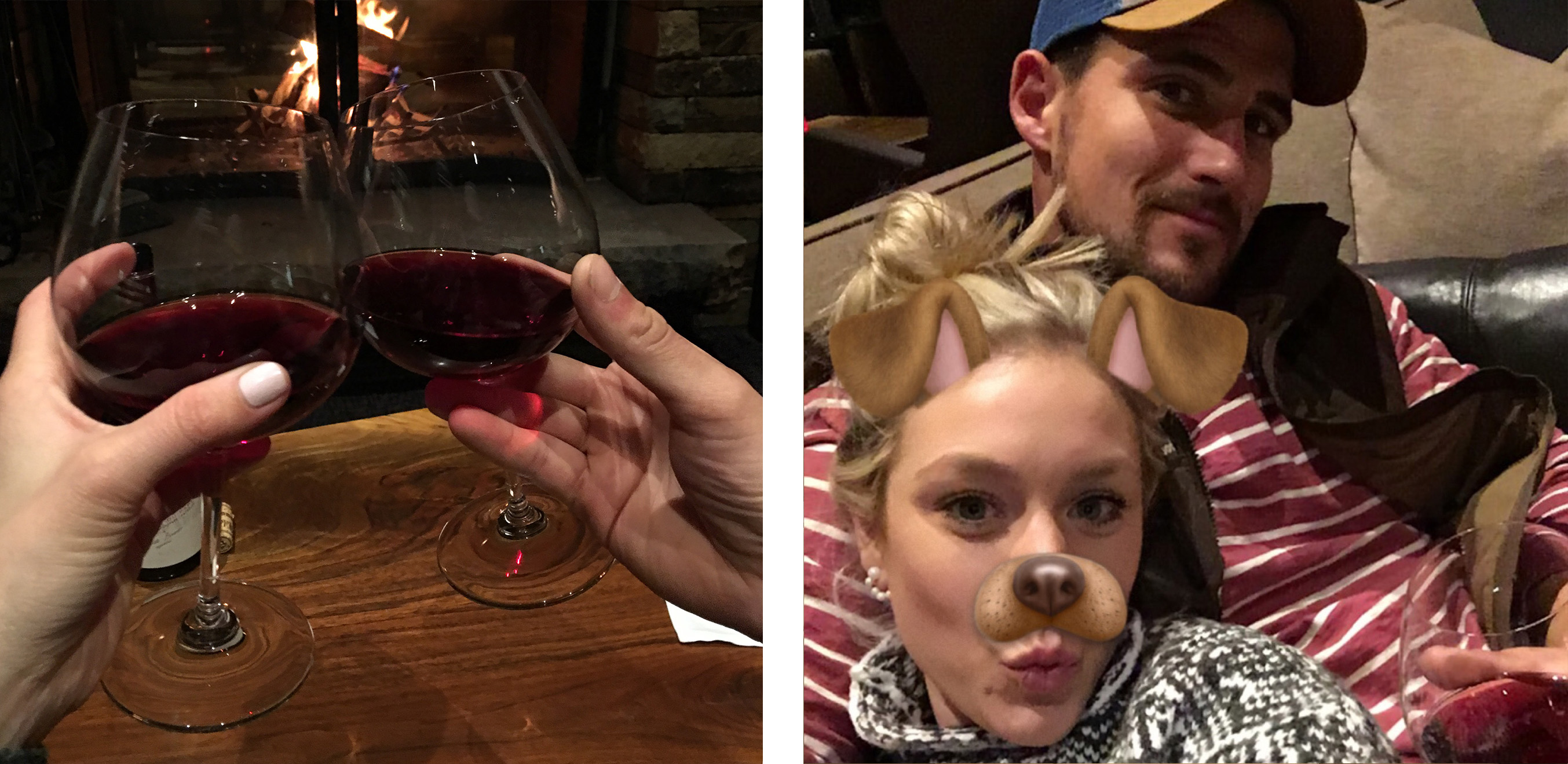 We took to the slopes during our first few days in Aspen. The best way I can describe that experience is, The Little Mermaid with human legs. Y'all! We spent our first day skiing Snowmass Mountain, one of four mountains home to Aspen. Overall, Snowmass was a really pleasant experience. I left with only a few minor bruises. 🙂 After mustering up a bit of courage, we decided to attempt a run on Aspen Mountain – known for being the most difficult mountain of the four.  There we accidentally made a wrong turn and found ourselves on a black diamond slope, which was disastrous. At one point, I vividly remember setting in a snowbank mid-way down a steep incline praying to God (out loud) that I make it to the bottom of that mountain unharmed. It had been years since I had skis strapped to my feet, so if I am being honest, I was a little bit nervous. My husband on the other hand owns a snowboard, if that tells you anything (cue eye roll).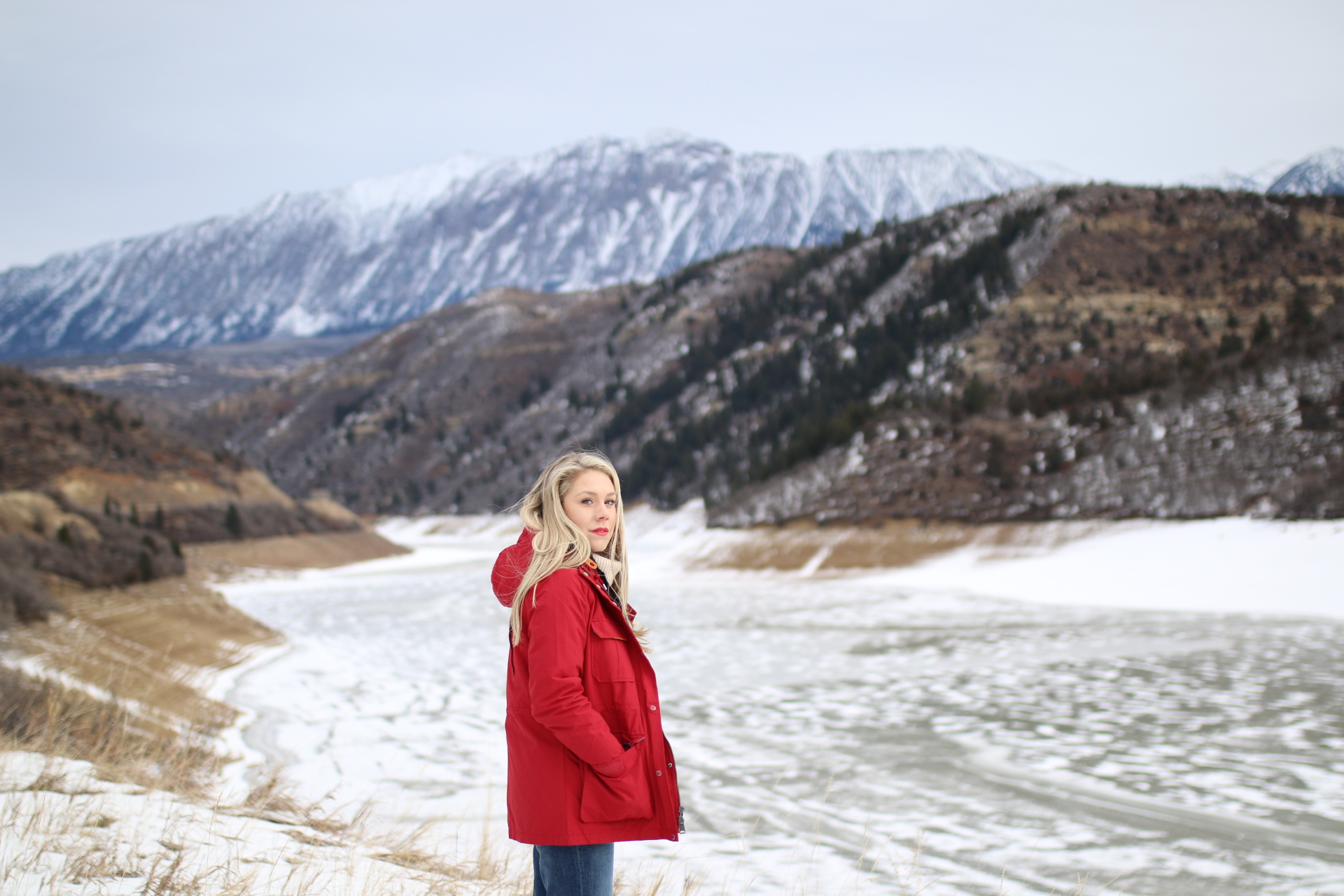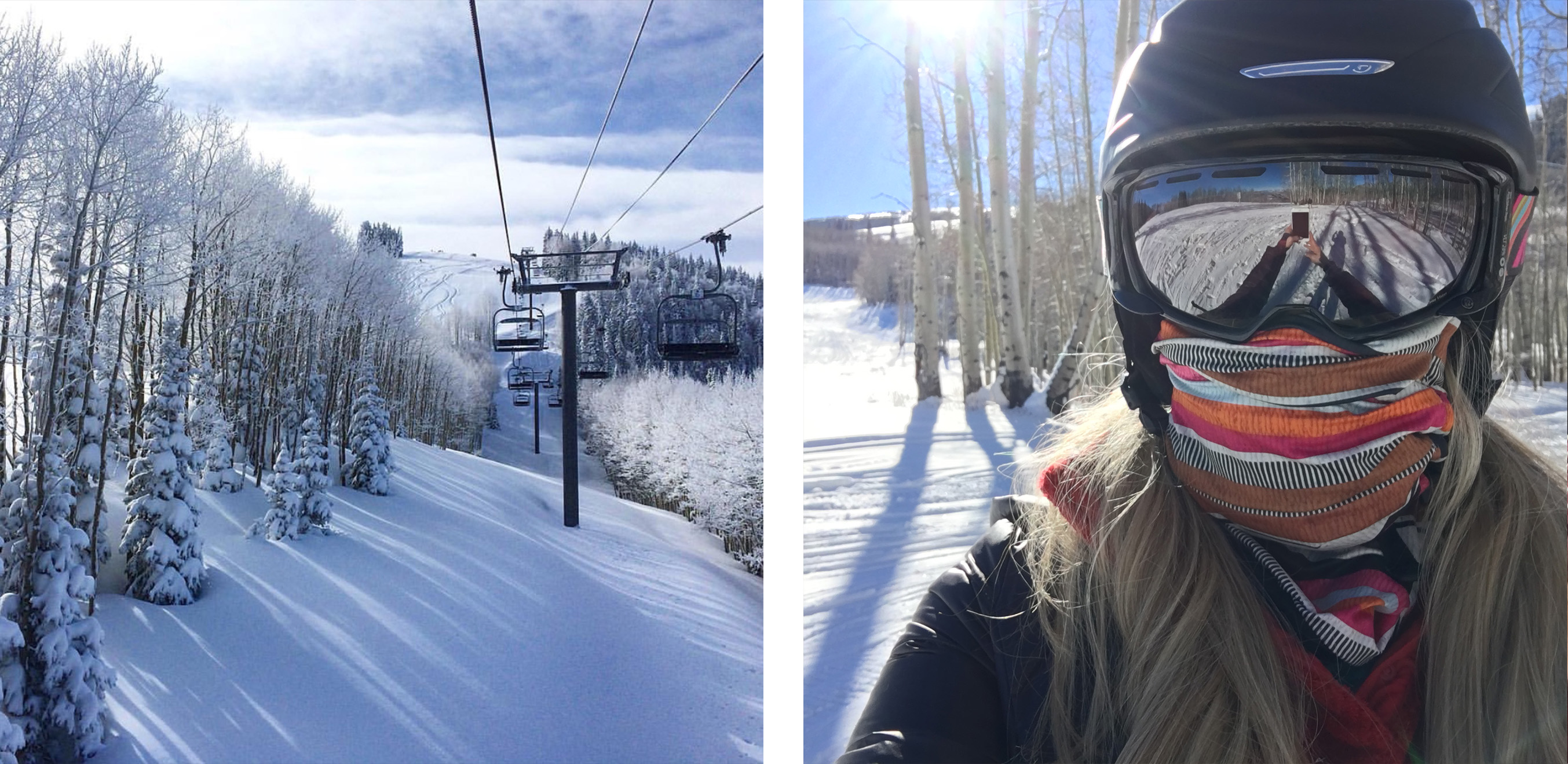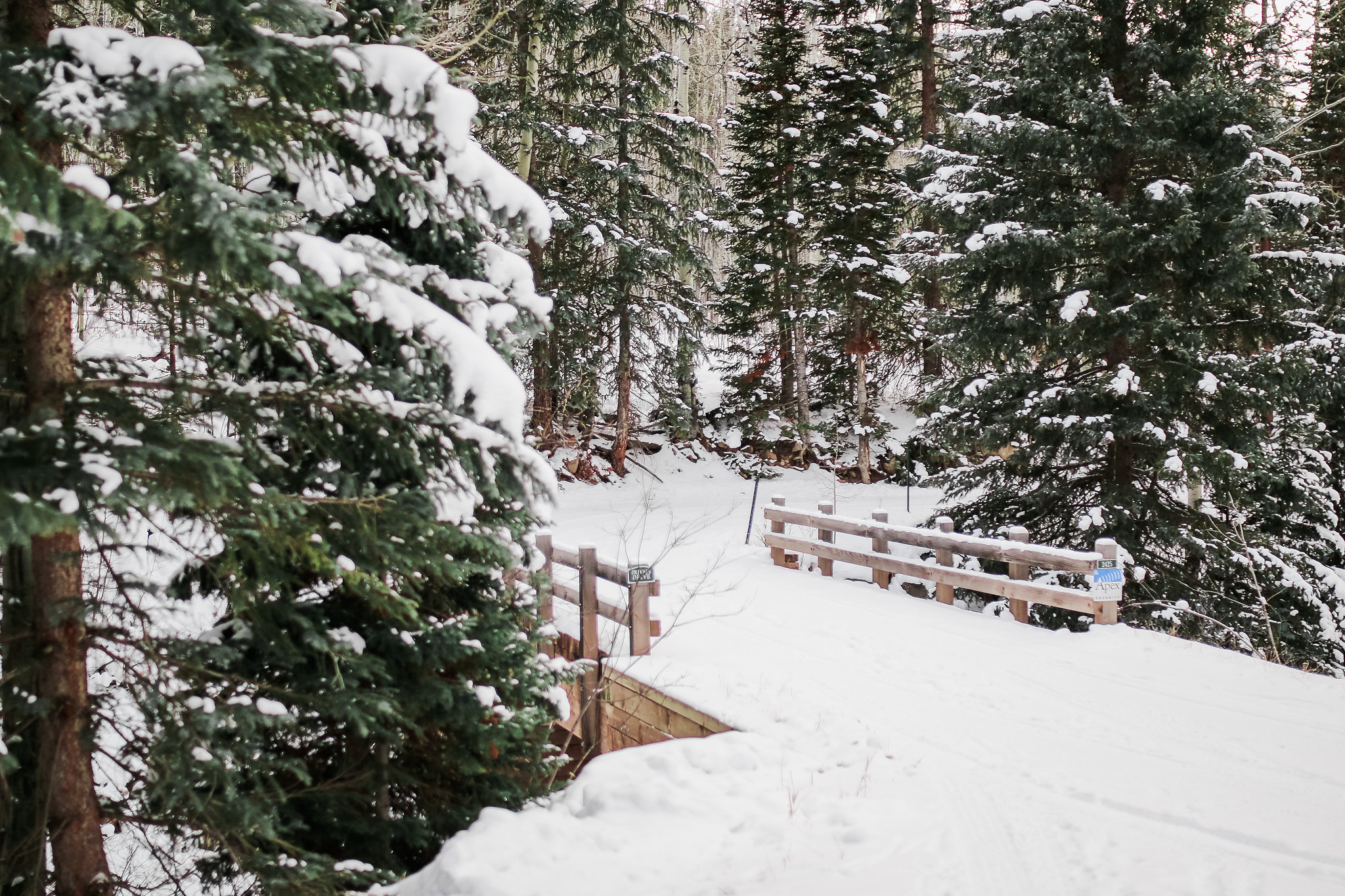 Every evening we would soak our sore muscles at Little Nell's rooftop whirlpool and water garden. It offered the most incredible, panoramic view of Aspen and its surrounding mountains. We sipped champagne, enjoyed the warm steam on our faces, and watched the sunset fall behind the snowcapped mountains. There's something so magical and romantic about being in a warm bath outside with your loved one while the snow falls around you!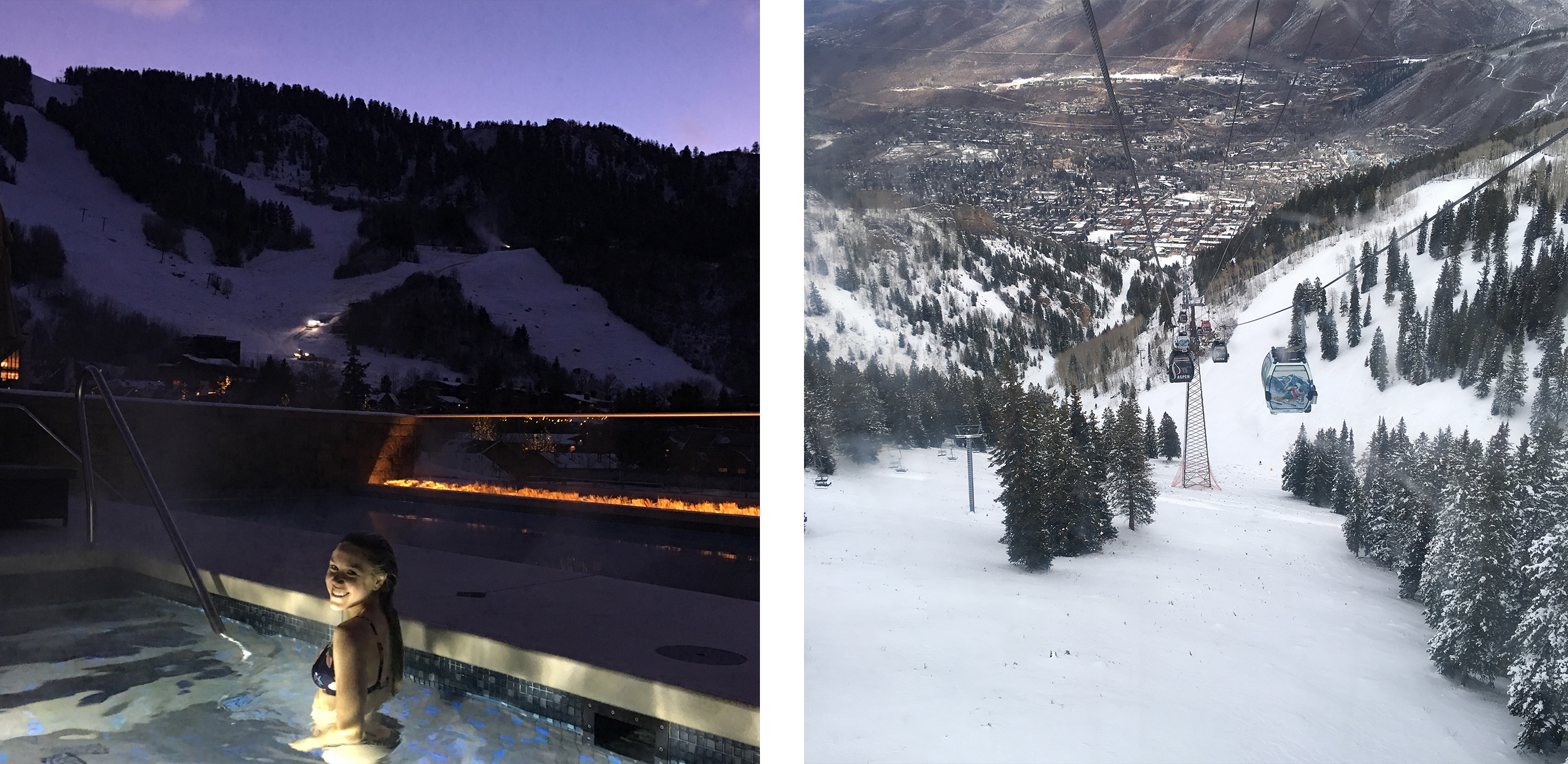 You'll probably be surprised to learn that I opted to ski over an afternoon of shopping – I know, I can't believe it either. We were only in Aspen for a few days, so I wanted to make the most of our time; however, we did visit a few shops on our walk to dinner every evening. There are a handful of shops that I recommend you visit; some we stumbled upon and some were recommend by close friends. I've included a detailed itinerary below, and I do go into detail about our experience, so it's a good read even if you are not planning to travel to Aspen anytime soon.
TRAVEL

Plane: Because Aspen is such a small city located in the Rocky Mountains of Colorado, there are no direct flights there from Charlotte. Therefore, we had a relatively short layover in Denver, where we caught a connecting flight in Aspen. The airport in Aspen is incredibly charming, and remarkably reminiscent of a log cabin.
Drive: While going on a road trip is always a fun idea, I highly recommend flying into your destination and renting a car once you arrive in Aspen. The weather in the Rocky Mountains is a little (okay, maybe extremely) unpredictable making driving a bit challenging in the Winter.  We rented a car, only because we had plans of driving to another town in Colorado (more on that later), but had we been staying in Aspen for the entire week, I highly doubt we would have. Everything in Aspen is within close walking distance, and parking downtown can be a bit challenging to say the least. 
STAY
The Residence of Little Nell: Situated literally in the heart of Aspen, Little Nell manages to overlook the town itself, while offering gorgeous views of Aspen Mountain- the property's backyard!  At the time we made our reservations (October) there was no vacancy at Little Nell or surrounding hotels during our desired dates, but we managed to find availability at their sister property, The Residence at Little Nell.  Though it was a bit more luxe than the accommodations we originally had in mind, it truly gave us the rustic and quintessential Aspen experience we had hoped for.  The Silver Queen Gondola is located several feet away from the properties lobby, offering ski-in/ski-out access to Aspen Mountain.
The St. Regis Resort: For those of you glamorous individuals, the St. Regis is right up your alley. It certainly offers a more refined experience, though it lacks the rustic charm true to Little Nell and the city of Aspen itself.  With an average room priced at $830 a night, this is the best option for the luxury traveler.
The Hotel Jerome: Known as the "crown jewel" of Aspen, the Hotel Jerome is a historic landmark dating back to the late 1800's.  Located centrally in Aspen, it's within close walking distance to many shops and restaurants.  
EAT
Justice Snow's: Located in downtown Aspen, this early 1900's–inspired, speakeasy-style bar and restaurant is the place to go if you're craving a local experience and a one-of-a-kind craft cocktail. The building was originally the Wheeler Opera House and then became Aspen's first bank, so it's old architecture creates an atmosphere that is of another time, adding to its allure. The food is also delicious!!! The menu is comprised of small plates, as well as, entrée style dishes, so there is truly something for everything. Oh, and did I mention it's farm to table. If you are looking for a more refined dining experience, I encourage you at least stop in for a cocktail or two and listen to local entertainment. If we lived in Aspen, Justice Snow's would be a regular occurrence. 
Cache Cache: If you are in the mood for a refined dinning experience I recommend, Cache Cache. The French-American cuisine is delicious and beautifully displayed.  
Matsuisha: Located within a 120-year old Main Street Victorian House in downtown Aspen, Matsuhisa Aspen opened in 1998 as the first Matsuhisa location outside of Chef Nobu's original Beverly Hills restaurant. You are probably thinking, "Sushi in Aspen?", but Chef Nobu's new-style Japanese cuisine showcases dishes that will make any non-sushi lover an aficionado. Order the King Crab Tempura "Amazu" Sweet Ponzu (you can thank me later). Also, I highly recommend you request a seat at the sushi bar and take advantage of watching a well-trained itamae (skilled sushi chef) master his craft. Dining here is truly an experience.
PLAY
Skiing:  The obvious Winter activity in Aspen, aside from building a snowman, is skiing and snowboarding depending upon your preference. Aspen is home to four different mountains, and while they all offer well-groomed runs and unparalleled scenery they differ vastly in their unique offerings. Though Justin and I only visited two of the four, Aspen Mountain and Snowmass, I recommend you refer to this source if you are interested in learning more. Should you decide to rent a car as we did, then I encourage you take the short drive from Aspen to Snowmass Mountain, especially if you are a beginner skier. Unlike Snowmass, Aspen Mountain is known for being quite difficult, making it great for intermediate and experienced skiers and snowboarders. If you're a first time skier, or haven't skied in years, I recommend taking "Ski School" that is offered at every mountain, and teaches the basics for navigating the slopes. For rentals, head over to Incline Ski and Board Shop and ask to speak to Adam – he's the best!
Downtown Aspen Shopping: Devote at least a day, if not a long afternoon, to peruse up and down the shops lining Main Street. It can be a bit pricey, but the charming small town offers a variety of unique finds. It's also incredibly magical and romantic in the evenings during the holiday season – the streets come alive with holiday and twinkling lights.
Maroon Bells: The "Maroon Bells" are two mountain peaks in Elk Mountain located about 12 miles Southwest of Aspen.  While they are the most photographed peaks in all of North America, we learned that getting there isn't all that easy.  The road to Maroon Bells is not only closed during the Winter season, but motorized transportation is also prohibited. Unfortunately, we were unable to see this gorgeous landmark, but if you are a guest of Little Nell I recommend working with the concierge to schedule a snowmobiling tour – it guides you within walking distance to a gorgeous view of the peaks. 
Peter Lik Gallery: My favorite!  Photographer Peter Lik is renowned for his majestic landscape photography. His work is incredibly captivating. When we visited the gallery we were dressed in head-to-toe ski gear, yet were welcomed with open arms. As a blogger who loves to photograph landscapes, I found inspiration in his work.
If you love an outdoorsy adventure and seek to discover the natural beauty of the world I highly recommend adding a trip to Colorado to the very top of your list! I've been fortunate to travel to some incredible places, but Colorado easily takes the cake! I hope our itinerary helps make your travel planning easier.
Later in the week I am sharing Part II of our Colorado experience, Dunton Hot Springs. I'm currently working on that post now, and it's unlike anything I have published on Style Soufflé. I've thoroughly enjoyed writing about the property and have so many fun stories to share.
xx,
Taylor-Rae