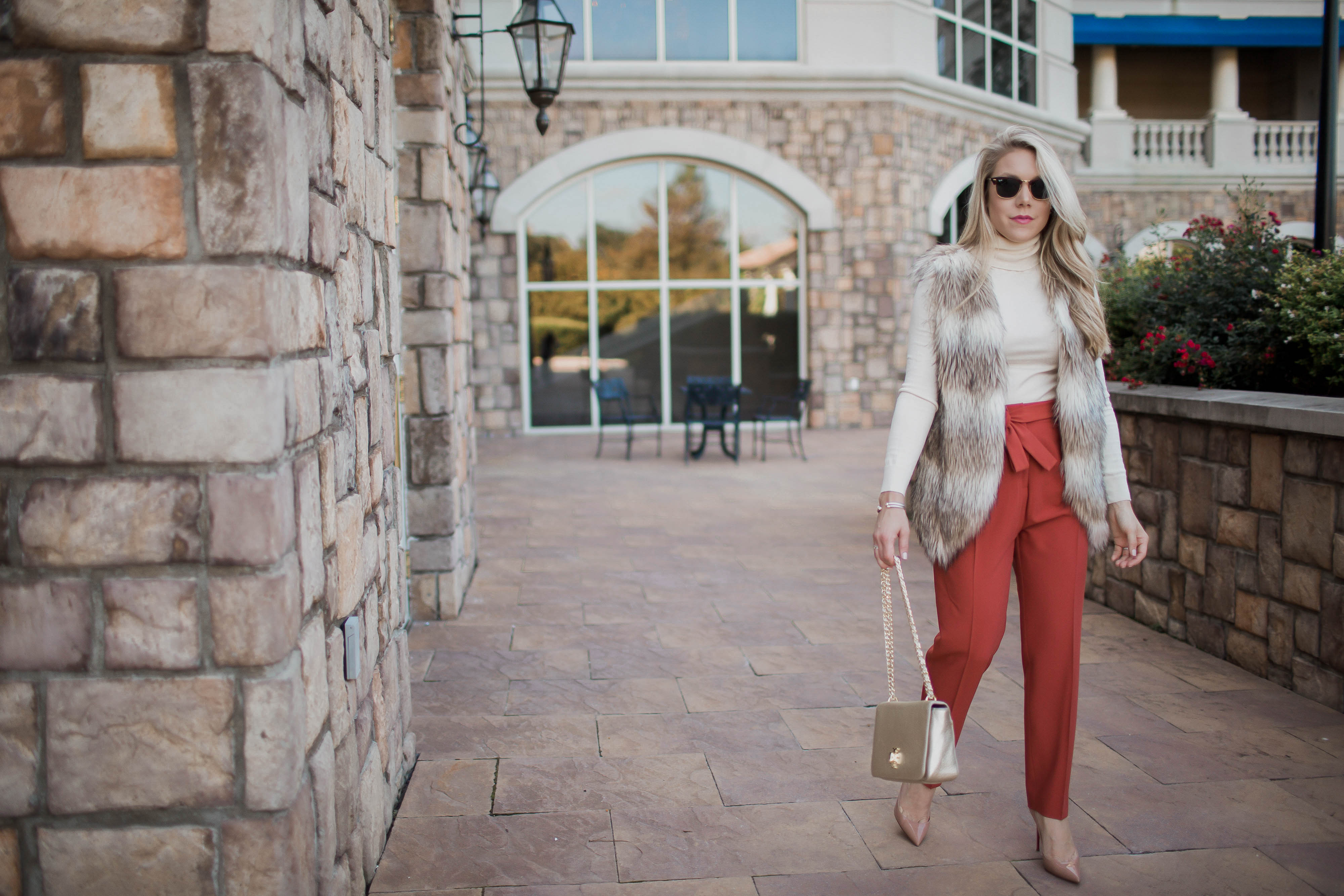 Outfit details:
Top: Shopbop, Similar (here) | Pants: TopShop (old), Similar (here) | Vest: Bevelo | Glasses: Ray Ban | Shoes: Christian Louboutin | Purse: Tory Burch 
Every year around this time my internal clock goes off for Fall cleaning. Despite the fact that I've always had OCD-like tendencies, I think it is my minds way of preparing me for all of the nesting that will ensue during the colder months.  Last week, which is partly responsible for my absence on Style Souffle, I reorganized and cleaned out all of our closets, junk drawers and top shelves.  It's true what they say, "Once you start, you just can't stop".  I even went as far as purchasing matching hangers!  In the process, I uncovered some beautiful pieces from past seasons, like the rust colored slacks featured in today's post.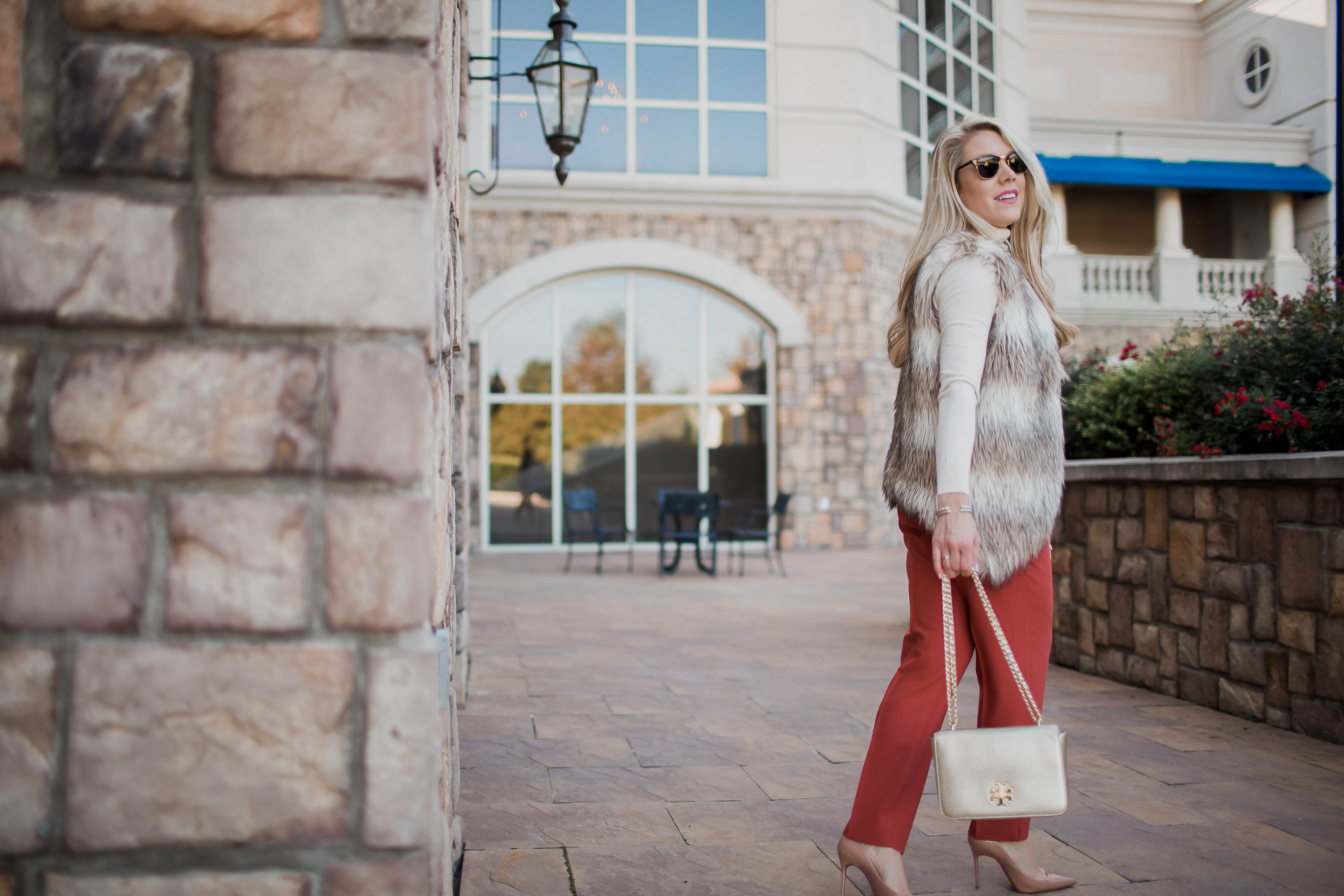 I purchased these slacks last September during a work trip to Chicago, and for whatever reason never shared them on Style Souffle until now.  The unique color is what initially captured my attention; it's vibrant and yet neutral at the same time. There are few things more flattering than a high-waisted, well tailed pair of slacks. Unfortunately, I was unable to find the exact style worn in today's post, but I found similar options available for purchase here, here, here, and here. A cream turtleneck (here) would pair beautifully with these Jil Sander high-waisted trouser (here) – I've created a similar, shopable outfit at the end of today's post for you.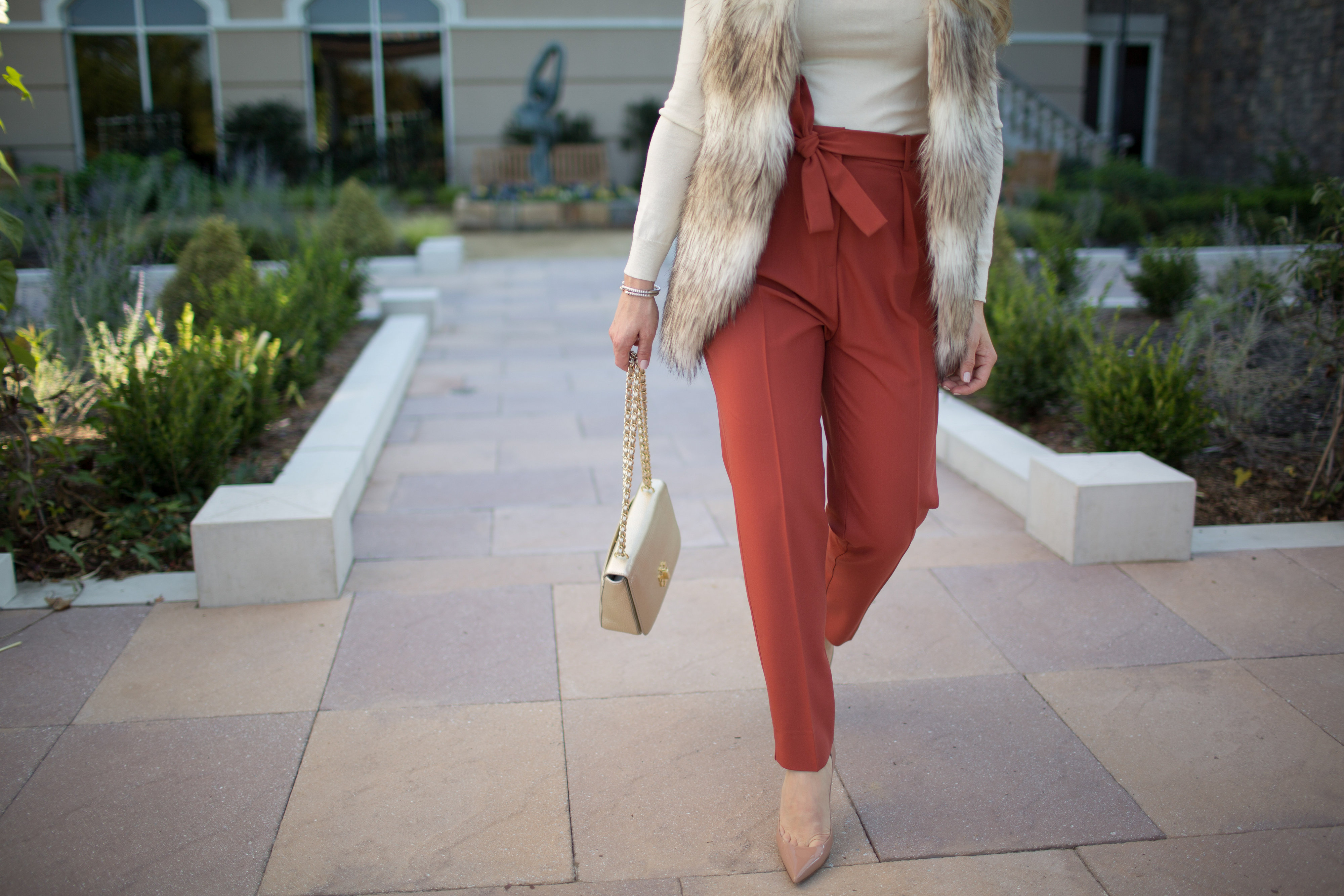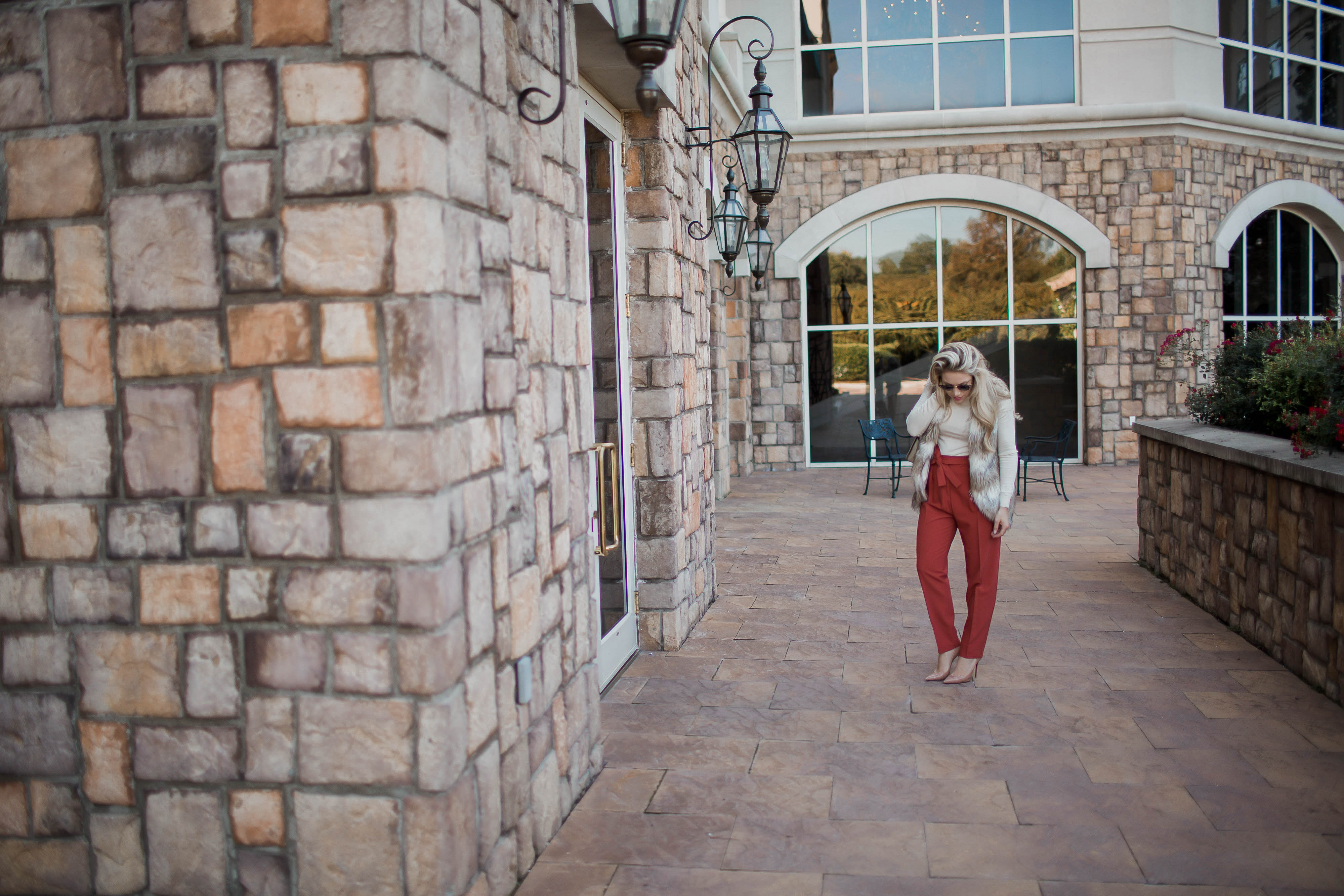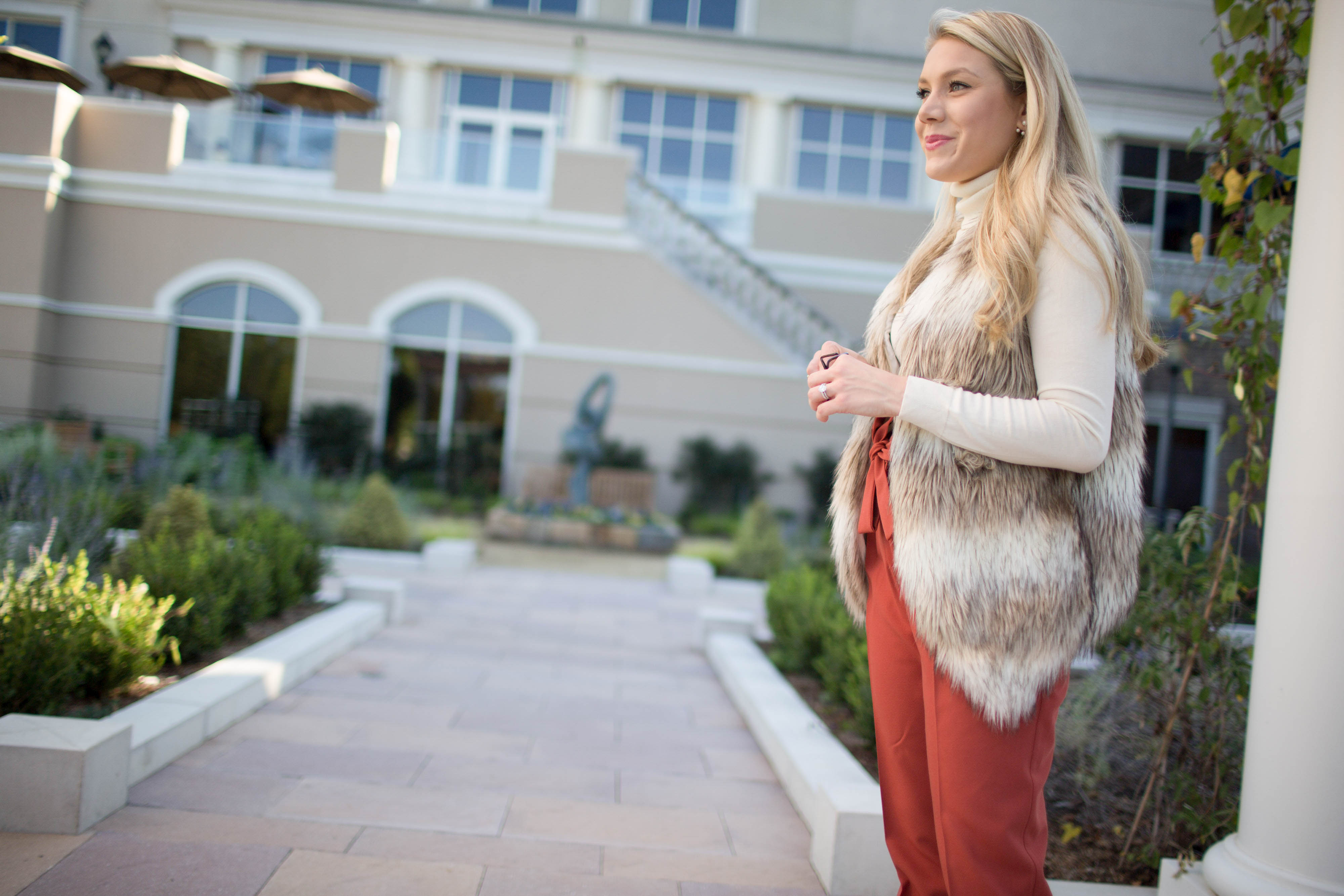 This Fall I've fallen victim to the monochromatic movement that higher fashion has pushed within the last year. When done correctly, layering the same color in varying shades can be very chic.  Today's outfit came together very naturally for me; I knew I wanted to play up the color of the pants by pairing complementing hues, and I simply added a fur vest to give the outfit texture. I've linked all of these items at the top and end of the post, so click on the images for details and pricing.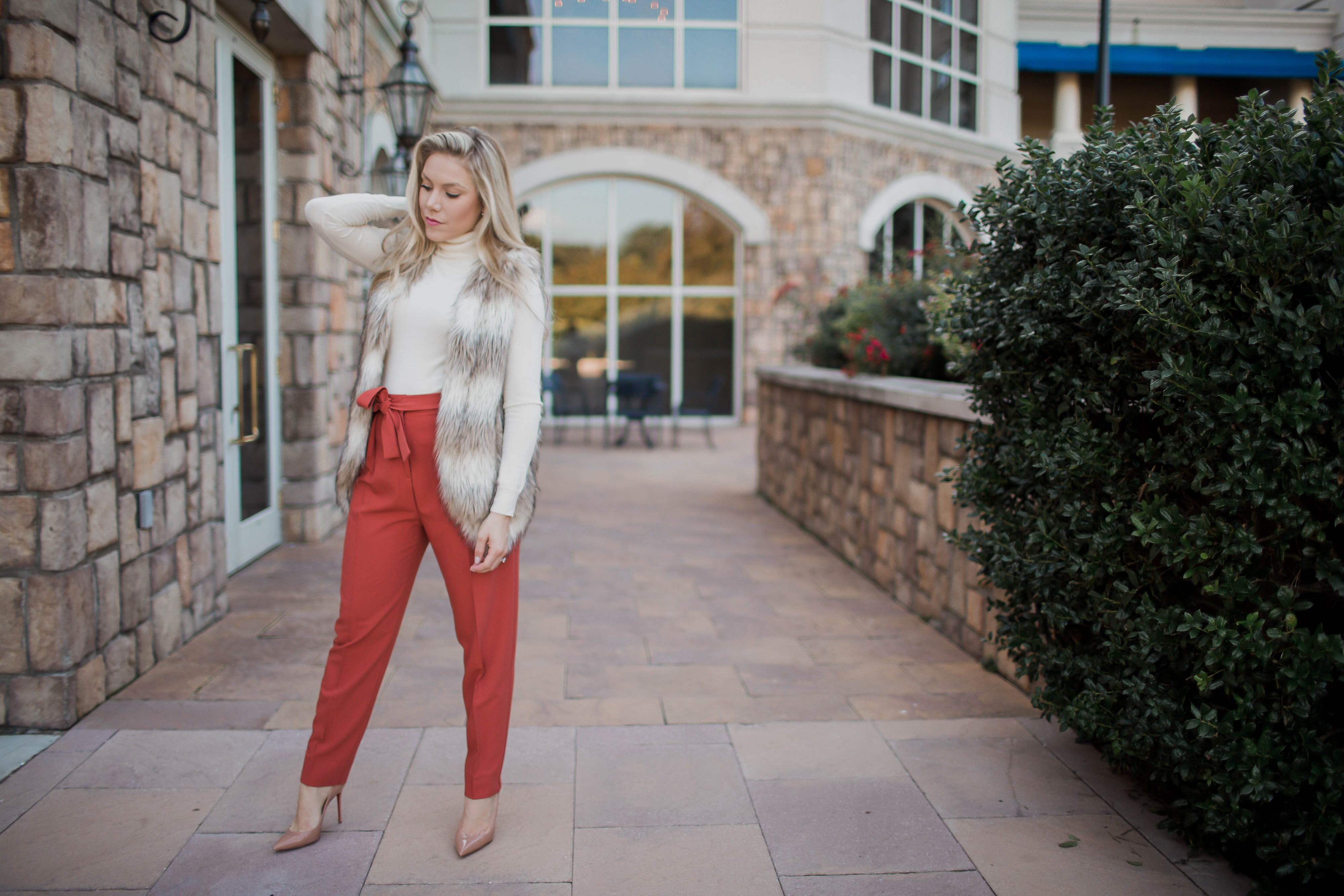 Back on the topic of organizing. I'm more efficient in life and in my career when things are in their respective places. Growing up, my mom was really strict about keeping a clean and tidy house. We were to never walk by a mess or un-folded pile of laundry without doing something about it. I've always carried those rules with me as I've gotten older. If our house is messy, I somehow feel like my whole life is messy. It causes me a lot of unnecessary stress. We've worked hard for the things we have, so we want to take care of them. Tomorrow's post is dedicated to just that: organization. It's something I think we could all be a little better at, and I'm excited to share tips on how I attempt to keep it altogether.  In turn, I hope that writing and publishing the post will help hold me accountable to doing a better job at it too!
See you tomorrow,
Taylor-Rae
Click image below for details:

Outfit One: Pants | Vest | Top | Purse | Sunnies
Outfit Two: Pants | Vest | Top | Purse | Sunnies