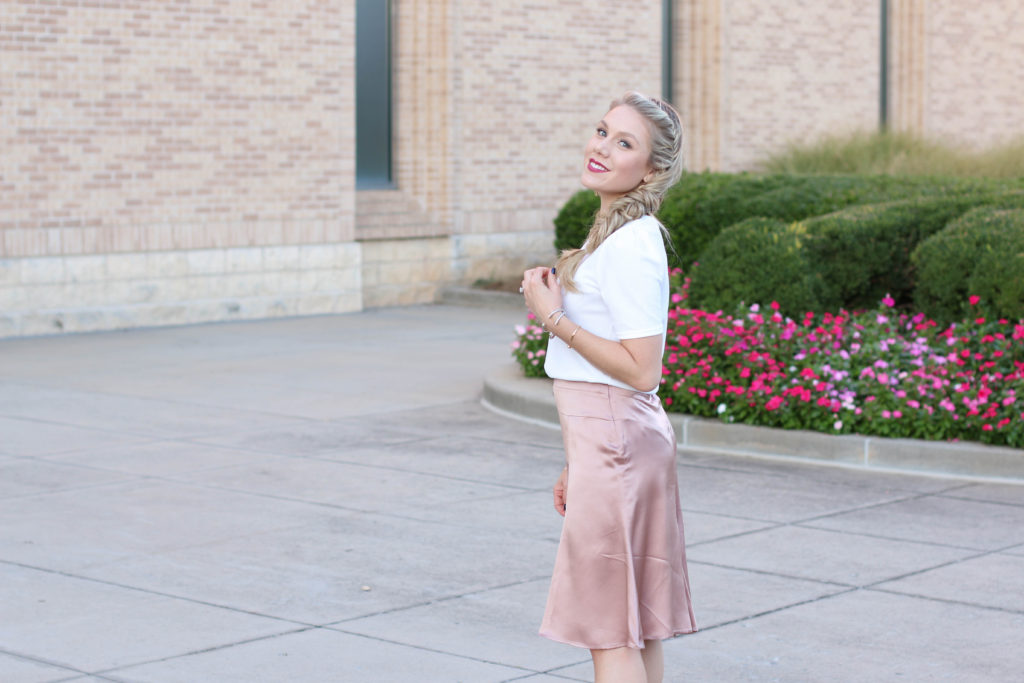 Outfit Details:
Skirt (similar): Nordstrom | Top: Goodnight Macaron (similar, Nordstrom) | Shoes: Valentino | Sunnies: Ray-Ban | Lips: Winky Lux | Hair: Danielle Harrison
Over the years, I've been able to define my style and figure out what I personally love. As I've grown older, it has become easier for me to narrow down what I value spending my money on, and the items that won't be tossed aside after a season. Little details throughout both my home and wardrobe are characteristic of my taste –  traditional, classic, and feminine in a modern way. Isn't it funny how we are drawn to certain things and not others? I admire the style of so many different people – the androgynous tomboy, the minimalist, the vintage lovers, the prepster, or the eclectic -but I can admire and introduce those small elements without changing my own vision.
I always remind myself, "you'll never regret the classics". It's the trendy pieces that don't last. Crisp white and neutral hues are always a win, like this blush silk skirt. Would you believe me if I told you I purchased this skirt at a boutique in Savannah, Georgia in the Summer of 2006?  And, here we are 10 years later and I feel this silk classic still makes a statement (it was in need of altering for those of you wondering how I fit into a skirt that I purchased in High School… thank goodness I never got around to actually doing it).
This white top from Goodnight Macaroon, an adorable online boutique, has a lazor-cut hem that pairs well with denim, or can be discreetly hidden when tucked into any high-waisted garment. Honestly, you can never go wrong with a solid white top – I find myself looking to my closet for a white, cream or beige top several times within the week. This top from Nordstrom is such a steal for the price (I love the length of the sleeves).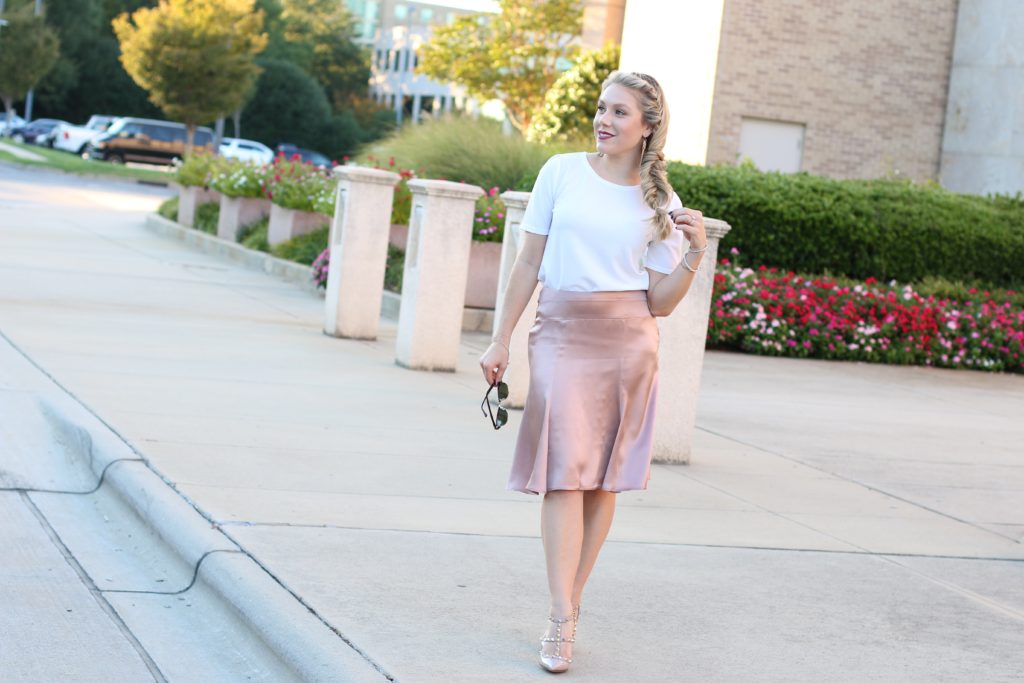 Speaking of classics, for years (even before the launch of Style Soufflé) I wanted a pair of Valentino Rockstuds, but could never find it in me to pay for a pair of shoes. These will forever remain a staple in my closet!  I've found a really similar version (here) for a fraction of the price.
Skirt (similar): Nordstrom | Top: Goodnight Macaron (similar: Nordstrom) | Shoes: Valentino | Sunnies: Ray-Ban | Lips: Winky Lux | Hair: Danielle Harrison
Click below for outfit details: