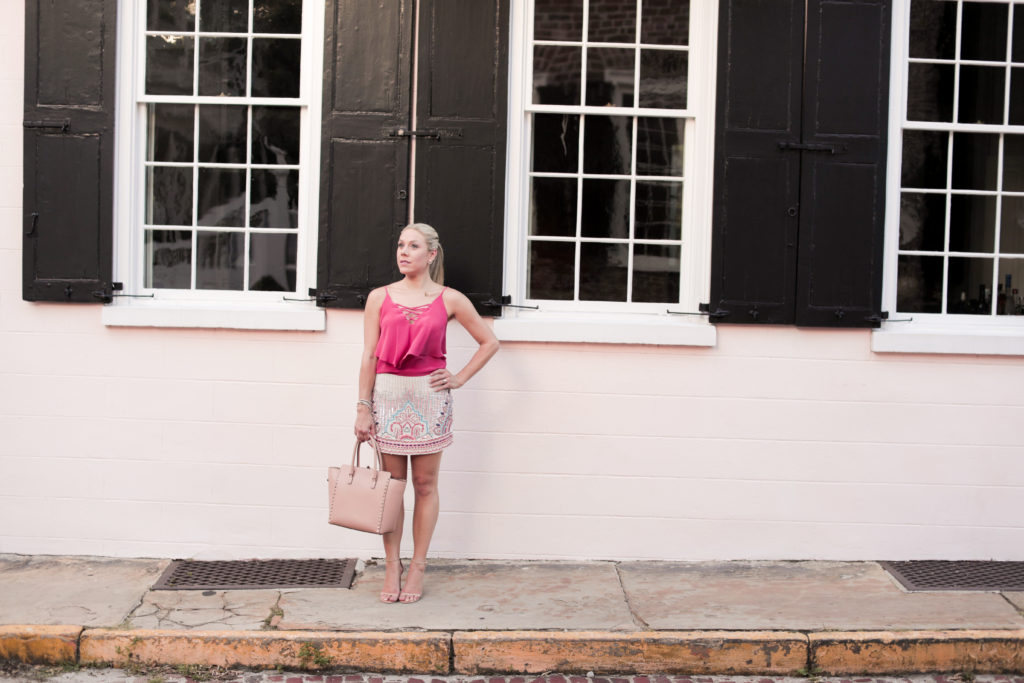 Outfit Details:
Skirt: Parker | Top: similar, here  | Purse: Valentino | Shoes: Stuart Wietzman | Necklace: AGJ
This summer Justin and I have had our fair share of travels to Charleston, SC… after all, it is just a short drive away! We've found that with each visit we fall more and more in love, which is why we have decided to re-locate there! 🙂 Sadly, I'm joking.
One of our favorite things to do in the Holy City is to get lost strolling the streets of the residential side of town.  The historical architecture makes us feel like we are in another country, and it is in those moments that the world around feels so irrelevant (even in the 95 degree heat :).  This fall we have a trip planned (to house hunt… again, that's a joke), and it will be our first time visiting the city with temperatures less than 90 degrees.
We also love to eat our way through Charleston!  This sequin bedazzled skirt from Parker is the perfect date night must have.  Although it makes the skirt heavy, the beaded pattern adds a tasteful amount of texture.  To accessorize the look I went with neutral accessories (are you surprised?) and pulled out my favorite Stuart Wietzman 'Nudist' pump and my Valentino tote.  The shoes can be a bit pricey, but they are worth the investment. If I had to put a number on it, I would say I wear them 4 out of 7 days in the week. I also own them in black!
xx, Taylor-Rae
Click below for details: