Top: Anthropologie | Bottoms: old, Nordstrom (similar) | Hat: old, Nordstrom (similar) | Shoes: old, Steve Madden (similar)
Photography by: Garrett Price
Even though it's known as a current trend, off the shoulder fashion has been in style for well over the past fifty years, thanks to the inspiration of chic starlets like 1960 French actress Brigitte Bardot. The romantic, feminine silhouette of an off the shoulder top is hard to resist, especially with so many styles out right now. Over the past few months I have kept an eye out for cute tops to take on our honeymoon and a cute off the shoulder top is quintessential for where we chose to vacate (you'll have to follow along on Instagram (@stylesouffle) for details).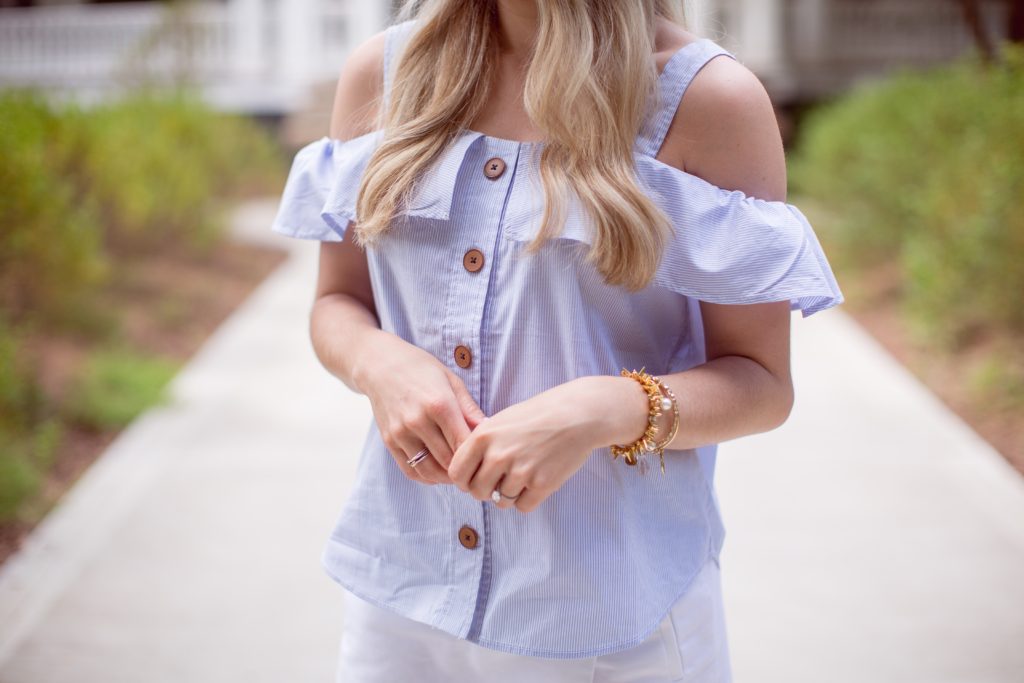 There are an array of off the shoulder styles this season, including this ruffled stipe top from Anthropologie.  The ruffled hem in combination with the little bit of exposed skin makes this look a mix of flirty and sweet.  And, for only $88 this top was hard to pass up.  While some statement tops can be a little pricey, more reasonably priced alternatives do exist for the budget conscious gal. Below are a few of my favorites. Click on any item within the scrolling feed for size and pricing details.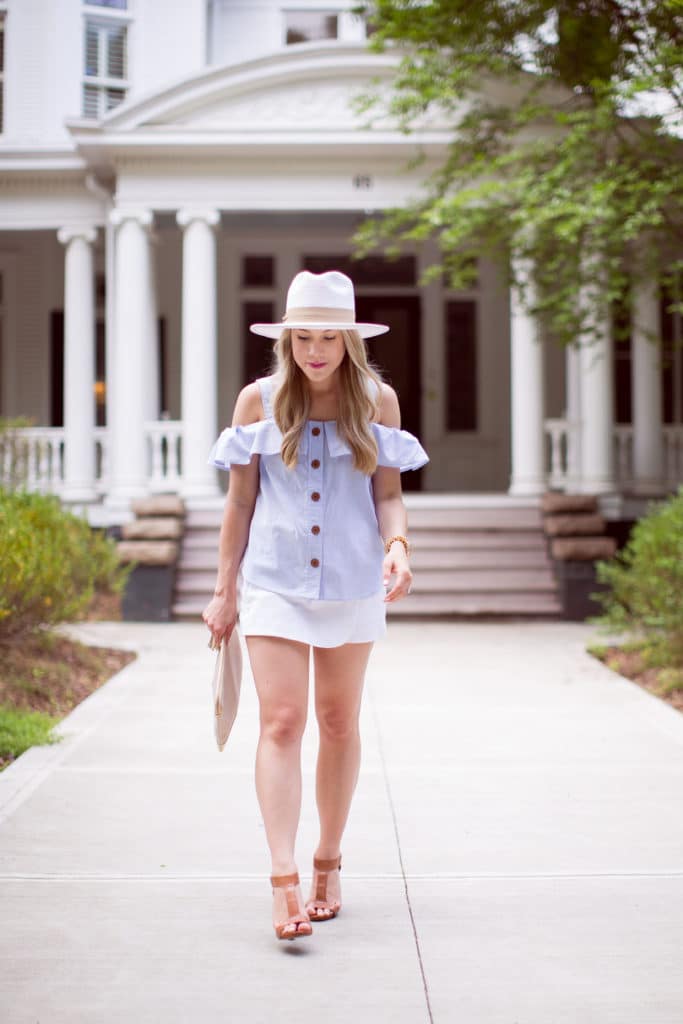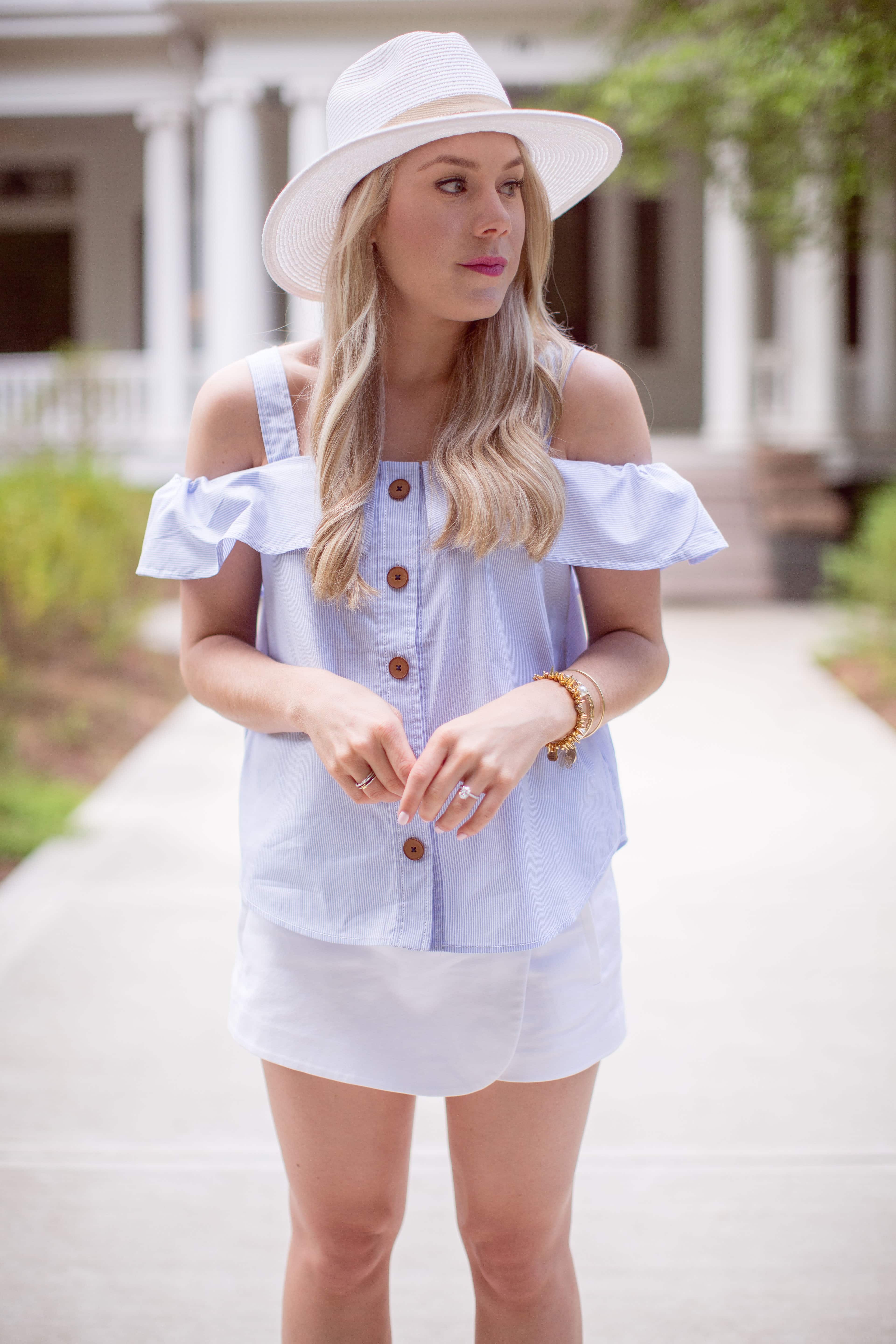 I love pairing soft blues with sold white. Something about the combination is so clean and delicate.  When putting this outfit together my options were: white crops, shorts or my white go-to skort from C.Wonder.  Okay, so two things…
First, are any of you familiar C.Wonder?  We didn't have a store here in Charlotte, so my memories of shopping there include fueling up on pizza at our favorite dive in SoHo, NY and then dodging taxis' across town to the stores large green double doors. It was a favorite of mine that I was sad to see close.
Second, skorts have always impressed me. They remind me of being a little girl, when I would wear them in fear of little boys seeing my unmentionables on the playground. Now as an adult I can appreciate the built-in safety net! I mean a skirt in the front and shorts in the back… Genius, right?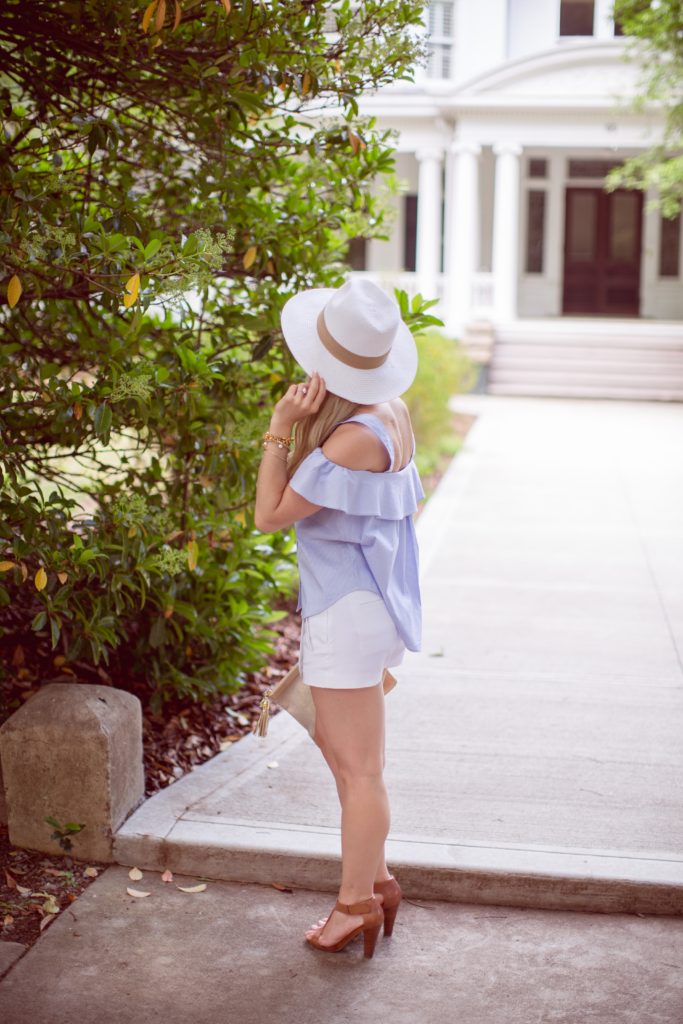 To pull the outfit together, as accessories always do, I chose a white hat and my all time favorite camel colored T-strap sandals.  These sandals have seen better days, but for $20 at TJ Maxx I have to say they are the best purchase I have ever made. They give this 5'3" gal the needed height boost!
I hope everyone has enjoyed their week.  According to Snapchat (@taylorraeh) it seems to be raining all across the US.  Well, you're not alone, Charlotte's skies are grey too.
xx, Taylor-Rae
Shop Outfit Details