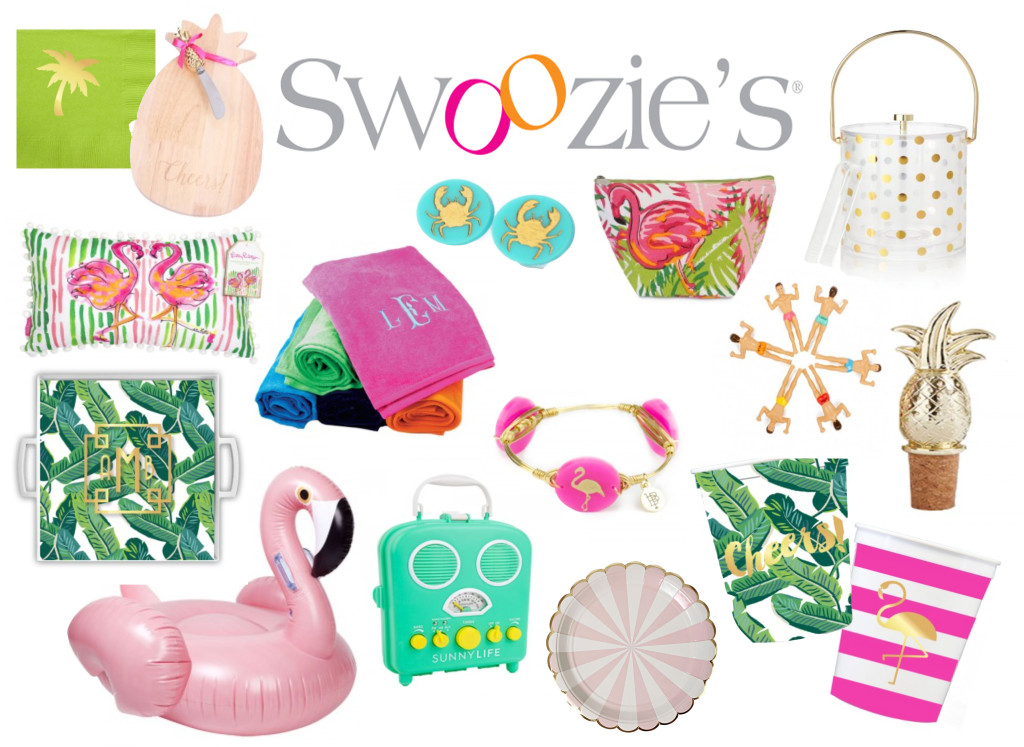 Flamingo Float | Personalized Beach Towels | Flamingo Zip Pouch | Kate Spade Acrylic Ice Bucket | Pineapple Bottle Stopper | Palm Leaf Cup | Flamingo Cup | Beach Radio | Palm Leaf Tray | Drink Buddies | Flamingo Pillow | Pink Plates | Palm Tree Napkins |Bracelet | Crab Earrings
I'd like to thank I'm a pretty routine person, but lately, and by lately I mean the past several months, it's been nearly impossible to maintain a structured schedule!  As most of you know, I'm getting married in early June, and with the wedding fast approaching most of my days are spent tackling wedding t0-do's.  Earlier in the week I was talking to a girlfriend, whose wedding is the weekend before mine, and we both agreed that despite having long engagements it feels as if 70% of the planning process has taken place within the past several months.
When it comes to planning an event, regardless of its magnitude, it's necessary to work with vendors who understand your vision. For me, that savings grace has been Swoozie's!  Over the past several months their team has helped me curate beautiful, custom pieces for the events surrounding my wedding, and there's relief in having someone who I trust making decisions so that I can focus my attention on other things. There is a reason they are the leading contemporary gift and paper retailer in the United States. In fact, they just launched the new Spring/ Summer Gift Guide, which is filled with so many unique gifts and party planning needs! In fact, use Promo Code: STYLESOUFFLE now through the end of April to receive 20% off any in-store or online purchases! I have a meeting at their Charlotte location today to go over a few odds and ends on some upcoming projects that I'm itching to share with my wonderful readers on Style Souffle! In the meantime follow along on Snapchat (username: taylorraeh) for some behind the scenes!
xx, Taylor-Rae