One thing that Justin and I were most excited about during our planning process was our wedding cake tasting! After considering various cake designers in the Charlotte area, we are excited to say that Ella's Celestial Cake's will be creating our wedding cake!
Prior to our cake tasting it was important to gather some inspiration and details surrounding the cake's overall design. Buttercream or fondant? Timeless or trendy? Three-tier or four-tier? While we had a few ideas in mind they were all fairly different from one another, and we were torn.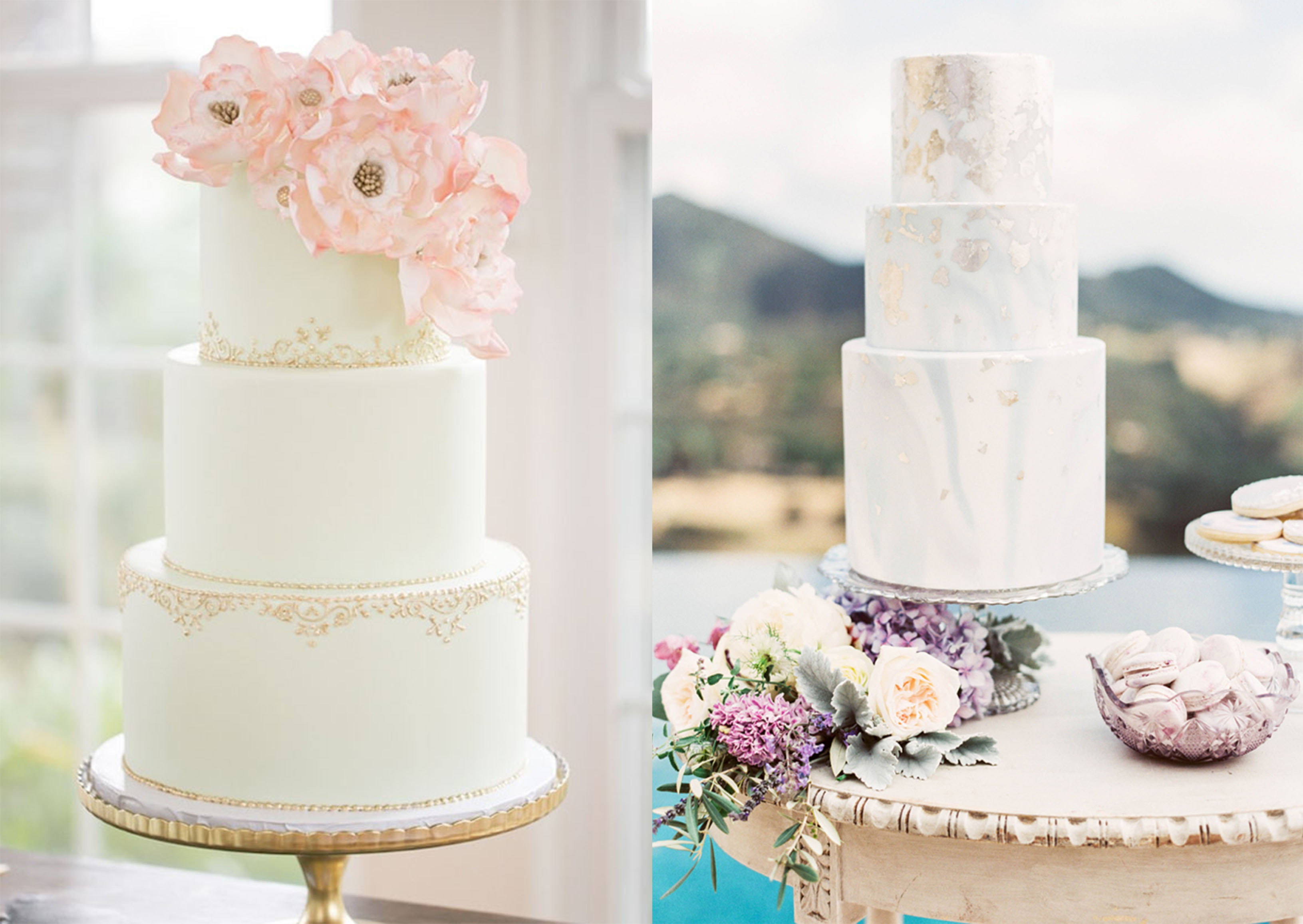 Left: Style Me Pretty | Right: Chic Vintage Brides
While gathering ideas, Justin and I found that despite having a stigma against the taste of fondant, all of the cake designs we were attracted to required it. There is something about the smooth, almost surreal-like look of fondant that we really love. And, although we prefer the taste of buttercream, fondant ultimately won in the end for many reasons: layout, weather, and display.
Given the timeline of our wedding, we thought it was best if we served our wedding cake to guests' for dessert! To do this, the cake cutting would have to take place before dinner, and immediately following the cocktail reception, to allow the kitchen ample time to cut and plate pieces of cake. Something about this felt rushed! We also wanted to display our beautiful cake throughout dinner, and so it was decided our cake would be made of iced pieces of Styrofoam. Yes, a faux wedding cake! Our cake designer is preparing a sheet cake complete with buttercream frosting that will be served simultaneously as Justin and I do our cake cutting! We were told the bottom tier will have a section of real cake in which we will cut into. I can't believe I am allowing this at my wedding, let alone sharing it on Style Souffle, but the resolution was a win-win in the end. It not only saved money (yay!), but Justin gets his buttercream fix and we are also able to achieve the cake design we initially fell in love with!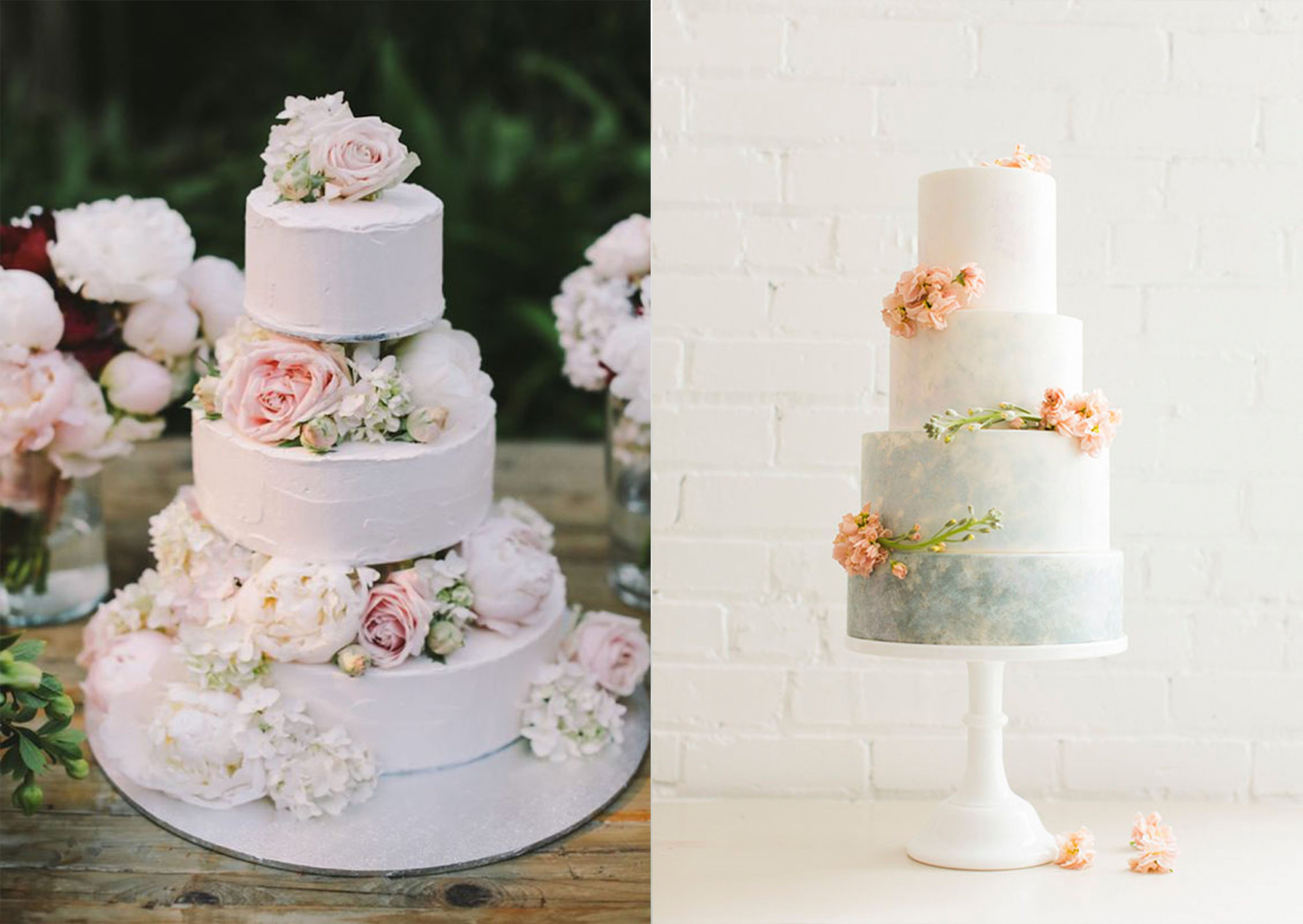 Left: Style Me Pretty | Right: Amalie Orrange Photography
Something that is important to consider if you are having a fairly large wedding is cost. Three- and four-tier cakes typically feed a wedding party of 150+ people. So, if you prefer the esthetic of a two-tiered cake, you may want to consider displaying a smaller cake and serving your guests' slices from a sheet cake instead!
We are also having an outdoor (for the most part) wedding in a warm climate, so we were advised to stay away from meringues, whipped cream, and buttercream. They melt! If you, too, are getting married in the summer I encourage you to ask your baker about summer icing options.
The overall process has been a lot of fun! We are still finalizing our cake design, but I feel confident that I know which option we will choose in the end! Our planner loves the design too, and said she was shocked at our final choice. Honestly, the cake was the one area where I felt I could "let-go" and do something completely unexpected! That being said, do y'all have any guesses what design we will choose?
Also, for any fellow brides-to-be reading this, what style of cake design do you plan on having at your wedding reception?  Or, for those of you who are happily married, what influenced your wedding cake style and helped you to make your decision?
xx,
Taylor-Rae