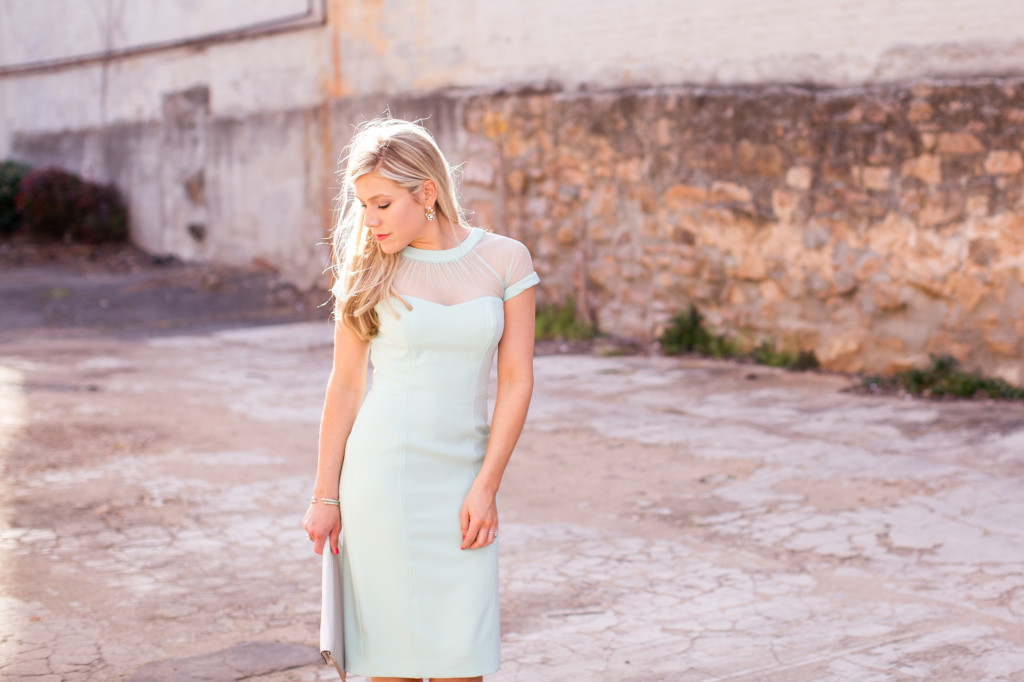 Outfit details:
Dress: Maggy London | Shoes: Stuart Weiztman | Earrings: J.Crew | Purse: ASOS
As the Easter holiday quickly approaches I am reminded of so many memories from my childhood, like choosing the perfect dress for church on Easter Sunday.  It's something I still look forward to today. Being a "planner" I like to prepare in advance, especially when it comes to my wardrobe.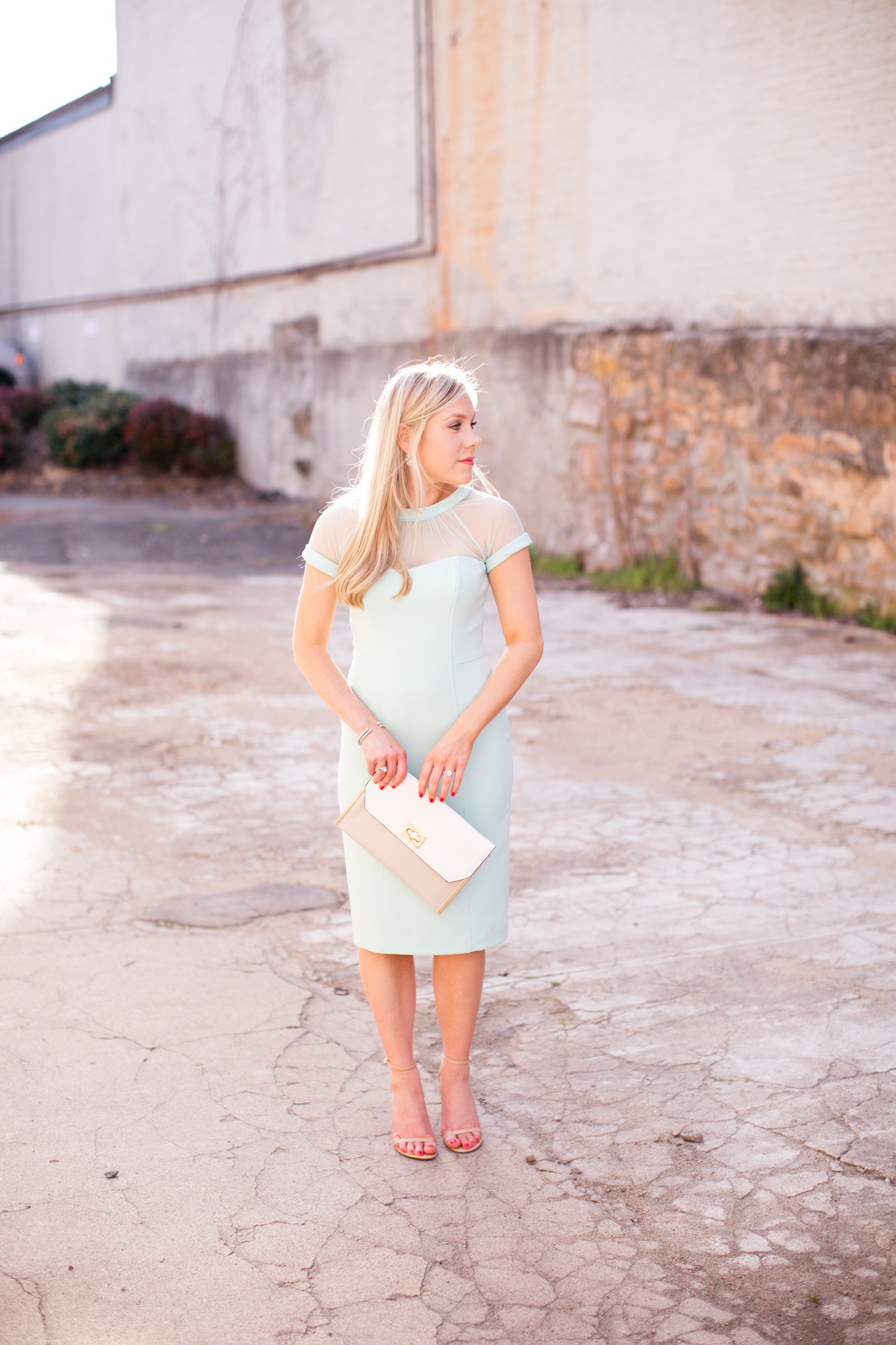 One of the things I look forward to each Spring, aside from longer days and warmer weather, is the emergence of soft pastels. While the soft hues were welcomed in colder temperatures, they are quintessential for Spring – especially for Easter.  It is also a color palette I rely heavily on throughout an entire year, so you can imagine my excitement when I discovered this beautiful mint dress!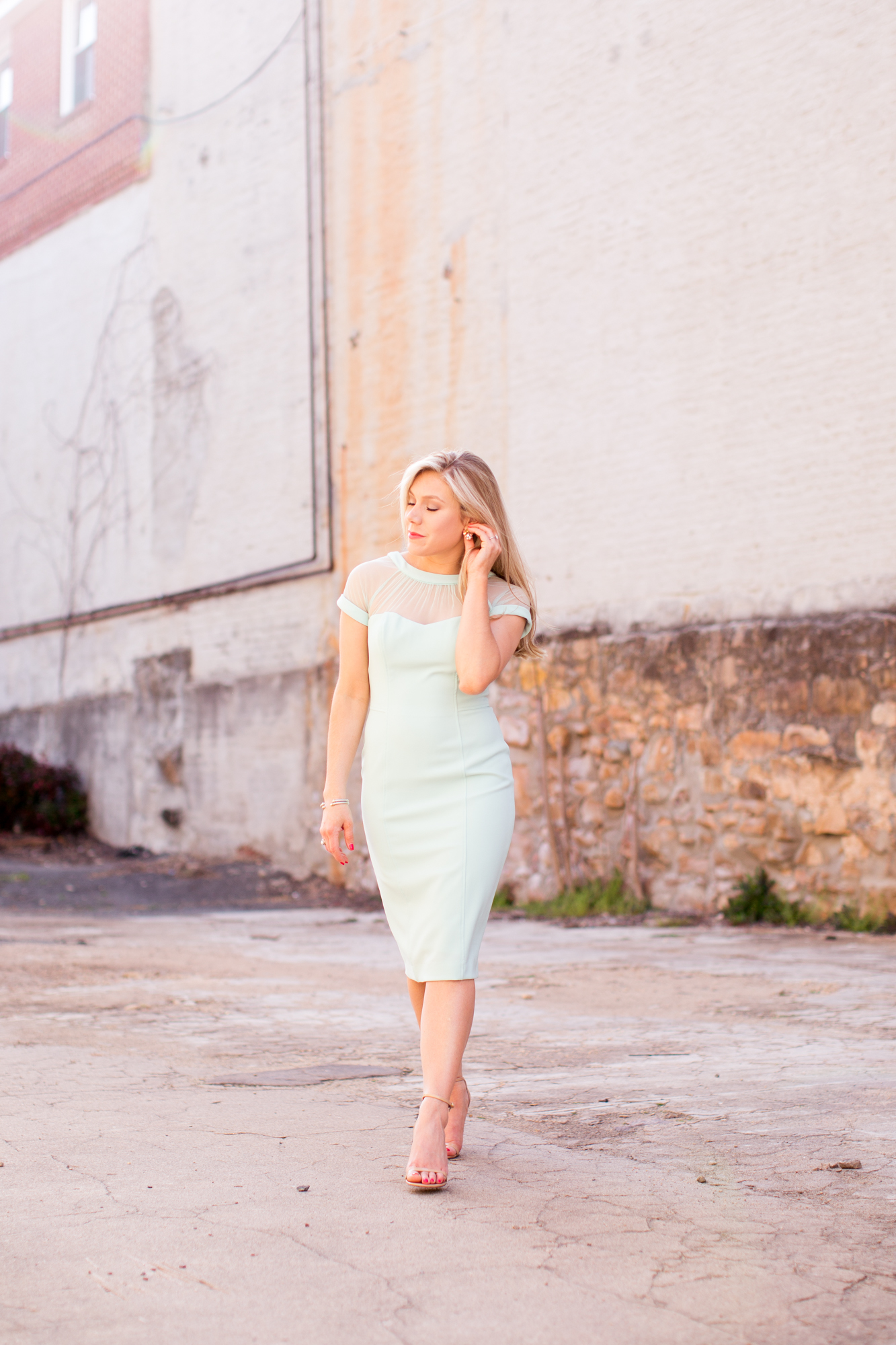 When dressing for formal occasions it's important to consider the proportions of an outfit or, in this case, individual garment.  When hemlines drop, I have no problem showing a little skin up top, and usually pick dresses that accentuate the collar bone. The sheer illusion neckline adds an elegant touch to an otherwise very simple dress.
Maggy London currently has a collection of dresses that is out of this world and perfect for the Easter holiday. I fell for this dresses unique color and flattering fit after seeing it online as part of Maggy London's new arrivals for Spring. The dress also comes in a beautiful soft lavender, but unsure of how it would pair with my fair skin tone I decided on mint.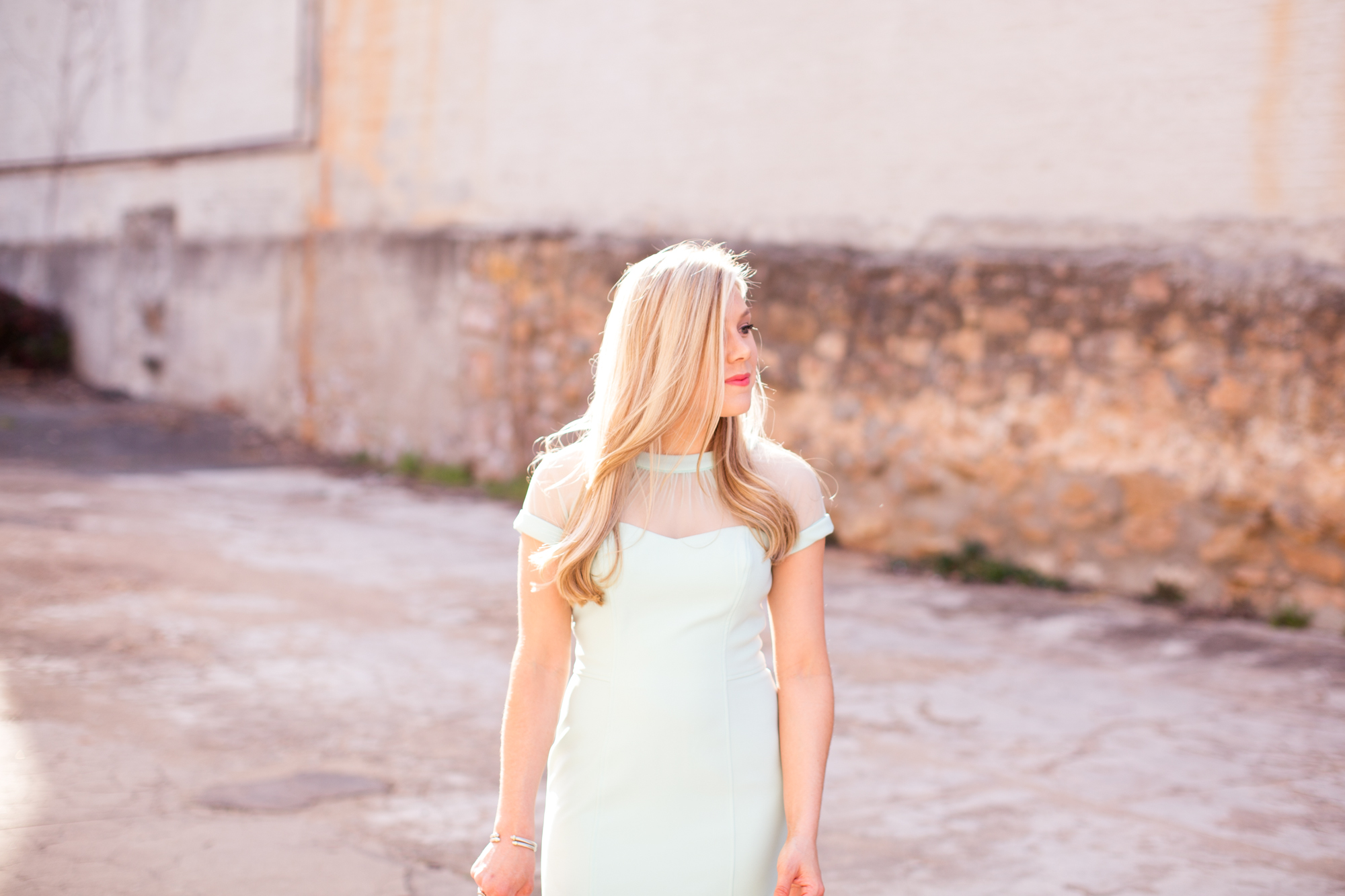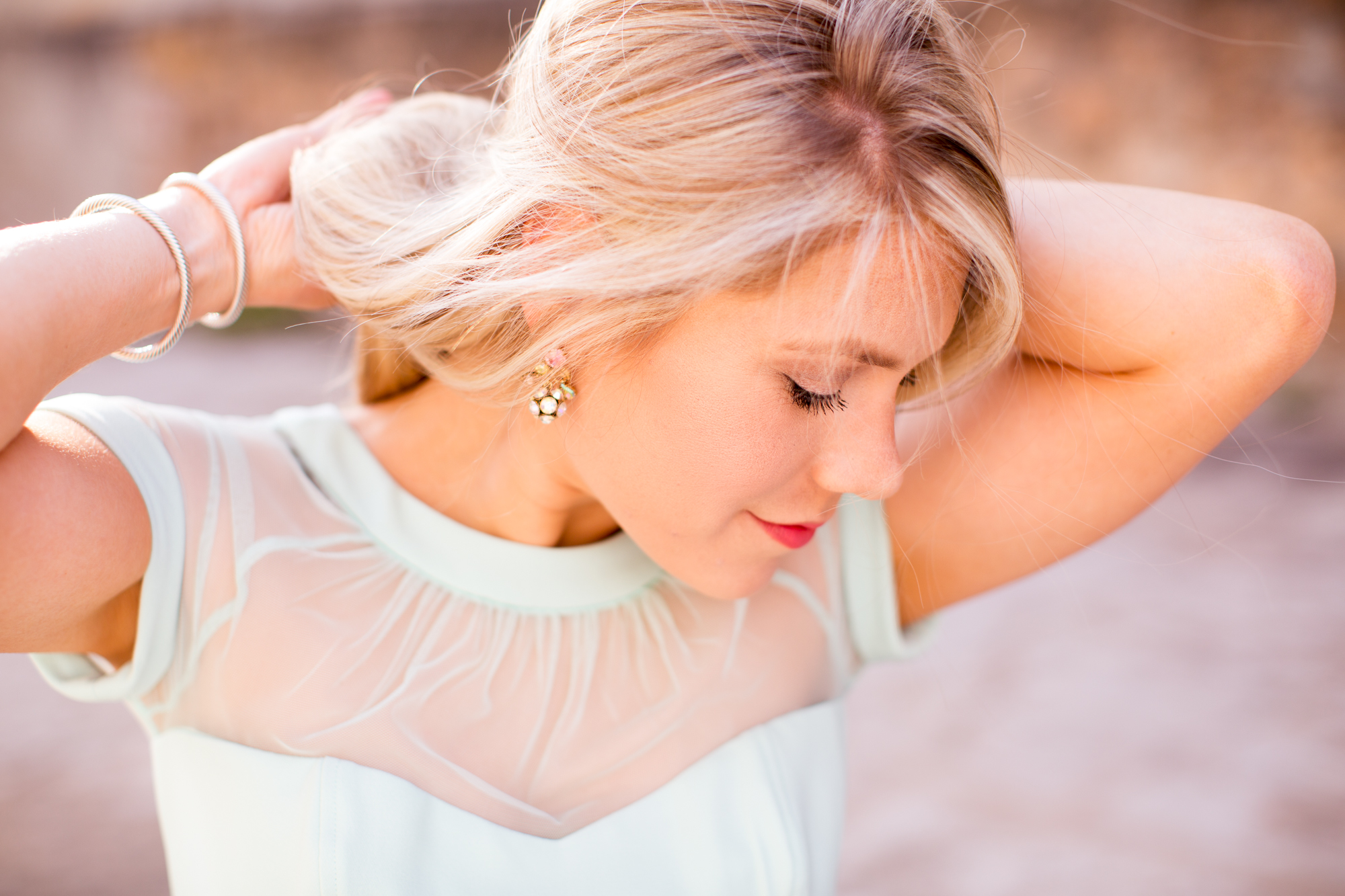 This Maggy London dress ended up being the perfect option for me! It's equal parts conservative and sexy! Too often I think women fail to realize that you can still be sexy without barring too much skin.  Conservative pieces that are well tailored to flatter your figure are in my opinion the epitome of class.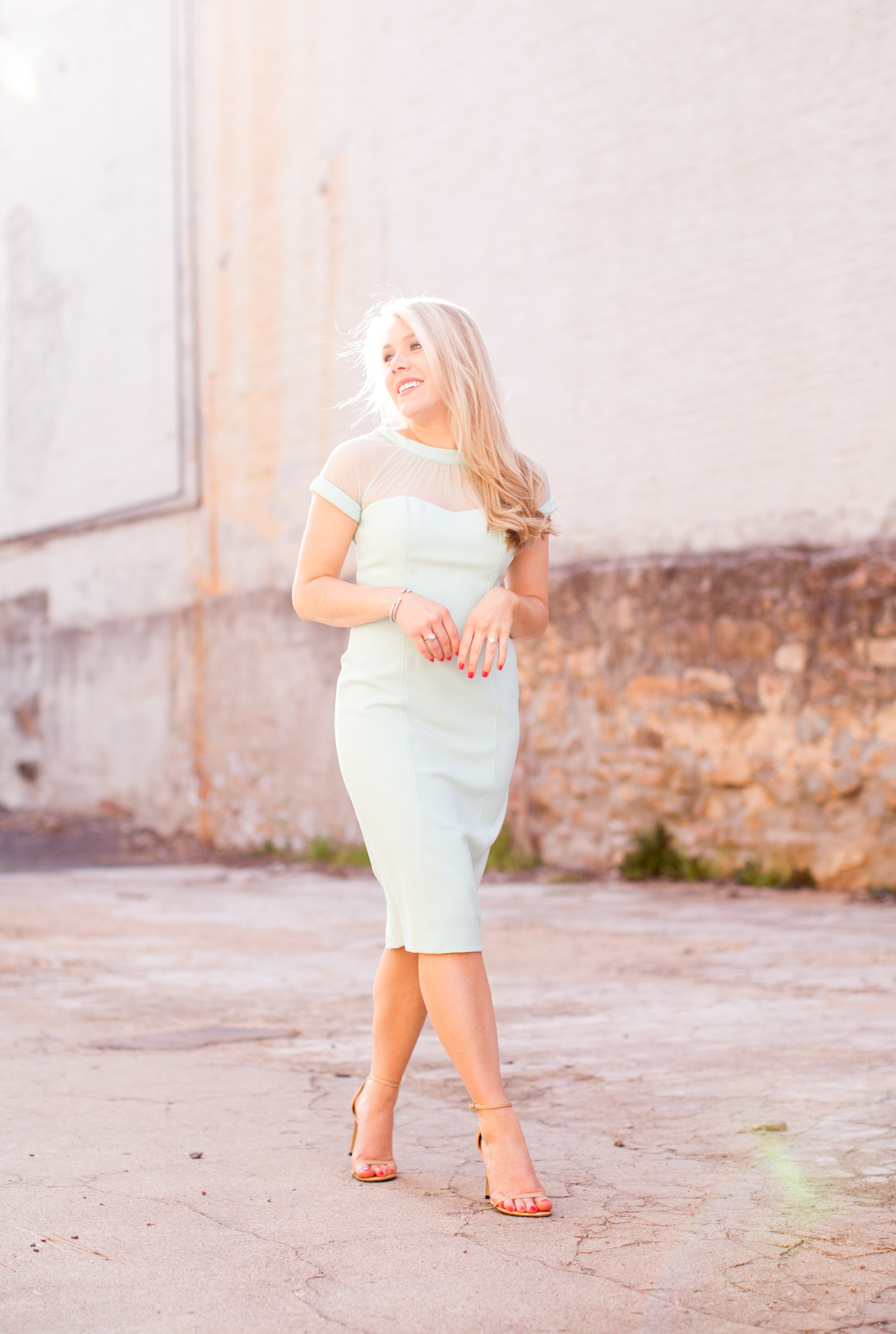 I highly encourage you to check out Maggy London's collection of dresses for any special occasion you have on the calendar for this Spring/ Summer. I'm very impressed with the quality and their garments run true to size!
For more fashion inspiration, follow along on Facebook and Instagram!
Photos by: Garrett Price
Thank you Maggy London for sponsoring this post.
Outfit Details:
Dress: Maggy London | Shoes: Stuart Weiztman | Earrings: J.Crew | Purse: ASOS
Stuart Weitzman Suede Nudist Heels • Stuart Weitzman • Sold Out
It Cosmetics Vitality Brigthening Anti-Aging Face Disk • Ulta • $38
Urban Decay Perversion Mascara • Urban Decay • $10–22
ASOS COLLECTION ASOS Slim Croc Clutch Bag • Asos • $26
Pearl and crystal earrings • J.Crew • $68
Jacquard Illusion Dress • Maggy London • $89