Hi! I'm back with my 'FRIDAY 5' roundup! For those of you who are new to Style Souffle, each Friday I share a few miscellaneous favorites of mine!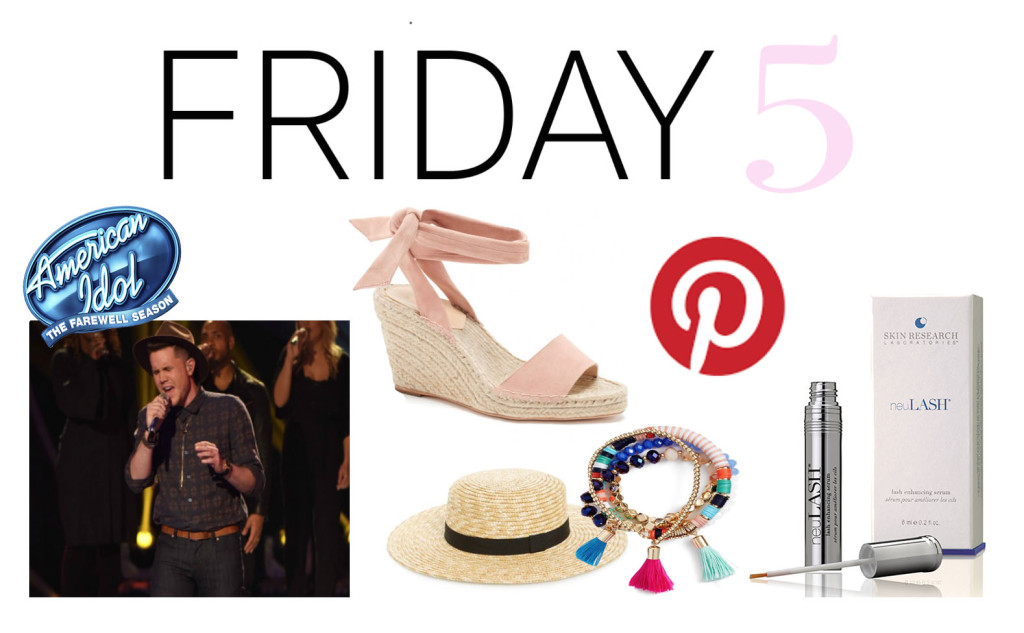 Left to Right:
American Idol contestant, Trent Harmon, is THE coolest! Last night his performance of ZZ Top's 'Sharp Dressed Man' was absolutely incredible (watch here).  Later in the show he sang 'Chandelier' by Sia showing that he can sing just about anything! Amazing!  I wish I had an ounce of Trent's uniqueness. I think what makes him so captivating, in my opinion, is how comfortable he is in his own skin and that shines through in his hip and tailored, and also rugged style. It's crazy, but he makes it work. Okay, I'm done now.
Wedge sandels all day, everyday!  I'm crushing on wedge sandals this Spring/ Summer, and love this pair form Loeffler Randall!  I also love these blush beauties by Dolce Vita are only $89.
Pinterest has been a life saver throughout my entire wedding planning process. I've created a vision board for every event surrounding the wedding, and honestly couldn't imagine life without it!
Honeymoon shopping is in full swing (see below for details).
neuLASH is addicting! For years I've always wanted to try a lash enhancing product, but was afraid to try it in fear that I would experience terrible side effects! Well, so far so good! I've been using it for about two months now and have seen a significant increase in the length of my lashes.
xx,
Taylor-Rae