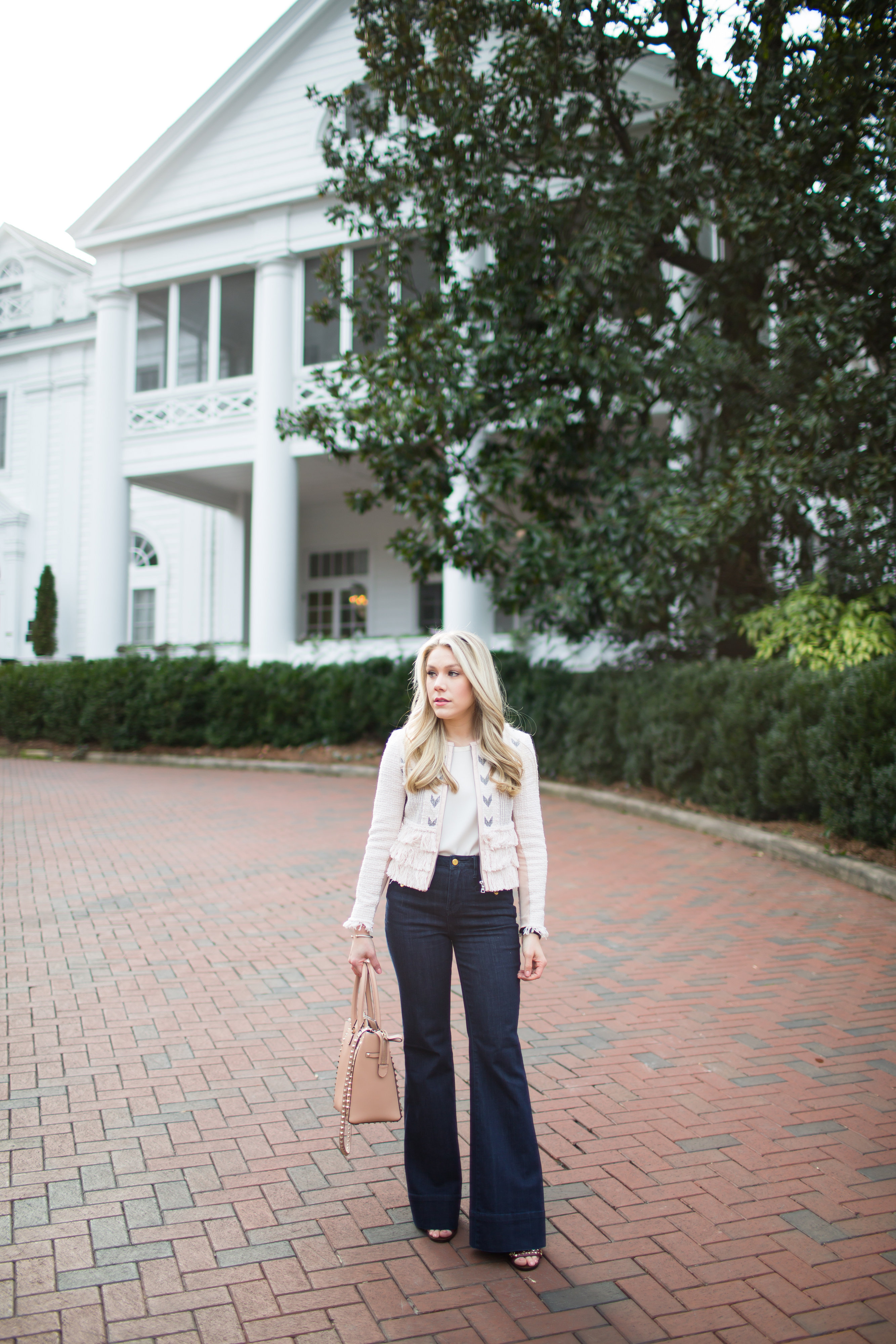 Outfit Details:
Rebecca Taylor JACKET | Nordstrom DENIM | J.Crew TOP | Valeninto Rockstud HANDBAG | Tory Burch WEDGES | Nordstroms EAR JACKETS | Michelle WATCH

Photography: Brittney Rowland
It's no secret that the decade of decadence is making waves throughout the fashion community. We are seeing more and more men and women invest in quality, wardrobe staples that are essential for any outfit, like a great jacket and well made denim!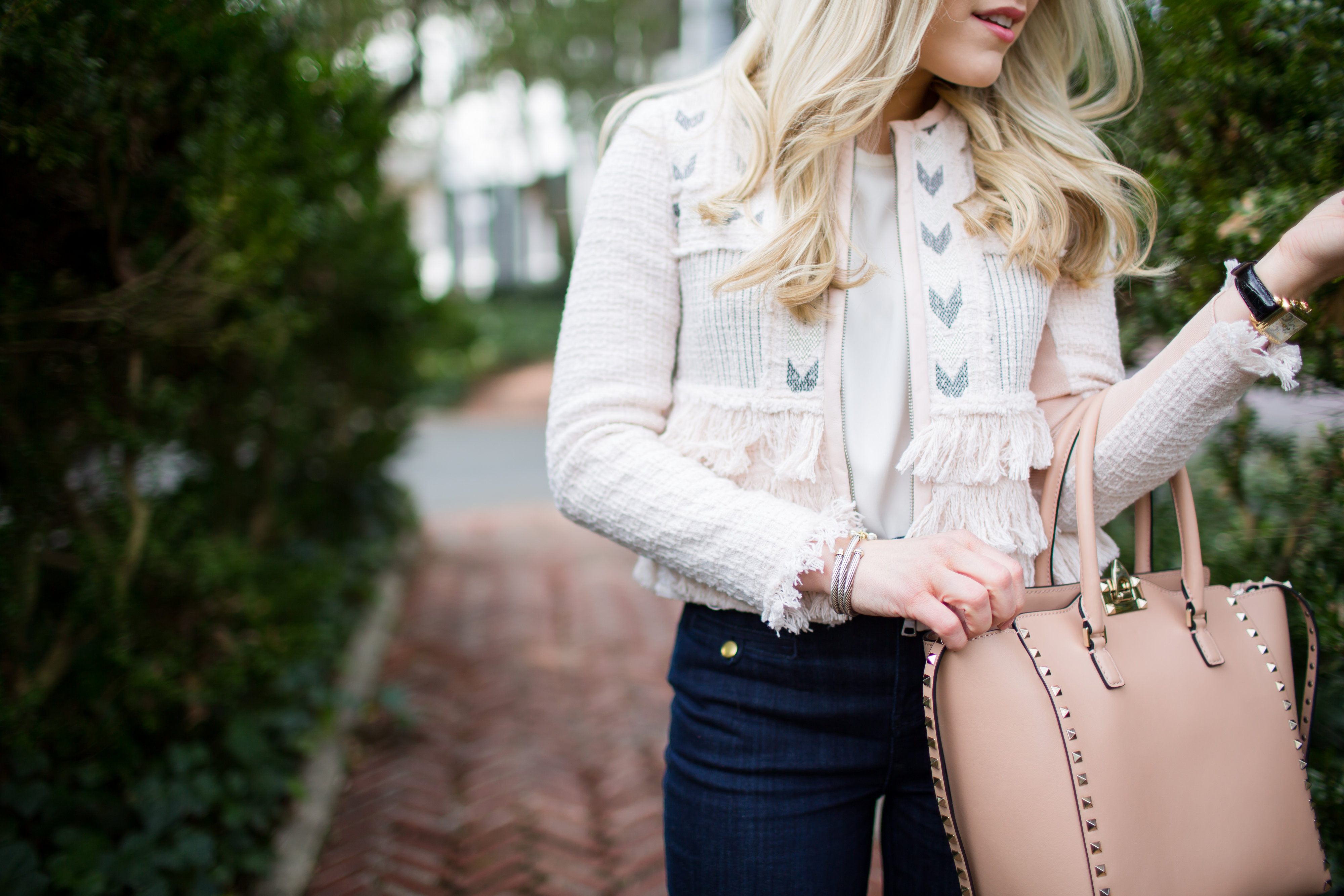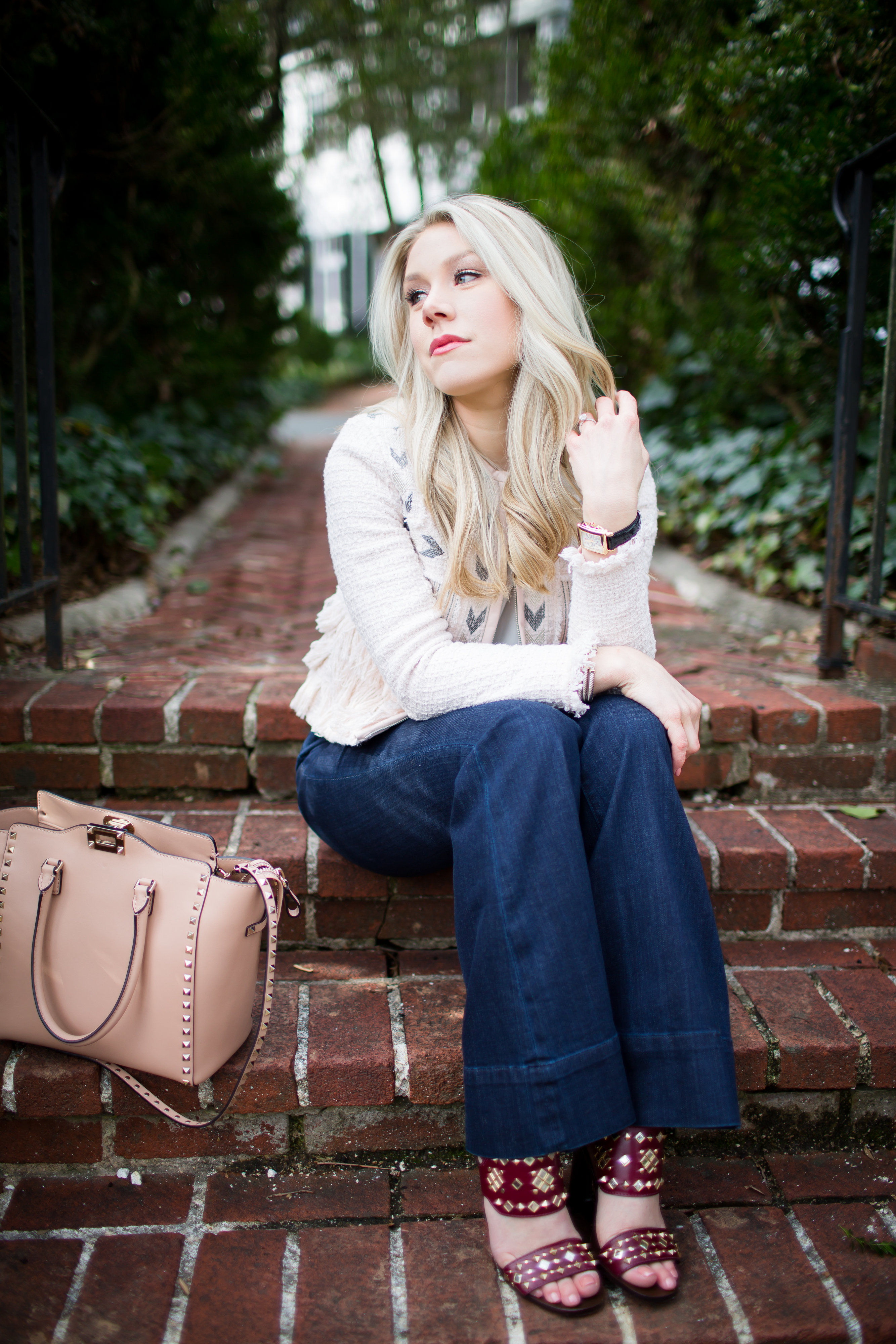 One of my favorite trends to hit the runway last fall were high waisted, denim trousers. Yes! Flares are just about the most exciting thing to happen to denim since the advent of skinny jeans. It's a trend that is proving to have some serious staying power, and any skeptics should have attended the Create & Cultivate conference in Dallas, Texas, which resembled an incredibly chic version of That '70s Show.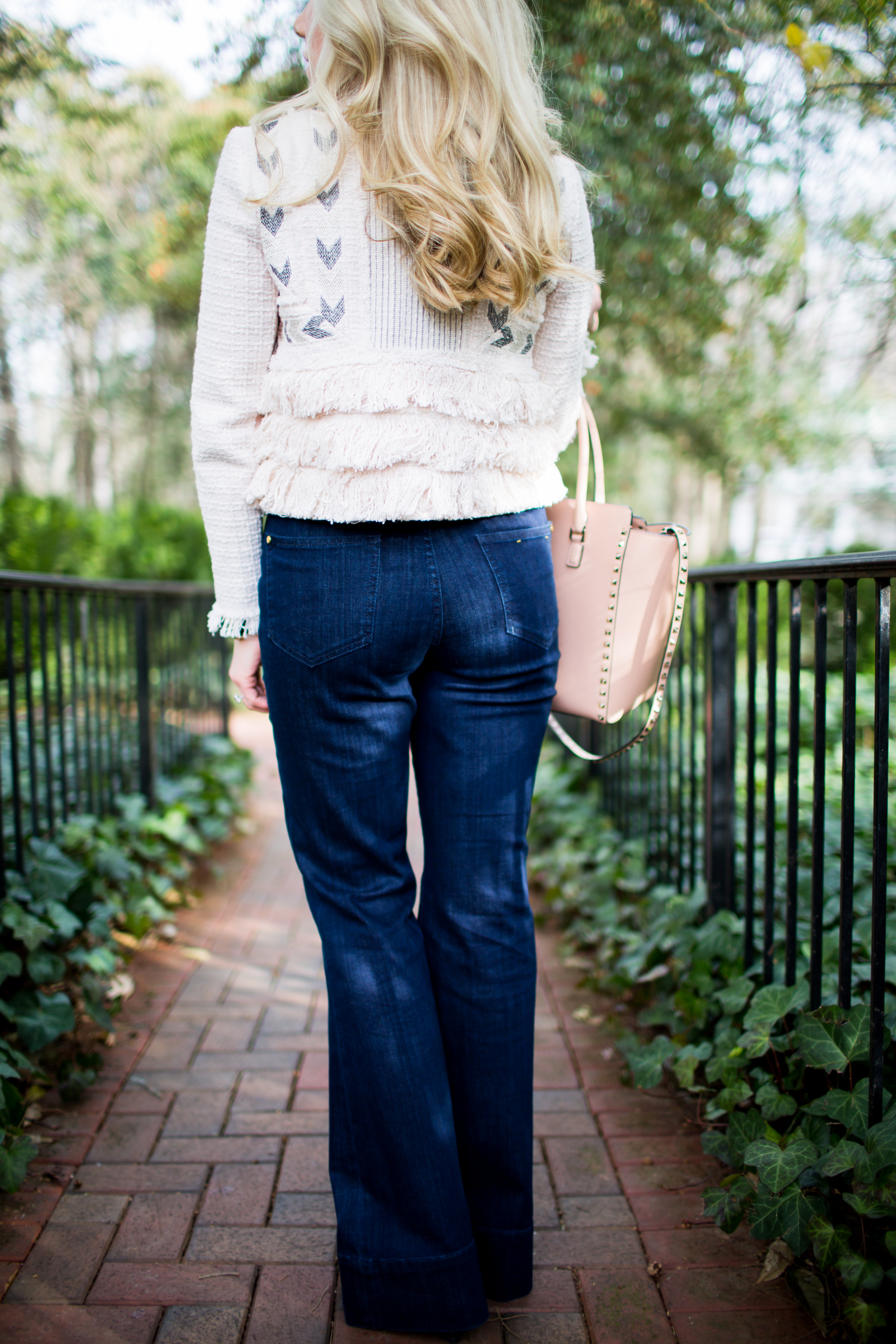 There are so many fun ways to wear flares, and I have included a little inspiration guide below for reference:
COLOR: Try flares in other colors and prints. A pair of crisp white flares works perfectly with a denim or chambray skirt. Pull it together with black or brown accessories and you've got a classic American look.
BELT: Pair your high waisted trousers with a wide belt and a tucked in top for effortless glamour! This combination is super slenderizing too!
JACKET: Add a pop of color with a great jacket or handbag, like the tweed Rebecca Taylor crop jacket worn in today's post!

HEM

: Play with volume and look for flares with a 3/4" thick hem, like this pair from Anthropologie.

TAILORED

: Ladies, tailor your denim to the shoes you plan to wear so that the pant leg falls even with the ground. This should be a no brainer!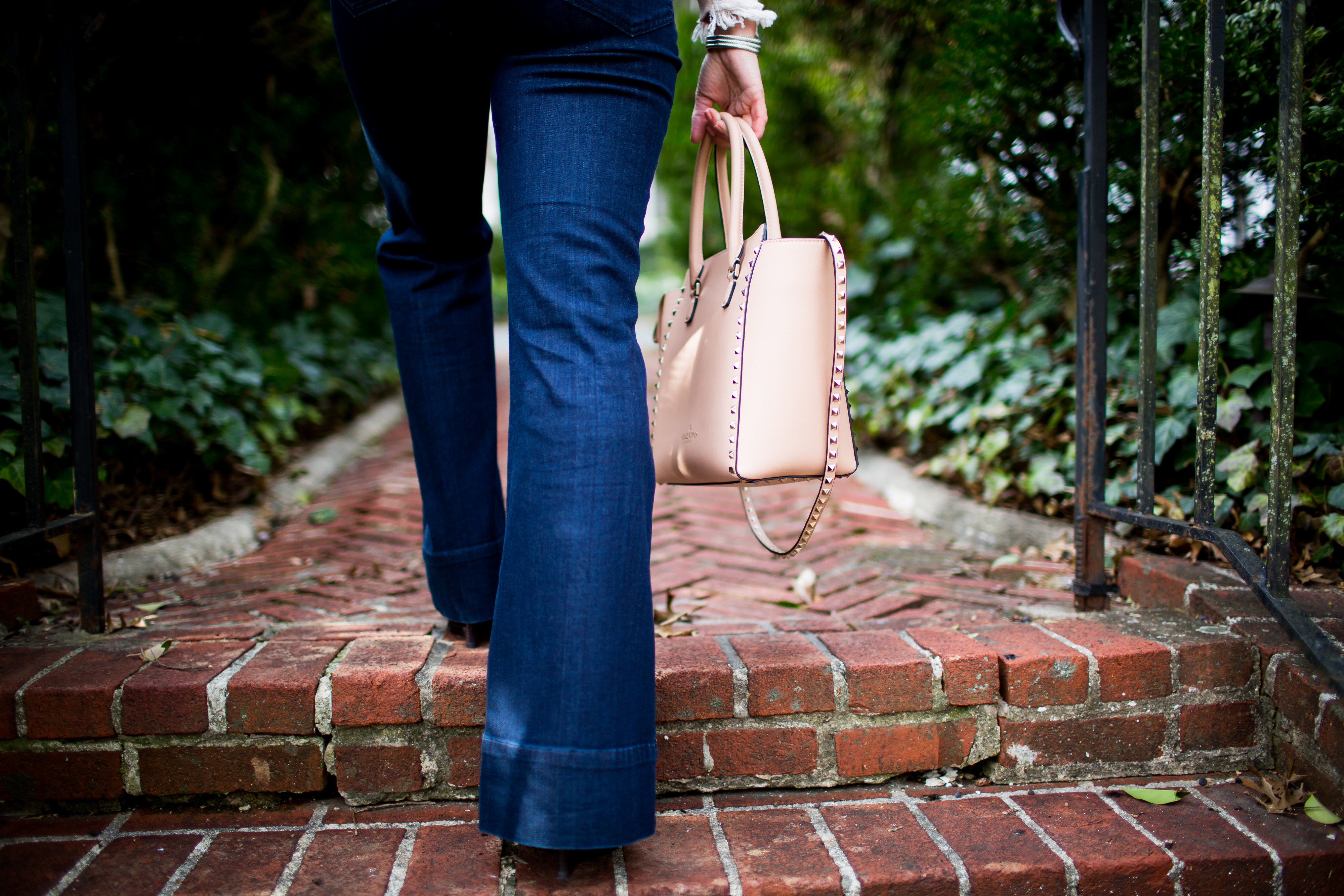 As Spring approaches, we are seeing more and more designer collections emerge that also adorn 70's inspired pieces, like the tweed Rebecca Taylor Crop Jacket worn in today's post. It's intricate design and fringe detail immediately captured my attention, and I knew I wanted to pair it with high waisted, denim trousers. The jackets crop fit also aided in elongating my 5'3" stature. Speaking of which, I have never received more compliments on an article of clothing in my entire life. Seriously! I wore this combination to Create & Cultivate several weeks ago and was being identified as "the girl in the pink jacket!".
If you haven't already clicked on the direct link above, please know that this blush beauty is certainly an investment piece! Luckily, it is marked down half of its original price, so run don't walk. I was a little hesitant to pull the trigger, but I can honestly say that this jacket has received some major milage over the past several weeks. Yesterday, I paired it with a pair of black joggers, and Nike Free's – an unusual combination that came together really well.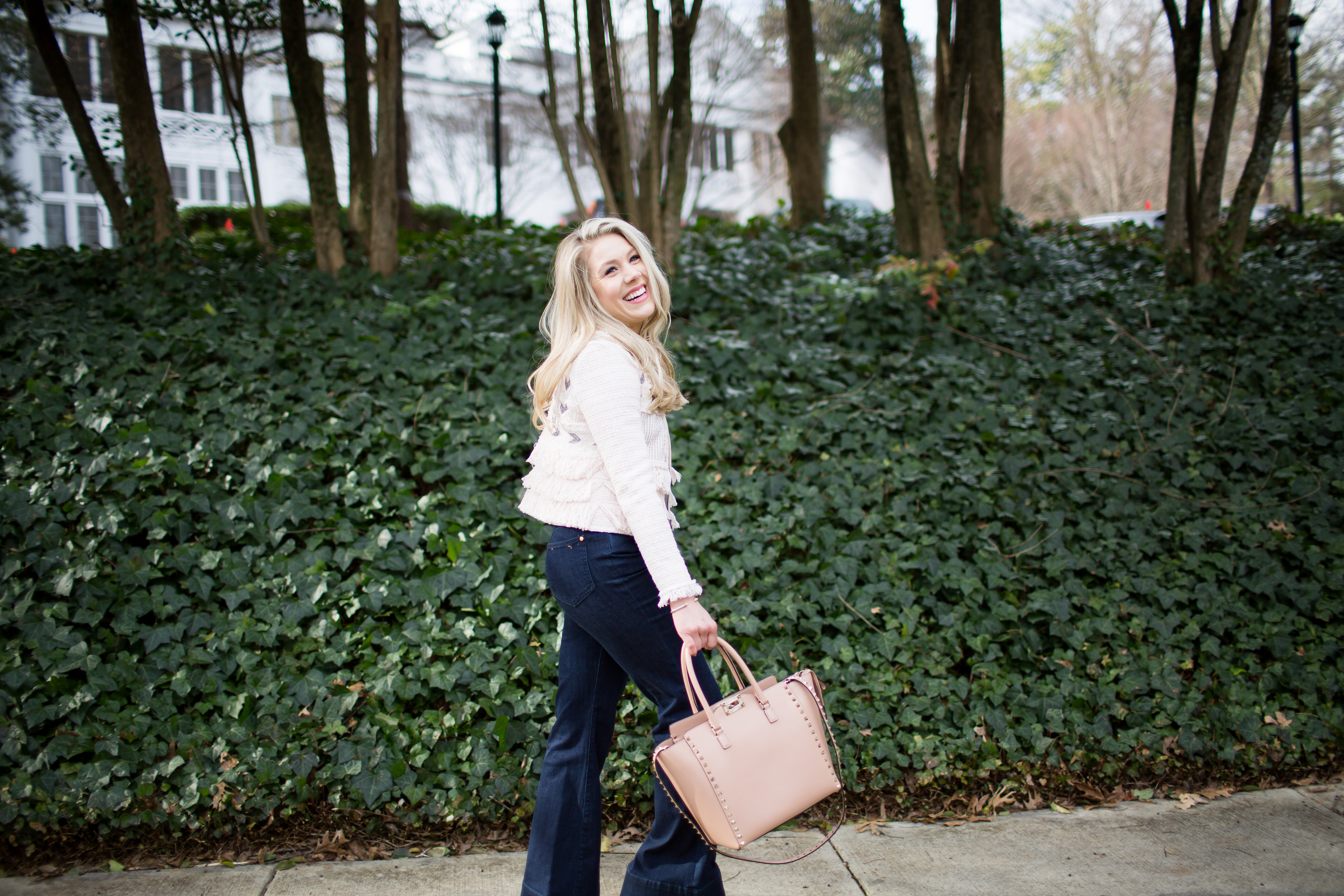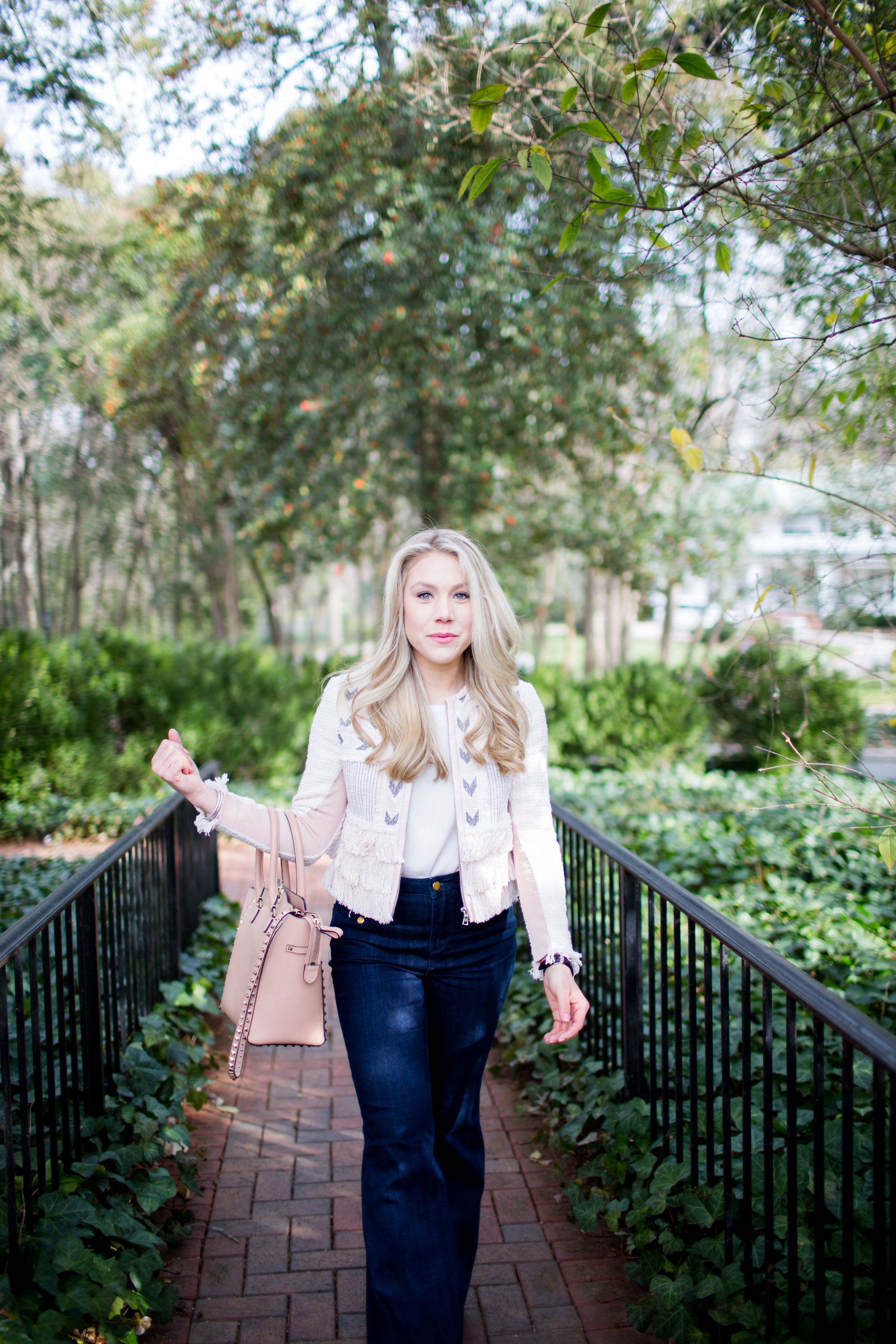 What I love most about this look is that it screams 70's while remaining authentic to my personal style. While this outfit was created entirely from what I consider to be wardrobe staples, they can easily be paired with other budget conscious pieces to create an entirely different look.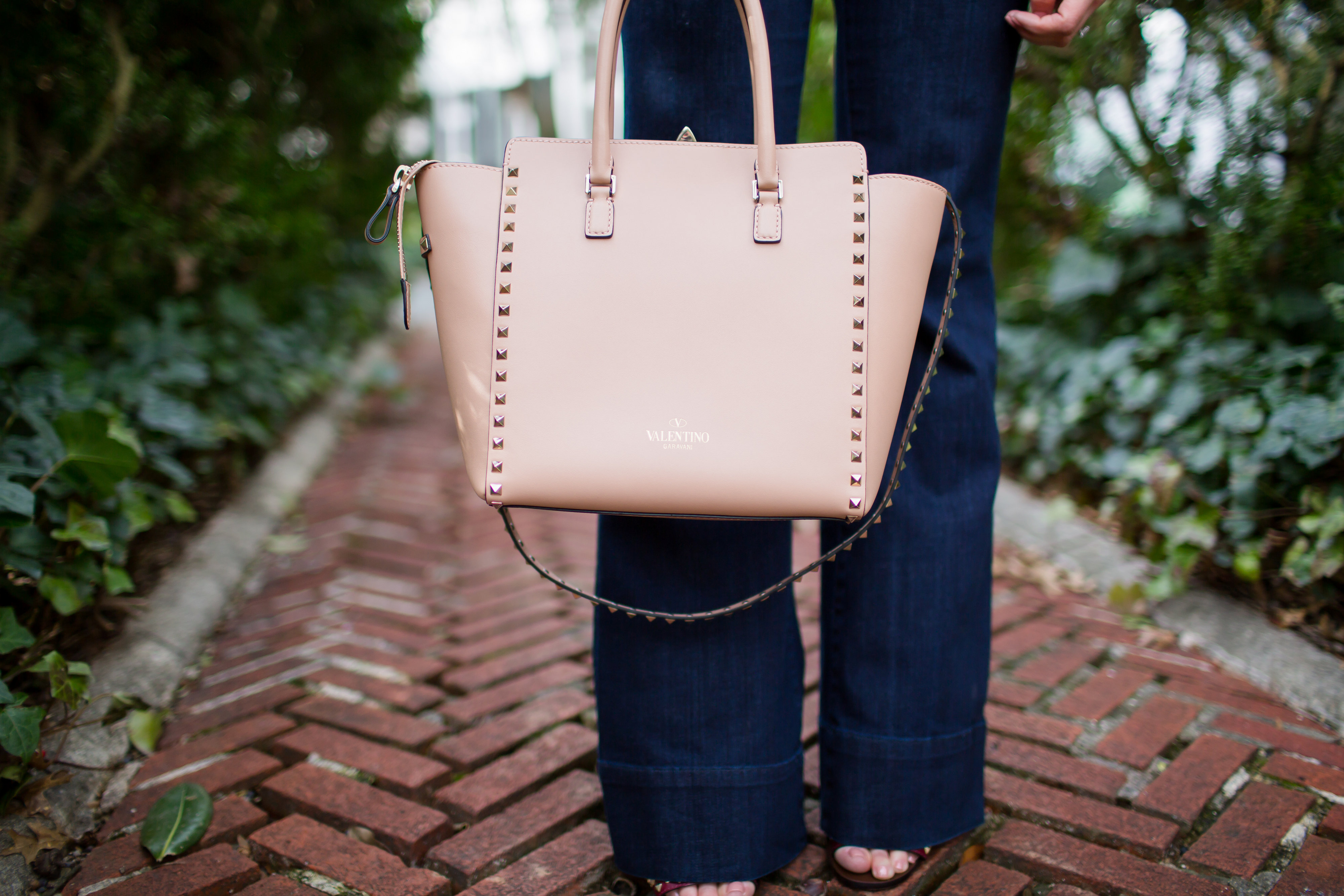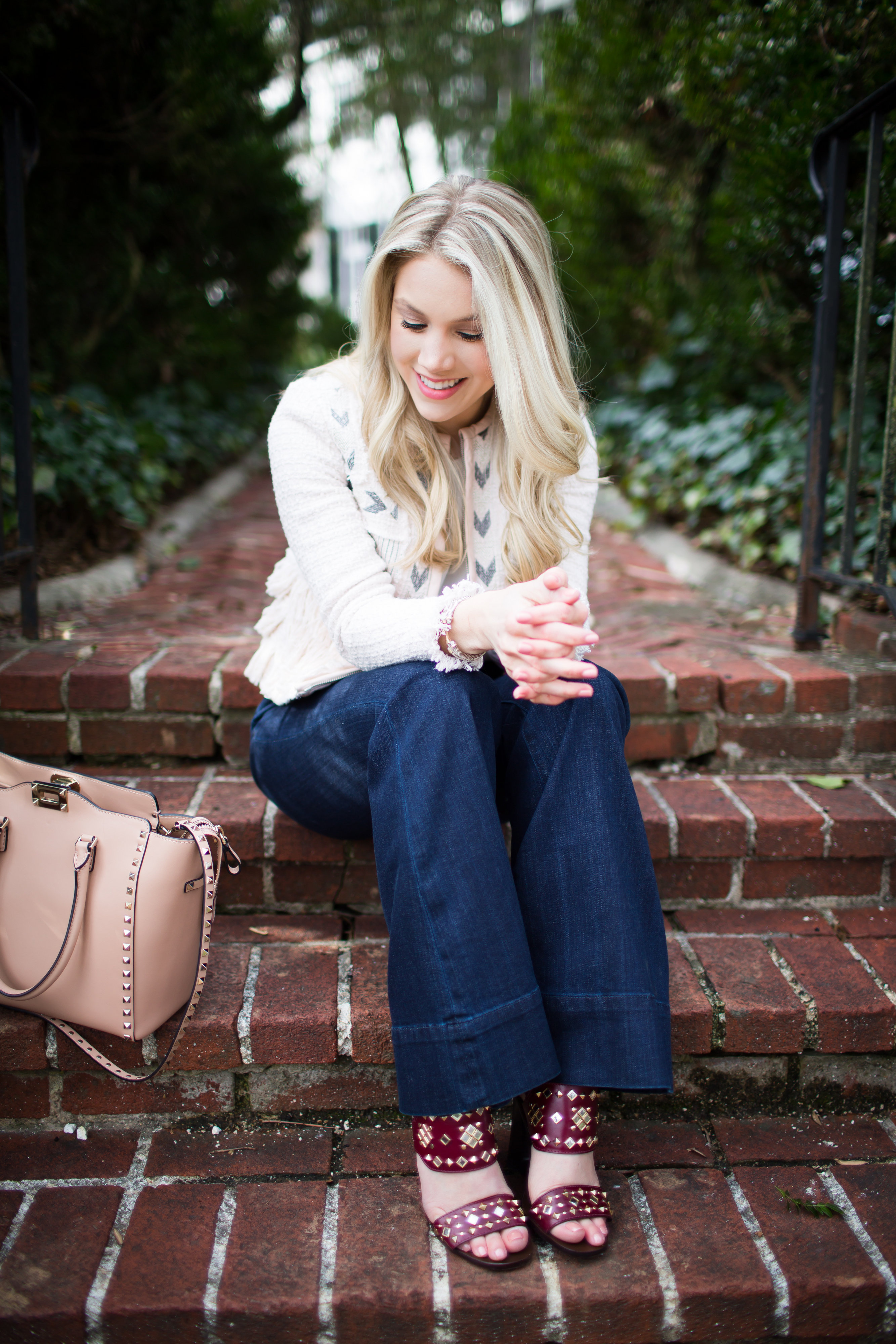 As for my accessories, I paired it with my everyday bracelets, pearl ear jackets, and these fabulous marsala Tory Bruch wedges. I love the combination or blush and burgundy, and felt that they contrasted the top while complimenting the denim's dark wash. They too are half off!
Thank you so much for your kind words and continued support. I enjoy reading all of your sweet comments on Instagram and Facebook. I'm hosting another giveaway below for my fabulous followers for the chance to win $500 shopping spree! See below for details. Also, if you are interested in a recap of my Create & Cultivate experience please let met know!
Chow,
Taylor-Rae
Shop details below:
Rebecca Taylor JACKET | Nordstrom DENIM | J.Crew TOP | Valeninto Rockstud HANDBAG | Tory Burch WEDGES | Nordstroms EAR JACKETS | Michelle WATCH
Now…it's time for a fabulous giveaway!
I've teamed up with an amazing group of bloggers
to give YOU a chance to win:
a $500 shopping spree on US!

Simply enter below by completing the rafflecopter.
You'll receive one entry per completion.
This giveaway is open internationally and runs until 2/24.
Winner will be announced here. Good Luck!
Apparel Junky / L. Avenue / DoSayGive / Audrey Madison Stowe / Style in a Small Town

Michelle's Paige / Saltwater and Stilettos / Sequins & Strawberries / Living In Style OC / Lauren McBride

Fashion & Frills / Hearts of Gold Blog / Afternoon Espresso / Polished Closets / Wild One Forever

LivvyLand / The Closet Crush / The South Coast Movement / Sophisticated Whimsy / Chic Talk

Tanvii.com /ellesees / Hej Doll / Vandi Fair / Style Souffle