Happy Friday, everyone! I have looked forward to sharing today's post, especially after receiving so much positive feedback from the inaugural 'Friday 5' published last week.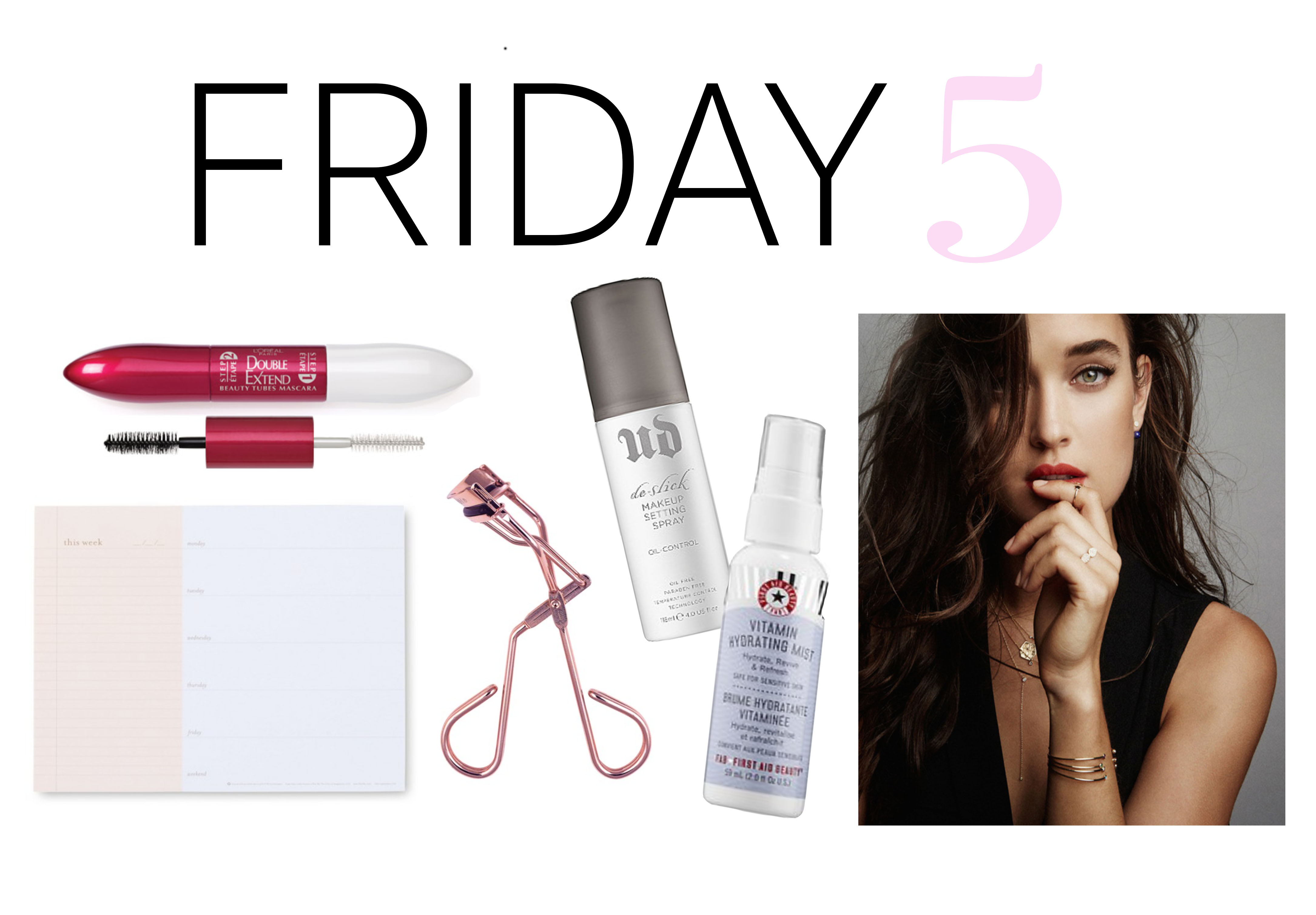 Left to Right:
L'Oreal Lash Extension Primer works like a charm! Of all the pricey eyelash primers out there, and trust me – I have tried them all, nothing works better than L'Oreal!  To achieve beautiful, long lashes I generously apply several coats of the primer (white end of the tube) before applying my mascara, which I do immediately after the primer is applied. To prevent lashes form clumping together I recommend doing one eye at a time! Note: I only use the primer end of the mascara-primer two-in-one tube!
Sugar Paper Weekly Planner Pad helps me stay on task!  This non-dated weekly planner doubles as a to-do list and outline for content on Style Soufflé. As part of my New Year's Resolution to post more frequently, this week at a glance calendar allows me to plan blog posts' in advance.
TWEEZERMAN Lash Curler… one word, AMAZING! Fortunately, I forgot to pack my eyelash curler, among many things, during my recent trip to Dallas. It was then that I welcomed this little wonder into my life.  This lash curler was the first thing within reach during a mad dash through Target, and considering how amazing their eyerbow tweezers are, I knew their lash curler wouldn't disappoint! And, it didn't!
First Aid Beauty 'Vitamin Hydrating Mist' is magic in a bottle! If you have never used First Aid beauty products I highly recommend trying their hydrating mist spray! My skin type varies depending on the season and I have found this to be a bit heavy during warmer months. During the Spring and Summer I use Urban Decay Makeup Setting Spray which sets my makeup while helping keep oily skin at bay! All it takes is a few spritz aimed directly at your face and you are off to take on the day. Also, at night I use a setting spray to help lock in all of my night time anti-aging positions, serums, and moisturizers.
Layered Jewels have me craving summer and sun-kissed skin!
Shop details below
If you use, or try, any of these products please let me know! I would love to hear your feedback. Have a wonderful Valentine's Day weekend!
xx,
Taylor-Rae