Happy Friday, everyone! Every Friday I am going to share a few miscellaneous favorites of mine… Here is my first ever Friday 5 post!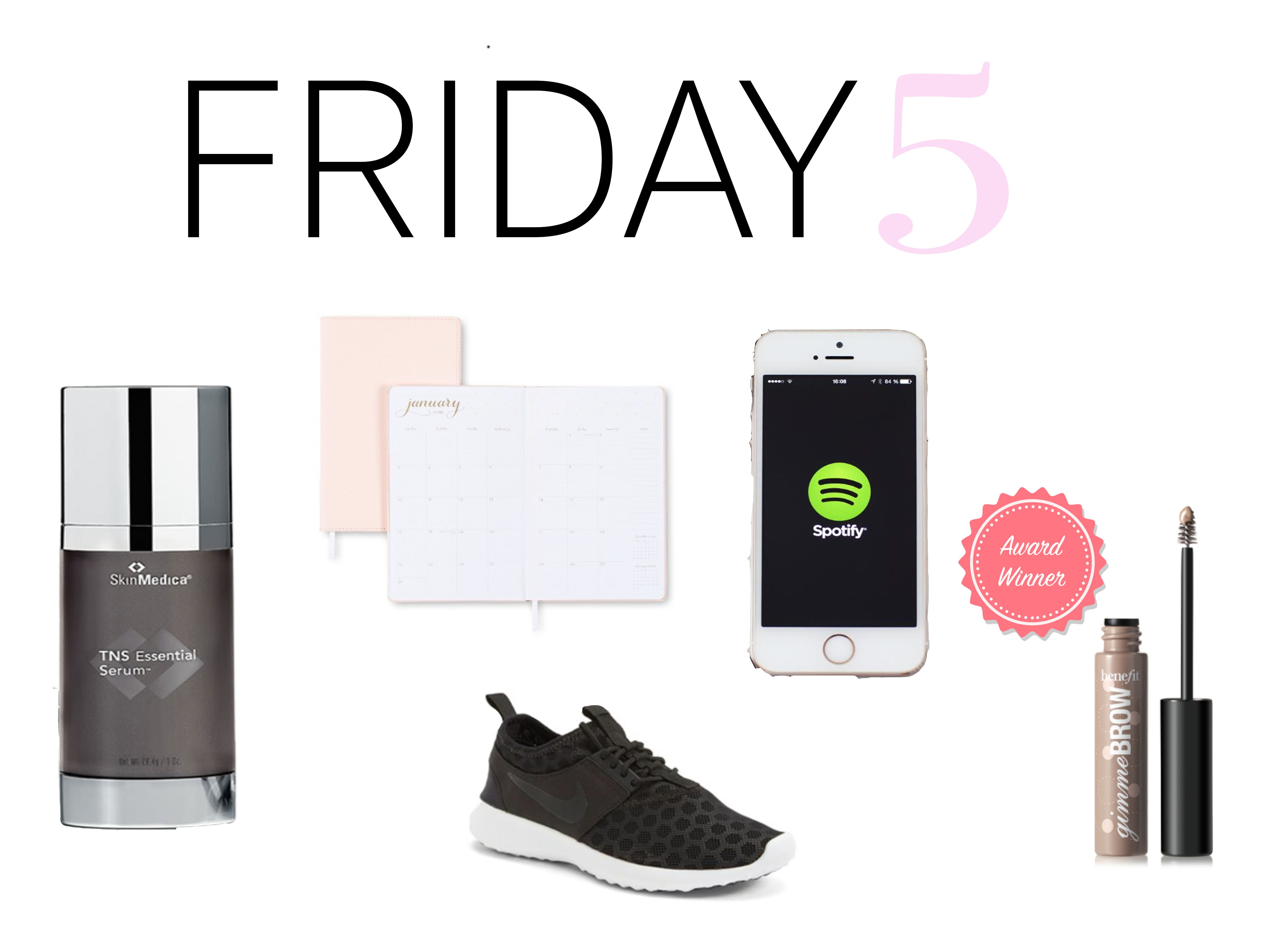 Left to Right:
TNS Essential Serum is my secret weapon! This little anti-aging potion is packed with high concentrations of peptides and antioxidants that help reverse the signs of aging. I've been using it for about two months now, and generously apply one full pump to my face and neck every night before going to bed. It's a little pricey, so I wanted to test it out before recommending it on Style Souffle, and the results are certainly worth the investment. I'm a huge believer in you get what you pay for, especially when it comes to skincare, diet and health.
Sugar Paper 2016 Planner  keeps my sanity at bay. I'm a Digital Marketing Executive by day and a full time blogger by night – sometimes the lines are a little blurred, but the work gets done nonetheless! This planner is part of Sugar Paper's collaboration with Target and is less than $15! I absolutely love this blush beauty. It's the perfect size: big enough to jot done all of my to-do's, but also fits in my purse for days when I am on the go!
Nike Free Running Sneakers are my recent wardrobe go-to! The 'athleisure' trend is growing on me. I recently purchased these black Nike Free's and have enjoyed wearing them with leather pants. Hey, I am happy with cozy being the new cool!
Spotify all day, everyday! Find me at username, StyleSouffle!
Benefit Cosmetics 'Gimme Brow Volumizing Fiber Gel' has become my all-time favorite beauty product! This is such a fool-proof way to achieve beautiful, full, long-lasting brows. In fact, I would have never purchased this if a girlfriend of mine hadn't talked me into it during a late night, very impulsive trip to Ulta Beauty. For me, Ulta is like Target. What I end up purchasing is never what I went to the store to get! I'm so glad she introduced me to this little miracle! Try it – you won't regret it!
What are your thoughts on the inaugral 'Friday 5' roundup? Are you a fan of the 'athleisure' tend? Like me, are you guilty of wearing yoga pants to the grocery store? Also, would you be interested in any specific beauty tutorials/ product guides?
Oh, if you use Spotify please share your username below so I can follow along! 🙂
xx, Taylor-Rae