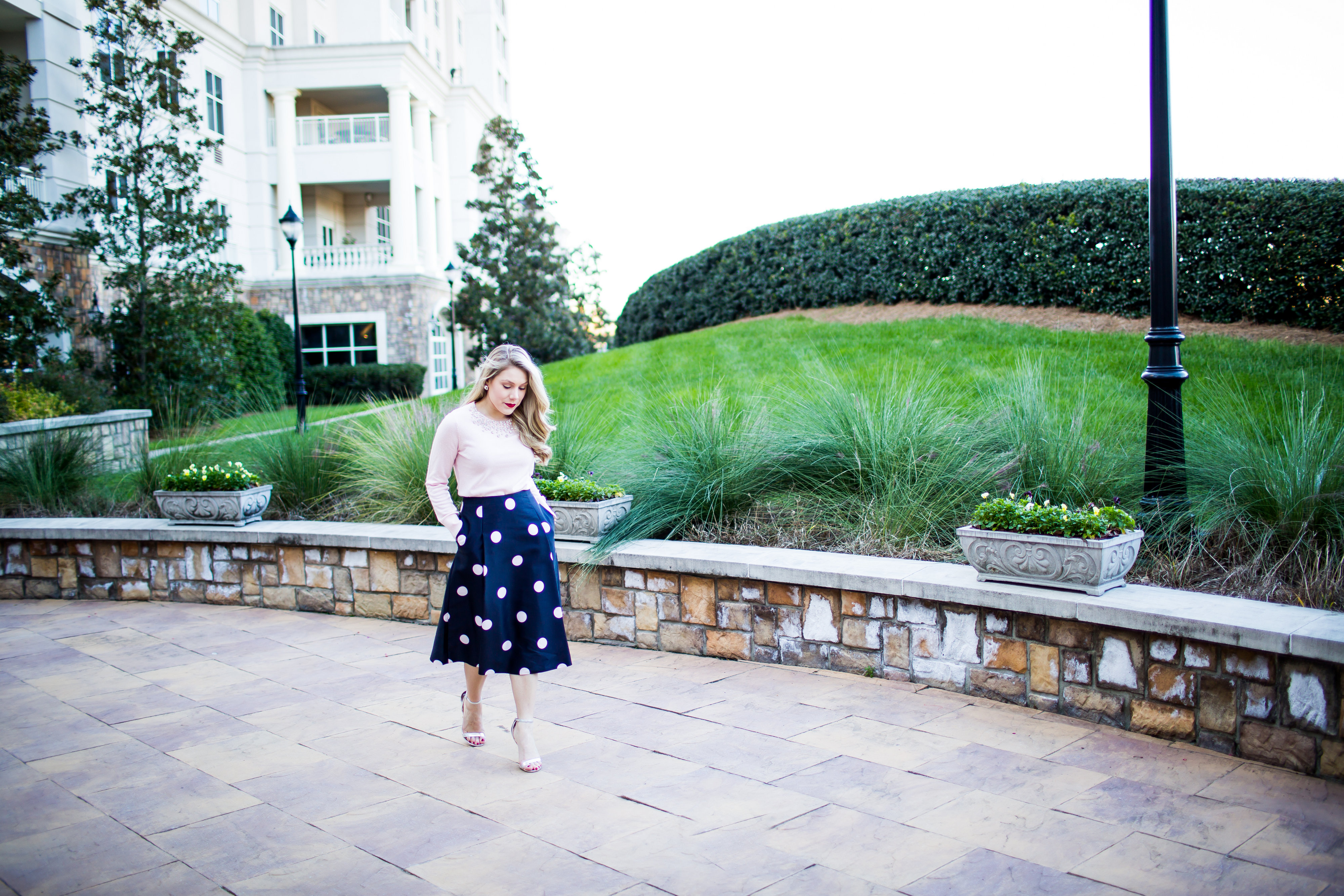 Skirt: Kate Spade | Sweater: Kate Spade (similar) | Shoes: LuLu's (love – ASOS) | Earring: Kate Spade | Lips: YSL  | Foundation: Estee Lauder
Photography: Brittney Rowland
It's never easy getting back into the swing of things after a long holiday weekend, but I am doing my best! 🙂 Over Christmas I took a much needed break from Style Soufflé (and digital devices altogether) to relax and enjoy time with my loved ones. Our somewhat small family usually travels during this time of the year, but with 2015 being exceptionally busy we decided to lay low and relax here at home in North Carolina. So despite having a hard time adjusting to real life, and dressing in something other than PJ's, I do feel refreshed and ready to tackle the brand new year.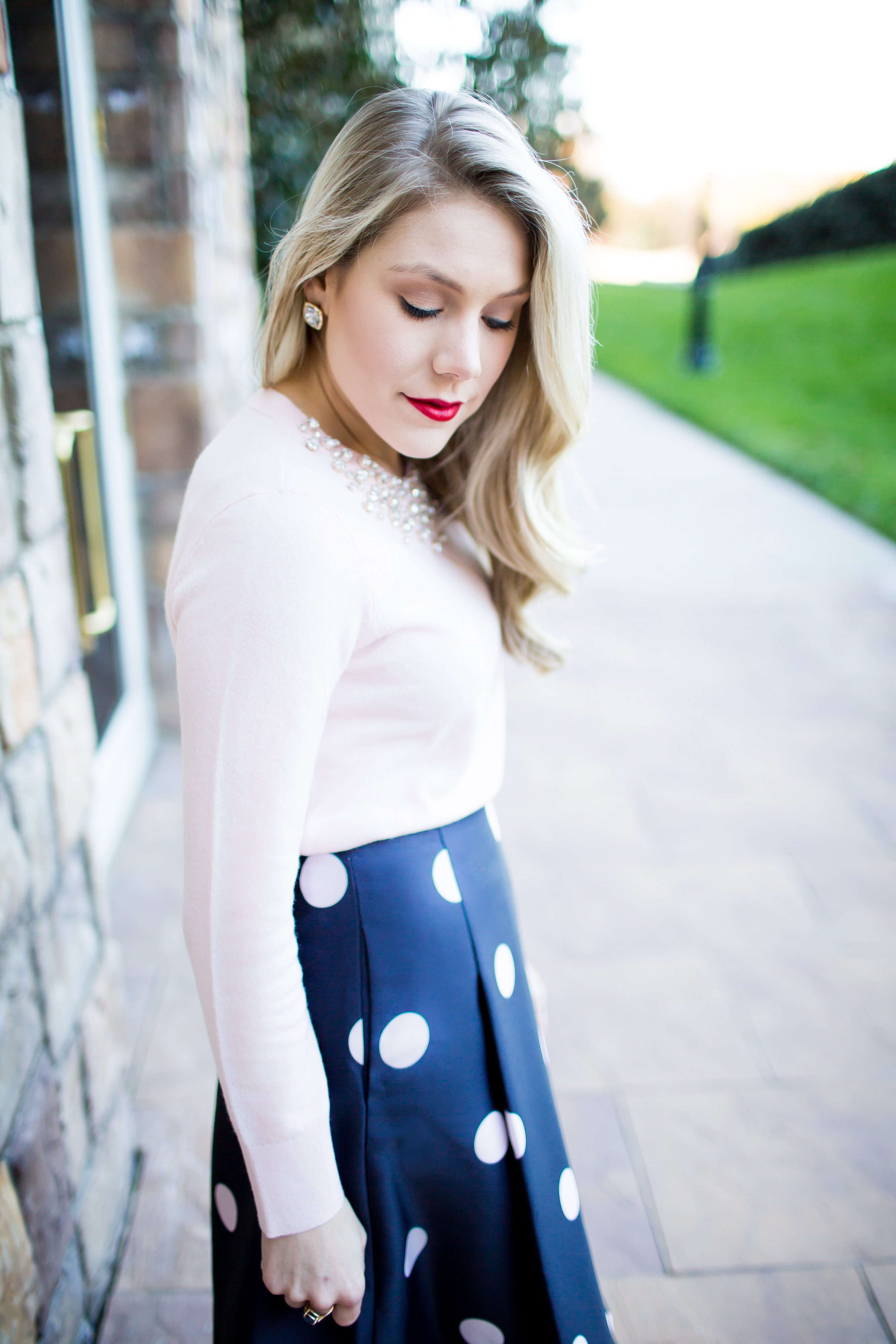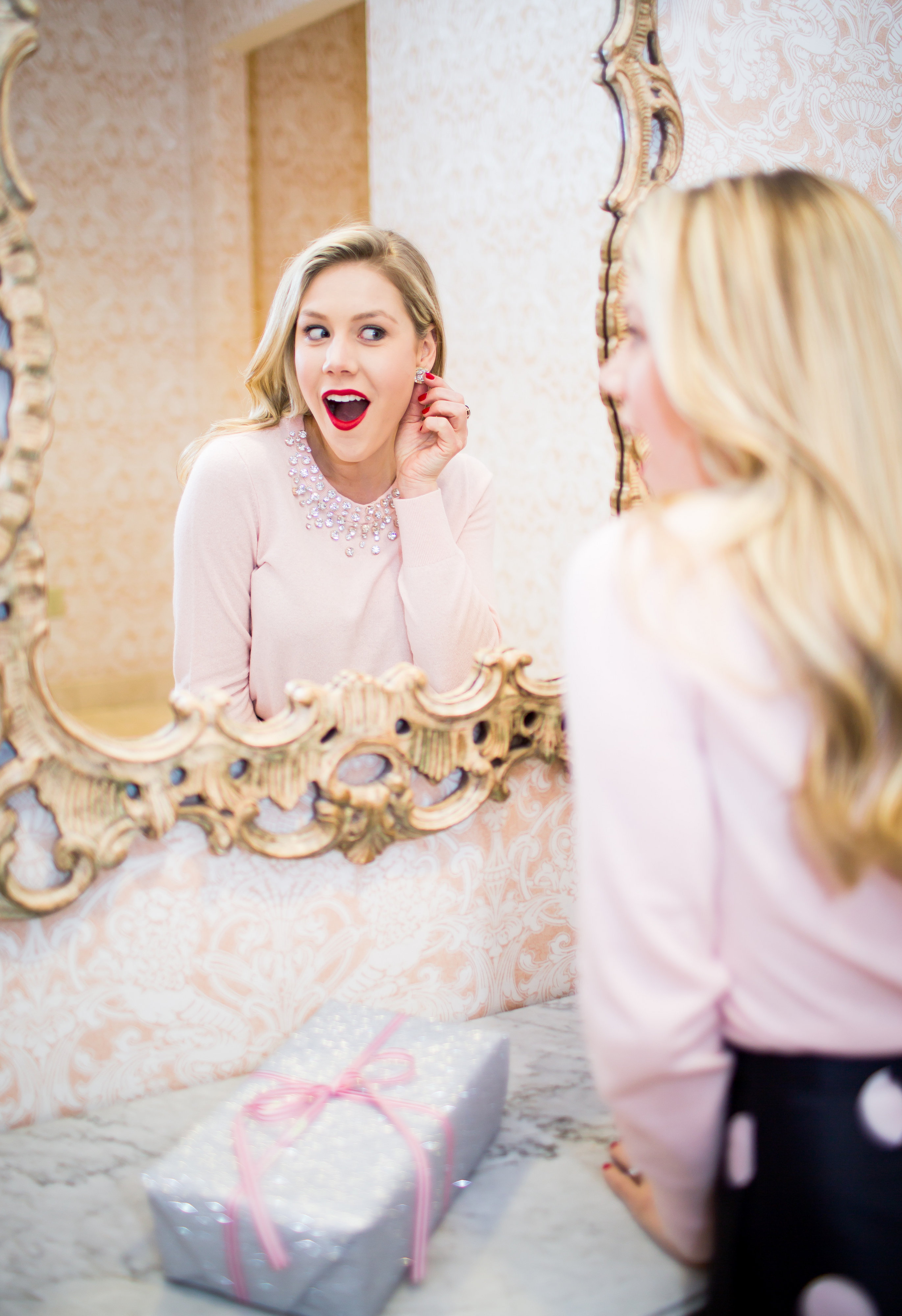 I've always been a sucker for feminine pieces, like this embellished sweater from Kate Spade. I love how flattering the neckline is! In fact, I tried it on in the store three times before I finally convinced myself to purchase it. Third times a charm! 🙂 I also love the cut out in the back of this embellished sweater.
When purchasing pieces for my wardrobe I can be extremely indecisive. And, contrary to what you might think of someone who writes about fashion, I'm very frugal and like to invest my money in pieces that will get a lot of milage.  Thus, my wardrobe mostly consists of nudes, black, navy, gray, and blush!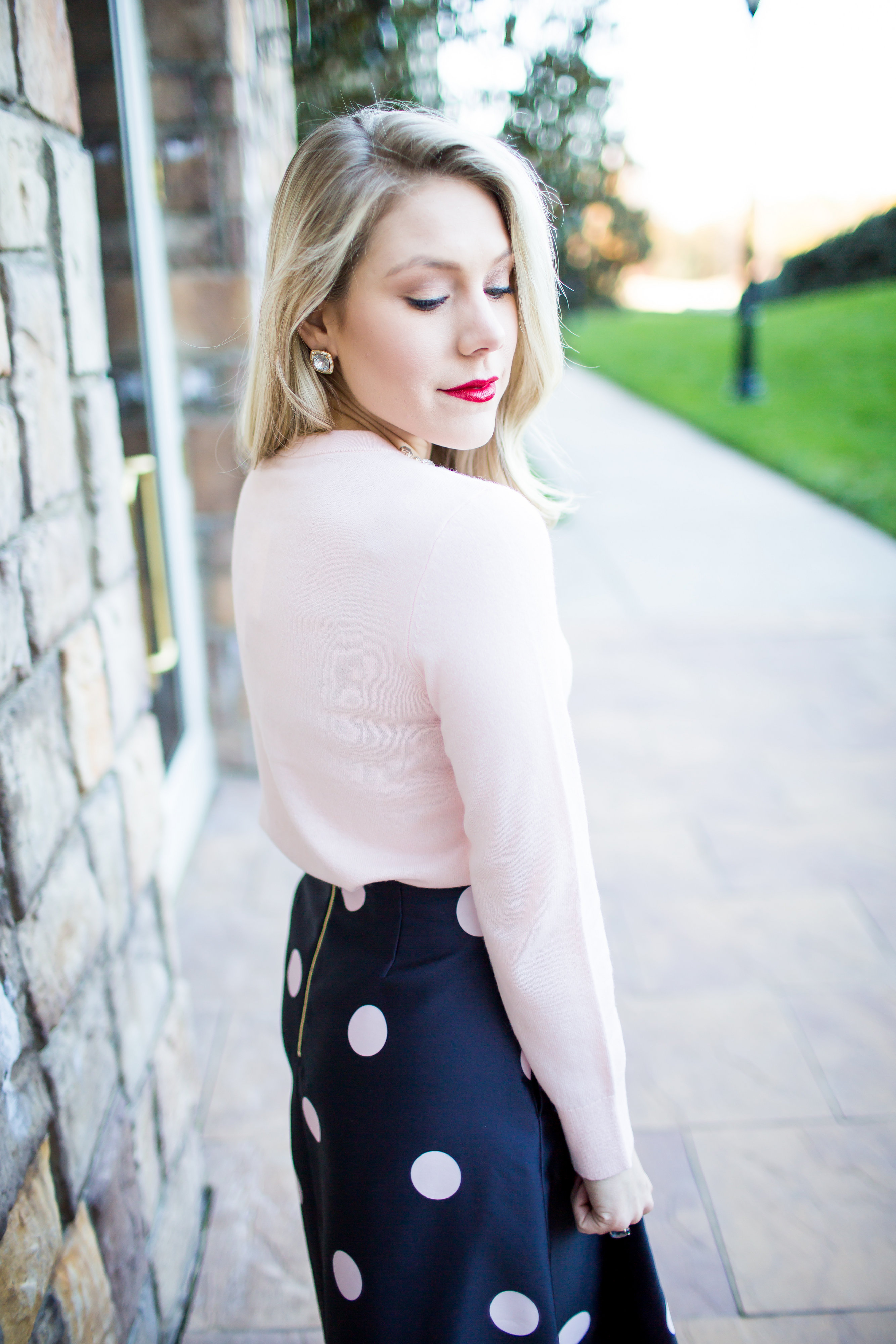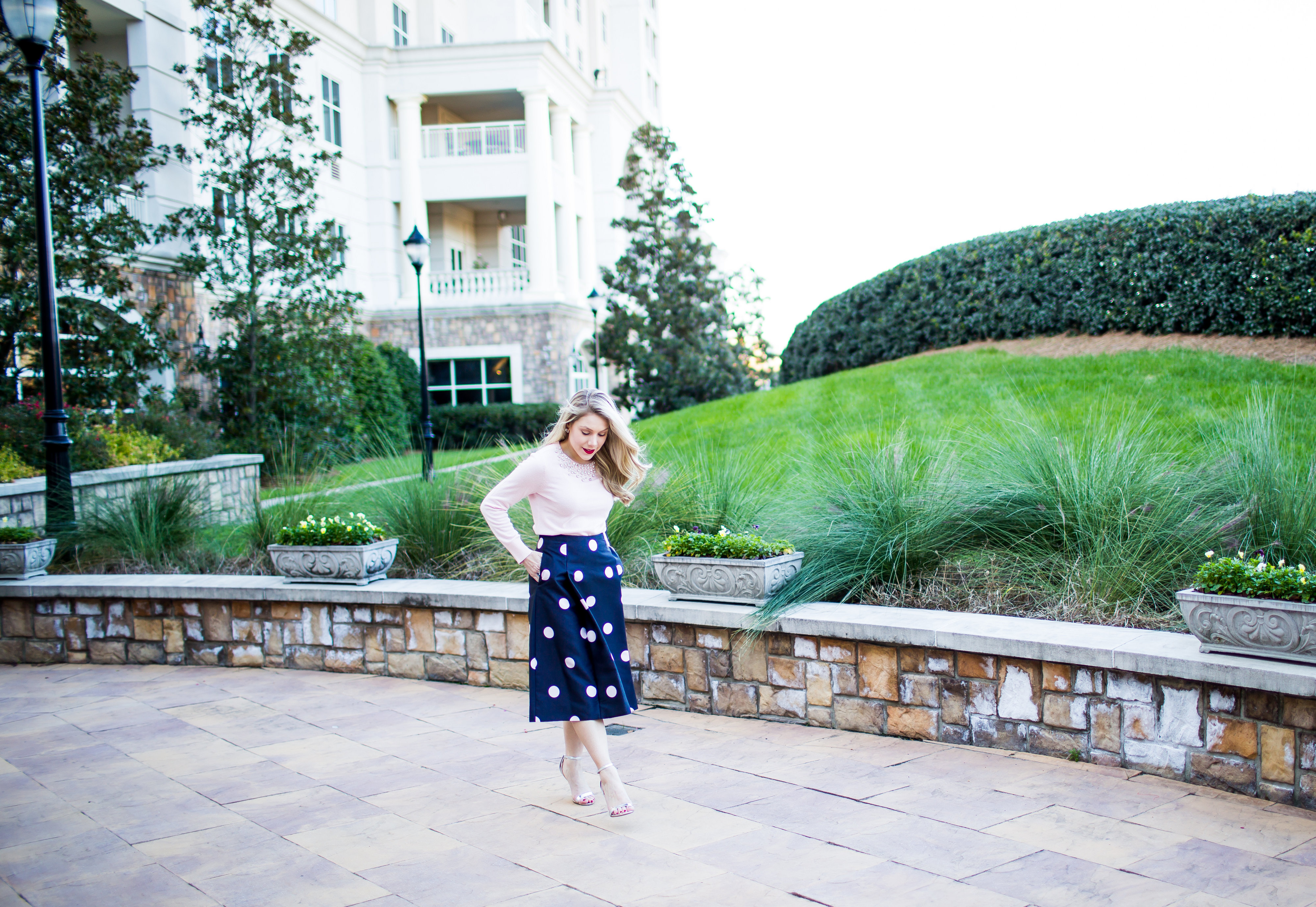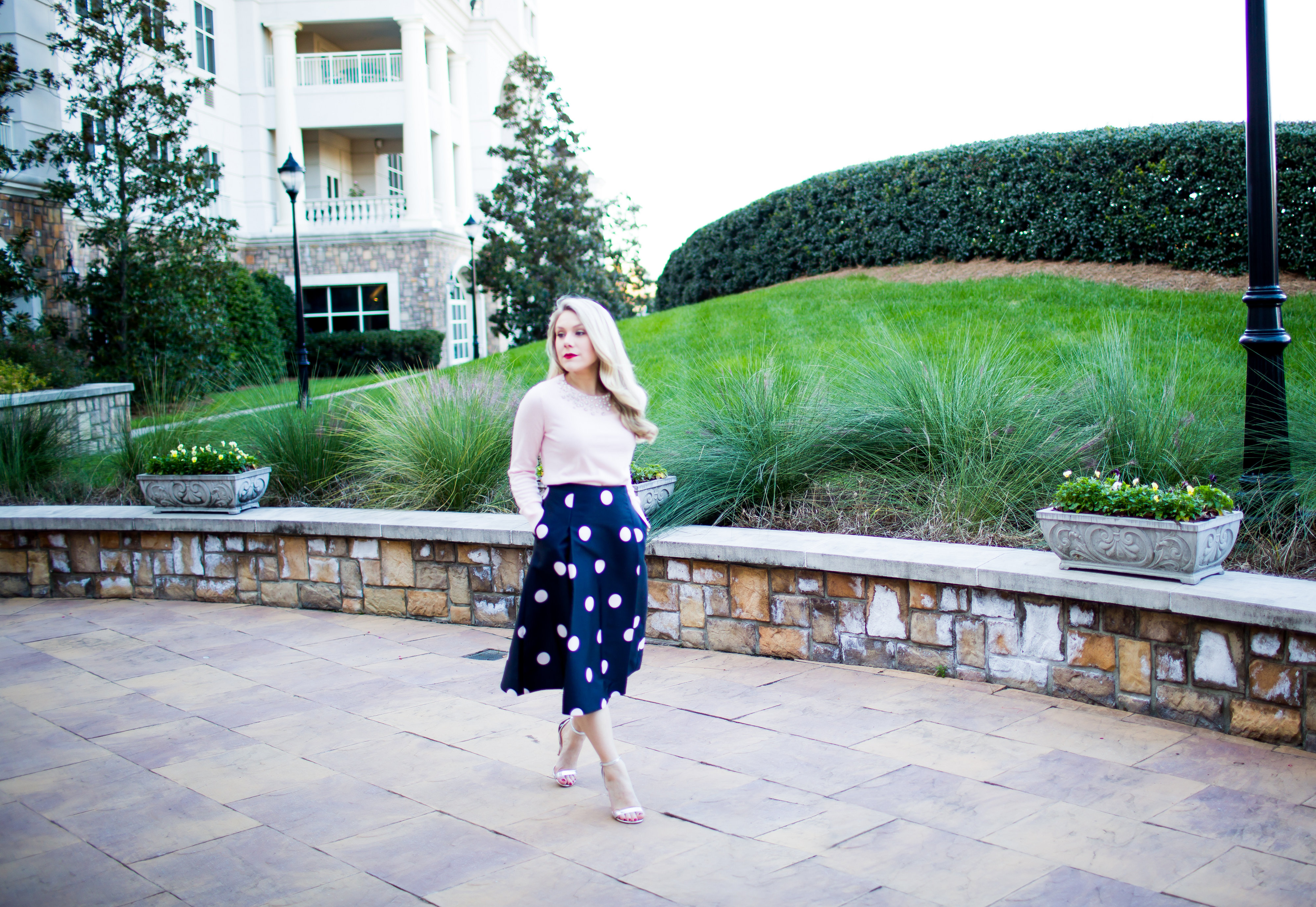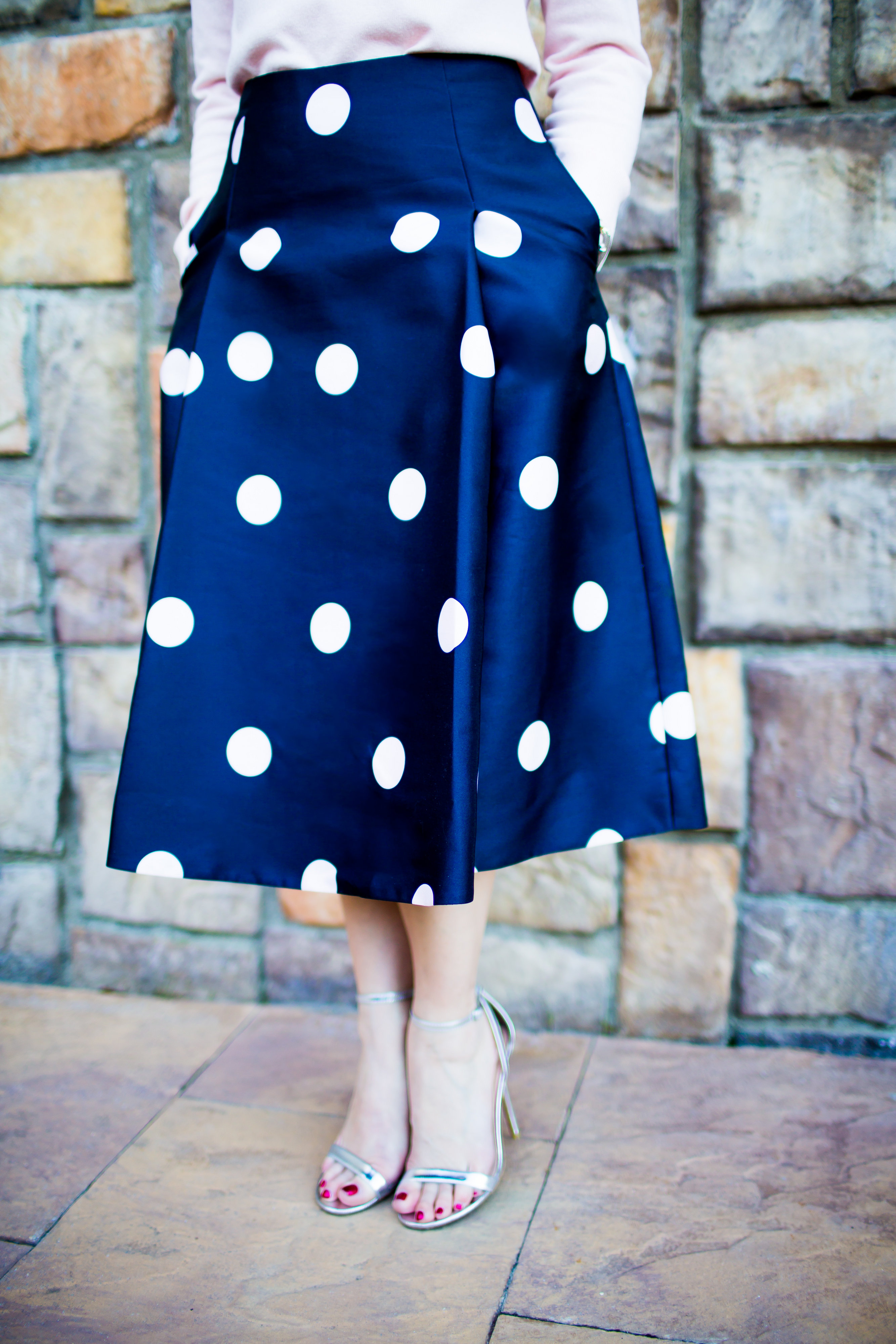 I love anything high-waisted, which creates the illusion of longer legs and is slenderizing on everyone!  This high-waited midi skirt is not only physically comfortable, but I'm comfortable with the way I look in it. It's fun, feminine, and professional enough to wear to work. Yes, I wear a polka dot midi to work.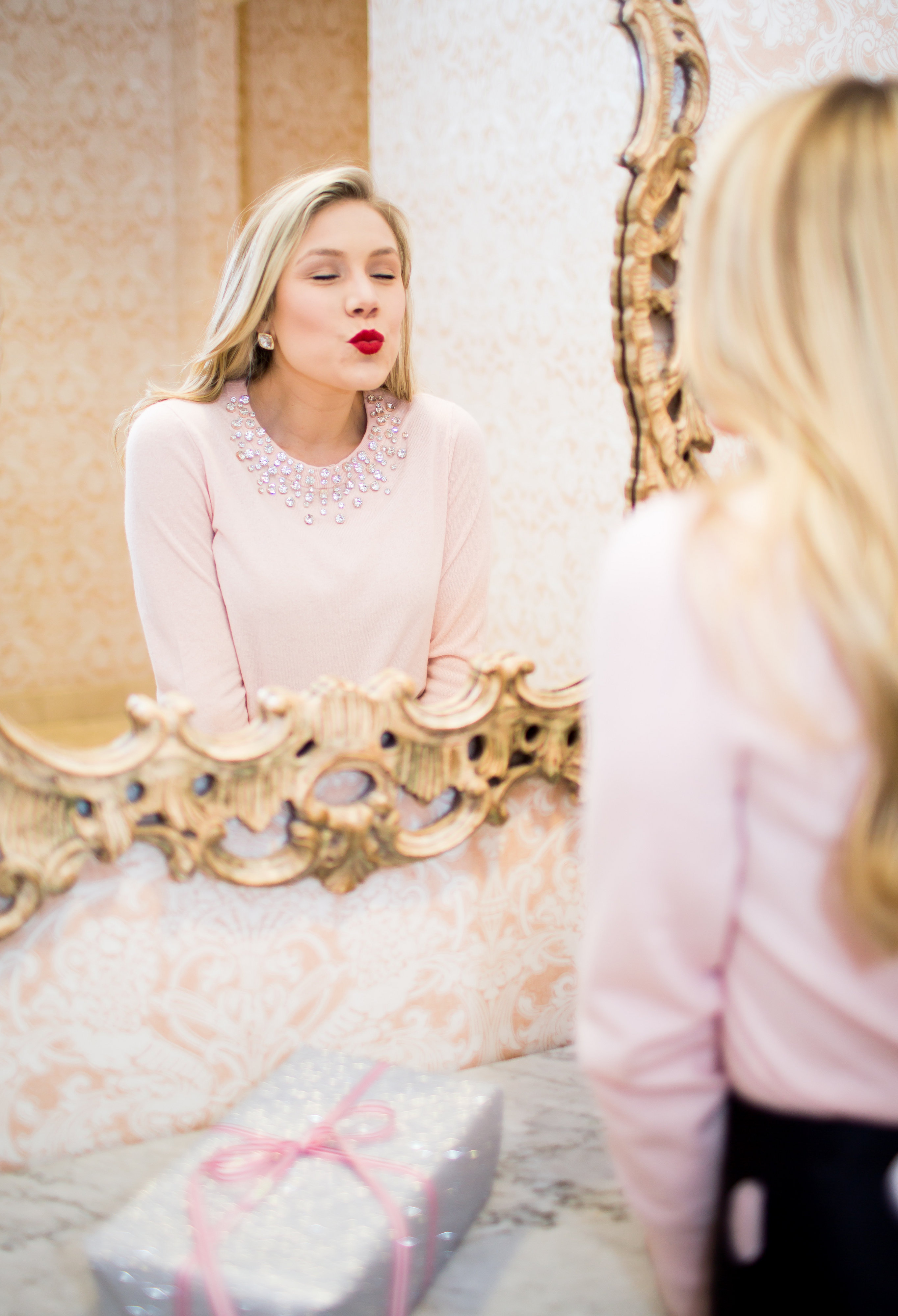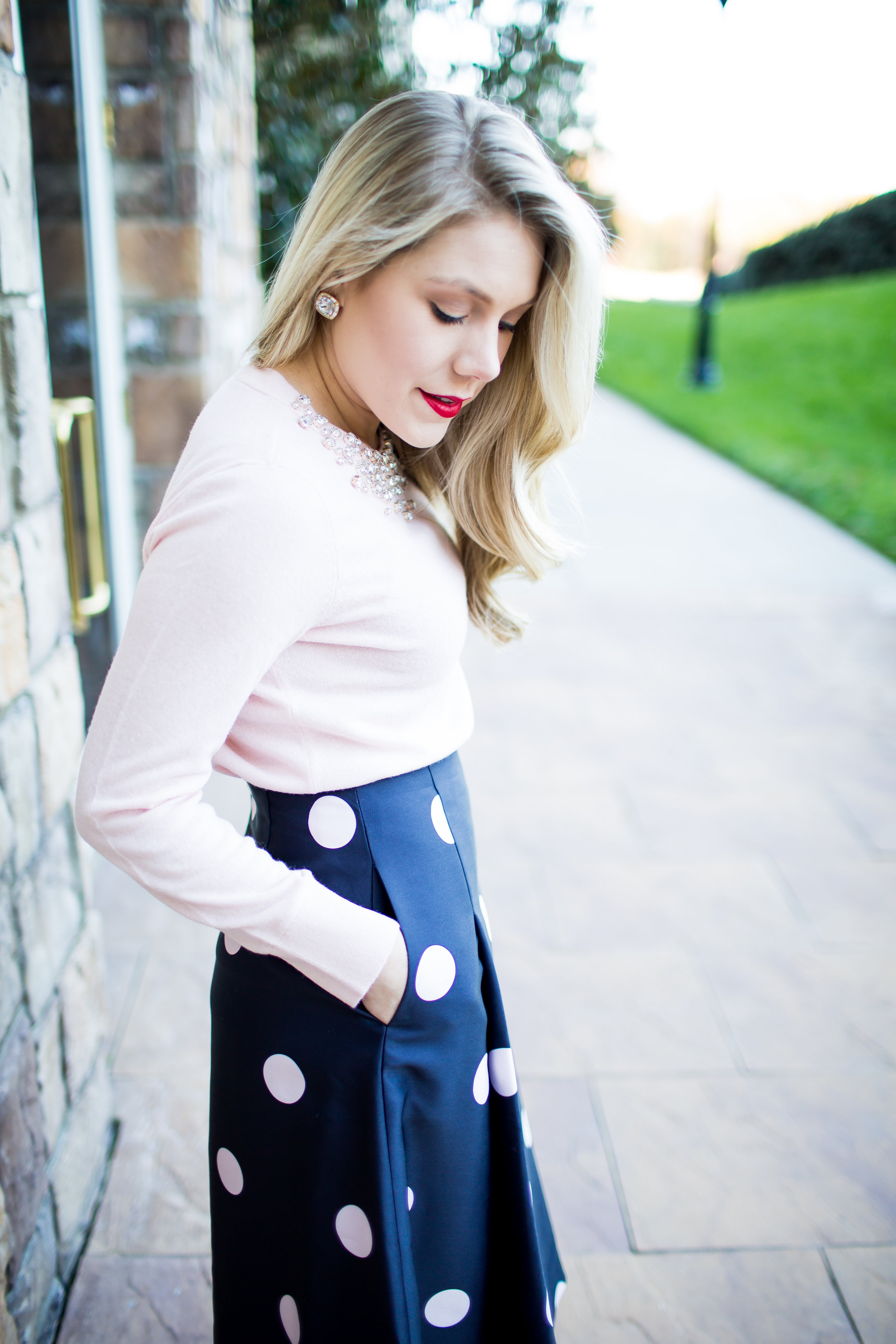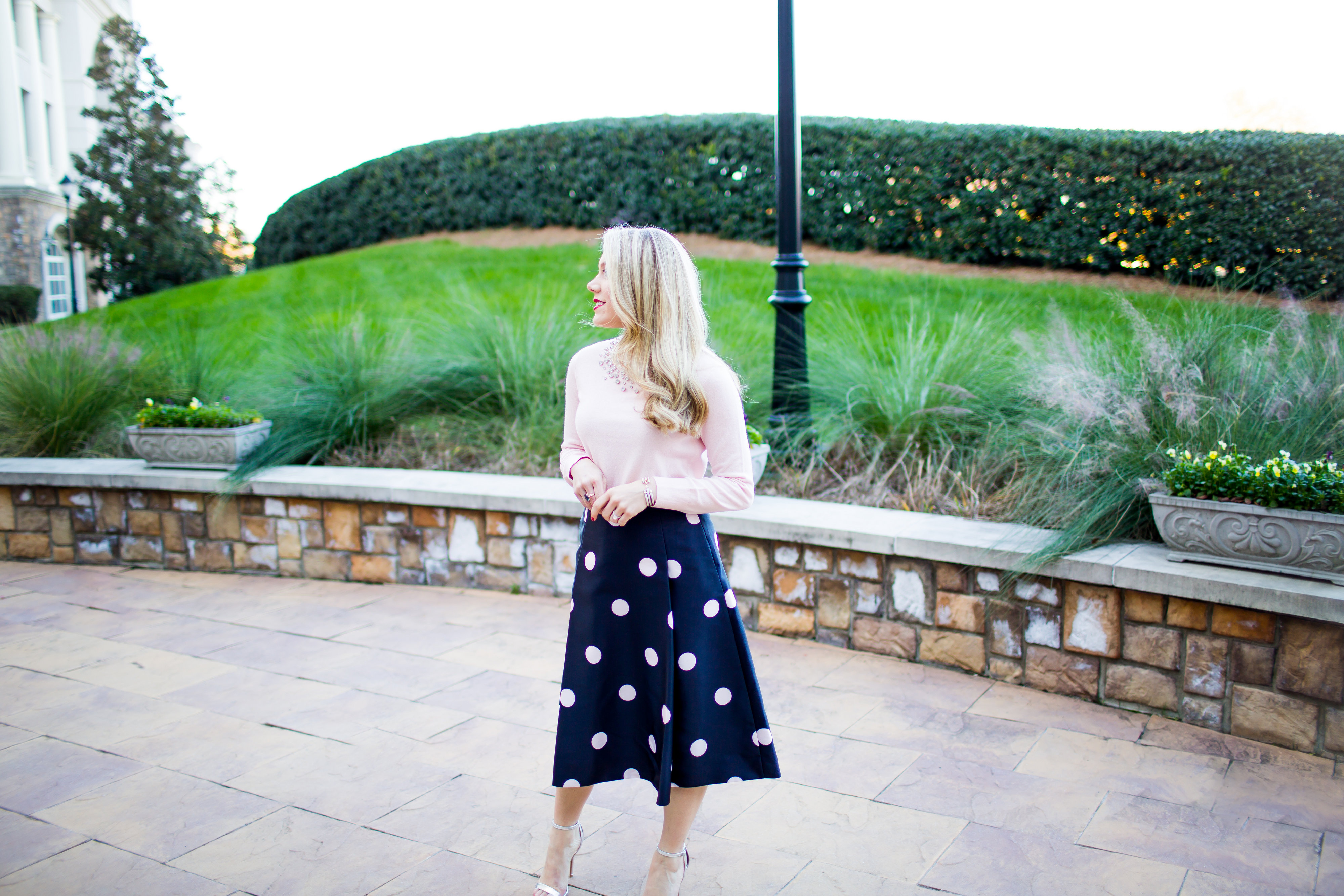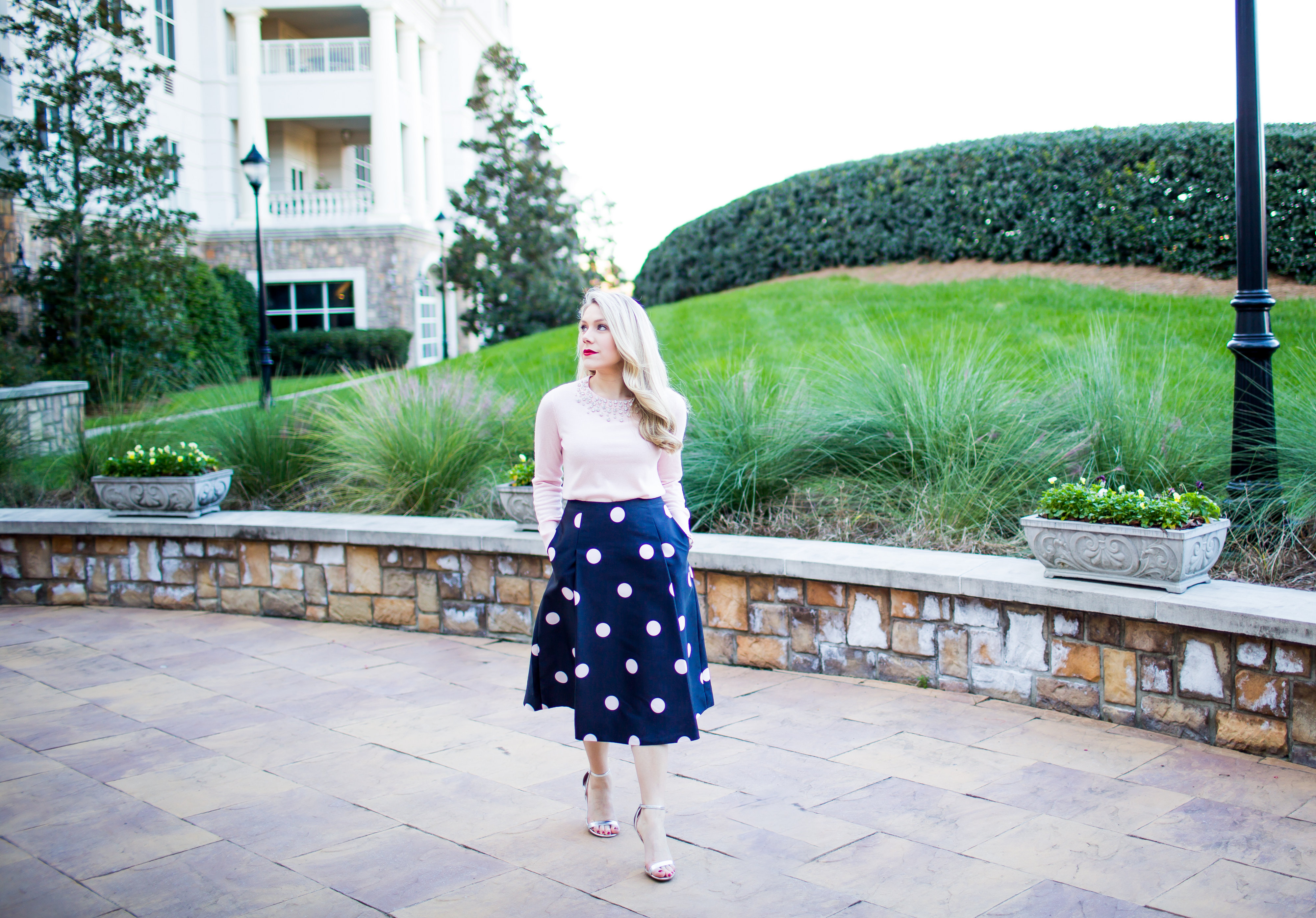 To keep things minimal I accessorized with rhinestone stud earrings, silver pumps, and a red pout. This is also the perfect outfit for any upcoming winter parties, or as yes I am saying it, Valentine's Day. It's innocent, fun, and ultra feminine.
Outfit Details Below:
Skirt: Kate Spade | Sweater: Kate Spade (similar) |  Shoes: LuLu's (Love – ASOS) | Earrings: Kate Spade | Lips: YSL | Foundation: Estee Lauder