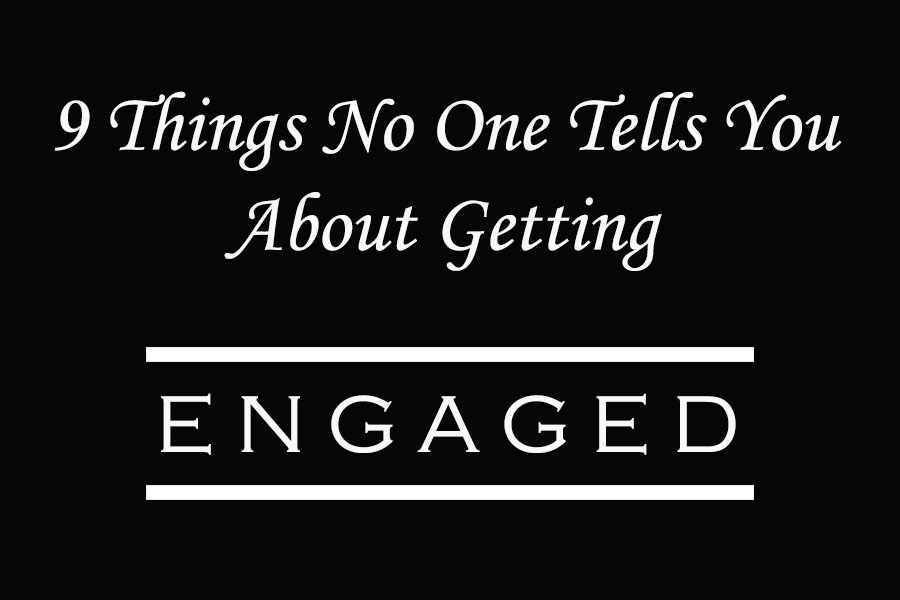 It's crazy to think that I have been engaged for four months.  Yup, four months in, and already I have experienced a roller coaster of emotions.  Prior to getting engaged I worked in a bridal boutique here in Charlotte, but surprising I never heard anyone talk about the reality of planning a wedding.  So, I thought I would share with you some of what I have experienced as a bride-to-be, and hopefully those who are currently engaged can relate!
1.  Saying "fiancé" –  This has been a tough one for me.  Since Justin popped the question I can't seem to break the habit of referring to him as my "boyfriend".  Did anyone else experience this? Just think, by the time saying fiancé becomes second nature I will have to switch gears and start saying, "husband"! Ha! (maybe I should just start with that).
2.  Wedding's are expensive –  It's no secret that wedding's are expensive, but some of the quotes we have received from vendors have been completely irrational.  It's lucrative to think that people pour well over their annual salary into one day, but that's the nature of the beast.  You don't realize how expensive everything is until you start adding it all up.  My advice is to meet with your family and come up with a budget that is realistic.  Keep in mind that long engagements allow time for you to make payments without putting you and your family in debt.  To stay within our budget, which is very reasonable, we scaled back on things that were not as important to us.  This allowed room in our budget to splurge on things that we value more, like a live band.
3.  You CAN plan a wedding without a planner – This is something I am still trying to rationalize. So, before I talk out of both sides of my mouth let me clarify one thing.  I do not like when people tell me or "strongly advise" that I hire someone to plan a day that I have been dreaming up for years.  That's what Pinterest is for, right?!  Yes, I agree that it would be nice to have someone help tackle to-dos, but I can't rationalize investing $6,000+ toward something that I am very capable of organizing and designing myself.  On the other hand – I do recommend hiring a month-of or day-of coordinator.  On your wedding day you should focus all of your attention on one thing: being a bride!  The last thing you want to worry about is rounding up everyone for photos or making sure everything runs as planned.
4.  Others opinions  –  People, especially those closest to you, will have very strong opinions when it comes to the details of your wedding.  If you are anything like me, you are easily persuaded by the opinions of those you love most.  While I think it is definitely important that you take their thoughts into consideration, remember that at the end of the day things should be decided by you and your fiance.
5.  Negotiating is key – Do not be afraid to negotiate with large vendors.  When I first began inquiring about prices I learned very fast the art of negotiation!  Of course I had very specific requests, as I assume every bride does, and it was important to me that vendors were willing to make some exceptions, especially when you are depositing thousands of dollars to book them.  If anything is agreed upon that is outside of their parameters or "standard agreement", make sure that it is clearly stated in the contract that you sign.  This will eliminate any misunderstandings that could arise in the future.
6.  Be selective when choosing vendors –  For those not yet engaged this is for you: book your large vendors well in advance!  By doing so you have the opportunity to selectively choose who you want based on budget, personality, style, and location.  Our approach to choosing vendors is simple: do they offer what we are looking for, are they fun to work with, and are they within our budget.  For example, after weeks of researching bands we successfully found one here in Charlotte that is energetic, incredibly talented, and plays a good variety of Motown and beach music (more on this later).  Every vender (specifically entertainment) will tell you days after contacting them that someone else also inquired about your exact wedding date.  What a coincidence, right?! My advice for this is:
Take your time and find someone that is flexible, understanding, easy to work with, and is most importantly, fun.
Choosing someone to play a role in your wedding day is a very personal decision.  So, when choosing vendors don't think of them as someone fulfilling a service, but rather as someone a part of your special story.  Establish a strong working relationship with them that is meaningful and sincere.
On a side note: don't settle for vendors just because they are heavily marketed in your area. Take your time and do research!
7.  The gown – Finding "the gown" is very important.  One bit of advice I can offer is take photos of the dresses you try on with your iPhone.  This is important because unless your wedding is outside on a beautiful day, your dress will most likely be photographed countless times on iPhone's in artificially-lit spaces.  So, if you don't like it in photographs taken in a boutique then do NOT purchase it! You should never have any doubts when it comes to your dress.
8.  Honeymoon – we are currently considering locations to honeymoon, and our mindset is to choose somewhere that is unique, special, and romantic.  It's important that you consider a location that fits you and your personality whether it is relaxing on a beach or enjoying activities like hiking, biking, and exploring.
9.  Don't loose sight of what's important – Yes, I admit that I have had several break downs over wedding planning.  One evening Justin and I set down after a pretty stressful conversation with a vender when he reminded me of the big picture: we are getting married!  I always said I would never be the girl who let wedding planning bring out the worst in her.  Thankfully, and with the help of my fiance, I came to my senses very early on.  My advice for you is to chill out.  Everything will work out in the end!  There are far worse problems in the world than whether or not something went the way you had anticipated.  Enjoy this time with your family and friends, and let fate run its course.
I hope everyone enjoyed my thoughts on the reality of being engaged, and the things that brides never talk about!  My hope in documenting my wedding planning journey is to prepare future brides, reassure brides-to-be, and provide a flashback for those happily married. Stay tuned for more on the Drake Wedding.
Adios!